Welcome Fall On My Front Porch
I am sharing with you some inspiration on how to decorate a front porch for fall!
To a lot of people, a front porch is kind of like having a living room when you already have a family room.  You know what I mean – a space that you want to be pretty and polished, but not one that you really use.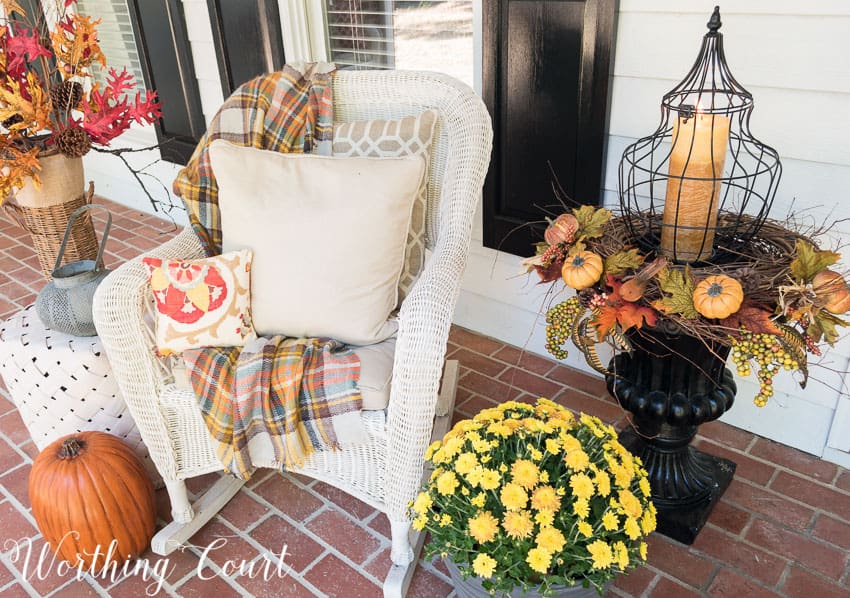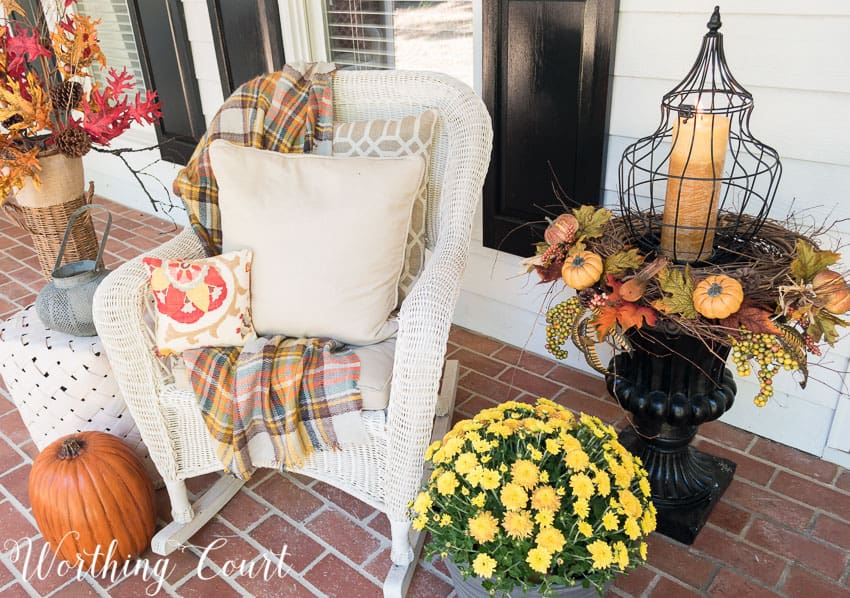 That isn't the case for us.  Pookie and I really do spend quite a bit of quality time on our front porch once the summer temps cool down and the mosquitoes leave town.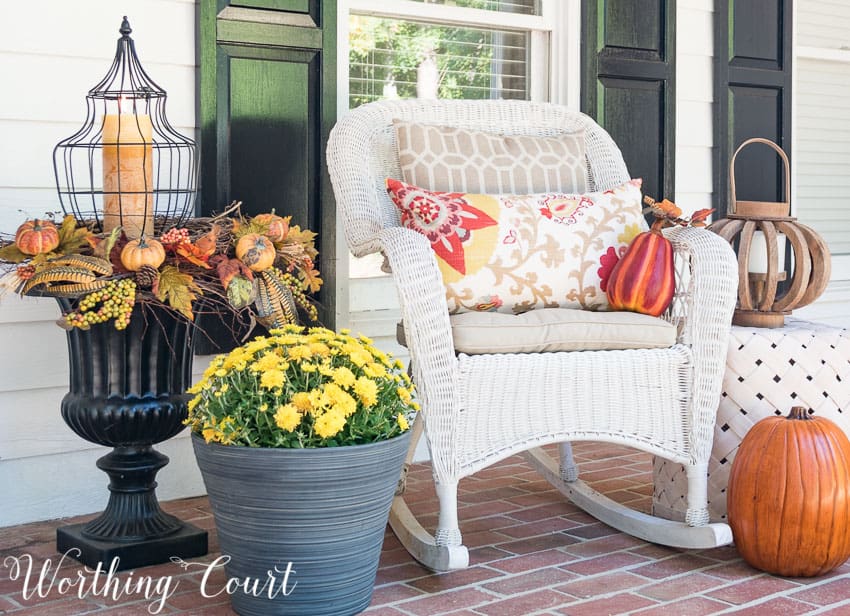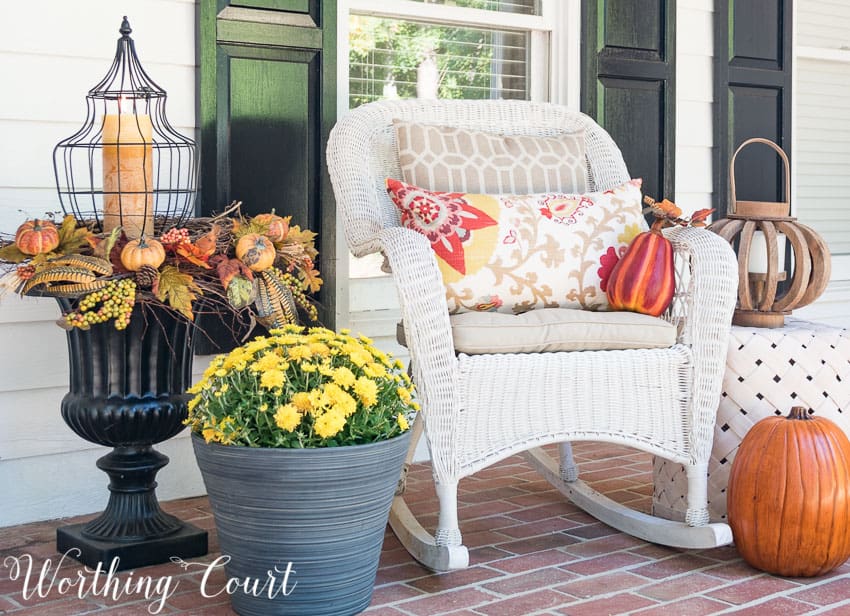 We're sort of isolated when we're on our screen porch, which is located on the back of the house.  But on the front porch, Pookie and I love rocking away and being able to visit with our friendly neighbors!  Our two dogs love it when we sit on the front porch too.  That gives them lots of time to chase the squirrels – as if they'd ever be able to catch one.  😀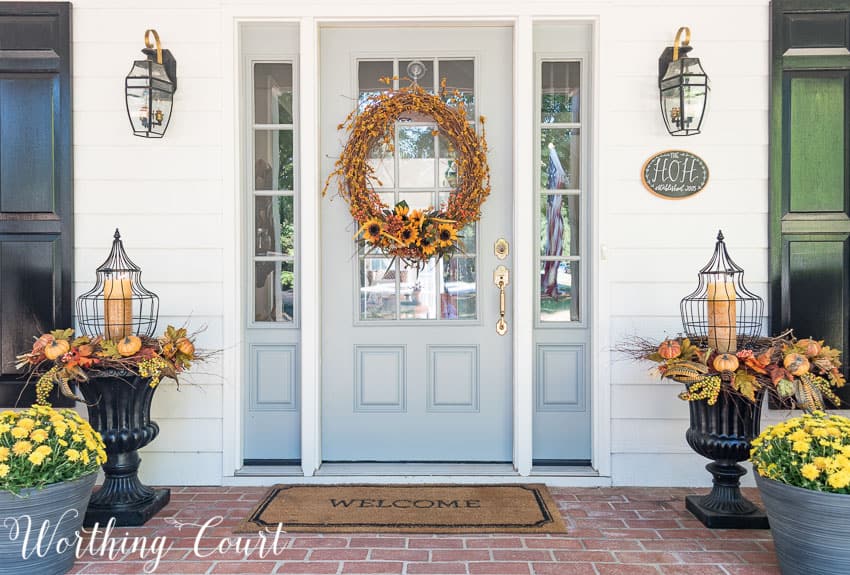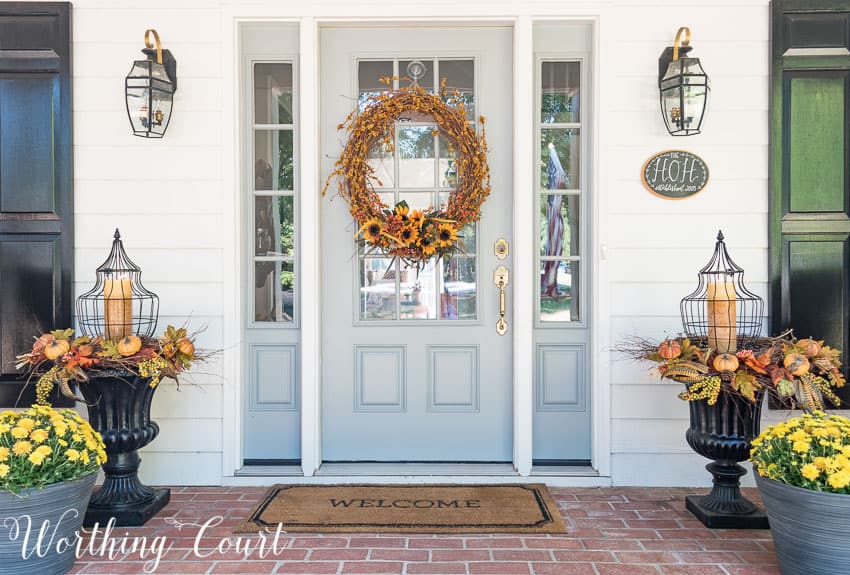 Our front porch is long and deep.  I haven't completely finished with the overall decorating of it yet.  I'm undecided about whether or not I should add an area rug and another table to each side.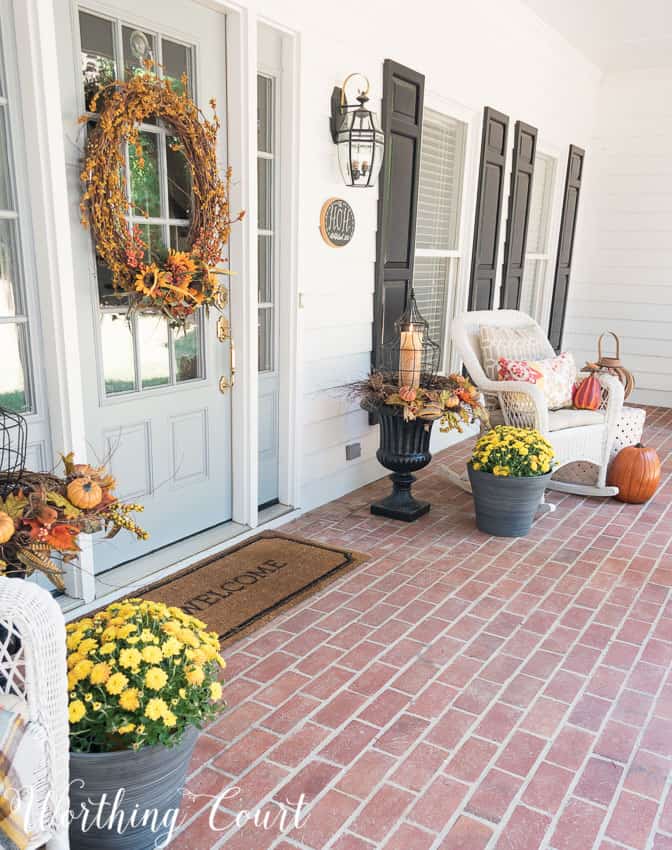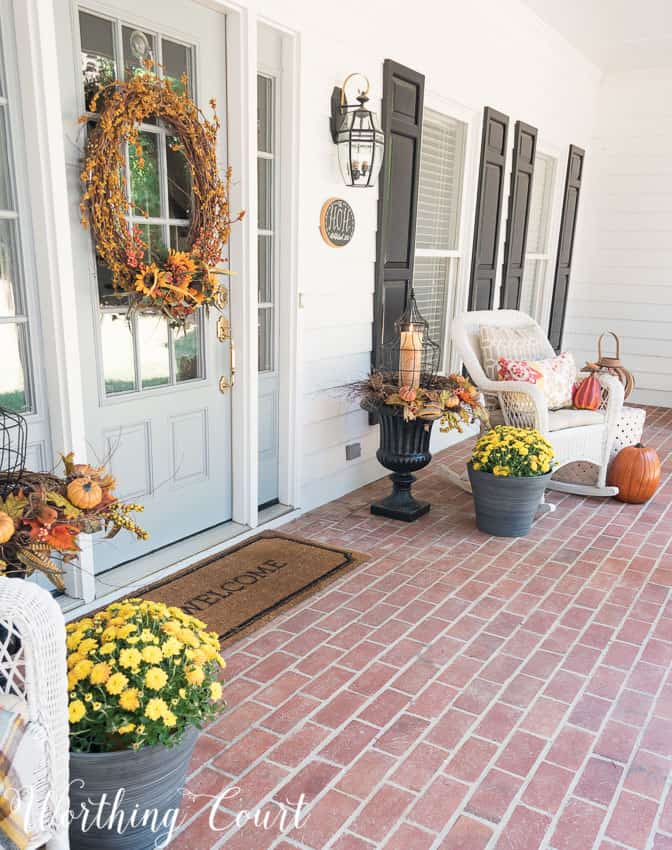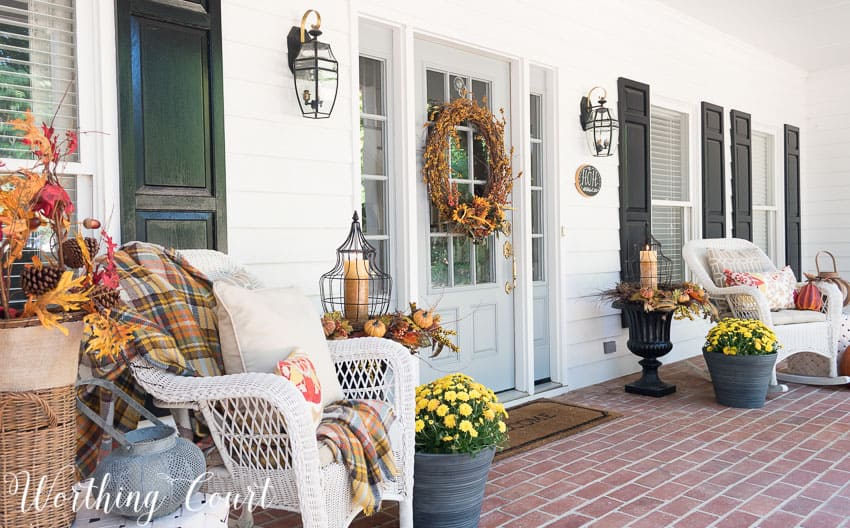 I normally keep two wicker rockers at each end of the porch, but that looks a little sparse since I haven't finished with the overall decorating.  So I've pulled two of the chairs closer to the door to create some fall coziness.  Even though each side is slightly different, the overall look is symmetrical, which I think looks best on our fall front porch.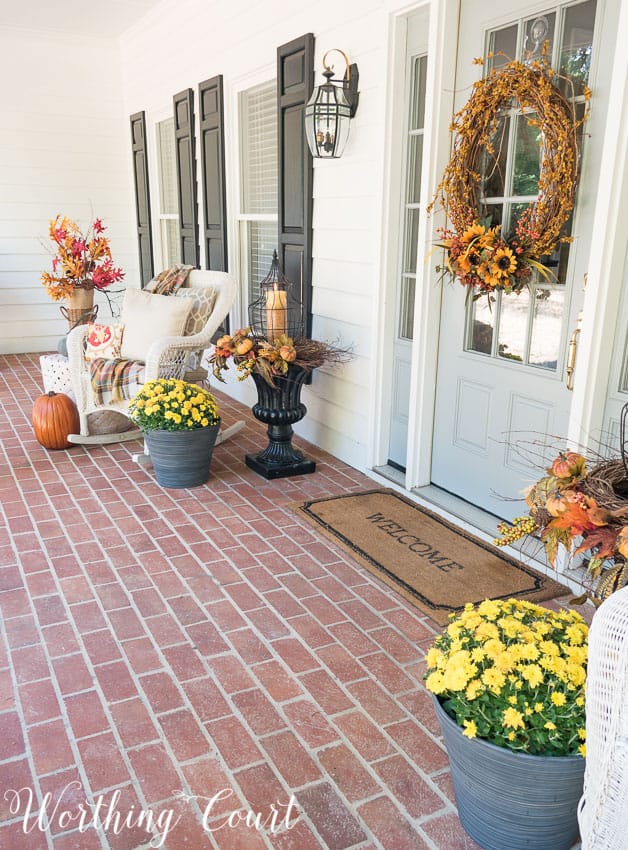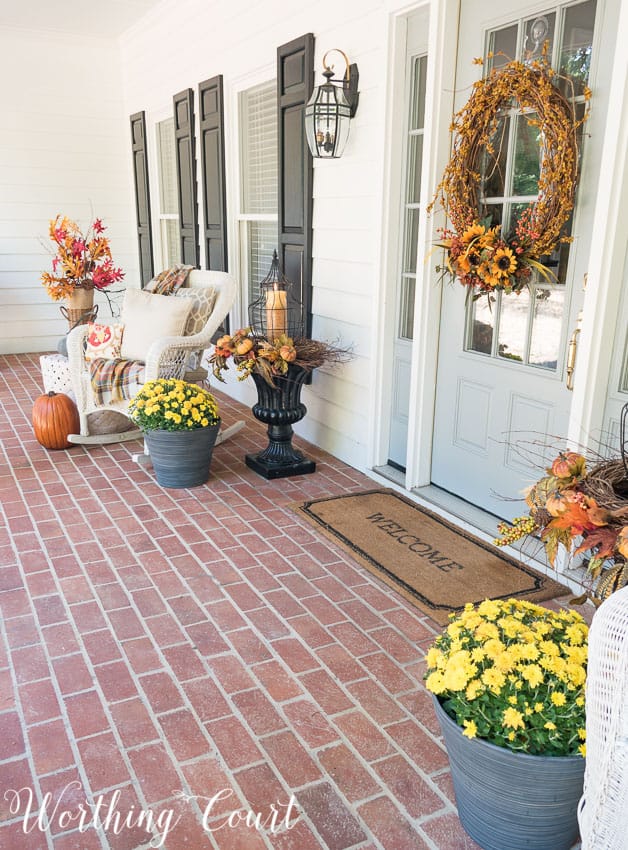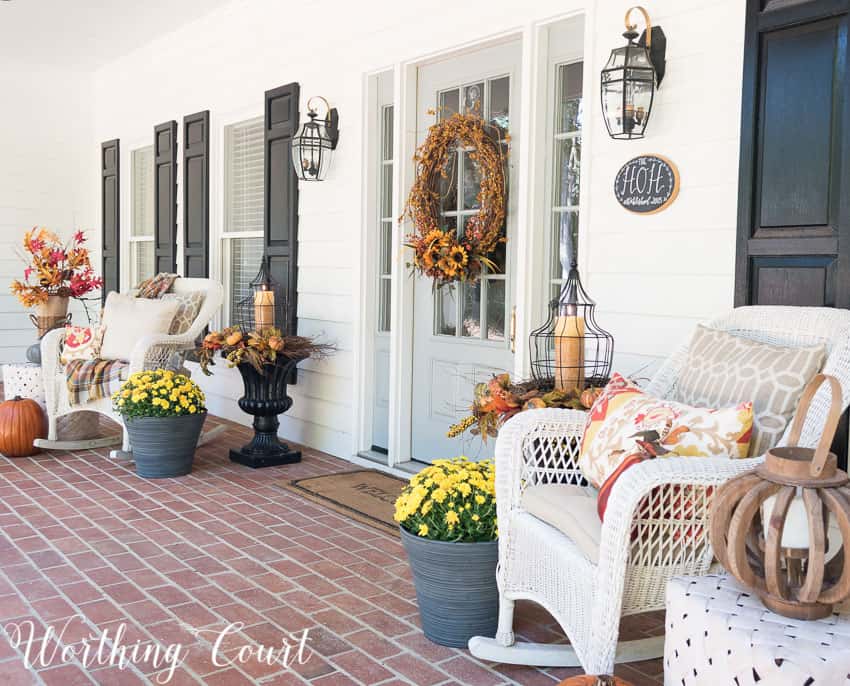 I hope y'all know by now that I always, always want to inspire and encourage you!  Every single thing that I post is meant to help you affordably create a home that you and your family will love for years.  So with that being said, let me break a couple of things on the porch down a little.
Decorating Garden Urns
Let's start with the urns.  The recipe for creating the look for each of the urns is: urn + birdcage or wire lantern of some sort + a tall candle + two twig wreaths (one of which is the spray kind) + four fall picks = one fall urn.  I used the exact same method for assembling these dramatic urns as I used on my fall front porch last year.  The only difference is that I tucked a few fall picks in between the stacked wreaths.  Click HERE to read the urn tutorial.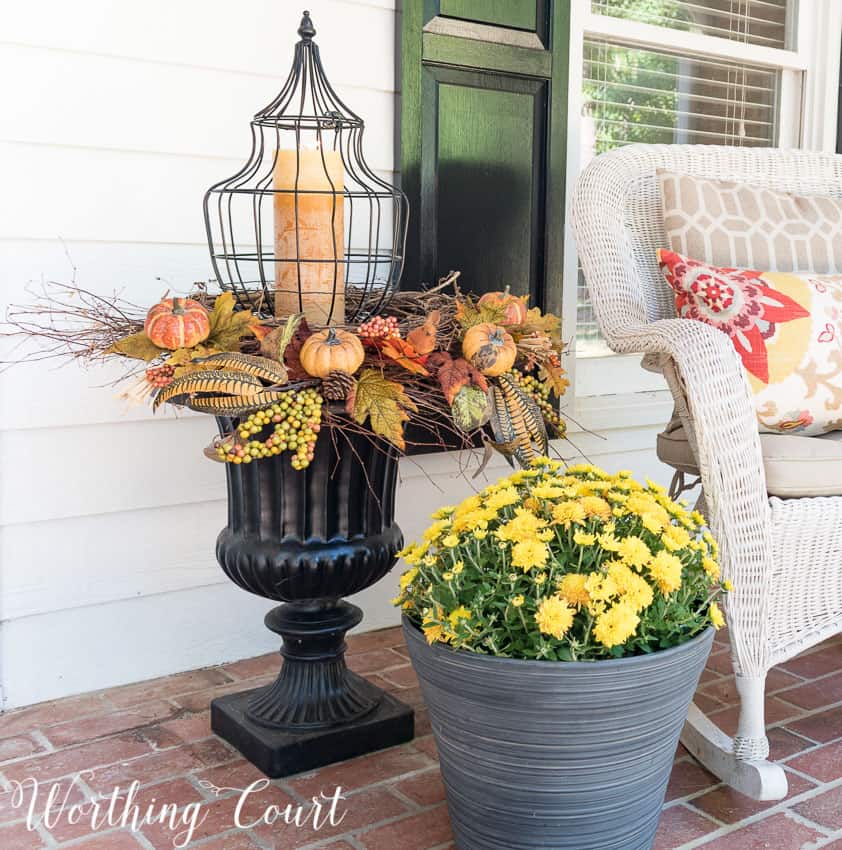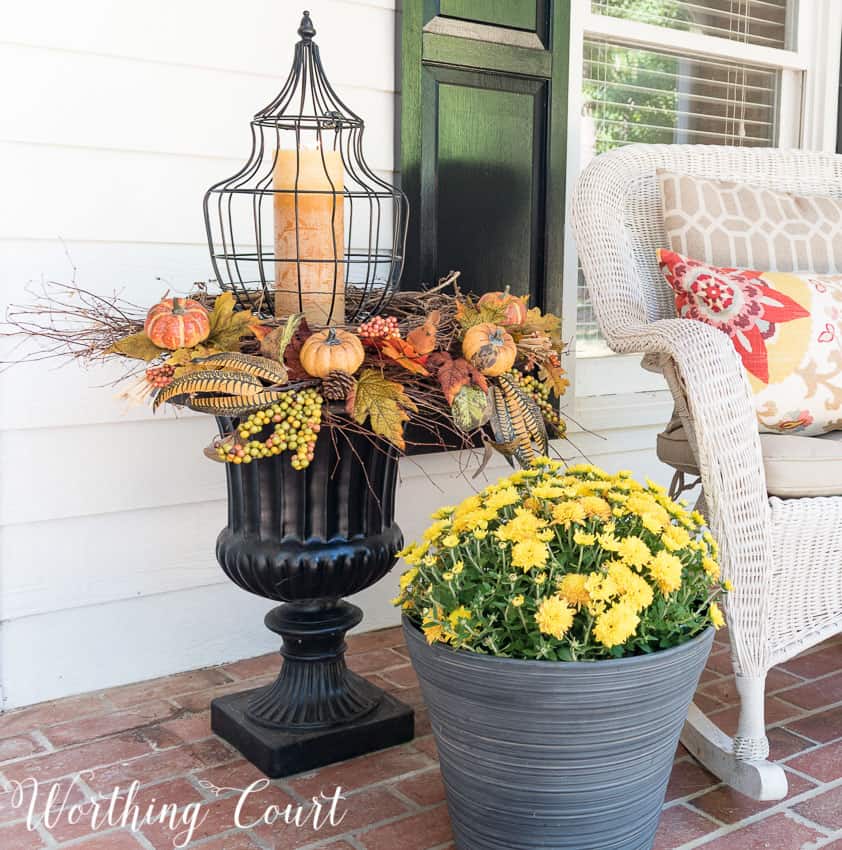 The fall picks were stuck into the twig wreaths after the rest of the urn was assembled.  And yes, I had to mess and mess and reposition the picks over and over until I got them looking exactly the way that I wanted them to.  I didn't bother with placing picks around the backside of the wreaths, but you certainly could if you wanted to.  See how a regular twig wreath is simply stacked on top of a spray twig wreath?  To elevate the lanterns to the height that I want them, I placed an empty plant container in the bottom of the urn (turned upside down).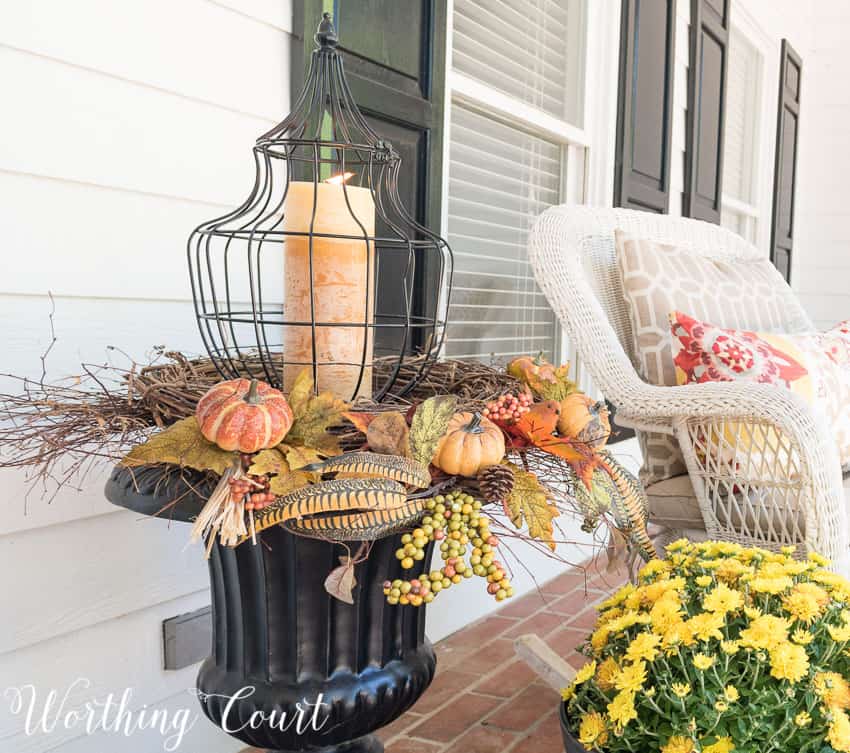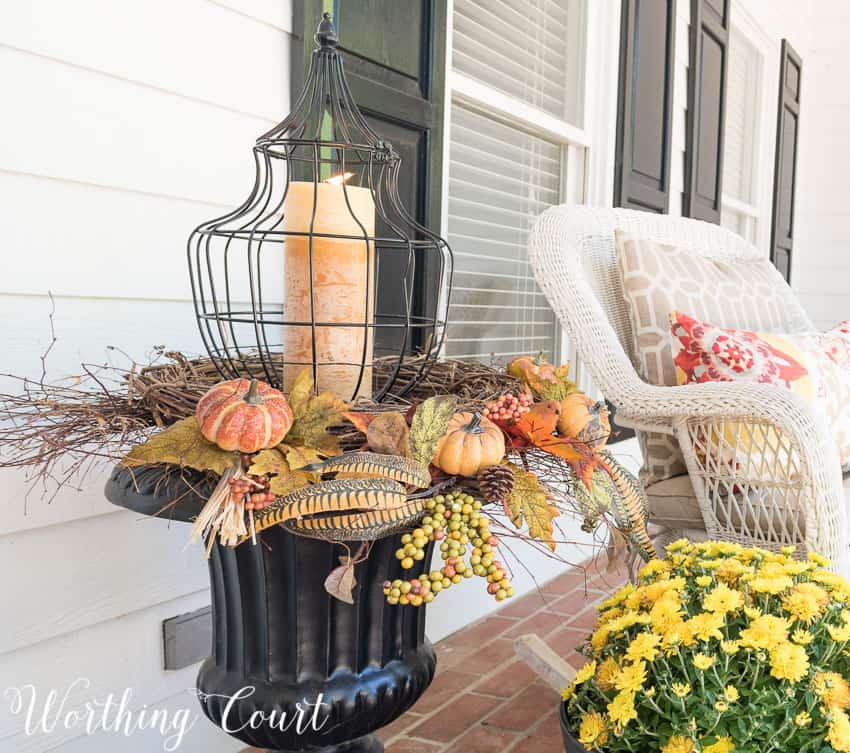 The beautiful fall wreath on the front door is even easier!  I started out with a large 24″ twig wreath.  Our house sits back from the street a bit, so I like to make a big statement with a large wreath.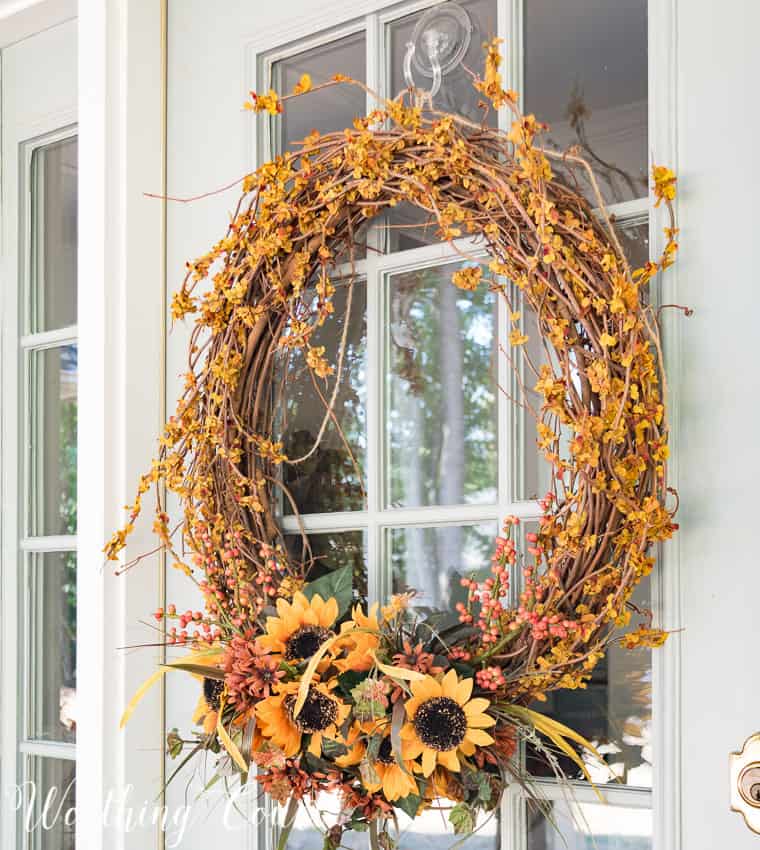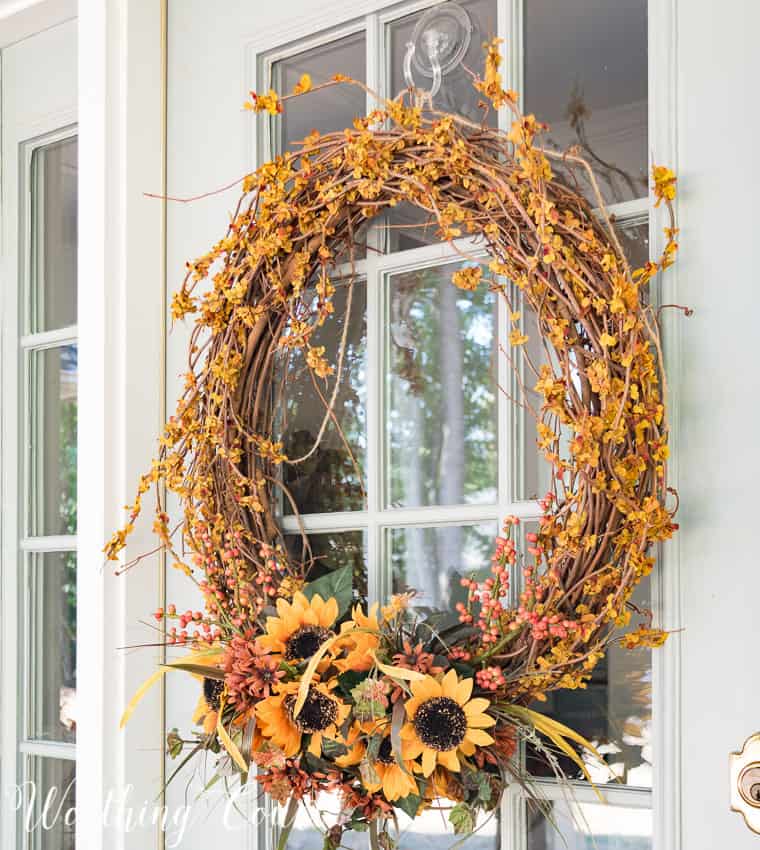 I literally just poked everything in between the twigs of the wreath.  No wiring, no tying and no hot gluing!  I used six long stems of pretty faux bittersweet, that I cut into shorter pieces and tucked in all the way around the wreath.  Once those were in place, I added two fall sunflower picks to the center of the bottom and then tucked another smaller berry spray behind each side of the sunflower picks.  All of the picks have wire stems, so once they were positioned in the right spots, I just bent and fluffed everything to make it look the way that I wanted it to.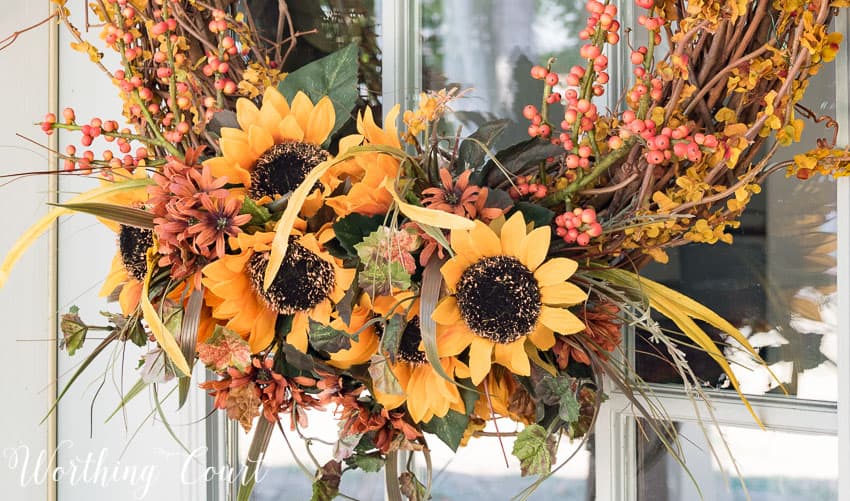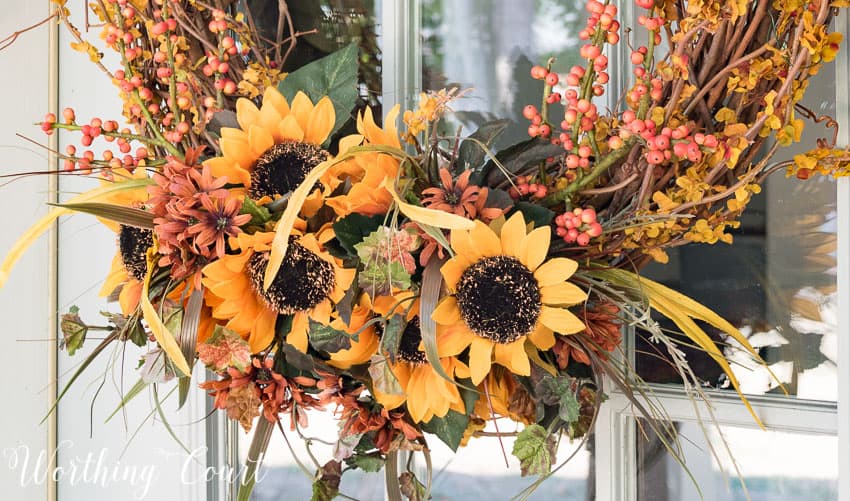 My whole porch follows my KISS method of decorating.  Don't know what that is?  You can read all about it HERE.  By using basic decor elements on my porch, I'm able to just tweak and add few things to the porch to get it ready for any season!
LOOKING FOR FALL PORCH DECORATING INSPIRATION?  PIN IT FOR LATER!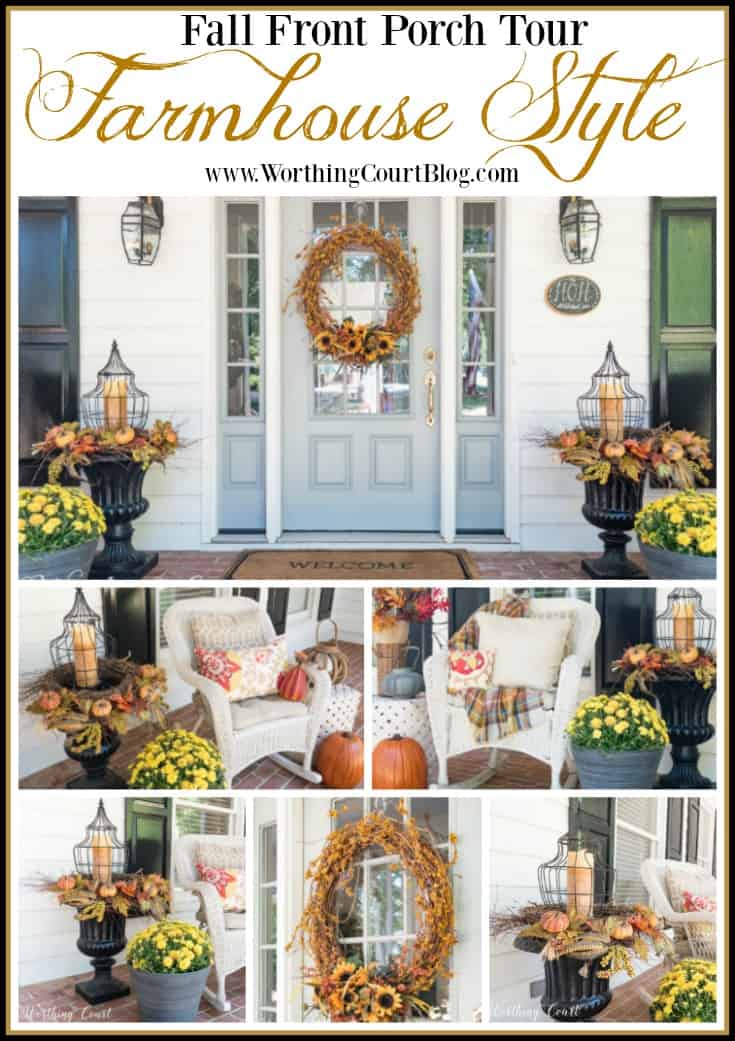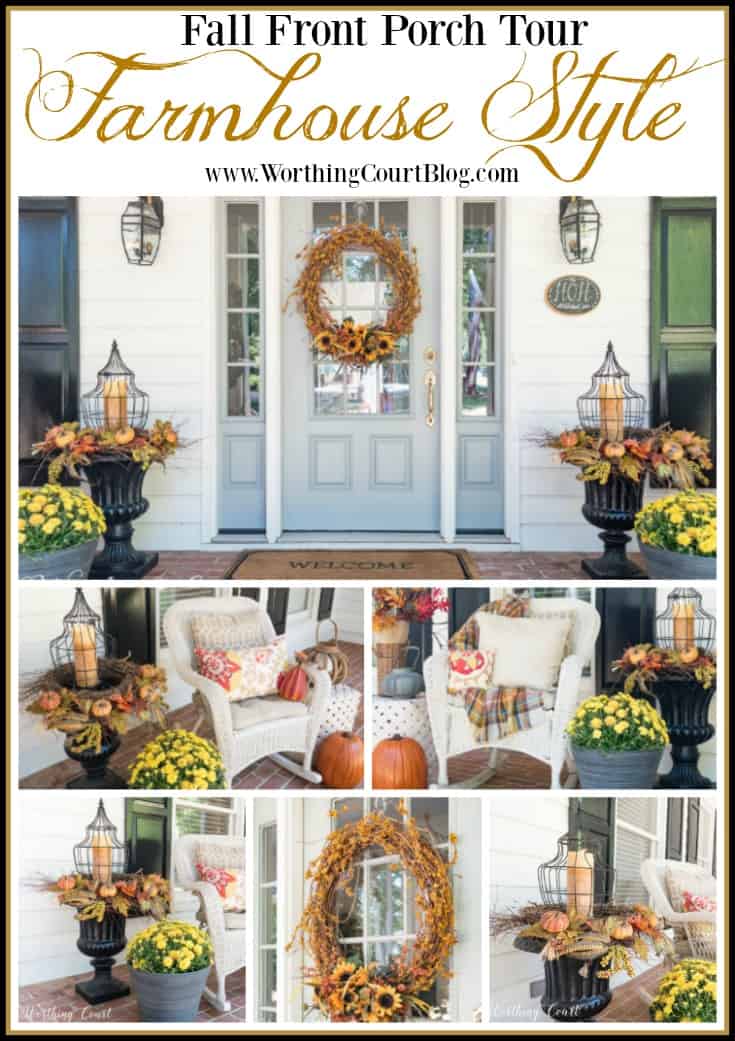 MORE FALL INSPIRATION!
FALL IN MY FARMHOUSE DINING ROOM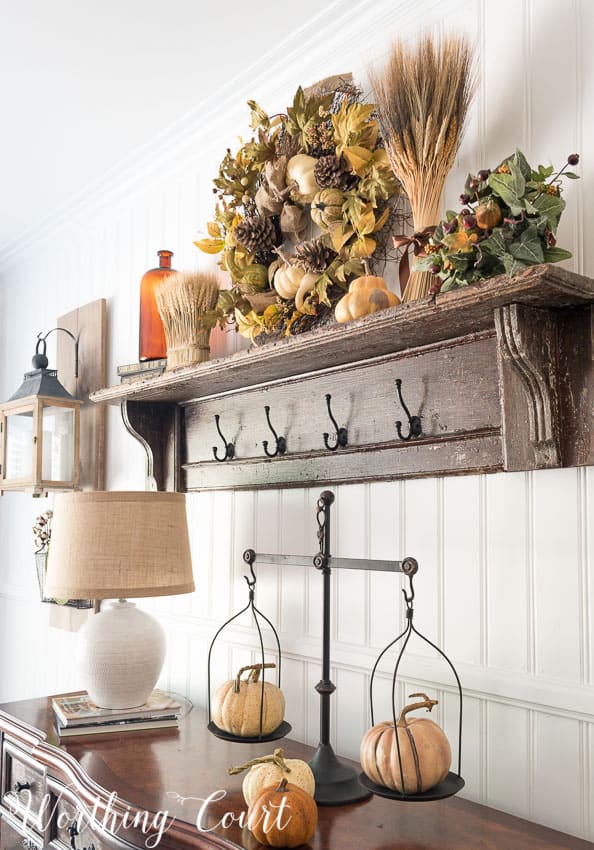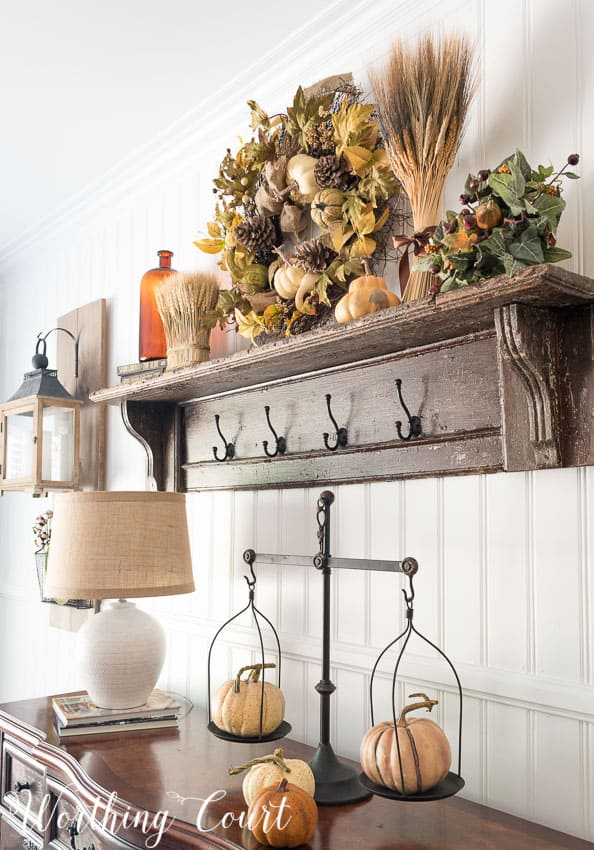 RUSTIC FARMHOUSE FALL OPEN SHELVES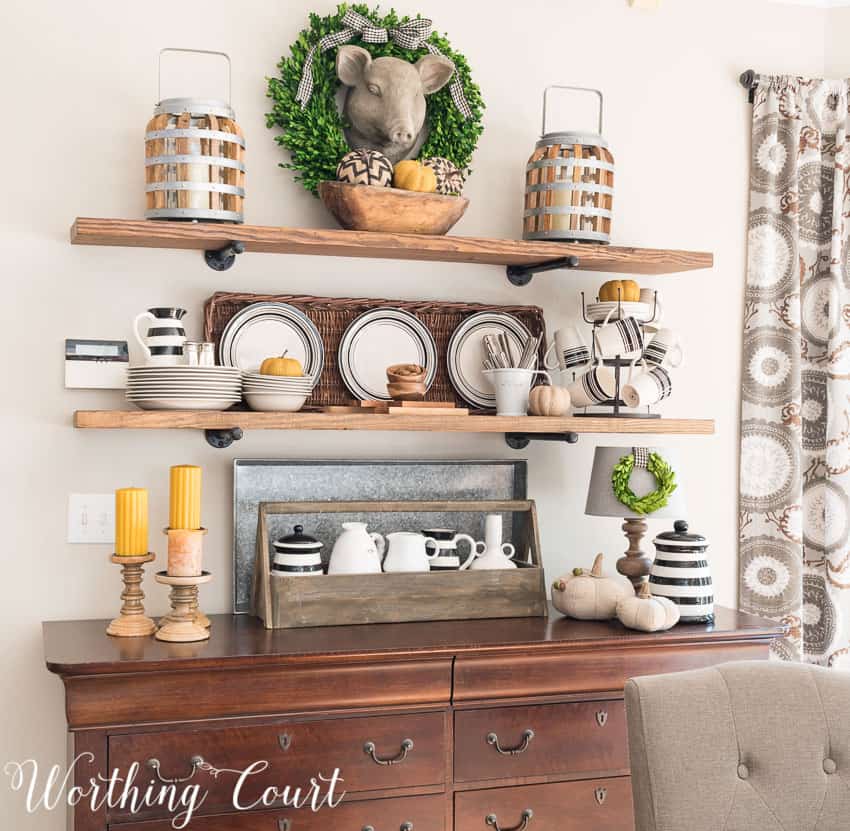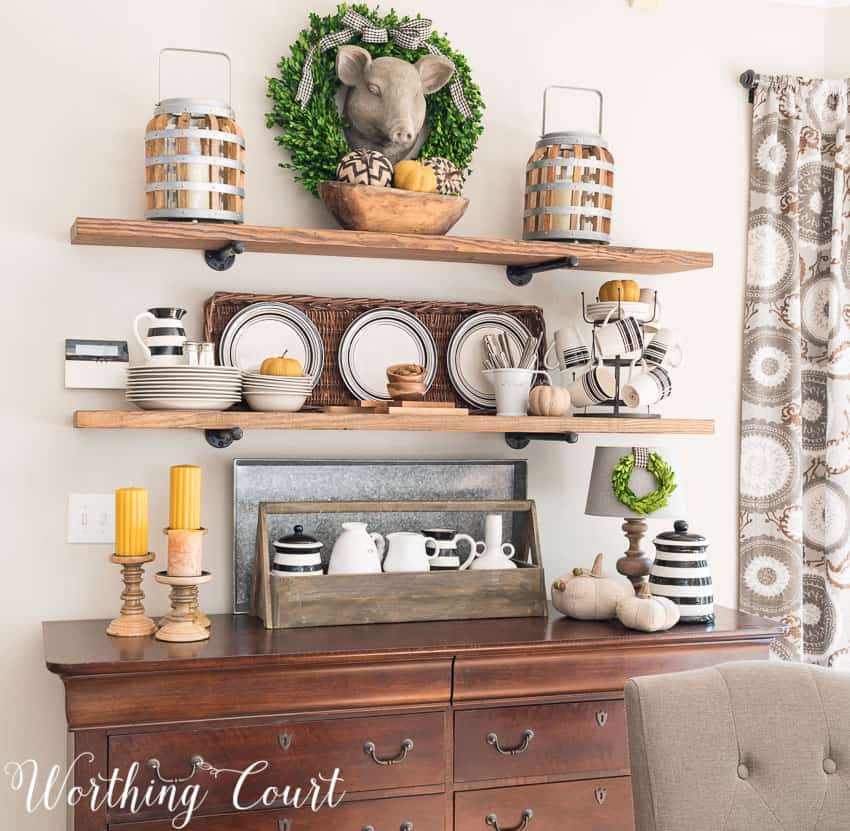 ONE FALL COFFEE TABLE – TWO WAYS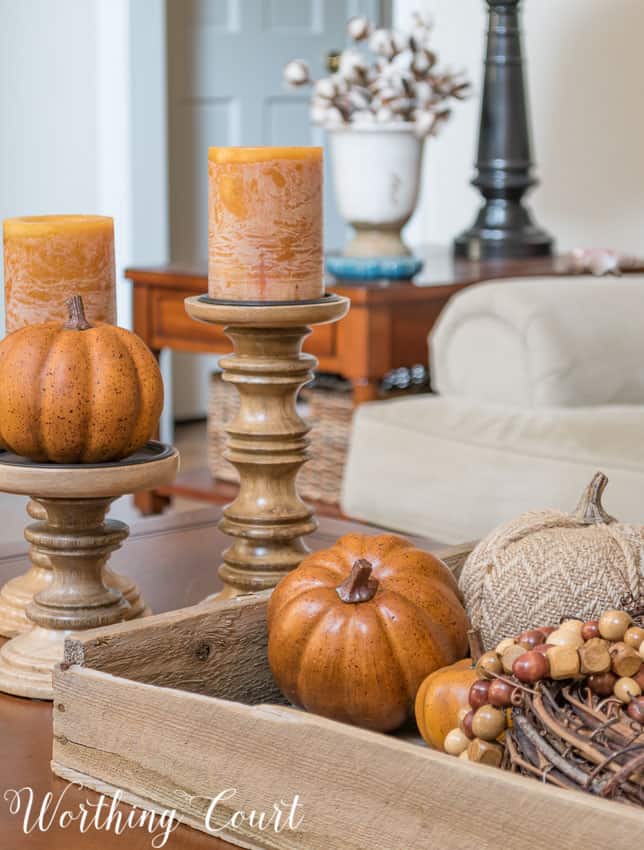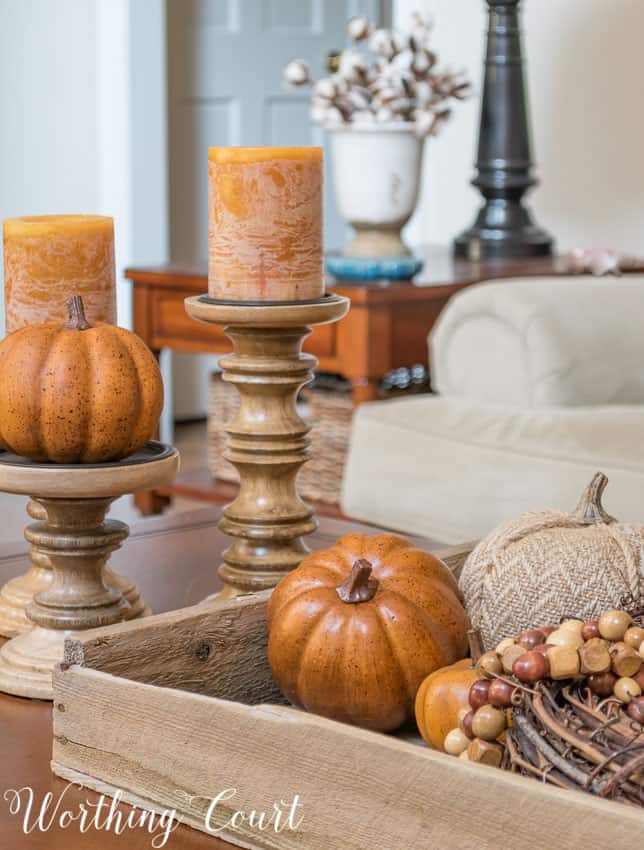 Sharing at THESE great parties.