Welcoming And Festive Christmas Front Porch Decor
This post is filled with lots of ideas for creating a festive, welcoming and cheery front porch to welcome your guests during the Christmas season.
Here at Worthing Court, we're fortunate to have a wide and deep traditional Southern style front porch to welcome you to our home!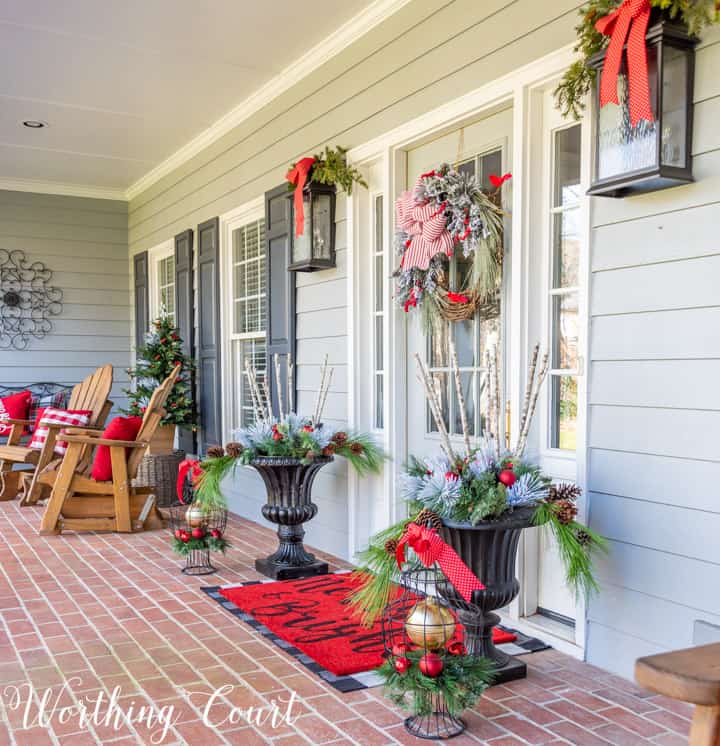 Pin
I'm excited to be joining the annual Christmas Porches Tour hosted by Amy from Atta Girl Says! This is one of the most fun bloghops that I participate in every year!
This year there's a total of 14 of us sharing our Christmas porches with you. There are porches decorated in all styles, so you're bound to get lots of ideas for your home, not matter your taste. Scroll down to get a link to all of the other porches.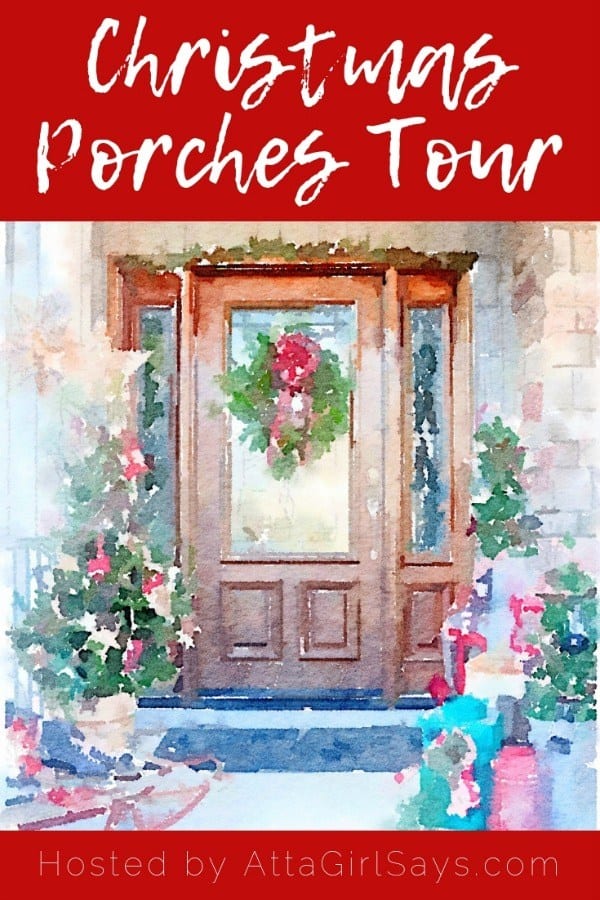 Pin
Christmas is always a time when I try to create a lot of excitement and anticipation around my home. I want you to be in the Christmas spirit before you even walk through my front door! So – you'll always find me using lots of red and cheery, festive colors on my porch.
I also like for the the decorations on the porch to be a reflection of what's to be found inside. This year's tree and family room decorations are red and white with touches of natural wood tones and lots of cute cardinals, so the wreath on my door and the other decorations on the porch are a reflection of that. By the way, I'll be sharing a complete tour of my family room in a few days, so I hope you'll pop back by for that!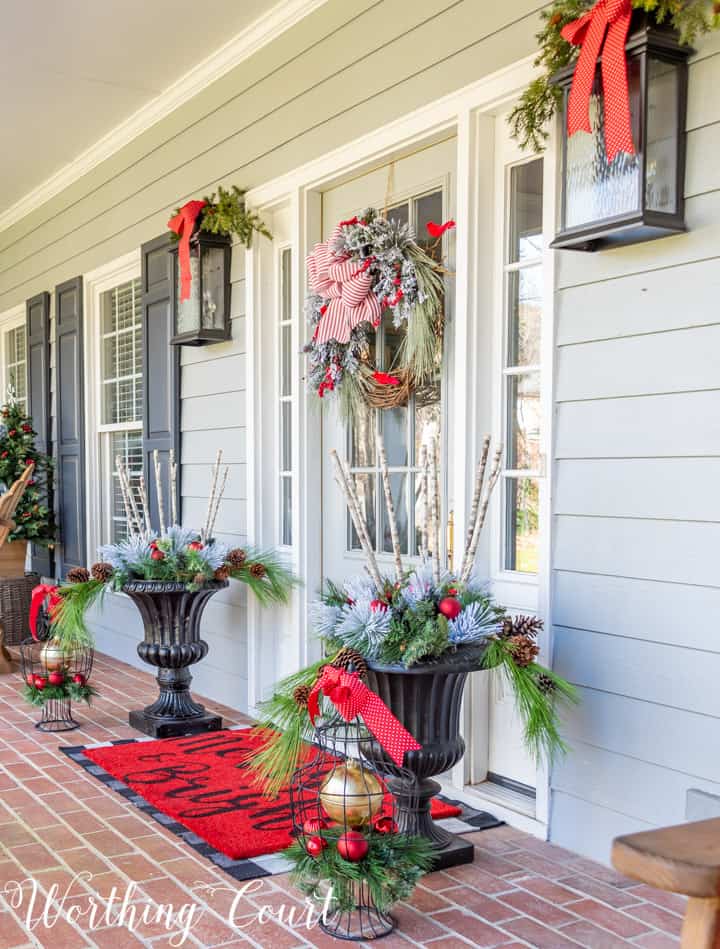 Pin
The shining star on my porch is the new wreath that I made. It has a big, bodacious bow with attitude on it this year! I'm surprised that the bow turned out so well because I had to use lots of shorter pieces of ribbon wired together instead of one continuous length of it.
I'll be sharing step-by-step directions for how I made the wreath in a couple of days. If you simply can't wait though, head over to my Instagram profile and watch the highlight called "CmasWreath".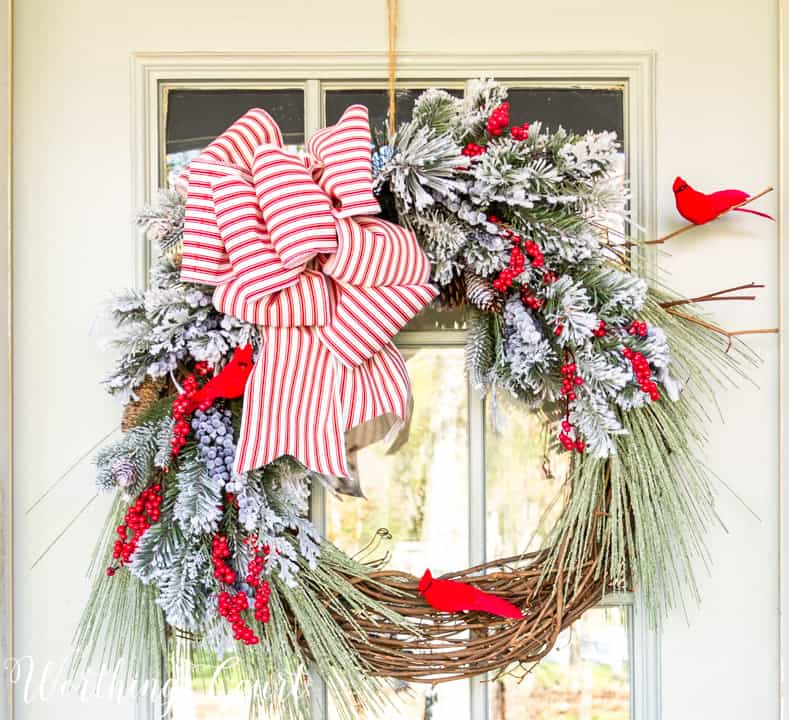 Pin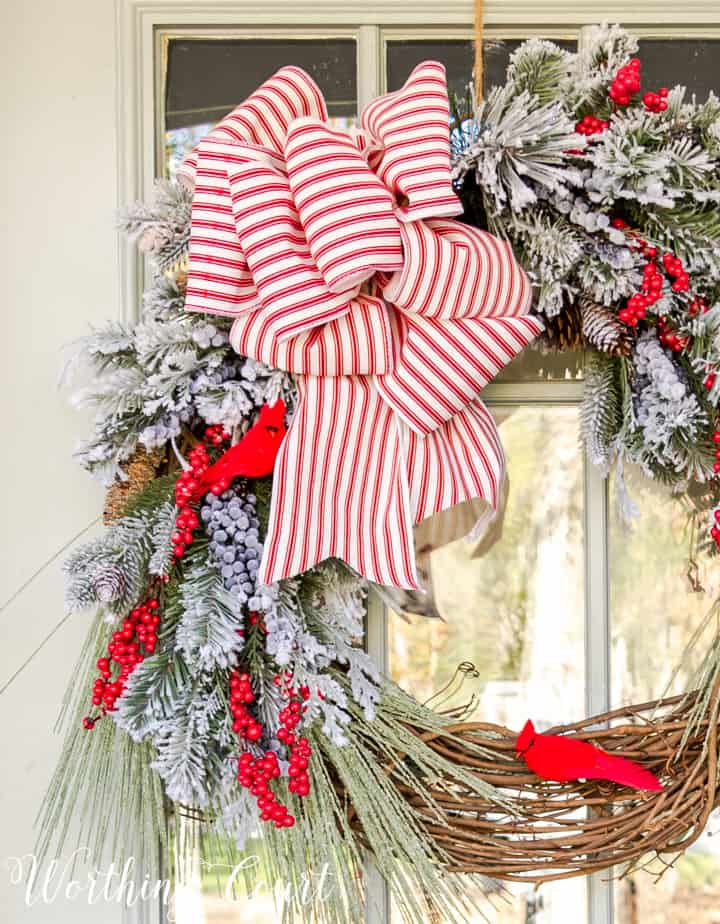 Pin
The cute cardinal perched on one of the stems coming out of one side of the wreath sure is an unexpected touch!  I had to trim the stems down from their original length though so that my door would close. Ha!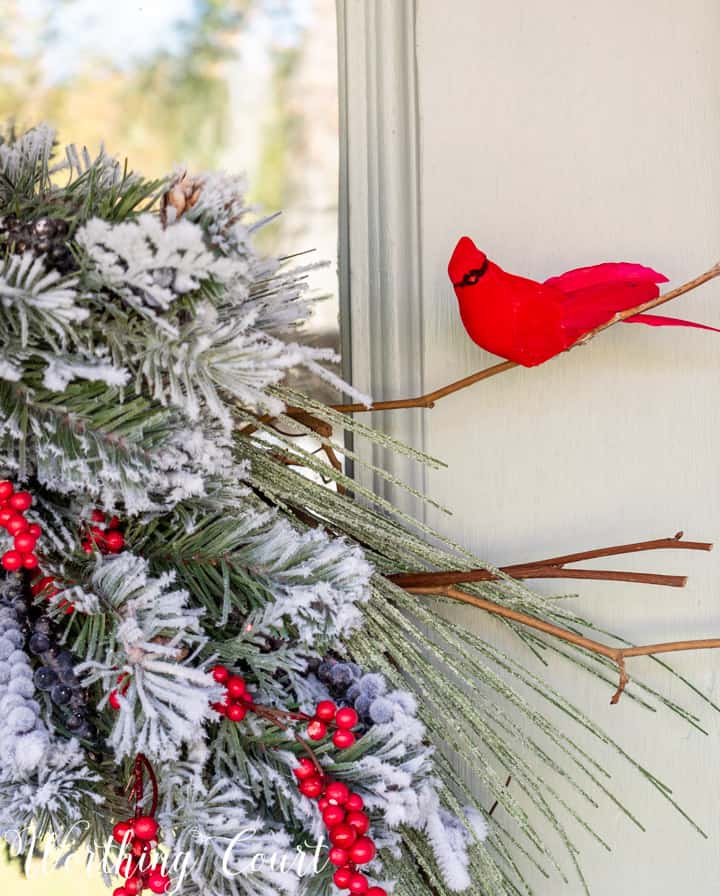 Pin
Both sides of my front door are flanked by outdoor lights that look like candlelit lanterns at night. The greenery on top of my lights consists of two faux greenery branches wired together and just laid across the top.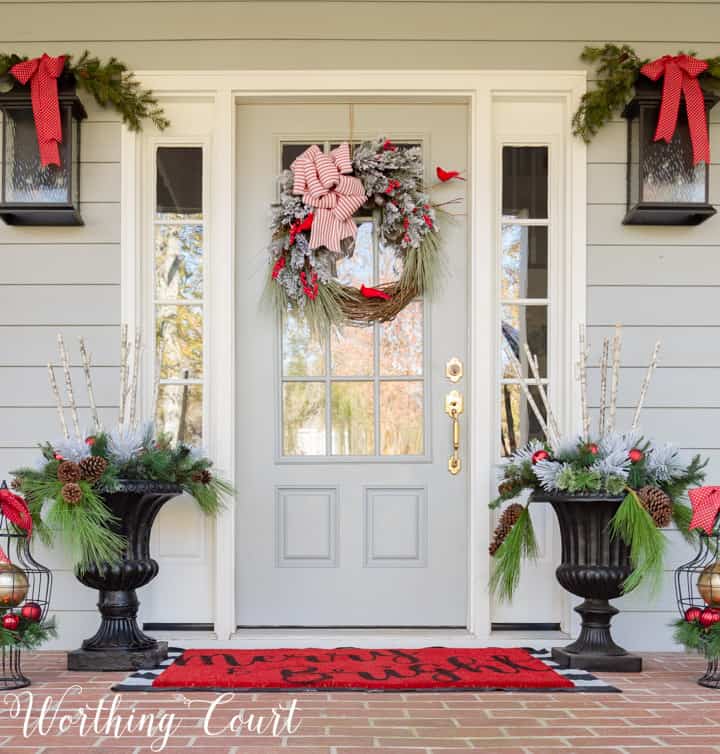 Pin
The porch is covered and is fairly deep so there's really no chance of wind blowing the greenery off. I ran out of my beloved red and white striped ribbon to use on the lights, so I found a cute red ribbon with white polka dots, that compliments that stripes, to use on top of the lights. I actually like it better with the two different ribbons that I would have if it all matched.
My front door is also flanked by a pair of urns that I filled with faux birch branches and bits and pieces of faux greenery. There's no ribbon in the urn arrangements, so bright red ornaments were nestled into the greenery.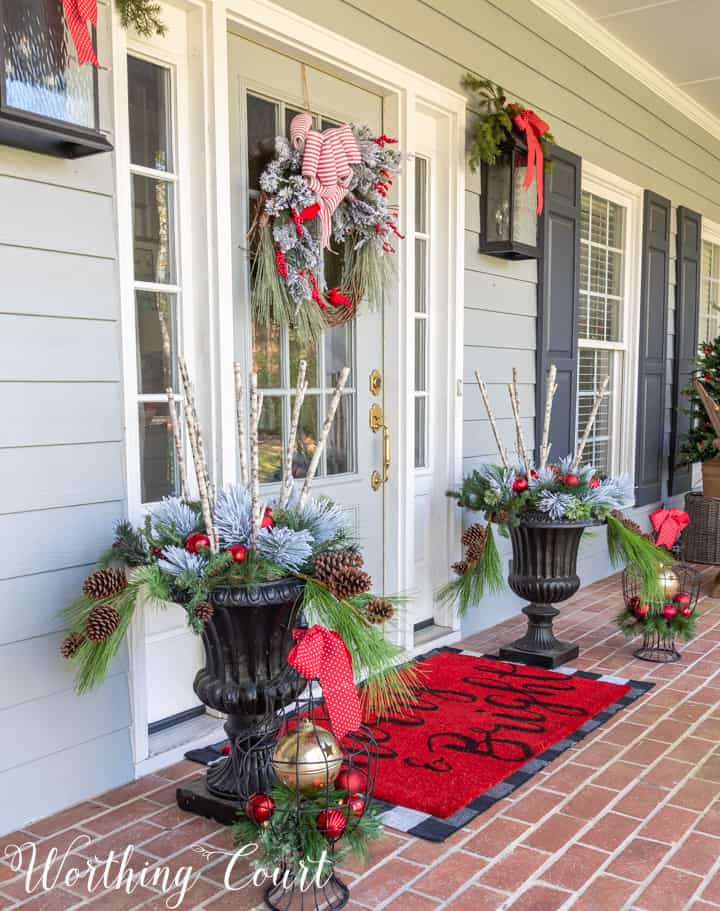 Pin
As a final touch, I added a my favorite wire lanterns beside each one of the urns. Inexpensive large jingle bell tree ornaments are wired to the top and hang down on the inside and the bottom is filled with more bits of greenery and a few red ornaments.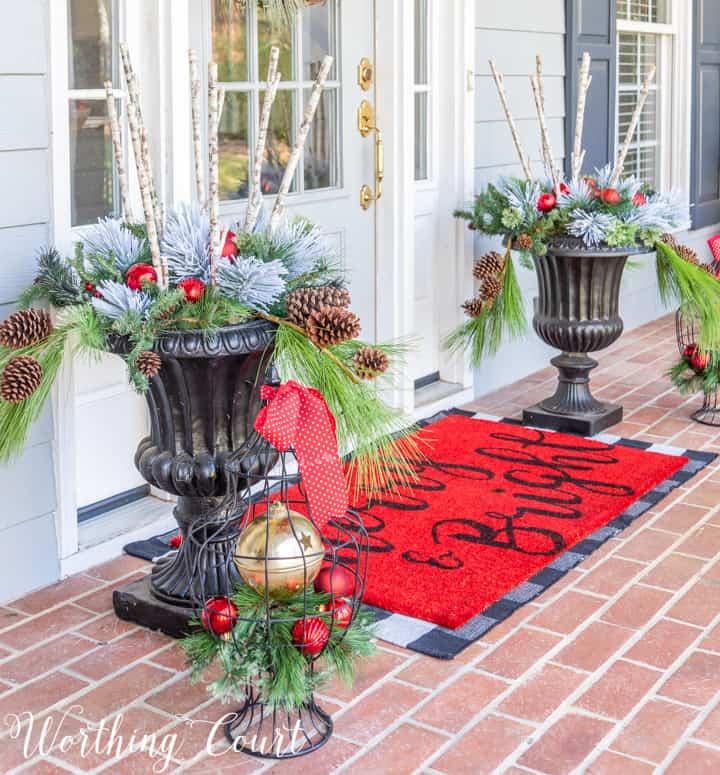 Pin
Our front porch isn't just a place to enter through our front door! We have two pairs of comfy Adirondack gliders and actually do sit out here when the temps are warm.
Sometimes we're fortunate enough to have warm'ish days to sit out here during the winter – especially with a cup of hot chocolate and a lap blanket! We don't live on a busy street, so it's always very peaceful out here.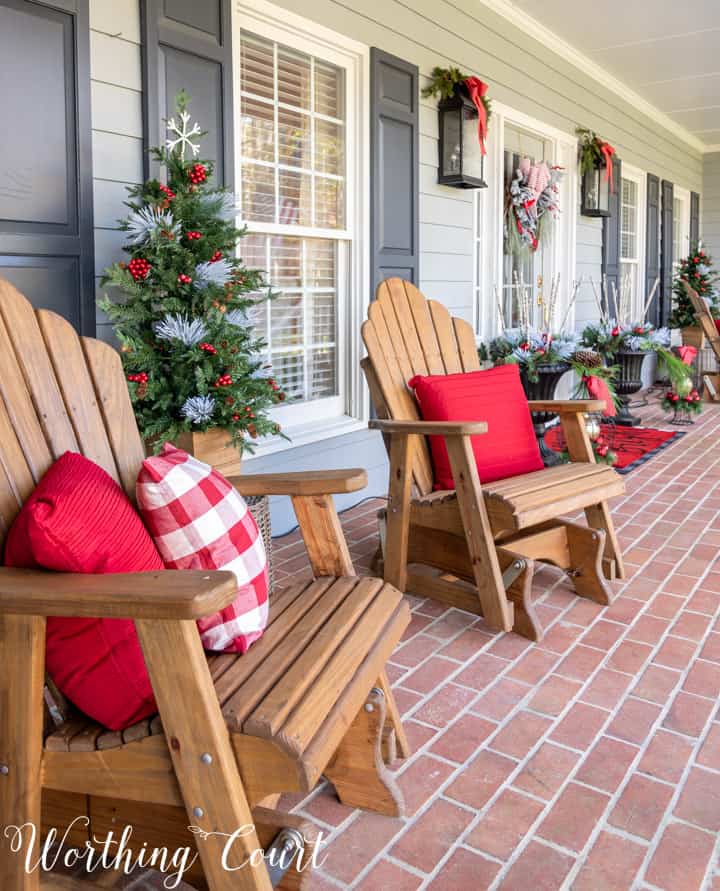 Pin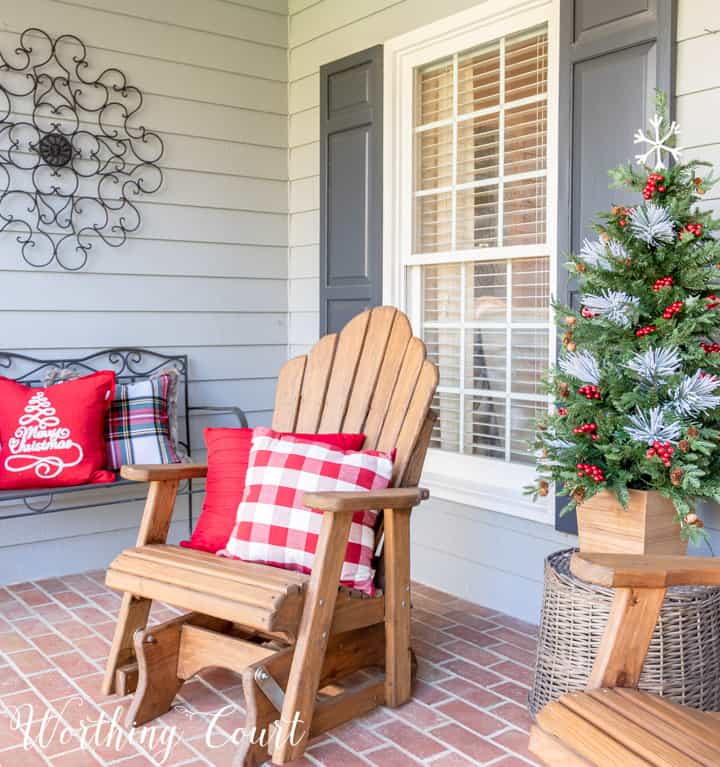 Pin
Cute Merry Christmas and red and white buffalo check pillows were added to the benches and chairs on each end of the porch to give me that symmetrical look that I'm usually after.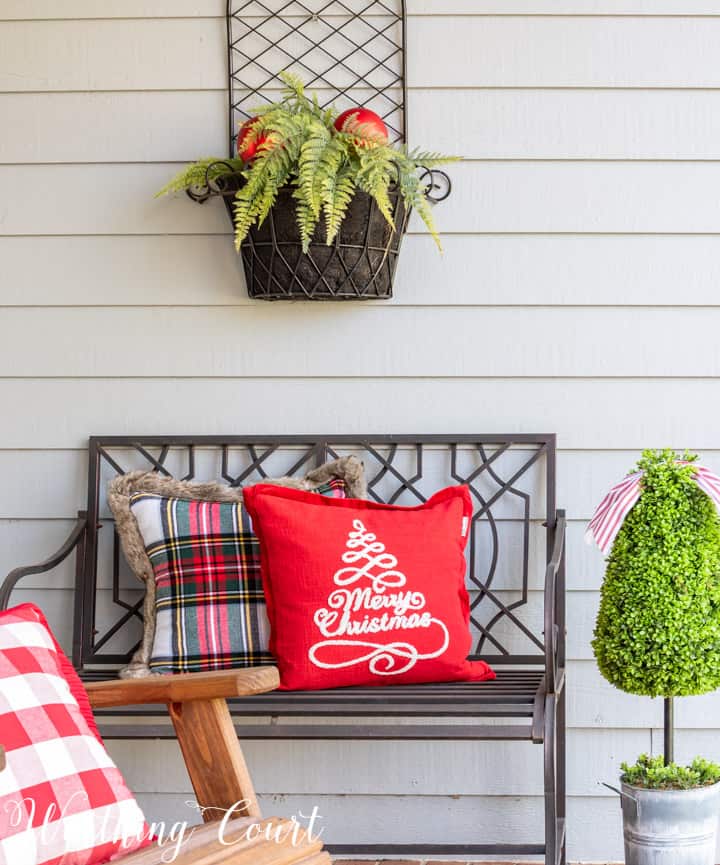 Pin
Thank you for looking around my Christmas front porch today. I hope you leave here feeling festive and were able to find some inspiration!
MORE CHRISTMAS PORCH INSPIRATION
Be sure to visit all the participating bloggers for festive decorating inspiration for your front porch, patio, sunroom and screened-in porch.
Atta Girl Says // House of Hawthornes // DIY Beautify // Chica & Jo
Worthing Court // Cottage at the Crossroads // Postcards from the Ridge // Weekend Craft
This Worthy Life // Marty's Musings // Sweet Pea // Our Crafty Mom