Red And White Flocked Christmas Tree
If you love using red at Christmas, you'll love this inspiration for a festive and cheery red and white flocked Christmas tree.
Using red as part of my Christmas decorations is a must for my family and well as myself! The bright and cheery color brings a festive vibe to a space like no other.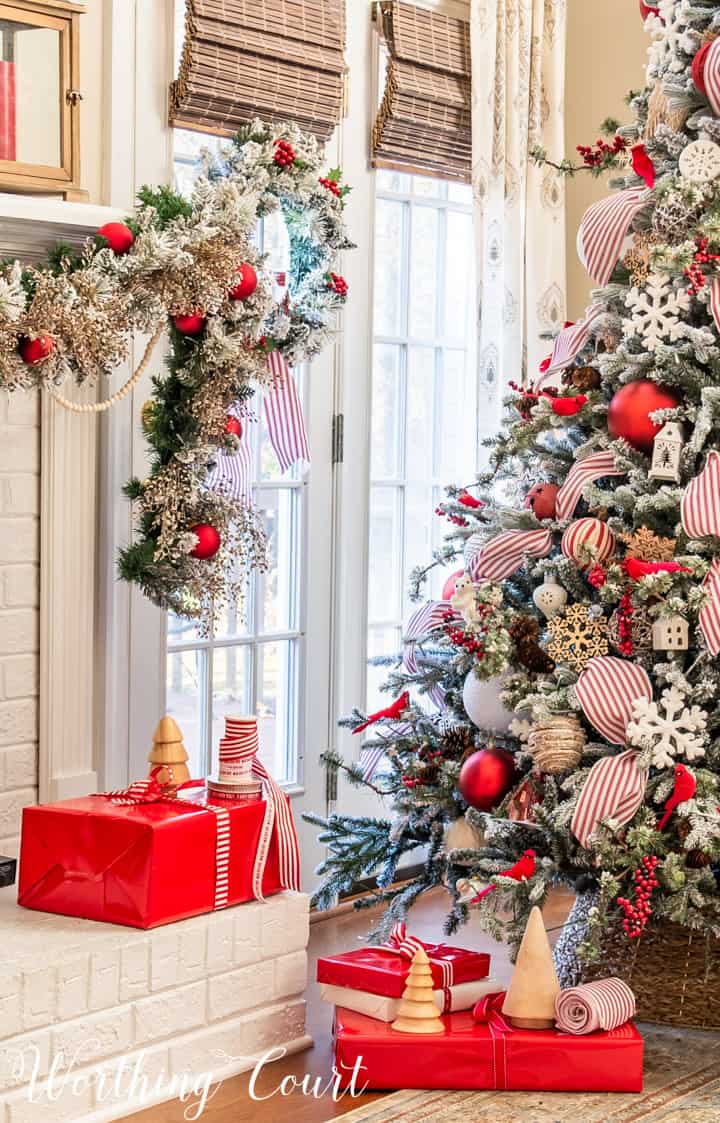 Pin
If you've been around for a while, you may notice that I have a new Christmas tree in our family room this year. It's a perfectly shaped, perfectly full, perfectly sized, 7.5 foot flocked beauty.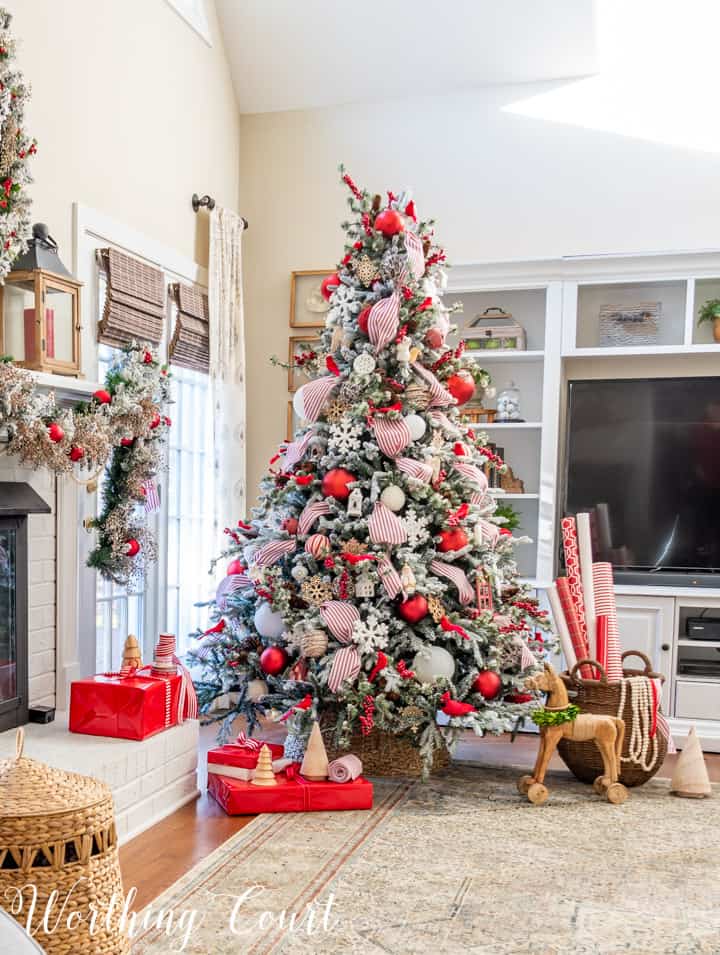 Pin
When setting this tree up, I had an "aha" moment when it came to doing my least favorite part, which is fluffing the tree. It's too good not to share, so you can read all about my discovery HERE.
Our previous tree (that we used for several years) was also a gorgeous tree and there was nothing wrong with it, but it had a couple of big issues that I never was exceedingly happy about.
The old tree was 9′ tall, which made it more difficult to decorate and called for more ornaments, etc. to properly fill the tree. I sure did get tired up climbing up and down that ladder every year!
My biggest issue with the tree was that it is a slim tree. I never felt that it properly filled the corner and nothing that I tried gave me the filled-up look I craved.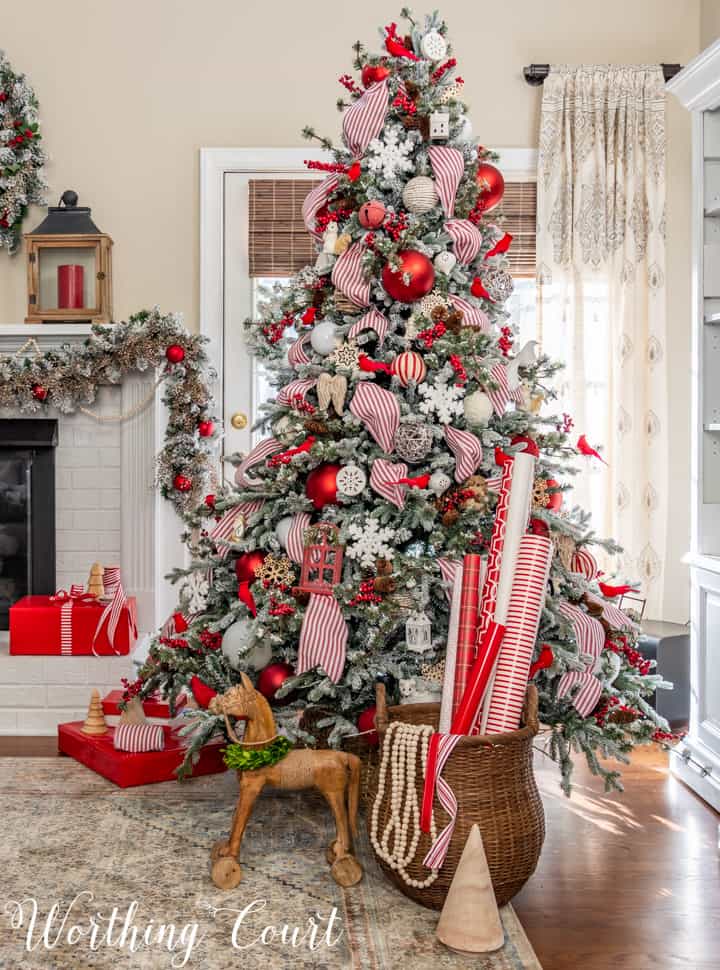 Pin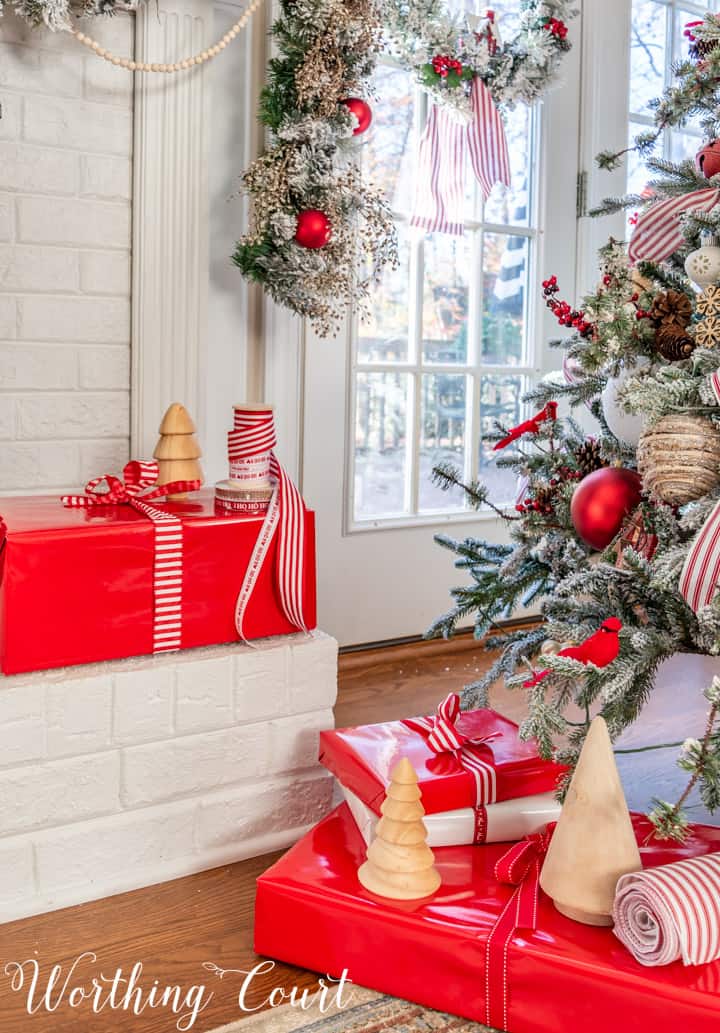 Pin
Usually I can point to one or two specific things that inspire the decor on my tree every year, but not this go-round. As I was out looking in the stores for inspiration, I ran across some adorable angel wings, in white washed wood and my imagination was immediately sparked!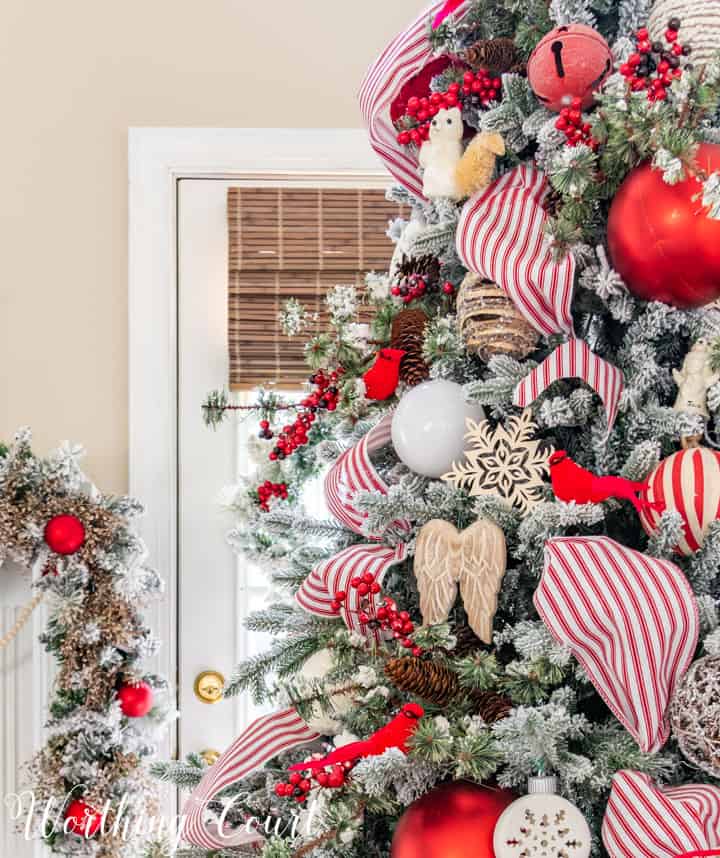 Pin
Thus was born my color scheme of red, white and natural wood tones. I think that color combination, along with the new tree lead to what I think is one of the prettiest trees I've ever had!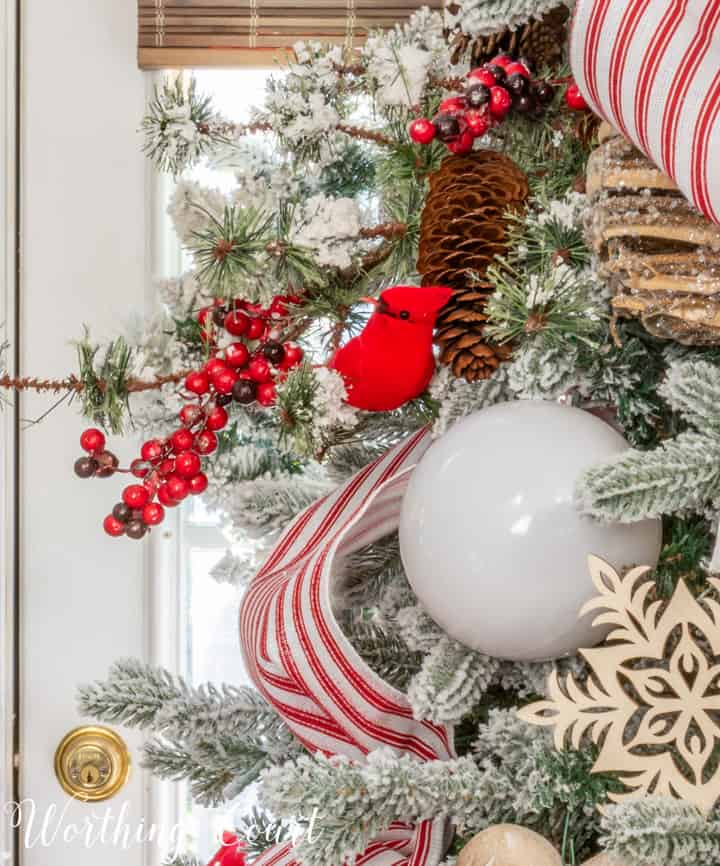 Pin
This is the first year that I've ever had a "topless" tree! In the past, my trees were always topped with an angel, star or a top filled with all sorts of pretty picks and berries. But this year, I wanted to try something a little different and I must say that I really like it!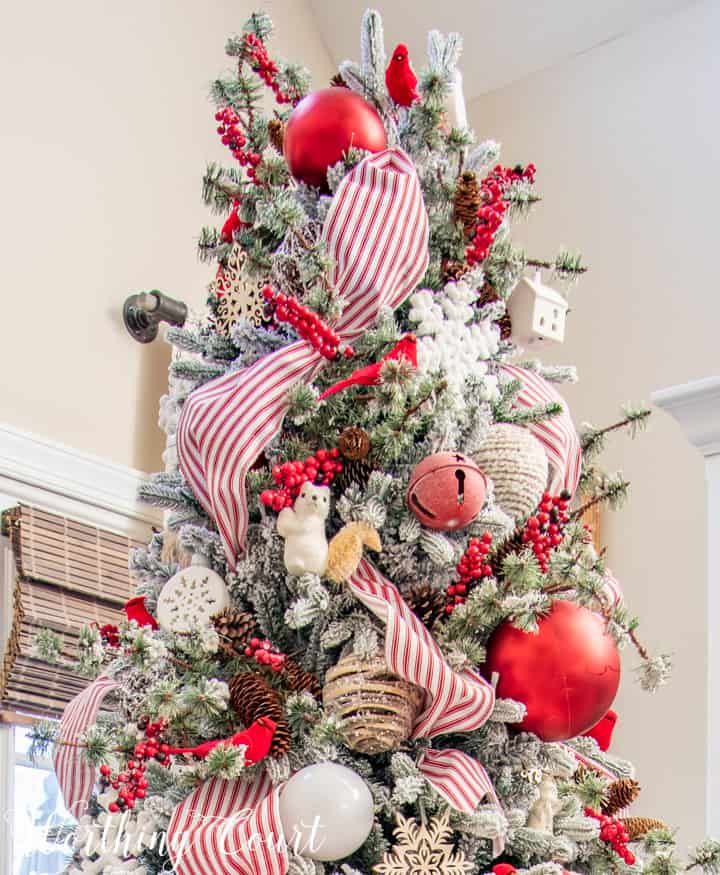 Pin
This ribbon that I used is a nice 5″ width, which really pops on the tree and adds lots of personality.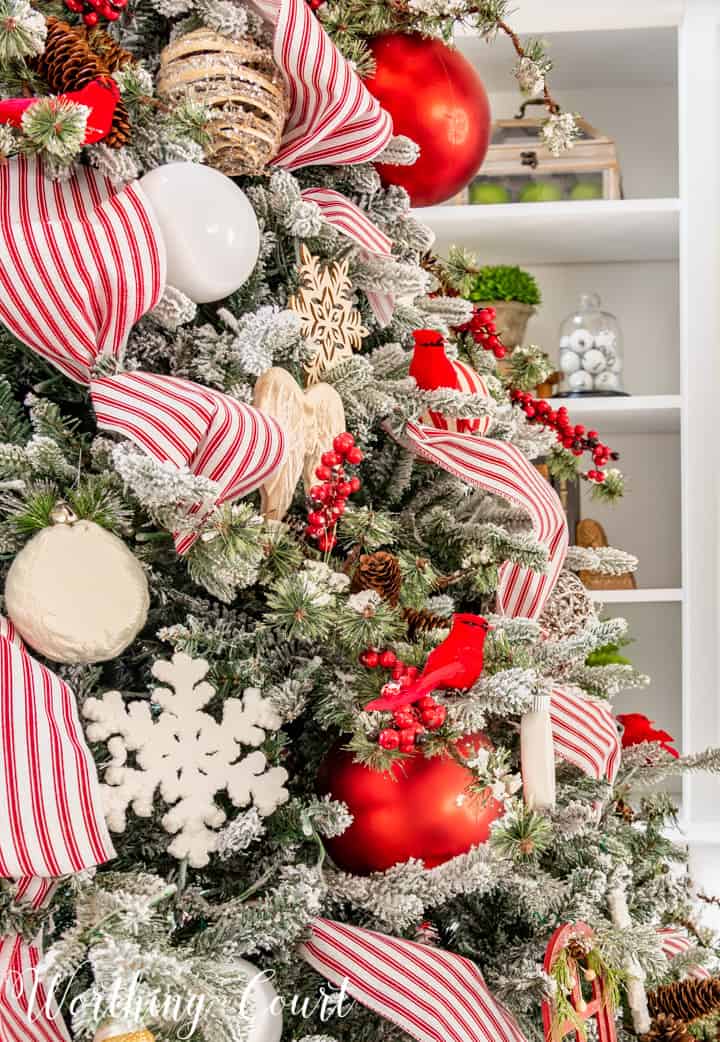 Pin
As you can see, I'm color coordinating my wrapping paper and ribbon this year too.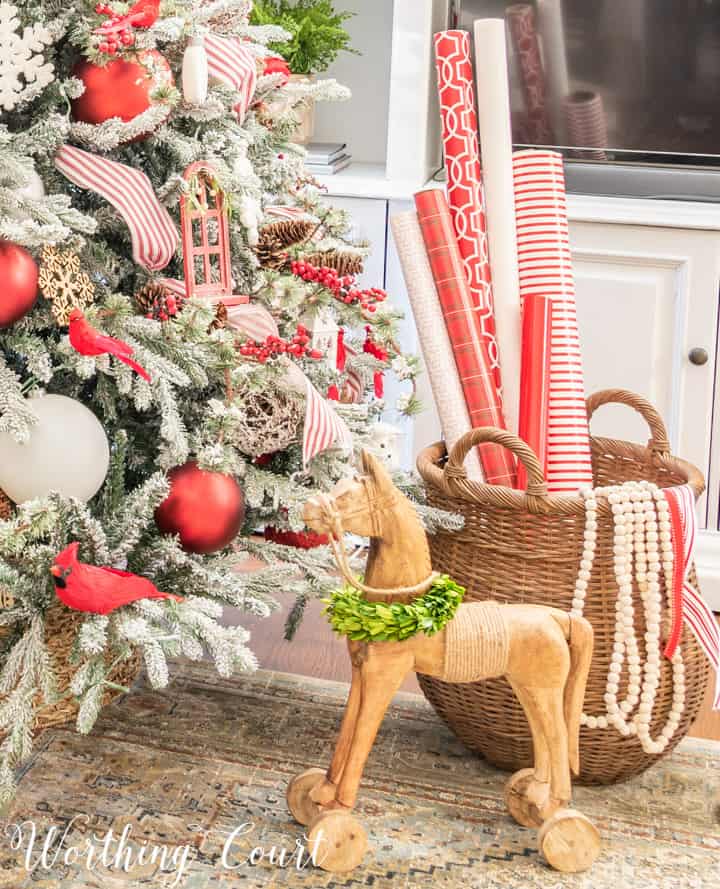 Pin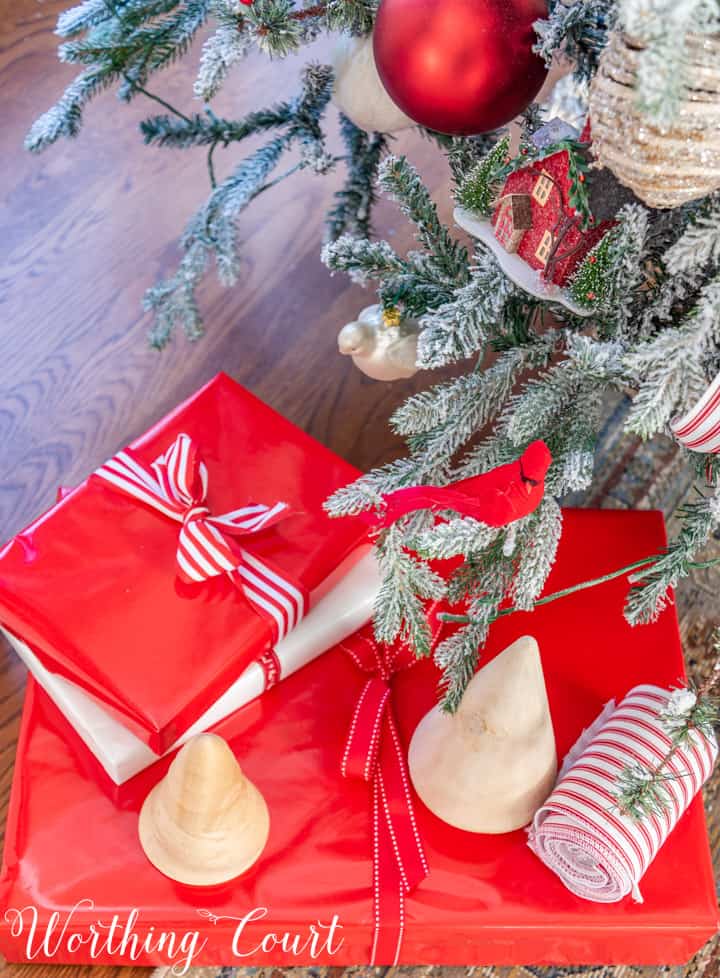 Pin
You may find it helpful, so here's my "recipe" for my tree ingredients. Everything is listed in the order that it was added to the tree, but you may also find my post, How To Professionally Decorate A Christmas Tree – Designer's Step By Step Directions helpful.
My tree is only decorated about 3/4's of the way around since the back of the tree faces French doors, so if you decorate yours all the way around you'll need to increase the number of ingredients by 1/4th.
30 pine and red berry picks
6 extra large round red ornaments
6 extra large round white ornaments
12  medium sized neutral ornaments
7 medium sized white ornaments
12 medium sized red ornaments
14 yards wired ribbon
55 novelty/one of a kind ornaments
24 clip-on cardinals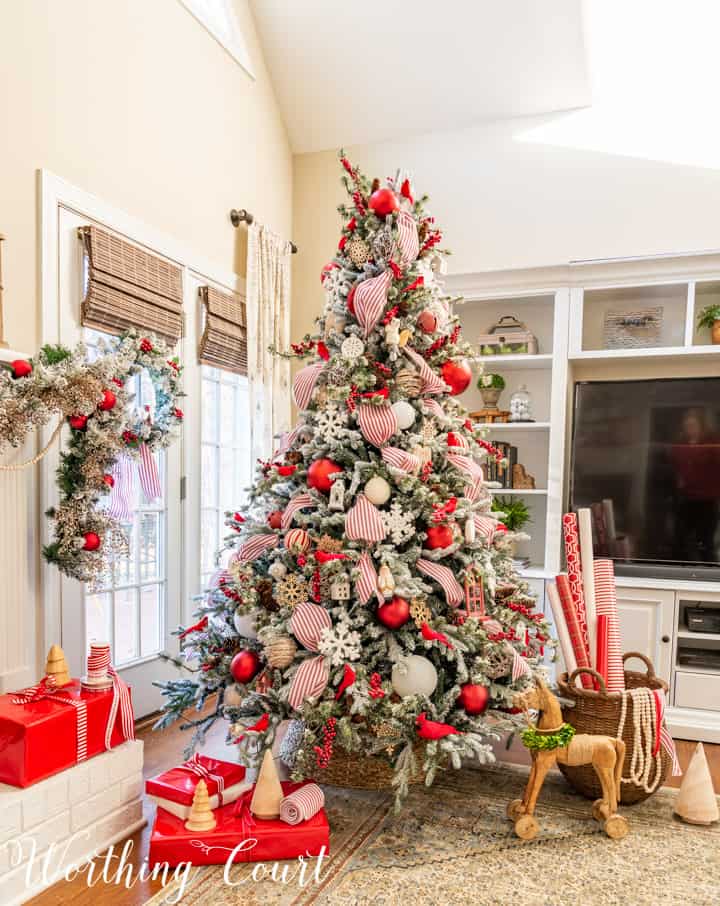 Pin
Happy Christmas tree decorating, my friend!