You'll find lots of easy to copy ideas for your home when you tour this family room decorated with an updated traditional style for Christmas.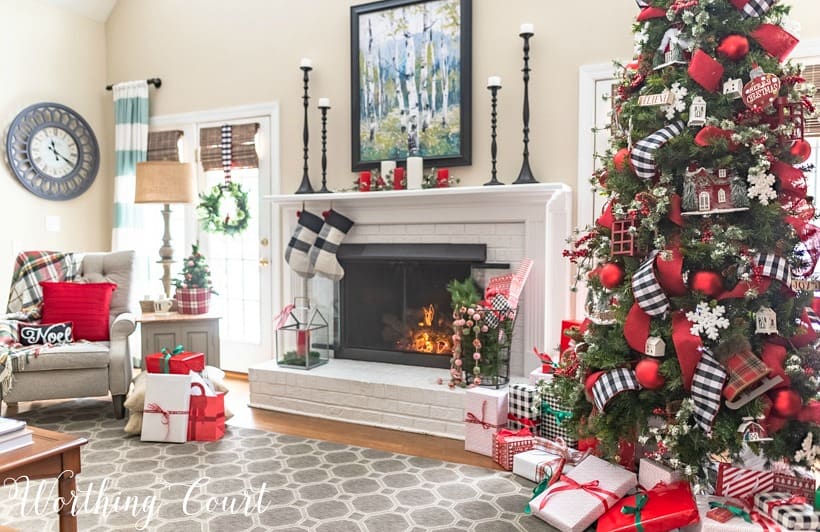 They say that the kitchen is the heart of the home, and mine usually is, but that role switches to my family room during the Christmas season.  My family room is where everyone gathers to drink hot cocoa by the fire while watching a Christmas movie.  It's the place where we enjoy one another's company in front of the tree and where so many new family memories are made!
Yes, of course our kitchen gets used a lot, but it truly takes second place during the holidays.  There's just something magical about the Christmas tree and a having a fire in the fireplace that seems to draw everyone to this space.  This year, my tree is filled with red and white decorations and with gorgeous silk black and white buffalo plaid ribbon added to it.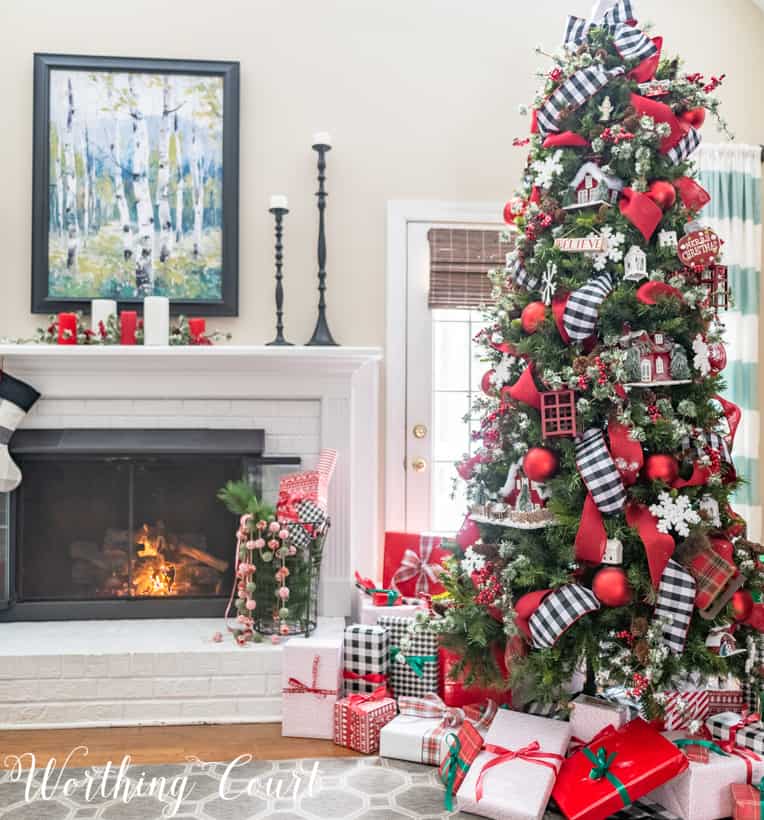 I did a little experiment with my 9′ tree this year and it's all because of how I was influenced by the time I spent with a few professional designers learning their step-by-step secrets for decorating a Christmas tree.  You can watch the video and see the entire process of how they decorate a Christmas tree by clicking HERE.
I found the cutest, glittery red houses and a barn on clearance after Christmas last year and have been waiting all year long to use them.  As soon as I put my tree up, I knew exactly where they would go!
The first thing that I added to the tree was the ribbon, but the houses were the very next thing that I added and I love how quaint and cozy they look nestled into the branches!  After the houses came the largest ornaments, then the medium and smaller ornaments and then the picks of faux snow covered greenery and red berries.  I did a video tutorial of how I add ribbon to the tree that you can find by clicking the 'Christmas Inspo' button in my Instagram profile.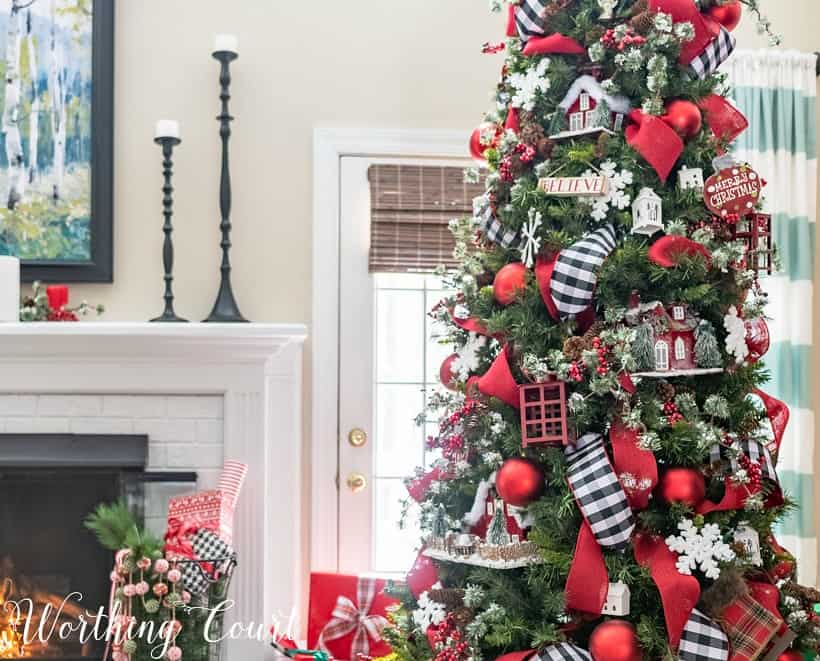 The opposite side of the room is where my sofa is located, which I cozied up with a furry blanket and fur trimmed plaid Christmas pillows.  On my diy sofa table, located behind the sofa, I added two chunky white candlesticks and a cute flannel plaid covered basket filled with artificial greenery.  Very simple and very easy – that's my favorite way to decorate!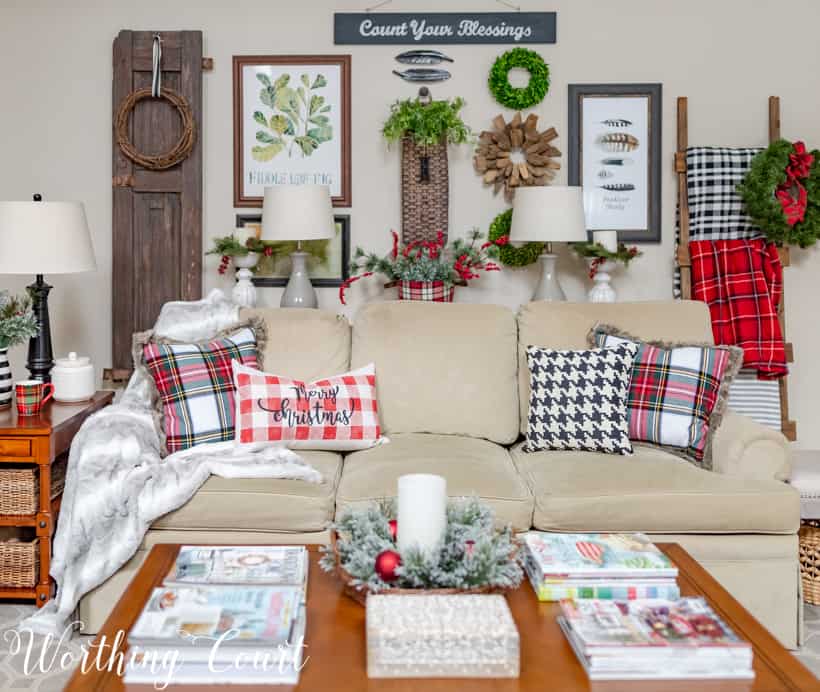 It's easy to see exactly who in the family thinks that this is his cozy spot!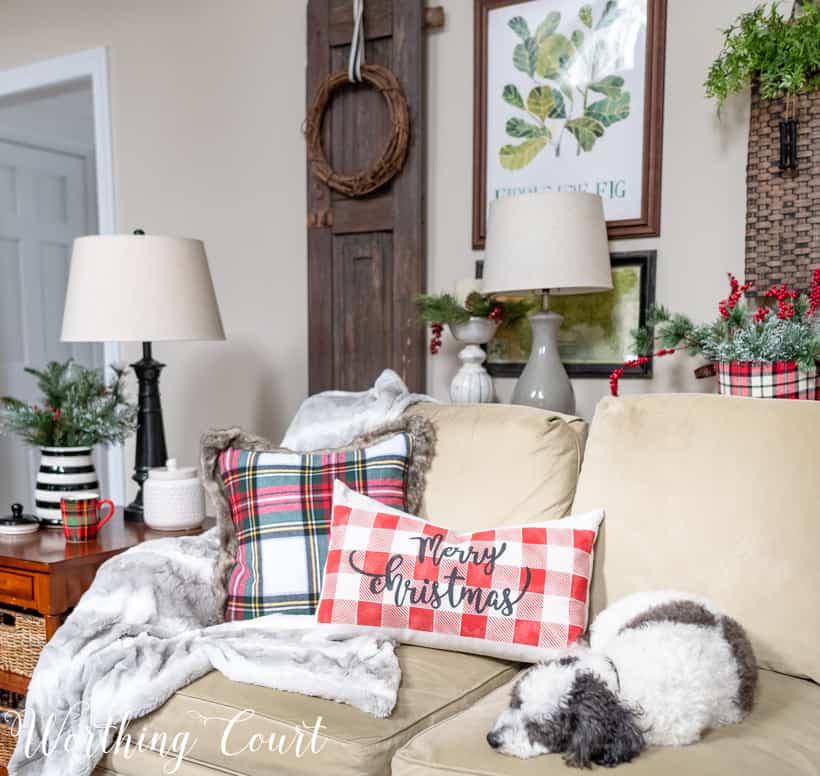 On the console table at the end of the sofa, I placed a simple arrangement of galvanized metal houses in a tray, added a few sprigs of artificial greenery and tucked in a few frosted red ornaments.  It's little touches like that and the pair of red lanterns on the bottom of the table that help to carry the festive red throughout the entire room without being overwhelming.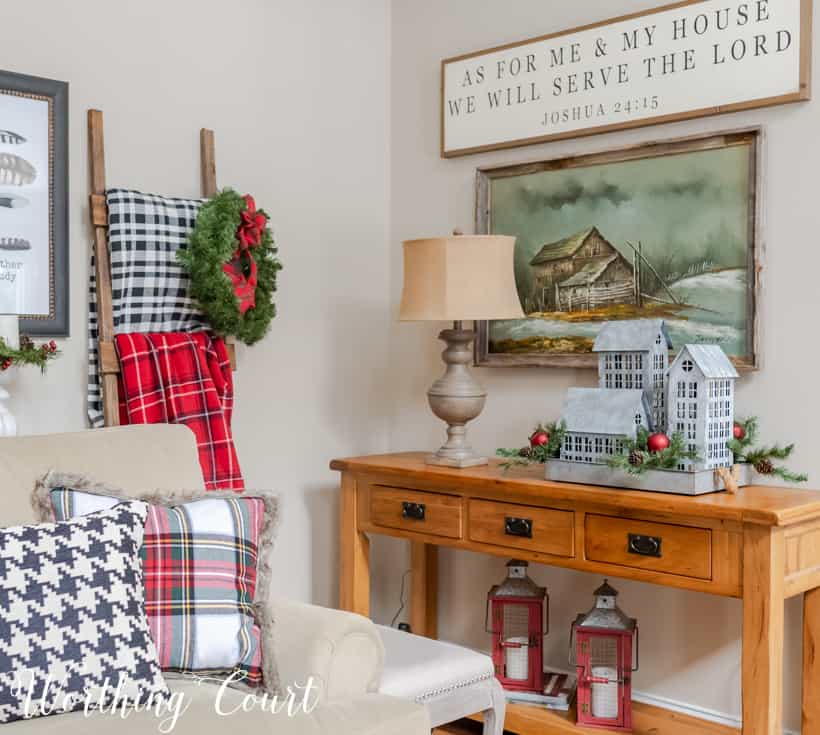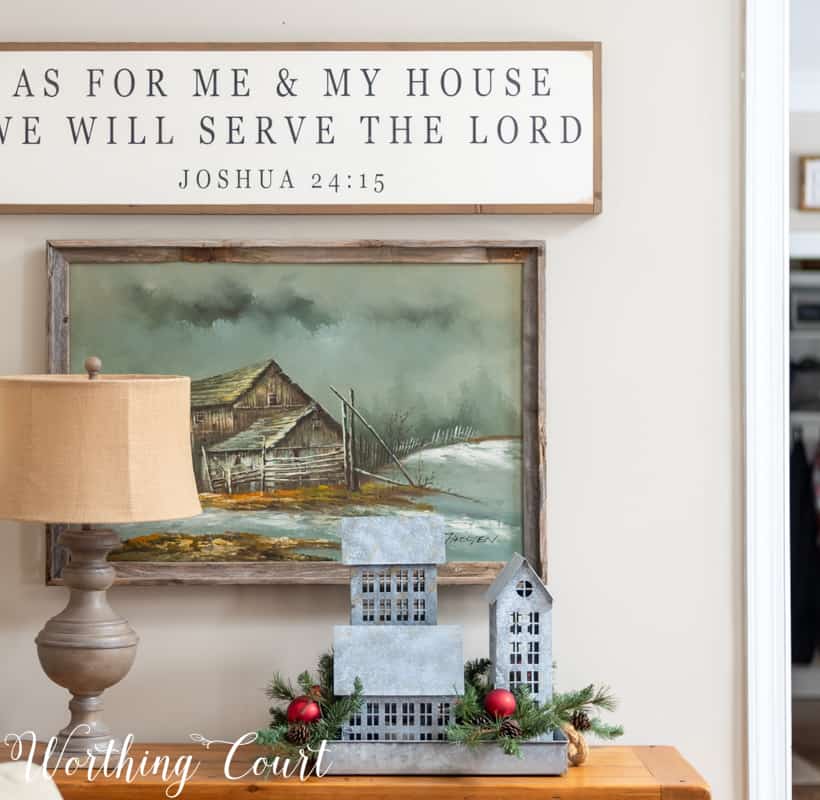 If you've been following me any time at all, then you already know that I've been working on my husband for a long time to get him to agree to replace his worn (not in a good way) leather recliner and he finally did!  My husband is 6'2″, so on top of comfort being a priority, the chair also needed to support his neck and shoulders.  For me, I simply wanted it to be pretty!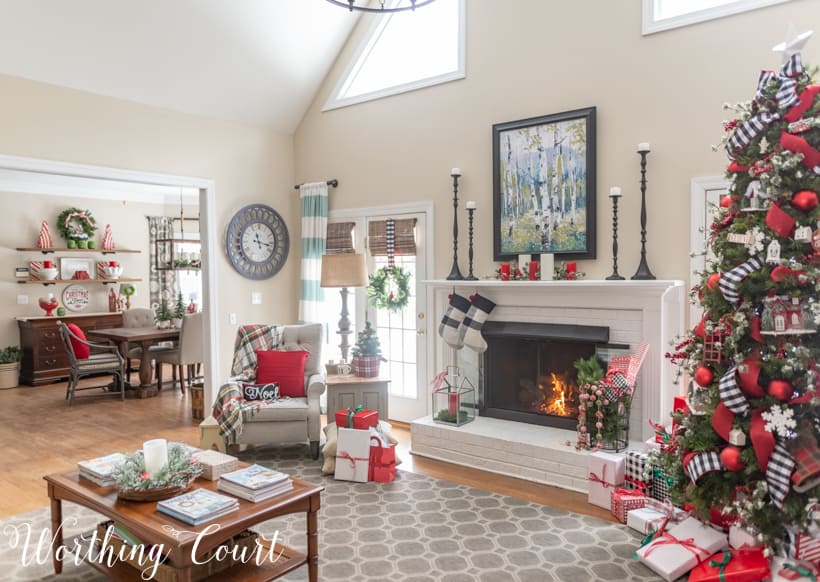 Hanging a wreath on the French door behind the chair and adding another flannel plaid bucket filled with a mini tree makes this quite the cozy corner now.  And of course, I'm so glad that the poofy leather chair is gone!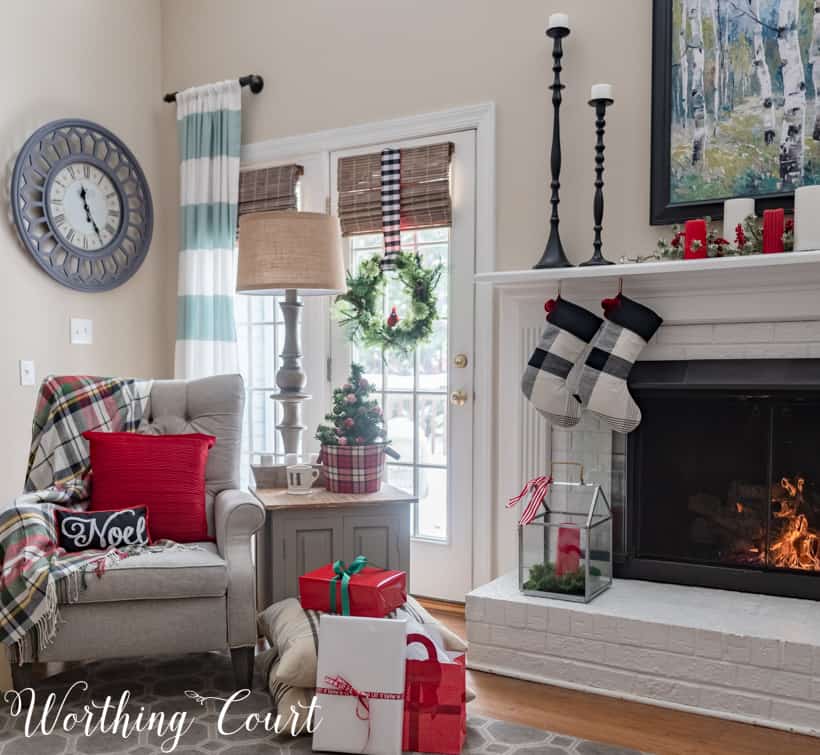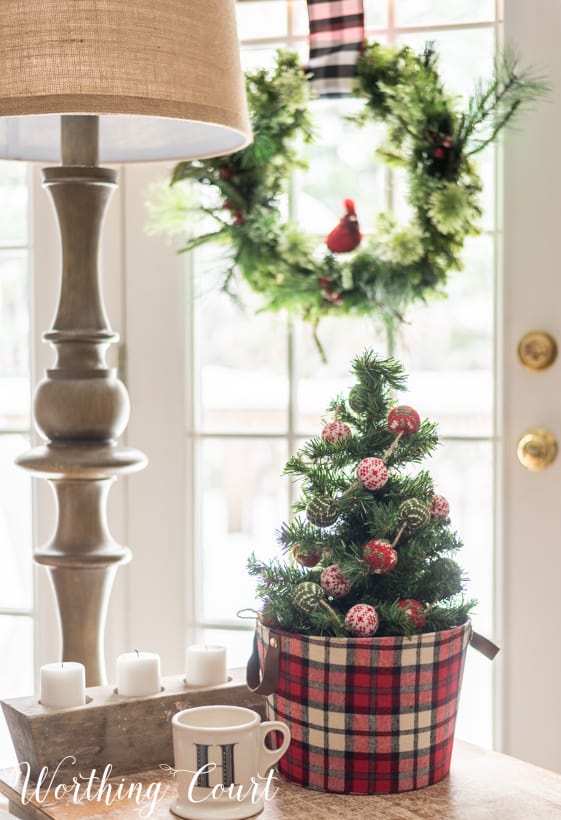 I have a lot of changes planned for this room starting after the New Year and can't wait to bring you along on the journey!