Christmas Brunch Tablescape + Christmas Morning Casserole Recipe
Pull out all of your festive red, white and green decor, plates and linens to create a fun tablescape for Christmas morning breakfast or brunch.  You won't believe what I used for a tablecloth!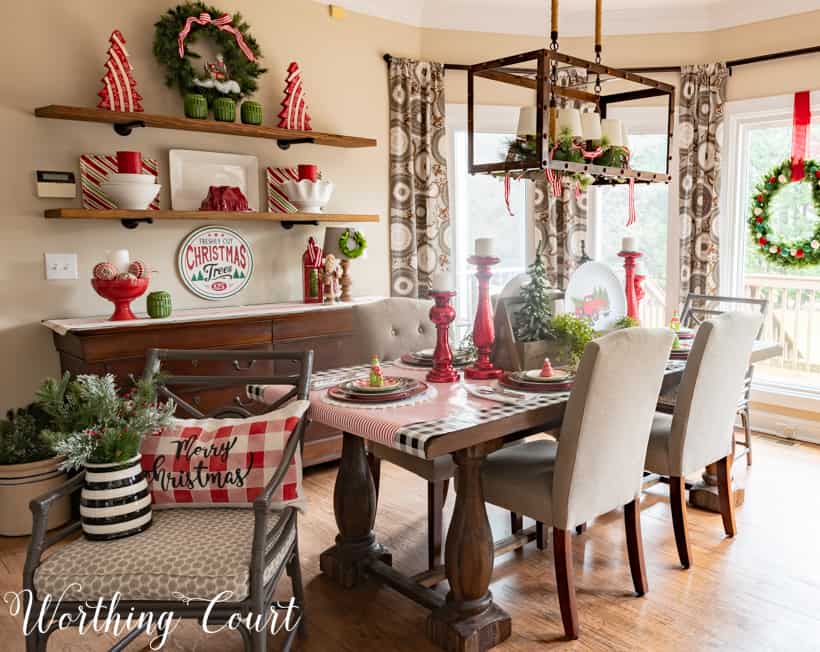 SET A FUN AND FESTIVE TABLE FOR CHRISTMAS MORNING
Just in time for Christmas morning, I'm sharing a fun and festive tablescape for a cheery breakfast or brunch.  Set the table a day or two ahead of time so that all you have to do on Christmas morning is pop my make-ahead Christmas Breakfast Casserole into the oven while celebrating with your friends and family!  The delicious casserole recipe is down below.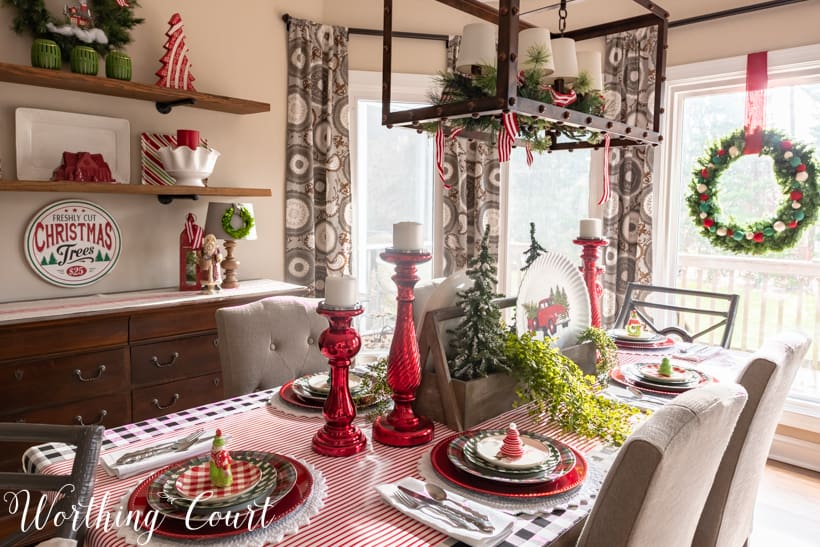 My mom crocheted a set of beautiful snowflake placemats for me, which I treasure, and I topped each one with a shiny red charger, a tartan plaid dinner plate, a super cute Christmas tree plate and a small little muffin plate.  I love, love, love to mix and match holiday patterns, so stacking all of these dishes together is so much fun for me!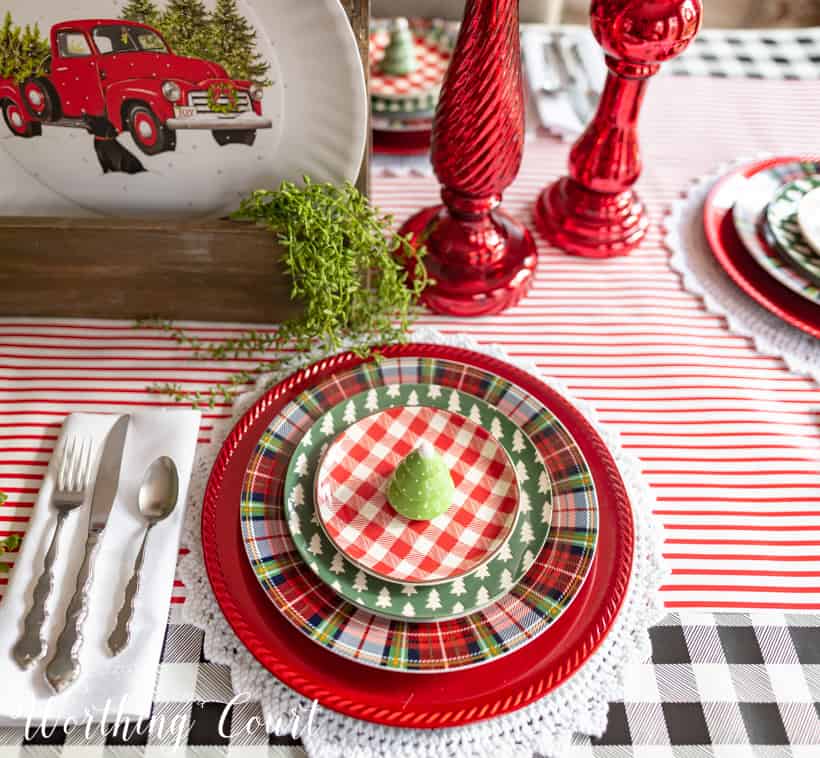 I tried mixing different patterned napkins with each place setting, but decided that just a solid white linen napkin would be the best because of all of the patterns already on the table.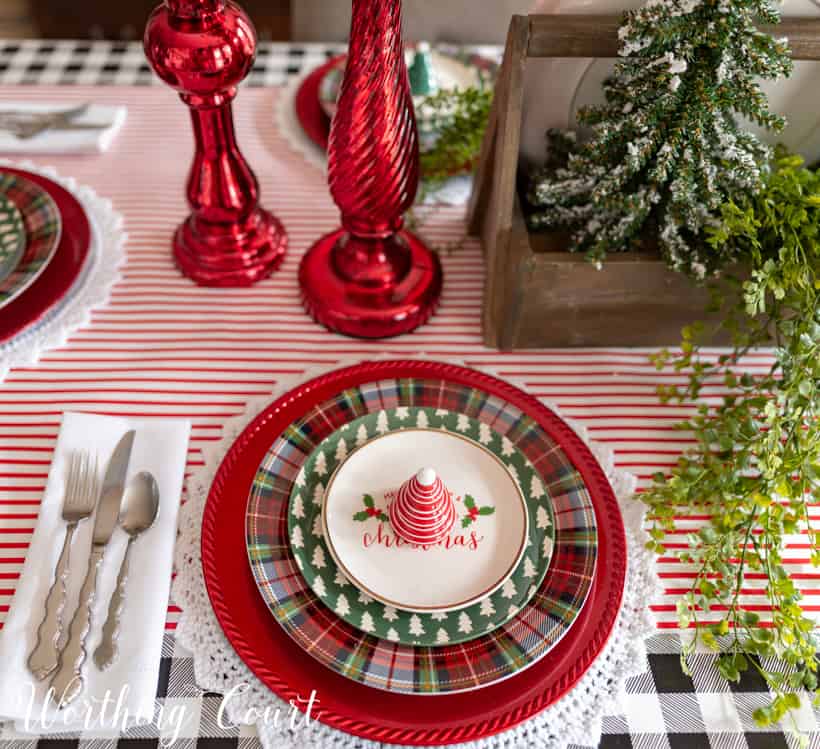 AN EASY IDEA FOR CLEANUP
Let's talk about my "tablecloth".  😀  You can probably tell that it isn't a traditional one.  I used an extra wide roll of black and white buffalo plaid wrapping paper and topped it with more Christmas wrapping paper in a red and white striped pattern.
Each end of the paper is wrapped under the edge of the table and secured with tape.  All I have to do to clean up any spills or crumbs is simply wad the whole thing up!  Of course, if there aren't any spills, I'll brush away the crumbs and roll the paper back up to use for wrapping gifts.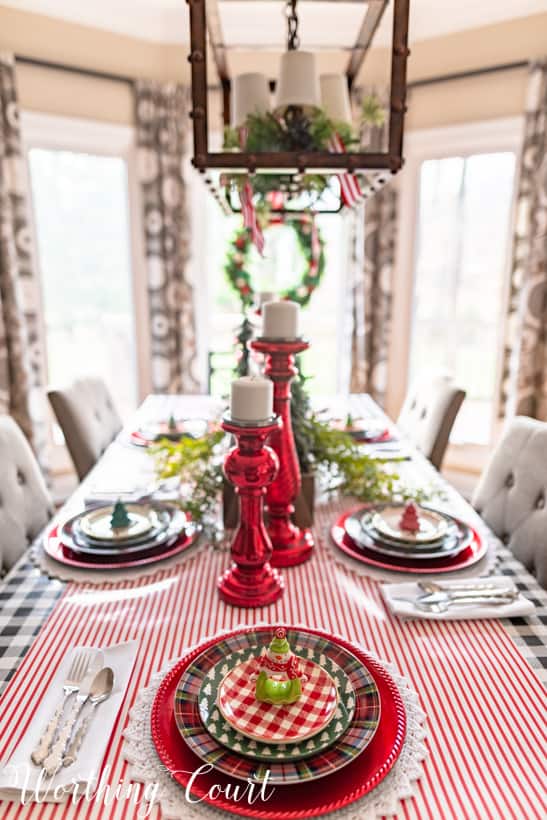 AN EASY CENTERPIECE IDEA
This holiday centerpiece is SO simple to recreate!  Grab any container you have around your home and fill it with Christmas platters or plates standing on their sides.  Stack them in front of one another for interest and fill in empty spots with cute mini Christmas trees and bushy artificial greenery.
I didn't add the red sparkly candlesticks at first, but when I did, it brought the whole centerpiece to life and added a little fun sparkle to the table!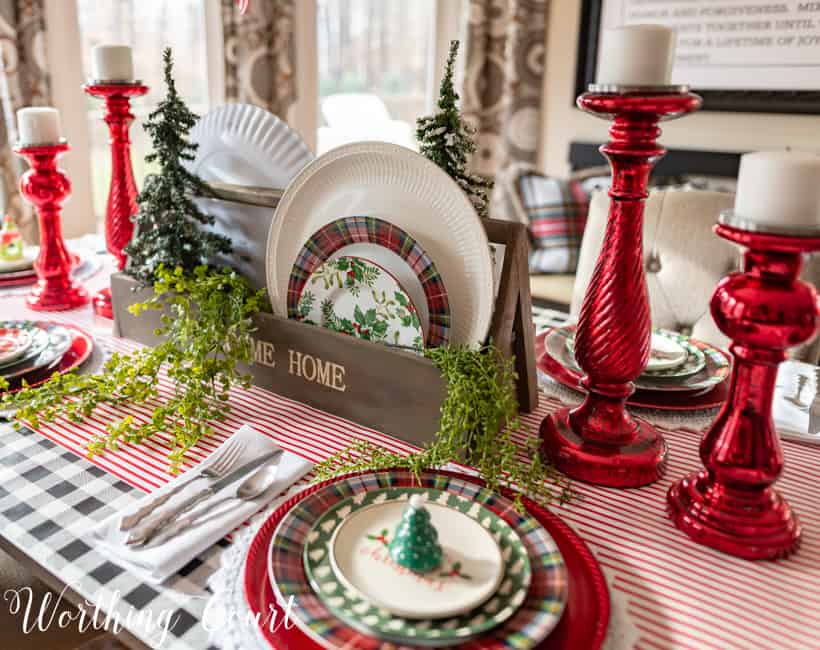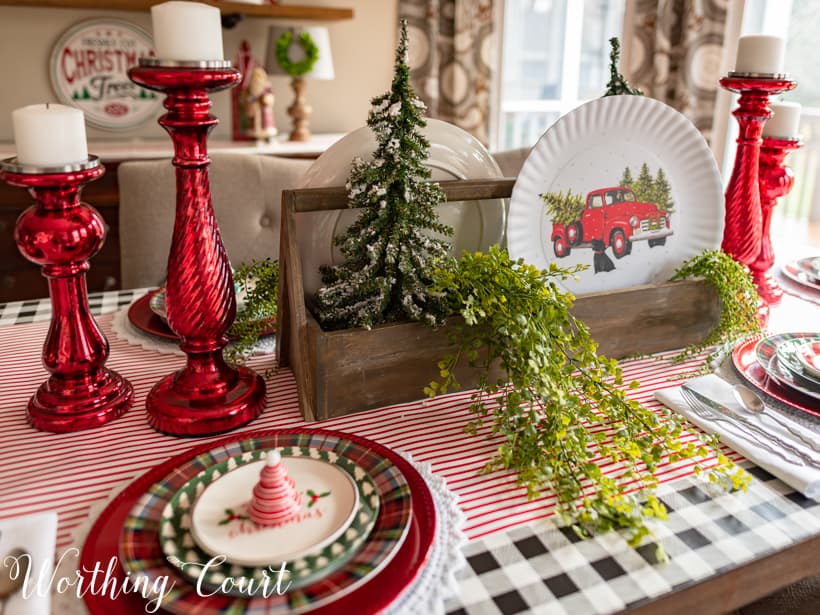 BREAKFAST CASSEROLE RECIPE
I make this breakfast casserole recipe every single year for Christmas morning.  To avoid being stuck in the kitchen on Christmas morning, I either make the egg casserole ahead and freeze it or, I make it the day before and heat it in the microwave on Christmas morning.  We love it served with fresh fruit and orange juice!  Click HERE to get the recipe.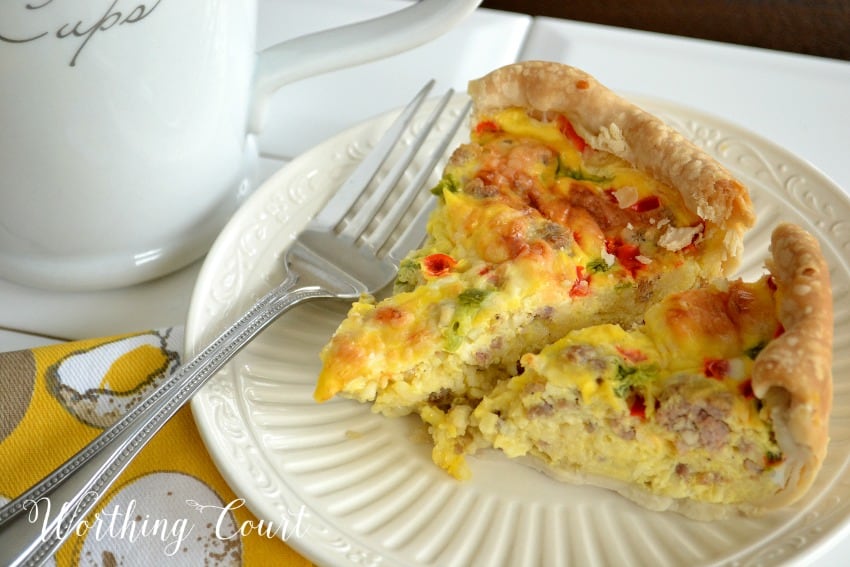 I'll be signing off until after the first of the year to celebrate Christmas with my family, but before I go, I want to wish each and every one of you and Very Merry Christmas.  May God's richest blessings fill your home as we celebrate the birth of our Lord and Savior!