Easy DIY Vintage Chandelier Makeover With Paint And Wood Beads
If you're decorating on a budget, finding an affordable chandelier can be a challenge!  Let me show you how you can give a vintage (not vintage in a good way) chandelier a totally new look for only a few dollars.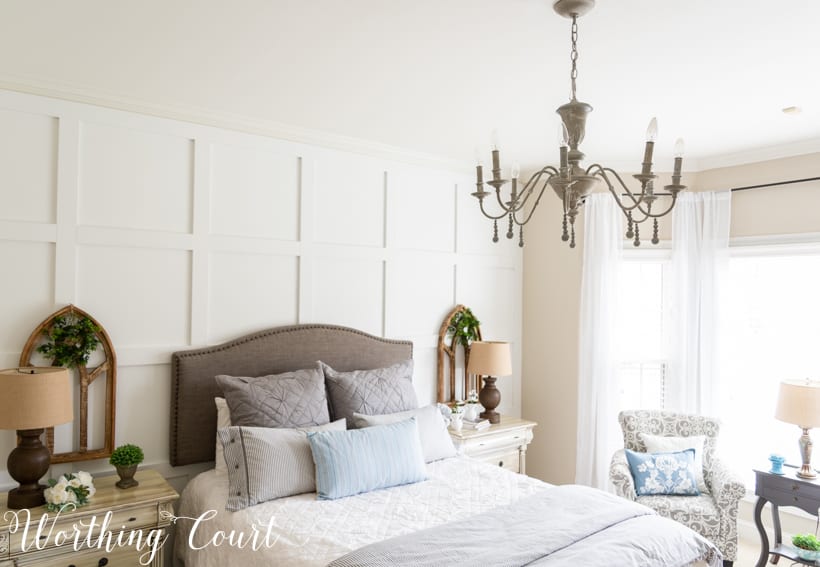 When we purchased our house 4½ years ago, we "inherited" a perfectly good chandelier that the former owner had hanging in their dining room.  When I say perfectly good, I mean that it worked.  I definitely don't mean that it was attractive!  😀
I loved the overall style of the light fixture, but not the verdigris green finish with shiny brass accents that was super popular back in the 80's and 90's.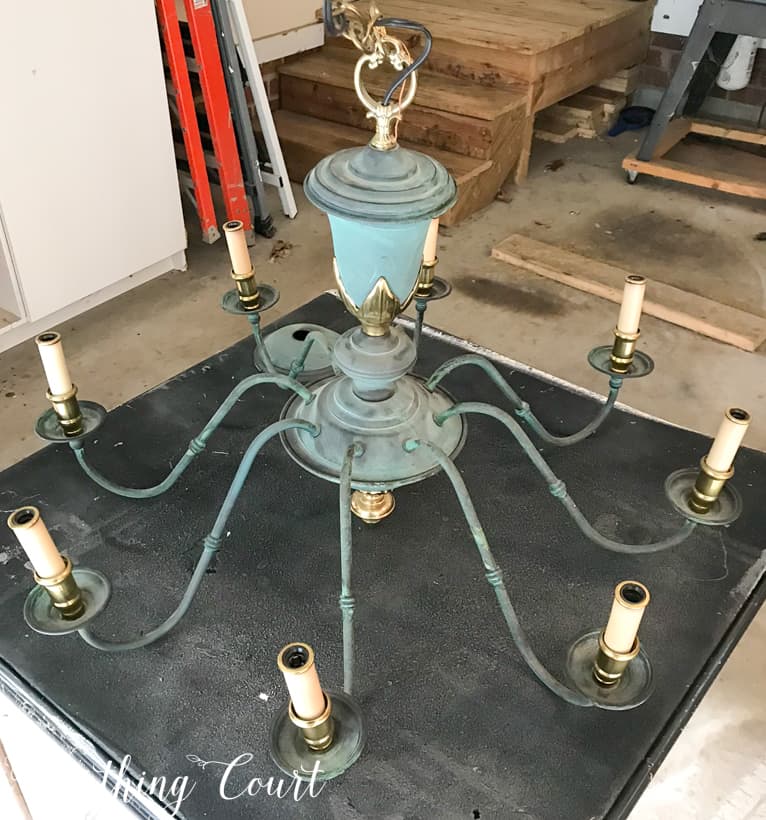 Thankfully, I knew it was a great candidate for a makeover and I had the foresight to hold onto it, even though I had no idea where I'd wind up using it!  So, it sat in a hallway closet for four years until I realized that it would be the perfect replacement for the ugly shiny brass and frosted glass ceiling fan in the bedroom I was giving a complete makeover to.
This blurry photo that I snapped right after we moved in gives you an idea of what the bedroom and dated ceiling fan looked like.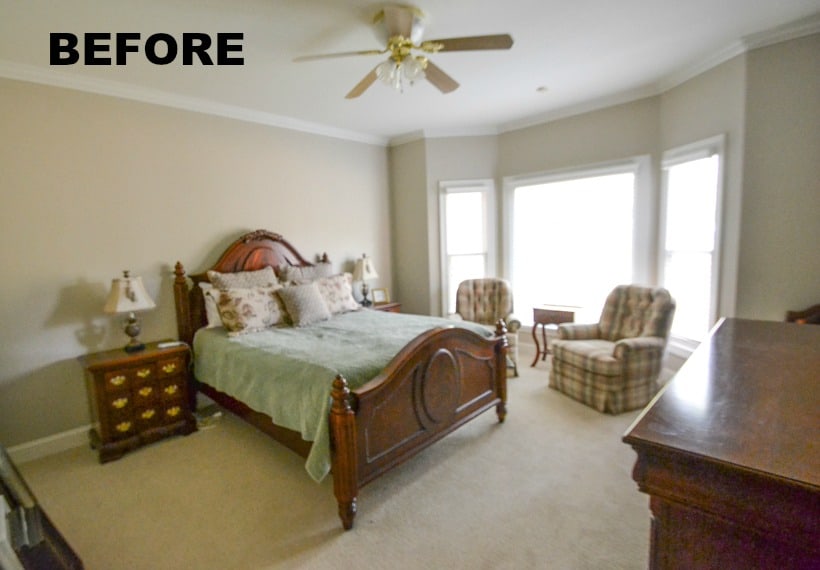 And here's what the beautiful room is looking like today with it's new light fixture in place!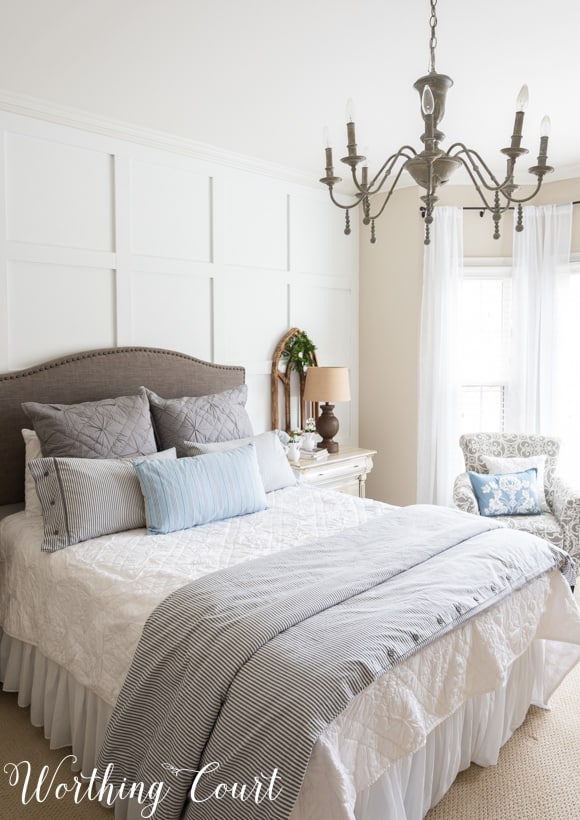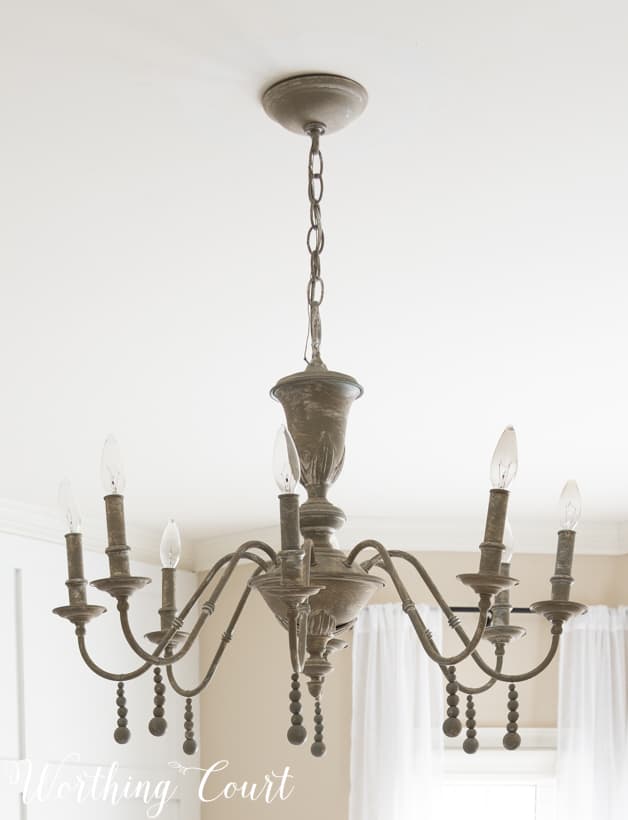 Looking for inspiration
The very first step in the chandelier makeover process was to look for inspiration.  I honestly didn't know exactly what I wanted the makeover to look like other than it was pretty obvious that the "new" light fixture needed to compliment the French country/farmhouse/shabby chic vibe that I have going on in the room. After much searching, I came up with these four images that acted as my inspiration.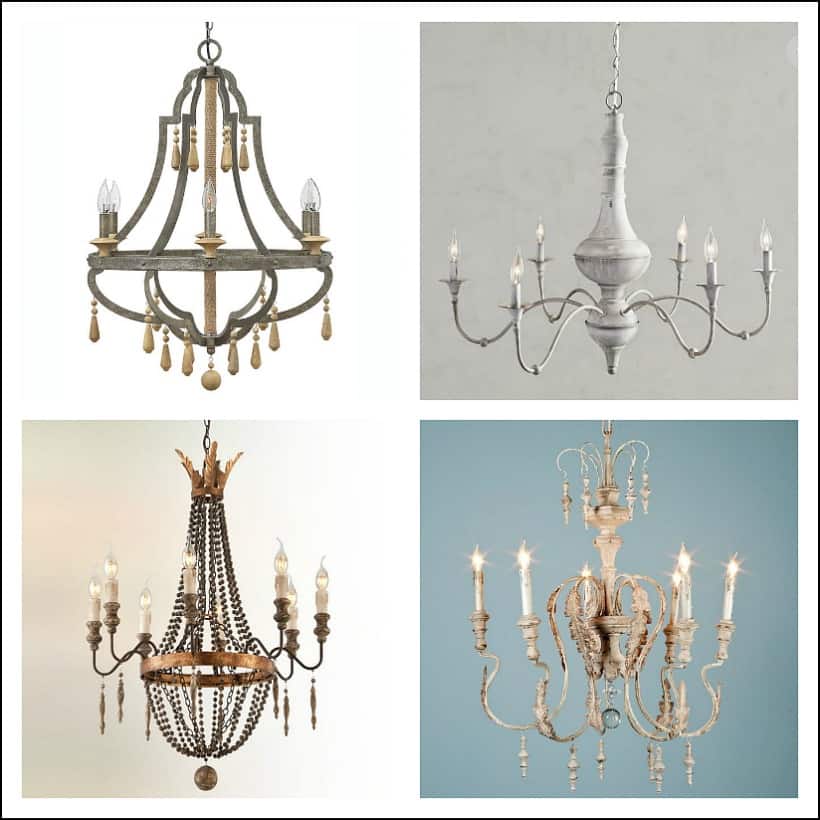 It was pretty clear that I was most drawn to distressed finishes and beads and dangling things, so I needed to figure out a way to turn the old green and brass chandelier into something that would incorporate my favorite parts of each of my inspiration pieces.
HOW I ACHIEVED THE DISTRESSED FINISH
After giving the old fixture a thorough dusting and taping up all of the exposed wires and connections, I gave it a complete coat of white spray paint.  First turning it upside down and then right side up to make sure every surface, including the chain and wire woven through the chain, were completely covered.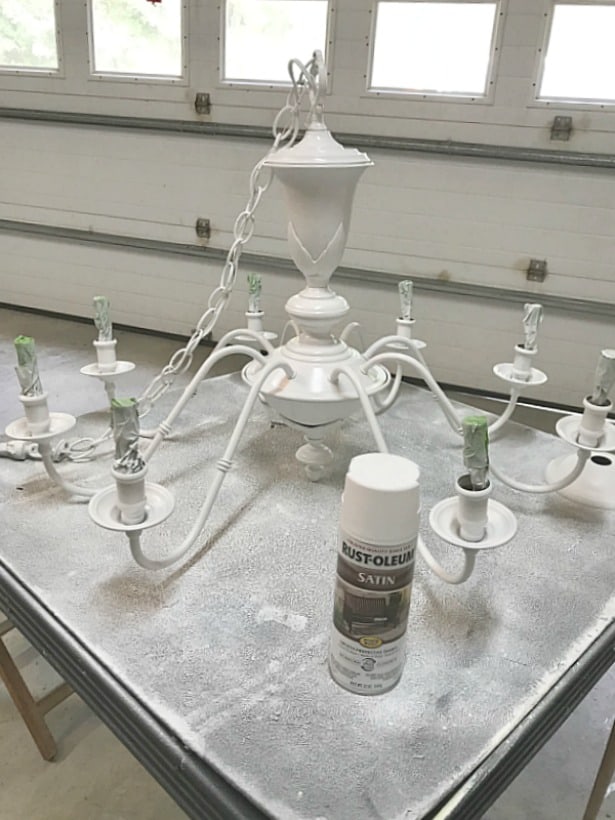 Next, I grabbed some random gray paint (not spray paint) that I had lying around and gave it a fairly light dry brushing of that color.  My intent with the gray was to add just enough to peek through the third color that I was going to use.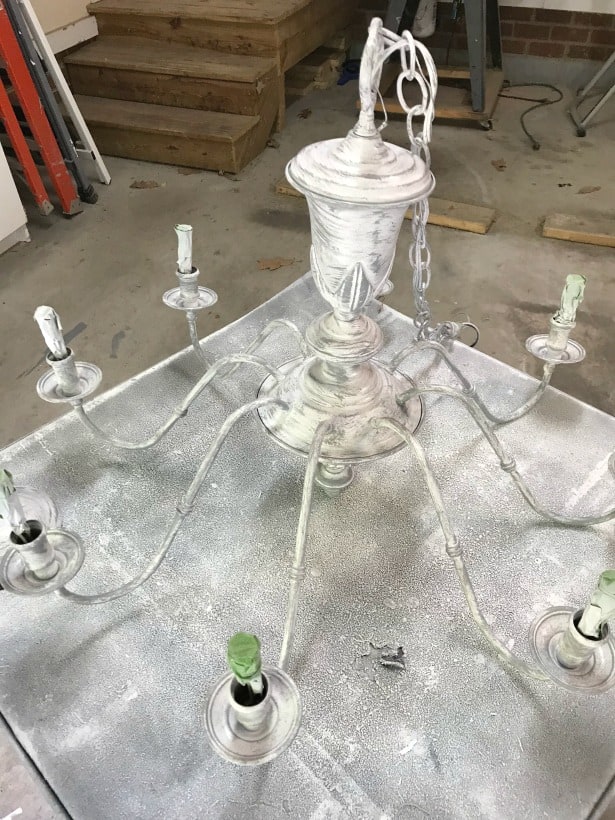 The last color that I added was Annie Sloan Chalk Paint in French Linen.  I applied it more heavily than the gray, as you can see in the finished product.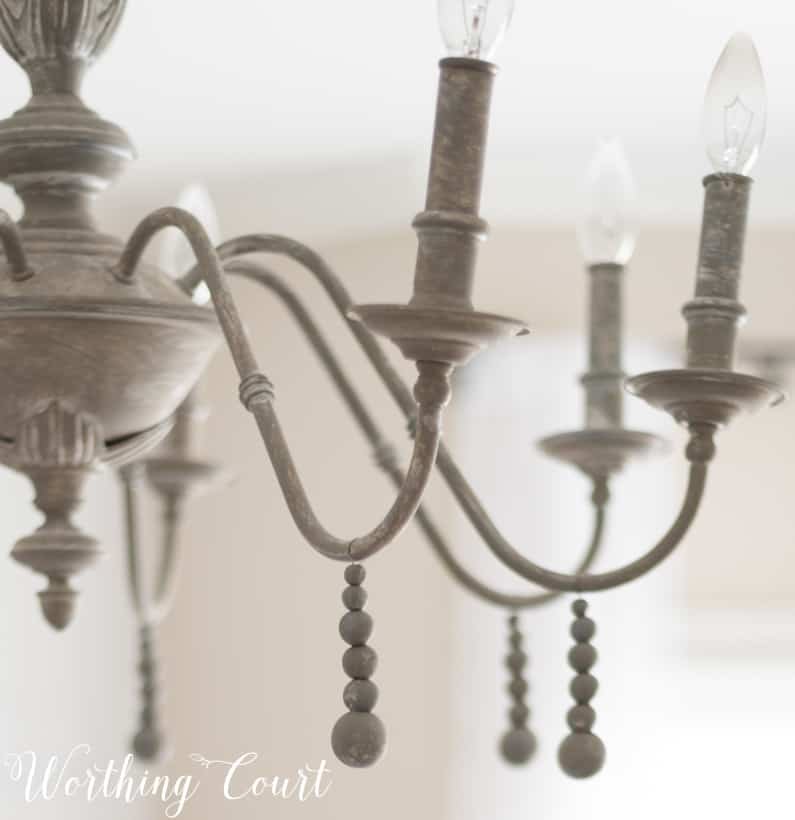 THE SECRET TO ADDING WOOD BEADS
I definitely wanted to include something bead'ish and dangle'y, so I strung wood beads together and then painted them the same way that I painted the rest of the chandelier.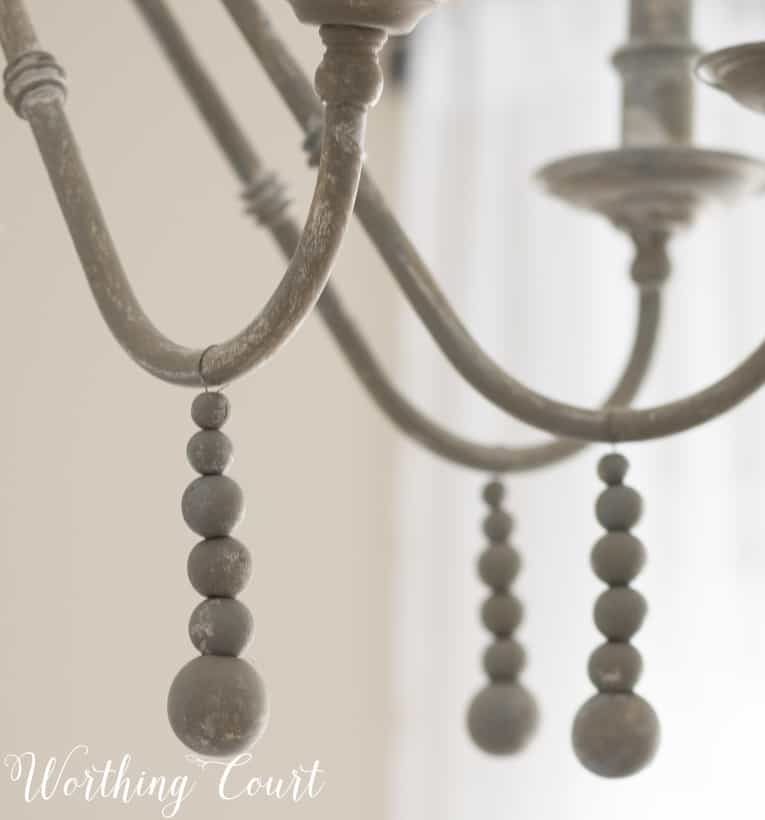 My stumbling block with the beads was figuring out how to keep a piece of wire from wrapping around the outside of the bottom bead. You can see how I solved that problem, plus learn more about my paint technique in the below video.