A Special Winter Decorating Recipe To Combat The Winter Blahs In Your Home
Combat the winter blahs and get rid of that stark and bare feeling in your home by using my special winter decorating recipe to keep your home feeling and looking cozy during this season.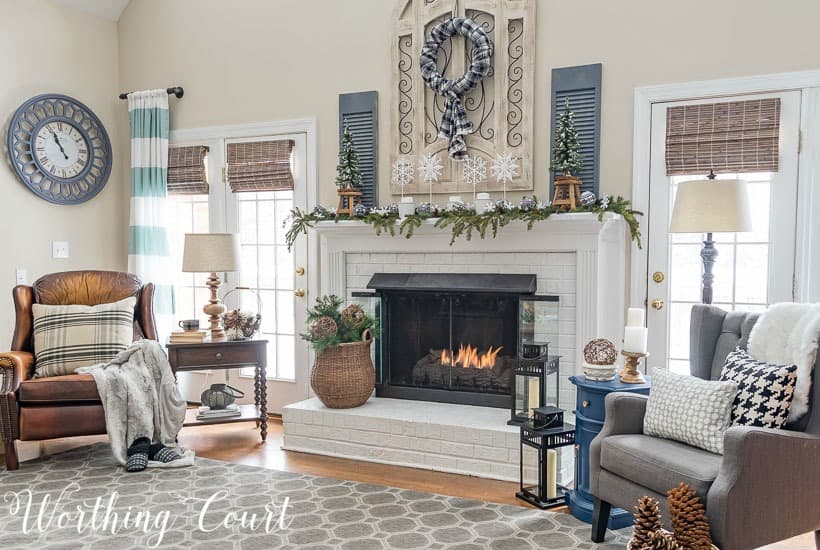 CLICK HERE TO GET THE DIRECTIONS FOR MAKING THIS WREATH!
Just like a lot of people, my home always feels stark, bare and not so cozy after all of my Christmas decorations are taken down.  Also, like a lot of people, my decorating mojo is a bit on the low side this time of year.  It's almost like I spent all of my creative juices during the frenzy leading up to Christmas.  My brain and my body need a break.
To combat the "cold bare naked house syndrome", I've come up with a way that we can all make our winter decorating easy peasy.  A way that doesn't take any time at all and one that doesn't require me to come up with a lot of creative, outside of the box ideas.  My secret decorating weapon?  A winter decorating recipe.
I've found myself using the same decor elements year after year, so my recipe is basically the list of all the ingredients that I need to keep on hand to create a warm, cozy and inviting home that will carry us through the winter.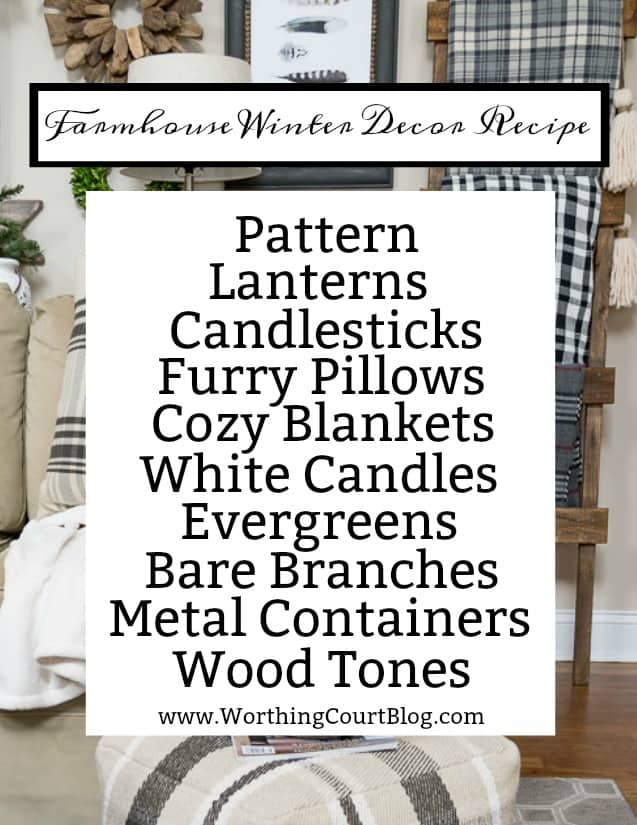 My home tells me that it feels best when I take nature into consideration when decorating this time of year.  So, to come up with my recipe, I took a look at the outside world and made a mental note of what nature has on display during the winter.  Depending upon where you live, your outside view might be different from mine, but here in central North Carolina I see evergreen trees, bare branches and wood, sometimes frost, snow or ice and mostly gray skies.
PATTERN, PATTERN EVERYWHERE
I love, love, love to mix patterns in my rooms!  Not all patterns play well together, but if done correctly, I think that it adds so much interest and brings a room to life.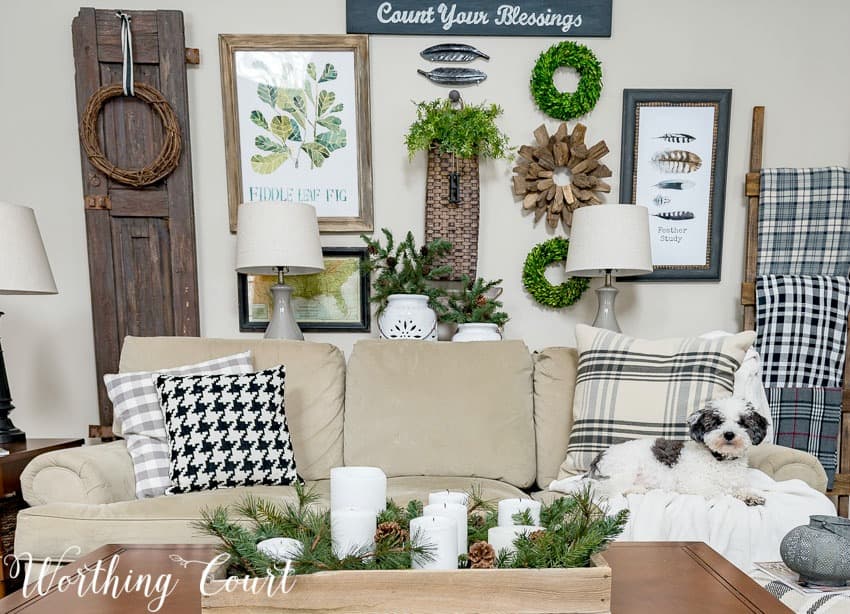 WOOD TONES AND BARE BRANCHES
I was able in incorporate several fun ingredients from my winter recipe when I decorated my fireplace for winter a couple of years ago.  I used bare branches from the woods around our yard in large white containers and ginormous pinecones in a basket to bring in the wood tones.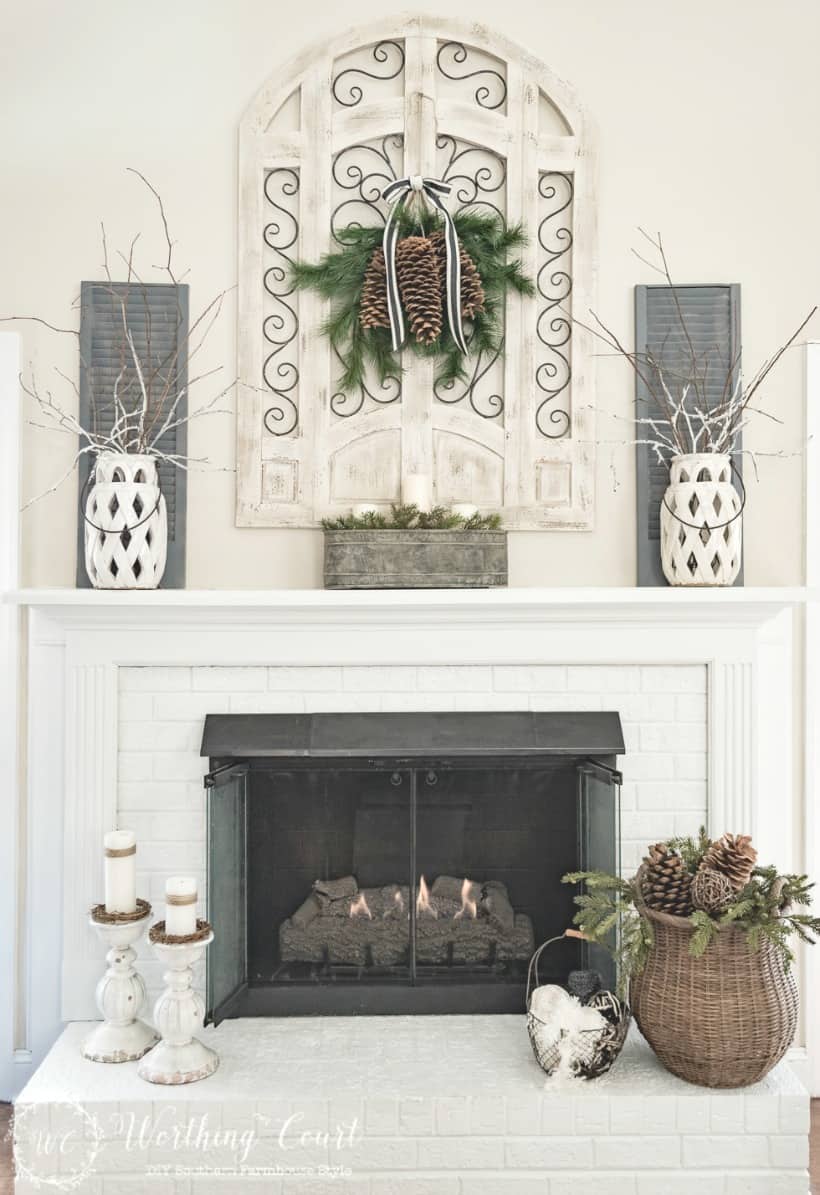 CANDLESTICKS AND LANTERNS
Think outside of the box when it comes to using candlesticks and lanterns.  They don't have to be on a tabletop of some sort.  In a previous winter dining room, I displayed candlesticks up on a vintage shelf.  My diy hanging lanterns live in the room year round, but they fit right in with my winter recipe.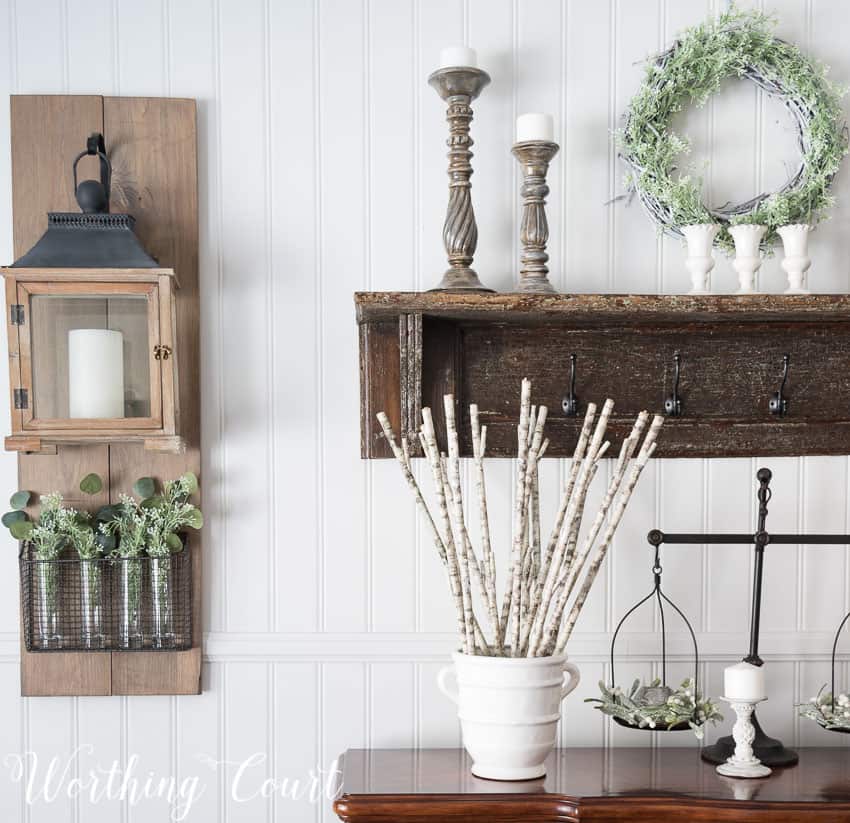 COZY BLANKETS AND PILLOWS
This leather chair doesn't live in our home any longer, but this is still a good example of how to create a cozy nook in your home.  Decked out with a warm flannel pillow and furry throw, this spot in last year's winter family room is just right for snuggling into with a good book and a cup of hot cocoa!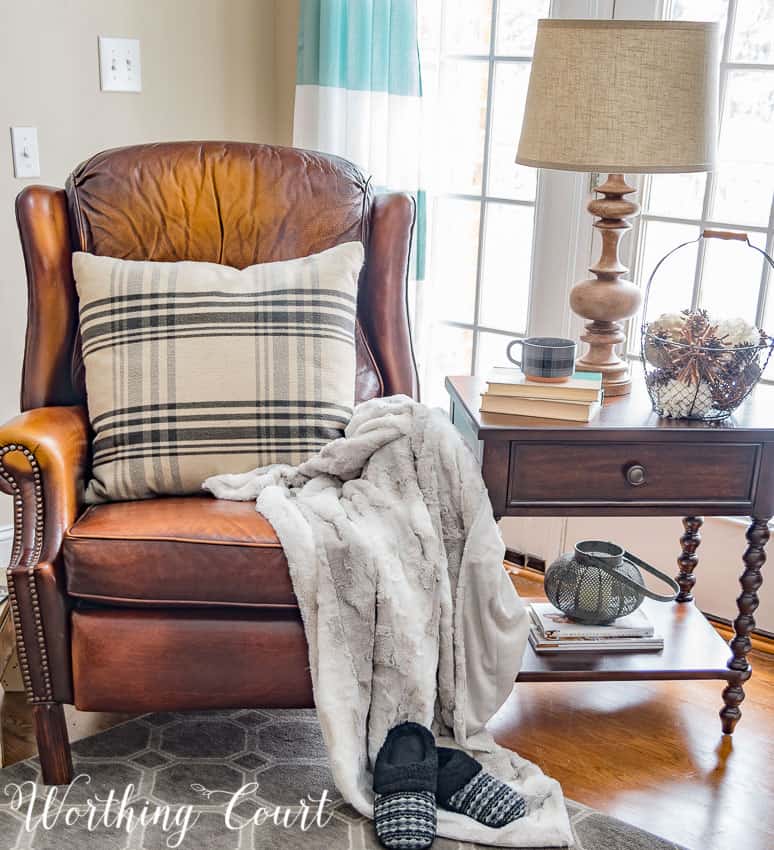 WHITE CANDLES AND EVERGREENS
Evergreen branches (real or faux) can be tucked in just about anywhere, but one of my favorite ways is to combine the two in a container of some kind.  I think it took me all of five minutes to put this super easy centerpiece together for my breakfast room table.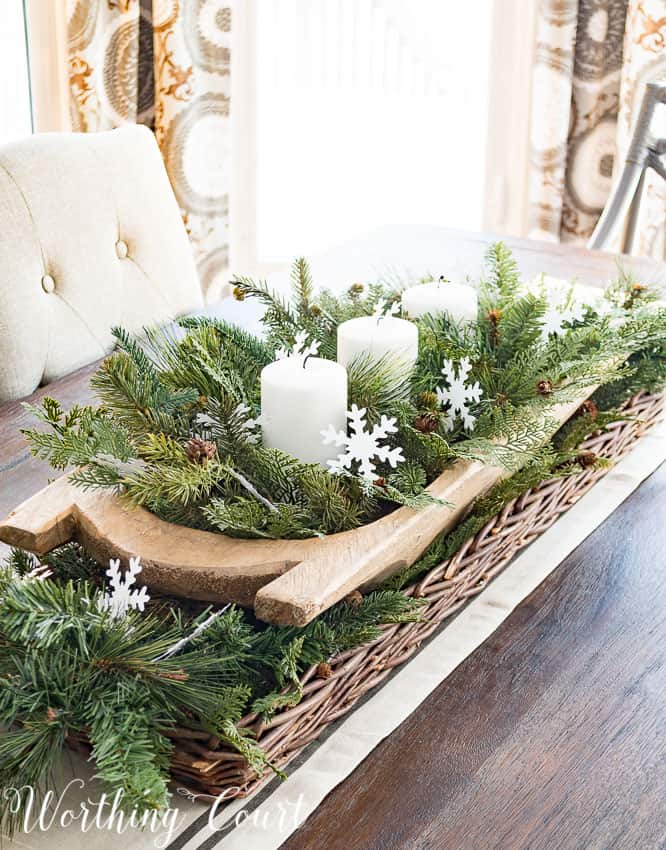 METAL CONTAINERS
The galvanized metal buckets and tray that I used on my winter breakfast room shelves a couple of years ago, make me think of the gray winter skies that seem to be so prevalent this time of year.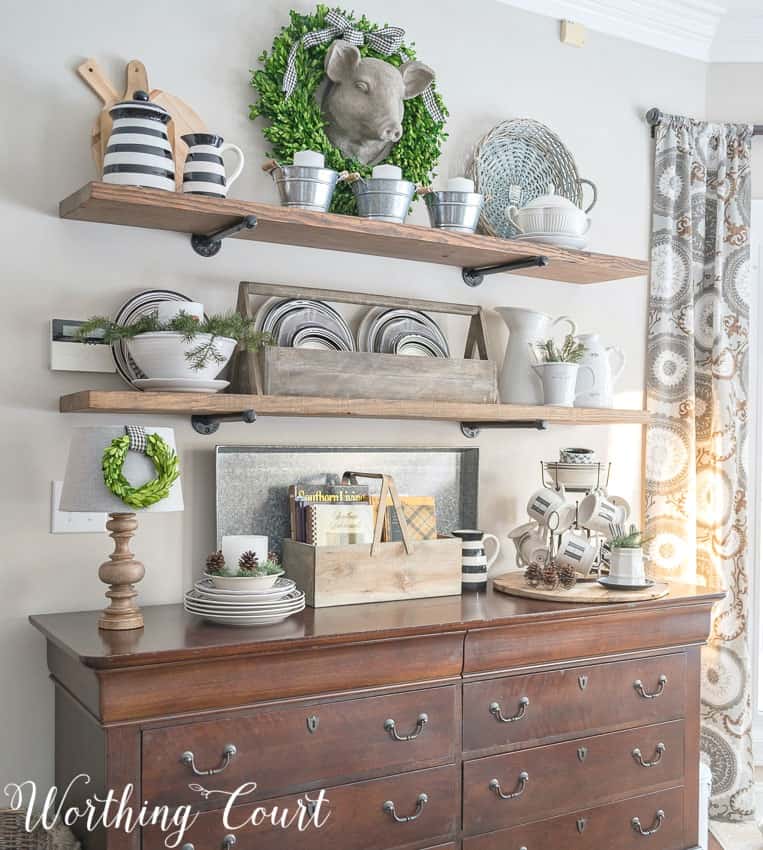 I'm still working on my winter decorations for this year, but no matter what I do, you can believe that I'll be using this recipe!