My Eucalyptus And Buffalo Check Christmas Trees And Mantel
Buffalo check Christmas tree and mantel, featuring red and white ornaments and ribbon, combined with a generous amount of eucalyptus work together to create a stunning holiday display this season!
The trick was to still use traditional red and green Christmas colors, but to do it with an updated look.  So I combined my red, green and white color palette with black and white buffalo check Christmas ornaments and ribbon, along with lots and lots of eucalyptus tucked into the branches of the tree and throughout the garland.
My holiday tree was the very first thing that I decorated in my home for Christmas this year.  I really didn't start out with much of a decorating plan, like I have in years past, but somehow it became one of my most favorite trees!
I started out by adding a big red star to the top of the tree and filling in all around it with lots of eucalyptus pics.
Then the tree branches were filled with extra-large and medium size red, white and buffalo check Christmas ornaments.  Next came the wide loopy pretty ribbon and the finishing touch was the addition of eucalyptus and frosted red berry picks, generously sprinkled throughout the tree.
When it came to the mantel, it only took two cedar garlands, laid end to end, to immediately give me the lush full look that I was craving.  The garland was filled with more eucalyptus and the same frosted red berry picks that were used on my Christmas tree.
 So quick and easy, but it looks like I spent a huge amount of time decorating my tree!
To give the eye a break from all of the buffalo check, I didn't add any ribbon to the garland on the mantel, but simply added two black and white Christmas stockings to one end.
Lanterns were added on the opposite end of the hearth with happy bows attached, made from a combination of the same ribbons as on the tree.  You can never have too much Christmas ribbon in my book!  😀
The other end of the fireplace is balanced with two smaller trees.  They were super easy too!
I used a snowflake ornament for the topper for each tree and then added red and white ornaments and a buffalo check garland on each tree.  Placing the two trees at different heights shows them off a little better, I think.
The pair of matching holiday trees, combined with a red throw, Christmas pillow and smaller tree on the end table, create such a cozy corner in my family room!
Look at how the glorious sunlight streaming in the windows causes the whole corner to glow because of the red throw!  It's something that I could't see with my naked eye, but the camera sure did pick it up.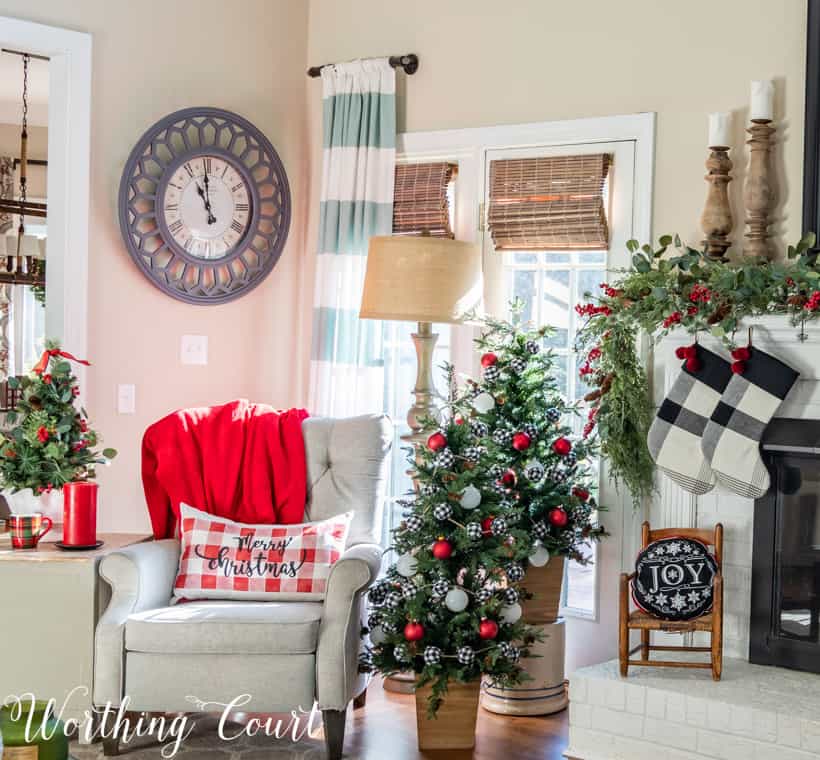 Pin
Are you ready for more ideas? Here are some great ones for your mantel, porch, table, plus handmade gift ideas and gift wrap ideas. Be sure to visit everyone to see all the details.
Mantels
Porches & Decks
Tablescape Ideas
Handmade Gift Ideas
Gift Wrap Ideas