Easy Easter Table Decorating
Decorating the table for Easter can be a fun, festive activity for the whole family, including the kids. Here are some tips and table setting ideas for your special meal.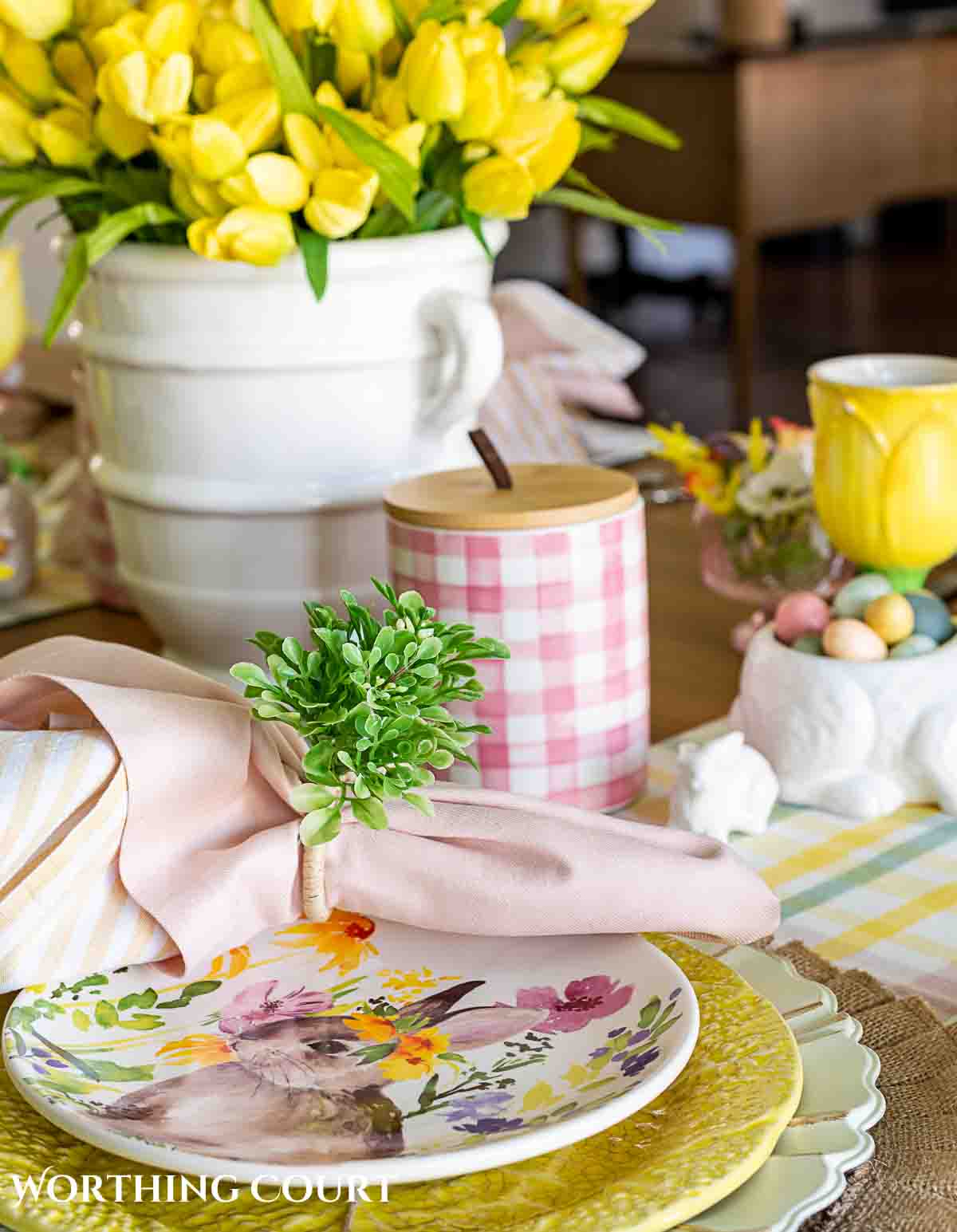 Easter table decorating is an important part of the celebration! Taking the time to set a beautiful table can make the occasion feel special and memorable.
From the tablecloth to the plates and silverware, every detail plays a part in creating a cohesive table setting. With these few simple tips, you can create a stunning Easter table that will make the day feel truly special.
Choose a color scheme
When it comes to a color scheme, there are no right or wrong ones to use. I associate pastel colors with Easter, such as pink, yellow, green and blue. The colors that you choose to use are purely a matter of personal taste.
Whatever color palette you use for your table, select tablecloths, napkins, plates, etc. that all coordinate and work well together.
Inspiration for this Easter table came from the vintage yellow cabbage-ware dishes, that I inherited from my mom. I had such a fun time decorating the table while taking a sweet trip down memory lane in the process!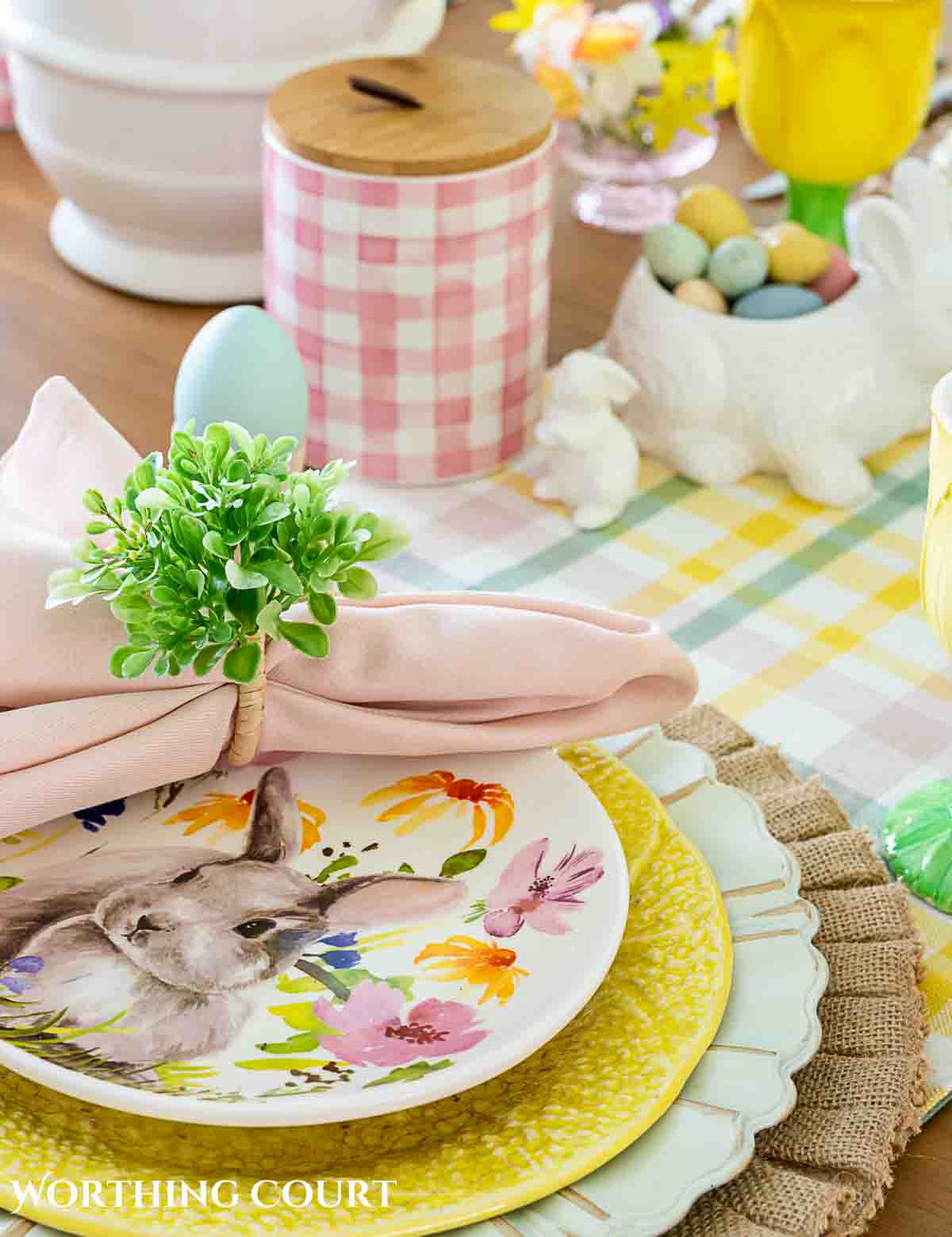 My mom purchased this yellow cabbage ware back in the early 70's. I remember how excited she was when she ran across cute tulip goblets to use with it.
It's funny for me to think that at the time she purchased it, she had no clue that her daughter would use it for her own Easter table decorating one day.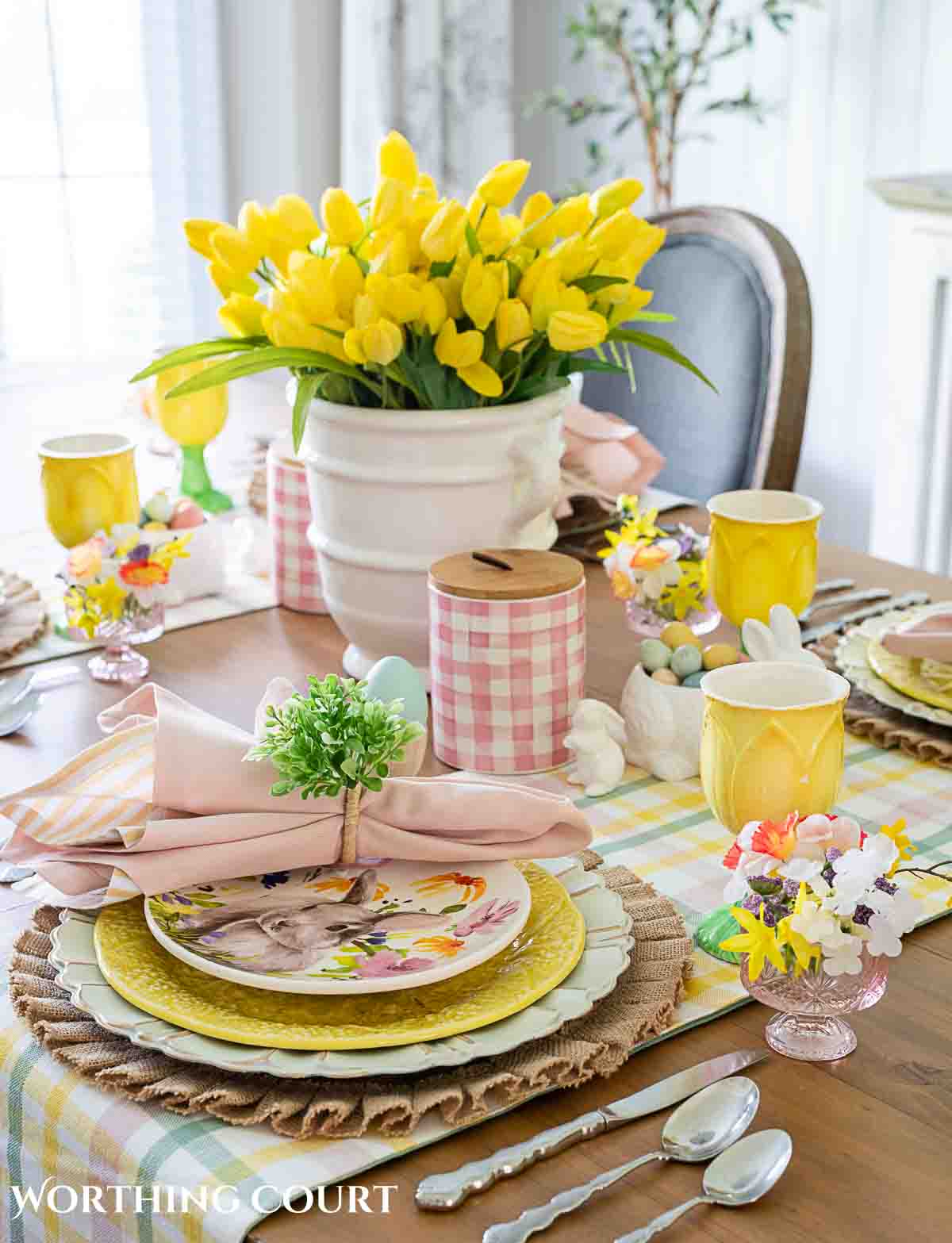 Add the table linens
If you will be using a tablecloth, it should be the first layer. Make sure that it's lying straight and hangs evenly over each side and end of the table.
For this table, I chose table runners as my first layer. They contain all of the colors that I want to use. They'll coordinate perfectly with the rest of the dishes and Easter decor that I'll be adding to the table.
For interest, I laid them crossways across the table. I topped each runner off with a placemat on the sides of the table, where a place setting will go.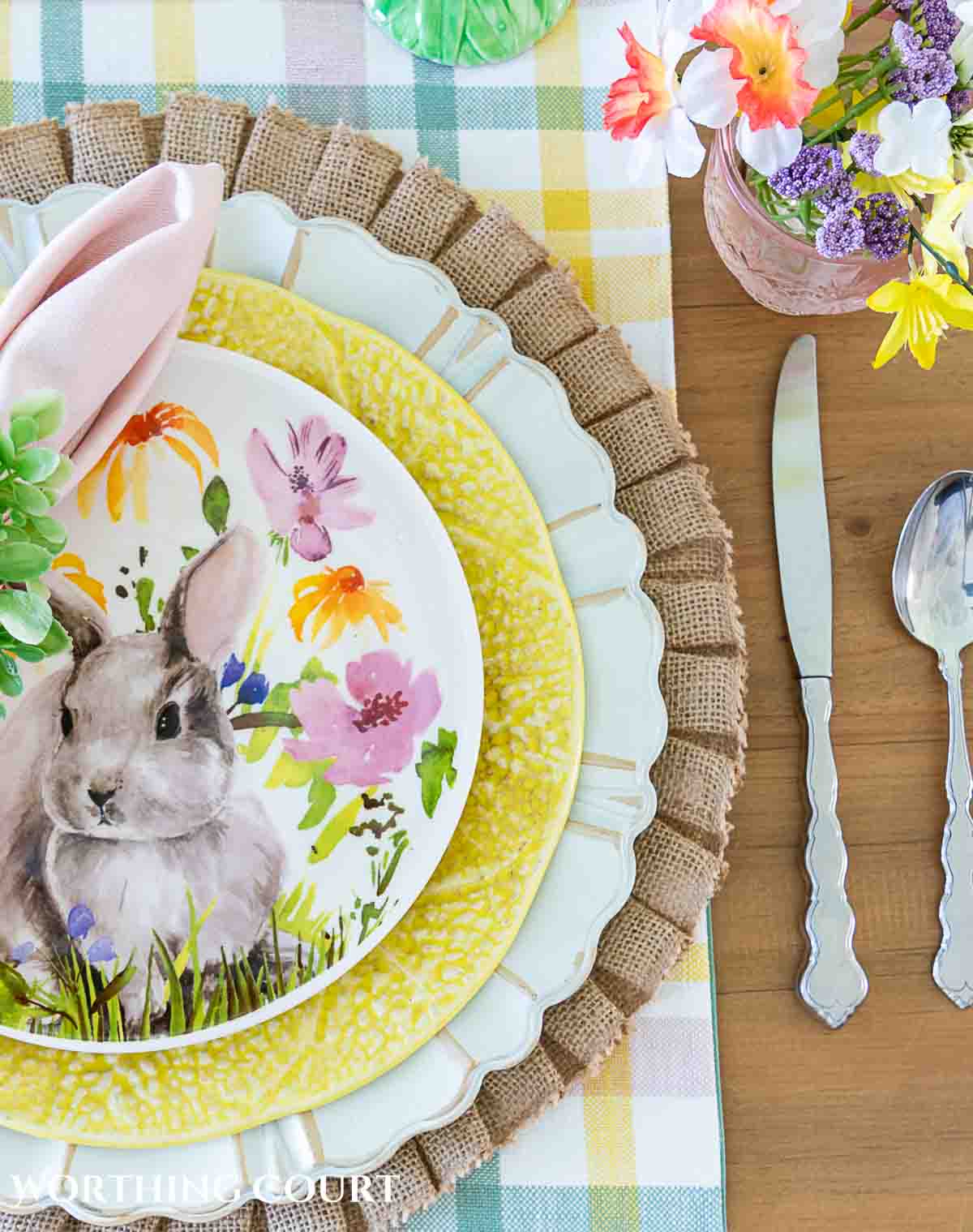 Add placemats and chargers
When I decorate a table, I love wowing my guests with multiple layers! So, instead of just a placemat or just a charger, I add both.
You'll notice that the placemats have a ruffle around them and the chargers have scalloped edges. This type of detail adds lots of interest, dimension and texture to the table settings.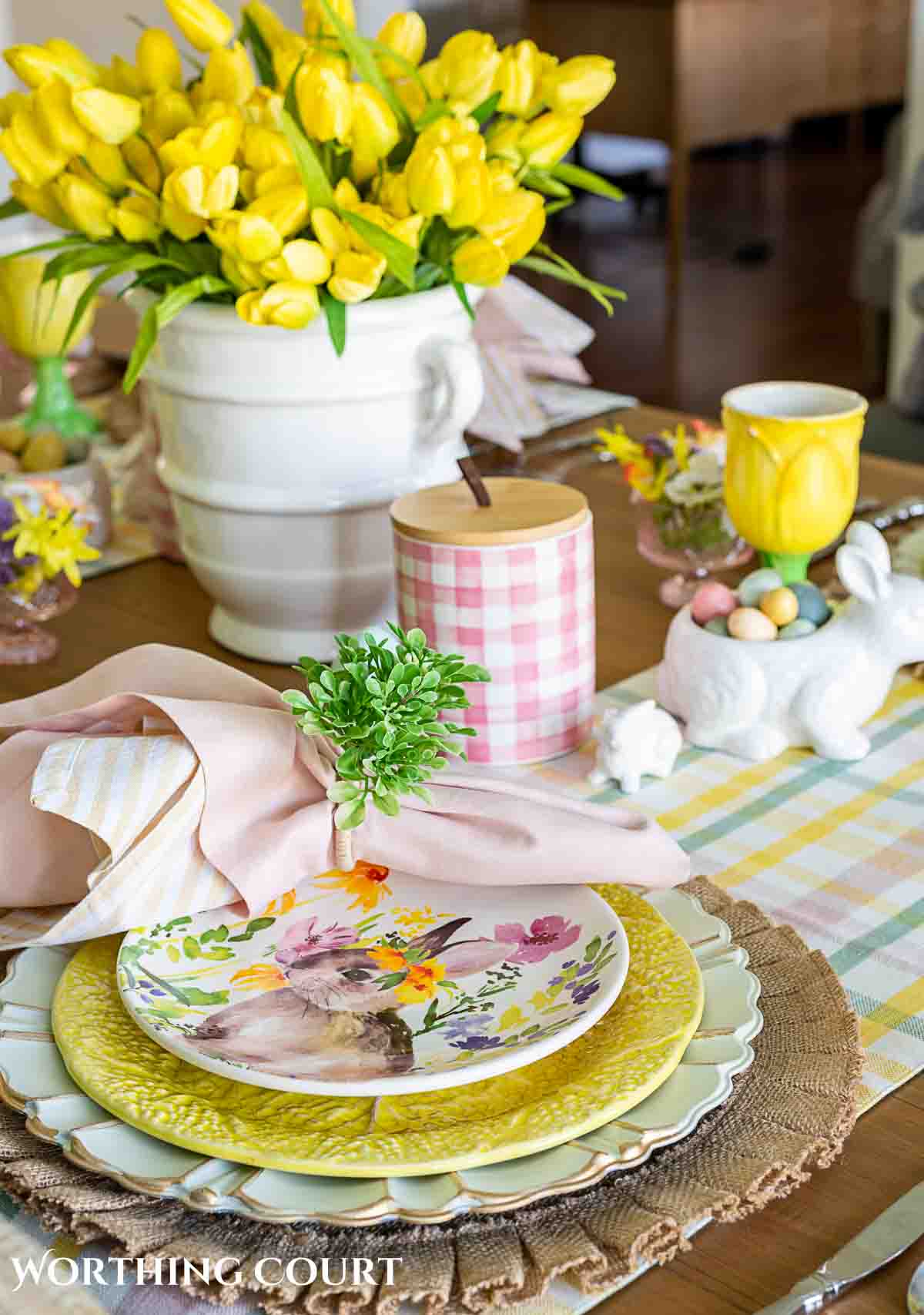 Add the plates
I only have five dinner plates, so the table is set for four instead of for six or more. If I were expecting more guests for our Easter celebration, I could easily add place settings using a white dinner plate in place of a yellow cabbage-ware plate.
White goes with everything under the sun, which is exactly why my everyday dinnerware is solid white. I never have to worry about not having enough of any anything else!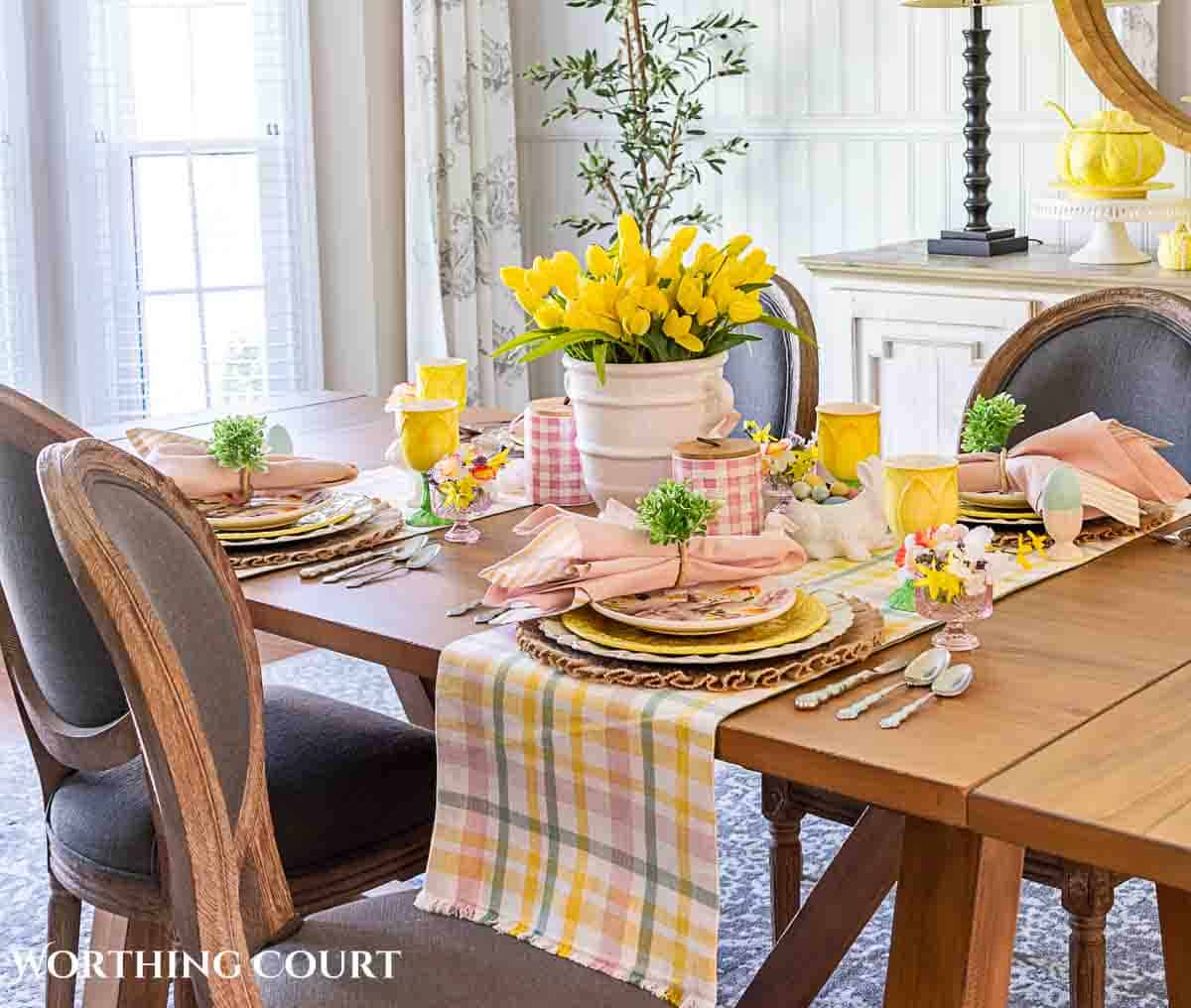 Normally, the salad plate should be placed to the left of the forks. But, I'm using a set of Easter bunny plates for my salad plates and want them to be an accent. I opted to add them on top of the dinner plate instead. My guests will simply set them to the side when salad is being served.
If needed, a small bread plate with a butter spreader should be placed above the forks, above and to the left of the dinner plate.
Add the silverware
There really is a proper way to set the table with silverware! Place the dinner fork to the left of the dinner plate and the salad fork to left of that.
The knife should be on the right, with the cutting edge turned toward the dinner plate. The spoons need to be placed to the right of the knife.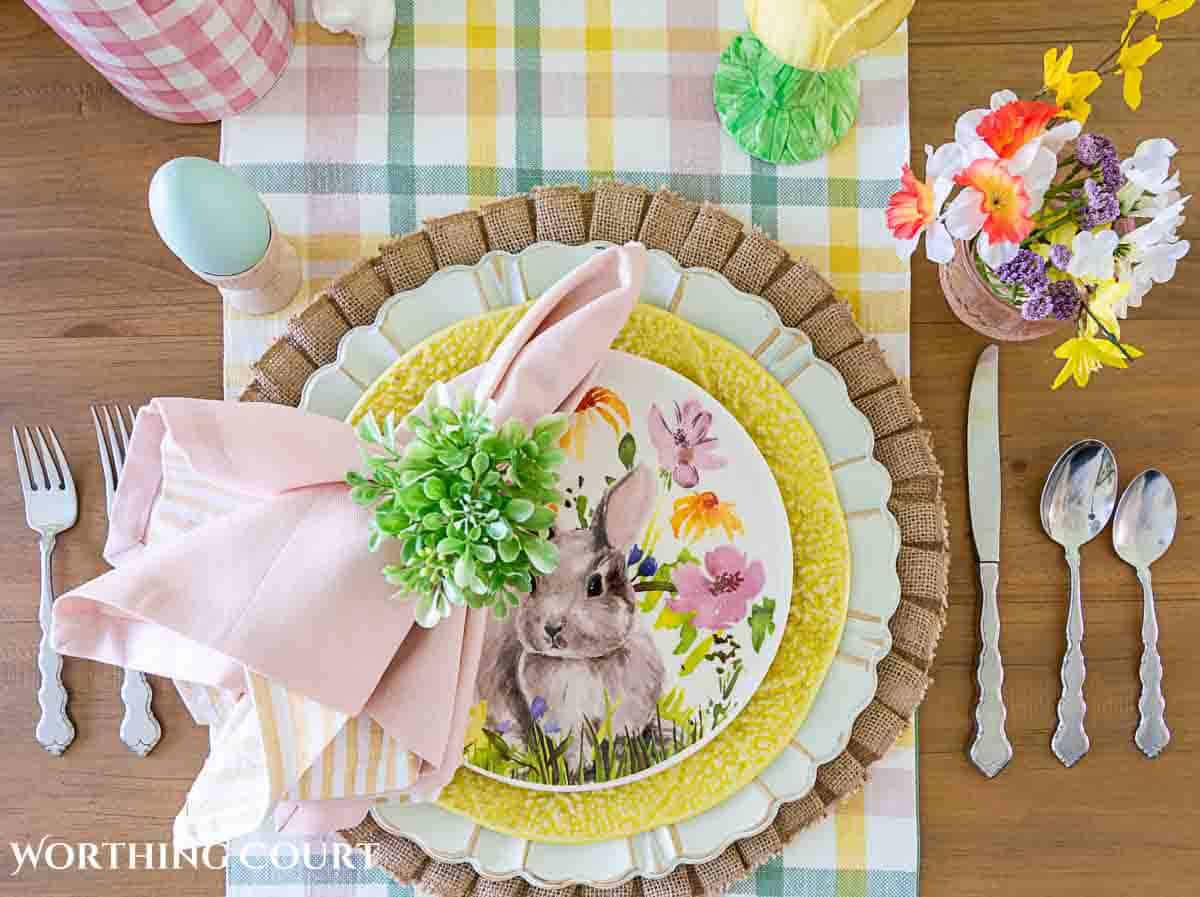 The dessert fork and spoon should be above the dinner plate, with each utensil facing in the opposite direction. I didn't need to include those in my Easter table settings this year though.
Add the glasses
When adding crystal or crystal-type glasses, a water glass goes above the knife. If serving wine with dinner, the wine glass to the right of the water glass.
I chose to use the fun tulip shaped goblets, that my mom bought so many years ago. They just seemed to fit the whole theme much better. Plus, it gives me an excuse to actually use them!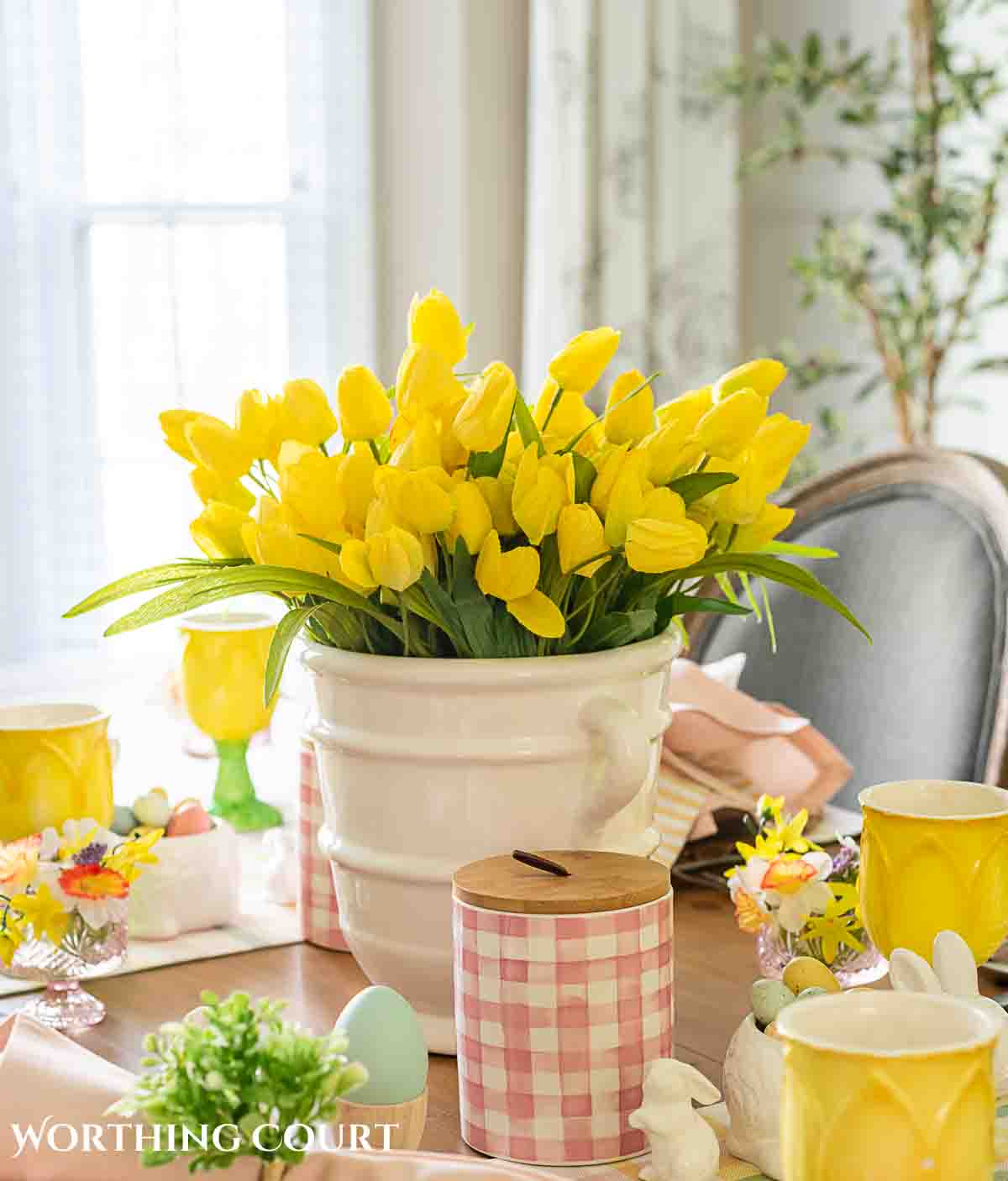 Add the napkins
If you're being very proper, napkins are simply folded and placed to the left of the forks. The folded should face the silverware.
I rarely go that route when entertaining or setting a special table for a holiday though. I would much rather do something a little unexpected for a fun touch on the table!
When pulling together all of my Easter table decorations, I looked for napkins that would compliment the rest of the table.
For this colorful table, I layered two differed colored napkins together, placed a spring greenery napkin ring around each set and laid them on top of the plate stacks, at an angle.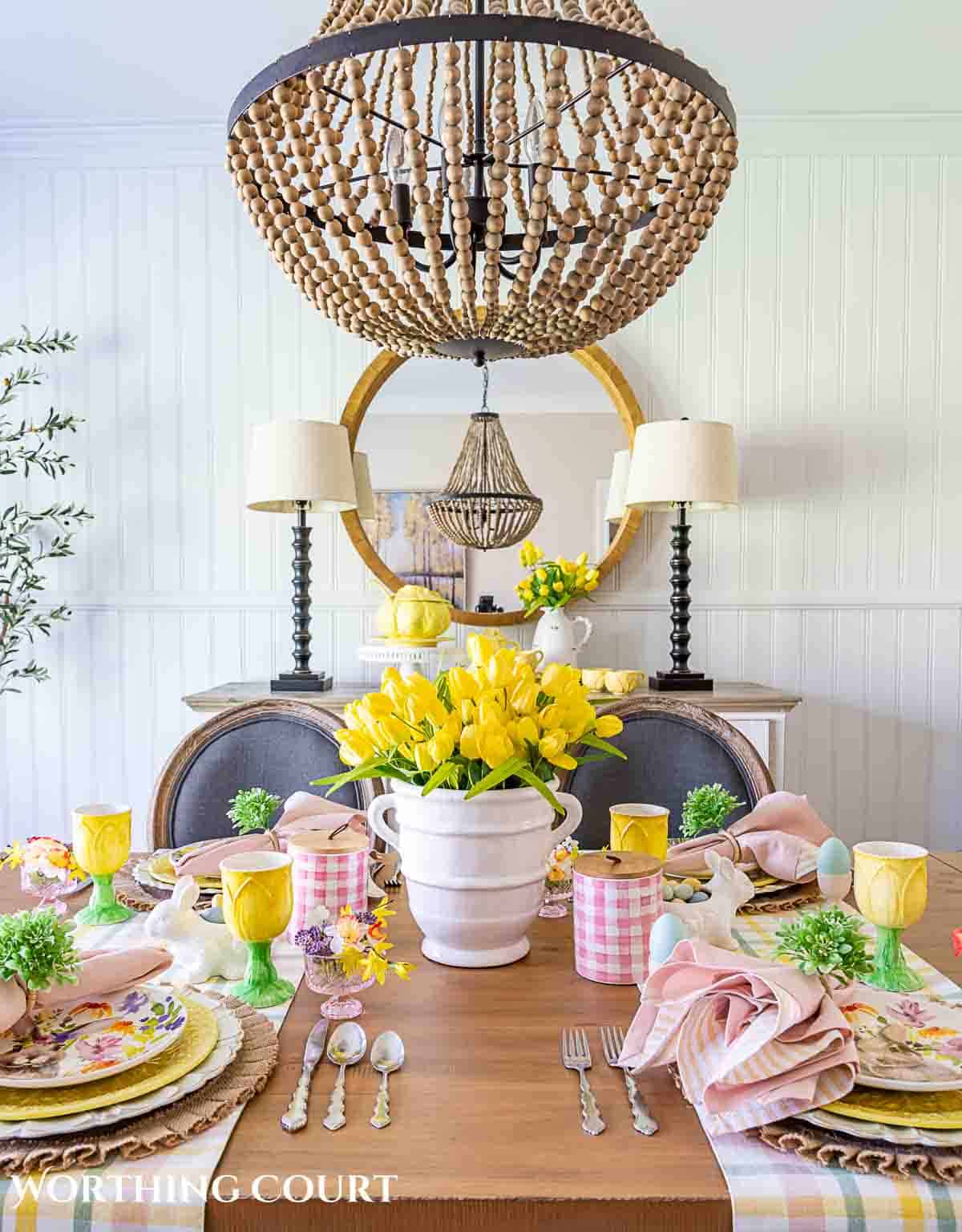 It's just one more way of adding dimension, interest and texture to the table.
Add the table decorations and centerpiece
There's no set rule here, but I typically add my centerpiece and the rest of the table decorations last.
Putting all of the place settings in place first, lets me know just how much room I have to work with. It also shows me where I might have empty "holes" that need a little something.
The eye catching star of the centerpiece for this table is a large white vase overflowing with a bouquet of luscious tulips. I'm not ashamed to admit that I'm a user of faux greenery and floral stems around my house! 😀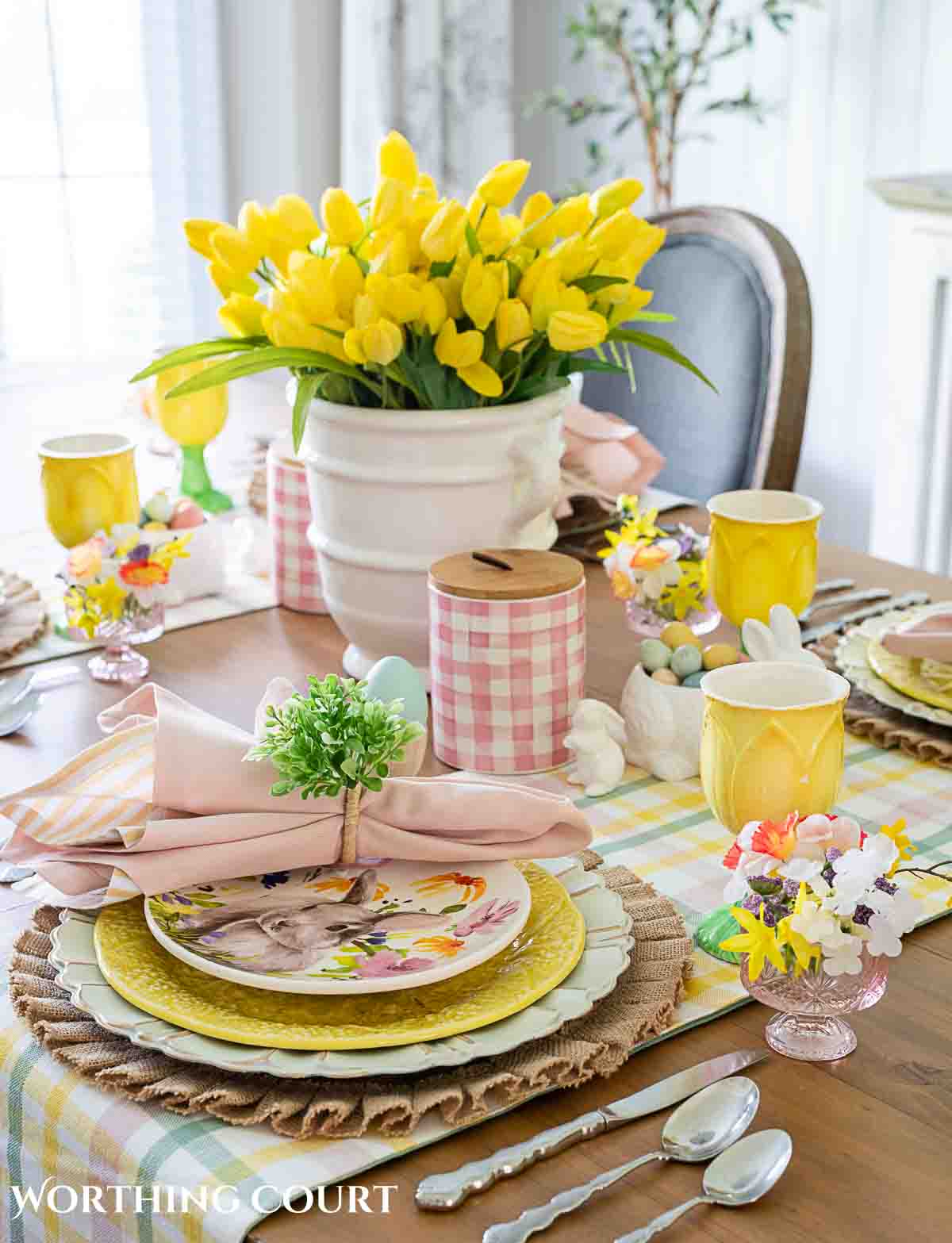 In the past, my centerpiece consisted of an Easter wreath with a large bunny placed in the middle. So easy!
The rest of the centerpiece is rounded out with cute pink and white gingham checked canisters on each side of the urn. Bunny bowls filled with colorful Easter eggs were added to empty spots around the table.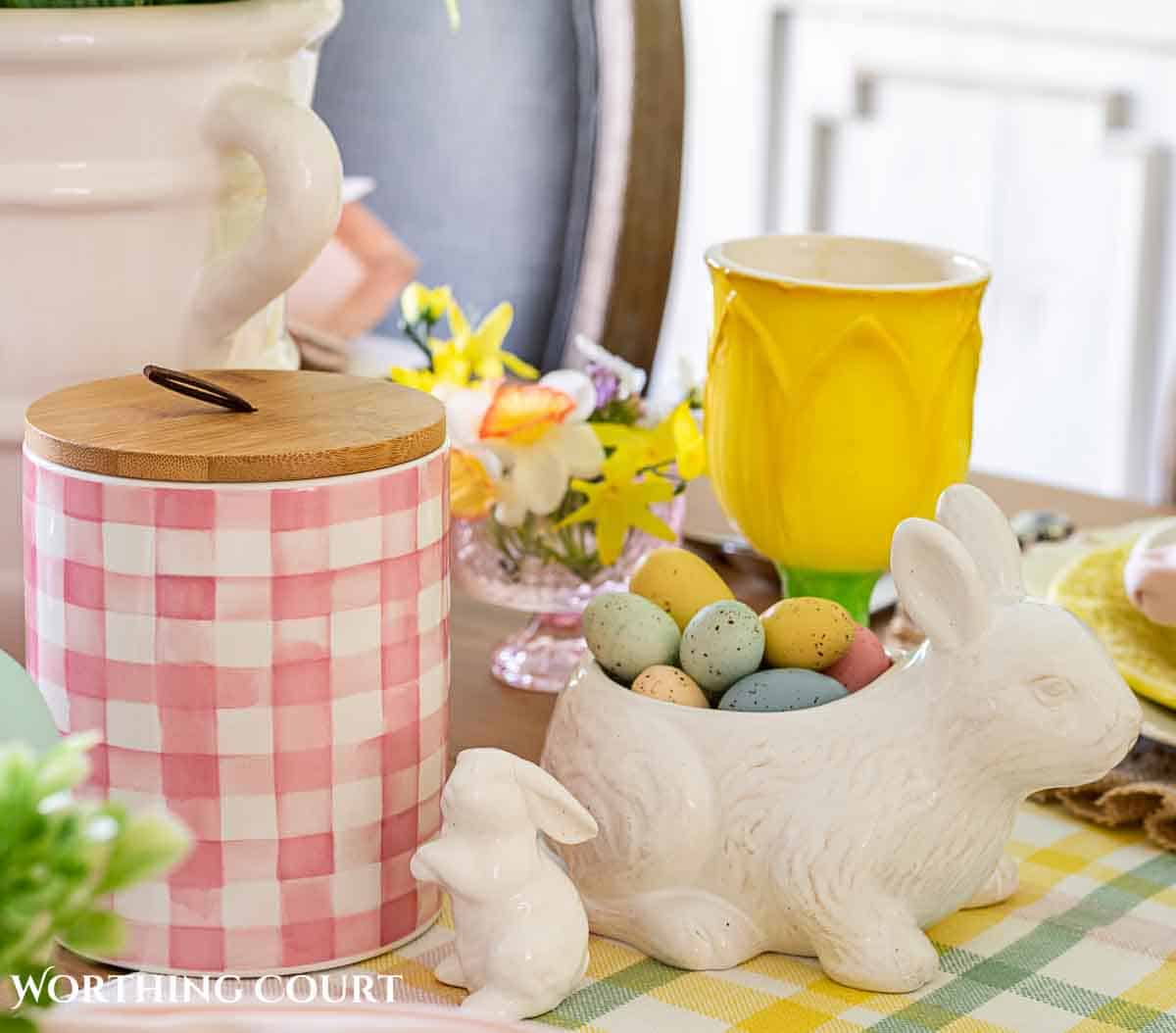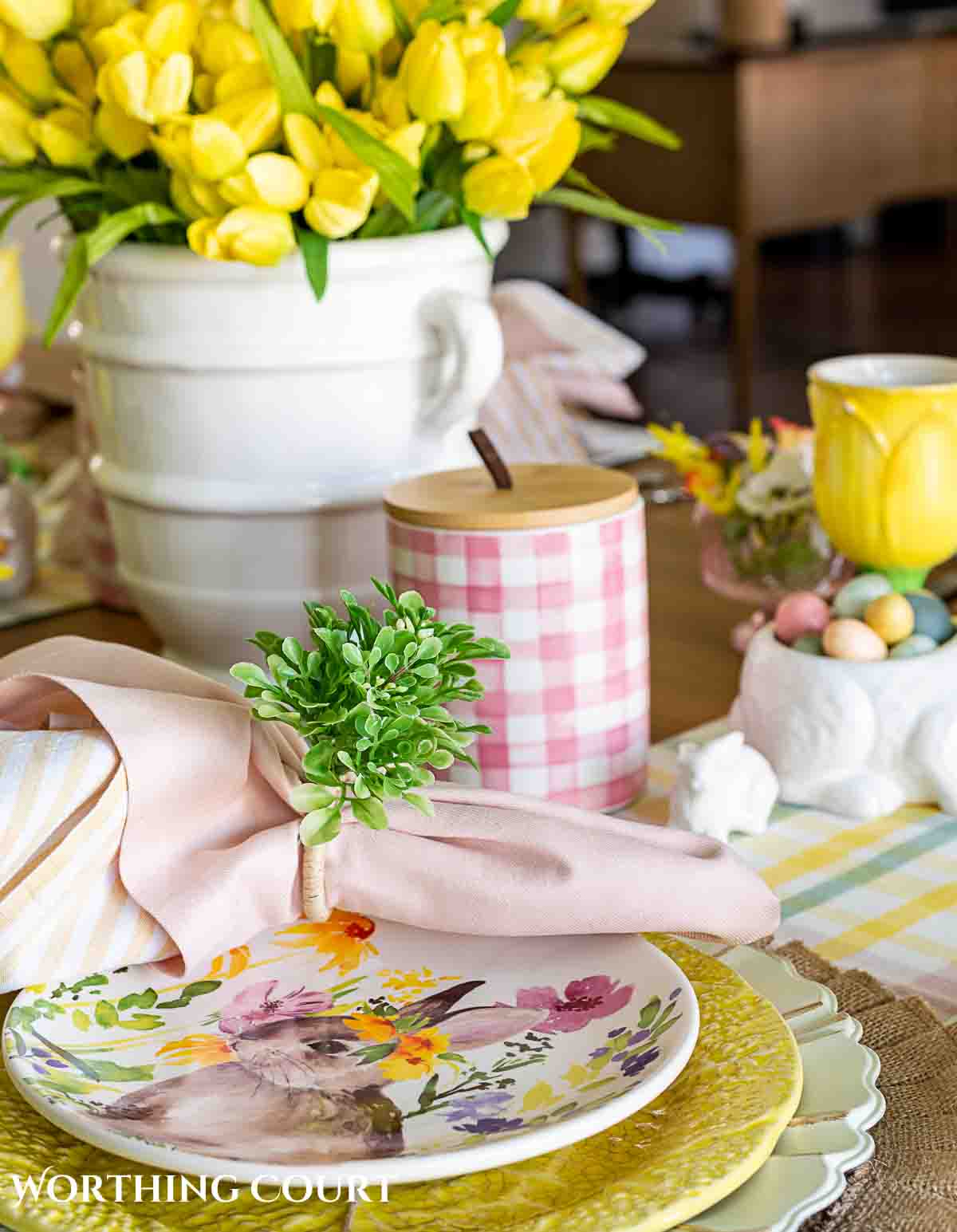 You'll find more faux florals in the pretty pink glass pedestal bowls at each place setting. All of the flowers came from the dollar store, so I had no qualms in snipping a few twigs off to fill the bowls with.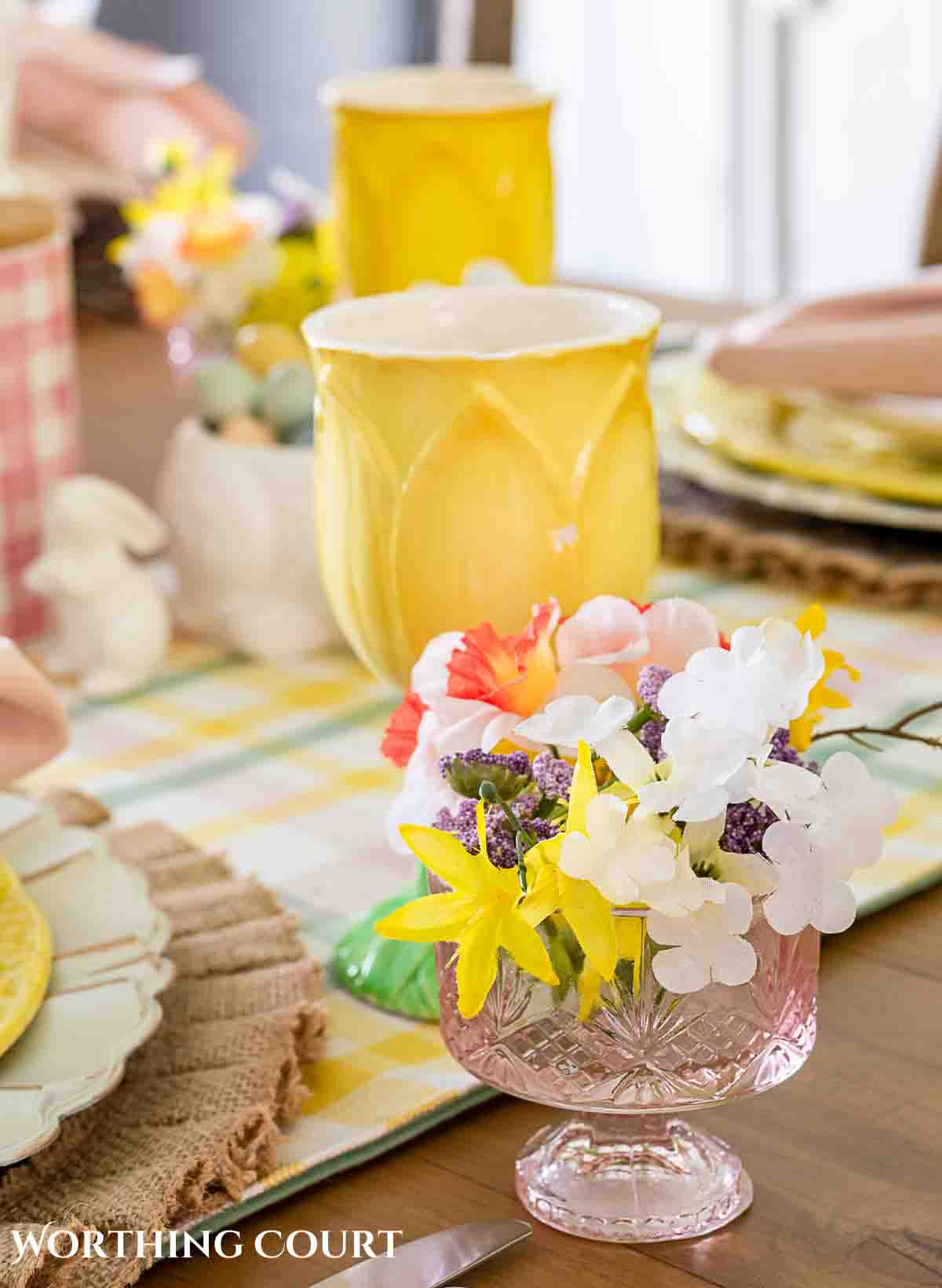 A few other ideas for Easter table decorating are:
mini pots filled with candy eggs nestled in a bed of moss
weaving a long piece of ribbon all throughout the tablescape
small baskets holding mini nests with small eggs in them
mason jars holding blooms of daffodils or other spring flowers
candles in a bed of sand in the bottom of a mason jar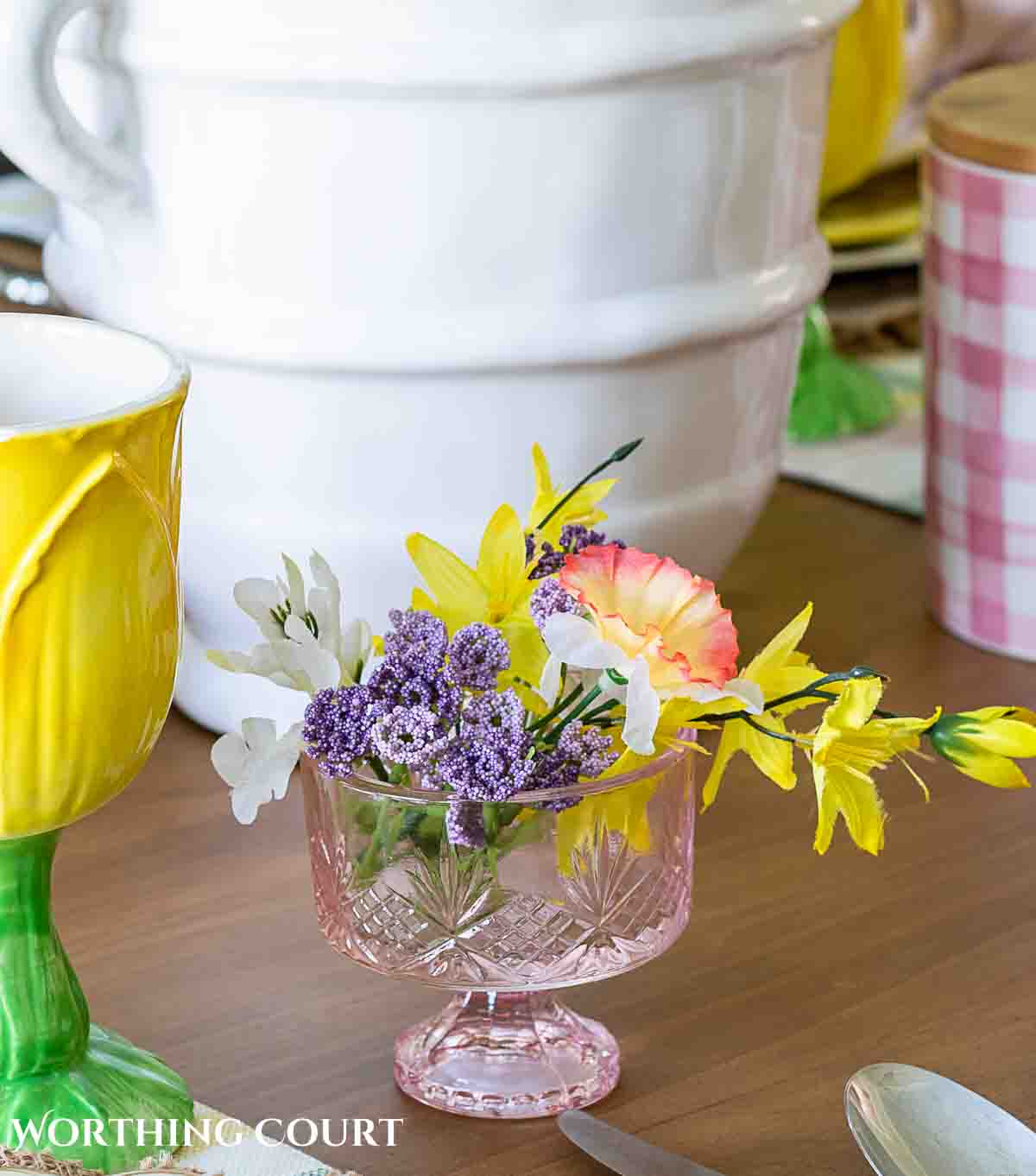 A few more of the cabbage ware pieces that my mom collected are displayed on my sideboard. I didn't use them for serving, but they compliment the whole Easter tablescape that I put together.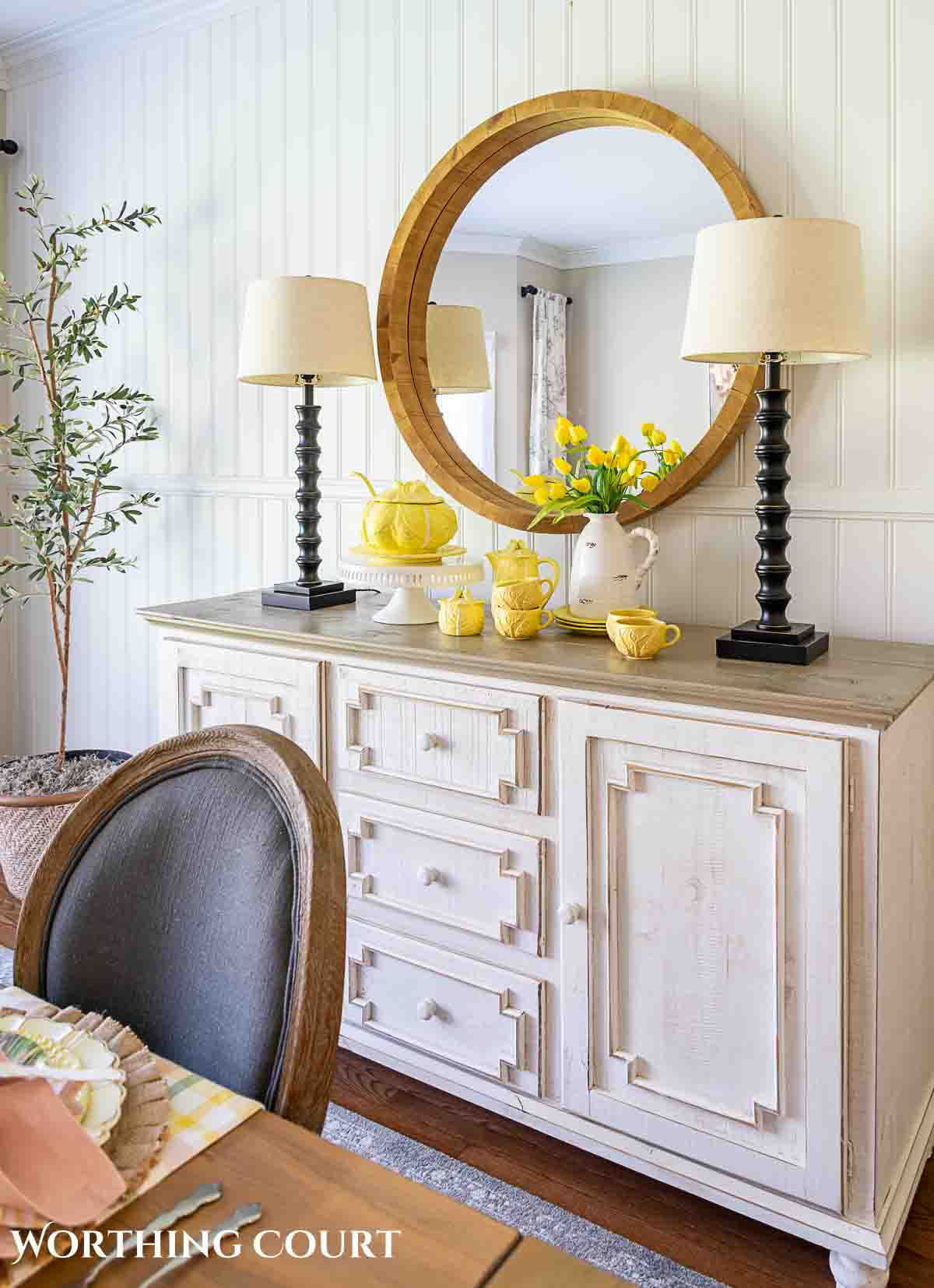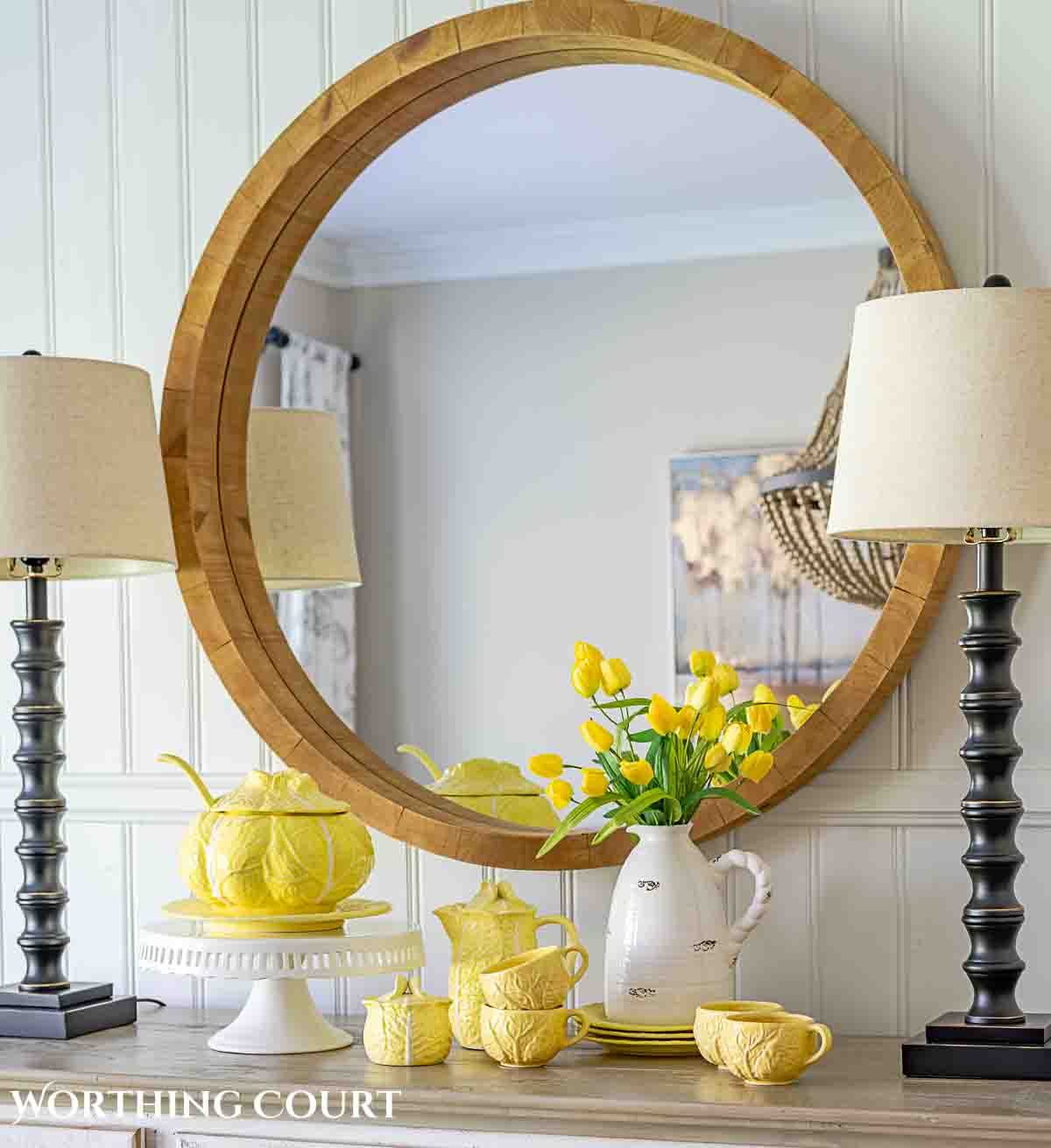 The cabbage soup tureen and teapot are two of my favorites!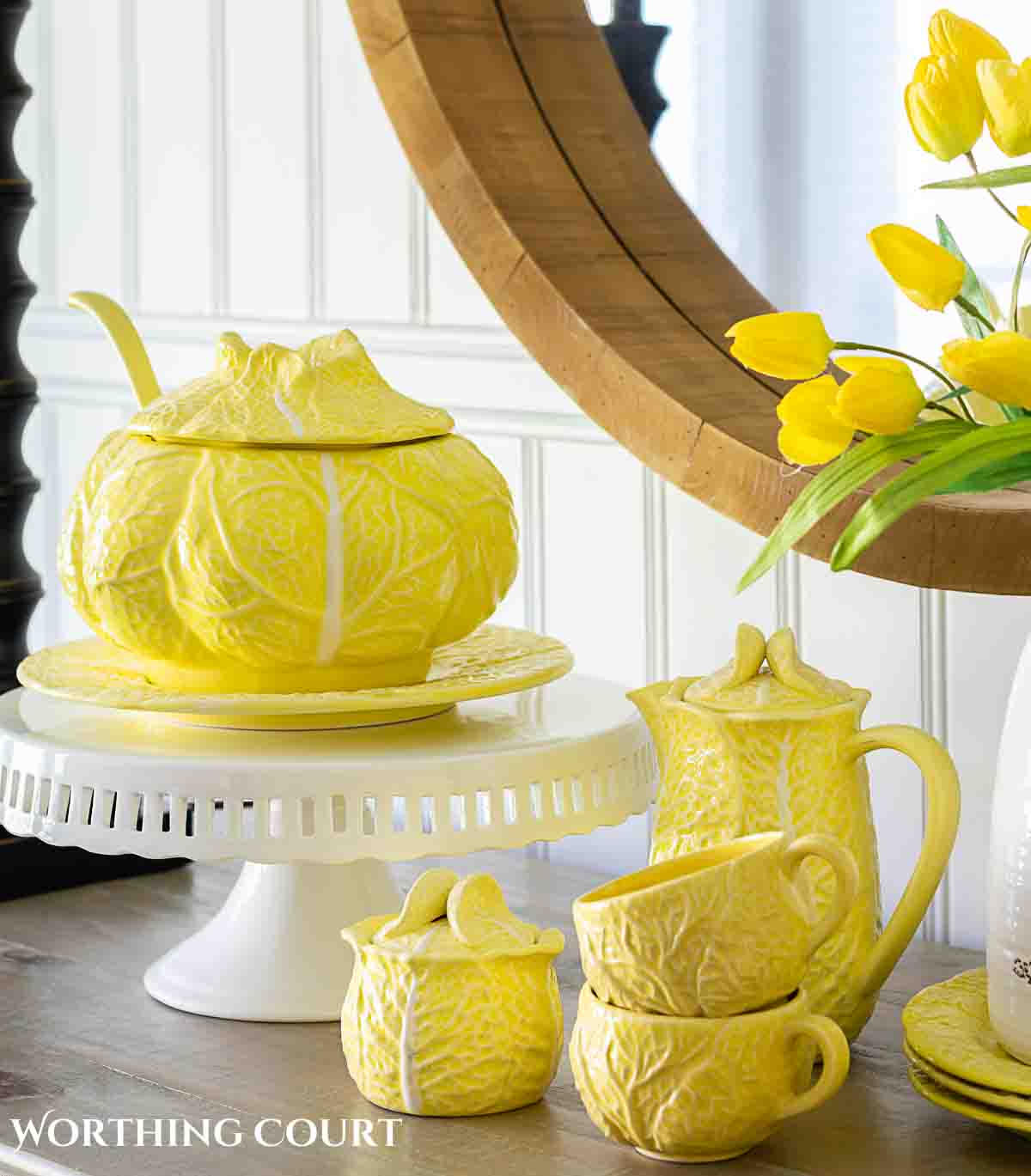 Happy and blessed Easter, my friends!
What do you traditionally serve at your Easter meal? A traditional Easter lunch for us is baked ham, potato salad (we like ours cold), deviled eggs, southern style green beans, croissant rolls, sweet tea and banana pudding. Yum!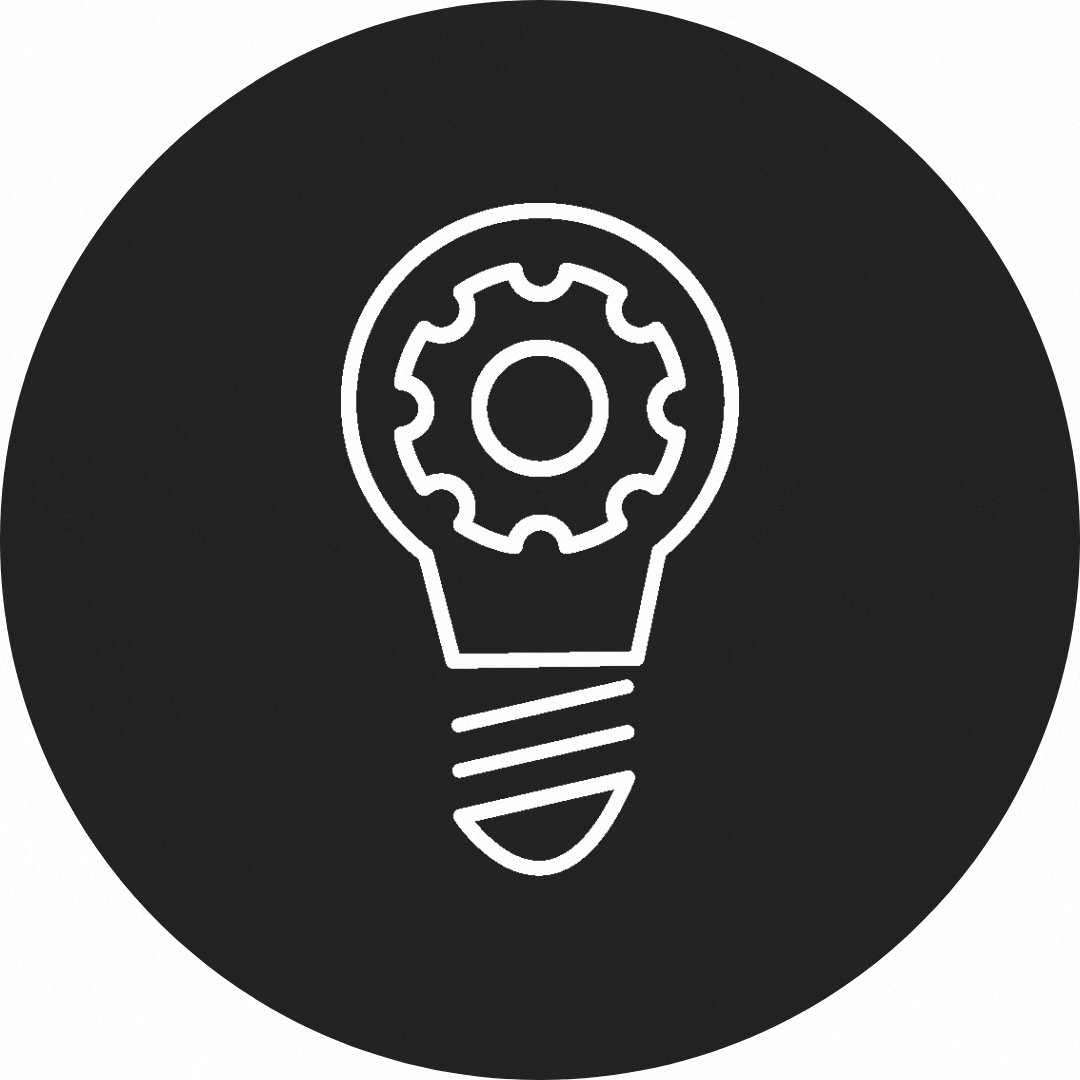 FAQs about Easter table decorating
See even more Easter tablescapes, centerpieces and decor. Get free Easter printables too!