A Charming Easter Tablescape Inspired By Vintage Dishes
Ideas and inspiration for setting a charming Easter tablescape using vintage dishes and all of the best colors of Easter.
I had such a fun time setting my table for Easter this year. The entire tablescape was inspired by vintage dishes that I inherited from my mom, so it was a sweet trip down memory lane for me. Get ready for lots of pictures!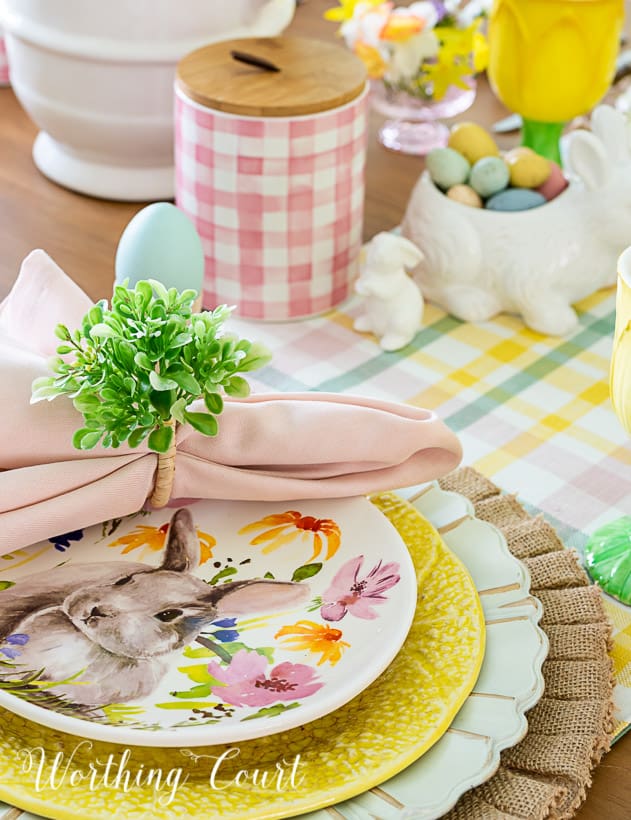 I believe that my mom purchased this yellow cabbage ware back in the early 70's. I remember well how much she loved it and how excited she was when she ran across cute tulip goblets to use with it.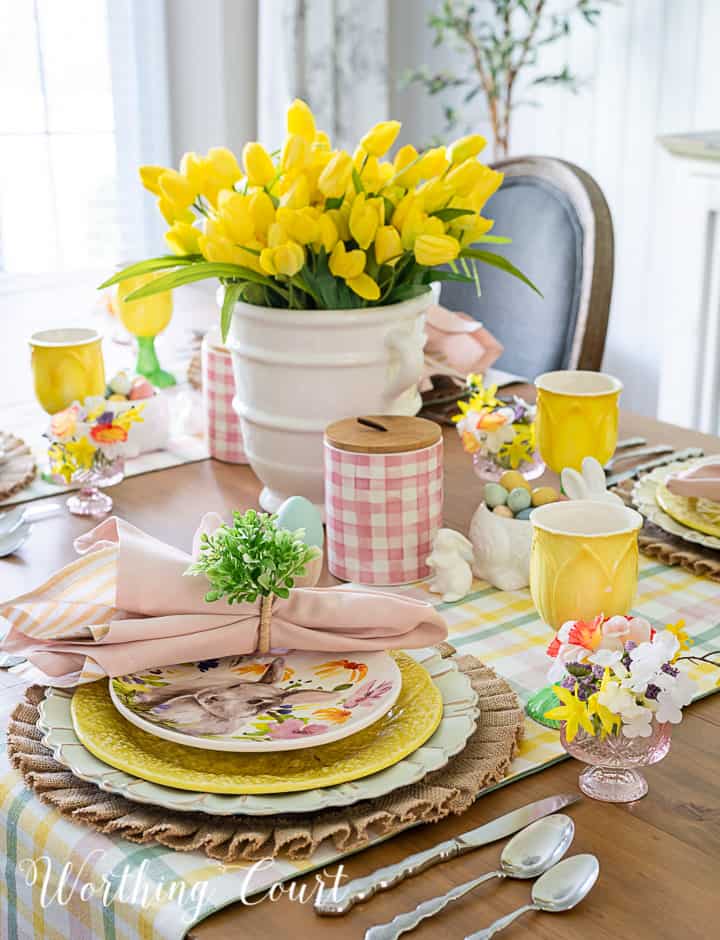 I only have five dinner plates, thus the table is set for four instead of for six.
The plates are so old that the glaze on them is crazed and full of stains. I would never eat off of them, but they're perfect for setting an Easter table with.
I layered the plates with round burlap placemats and acrylic chargers, a dinner plate and topped each setting with a cute bunny salad plate. The silverware is also vintage from my mom.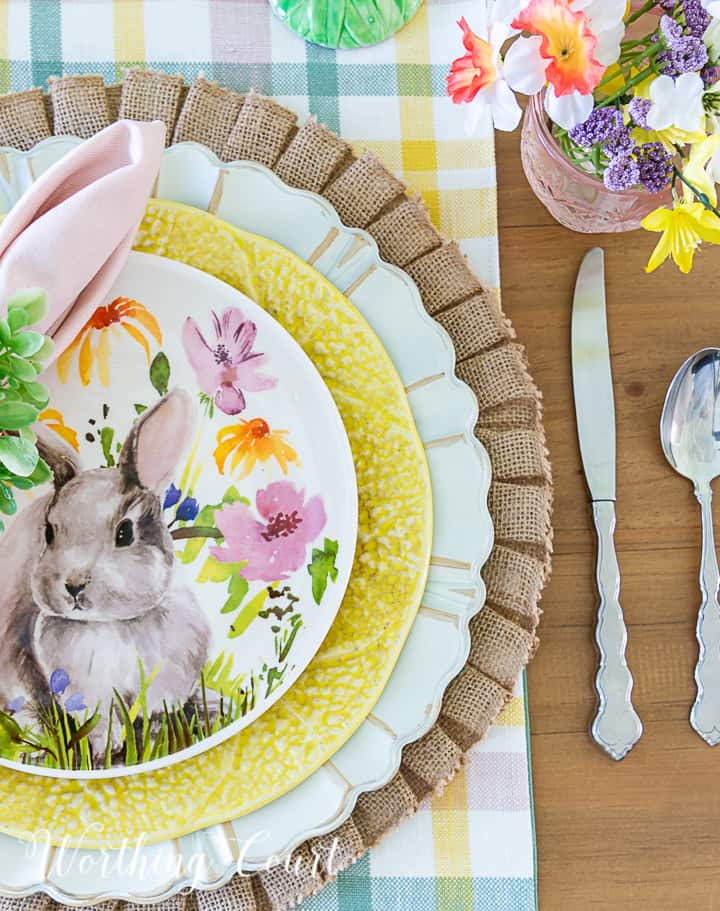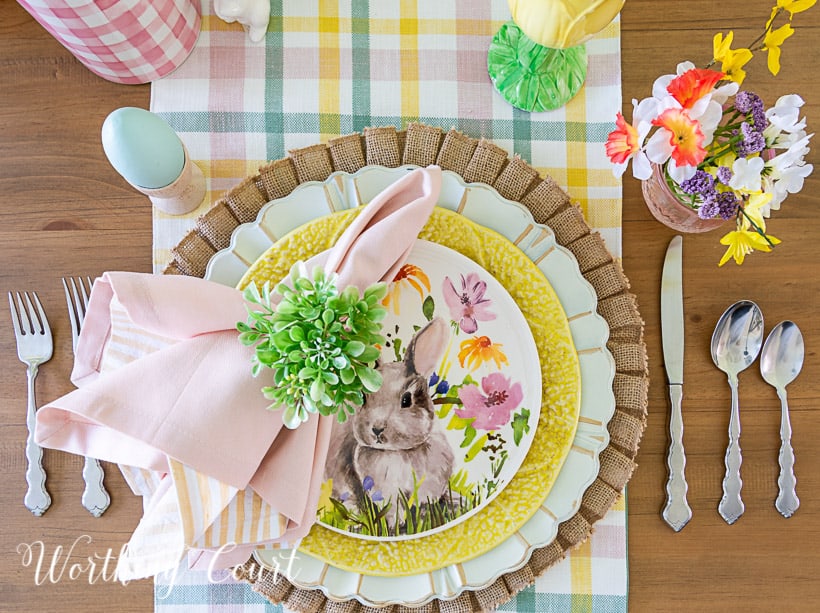 Even though all of the Easter table decorations were inspired by my mom's dishes, the rest of the table easily came together after I ran across these table runners. The colors in the plaid are perfect for Easter!
I love the look of placing the runners across the table sideways to take the place of placemats. If I were using this idea on a table for six, I would simply use a complimentary placemat on each end of the table.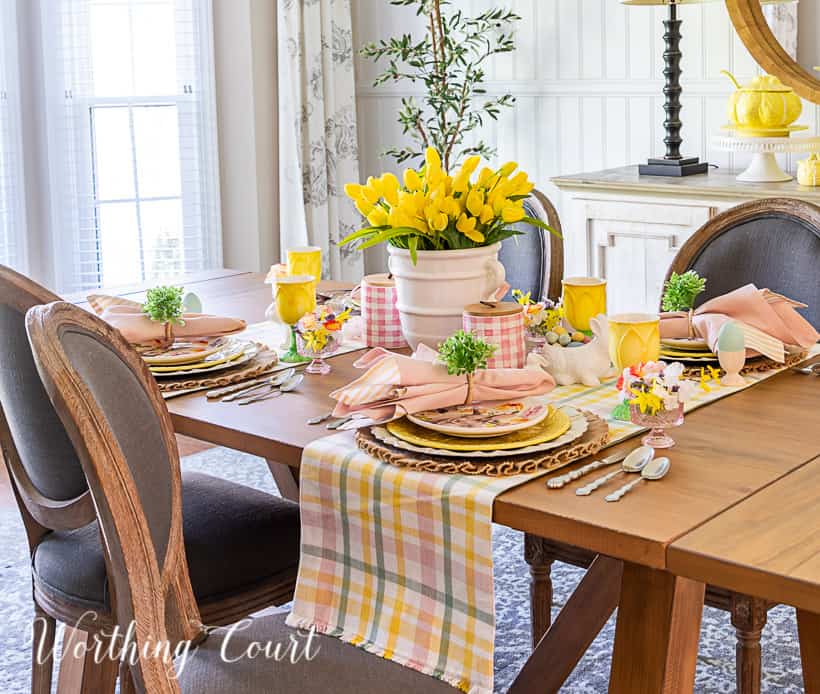 The eye catching star of the centerpiece is a large, wide-mouth urn overflowing with luscious yellow faux tulip bushes. I'm not ashamed to admit that I'm a user of faux greenery and florals around my house!  😀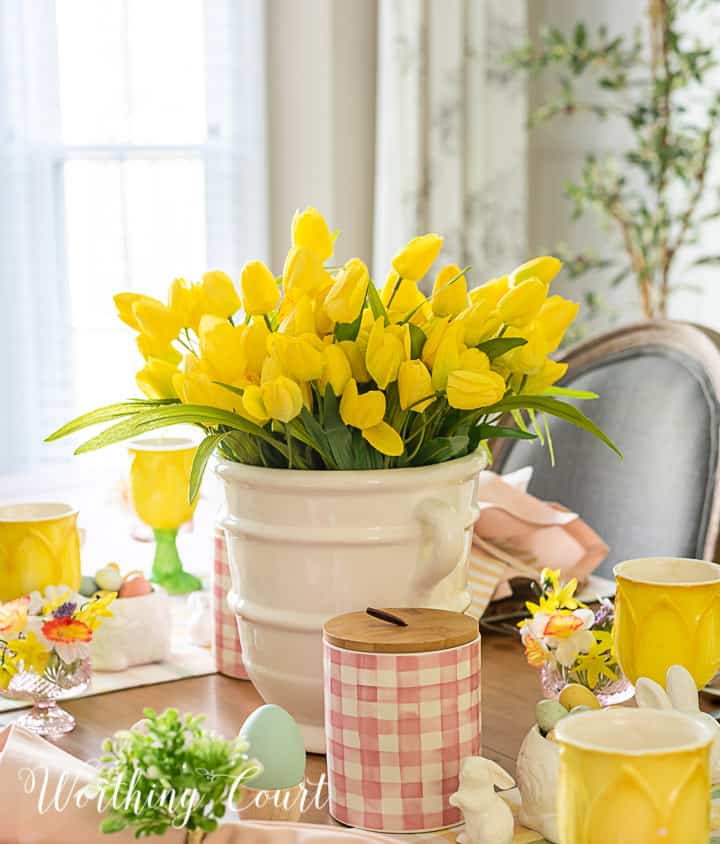 The rest of the centerpiece is rounded out with cute pink and white gingham checked canisters on each side of the urn and bunny bowls that I filled with Easter eggs in all of the colors that I've used on my table.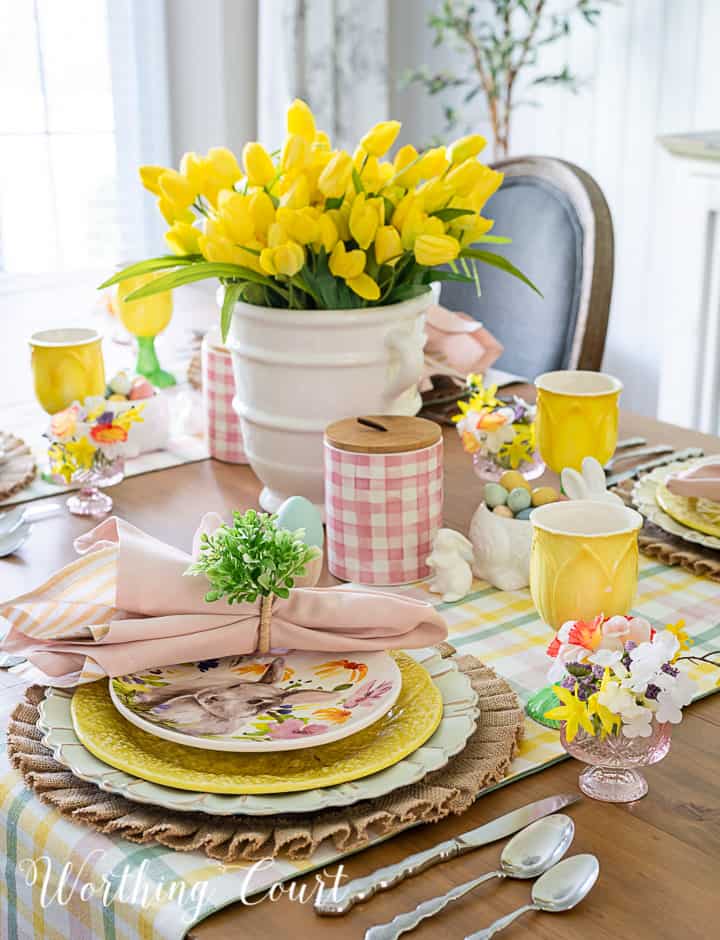 To create more dimension and interest, I layered two napkins together and placed them on the side of each place setting. I love that look!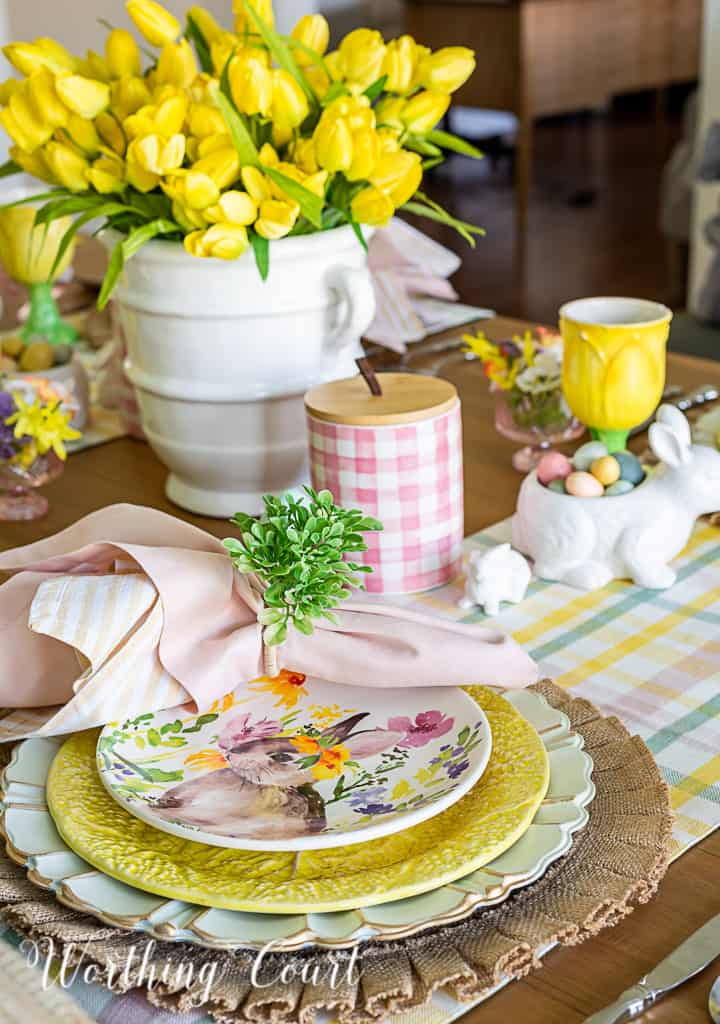 You'll find more faux florals in the pretty pink pedestal bowls at each place setting. All of the flowers came from the dollar store so I had no qualms in snipping a few twigs off to fill the bowls with.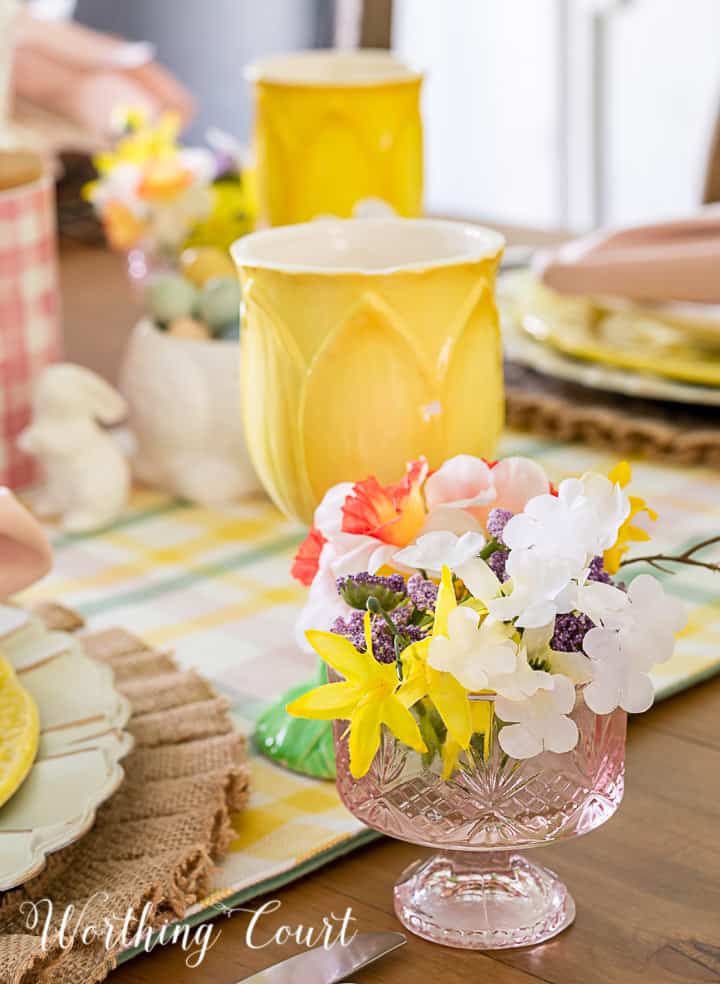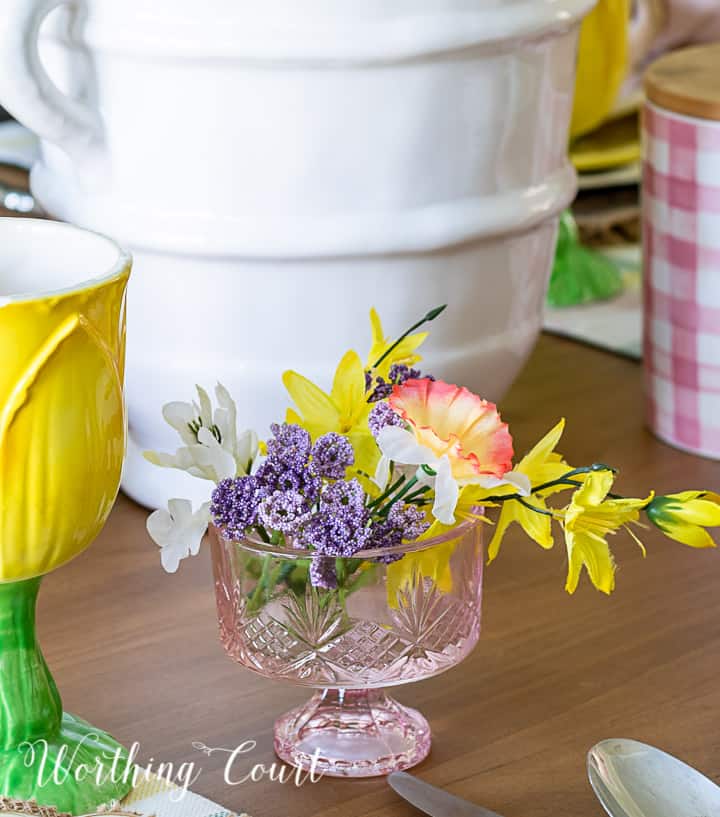 A few more of the pieces that my mom collected are displayed on my sideboard.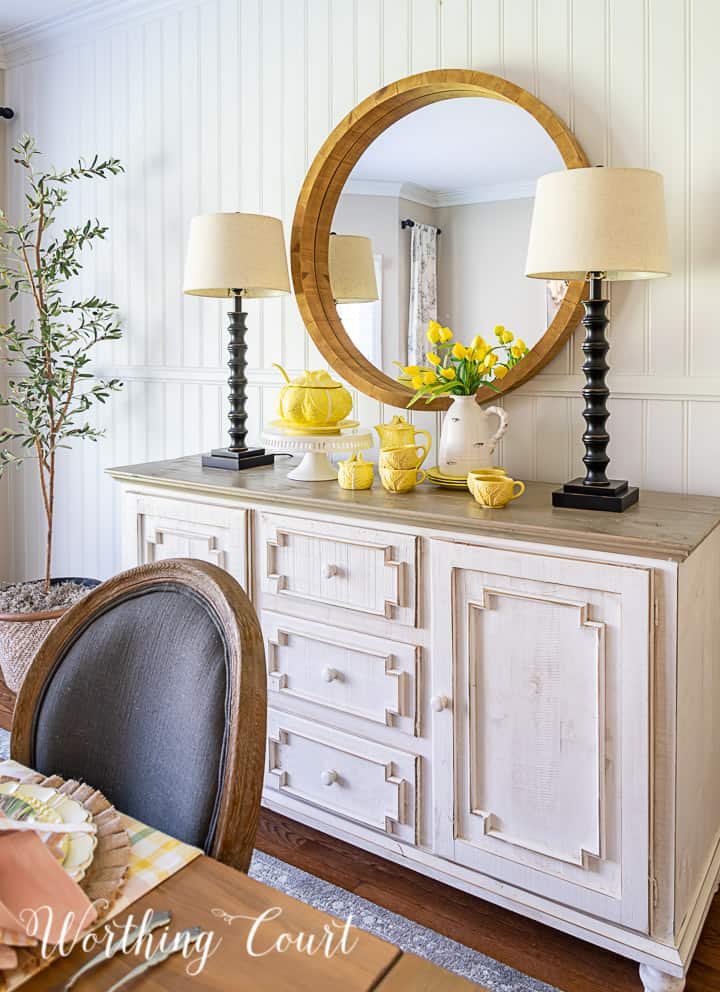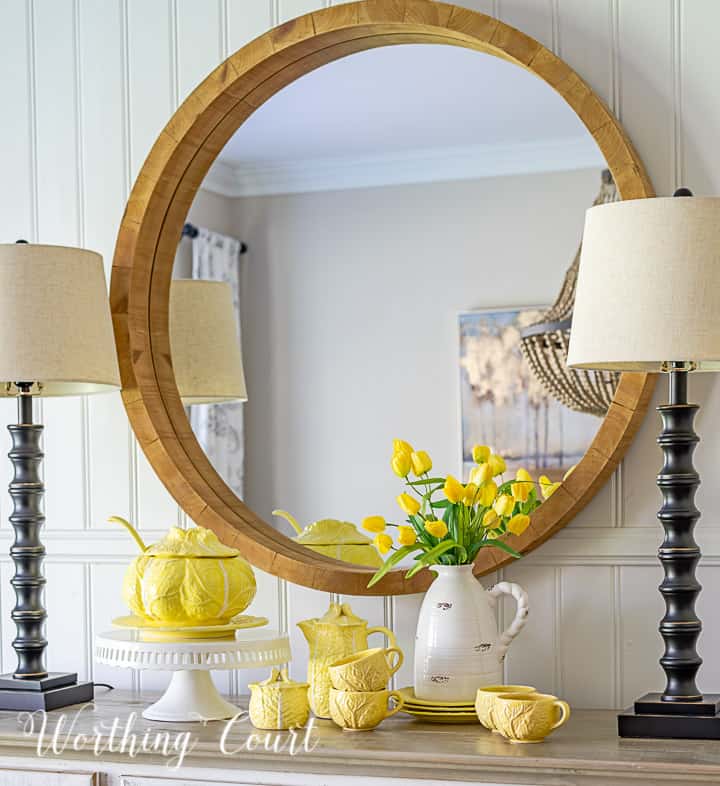 The cabbage soup tureen and teapot are two of my favorites! I have quite a few more pieces in my cabinet and dish closet, but this is all that I wanted to use today.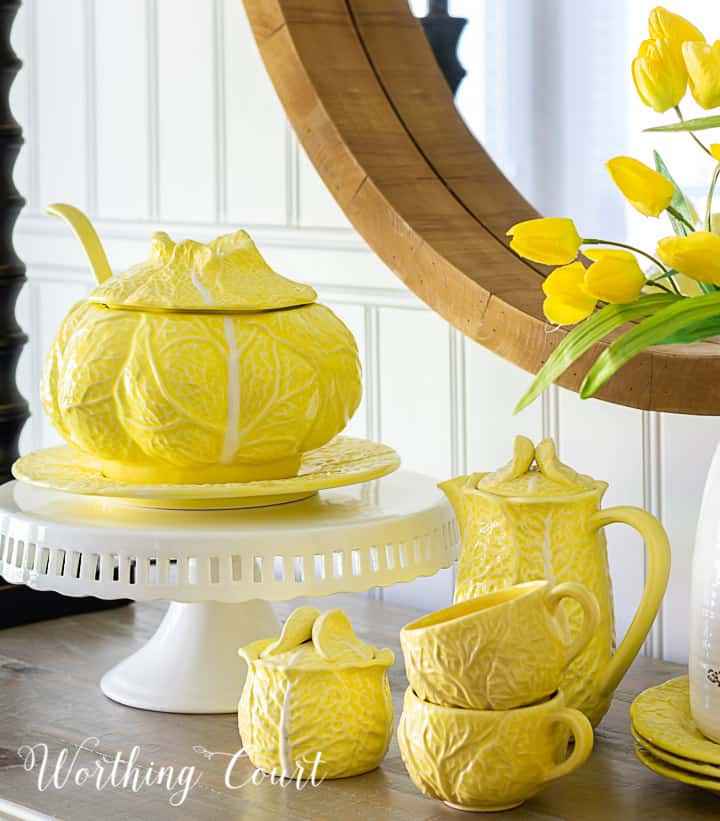 What do you traditionally serve at your Easter meal? A traditional Easter lunch for us is baked ham, potato salad (we like ours cold), deviled eggs, southern style green beans, croissant rolls, sweet tea and banana pudding. Yum!
Happy and blessed Easter, my friends!