An Easy And Oh-So-Pretty Easter Centerpiece Without Spending A Dime
Create an easy Easter centerpiece by recycling an old Easter wreath. It makes the perfect jumping off point for your Easter table decor!
I can't help but think of bunnies and Easter eggs anytime that I decorate around my home for Easter. Even though bunnies don't lay eggs (ha!), the two just go hand-in-hand to me.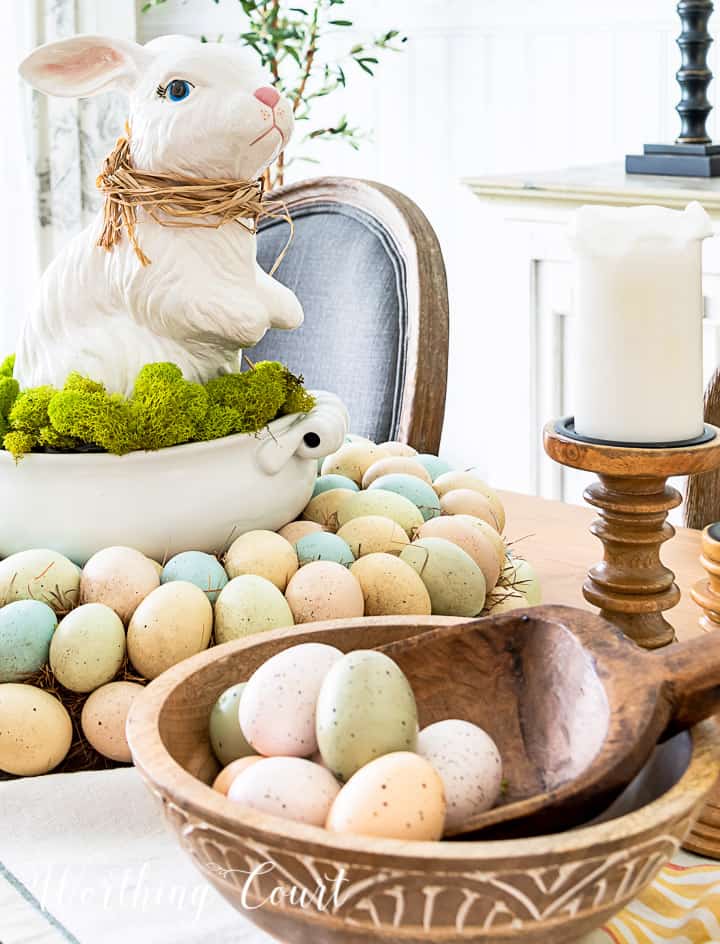 In the past, I used bright, vibrant colors when I decorated for Easter, but these days I'm drawn to softer, more muted colors.
BTW, if you want to see how I decorated for Easter in my old house, about 10 years ago, click HERE. I warn you though – it just might hurt your eyes (it does mine!). That mantle definitely falls in the "what was I thinking???" category!
That's enough of that! Let's get back to this year's centerpiece.
My goal for the centerpiece this year was to not spend any money at all. So when raiding my Easter stash for inspiration, I came across an Easter egg wreath that I've had for years and decided to incorporate it with some ceramic bunnies that I made way back in 1996.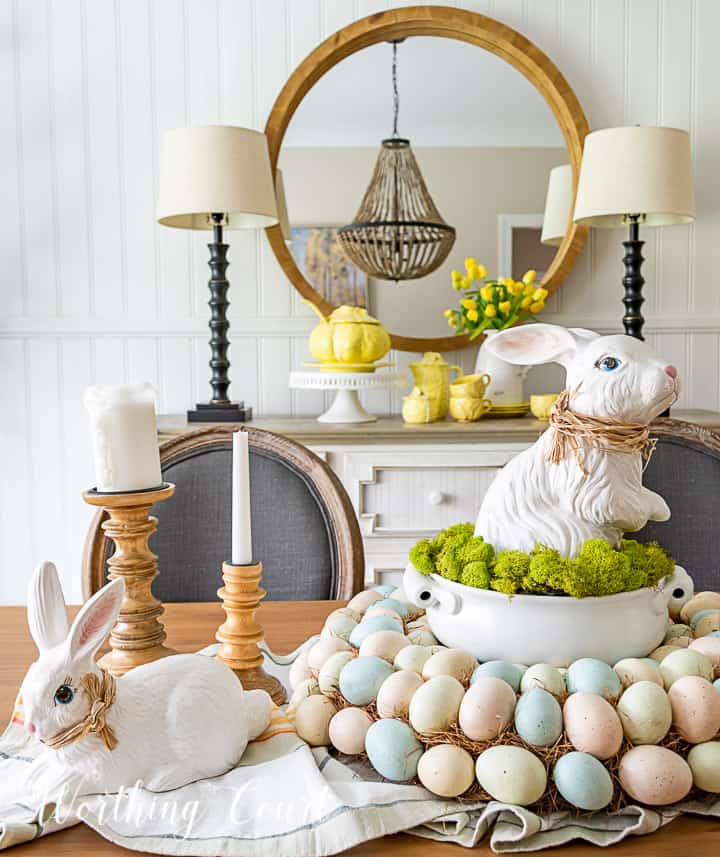 Side note: have any of you done ceramics? I really enjoy it, but all of the ceramic stores where I live closed long ago. I sure do miss the days of selecting greenware, cleaning and painting it and then being excited to see how my creation turned out after the final firing.
Let's break the assembly of the whole centerpiece down into easy steps.
I started off by bunching up a table runner down the center of my table. I like the dimension and it helps keep the centerpiece from looking like I just lined up a bunch of things down the middle of the table.
Next, came the wreath which I placed in the center of the table.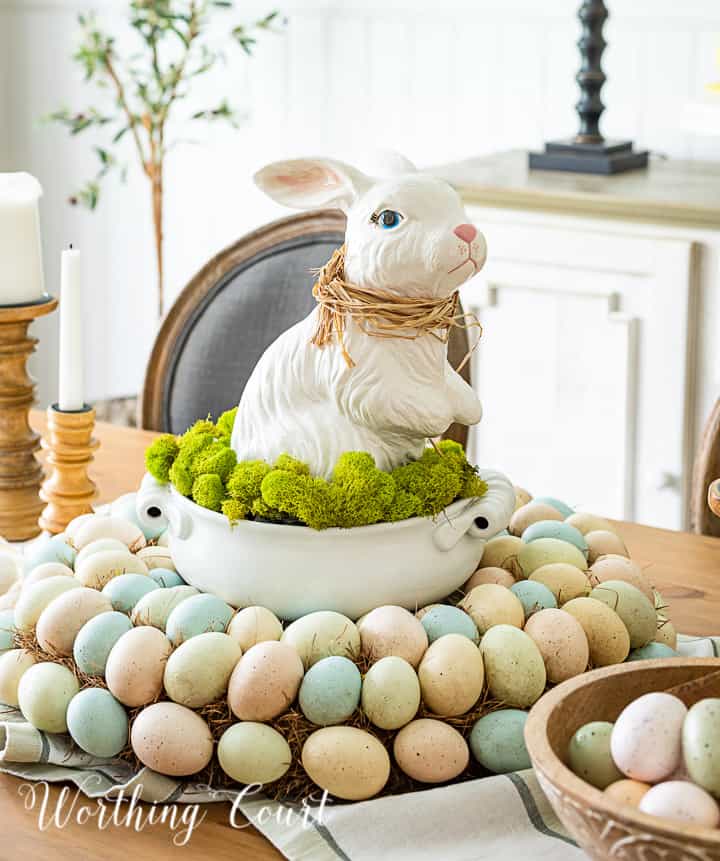 I tied a few pieces of raffia around the bunnie's necks and placed the tallest of the two bunnies in a pedestal bowl in the center opening of the wreath.
I raised the bunny up with a block of wood, added plastic bags around it and covered the whole thing with pretty reindeer moss. Smoke and mirrors, y'all.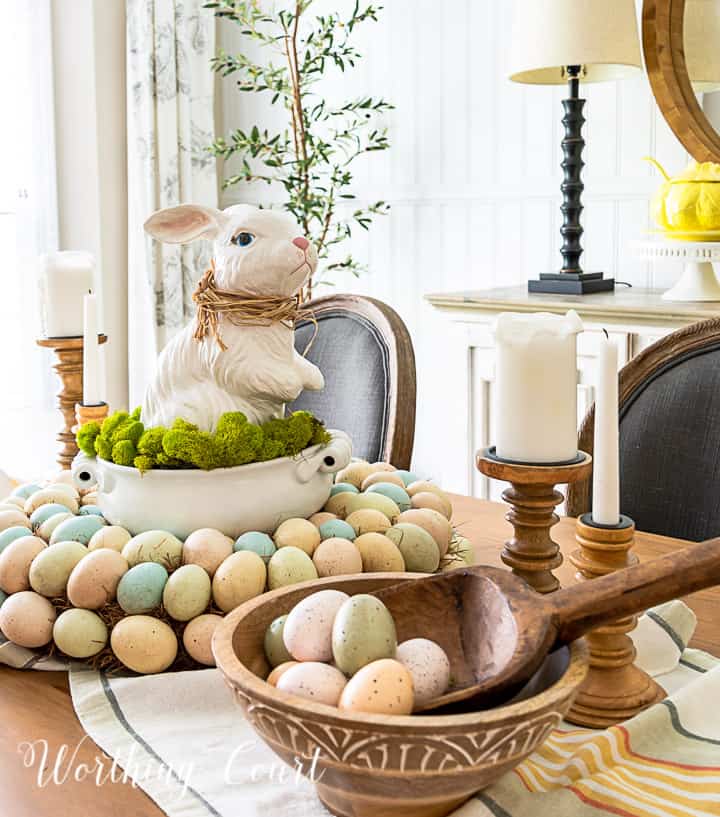 I added the second of my bunnies to one side of the wreath and a wooden bowl filled with faux Easter eggs lying in a wood scoop on the other end. Both of them are pulled toward the front, since that's how the centerpiece will be viewed most often.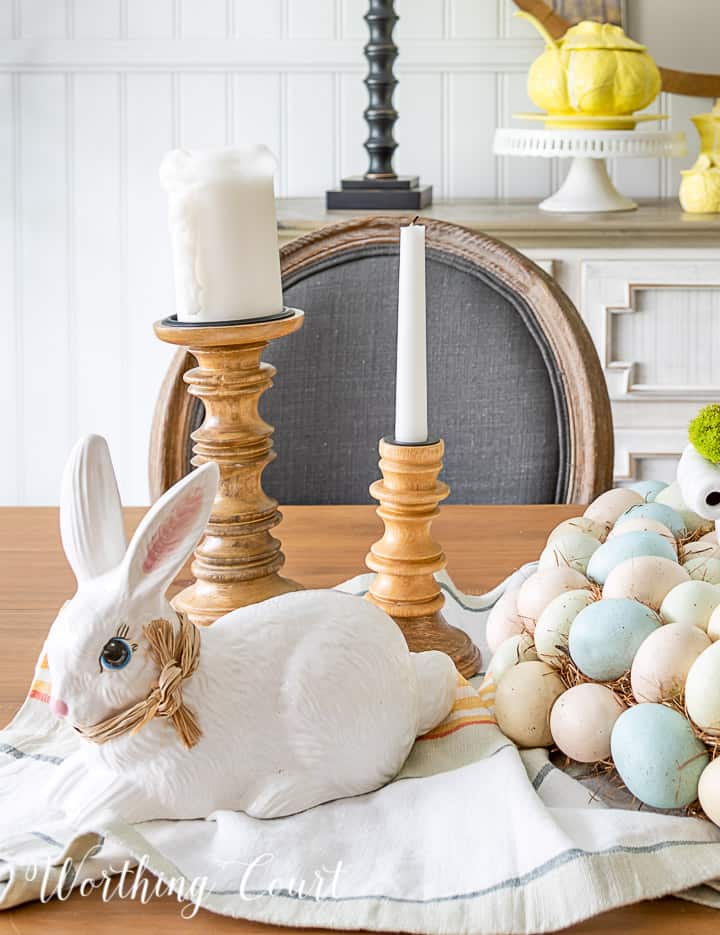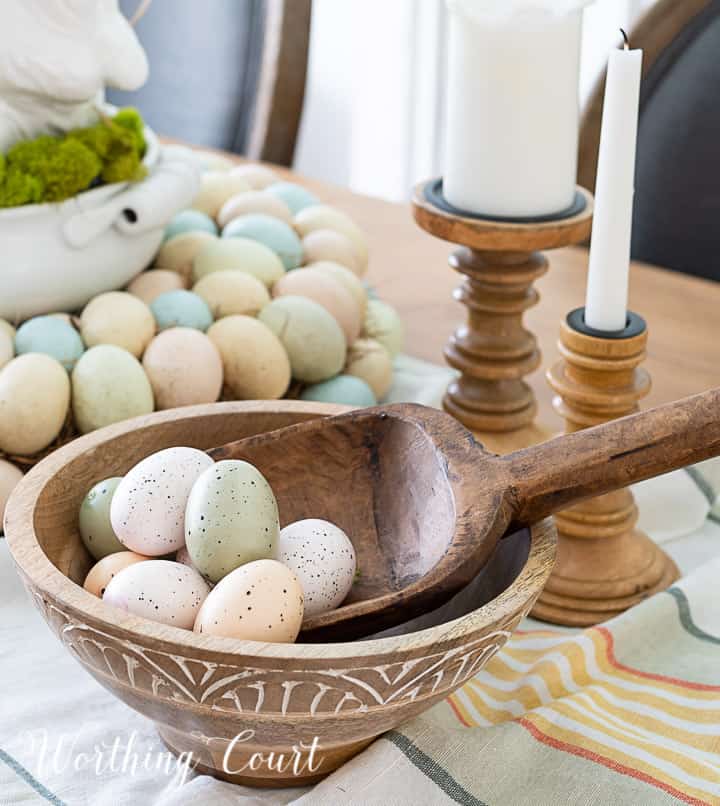 To finish it off, I added a few wooden candlesticks and candles.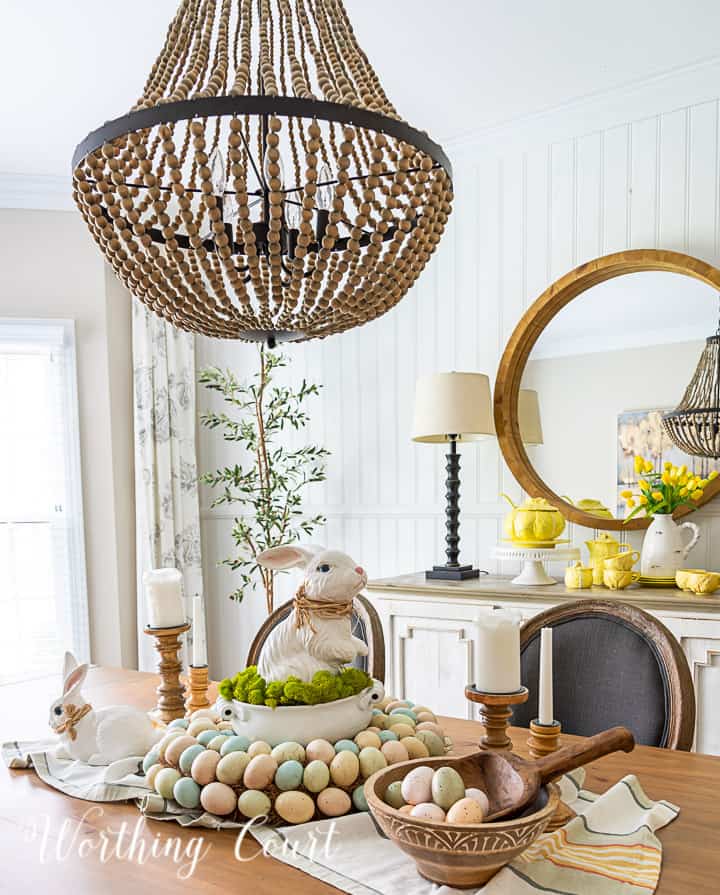 This type of arrangement could easily be used on a sideboard or sofa table too!
I'm willing to bet that you have an unused wreath around your home that could be the jumping off point for creating your own version of this easy Easter centerpiece!