Inspiration and simple ideas for creating a charming spring centerpiece with just a little nod toward Easter. Raid your stash and use items you already own and a few dishes from your cabinet!
Welcome to the annual Celebrate Spring bloghop, hosted by my real life friend, Leen from from Sand Dollar Lane! Today is that last day of this amazing week-long celebration of spring ideas. You'll want to be sure to scroll down to get links to spring porches, spring mantles and console tables, spring entryways and spring diy ideas. Today it's all about spring centerpieces and tablescapes.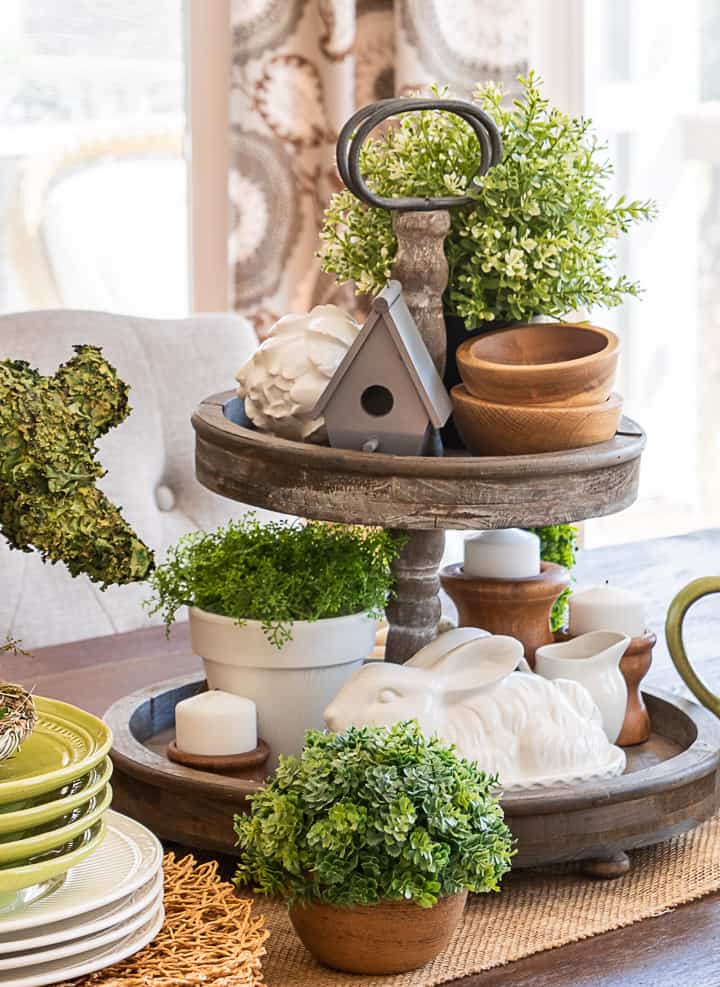 If you're coming over from The Little By Little Home, welcome to Worthing Court! Leigh's spring tablescape is so, so pretty. You'll love her entire blog! In addition to featuring her beautiful home, Leigh shares yummy recipes, book reviews and all sorts of life tips.
I shared all of this year's spring decorations in my home a few days ago, but I only gave you a glimpse of my spring centerpiece. I was saving it especially for today!
Is there anything more fun than raiding your stash when you decorate? It's a real joy to be able to rummage through the holiday decor in my newly organized attic and in my decor closet to put long-held-onto things together in a whole new way!
That's exactly what I did when I created the centerpiece for my breakfast room table this year. Oh yeah, I grabbed a few plates from a kitchen cabinet and a few placemats from my linen storage too.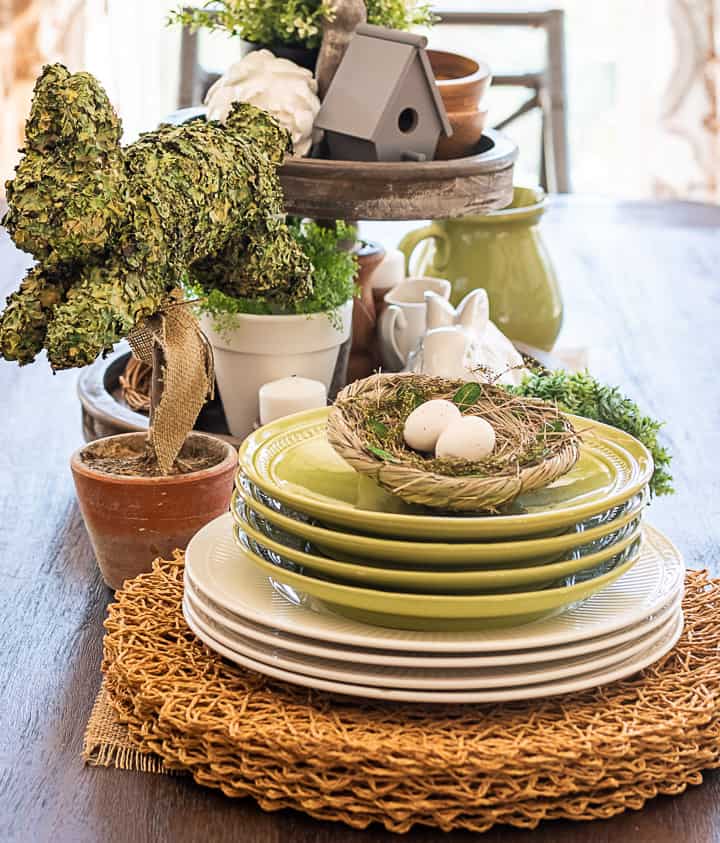 The best thing is that because I've created a home decor capsule, I didn't spend one single penny! Finding new ways to use items that I already own is a good creative challenge for me, on top of making for budget friendly decorating!
I started off by creating a foundation with a burlap runner, placing the empty tiered tray on one end and the stack of placemats and white plates on the other. Those two large'ish items add as anchors for the whole display.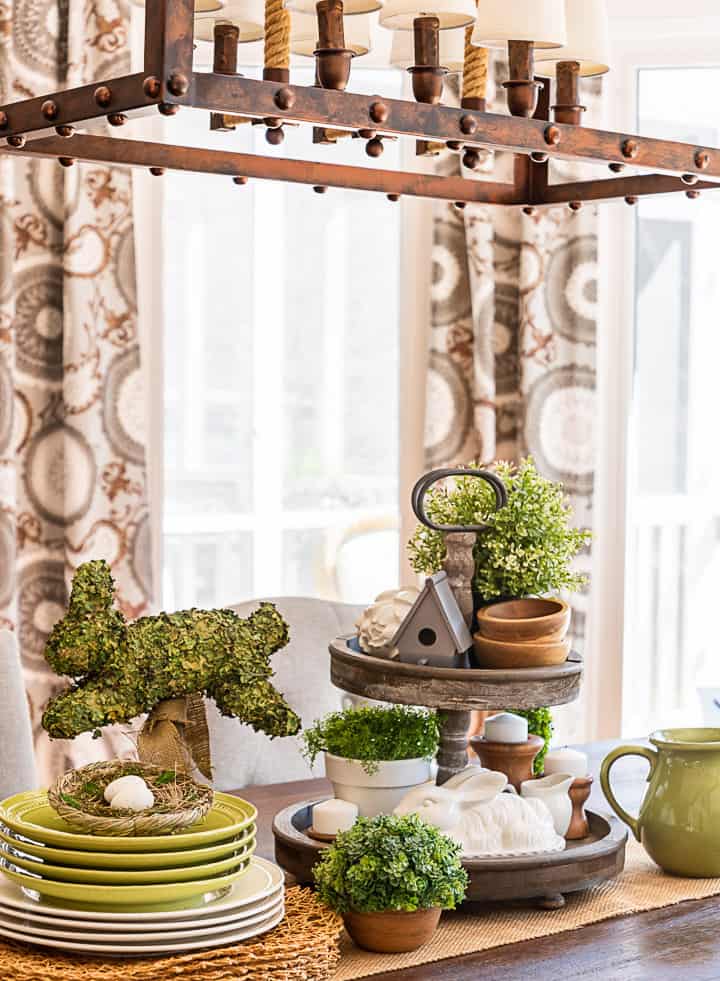 From there, I added the focal point elements where I wanted them to go – the bunny topiary (he's a favorite!), the green salad plates, the artificial plant on the top tier of the tray and an adorable bunny butter dish on the bottom.
After that, it was simply a matter of filling in all of the spots. I did quite a bit of tweaking and shifting things around here and there to get just the filled-in-but-not-too-cluttered look I was after.
The secret to putting together any centerpiece or vignette is to vary the heights from one object to another and to layer items to the front of each other. I actually wrote a whole blog post with more details for creating vignettes that you can read HERE.
The tiered tray is one of those cases where I gathered all sorts of spring'ish things into a basket and brought them to my breakfast room to play. By adding a little of this and a little of that and by moving this over here and that over there, I wound up with such a cute tiered tray display.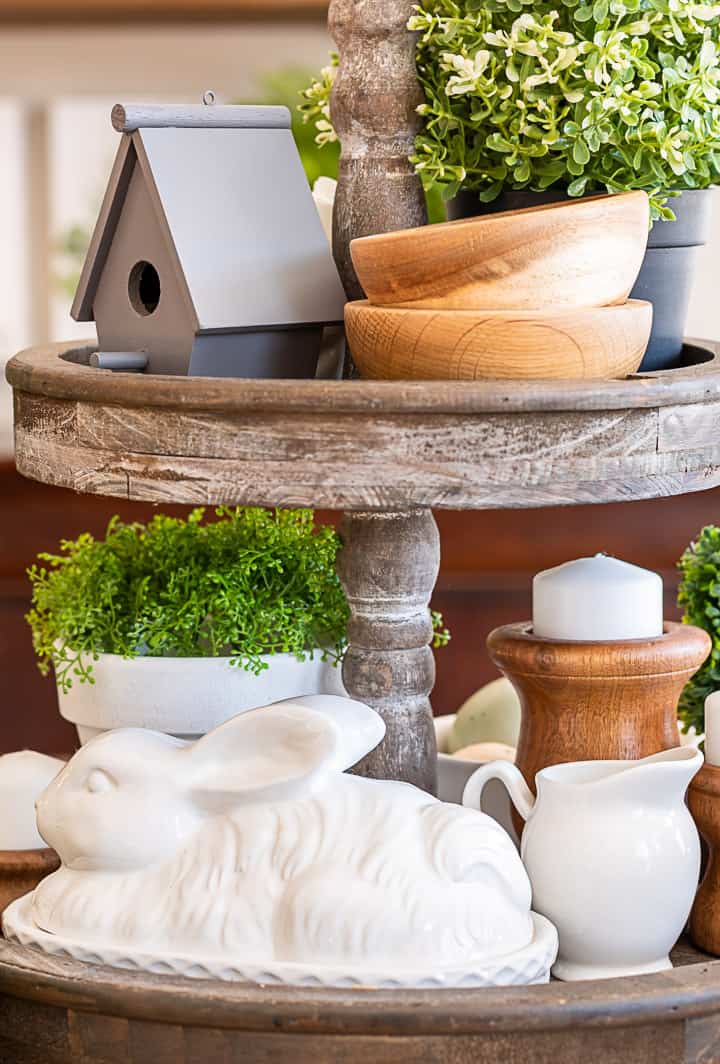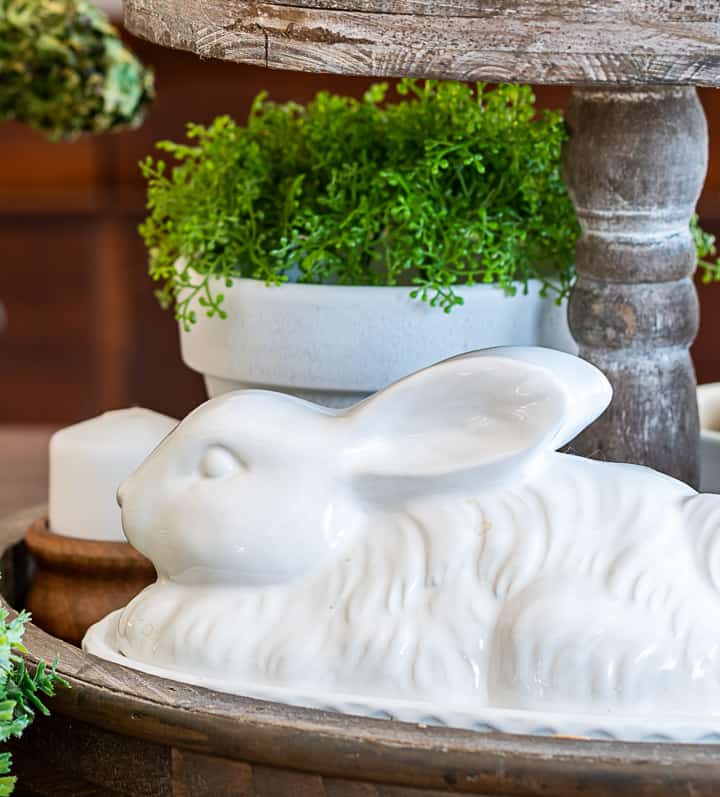 Back in the day, it was the style to have all of your small tchotchkes sprinkled around on surfaces, but not any more. Using any type of tray or tray basket is a much more updated way of displaying your small favorites and collections without creating a cluttered look.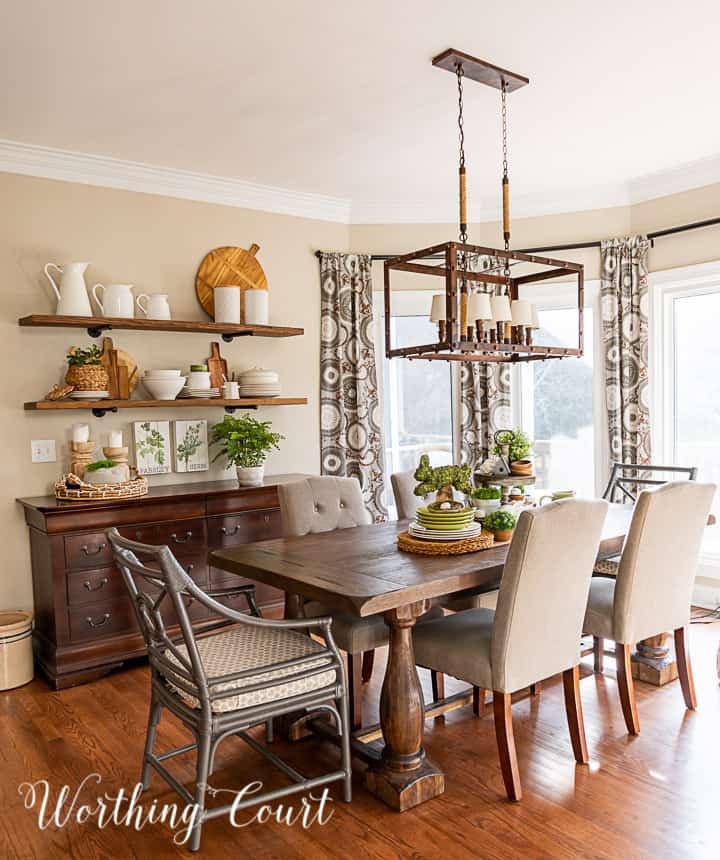 Thank you so much for coming to visit today! Next, you'll want to head over to Aratari Home to see the pretty spring coffee table centerpiece that Lindsay put together. Don't forget to visit the others for lots more spring inspiration!