My Updated Cottage Meets Traditional Spring Home Tour
An updated cottage meets traditional spring home tour filled with easy and inspiring ideas that you can use in your own home.
Today is all about spring decorating ideas! The long, dreary winter is over and the outdoors is bursting with new life. I see red bud and cherry trees blooming and daffodils popping their sweet heads out of the ground all around town and in my neighborhood. What an exciting time of year this is!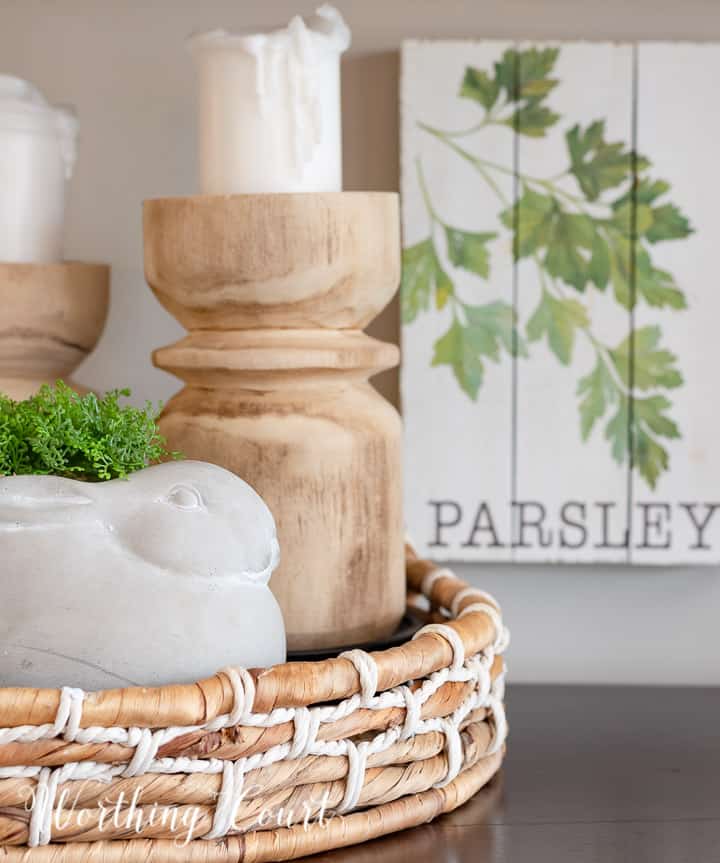 Pin
I'm happy to be sharing my home with you for the annual Spring Home Tour brought to you by my friend Marty at A Stroll Thru Life. There are house tours scheduled all week long, so be sure to scroll down to see all of the participants and come back here each day to get a direct link to the other tours.
If you're popping over from Marty's beautiful home, welcome to Worthing Court! Marty is a long time friend here in the blog world and her home is always impeccably decorated. She does a fabulous job of blending traditional and updated decor together in her home. Be sure to follow her blog, if you don't already.
I'm so glad you've come over for a visit today because spring is when I think Worthing Court really comes to life! I tend to keep things simple for the winter, after all of the Christmas decor is put away, but now I'm ready to throw open my windows for some fresh air and liven and lighten things up with my favorite spring decorations. Come on in!
This year's decorating ideas are all about mixing real and faux greenery with shades of white and beautiful, warm wood tones. All you have to do is look out your windows to see that nature "decorates" with these same colors this time of year, so I've done my best to bring the outdoors in. If spring hasn't arrived where you live yet or if you still have snow on the ground in your neck of the woods, it's the perfect time to liven your surroundings up.
Let's start the tour in my dining room where I've added a fun diy moss bowl and glass hurricanes to the table for a simple, yet elegant centerpiece.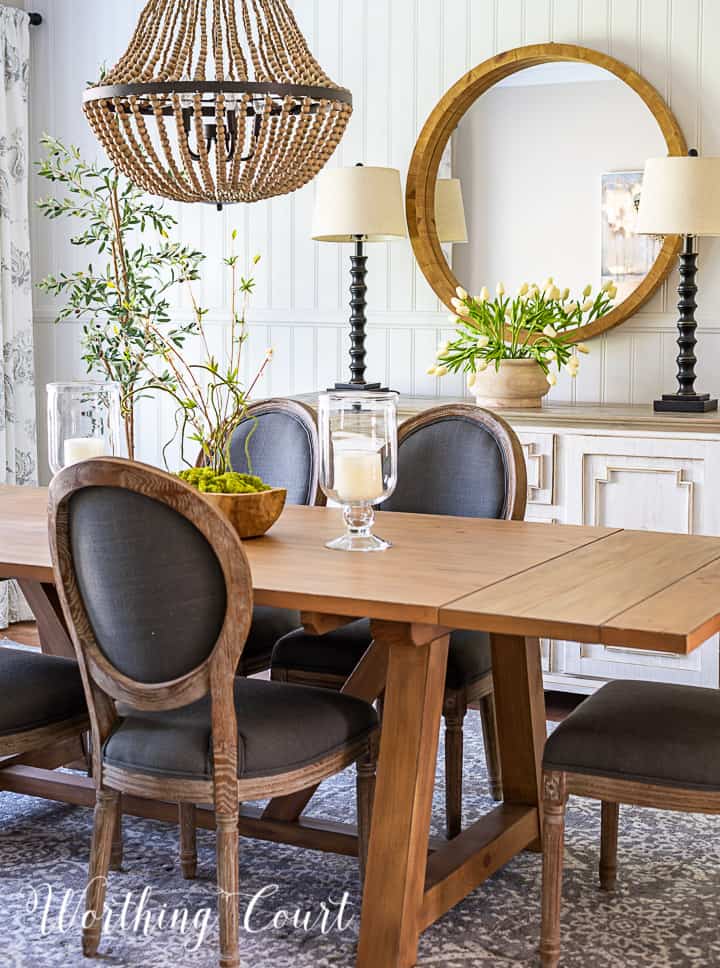 Pin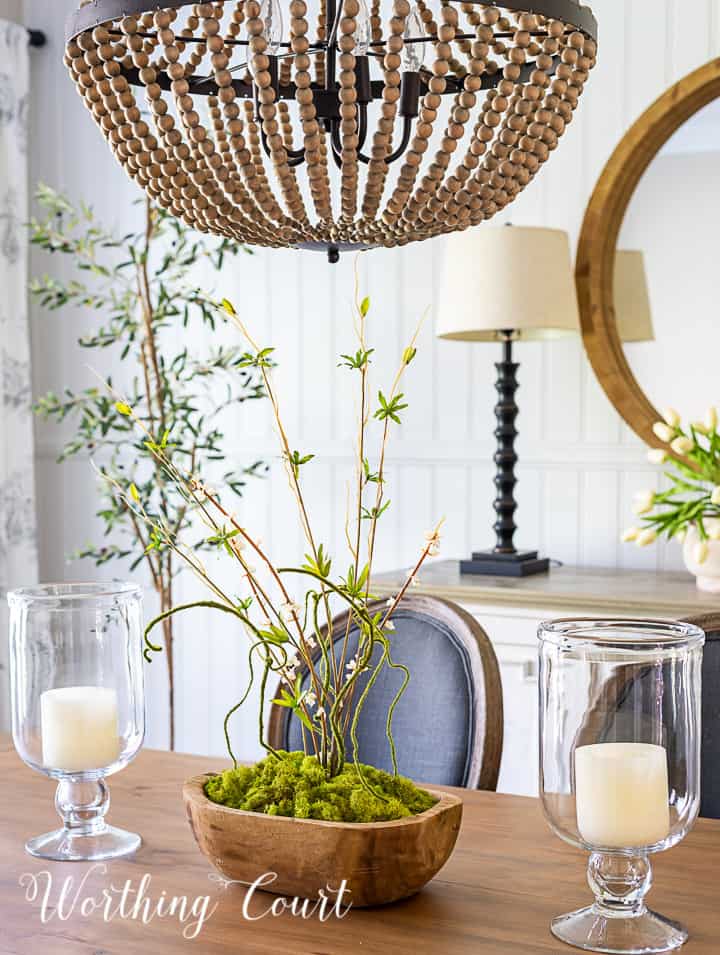 Pin
I've returned to my decorating roots over the last few months as I've transitioned my style from purely farmhouse to updated cottage meets traditional. I'm still in love with the farmhouse look, so you'll definitely still see touches of that sprinkled throughout.
I still firmly believe that layering is essential to creating a cozy, inviting home, but a little more on the simple side. I guess another way to say it is, there aren't quite so many layers everywhere you look.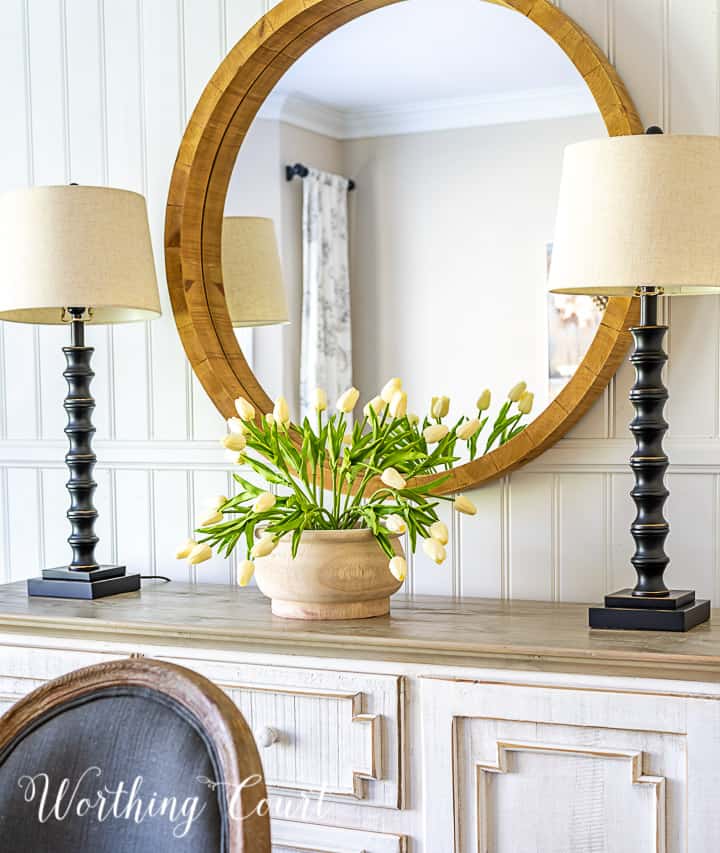 Pin
The fireplace in our living room/family room is a spot that always gets changed up for every single season and holiday. I'm not a person who changes what's hanging above the mantle for every season, but I have changed it a few times. Right now I'm extremely happy with this round mirror that has a heavy natural fiber wrapped around a metal frame.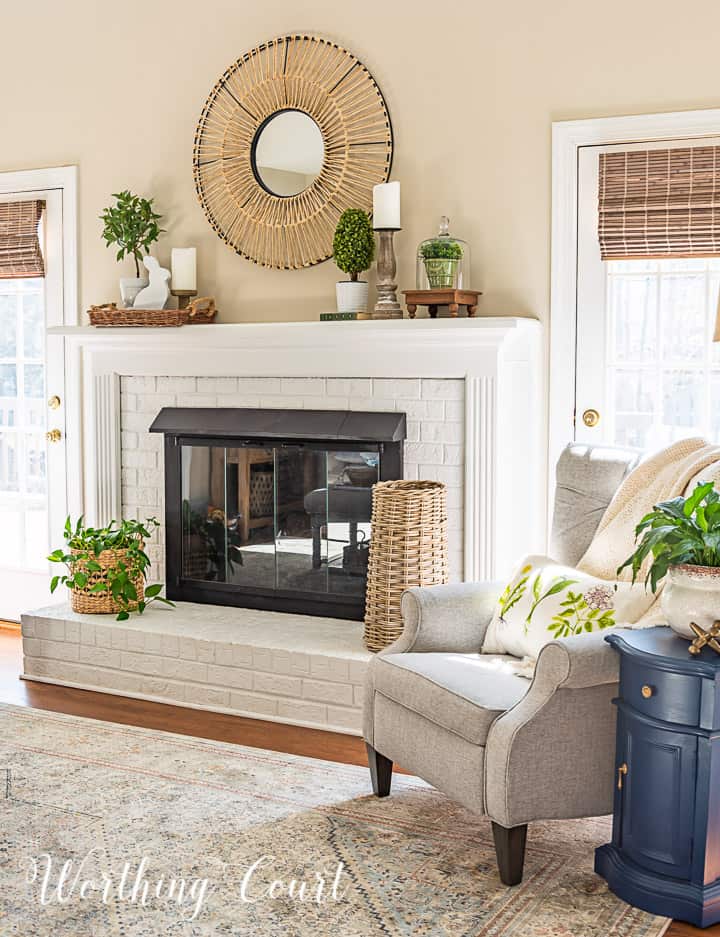 Pin
As part of my simplified decorating style, I've come to believe that giving an understated nod to the holiday (except for Christmas) is better than displaying everything I own. So, with Easter on the horizon, you'll see that I tucked in just a few bunnies here and there.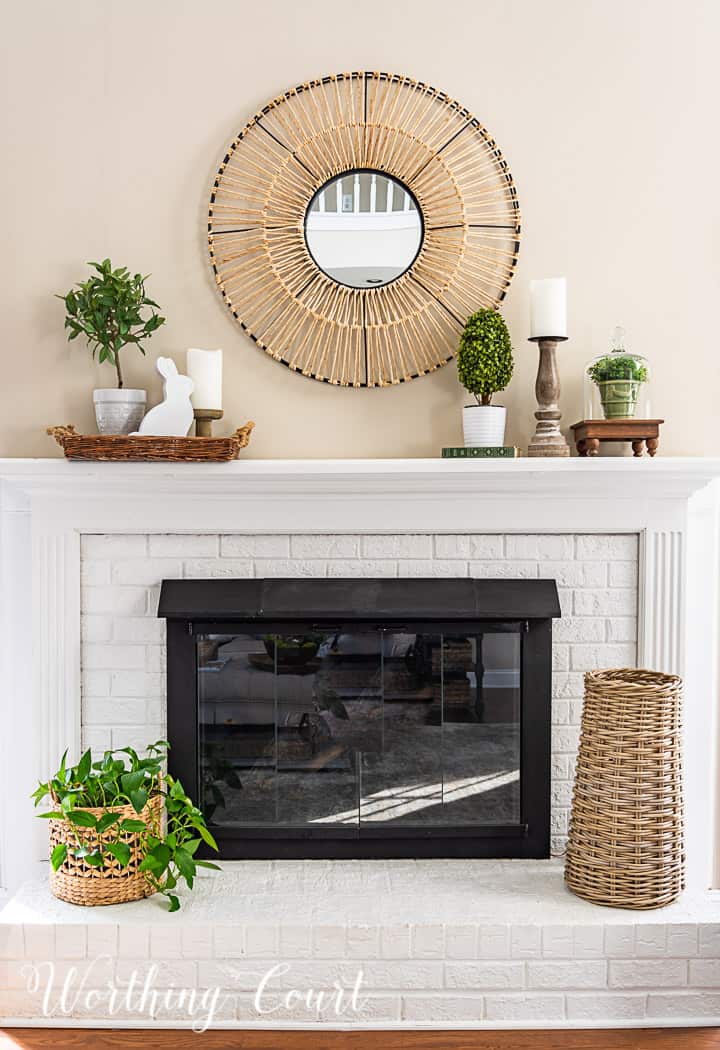 Pin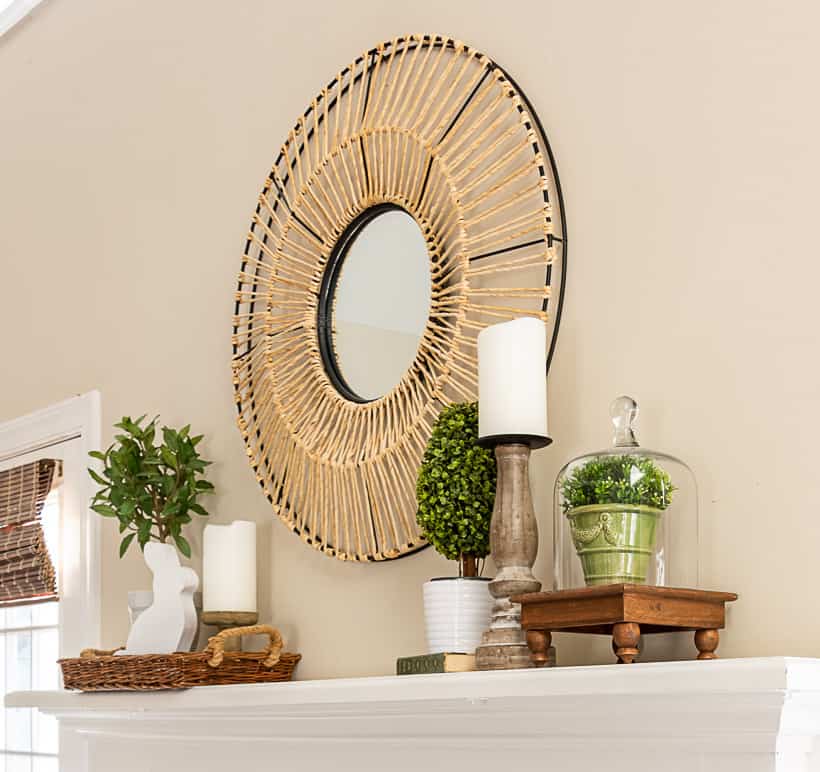 Pin
Other than an Easter tablescape, that I'll be doing soon, a few bunnies are the most Easter you'll see around here. If you know me at all, you know that I have a long love affair with the little cuties, so I always have to have some somewhere both indoors and out!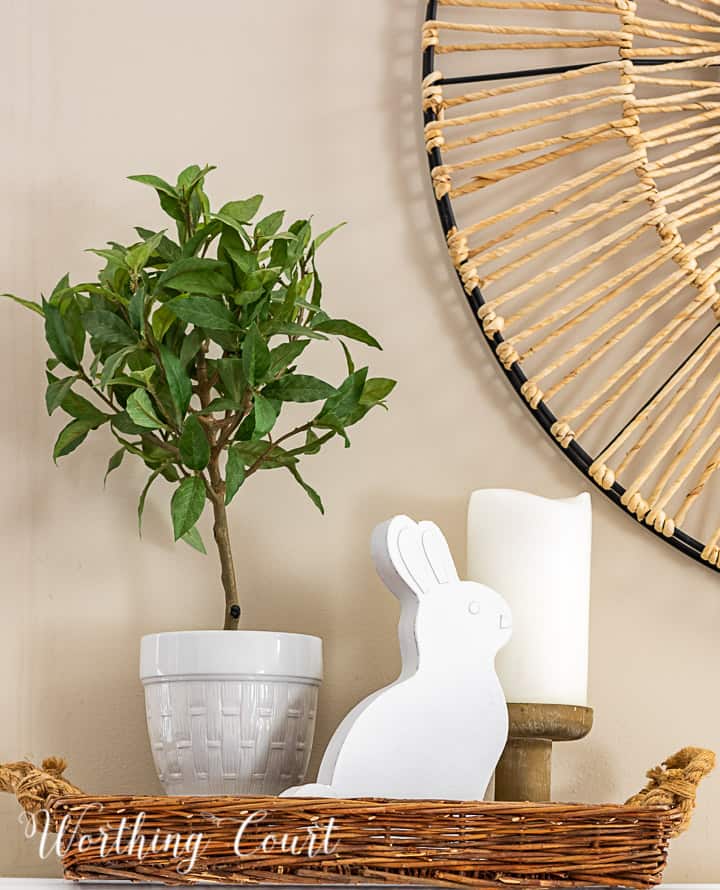 Pin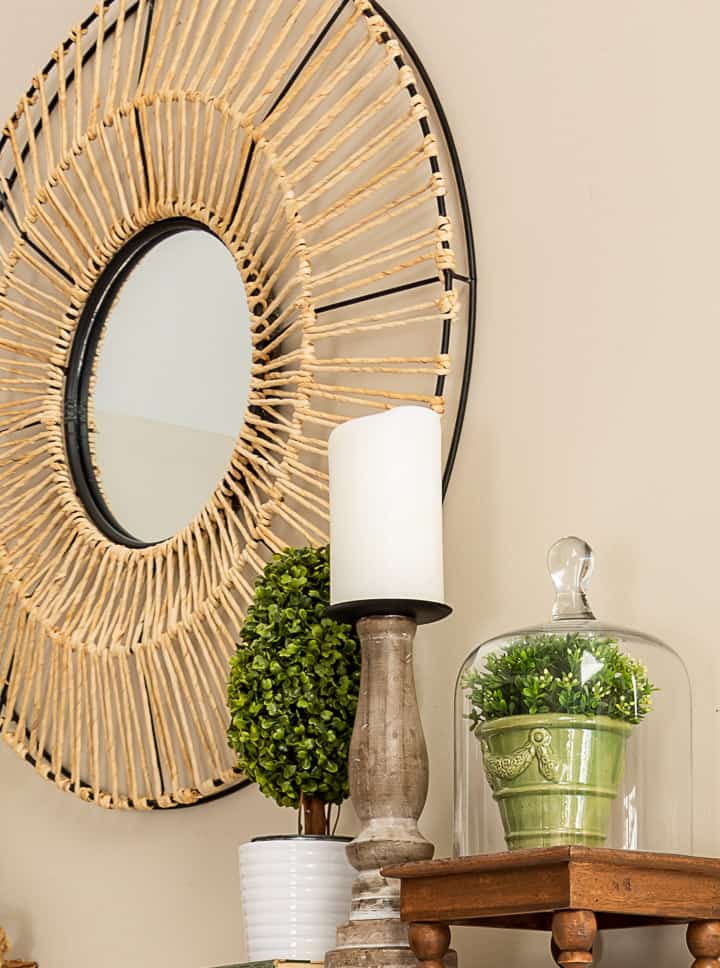 Pin
If you have sharp eyes and have been around for a while, you might notice that I pulled a little switcheroo with the chairs flanking our fireplace.
The only thing I did was to switch the side of the chair that the side table and floor lamp are on. It looks so much cozier to have the chairs closer to the fireplace this way! I still need to paint that table, but I keep hesitating because I really do love that shade of blue.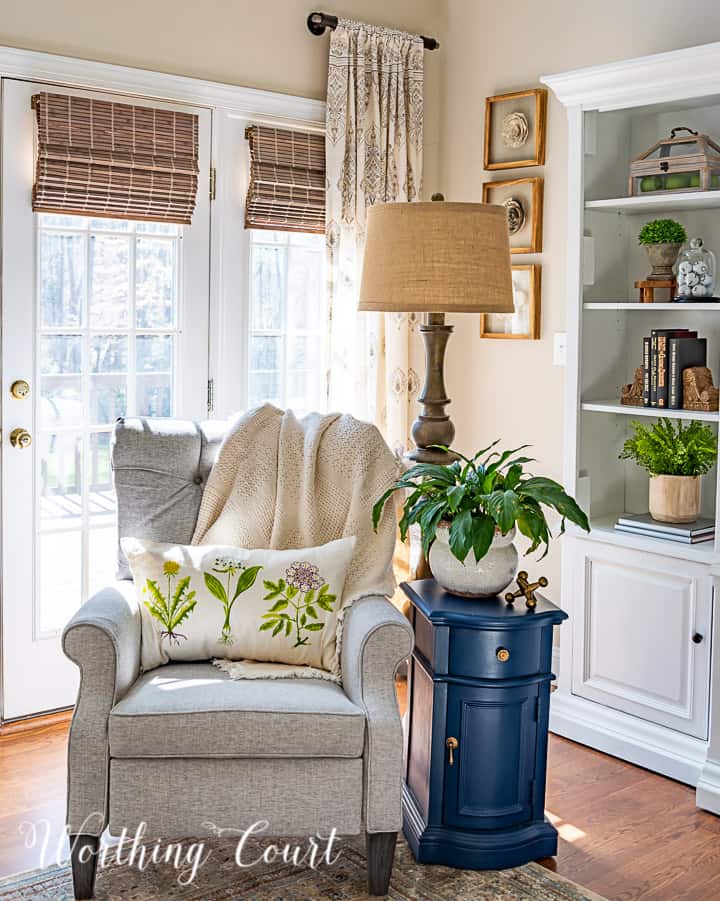 Pin
My upholstered coffee table and couch sit directly across from the couch where I've added another diy moss bowl vignette. Nests, birds and bird houses are another thing that I love tucking in strategically for the spring.
By the way – I've mentioned diy moss bowls a couple of times, so in case you missed it, I did a detailed step-by-step tutorial on making 5 different types of moss bowls that can be found HERE. They are one of the most fun and easy diy's that I've done in a long time!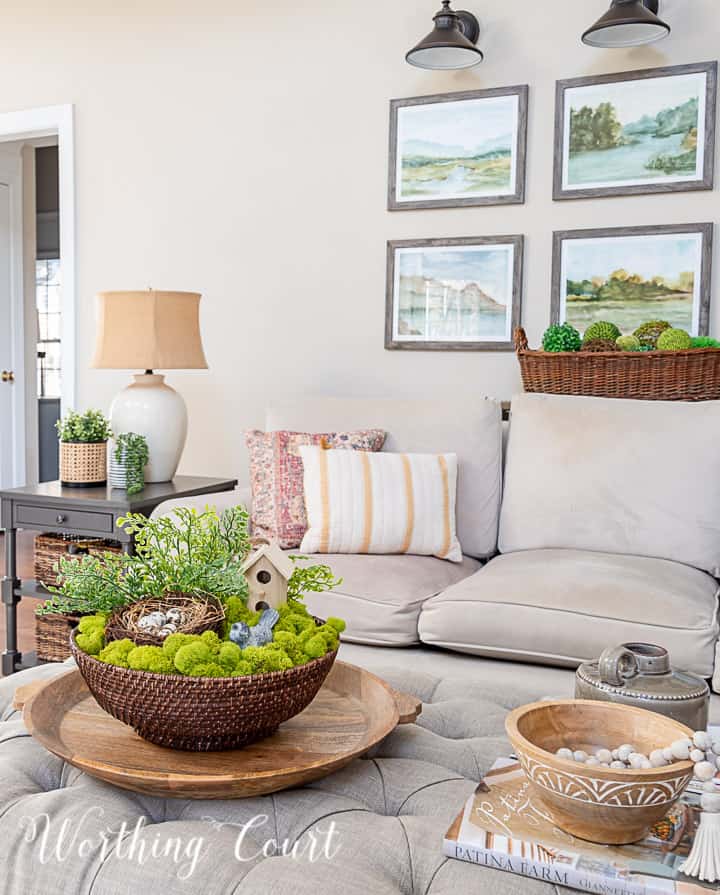 Pin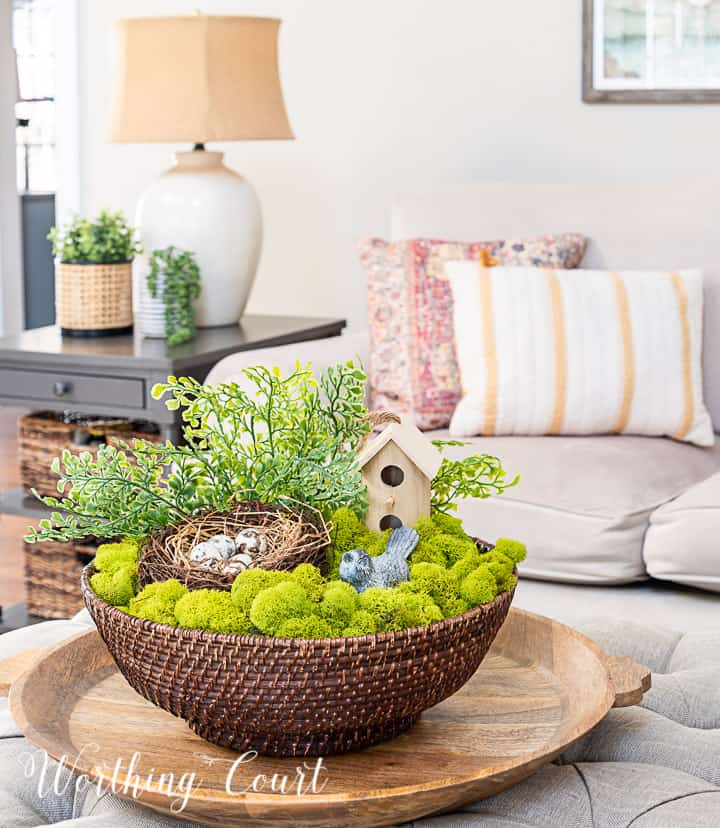 Pin
From the family room, let's move through the wide opening into the breakfast area, that's located at one end of our kitchen.
I have plans to replace the curtains in our large bay area, although I have no idea what with. I'm thinking maybe plain white??? We will see. These work just fine for now and pick up all of the colors that I've used in this room.
Other plans I have for this room include replacing the side chairs and doing something to update the look of my shelves and sideboard. Again, I have no idea what to do yet, but it's something that I'm definitely mulling over.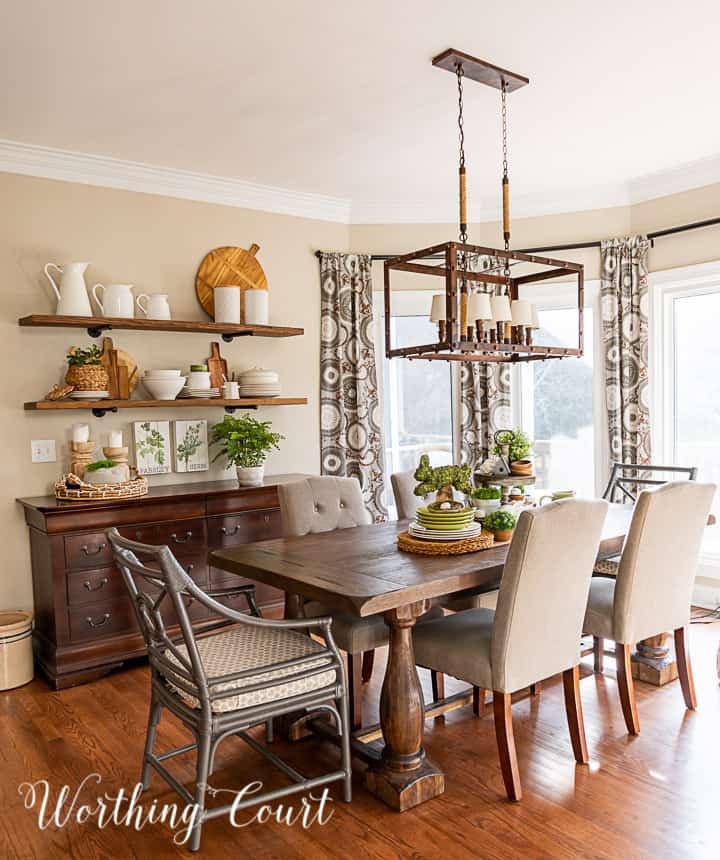 Pin
One of the best things I've recently done for myself is to add white dishes and accessories to my shelves to act as a base for any season that I want to decorate for. Instead of redecorating the entire area, all I need to do is swap out a few items for the current season. SO much easier and such a HUGE time saver for me!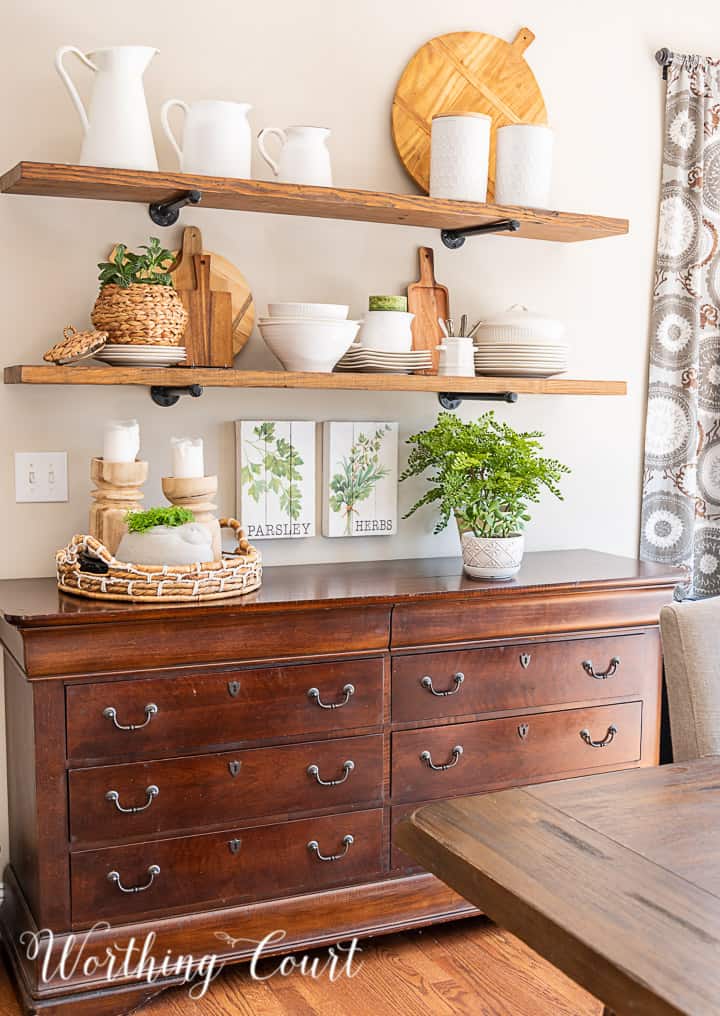 Pin
This is one more spot where I've added a favorite bunny. Isn't he just the cutest thing?!?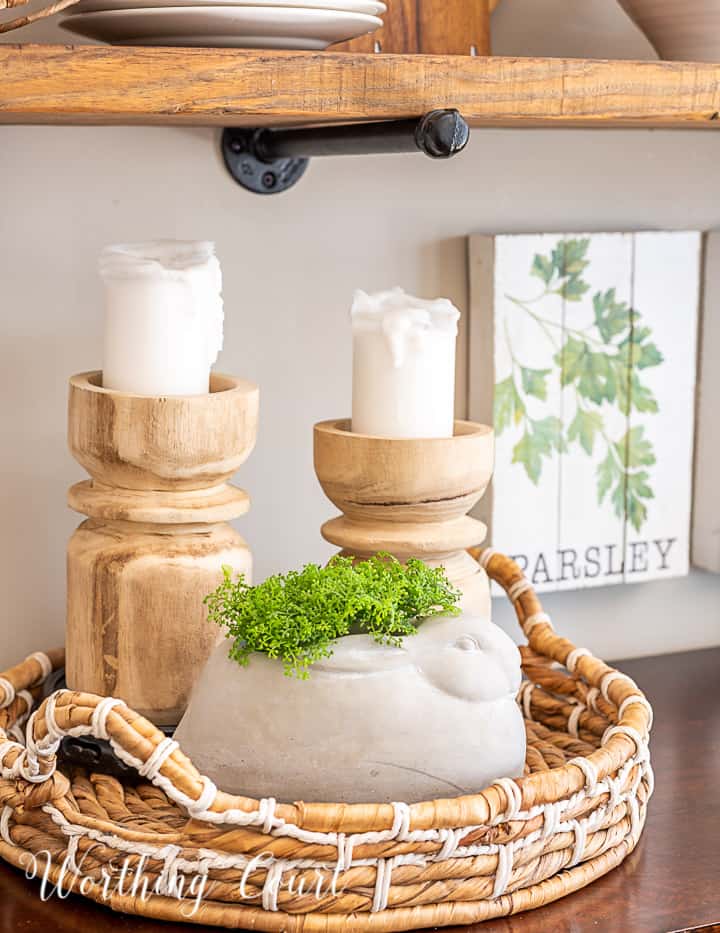 Pin
I love his fat, squatty little body and look at that precious face!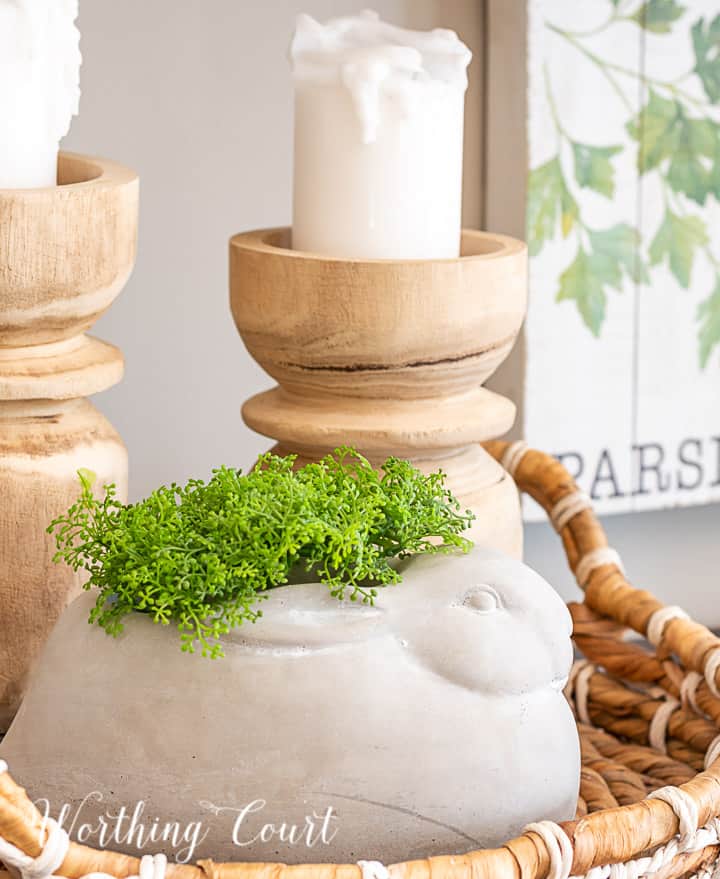 Pin
I have a really pretty spring centerpiece in the middle of my table, but I don't want to share it yet. I hope you'll come back on Friday when I'll be joining another spring bloghop where it will be all about spring centerpieces!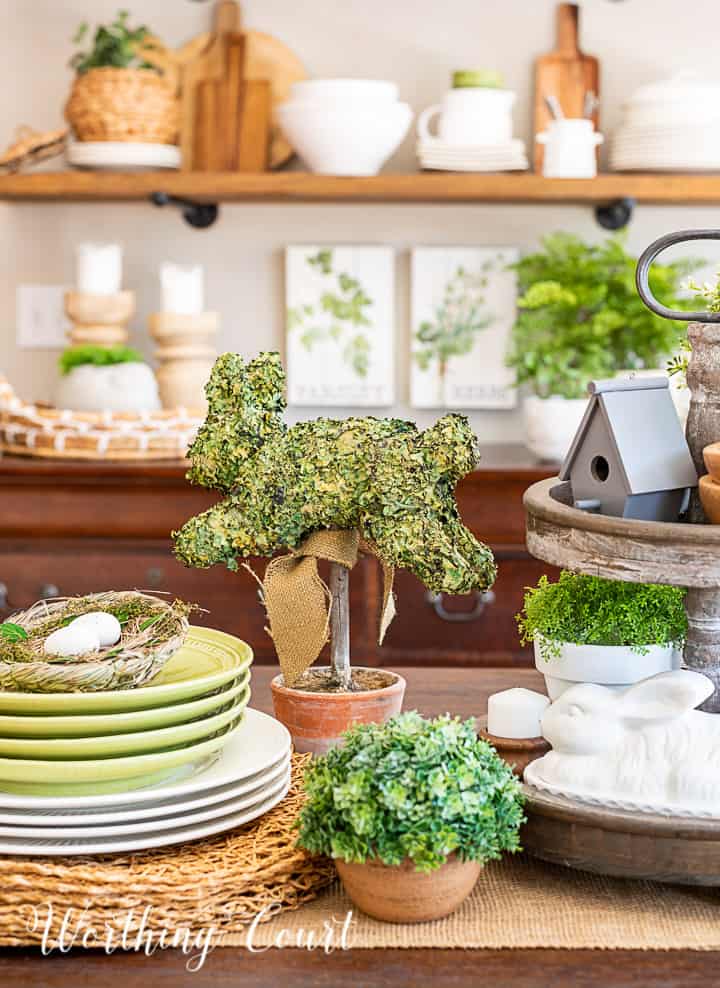 Pin
As I mentioned, my breakfast room is located at one end of my kitchen. I'll share one spring'ish spot from there with you, but I recently posted about freshening and zhushing up my counters, so I won't bore you with the whole thing. Click HERE if you'd like to see more of what I did!
Pin
I hope you enjoyed your visit to Worthing Court today. Thank you again for stopping by and Happy Spring!
Please be sure to go visit the next stop on the tour from another long time blog friend, Jennifer from Town And Country Living. Jennifer is a master at finding and displaying vintage goodies. You'll absolutely fall in love with her home and her beautiful style!
Monday March 8th
Pin
A Stroll Thru Life – Worthing Court – Town and Country Living – Hymns and Verses – Decor to Adore – White Arrows Home
Tuesday March 9th
Pin
Cassie Bustamante – Inspiration For Moms – Thrifty and Chic – Southern State of Mind – Clean and Scentsible – RemodelaCasa
Wednesday March 10th
Pin
Grace In My Space – Whispering Pines Homestead – The Wood Grain Cottage – StoneGable – It All Started With Paint – Monica Wants It
Thursday March 11th
Pin
Southern Hospitality – Pink Peppermint Design – 11 Magnolia Lane – Modern Glam – CitrineLiving – Our Southern Home
Friday March 12th
Pin
This Is Our Bliss – Cuckoo4Design – A Pretty Life – Up To Date Interiors – Chalking Up Success – Fox Hollow Cottage – Follow The Yellow Brick Home