How To Decorate Kitchen Countertops For Both Function And Beauty
Figuring out how to decorate kitchen countertops so that they are both functional and beautiful can be tricky! Here's how to strike the balance between the two, without a lot of clutter.
It's been a few years since we completed our total kitchen remodel and my decor since then really hasn't changed all that much. It's been functioning just fine, but it was high time for a little zhushing up, if you know what I mean.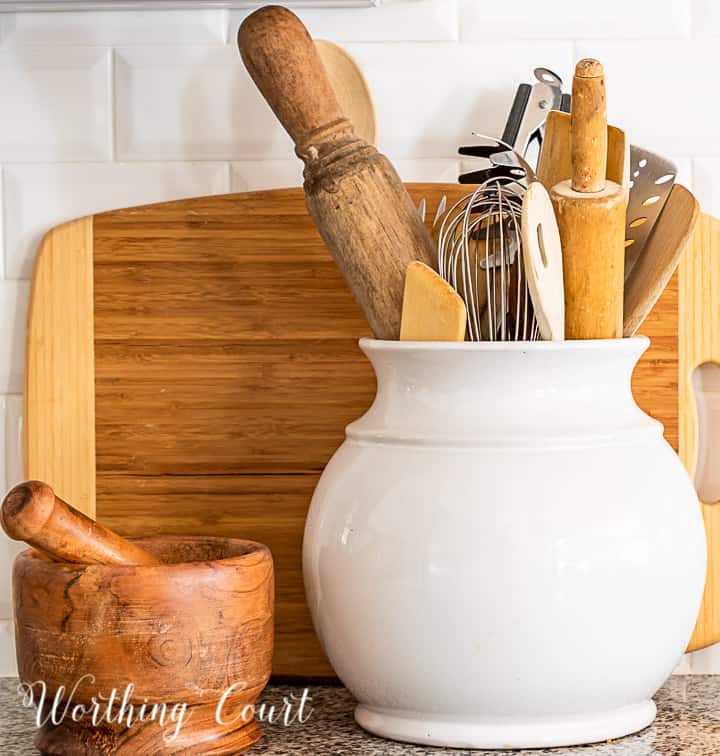 Pin
This post and photos may contain Amazon or other affiliate links. As an Amazon Associate I earn from qualifying purchases. If you purchase something through any link, I may receive a small commission, at no extra charge to you. Where possible, the exact product has been linked. If that product isn't available to link, I've linked something similar. All opinions are my own. See my full disclosure HERE.
When decorating your kitchen, it can be tough to strike that perfect balance between keeping the kitchen counters functional, yet pretty. So if you've ever been stuck on how to decorate your kitchen countertops, here's what I like to do.
HOW TO STYLE KITCHEN COUNTERTOPS
STEP 1: Establish your best/favorite work zones.
I have two spots in my kitchen where the majority of my work and cooking happen, so the counter decor in those areas definitely needs to be kept to a minimum.
One change that I recently made was to move my paper towels off of the end of my island, closest to the refrigerator. This is a major work zone in my kitchen and the upright paper towel holder was constantly getting knocked over and was just generally getting in the way all.the.time. Drove me nuts!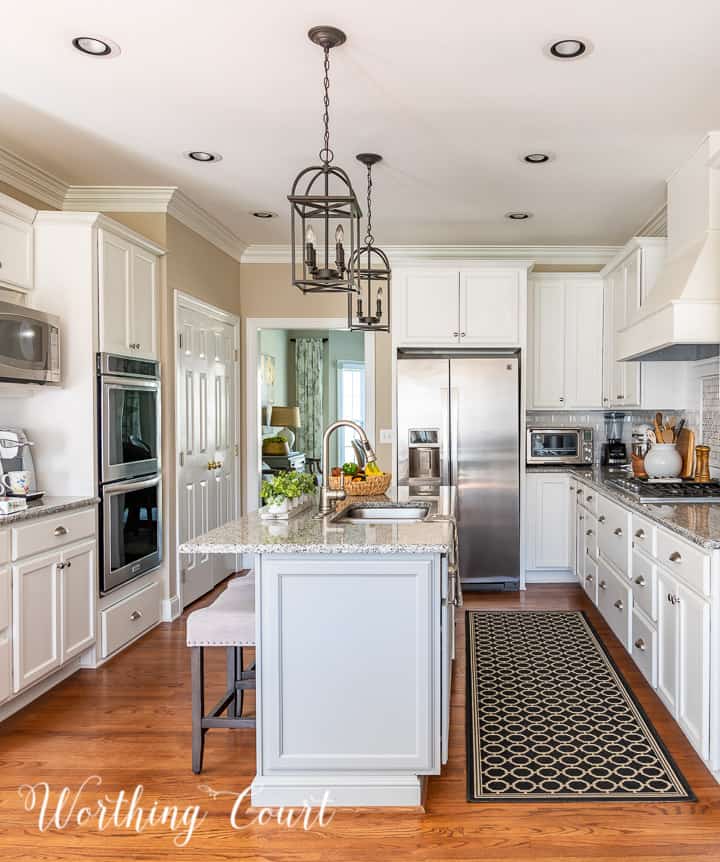 Pin
We don't use paper towels that often, so my solution was to add Command Strip hooks to the end of the island to hold hand towels, which we do use all the time. The paper towels were moved to a holder on the inside of our pantry door, which is only a step or two away.
I replaced the paper towel holder with a large basket to hold produce that doesn't go in the refrigerator. It's super easy to slide if off to one side as needed, but is a pretty textural element on an otherwise cold, hard surface like a countertop.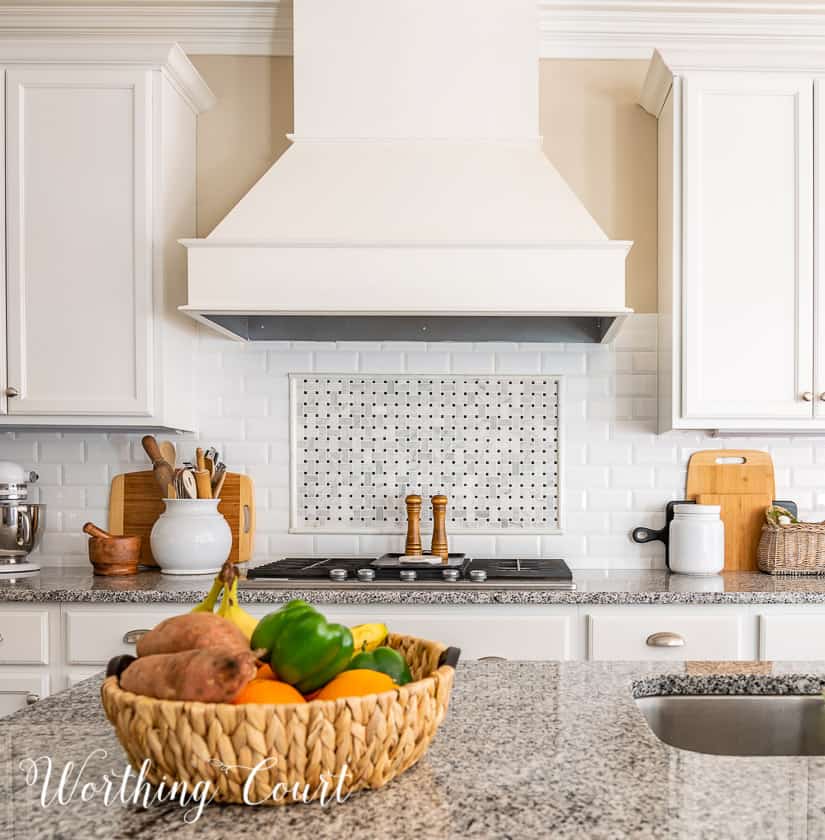 Pin
STEP 2: Determine which of those work zones need to be pretty as well as functional.
Baskets and trays will be your best friend when it comes to decorating your counters in this instance. That's definitely the case where my coffee maker resides. Not only is it a coffee and hot tea station, it's also where I make popcorn every single night.
To add warmth, beauty and function to this otherwise sterile area, I used a long wooden tray beside the coffee maker, which holds my coffee pods, popcorn, teabags and artificial sweetener packets in pretty canisters with wood tops.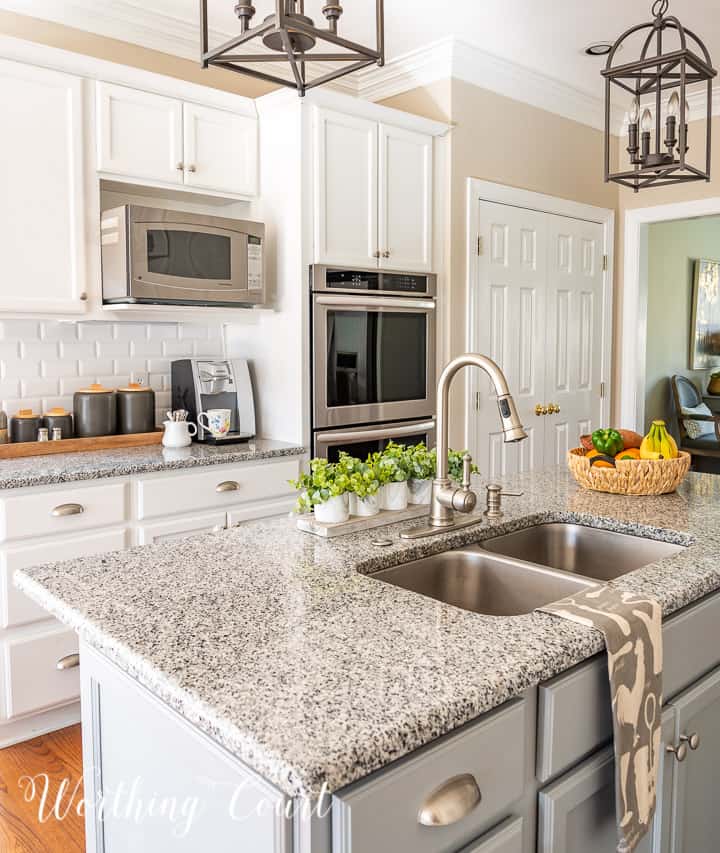 Pin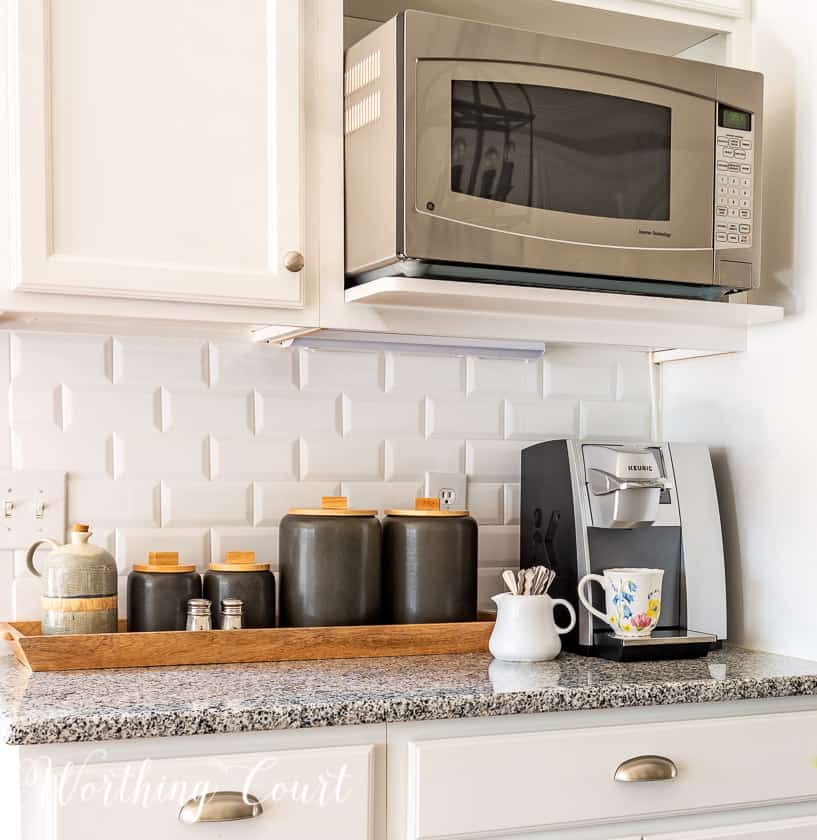 Pin
Another kitchen counter decoration area that needs to be functional, is to the left of my cooktop. I like be able to quickly and easily grab wooden spoons and other long cooking utensils while I'm cooking, without having to go digging around in a drawer.
I know that many people like to decorate their counters with a crock to contain those types of things, but a large vase with a wide mouth suits my style better.
To warm the area up, I added a cutting board (that I actually use!) behind the container and added a cute little wooden mortar and pestle off to the side.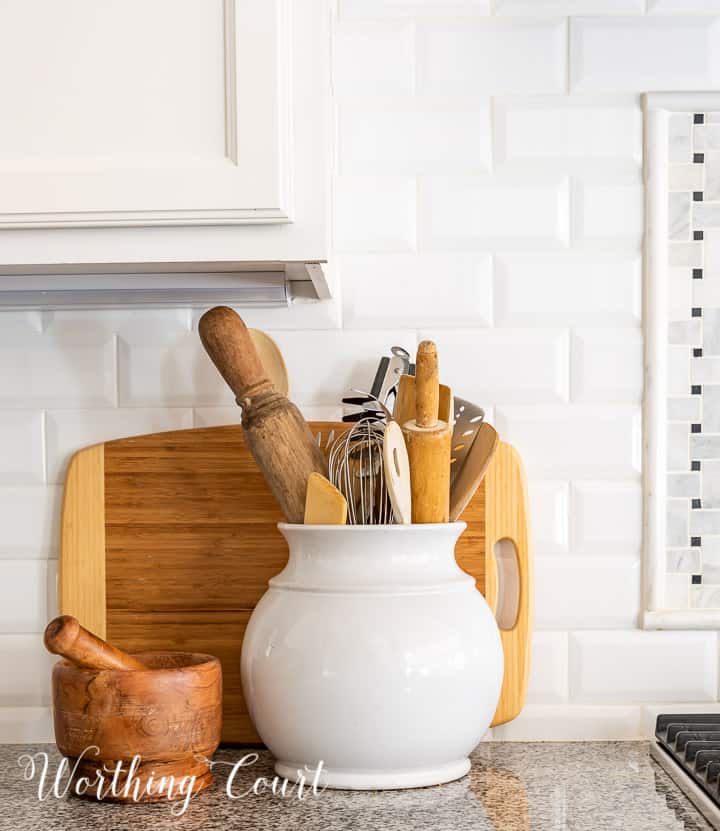 Pin
You may not think about the looks of the top of your stove or cooktop, but I've always wanted to have one of those gorgeous six burner cooktops with a griddle in the middle to give me a place to keep a pretty spoon rest and other functional items at my fingertips.
I came up with a cheater solution for my five burner cooktop! My cooktop has a center super-burner in the middle, that I rarely use, so to give me the look and functionality of a griddle, I measured the area and purchased an inexpensive burner griddle and topped it with a pair of wooden salt and pepper mills and a pretty marble spoon rest. I have to say that I love the look!
Now I no longer have to dig around in a drawer for my spoon rest or grab the salt and pepper out of the pantry.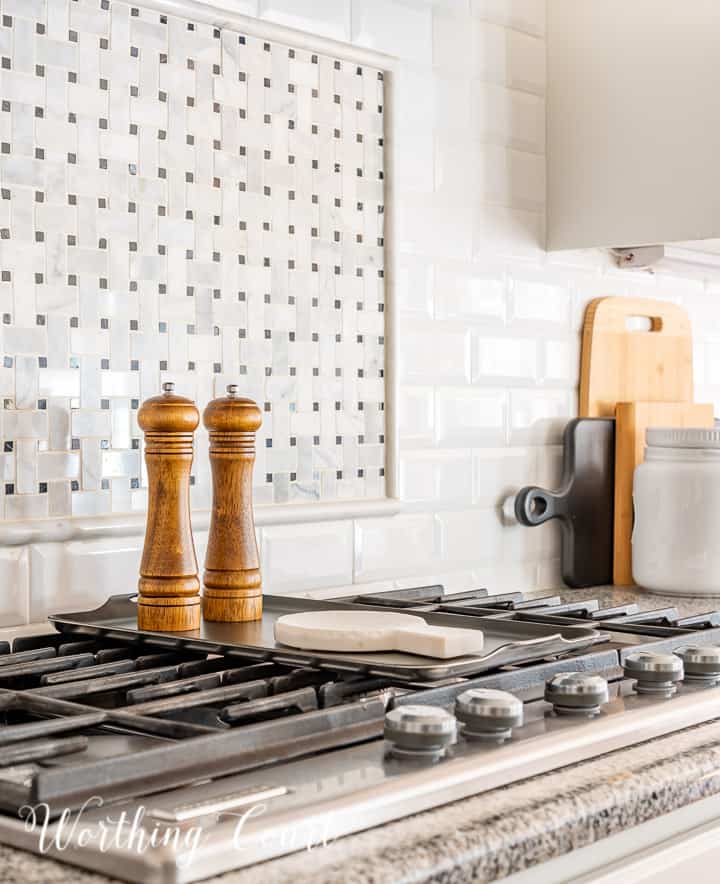 Pin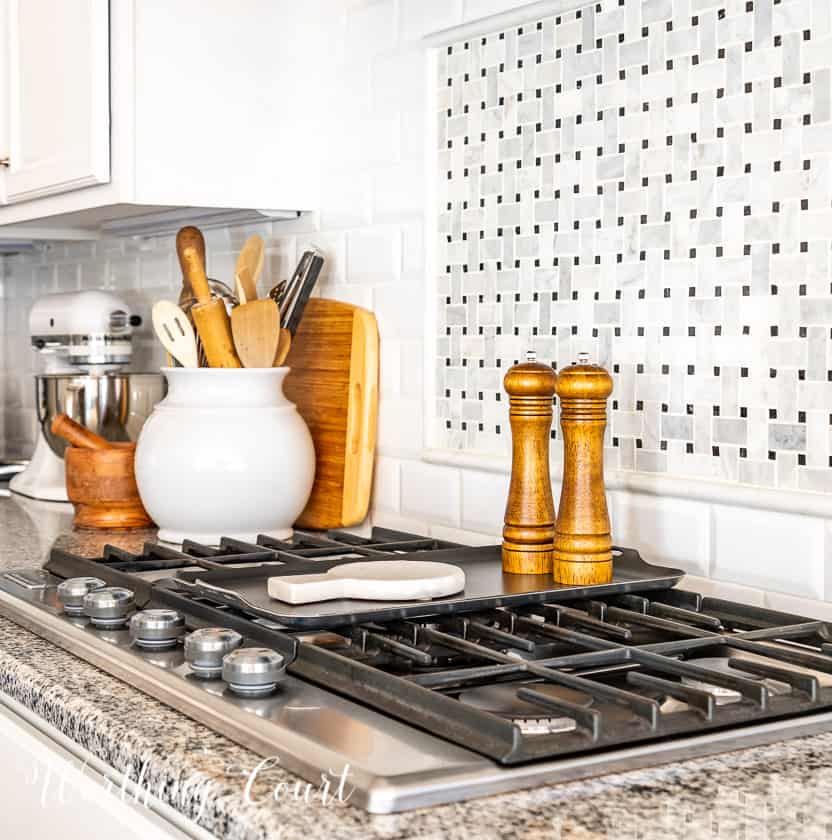 Pin
STEP 3: Decorate kitchen countertops in spots that are purely for looks.
On kitchen counters, it looks best to arrange counter decor in groups instead of spreading multiple items out along the wall. I also pay attention to how deep my grouping is. I don't want to use up too much of that valuable real estate!
To the right of my cooktop, is an area that I don't consider to be one of my important work zones, but of course I wanted some counter decorations there.
In this spot, I stood three differently sized cutting boards behind my dog treat container and a textural basket. The basket has come in handy for adding just a touch of seasonal decor, since as this bird's nest with eggs for a nod toward the spring season.
Pin
STEP 4: Decorate the countertops in the areas that are purely for function.
Let's address the elephant in the room. This is a kitchen after all, so you're bound to have parts of your counters that contain purely functional items, such as small kitchen appliances that you use frequently and don't want to put in a cabinet or closet.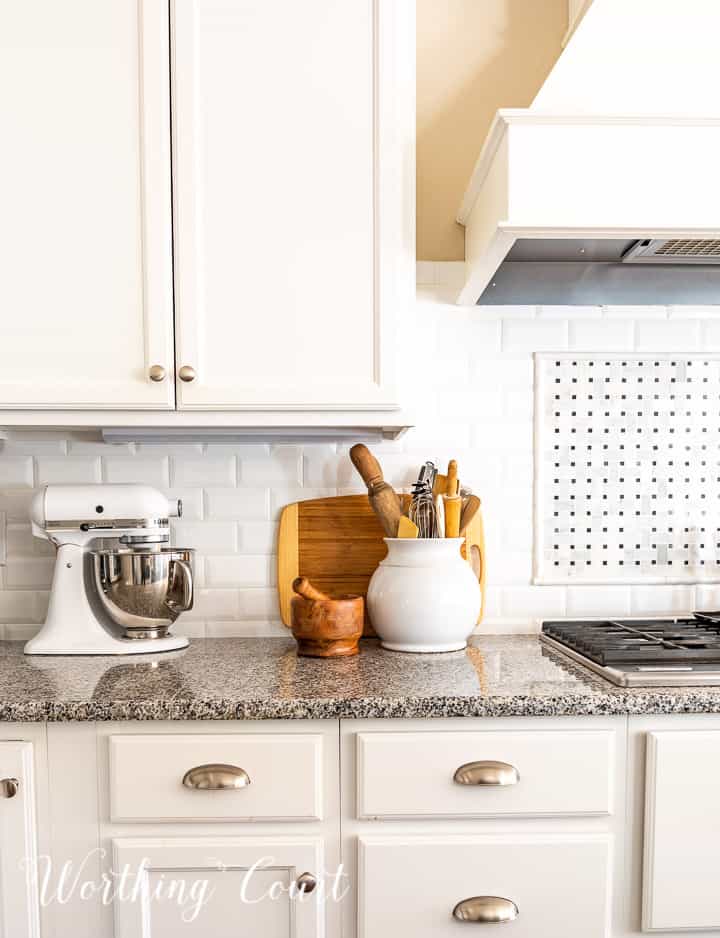 Pin
There are multiple ways to address this counter decorating dilemma without "ruining" the aesthetics of your kitchen!
If the item has a beauty on it's own, place it where it can been seen and admired. That's the case with my white mixer. I think it's so pretty that I'm happy to keep it on display.
Consider decorating around the item to incorporate it into the countertop decor, such as what I did with my very utilitarian coffee maker.
If possible, relegate your items to one spot that isn't right in the middle of the counters. This worked well in my kitchen in the corner beside my refrigerator.
Today's small appliances come in many colors, which can be great for making the appliance a featured item. If you don't want your small appliances to stand out though, try to match the finish of them to the large appliances in your kitchen.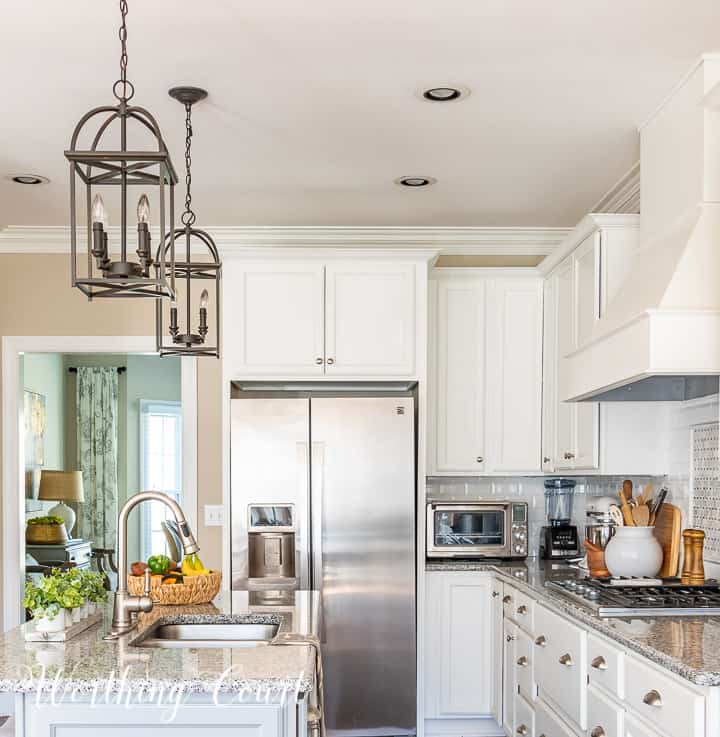 Pin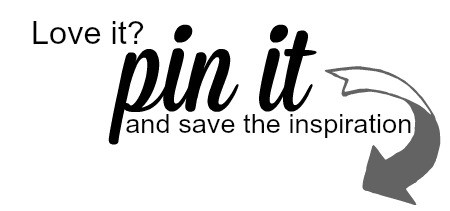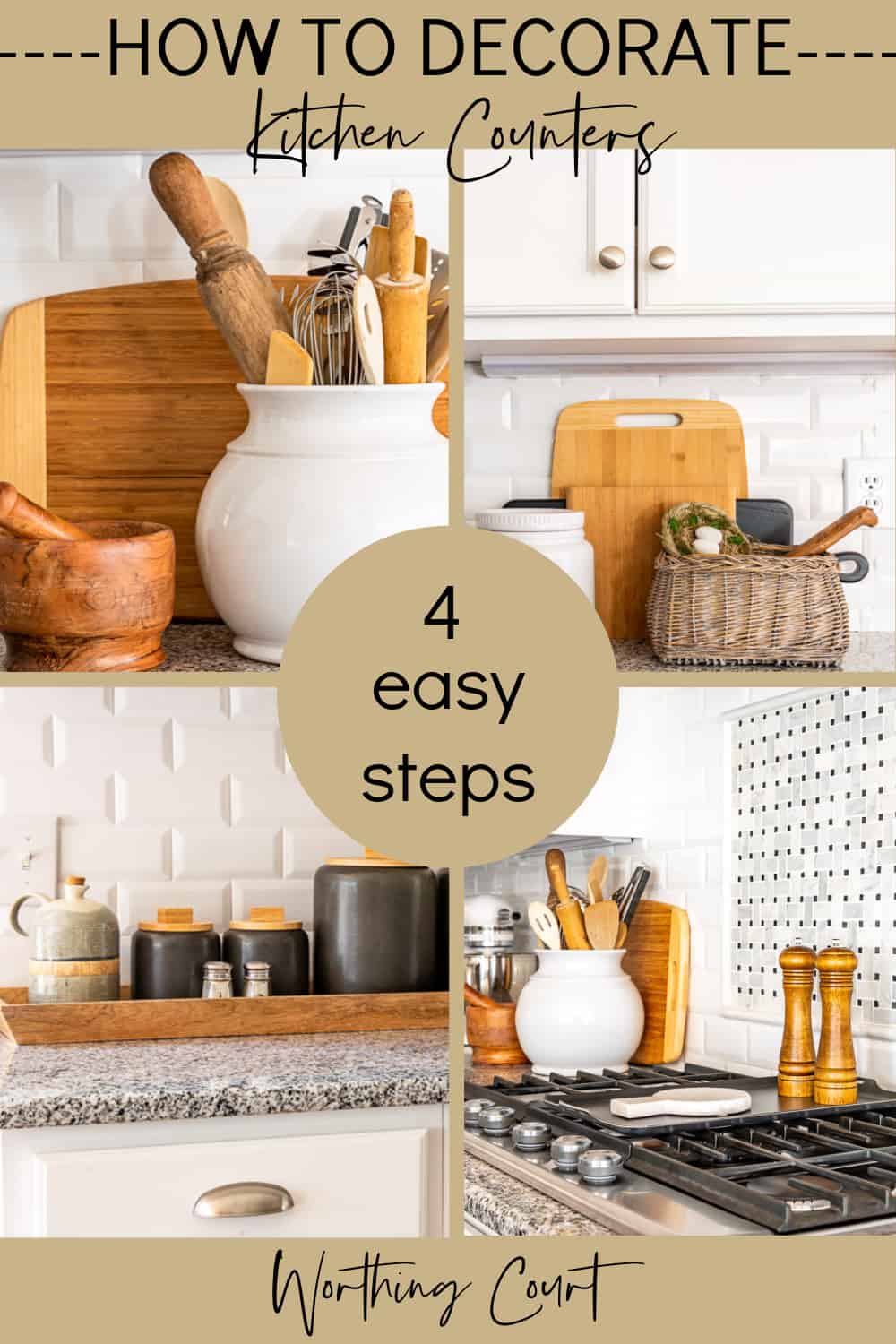 Pin