How To Make A Moss Bowl + 5 Creative Examples
A step-by-step tutorial for how to make a moss bowl – an easy and versatile accent to add anywhere in your home.
Okay my friends – buckle up for one of the easiest, yet prettiest, accents you can put together yourself in just minutes! I'm talking about moss bowls. I'll show you how to make a basic moss bowl, plus four more customized ideas.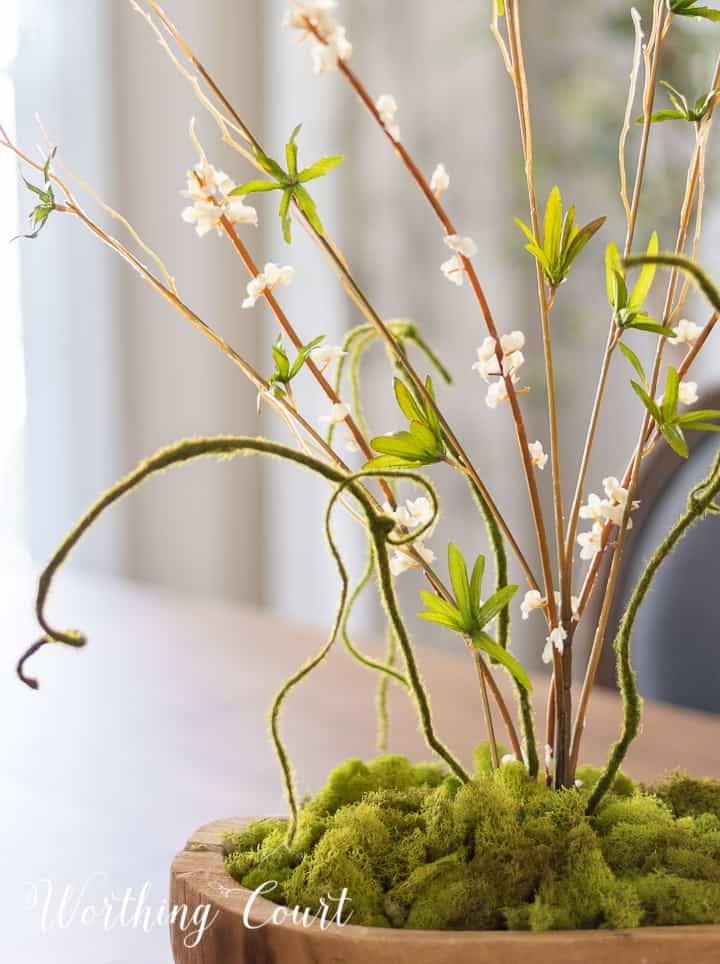 Pin
This post and photos may contain Amazon or other affiliate links. As an Amazon Associate I earn from qualifying purchases. If you purchase something through any link, I may receive a small commission, at no extra charge to you. All opinions are my own. See my full disclosure HERE.
They always catch my eye in stores (and you've probably seen them too), but I refuse to pay a retail price for something that is so incredibly easy to make. With only a few basic "ingredients", you can whip one right up in no time at all.
WHY DO I LOVE MOSS BOWLS SO MUCH?
They can be customized to fit my decor.
They add a bright spot in my home.
Just like with plants and greenery, they add life to a room.
They can be used year round.
They can easily be taken apart so that you can reuse the moss and other items in another project. To keep the moss, simply store it in a resealable plastic bag.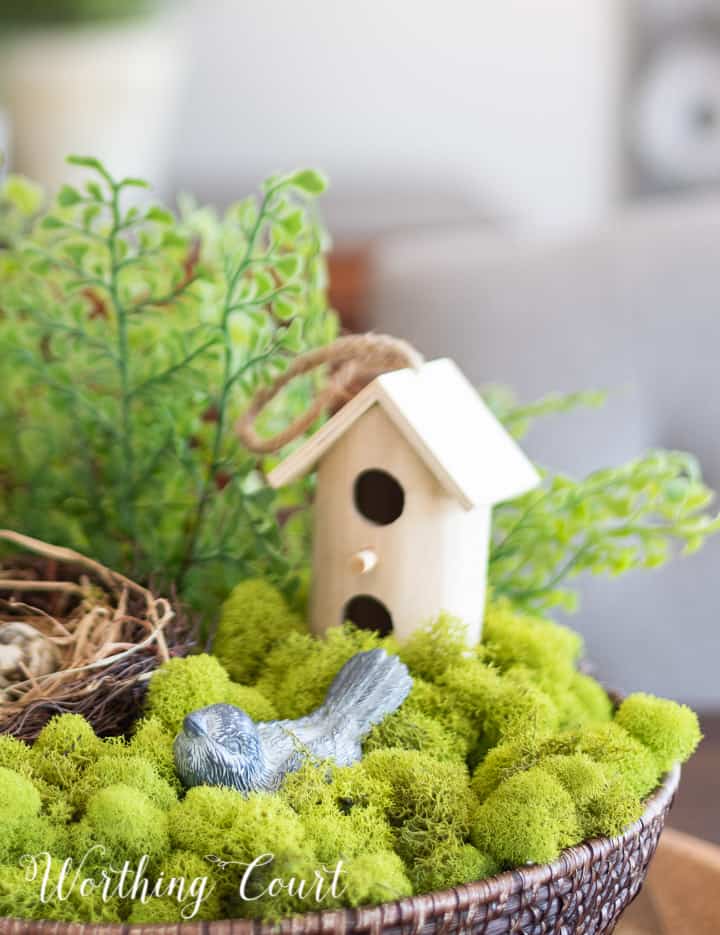 Pin
You can make a moss bowl in literally any type or size of container. It doesn't have to be large and it doesn't even have to be in a bowl! Trays, baskets and tiered stands all work well, as you'll see in my examples below. But, just in case you don't have an extra container around your home, I've rounded up a few for you.
In the slider below, just click on the arrows to scroll through and then on the picture of anything that interests you.


PLACES YOU CAN USE A MOSS BOWL
As a centerpiece on your table.
On a coffee table.
On a side table.
Tucked into a shelf display.
On a sofa table.
The possibilities are endless!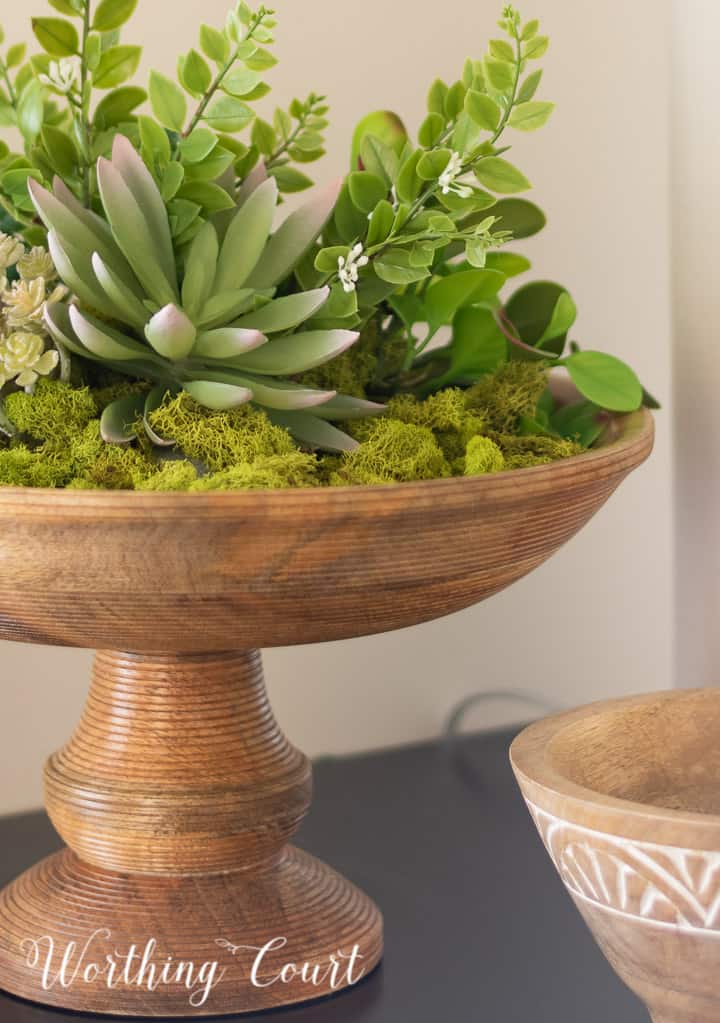 Pin
I've been slowly adding bits of spring decor around my house over the last week or so and spent a couple of hours one afternoon raiding my stash and getting creative with different moss bowl designs. I'll use two of them in my dining room, one of them in my breakfast room. one in my office and one on my screen porch.
SUPPLIES YOU'LL NEED TO MAKE A BASIC MOSS BOWL
To get started, you only need a few very basic items.
a container
some moss
filler (plastic grocery bags work great, but you can also use crumpled up paper)
a Styrofoam block (you won't use this in every bowl).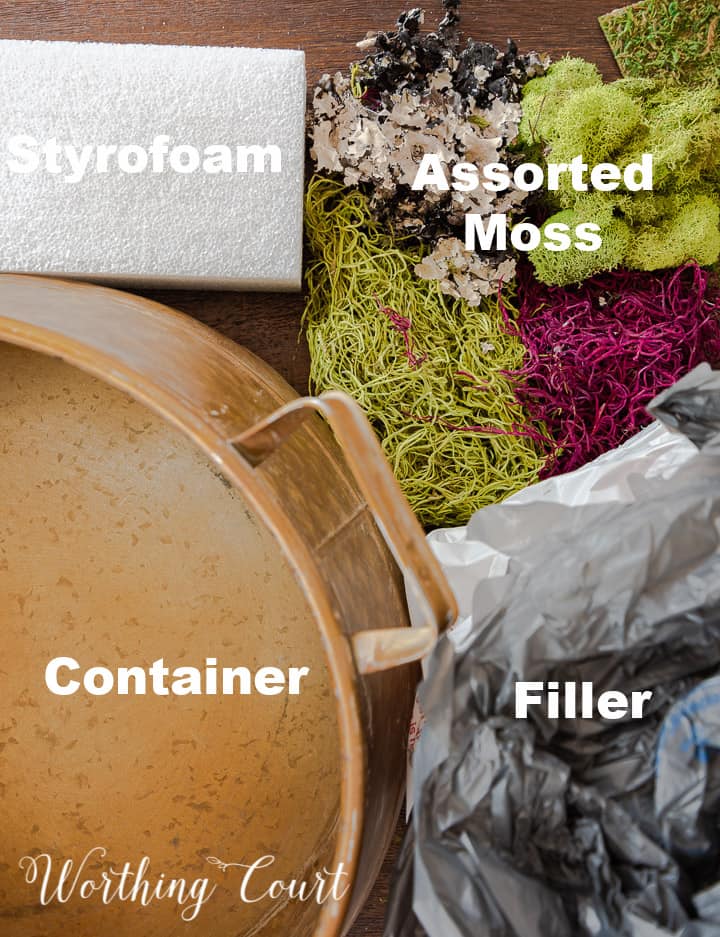 Pin
LET'S START WITH A BASIC MOSS BOWL
To put together a basic moss bowl, you only need a container, filler material, sheet moss and reindeer moss. You can purchase sheet moss HERE and preserved reindeer moss HERE.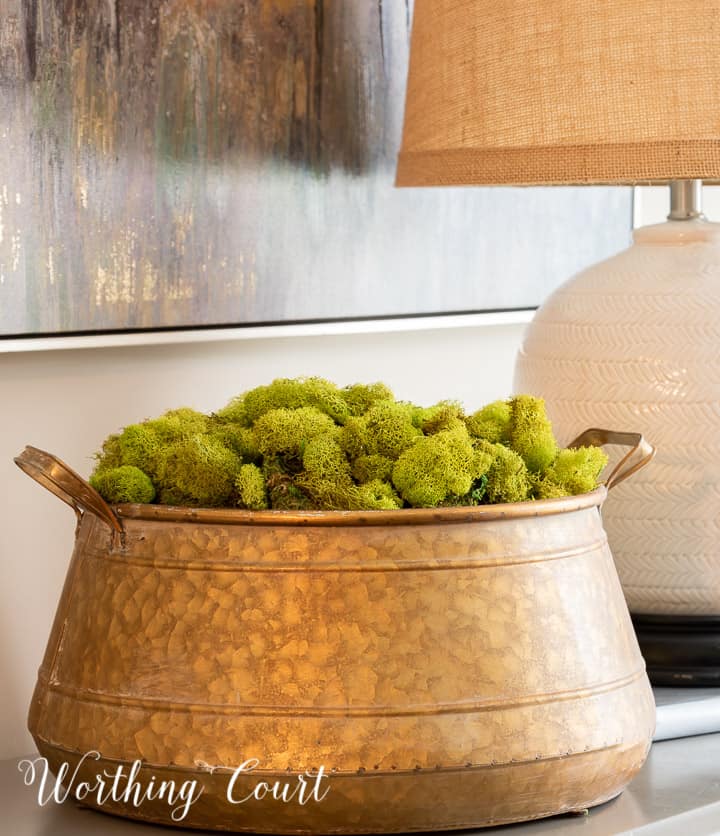 Pin
Fill the container with plastic bags or other filler. Moss bowls look best when the top is slightly mounded, so be sure to use enough filler to get that look.
Cover filler with sheet moss (do not peel the backing off to reveal the sticky part).
Arrange reindeer moss on top of the sheet moss.
Using sheet moss as a base covers the plastic bags and provides a stable base for holding the reindeer moss. I don't use anything to attach the reindeer moss to the sheet moss. It naturally grabs and holds in place. If a piece happens to get knocked off, it's simple to put it back into place.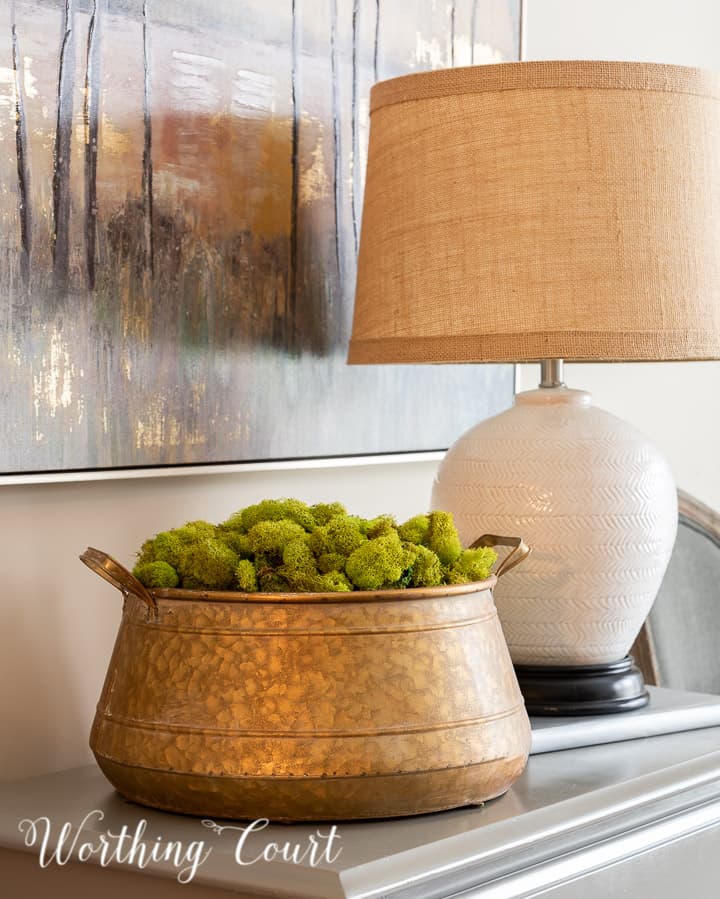 Pin
A BASIC MOSS BOWL WITH CANDLES
For these next two moss bowl arrangements, you'll need a container, a Styrofoam block (can be purchased HERE), removeable adhesive putty (can be purchased HERE), reindeer moss (I didn't use any filler underneath), candle stakes (can be purchased HERE and HERE, depending upon the size candle you'll be using) and a candle(s).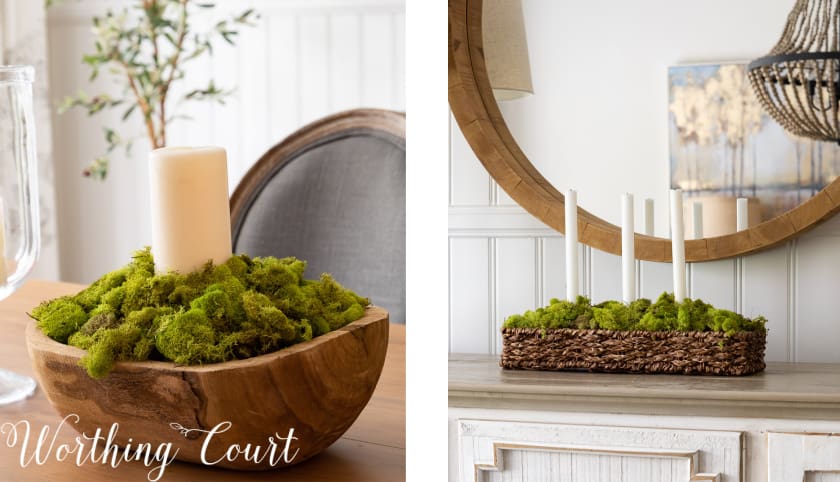 Pin
Here's a little step-by-step photographic assembly guide for you. My wooden bowl is a little bit wonky, which is what makes it appear to be crooked. 😀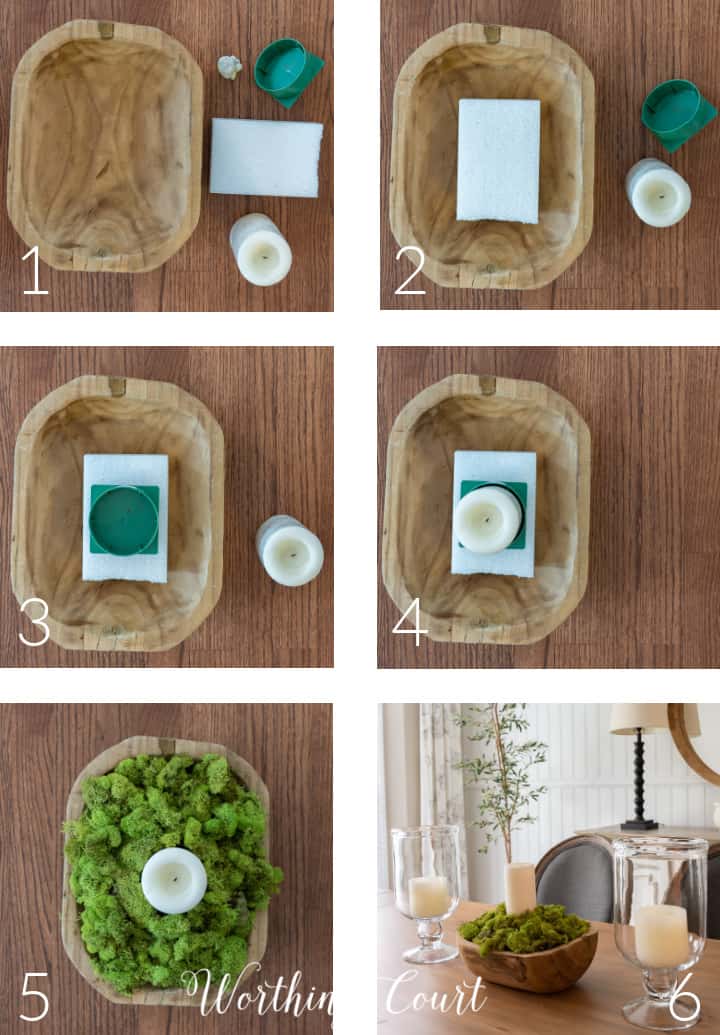 Pin
Shape the removeable adhesive putty into a ball, press down into center of container and press the Styrofoam block onto it.
Press/push the candle stake(s) into the center of the Styrofoam until secure, then place the candle(s) into the stake(s).
Fill in with reindeer moss.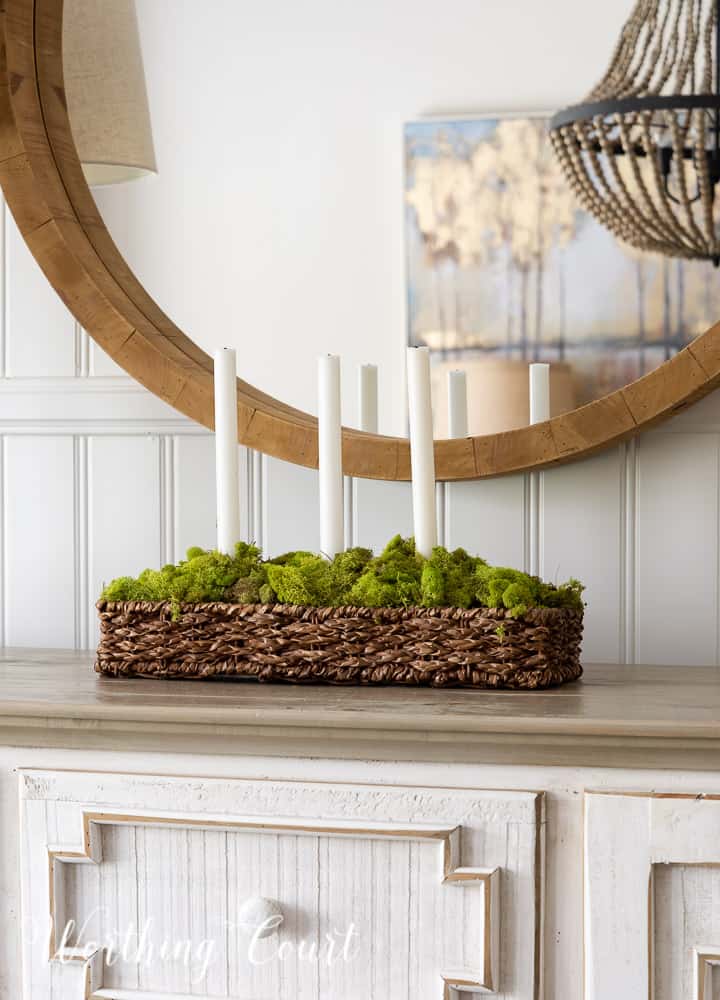 Pin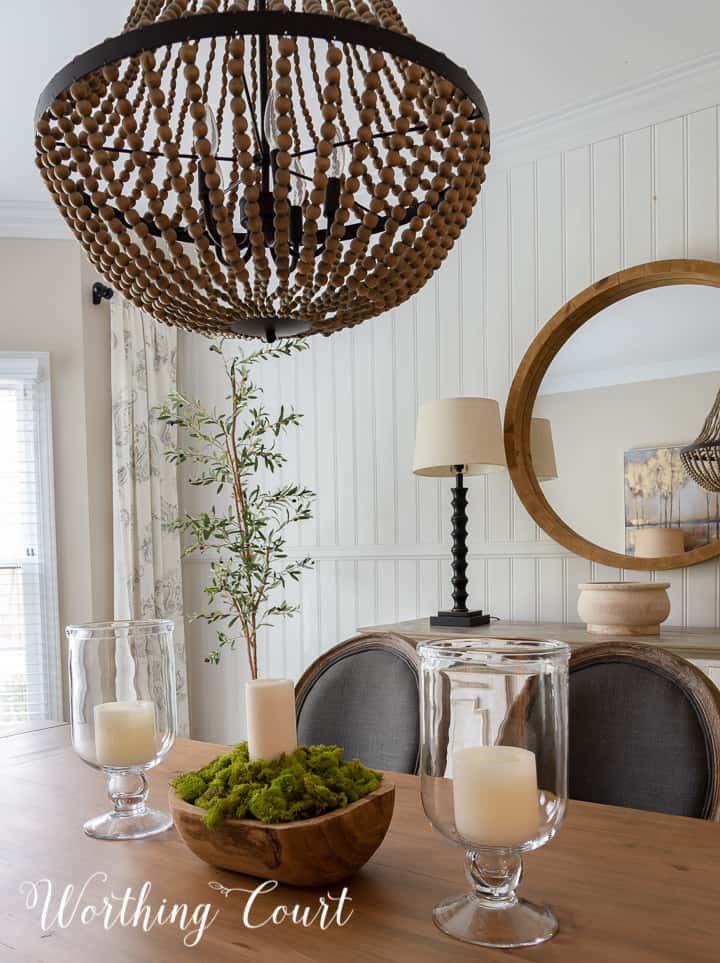 Pin
ADDING HEIGHT TO A MOSS BOWL
I've found that using faux stems is the best and easiest way to create a moss bowl with height. This look is perfect for a centerpiece or on a sideboard or sofa table.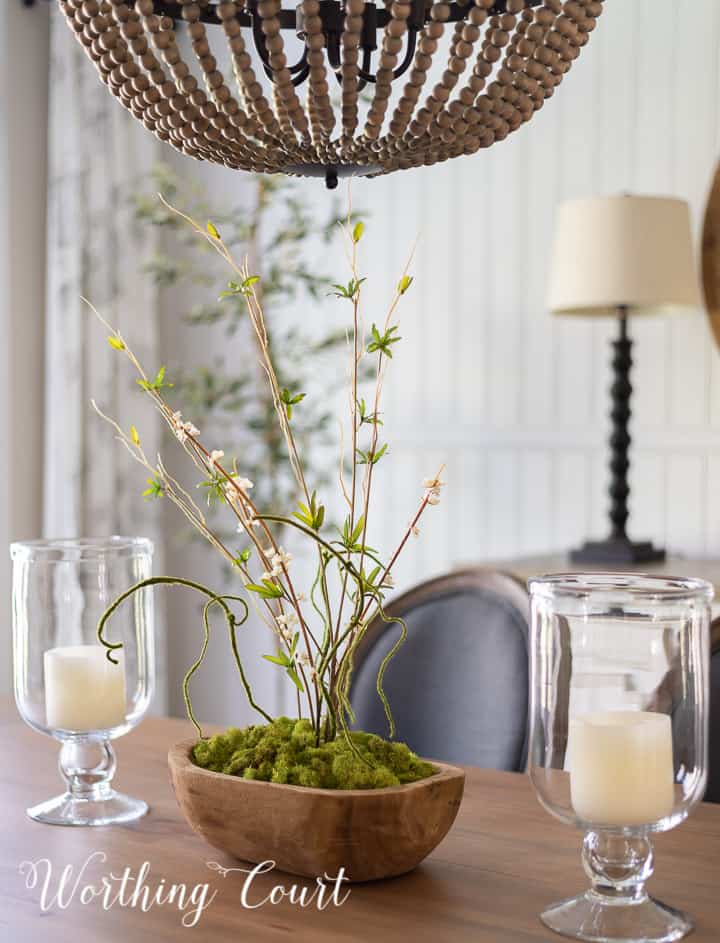 Pin
To make this type of moss bowl:
Add a block of Styrofoam to the bottom of the bowl, using removeable adhesive putty.
Insert stems into the Styrofoam (you may need to trim the length).
Fill in with reindeer moss.
I think adding the squiggly moss covered branches are what really make this bowl appealing. They are actually pieces that I cut from some bendable, moss covered vine, which can be purchased HERE.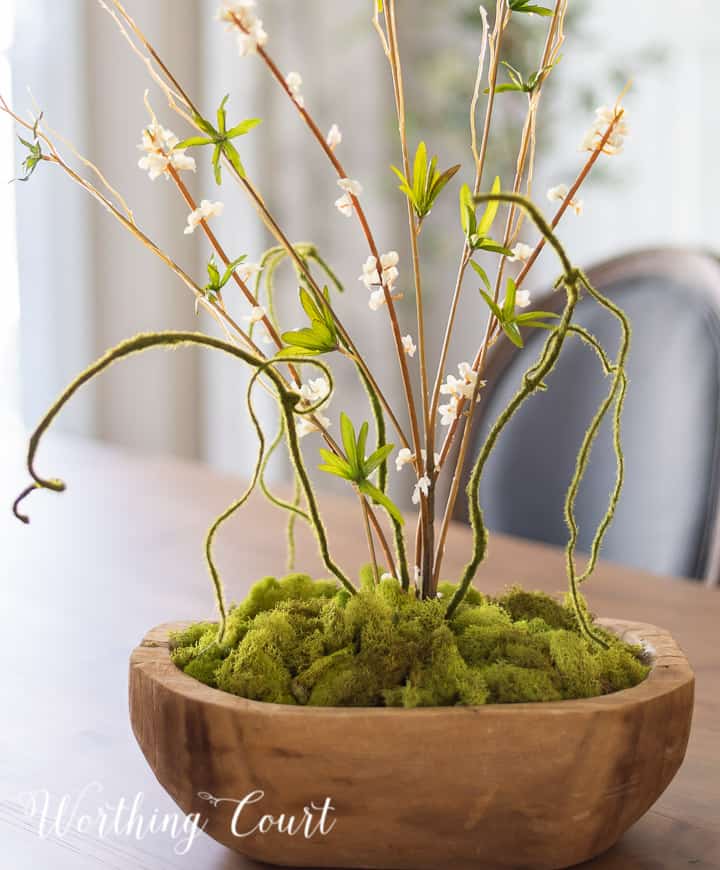 Pin
MAKING CUSTOMIZED MOSS BOWLS
This is where is gets really fun! To make this type of moss bowl, you'll use the same ingredients as a basic moss bowl, plus any other items that you'd like to display.
In this first example, I didn't add a Styrofoam block to the bottom of the bowl. It's simply filled with plastic grocery bags. The plastic bags are then completely covered with reindeer moss.
Since I'm going with a spring theme, I added a bit of faux greenery, a couple of small wooden birdhouses, a nest with eggs and a cute little bird. All of the items are simply arranged in a manner that's pleasing to my eye and sort of pushed down into the moss to hold them in place.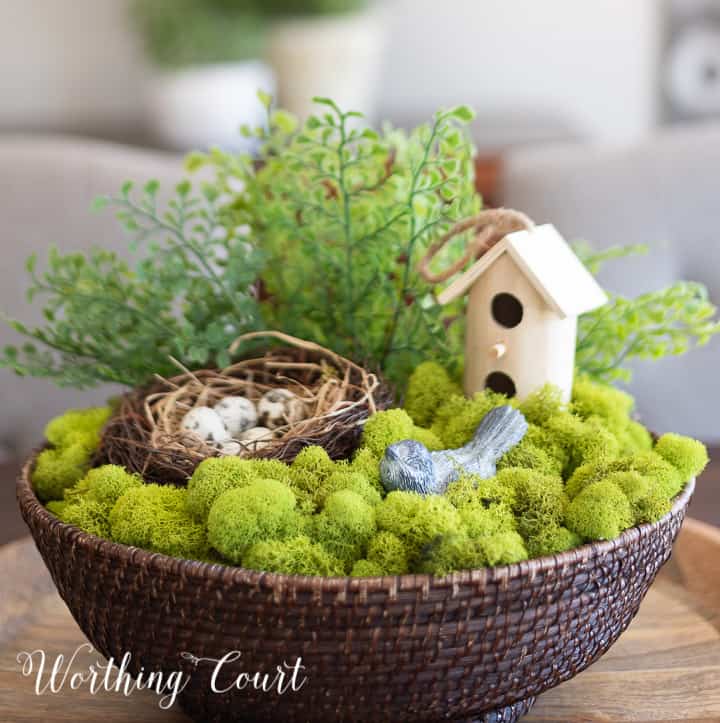 Pin
I did add a block of Styrofoam to the bottom of this next example. It gave me a base to push my faux succulent stems into. Once everything was positioned where I wanted it, I simply filled in around the Styrofoam with reindeer moss.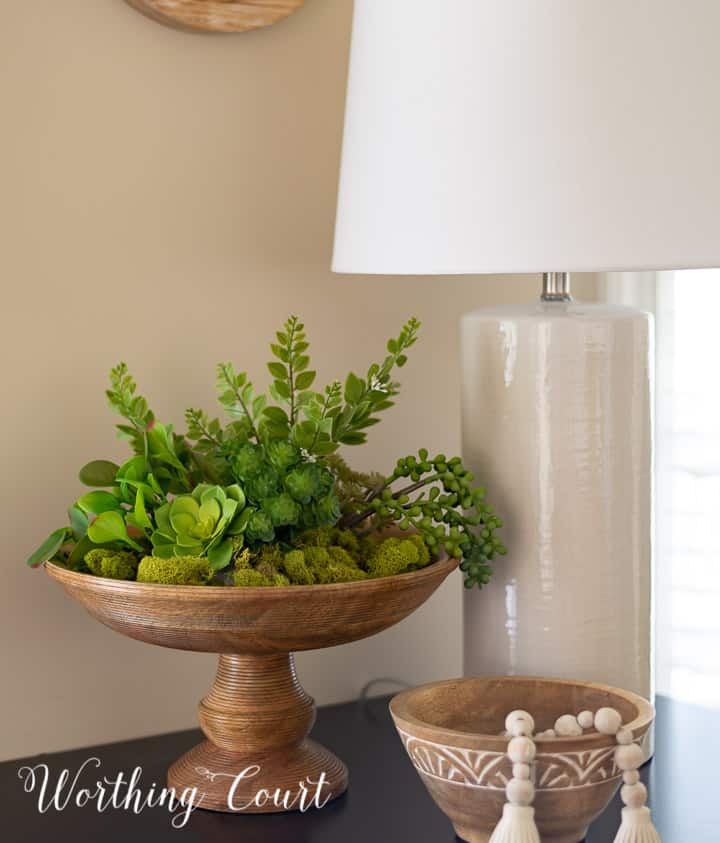 Pin
Do you see any moss bowls in your future?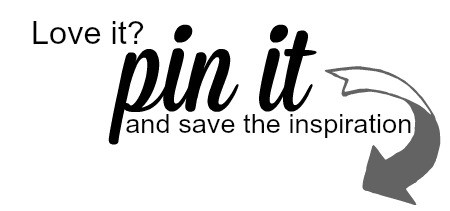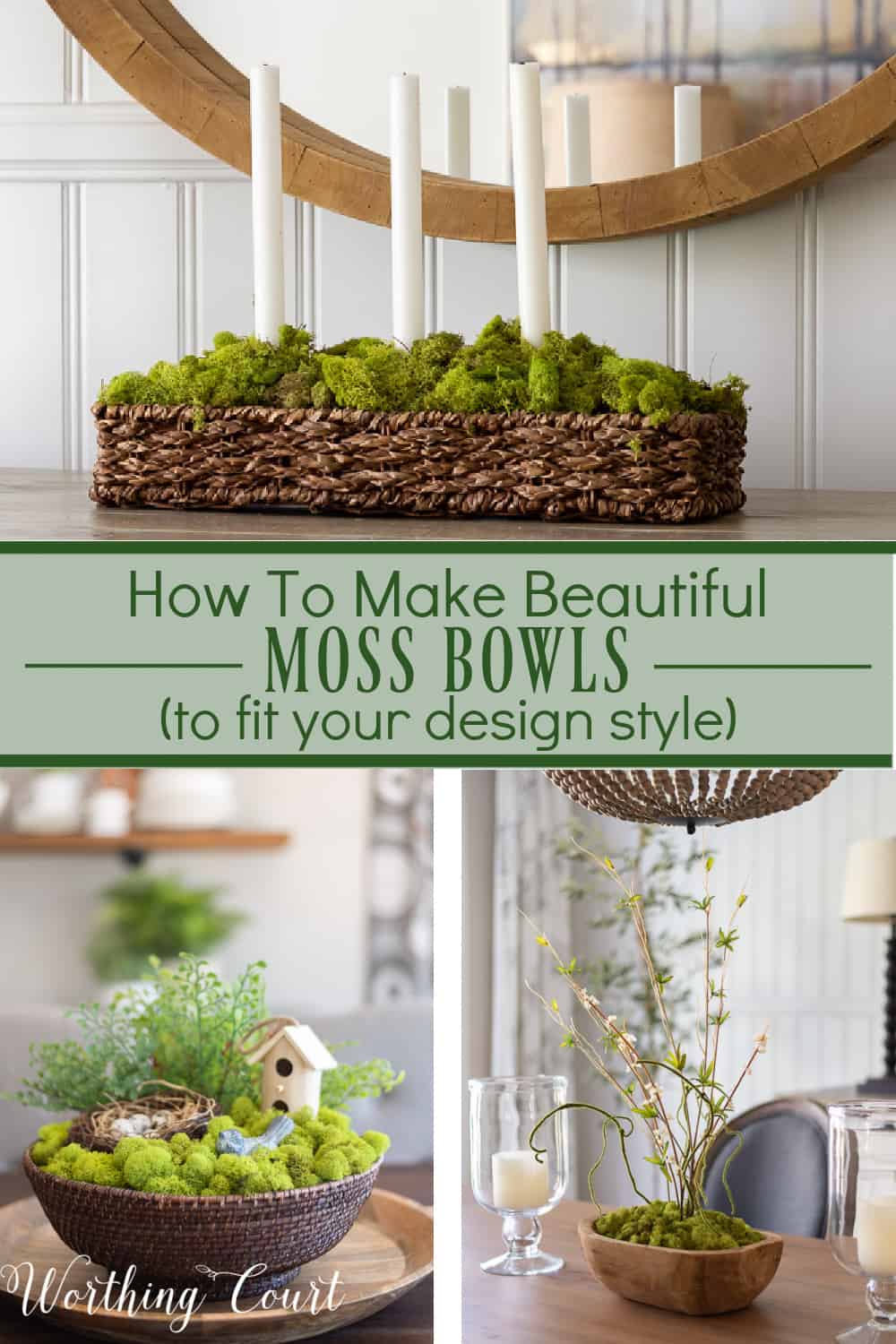 Pin