All New Summer Decorating Ideas
Summer decorating ideas that will bring all the colors and feelings of the season into your home without going to a lot of effort.
We've all heard the expression, "it's summertime and the livin' is easy" and that's exactly how I like to approach adding summer decorating around my house. All of these ideas are simple to put together and could easily be used in your own home!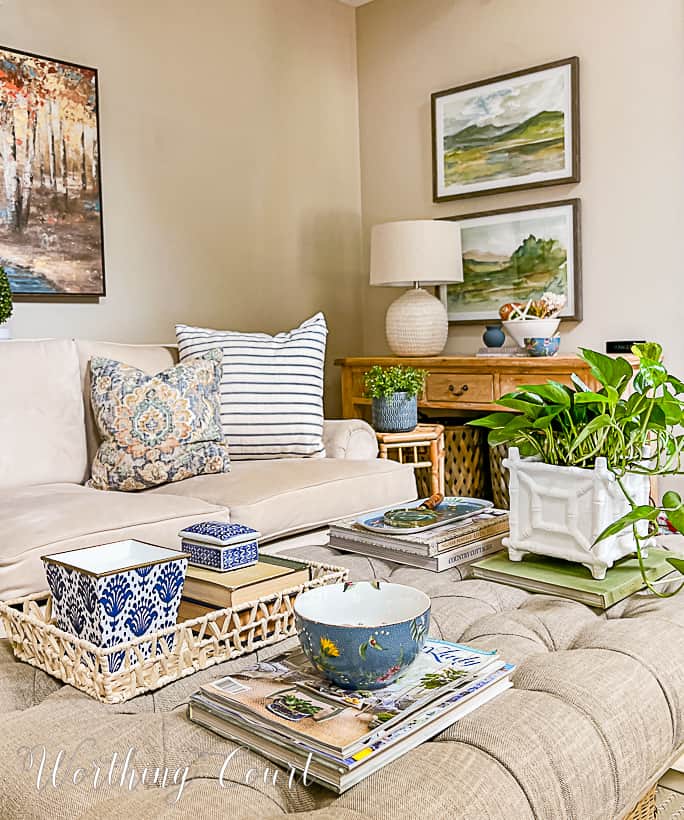 Pin
This post and photos may contain Amazon or other affiliate links. As an Amazon Associate I earn from qualifying purchases. If you purchase something through any link, I may receive a small commission, at no extra charge to you. Where possible, the exact product has been linked. If that product isn't available to link, I've linked something similar. All opinions are my own. See my full disclosure HERE.
True story – I don't think you'll be able to find anyone who loves to decorate and update their home more than me. But – if I'm honest with you (and myself), I have to admit that even though I want to add summer accents to my home, I don't want to spend a lot of time doing so.
I'd much rather be hanging out at the pool with my family than staying indoors spending a lot of time decorating! Easy, fast, inexpensive and simple summer decorating for the win!
If you saw my spring decor tour, you'll see that I didn't do anything drastic. Most of the summer decorating that I did consisted of adding to or rearranging some of my existing decor to create summery vignettes.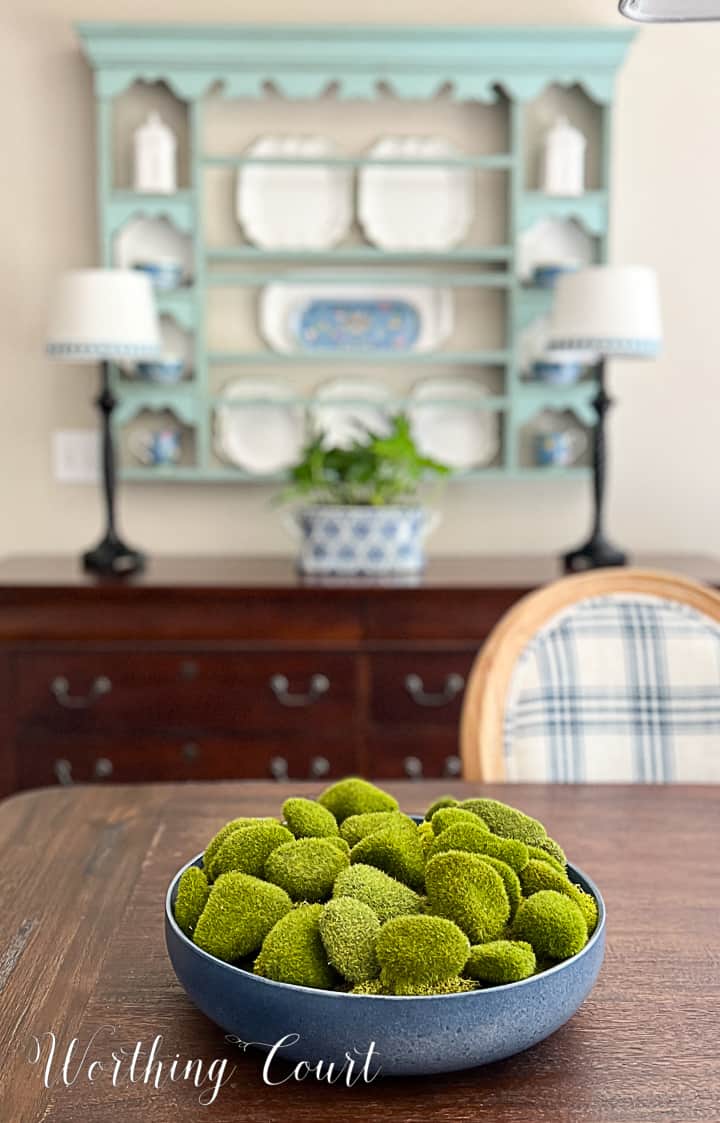 Pin
That's one of the great things about using mostly neutral colors on walls and large pieces of furniture. It allows me to easily switch out accessories, pillows and other small things to get a whole new look!
Blue and white has become a common theme around my home over the last few months. I've been gradually adding more and more of it to all of my rooms, so you'll see it sprinkled throughout the spaces. I know that many, many of you are blue and white lovers too!
Summer is the time for flowers and plants – right? In the living room, plants are a part of almost every vignette. I've used a combination of both real and artificial plants.
I'm too easily distracted to keep up with a watering schedule for the live plants, so I use my peace lily to tell me when it's time. It's leaves start to droop when it's thirsty, so when that one gets watered, everything else does too.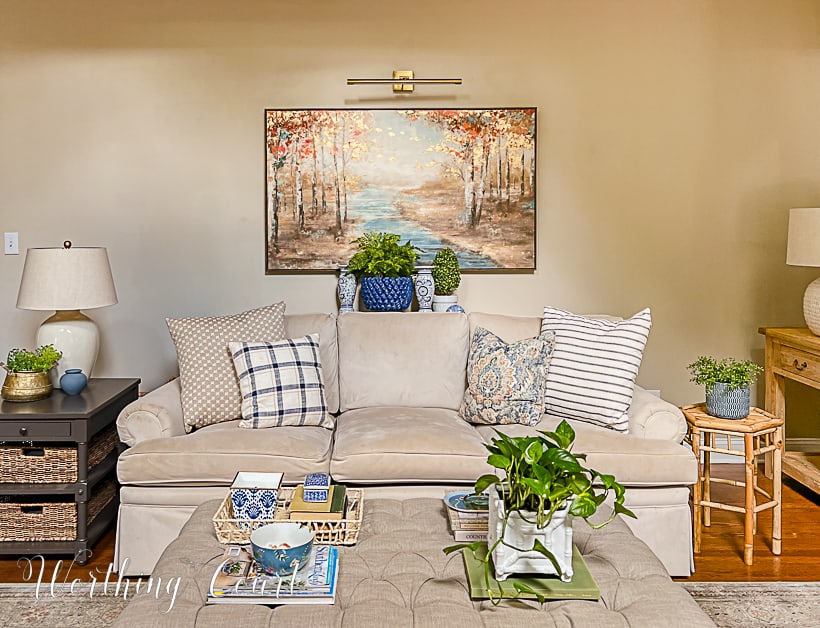 Pin
I only made a small change to the fireplace to change it from a spring to a summer look. I added a lidded wicker basket filled with faux ferns to the hearth in place of the blue and white basket that was there previously.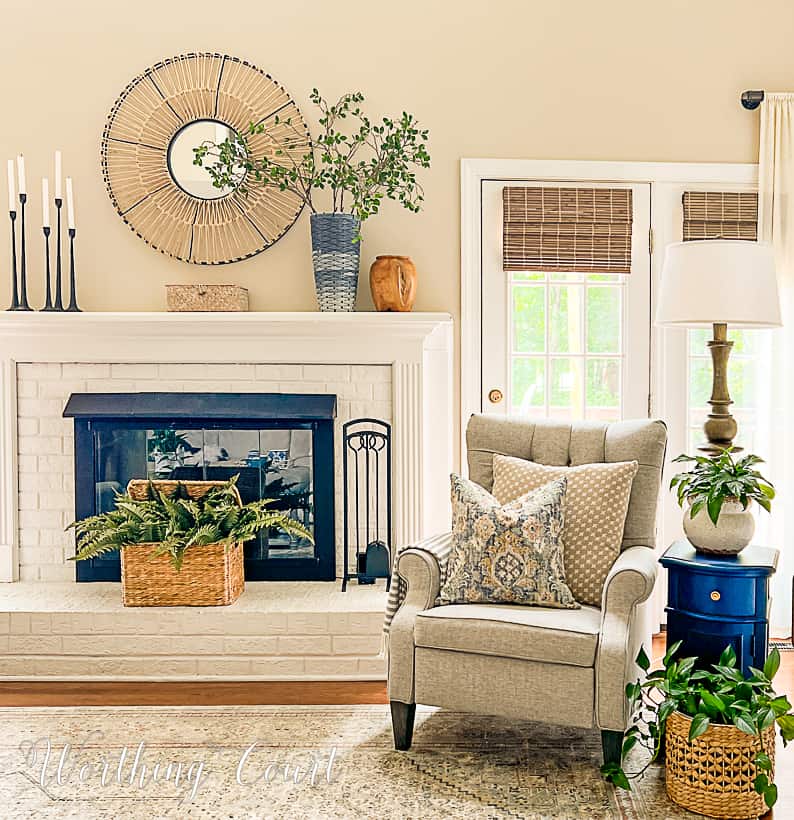 Pin
I don't think there's any other plant that says summer to me more than glorious ferns! I love how they look on the hearth for the summer – so much better than staring at the big black fireplace box all season long.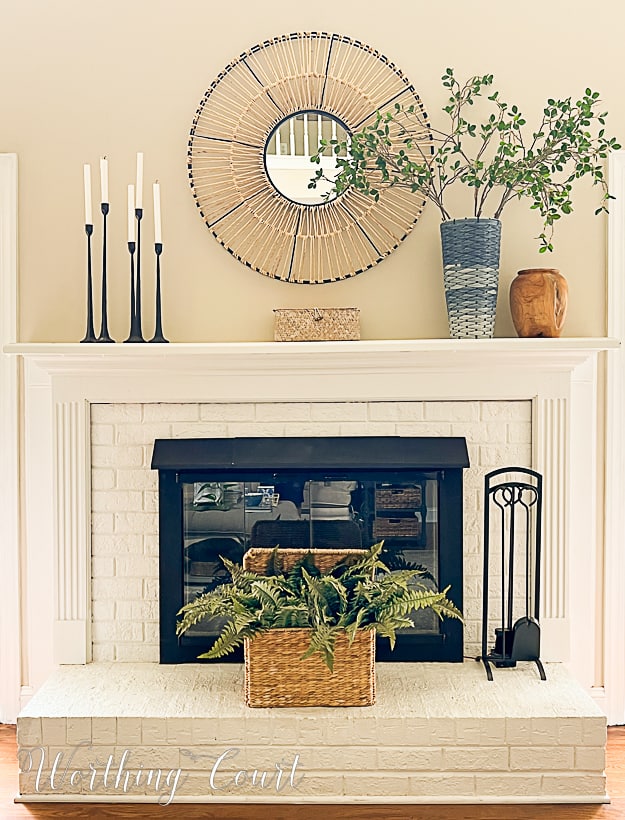 Pin
Our coffee table is located directly across from the fireplace and is filled with some of my favorite decorating books and more blue and white. I adore the bamboo-look planter, which was a recent gift for my birthday!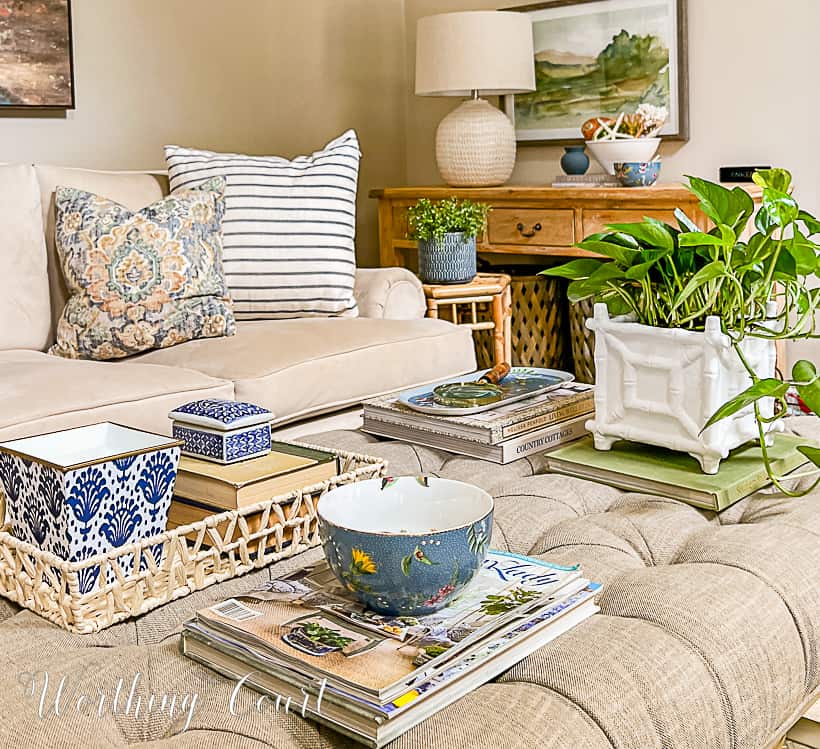 Pin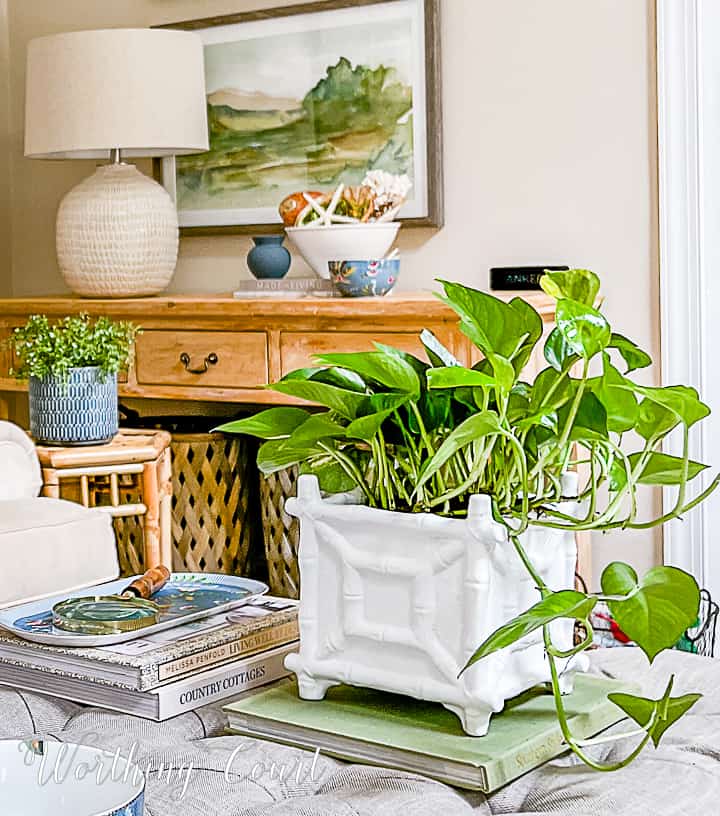 Pin
I never did an actual blog post about it, but our coffee table is actually a thrifted table that I cut the legs down on, painted had the top upholstered.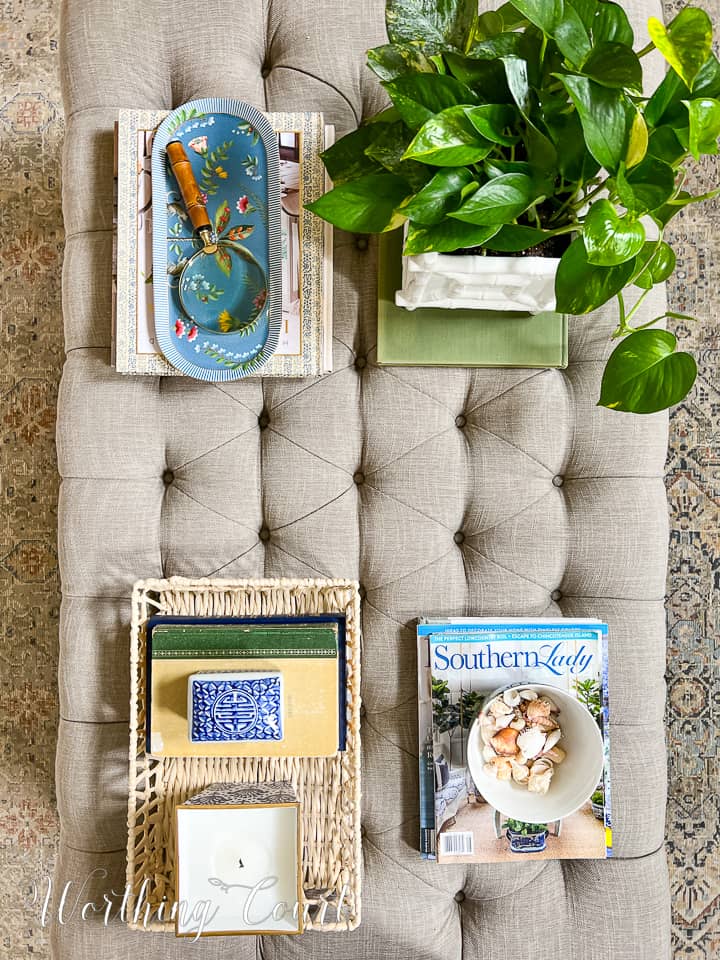 Pin
I switched up the vignette on the table behind the couch for the summer by adding a blue and white grouping with some greenery. The pillows are the same as I had for the spring, with the exception of a striped one that I added to the mix. Navy and white stripes are one more thing that says instant summer to me!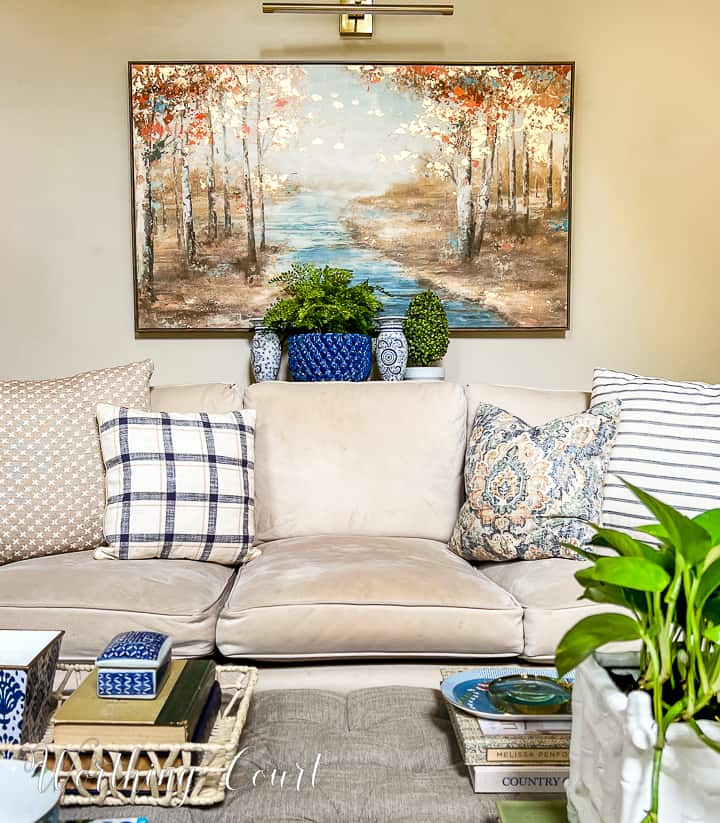 Pin
Do you love bringing out your favorite seashells and putting them on display for the summer? I sure do and wish that I had more of them.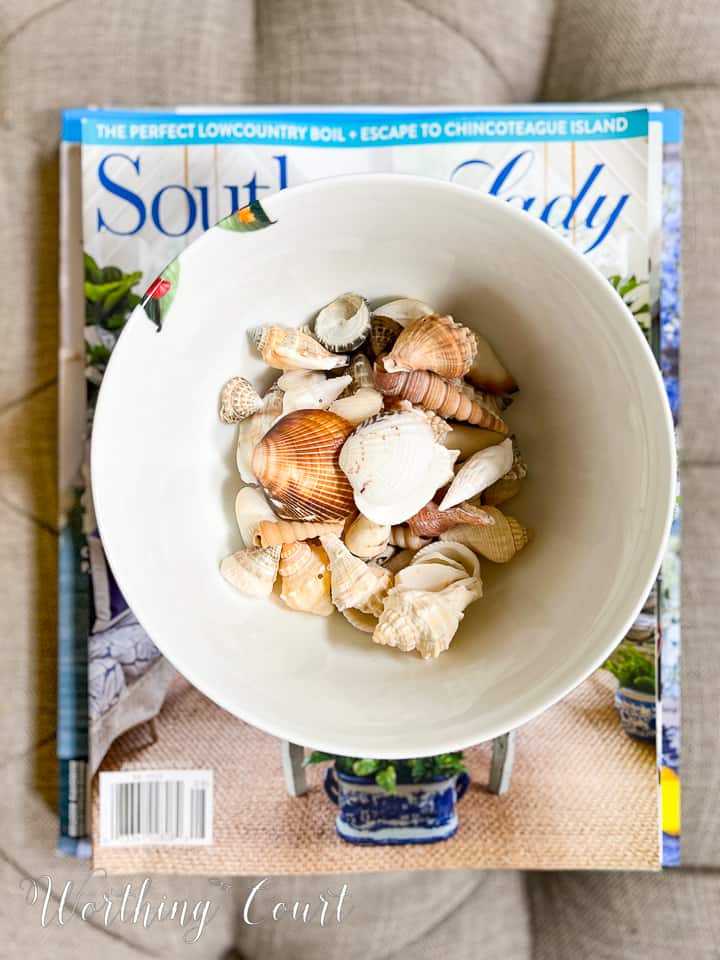 Pin
Who would think seashells are something to be handed down, but my mom had quite a collection of all different types, so I added a large bowl of them on the console table that sits adjacent from one end of our couch.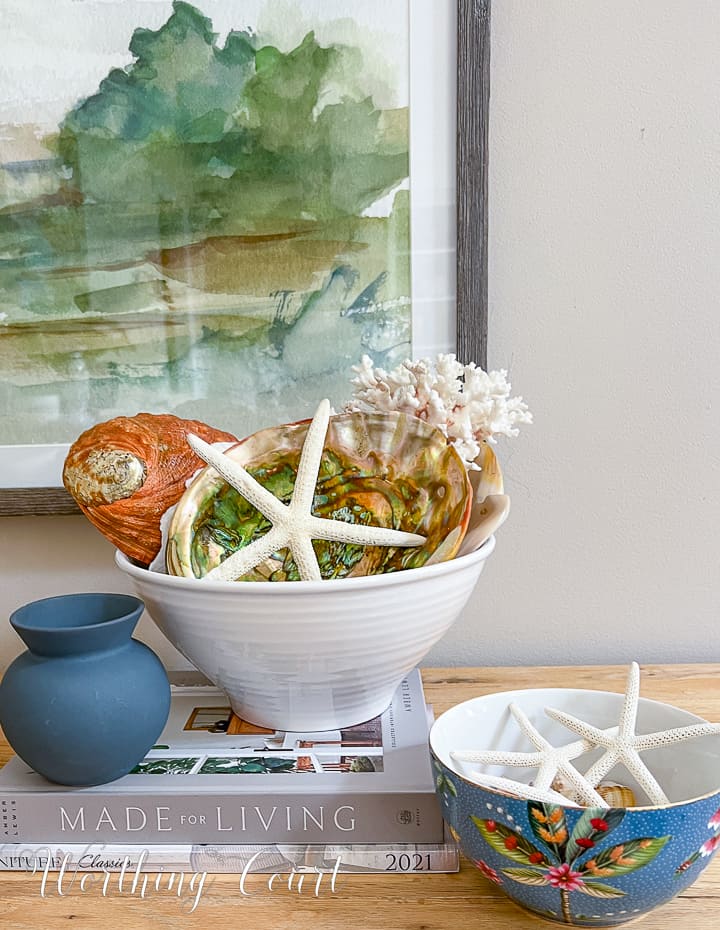 Pin
My mom was a real shell connoisseur, so each individual one is beautiful. I especially love the iridescent colors of the mother-of-pearl interior of mollusk shells. I think they're fascinating!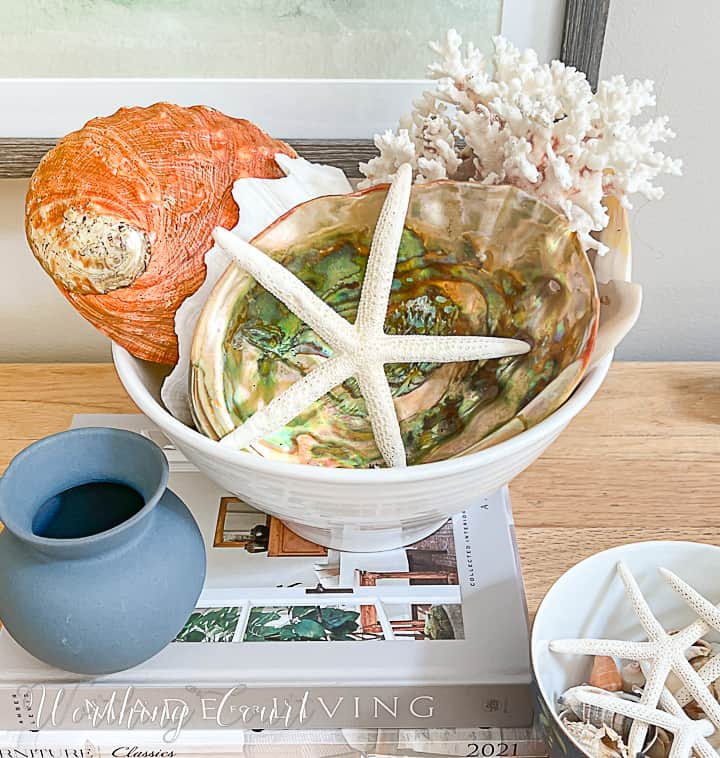 Pin
I did the majority of my summer decorating in the living room, but I did add a few accents to other areas of the house.
In the dining room, the only seasonal change that I made was to add a pretty blue and white urn on the sideboard and to change the plant and container between the glass hurricanes on the table.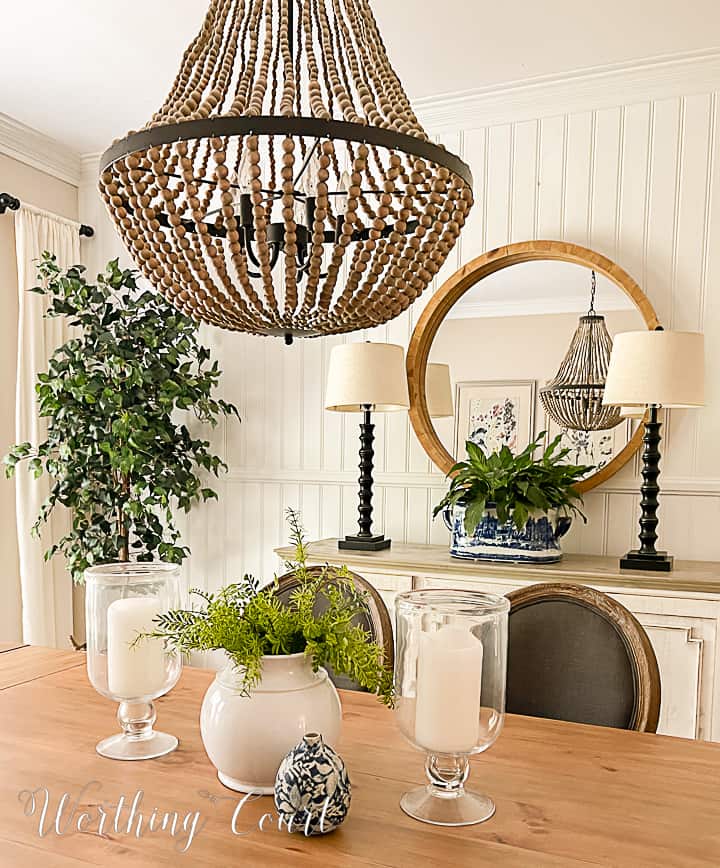 Pin
The type of urn on the sideboard is actually called a footbath and looks just gorgeous filled with a large peace lily!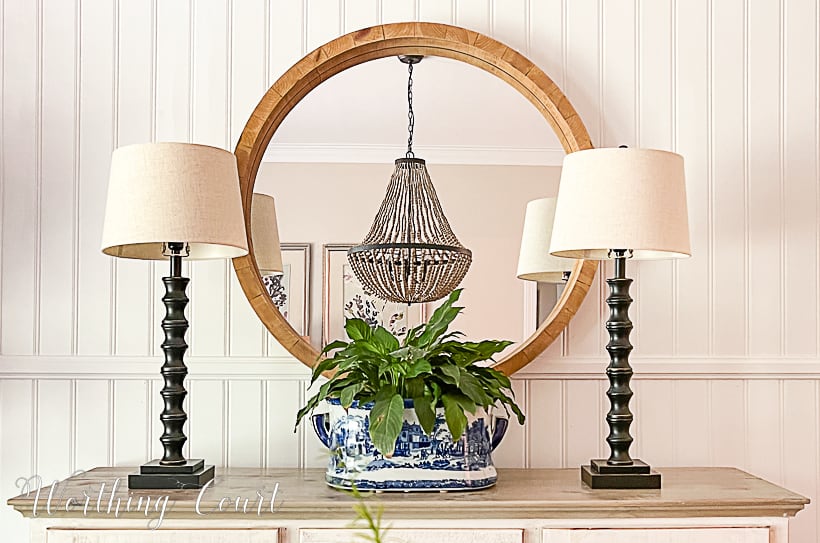 Pin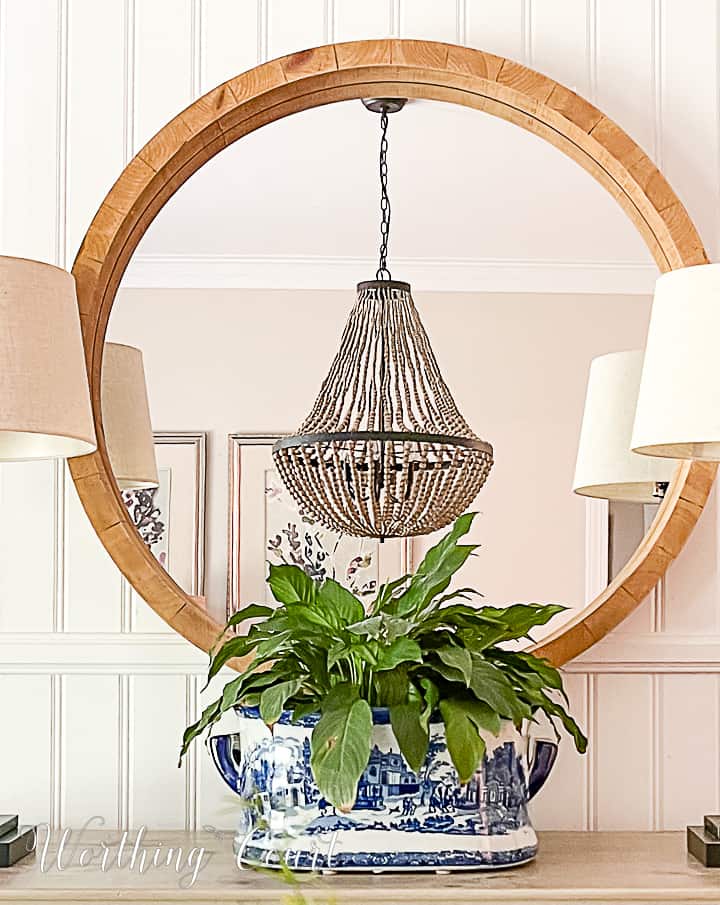 Pin
I brought more blue and white into the kitchen by adding a couple of vignettes on the counter.
Pin
A Churchill blue willow platter, that I scored at a thrift store, became my inspiration for one of the groupings. I love the pop of the green apples with the blue! In case you're curious, the plate is mounted to the backsplash using velcro Command strips.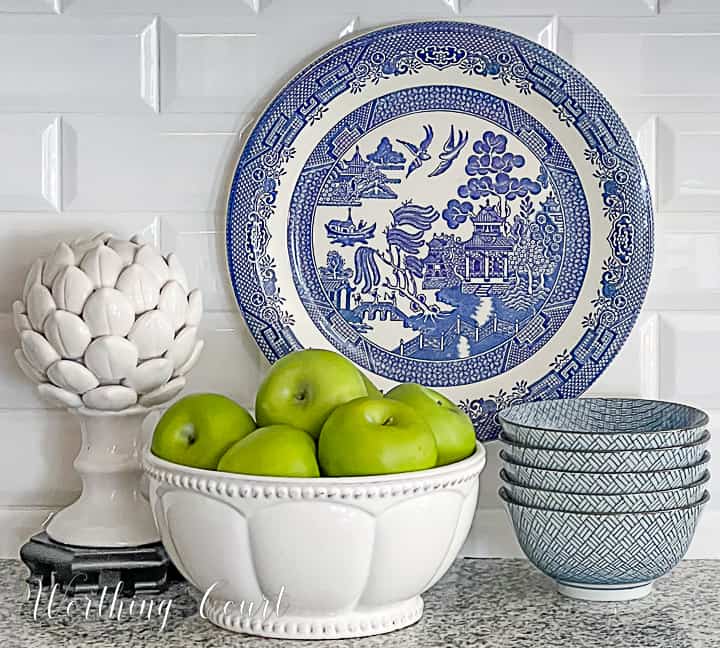 Pin
And lastly, I wanted to show you the super, super simple centerpiece on the table in my breakfast area. It's just a bowl filled with preserved reindeer moss and fake moss covered rocks, but it sure does say summer to me.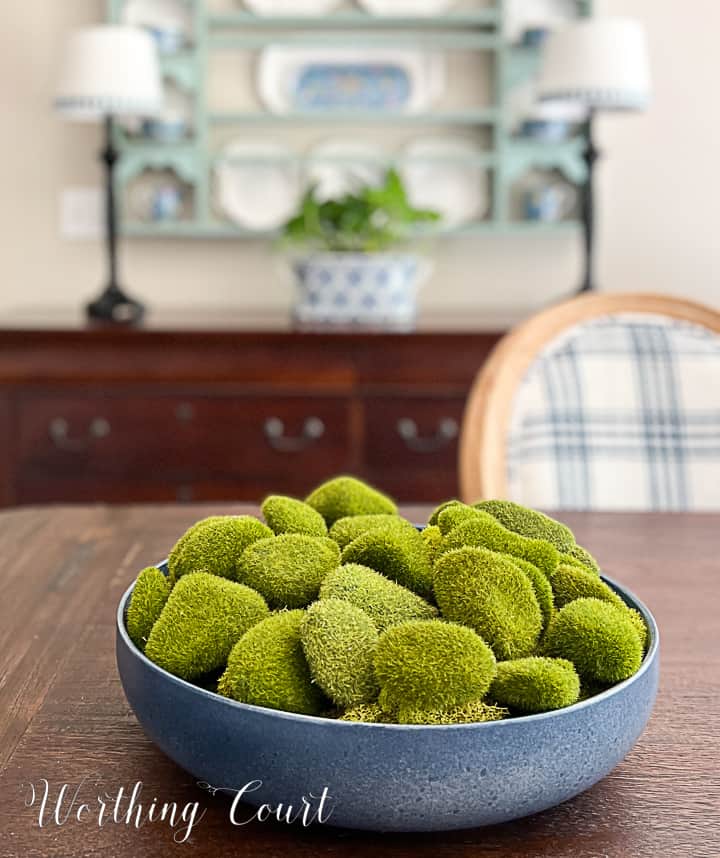 Pin
BTW – you're getting a little sneak peak of some of the updates in my breakfast room. If you've been around for a while, you may remember that I formerly had open shelves about the sideboard. I've been working on a breakfast room refresh and one of the changes that I wanted to make was to get rid of the farmhouse style shelves.
I'm so excited about how this room is coming together and can't wait to share more with you soon!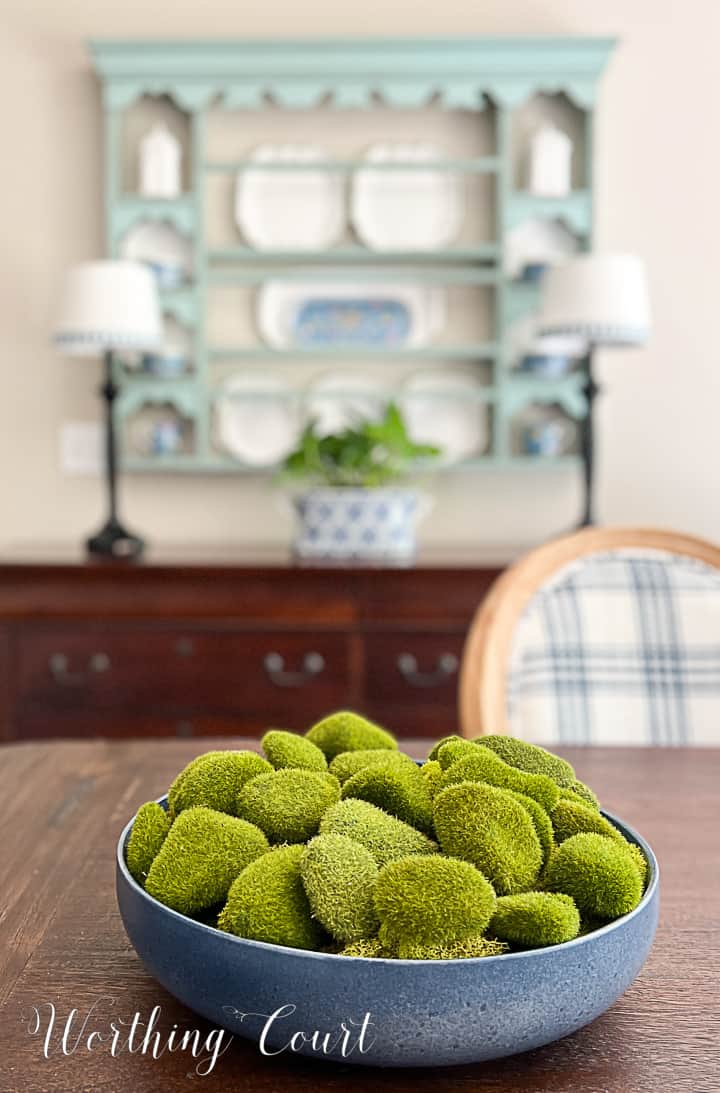 Pin
I hope you enjoyed this look at this year's summer decorations and hope you found some inspiration!