Blue And White Spring Cottage Decor Home Tour
Take my spring home tour filled with simple, inspiring cottage decorating ideas using cheery blue and white decor.
It's finally spring and my warm weather loving self couldn't be happier! The gloomy, gray skies of winter have gone here in North Carolina and the trees are well on their way to coming to life again.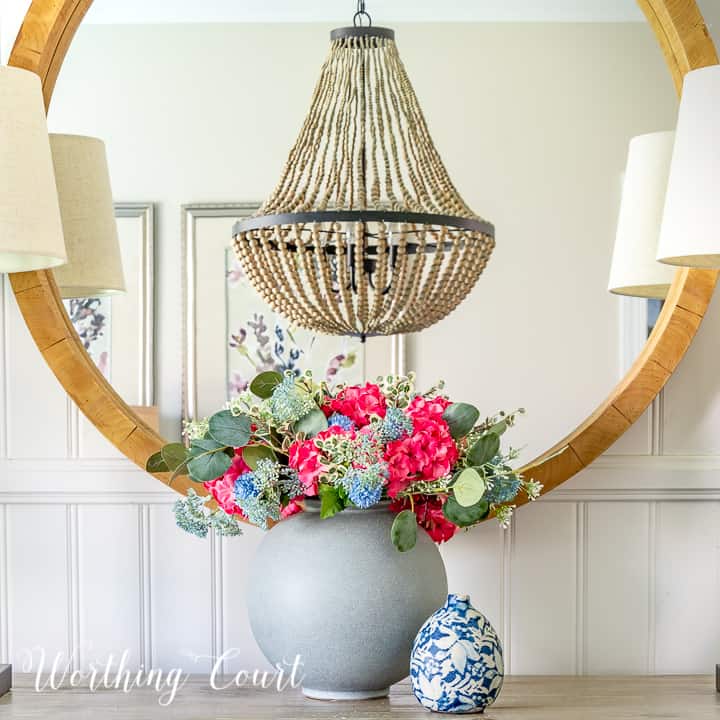 Pin
This post and photos may contain Amazon or other affiliate links. As an Amazon Associate I earn from qualifying purchases. If you purchase something through any link, I may receive a small commission, at no extra charge to you. Where possible, the exact product has been linked. If that product isn't available to link, I've linked something similar. All opinions are my own. See my full disclosure HERE.
I'm happy to be participating in the annual Celebrating Seasons Spring bloghop again this year, hosted by my real-life friend Leen at Sand Dollar Lane. Leen has lined up a fantastic group of over 20 bloggers who will be sharing their homes decorated for spring over the next couple of days. Be sure to scroll down to the bottom for a link to everyone's tours. You're bound to come away inspired!
If you're coming over from Postcards From The Ridge, welcome to Worthing Court! Angie has such a charming and inviting home and her blog is filled with yummy recipes and easy diys. Be sure to check her out if you haven't already.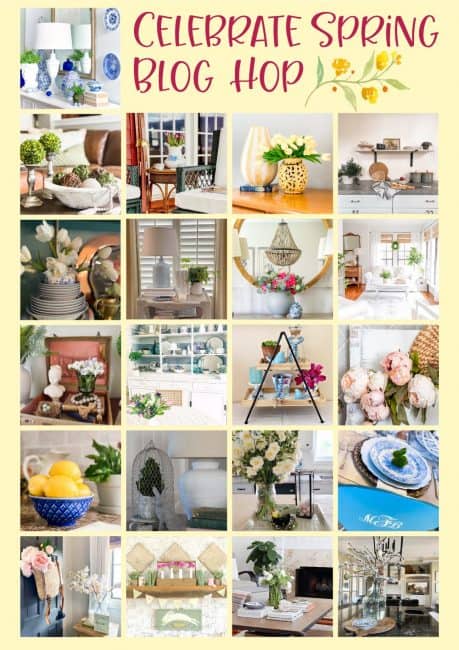 Pin
As I am typing this, I'm sitting at the table in my breakfast room looking out the window at a wonderful blue, cloudless sky filled with glorious sunshine. In fact, it's the beautiful blue of the sky that inspired me to incorporate blue into my spring decor this year!
If you've been following me a for a while, you may have already seen a peek at some of my spring decorations when I shared my cottage style spring breakfast room.
I'm working on a refresh for this room and was so inspired by a beautiful fabric I found, that it, along with the blue sky, set the stage for carrying blue and white throughout my entire home.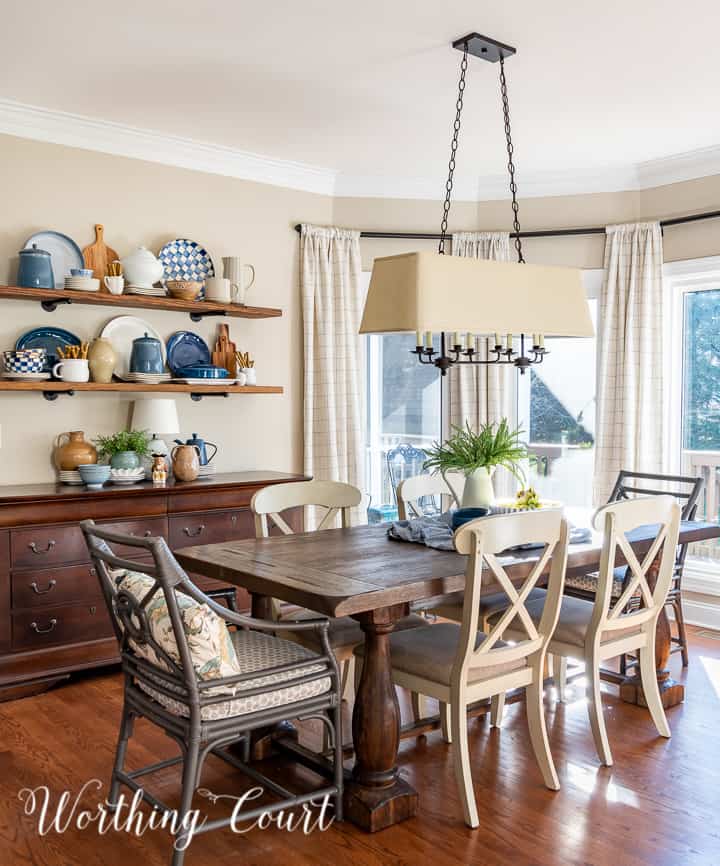 Pin
Let me show you around the rest of my home! We'll start at my front porch, where I took a daring step and left my front door naked (aka wreath-less) for the season. Shocking I know, but I've been a enjoying a more pared down look around the house lately. haha!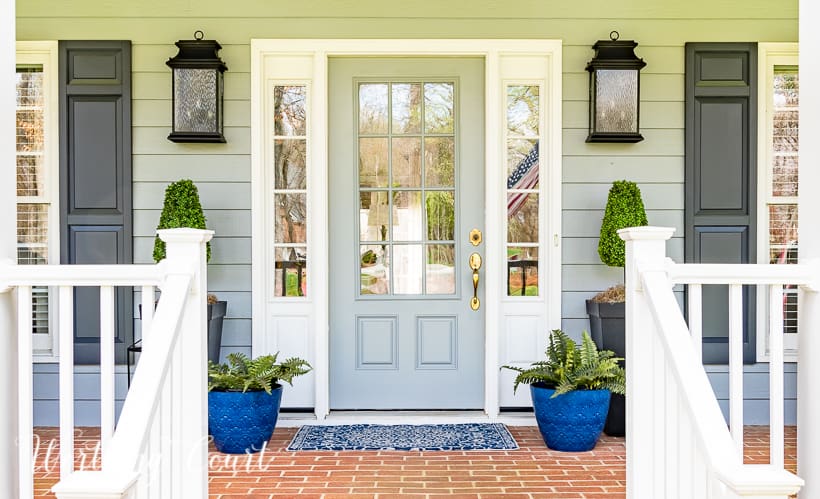 Pin
We have a wide front porch with a pair of Adirondack gliders at each end where we love to sit and enjoy the scenery and birds flying in and out of the birdhouse this time of year.
The gliders were originally stained, but we painted them white recently, which completely changed the look of the porch and gives it the cottage decor style vibe that I'm working toward. I added blue and white outdoor rugs and some pretty pillows to create a cozy conversation area on each end of the porch.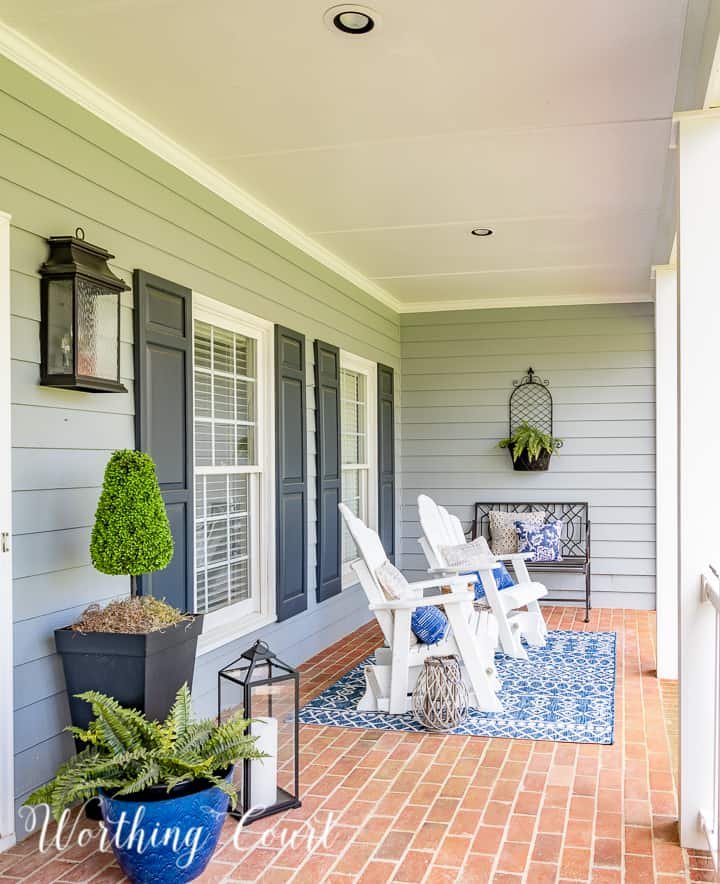 Pin
I also added a new blue and white rug in the foyer, but pared down the amount of decor in this space. All I really need on the entry chest, other than the lamp, is a pretty blue and white planter filled with a faux fern.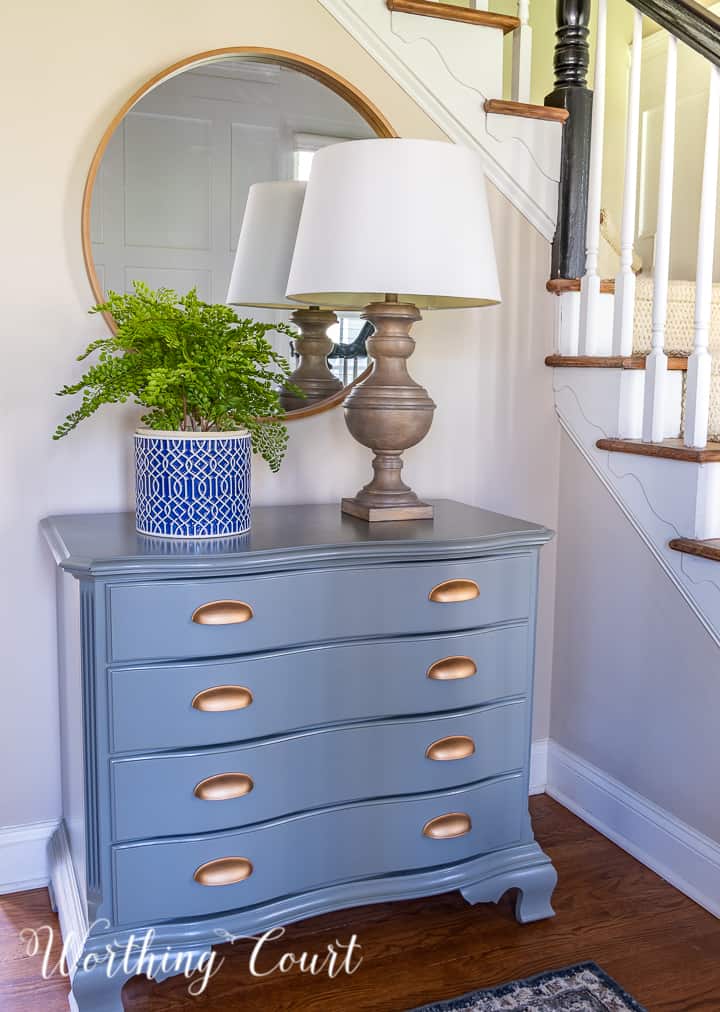 Pin
I used to have two diy benches on one wall in my foyer, but I replaced one of them with this great basket filled with a few of the umbrellas that my mom collected over the years. The whole area says spring to me, plus I get a sweet reminder of my mom every time I go to my front door.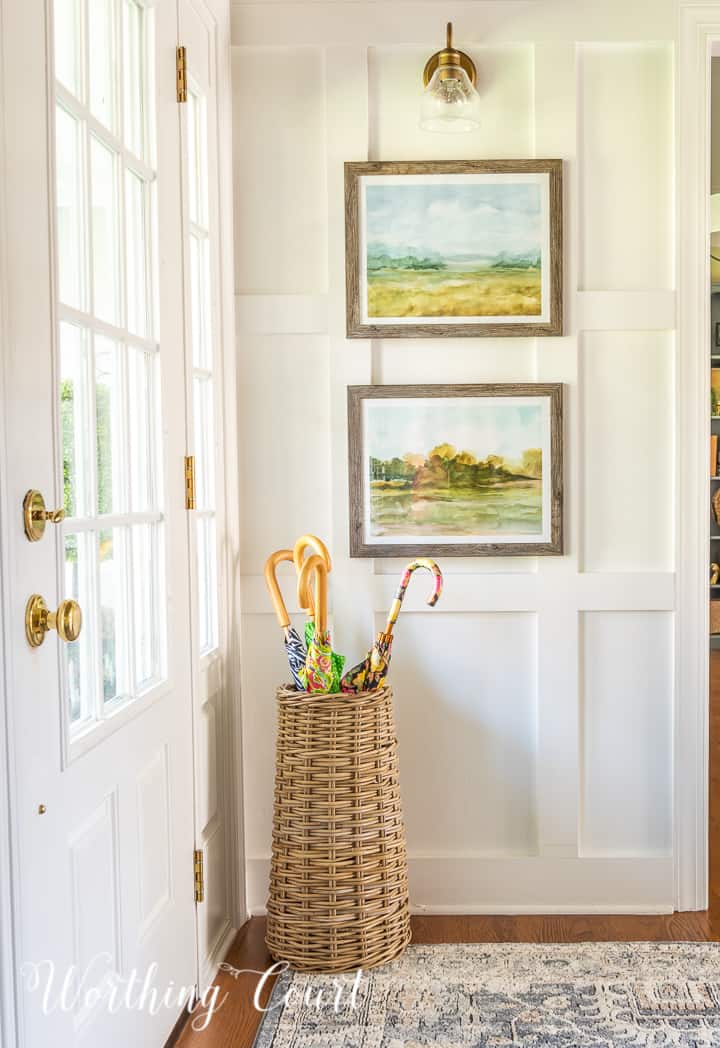 Pin
The blue and white decorations continue into the living room. I've added a few blue accessories to the entertainment center, the coffee table and added a few new pillows too.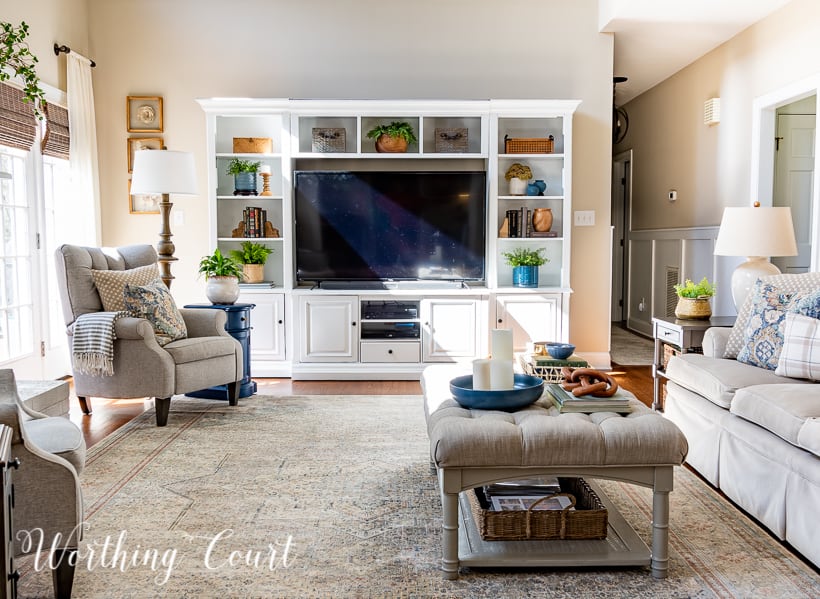 Pin
Mixing patterns is one of my favorite things to do, so I'm especially in love with the Jacobean floral print pillows mixed with the large beige and white patterned pillow and the blue and white plaid!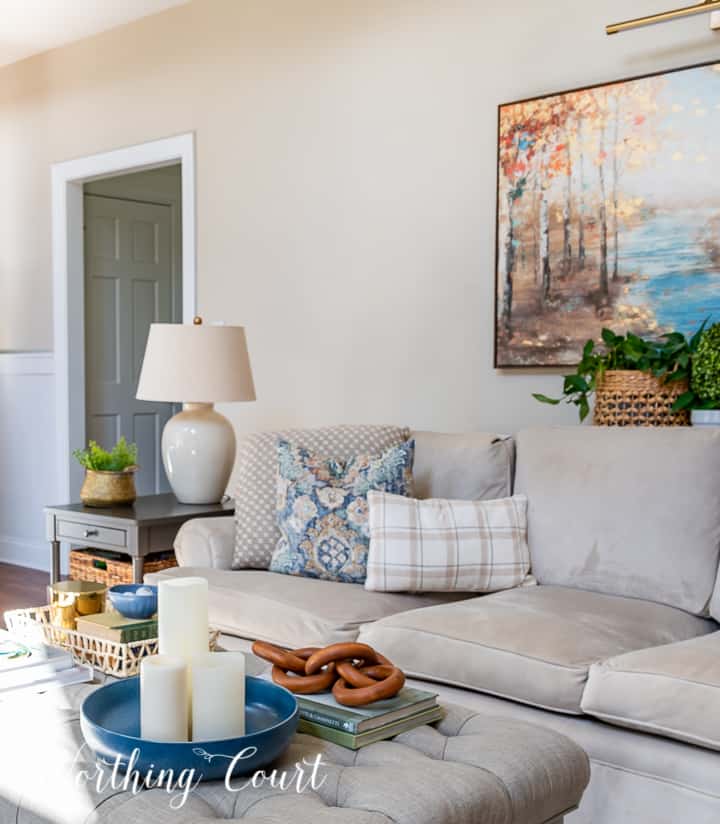 Pin
My favorite leafy stems look great in a pretty woven blue outdoor planter (from HomeGoods) on the mantel. The height of the stems adds lots of interest and drama in a room like mine that has a two story ceiling.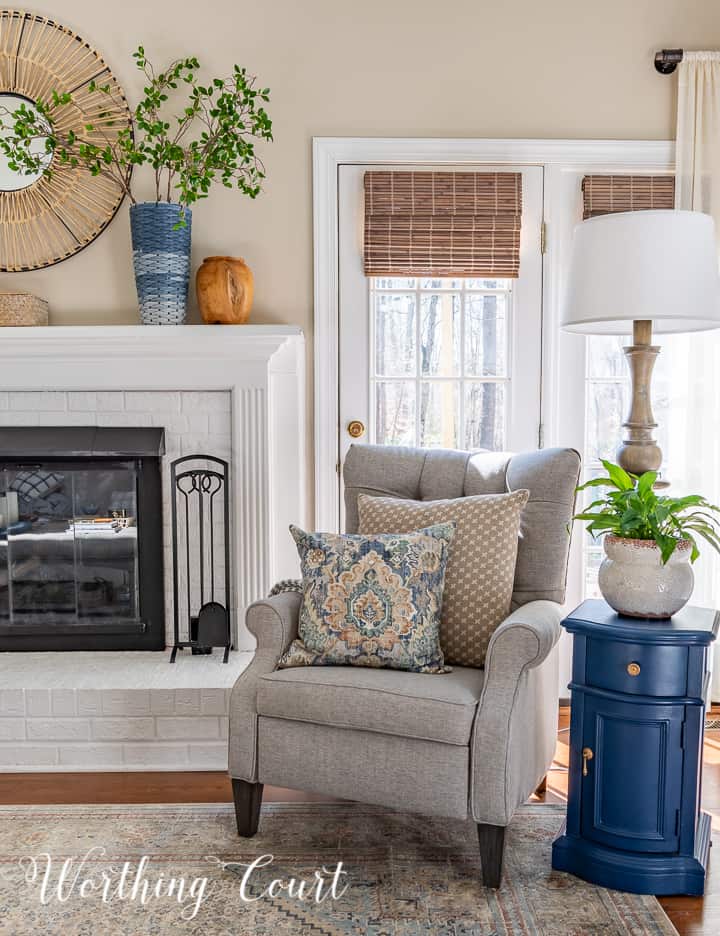 Pin
You enter the breakfast room/kitchen from our family room. Because of the refresh I've been working on there are already some changes in here, but I still have several things left on my room-refresh-to-do list.
My biggest hold-up is the upholsterer. I want him to rework my chairs for me, but I can't get in until sometime this summer, which is such a bummer.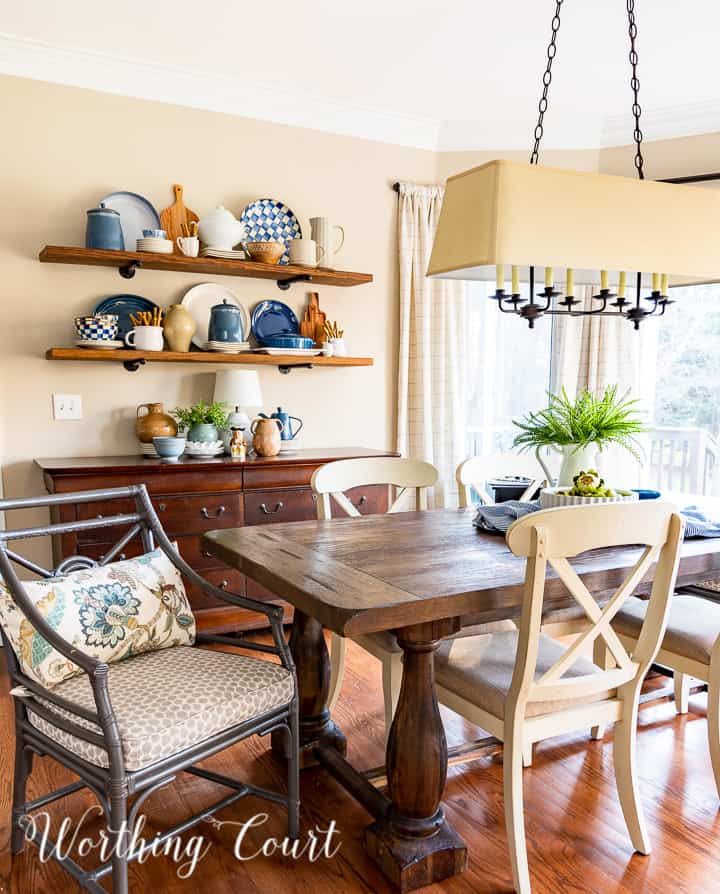 Pin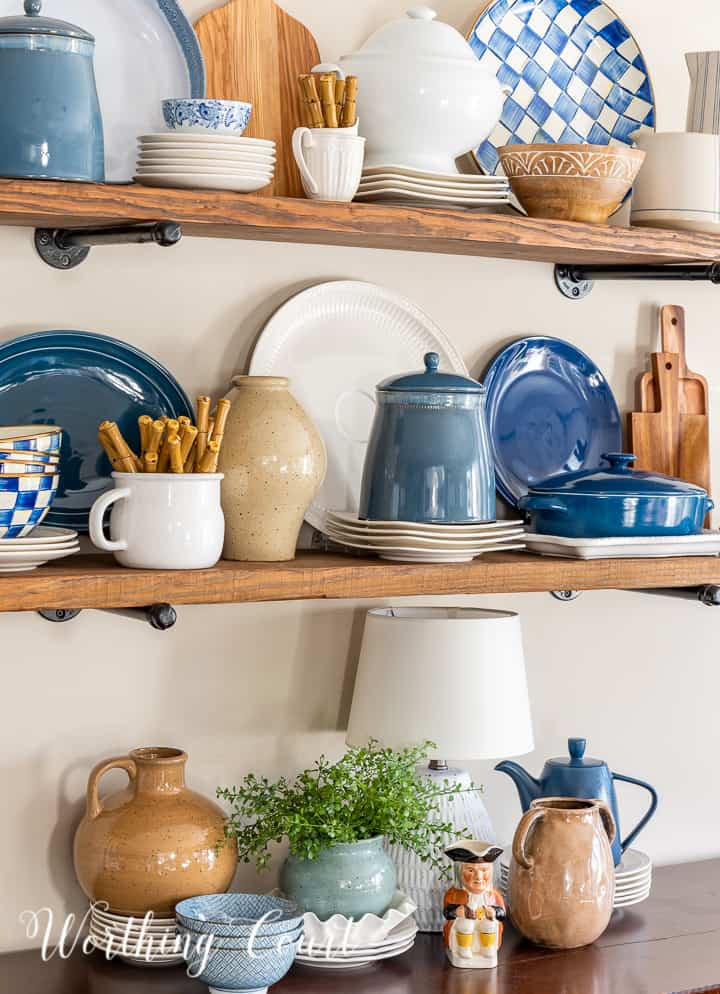 Pin
From the kitchen, let's go into the dining room where I've kept things on the pared down side once again. This room also sports a new blue and white rug. By the way, it can be tricky to use multiple rugs in rooms that open to one another. I actually wrote a post about that exact subject that you might find helpful.
You'll notice that the artwork above my small gray chest has a bit of dark pink in it. I don't really decorate with pink at all, but I thought it would be pretty to add just a tiny bit of it in the room for the spring.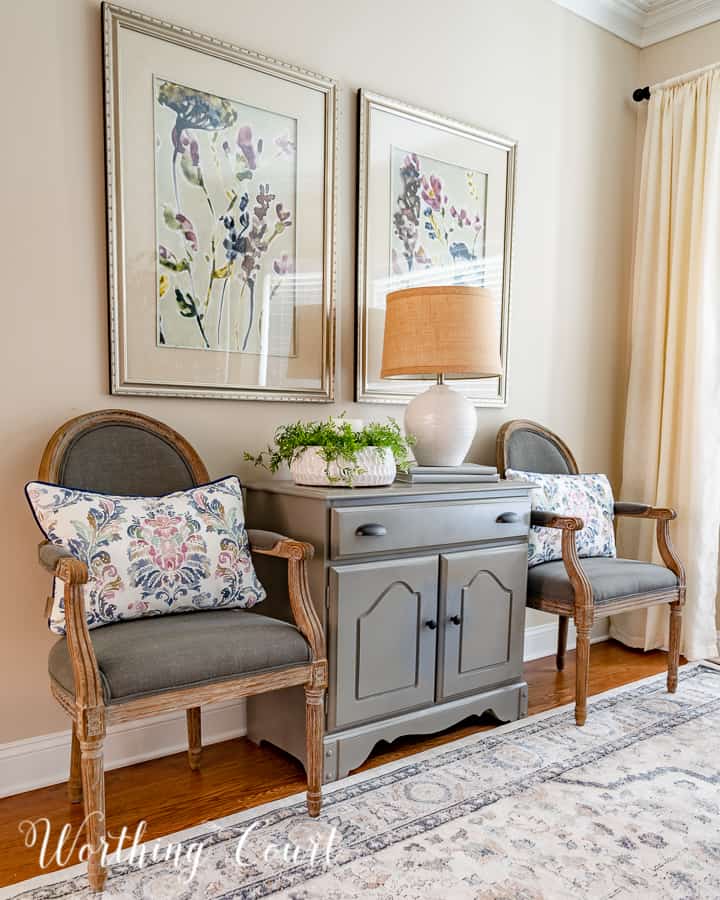 Pin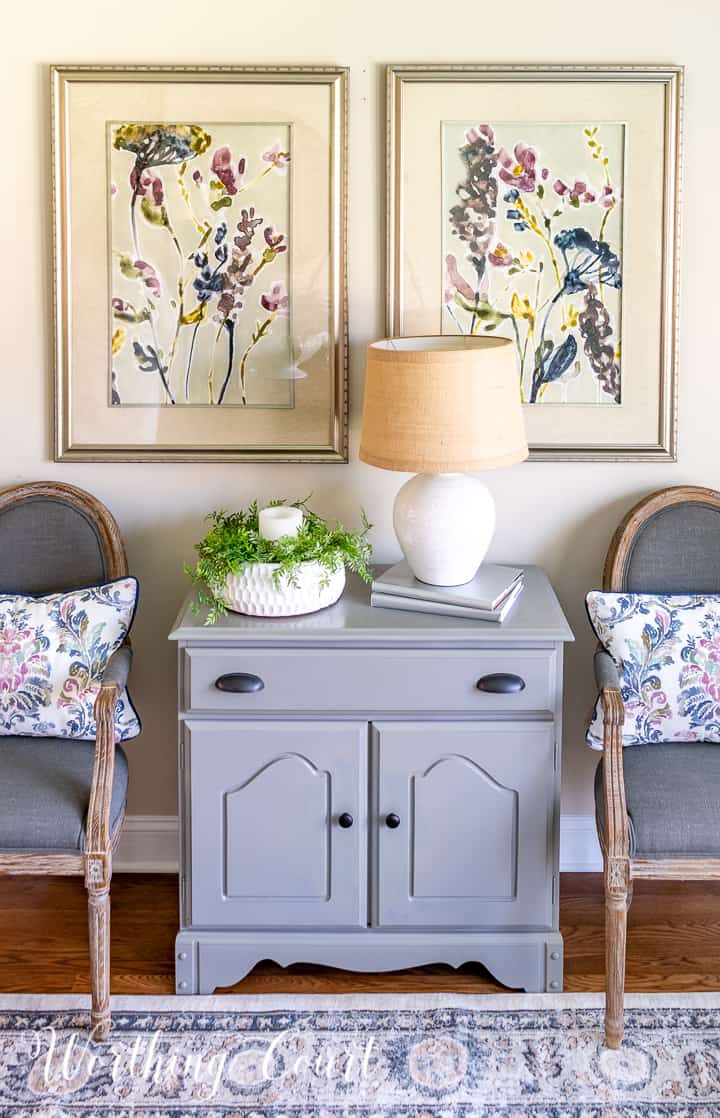 Pin
I searched and searched for just the right pillows to use and was about to give up when I ran into these as I was leaving HomeGoods one day.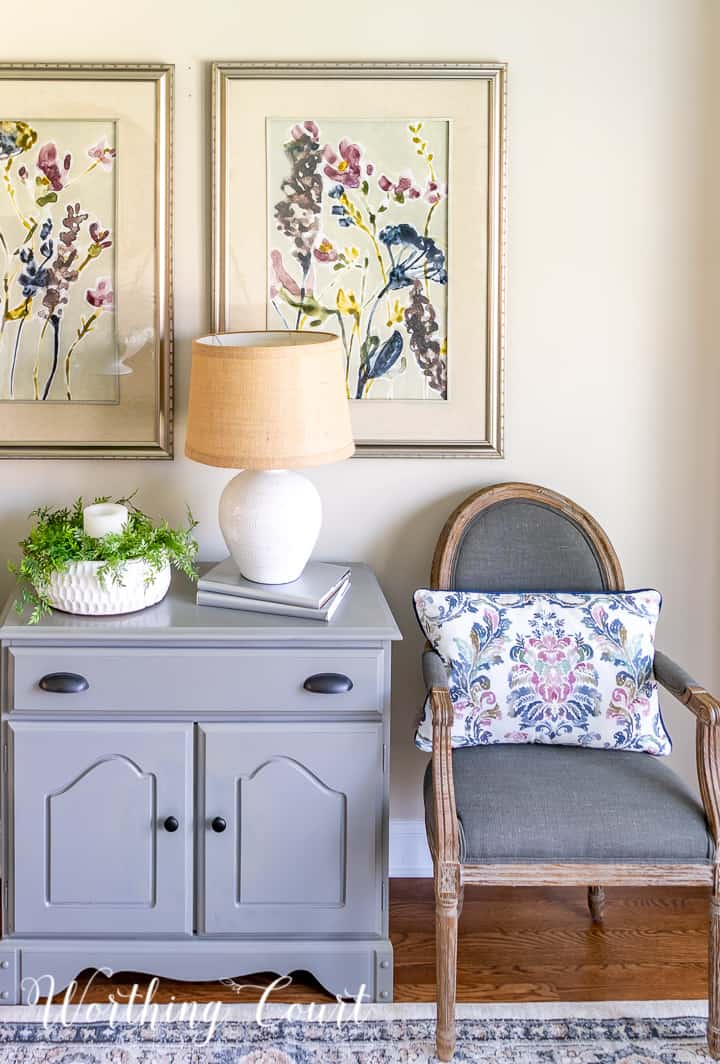 Pin
The only other pink in the room is the pink hydrangeas that I added to an arrangement on the sideboard. Even though I don't normally decorate with pink, those little pops add lots of spring life to the room.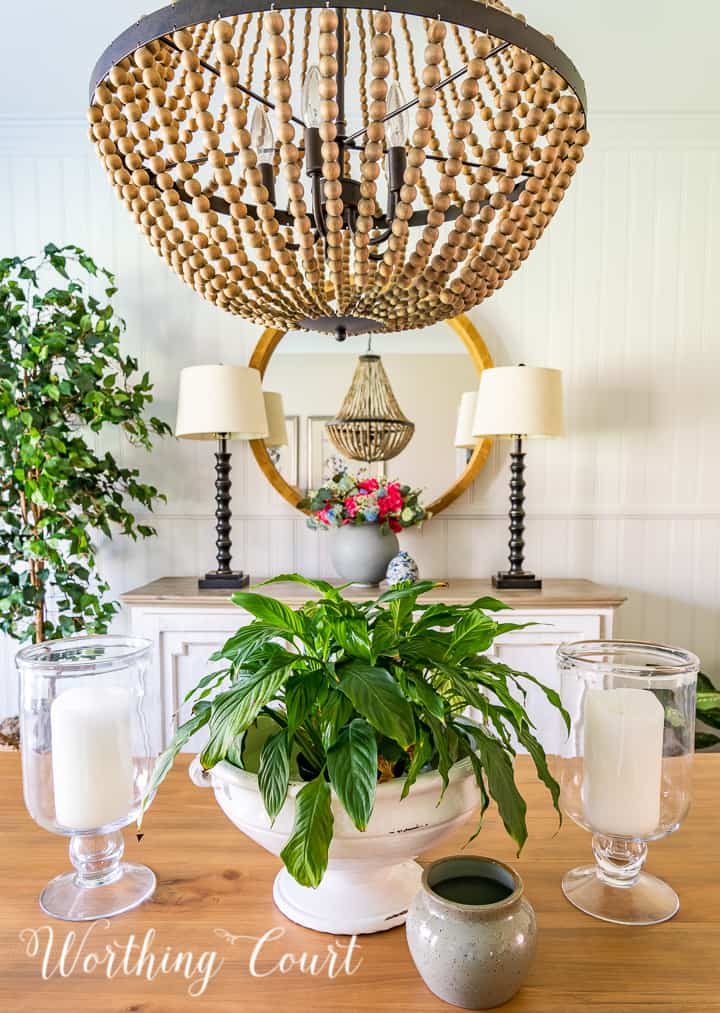 Pin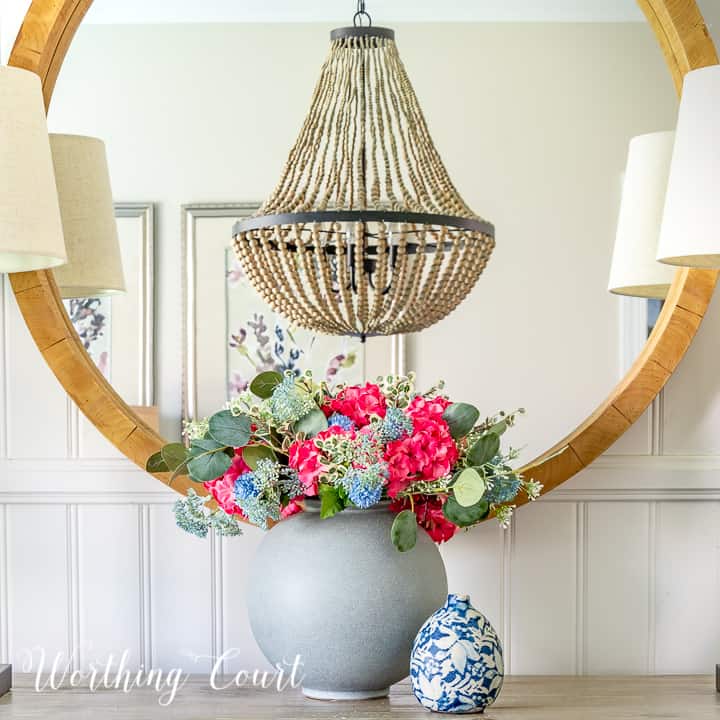 Pin
From the dining room we'll go into our home office, where I added a few more blue and white pillows. The abstract artwork on the wall is one of my favorite pieces!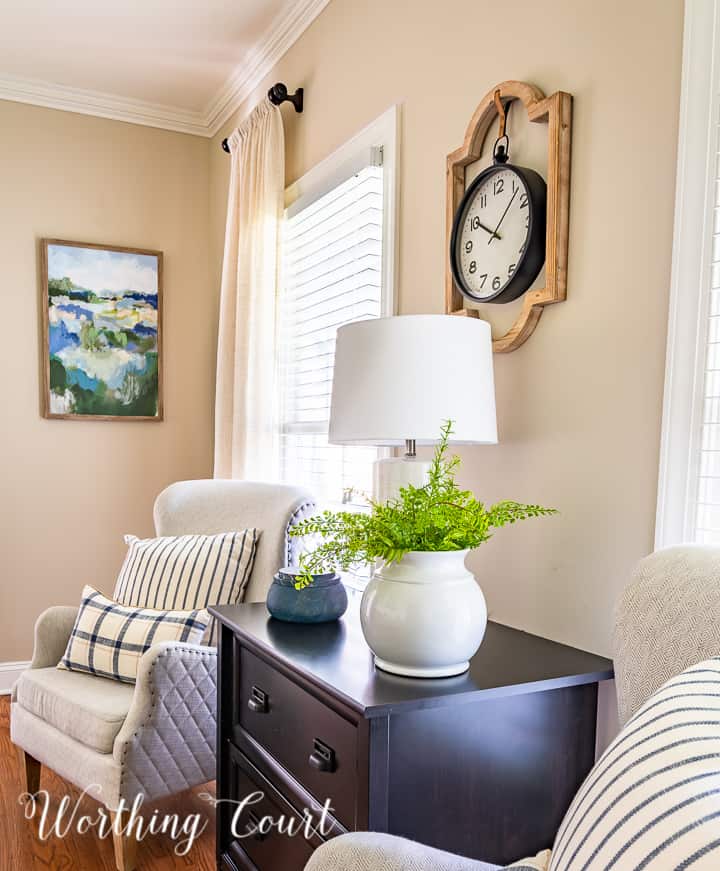 Pin
Our guest bedroom got a little blue and white sprucing up too. I'll give you a little peek at it, but I'll save the rest of the room for another day. winkwink
Pin
Thank you so much for stopping by for a visit today! Next up on the list is Kelly from The Tattered Pew. Kelly is the sweetest and I know you'll get lots of inspiration from her beautiful home.

Sand Dollar Lane // Postcards From The Ridge // Worthing Court // The Tattered Pew // Noting Grace
---

2 Bees in a Pod // DIY Beautify // Cottage in the Mitten // Southern Home and Hospitality
Sonya Burgess // Thistlekey Lane // Dabbling and Decorating // Aratari at Home
Songbird // Southern Crush Home // Simply 2 Moms // Our Crafty Mom
Zucchini Sisters // Amy Sadler Designs // Bluesky at Home // My Family Thyme