Transitional Cottage Style Spring Breakfast Room
Refreshing ideas for decorating your breakfast room or dining room for spring in transitional cottage style using blue and white.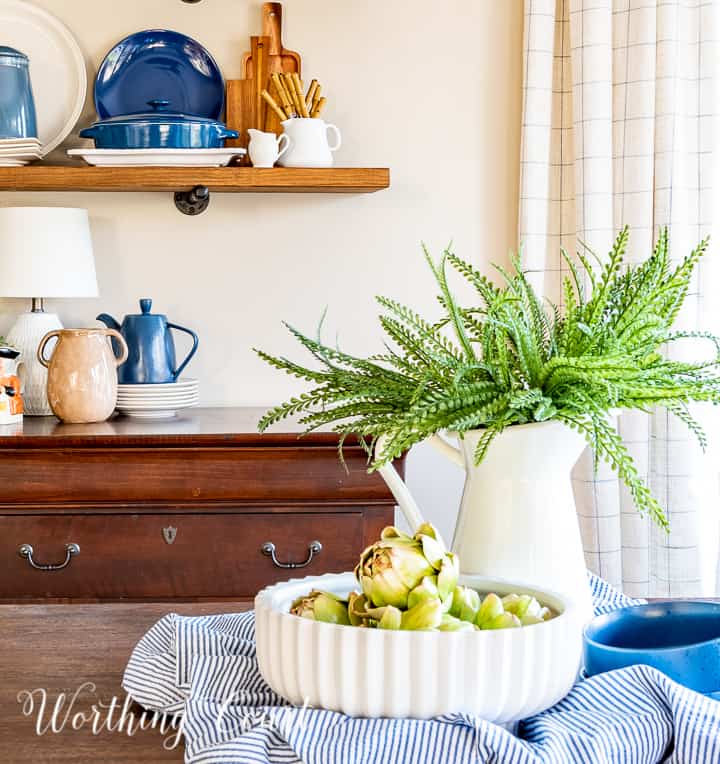 Pin
This post and photos may contain Amazon or other affiliate links. As an Amazon Associate I earn from qualifying purchases. If you purchase something through any link, I may receive a small commission, at no extra charge to you. Where possible, the exact product has been linked. If that product isn't available to link, I've linked something similar. All opinions are my own. See my full disclosure HERE.
For a long time I've decorated my home with mostly neutrals, but as I'm transitioning my home decor from farmhouse style to transitional cottage style I'm finding that I'm ready to incorporate more color. And after a gray, drab winter, what colors could be more refreshing and spring'ish than blue and white?!?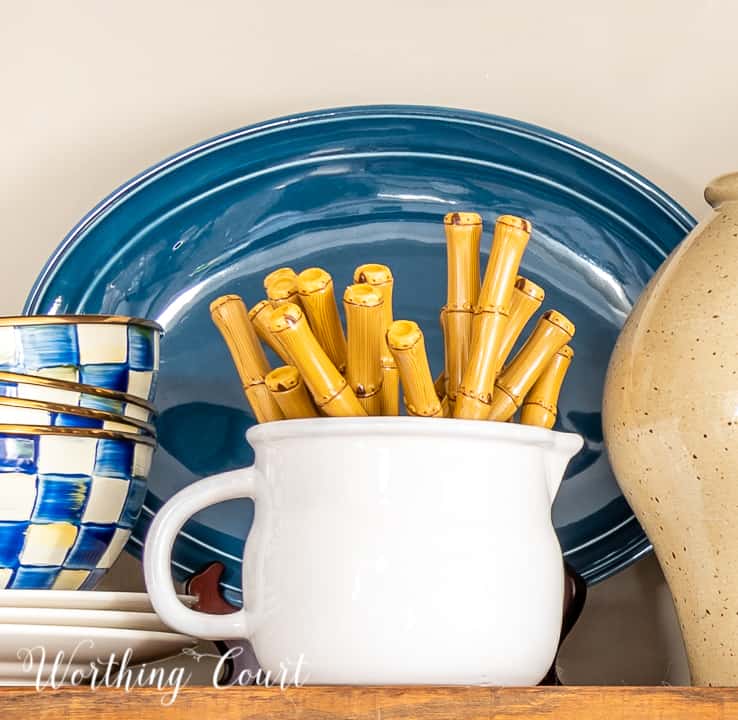 Pin
Before I share my spring decorations with you, I want to let you know that this is an exciting week! My friend Marty, from A Stroll Thru Life, is hosting her annual spring tour where a slew of my blogging friends will be sharing their spring decorating ideas all week long!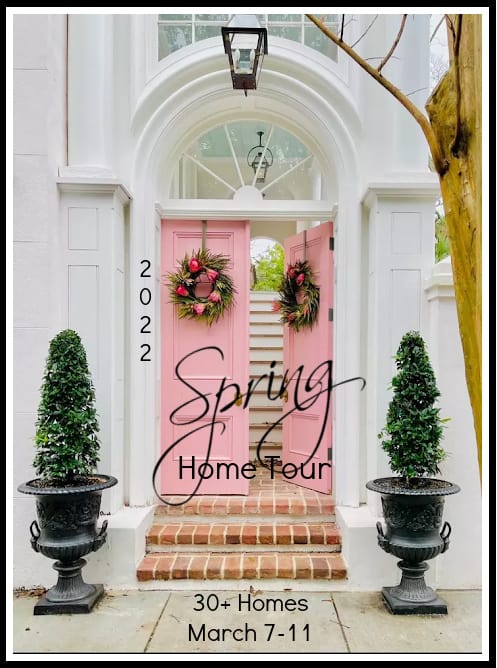 Pin
If you're coming over from Pink Peppermint Design, welcome! If you haven't already, you want to be sure to check out Tammy's spring tour. I've found so many great ideas from her. You'll find links to everyone else's home tours down below.
I've always been a huge fan of all the shades of blue – it's probably my favorite color! After incorporating it into my Christmas decor this past year (for the very first time), I honestly couldn't figure out why I haven't been using blue on an everyday basis all along.
You may have read about my breakfast nook makeover plans that I shared several days ago. In that post, you'll see that this fabric is what has inspired the colors that I'm using.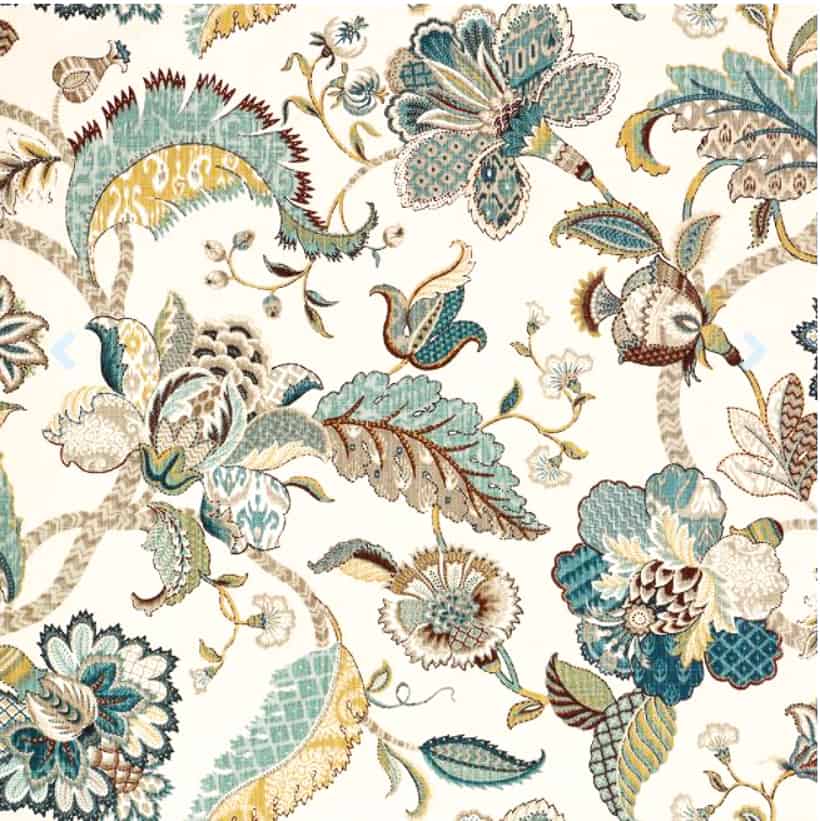 Pin
I truly adore all of the different shades of blue in this fabric and it has given me so much inspiration for decorating my breakfast room!
I still have quite a bit to do for the makeover and have had to make a few plan adjustments because of furniture and upholsterer availability, but I decided to go ahead and incorporate the changes the I can do now into my spring decorations.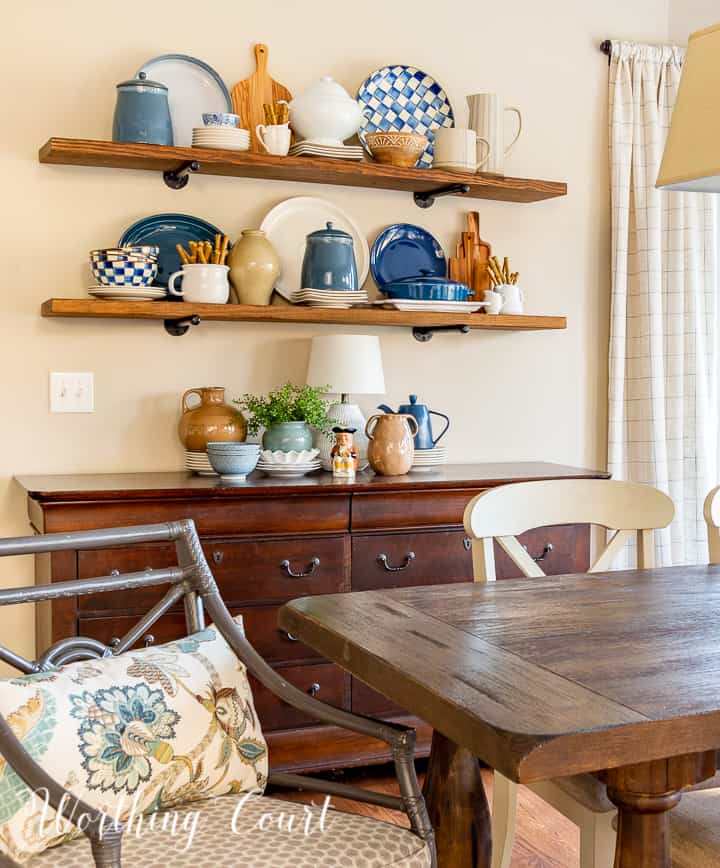 Pin
My plan is to leave the dresser that I use for a sideboard as is, but to paint the shelves white and to use gold Rub n Buff on my diy brackets. I debated over replacing the shelves with a hutch of some sort, but I don't think that's necessary to give me the transitional cottage vibe that I'm working toward.
BLUE CANNISTERS || OVAL BLUE PLATTER || LARGE BLUE-CHECKED SERVING BOWL ||
BLUE-CHECKED CEREAL/SOUP BOWLS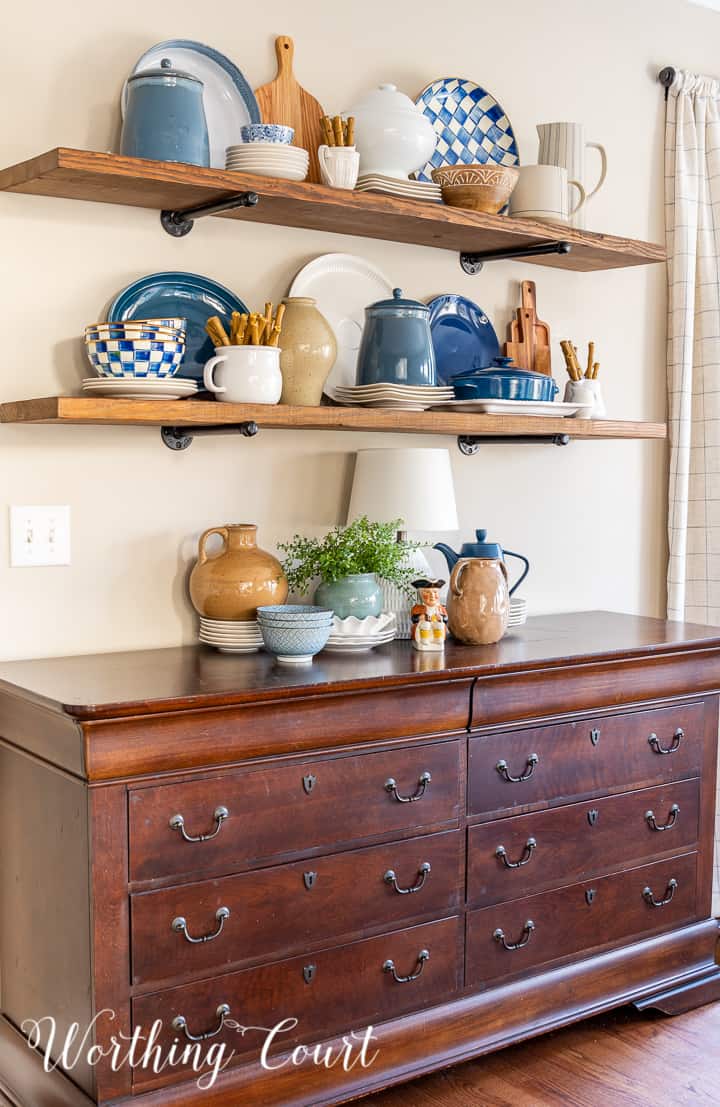 Pin
I don't know exactly when the shelf painting will happen, so I decided to go ahead and decorate them for spring anyway. I'll simply add my same decorations back to them once they've been painted.
TALL BLUE-STRIPED PITCHER || SHORT BLUE-STRIPED PITCHER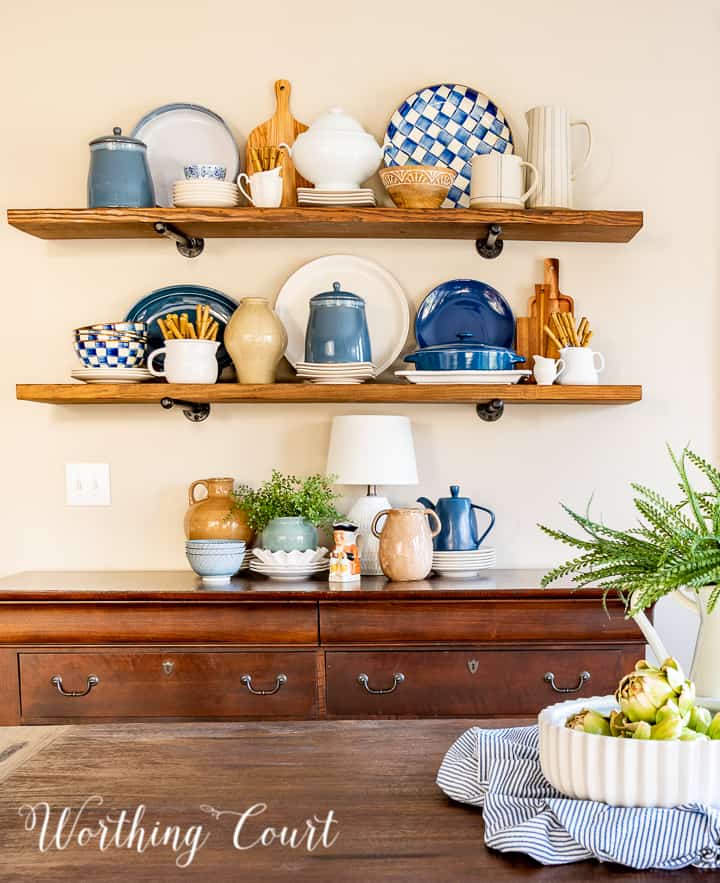 Pin
I think that having white shelves is going to give this side of the room a whole new look!
I'm especially drawn to the cobalt shade of blue, that can be found in my inspiration fabric, and incorporated quite a bit of it into the decor on my shelves.
BLUE COFFEE/TEA POT || SHORT BLUE VINTAGE-LOOK VASE ||
SINGLE HANDLE VINTAGE-LOOK VASE || DOUBLE-HANDLED VASE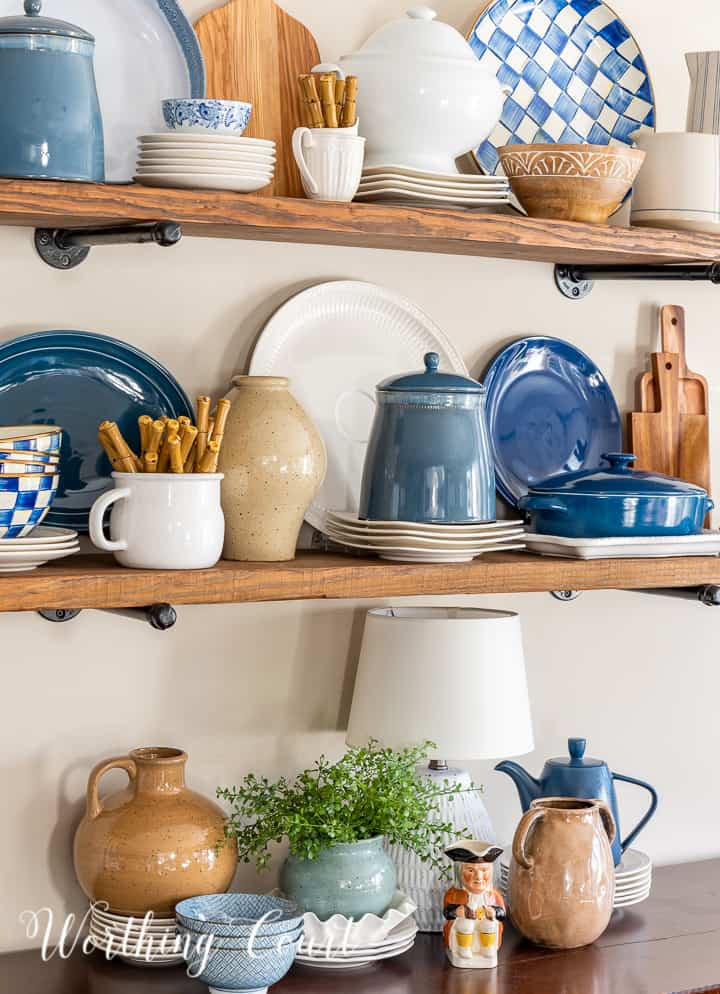 Pin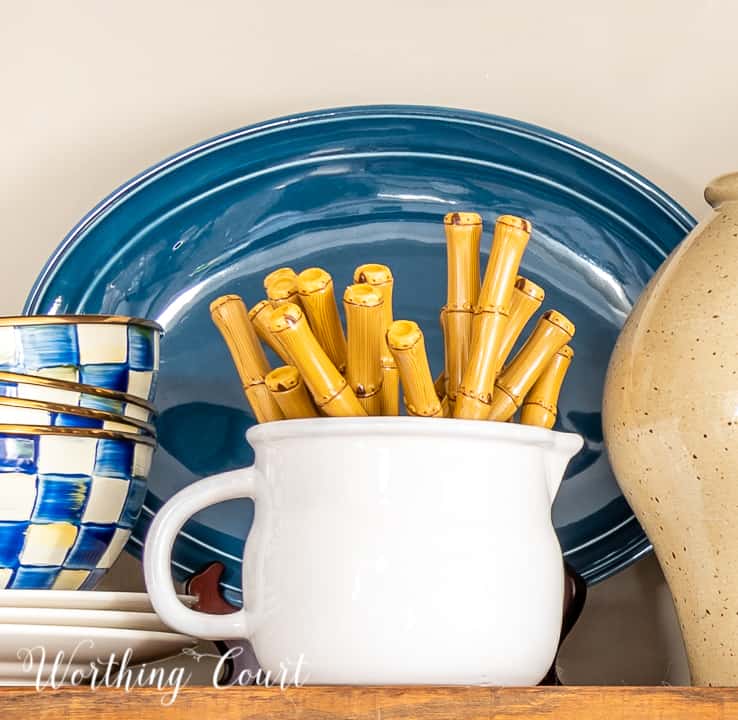 Pin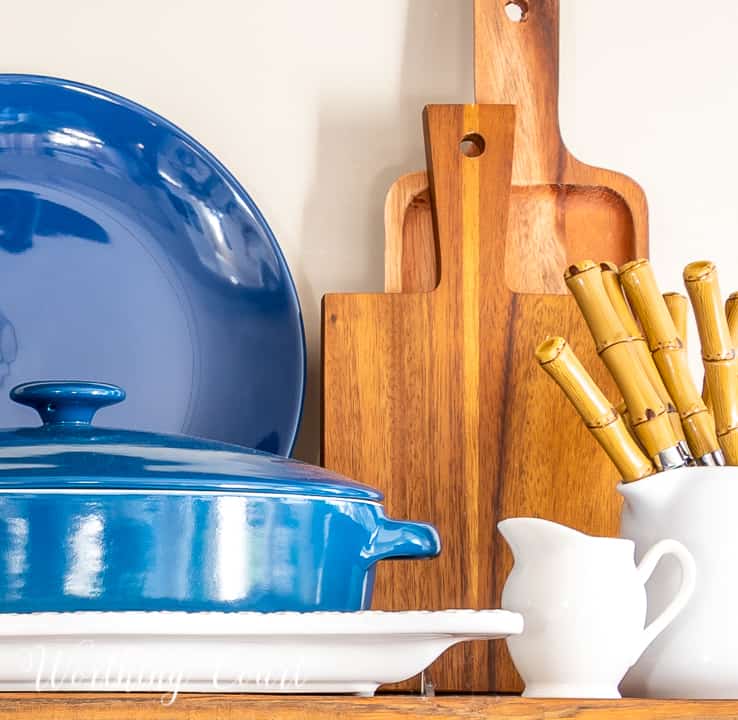 Pin
I honestly think this whole look will carry me all the way through the summer. And believe it or not, I'm already thinking ahead to decorating for fall and how that will look with blue.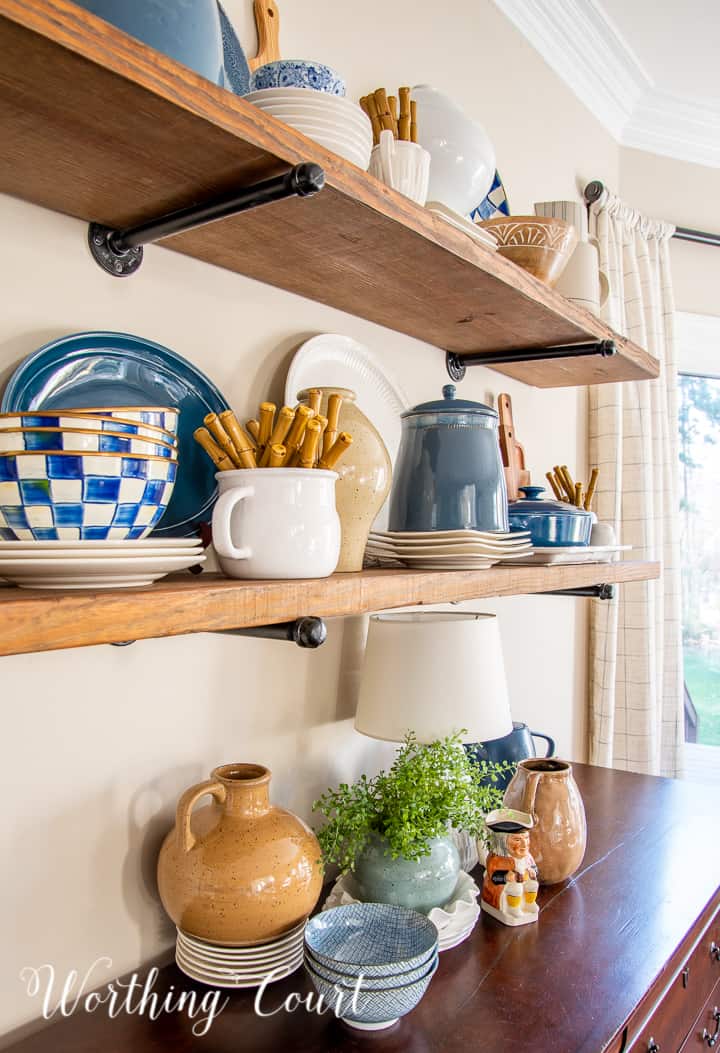 Pin
STONEWARE-LOOK LAMP || LAMPSHADE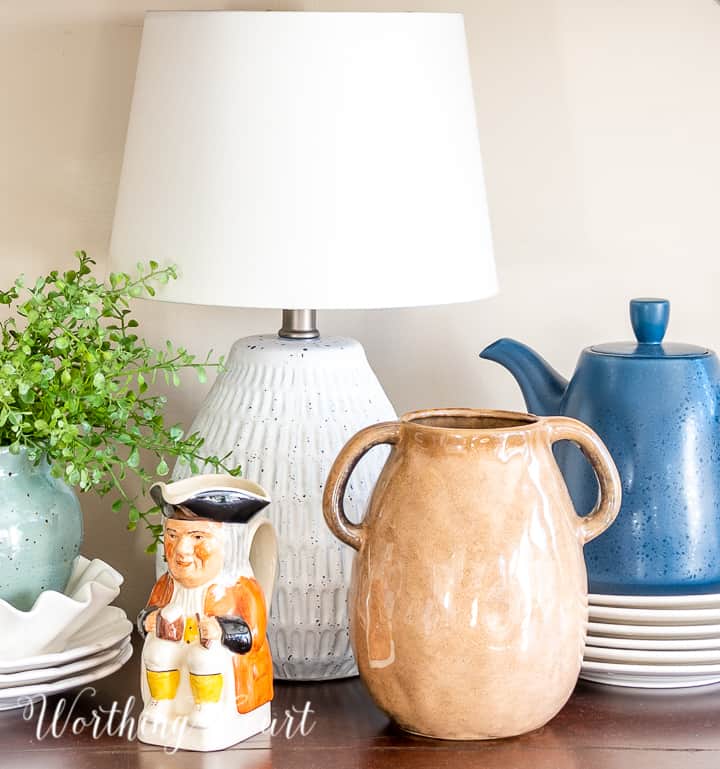 Pin
If you've been following me for a while, you already know my K-I-S-S decorating method and how I use it to make decorating so much easier. My method works especially well on these shelves because they normally get changed up several times a year.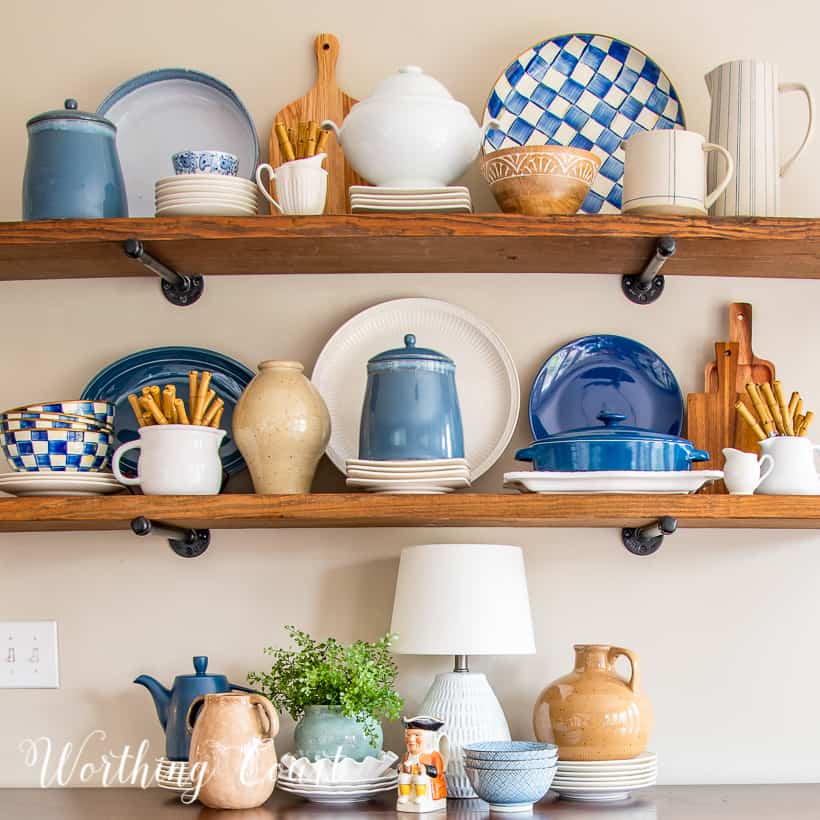 Pin
Because there's quite a bit going on on the shelves, I kept the spring centerpiece fairly simple. I think that my "artfully arranged" square blue and white seersucker tablecloth makes a great base for the centerpiece.
COBALT BLUE BOWLS || FAUX ARTICHOKES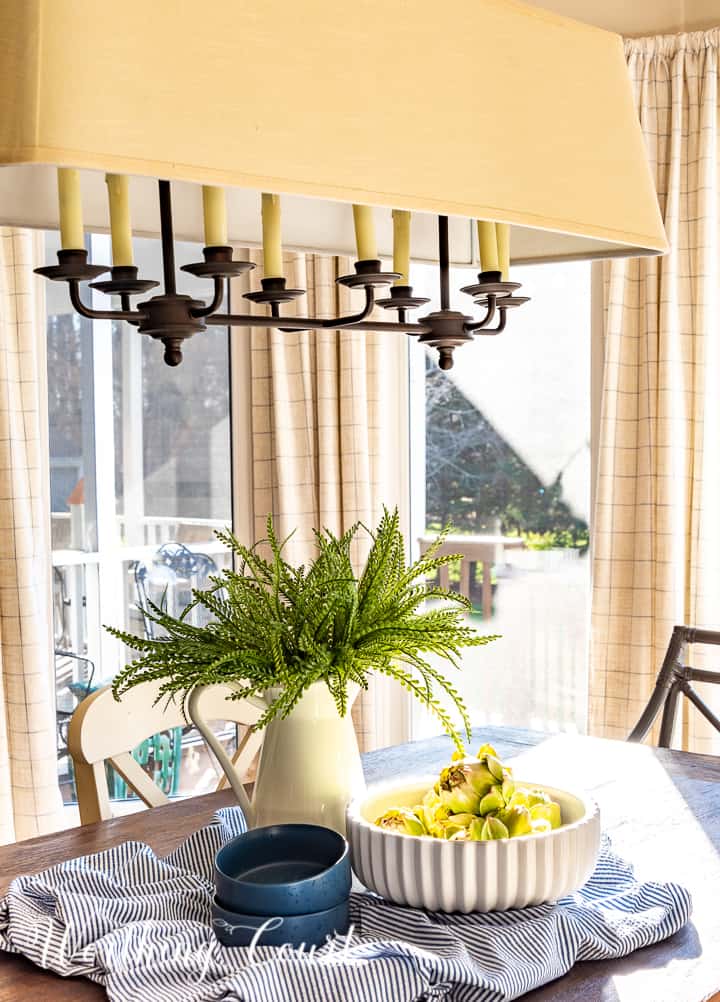 Pin
The light fixture is one of the items that I wanted to change as part of the makeover. I still loved the other one, but I just don't feel like it worked well with the style that I'm transitioning to in my home.
The new light fixture is everything that I've ever wanted! It gave the entire room an instant transitional cottage feel as soon as it was in place. Let's just say that you would have enjoyed being a fly on the wall watching the hubs and I hanging this thing by ourselves.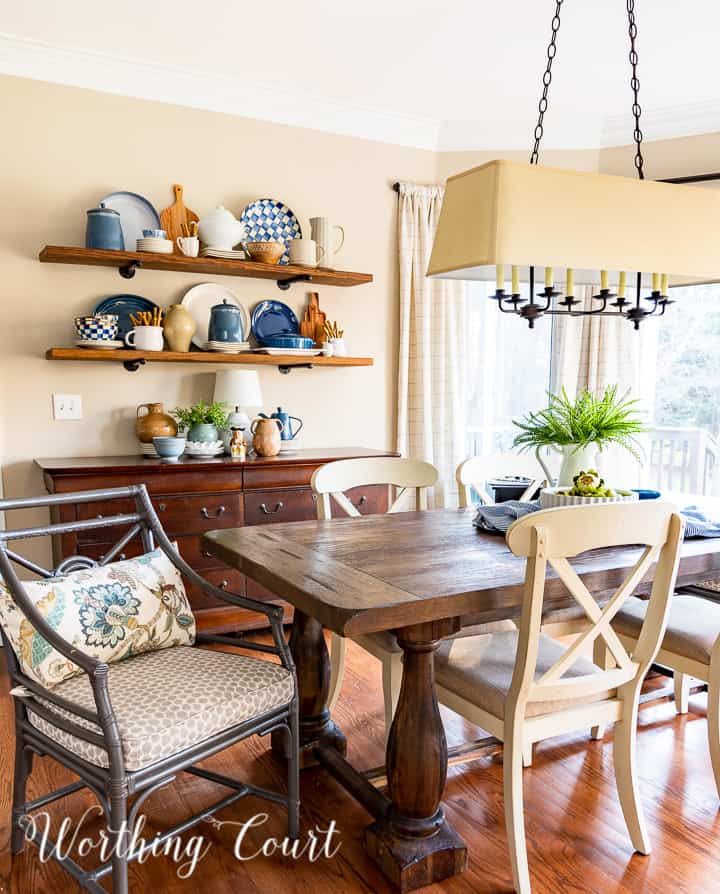 Pin
You're seeing my table and chairs in its mid-makeover state. I'm planning to keep my dining table, but am changing the chairs. I've already received the new side chairs that I ordered, but unfortunately, the end chairs are majorly delayed. So I cancelled the order and am going to keep the ones that I already have and hopefully be able to make them look right with the new chairs by giving them a little makeover too.
My hope is that I can pull them all together with fabric and paint. I'm not sure exactly what I'm going to do. I'm considering painting the chair frames blue or only painting the end chairs or just reupholstering the seats. We'll see.
CHANDELIER || DRAPERIES || CROSS-BACK SIDE CHAIRS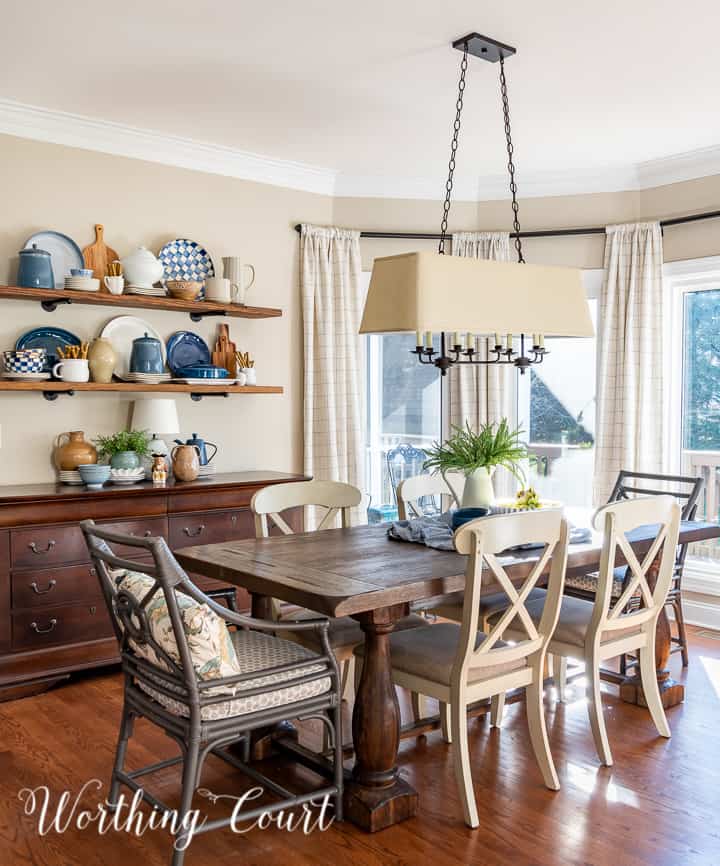 Pin
I considered moving my dining room chairs in here just for this tour, since the current chairs aren't in their completed state yet, but you know what? I decided to keep things real and show you the room the way that it really is right now. There's usually at least some part of our homes that is a work in progress – right?
Another one of the changes that I've already made to the room is to change the draperies. The lighter color of the new ones has completely changed the way the space feels and brightens the entire room!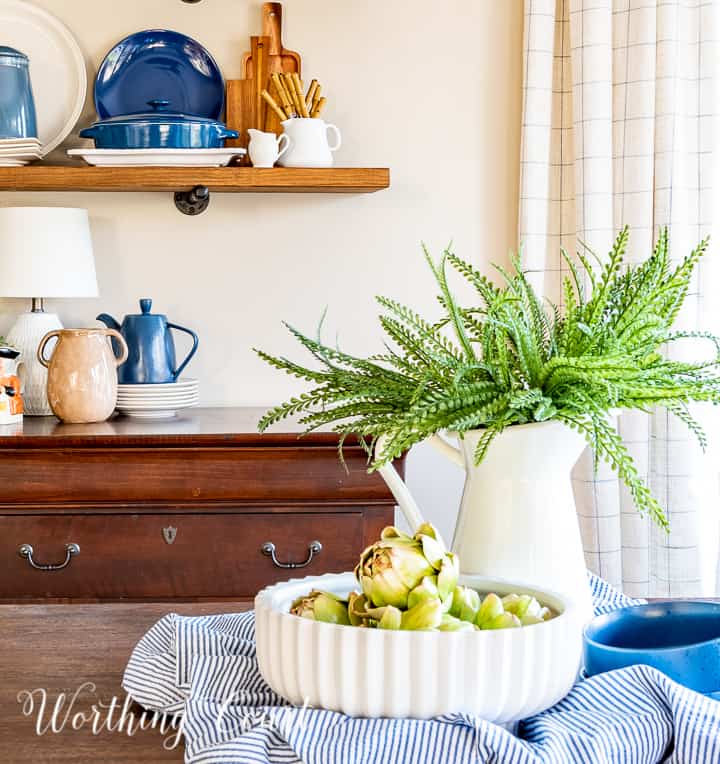 Pin
The draperies are another work in progress though. I still need to train them and I think that I also need to move the drapery rod brackets farther apart. I'm also considering adding trim to both sides of each panel, which would give them a little more definition and would reinforce the blue color that's in them. I think something as simple as a pretty grosgrain ribbon down each side would work nicely.
I hope you've gotten a few ideas from my work-in-progress spring breakfast room tour! What colors do you like to decorate with for spring?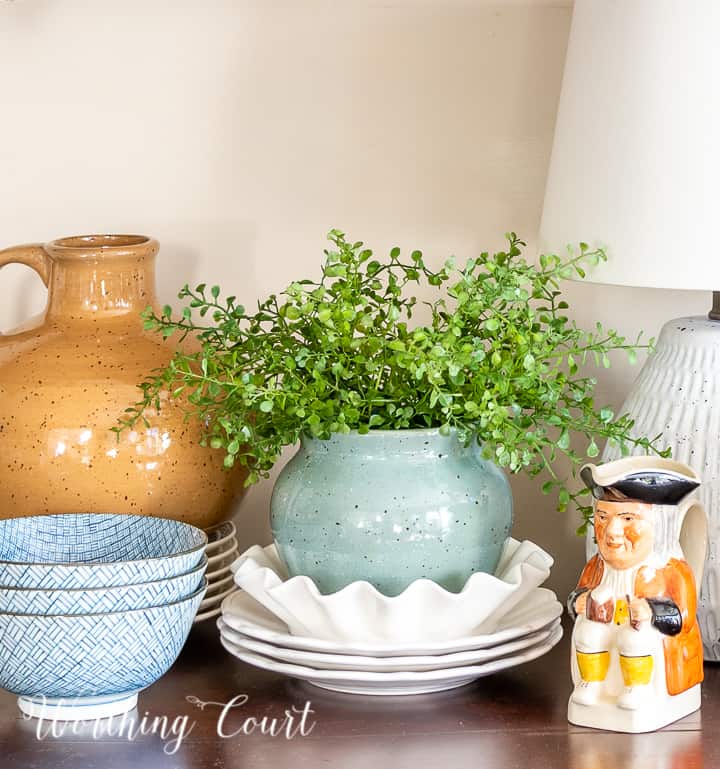 Pin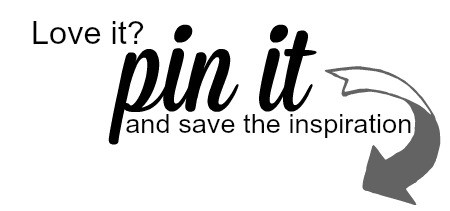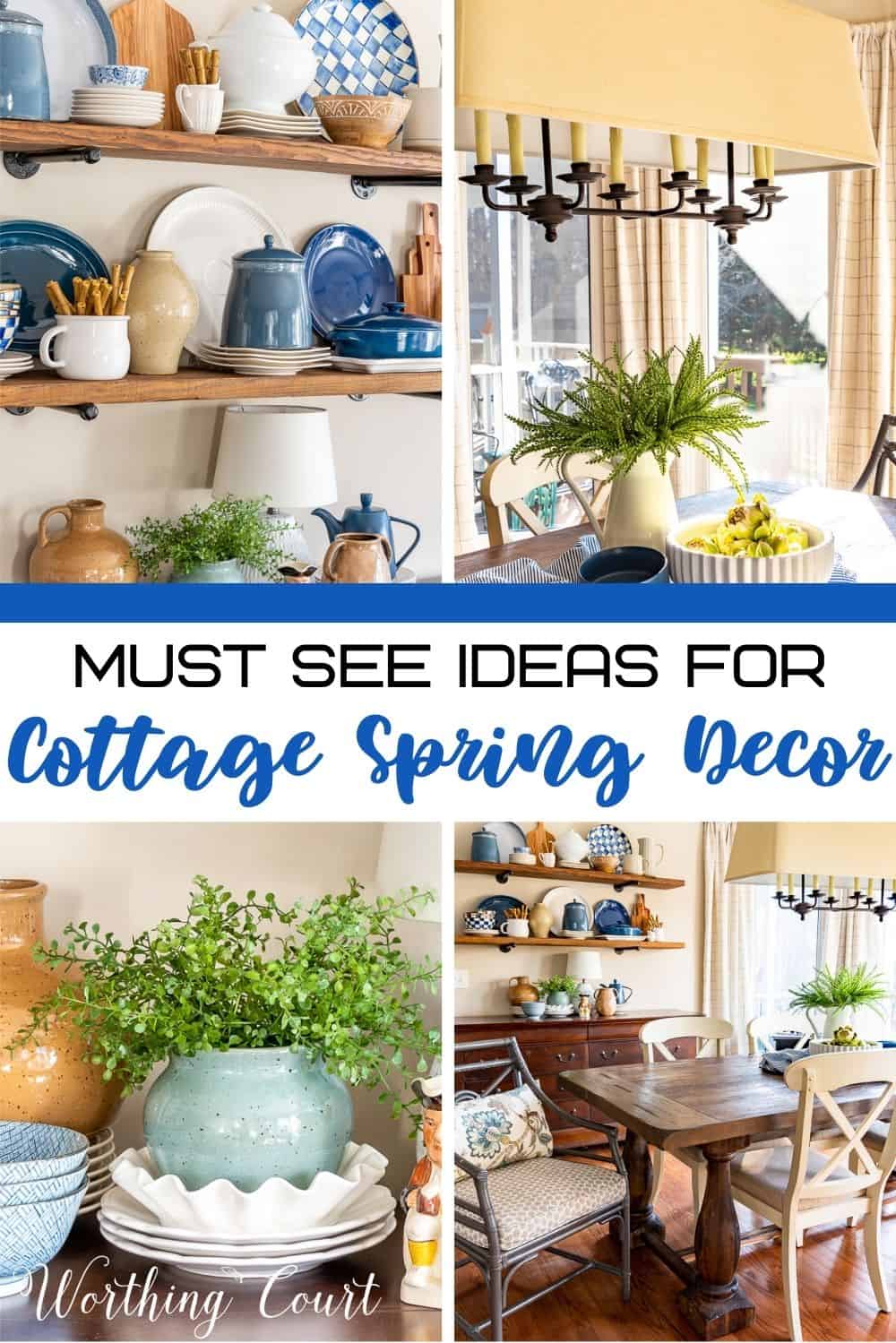 Pin
Now, be sure to go visit Marty at A Stroll Thru Life. She always has inspiring seasonal decor and does such a great job of showcasing her beautiful home!
Monday March 7th Lineup
Pin
A Stroll Thru Life – Thrifty and Chic –Chalking Up Success – White Arrows Home –Pink Peppermint Design – Worthing Court
Tuesday March 8th Lineup
Pin
Our Southern Home – Cuckoo4Design – Country Road 407 – Decor To Adore – Remodela Casa – Calypso In The Country
Wednesday March 9th Lineup
Pin
Whispering Pines Homestead – Up To Date Interiors –The Stony Brook House – DIY Beautify –Southern Home & Hospitality –Dimples & Tangles
Thursday March 10th Lineup
Pin
Citrine Living – Hymns & Verses – 11 Magnolia Lane – StoneGable – Southern Hospitality – This Is Our Bliss
Friday March 11 Lineup
Pin
Grace In My Space – Follow The Yellow Brick Home – Quarters One – My Wee Abode