Here's What You Always Need To Have In Your Home's Wardrobe Capsule
Tired of spending money while trying to create a new look in your home?  What you need is a home decorating wardrobe capsule!  Here's what your capsule needs to include.
Have you ever heard of a wardrobe capsule?  Evidently, it's a term that was coined in the 70's by a boutique owner and it refers to keeping a collection of essential clothing items that won't go out of style (at least anytime soon), consists of pieces that can be interchanged and worn with other articles of clothing and can be supplemented with new or seasonal pieces.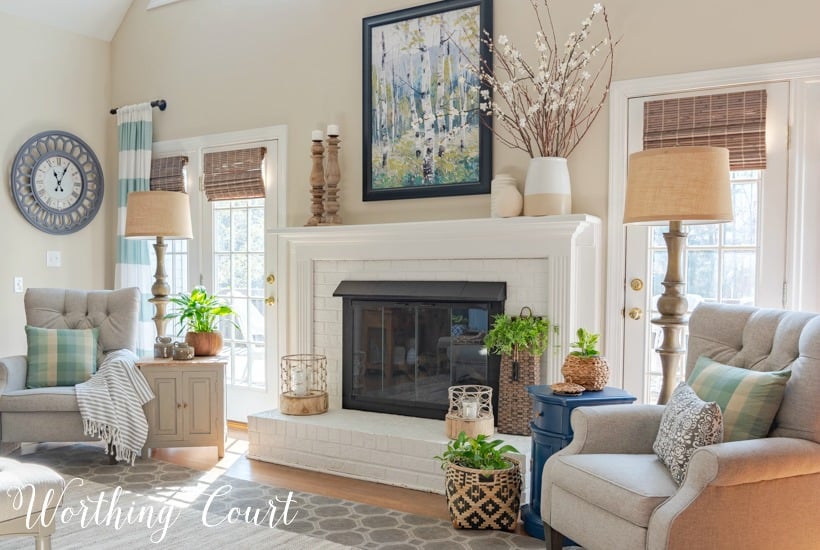 PinI firmly believe that the same concept of having a wardrobe capsule in your clothing closet can and should be used in our homes!  Imagine having a supply of decorating staples that you can pull from time and time again.  Items that are classic and not trendy.  Items that you can add to seasonally or allow you to mix things up for a whole new look.
Whether refreshing my home for the change of seasons, decorating for a holiday or just when I'm ready for a new look, things are always changing around here at Worthing Court.  There's no fun or challenge in simply running out and buying something new every time I'm ready for a change (not to mention what a drain it would be on my wallet).  I find it much more satisfying to reuse as many items from my stash as I can.
With that in mind, I've learned to keep a variety of decor staples in my home's wardrobe capsule.  Here's my list of staples that you'll want to include in yours!
CRATES, BOXES, BASKETS AND TRAYS
Oh goodness – the possibilities of what can be done with these decorating staples are limitless!  You will frequently see me using a basket or tray as a backdrop to a vignette.  When decorating shelves or bookcases, I find that adding a solid piece behind your decor will give the area a more finished look.
You can see that I used not one, but two trays as a backdrop on the open shelves in my breakfast nook one Christmas.  The entire arrangement looks so much better to me than if there was just bare wall showing.  Plus, a tray at the back of a shelf helps your decorations to pop!
CHRISTMAS IN MY BREAKFAST NOOK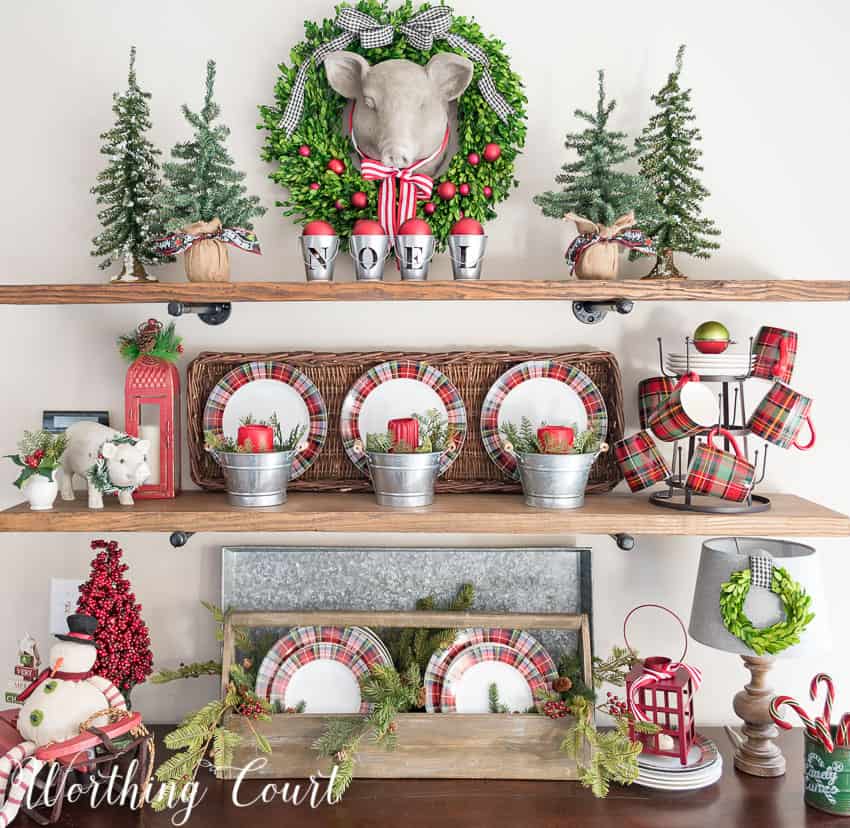 Pin
Trays are awesome for grouping items together and giving them importance.  The three plants grouped together on a small tray on this bookcase look so much better than if the pots were just lined up in a row by themselves.
BOOKCASE MAKEOVER – TRADITIONAL CHERRY TO FARMHOUSE FAB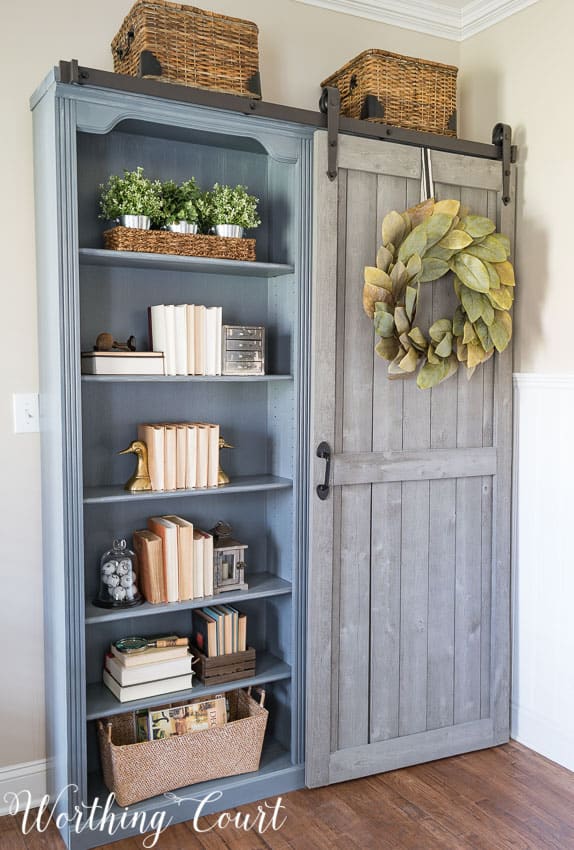 PinTrays are perfect for creating a vignette on a coffee table and for grounding a centerpiece on a table.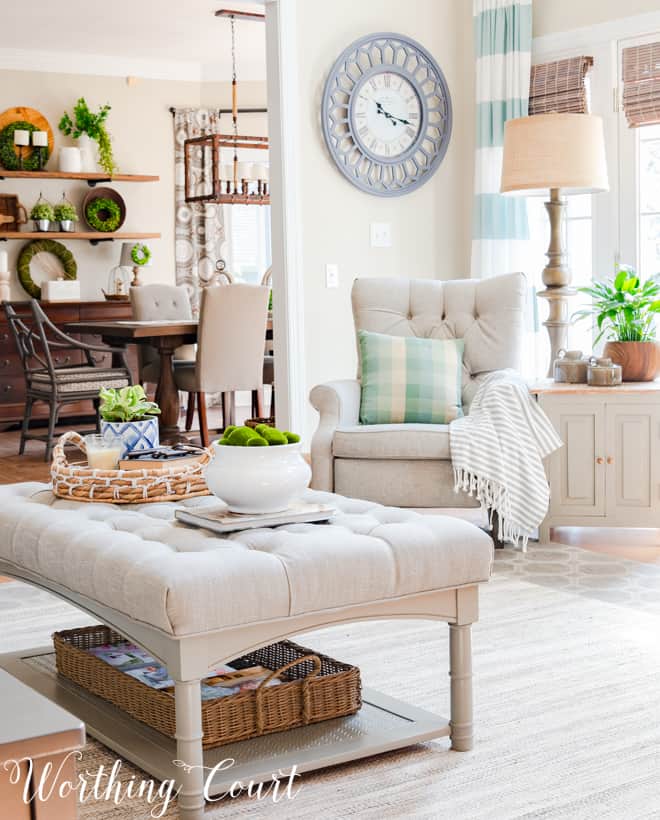 Pin
Not only is a tray a great way to ground a centerpiece, it's also a perfect way to group different items together to tell a story.  In this case, my tray is telling a story about spring.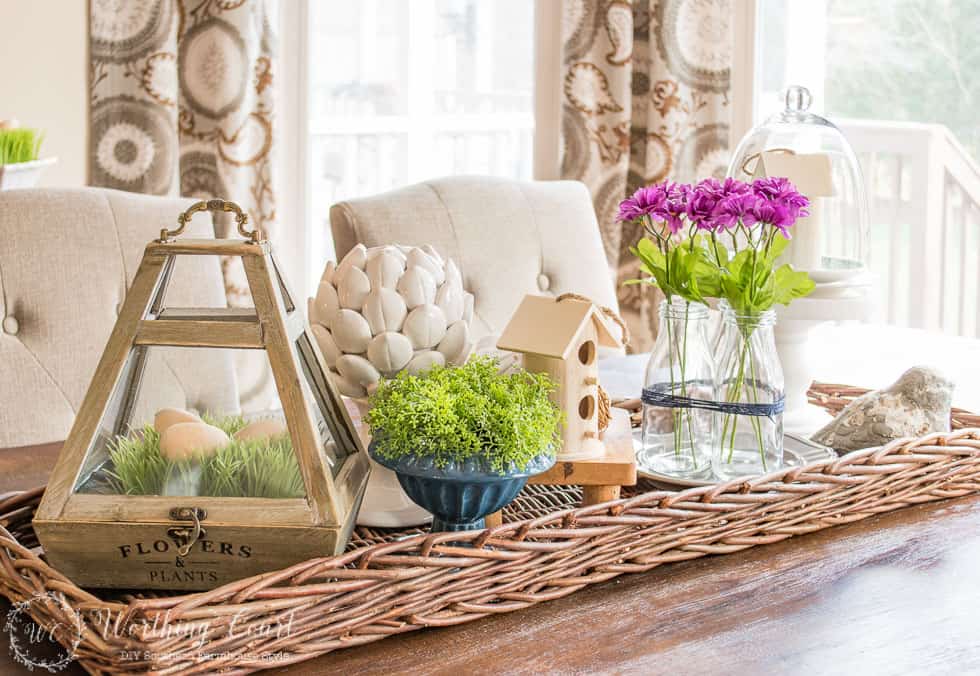 Pin
OLD BOOKS
I hoard old books and use them everywhere!  I'm very picky about which old books I hoard though.  I typically look for books with black covers and/or black spines.  My favorite trick for using books is to add height to lamps, vases, containers – you name it.
DINING ROOM MAKEOVER REVEAL – BEFORE AND AFTER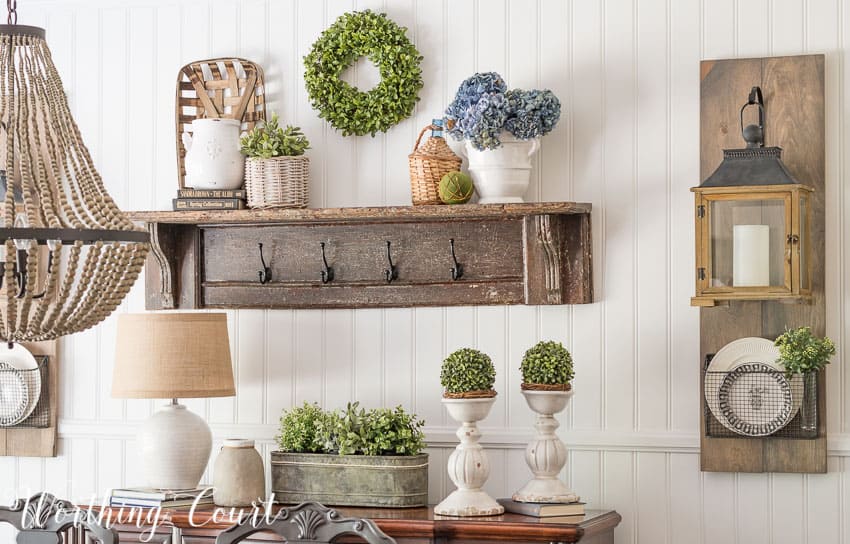 Pin
HOW TO GIVE AN ENTERTAINMENT CENTER A MAKEOVER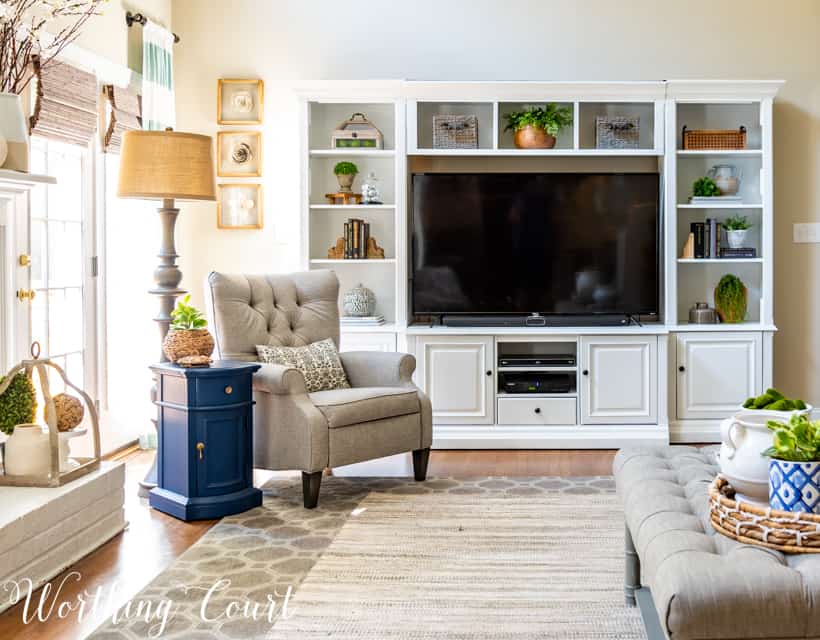 Pin
SHUTTERS AND BIFOLD DOORS
I rarely pass shutters and bifold doors up, if I find them a great price.  Talk about something that makes a great backdrop!  This area on our back porch wouldn't look nearly as inviting without the set of bifold doors against the wall.  I have them simply standing on the floor and the chest is pushed against them to keep them in place.
COZY AND INVITING PORCH DECORATING IDEAS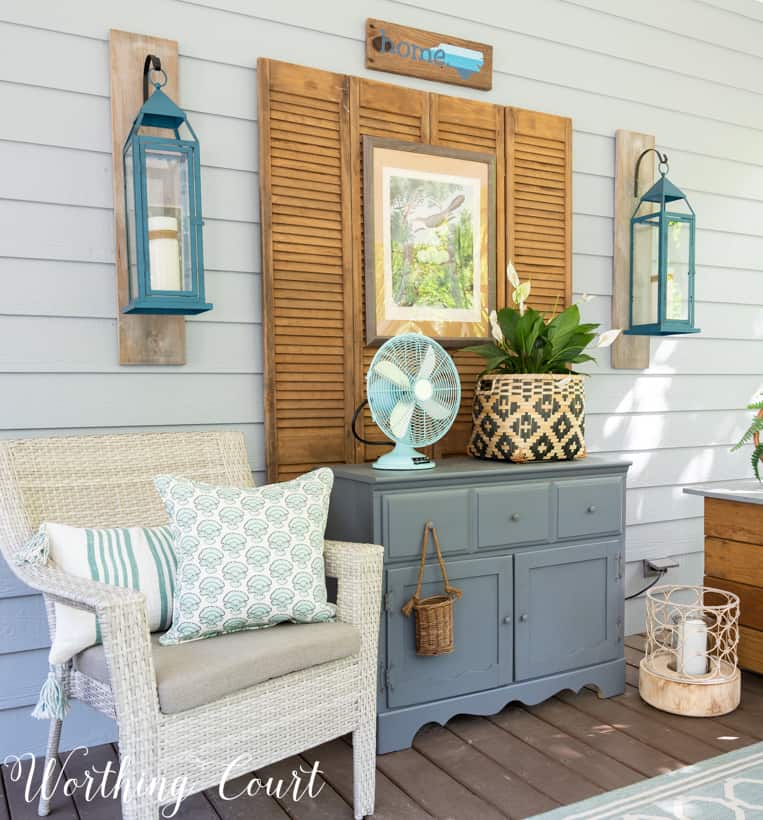 Pin
I added hanging plates to the shutters flanking the mirror in my dining room, by adding a plate hanger to each plate and running a thin piece of wire through the slats and twisting it together in the back.
If I really want to add some extra dimension and texture, I sometimes use suction cups or Command hooks to hang tiny wreaths on the front of the plates when doing seasonal decorating.
DINING ROOM MAKEOVER REVEAL – BEFORE AND AFTER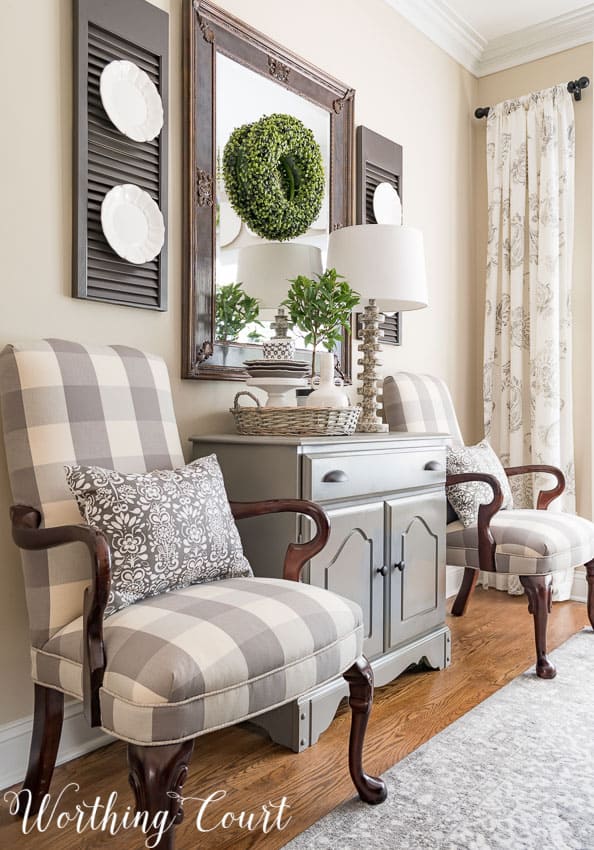 Pin
LANTERNS
Lanterns are super easy to fit into your decor!  I believe there's a style for every taste and budget out there.  Did you catch my previous post about the many ways you can decorate with lanterns?  It's full of lots of tips and ideas!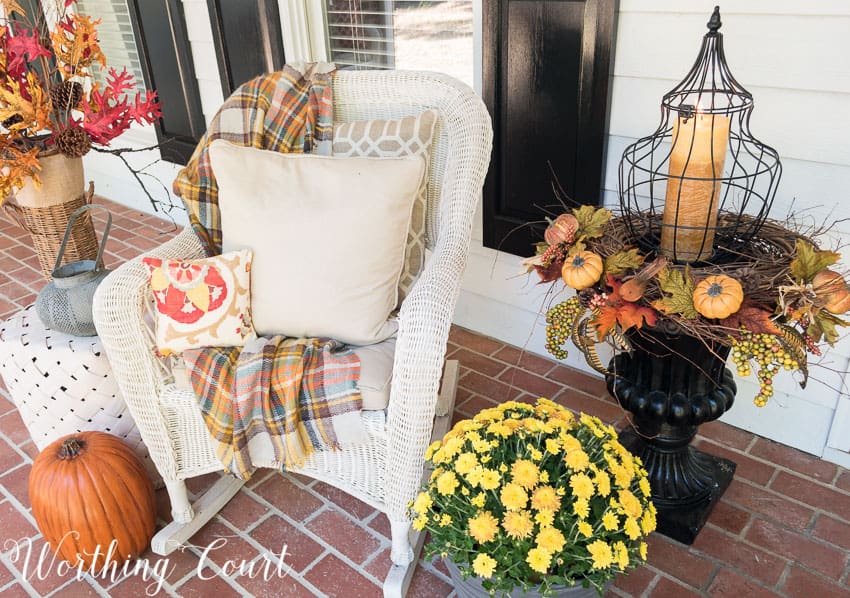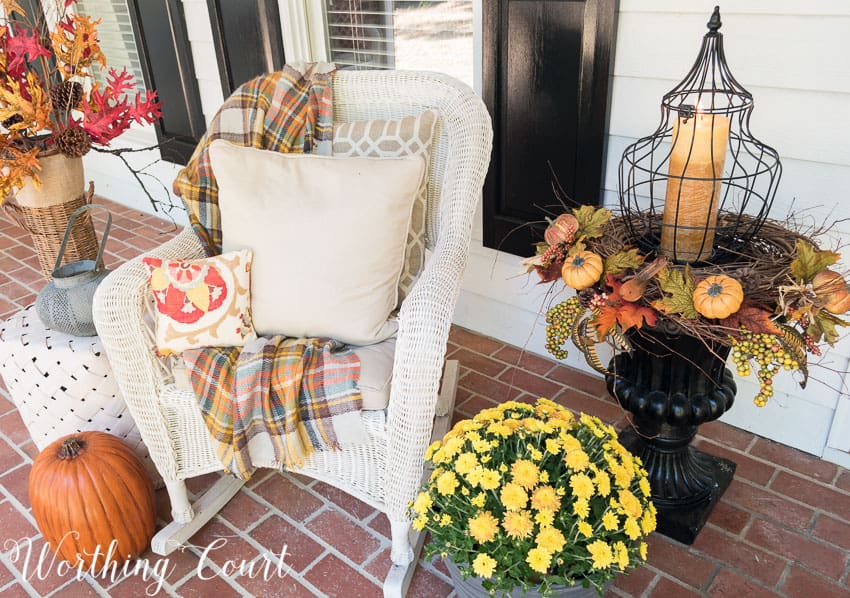 Pin
CANDLESTICKS
I like to keep a variety of sizes and shapes of candlesticks in my home's wardrobe capsule (I have a special affinity for chunky ones though!).  I have silver, crystal and wood candlesticks that I can easily tuck into a centerpiece or a vignette.  I'm always looking for a bargain as I rarely pay full price for them.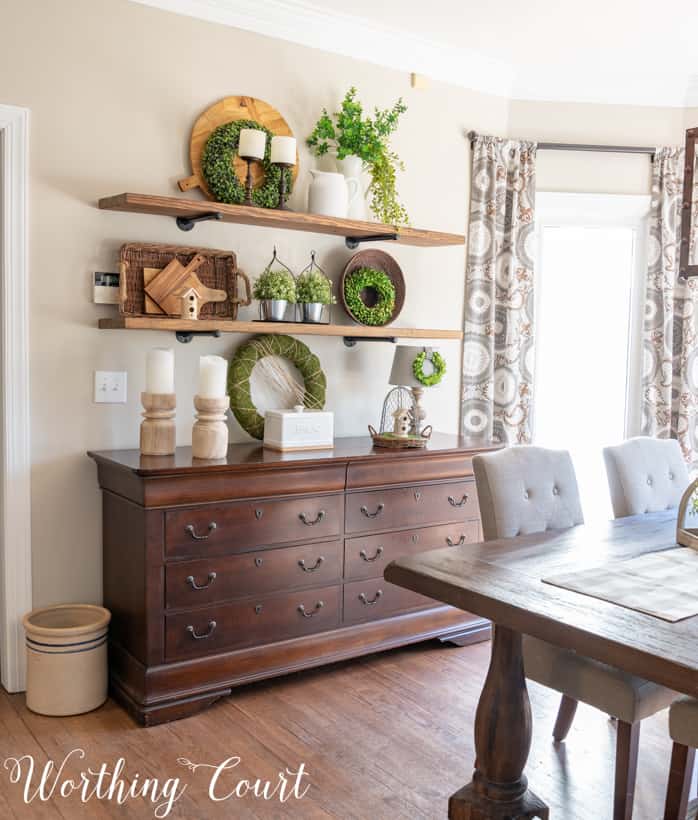 Pin
DISHES AND SERVEWARE
I love, love, love decorating with dishes!  I hang them on the wall, I stack them on a pedestal and I fill tool boxes with them on the shelves in my breakfast nook.  My everyday dishes are white – Mikasa Italian Countryside, but I love sprinkling in a few seasonally colored ones.  My favorite super affordable resource for dishes to decorate with is the dollar store.
COZY AND INVITING CHRISTMAS DINING ROOM

WREATHS
Oh, how I love wreaths!  I have them everywhere around my home.  It's really hard for me not to go overboard with them.
HOW TO STYLE A BOARD AND BATTEN WALL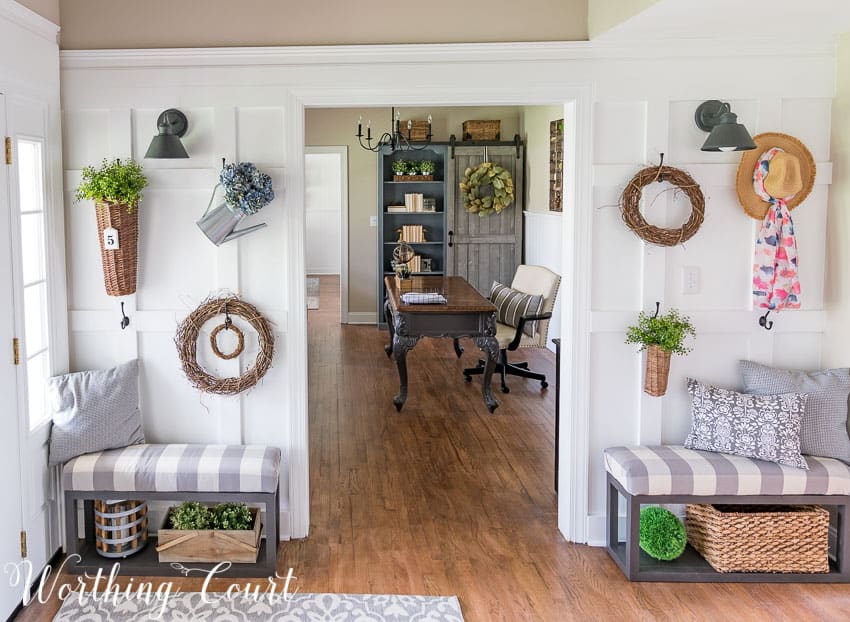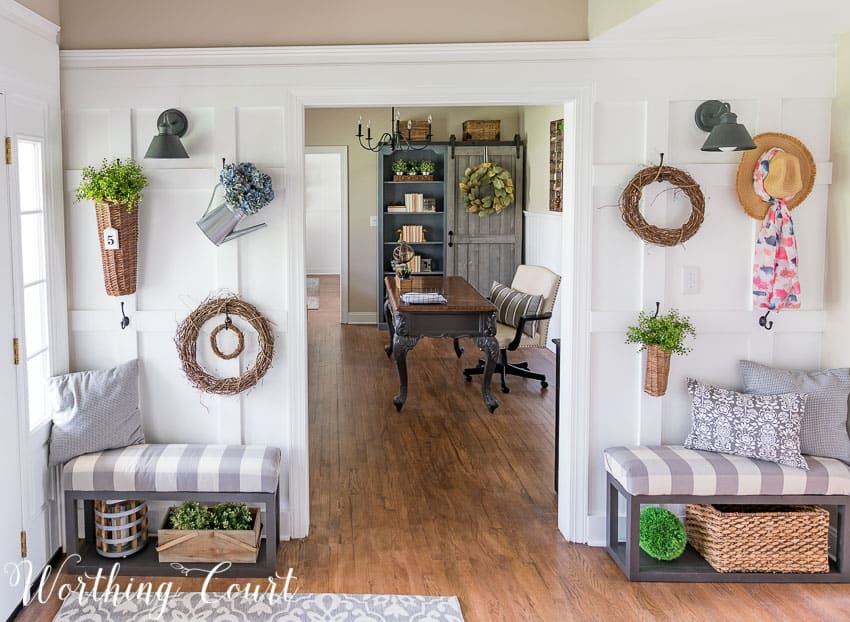 Pin
I keep a supply of wreath forms and grapevine wreaths in my stash so that I don't have to run out to the store every time I want to make one.
HOW TO MAKE A MOSS COVERED WREATH
Pin
When I'm shopping, I'm always on the lookout for a great price on certain items that I'll be able to use over and over to give the decor in my home a fresh look!  How about you – do you have favorite decorating staples that you like to use?