How To Decorate With Lanterns – Tips And Ideas
Lanterns are a home decor staple that you should be sure to include in your home decor capsule.  Whether being used to shed light or simply to occupy a spare corner, they bring plenty of literal and figurative light and ambience to any space.
I adore decorating with lanterns!  There seems to be no end to their versatility.  I never tire of dreaming up new displays for them and use them all over my house!  I love them in every color, shape and size and don't see any sign of them falling out of favor in the world of home decor.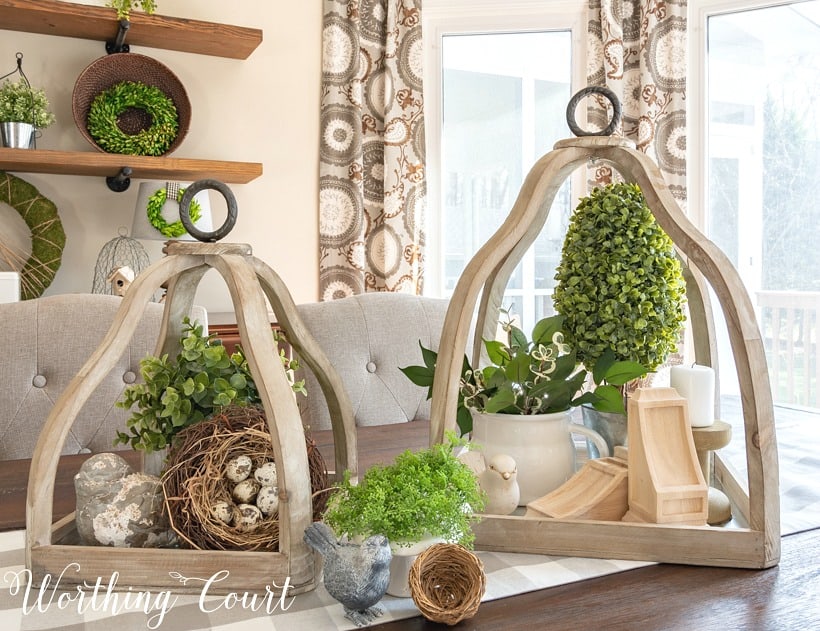 Lanterns are one my favorite accessories to decorate with because you can do so much with them – you're only limited by your imagination!  You can use them for a year round display or change them up for every season and holiday.
They're available in pretty much all sizes and styles to fit it with any type of decor.  You can spend a much or as little as suits your pocketbook – of course I'm always on the lookout for a bargain.  😀
I've been collecting lanterns ever since they hit the shelves of my favorite home decor stores and have accumulated quite a lantern collection.  I never miss an opportunity to browse the lantern aisle – you never know what you might find!
Let some of the ways that I've decorated with lanterns in my home inspire you in yours!
Talk about versatility and using your imagination!  Let's start out with one of my most favorite and most popular diy projects – this easy hanging lantern display that I added above the wooden sideboard on a long wall in my dining room.
Don't for one second think that placing a simple white candle in your lantern will be boring.  When lit, the simple white battery operated candles in these lanterns give off a nice glow and give the whole room great ambiance at night.  The candles even have a timer so that they automatically come on and turn off!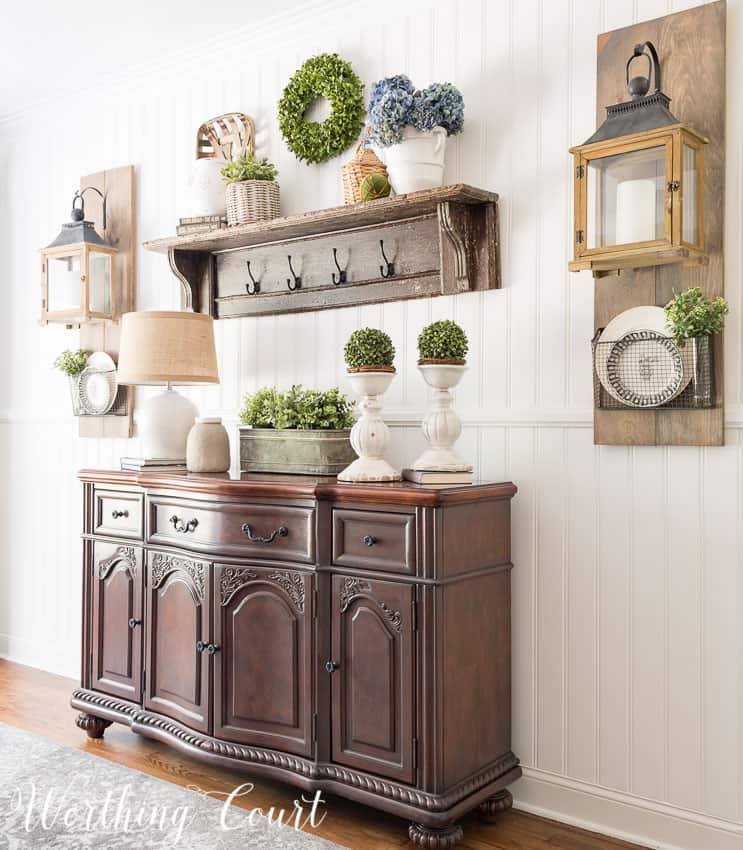 When you dress up a lantern in other ways, a simple white candle is all you need!  Something as simple as tying sprigs of greenery and pinecones to the top of the lantern with pretty ribbon dresses it right up.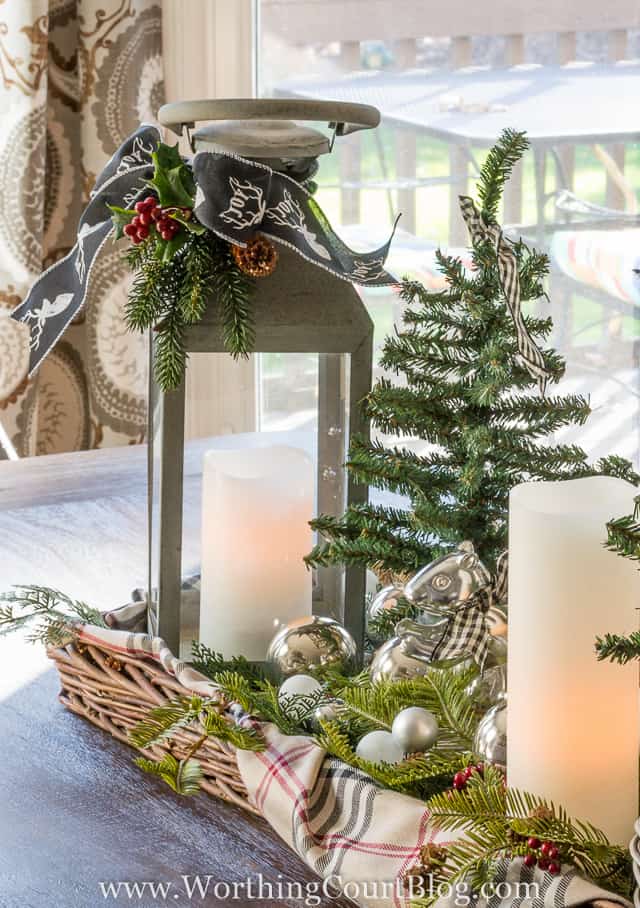 What's better than decorating a lantern with a single white candle?  How about a whole trio of them!  I love, love, love using over-sized lanterns.  They're great displayed on the floor, on your porch, in the center of a table – any place that you want to make a real statement.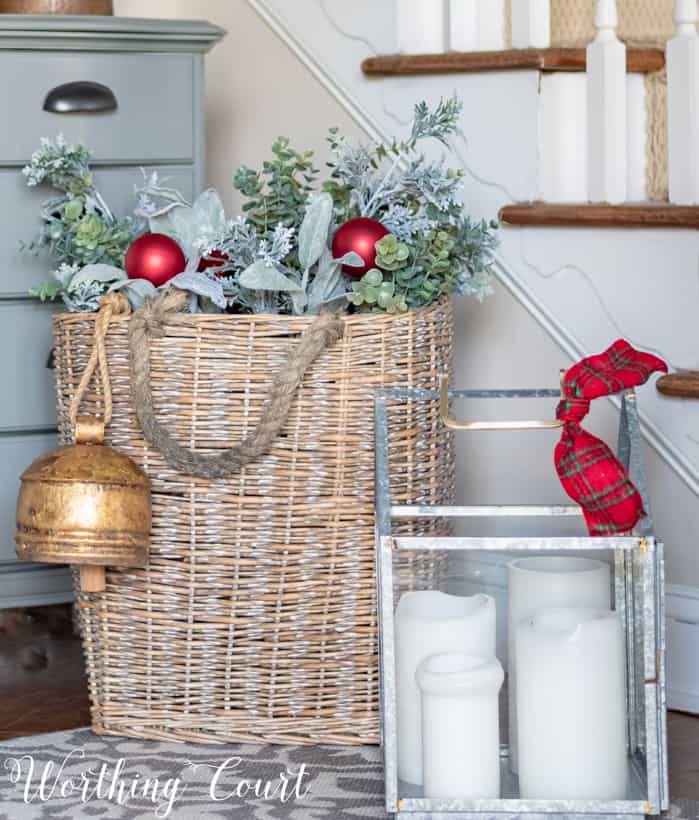 When a little extra punch is needed, I especially love to tie twine around each of the candles for added texture and interest.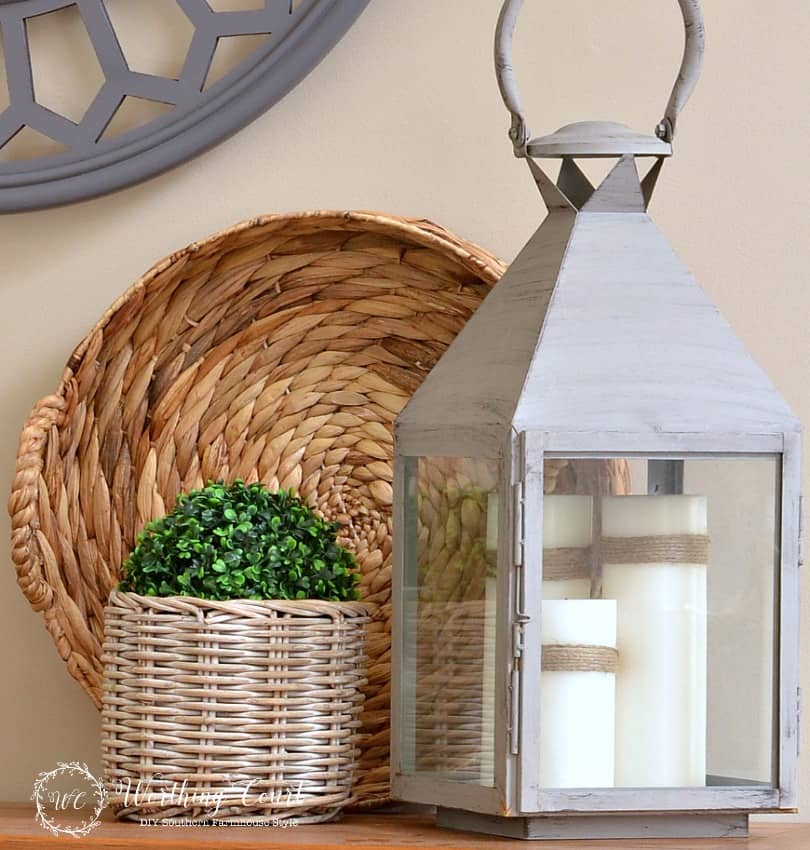 Here's another example of what a great statement you can make by using over-sized lanterns.  The Christmas decorations in my friend Nancy's foyer certainly wouldn't be quite as dramatic without the large lanterns.
Notice that the way that she placed the lanterns on one end of the console table reinforces the angle of her stairway.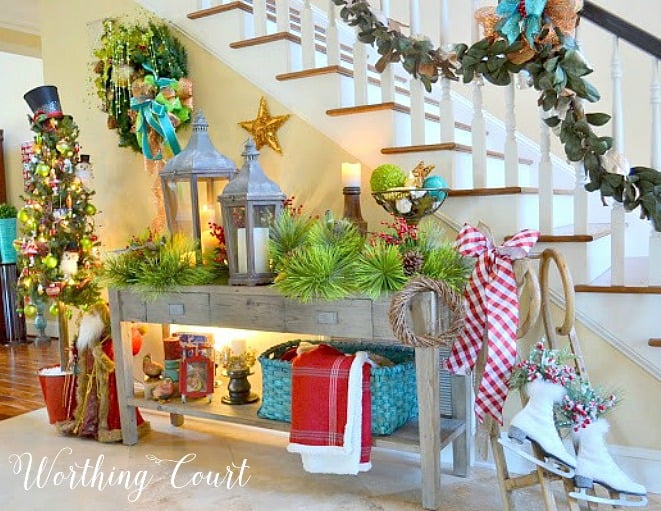 Here's another statement-making idea.  When you're setting a tablescape just for ambience, look at all of the drama that the use of large lanterns adds to a small table.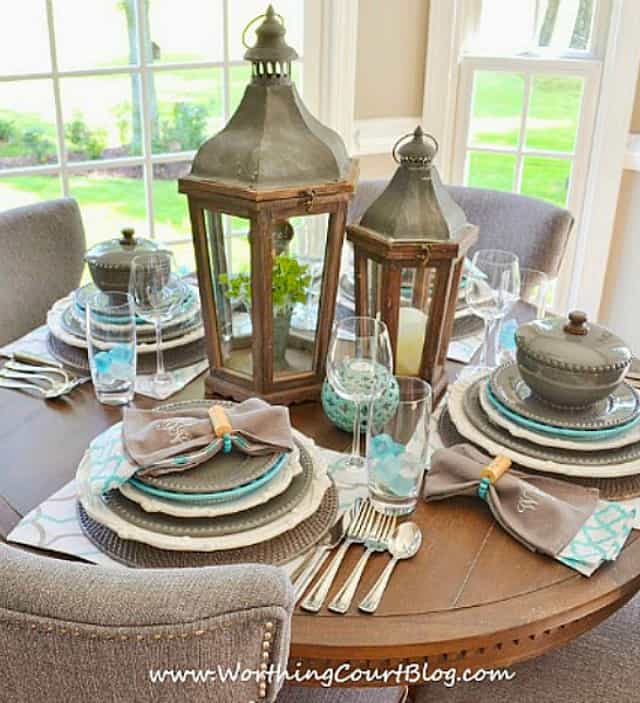 LANTERNS AREN'T JUST FOR CANDLES
What can you fill lanterns with besides candles?  Well….anything!  Candles are easy, but you can do so much more with them.
I love to pull all sorts of items together to create seasonal displays!  It doesn't have to be complicated though – just gather whatever goodies you have stashed away and combine them together in your lantern.
As a centerpiece for an Easter tablescape, I filled a pair of large open lanterns with a mix of decorations geared towards the holiday.  The tablescape itself, was pretty simple, but the addition of the lanterns gave it drama.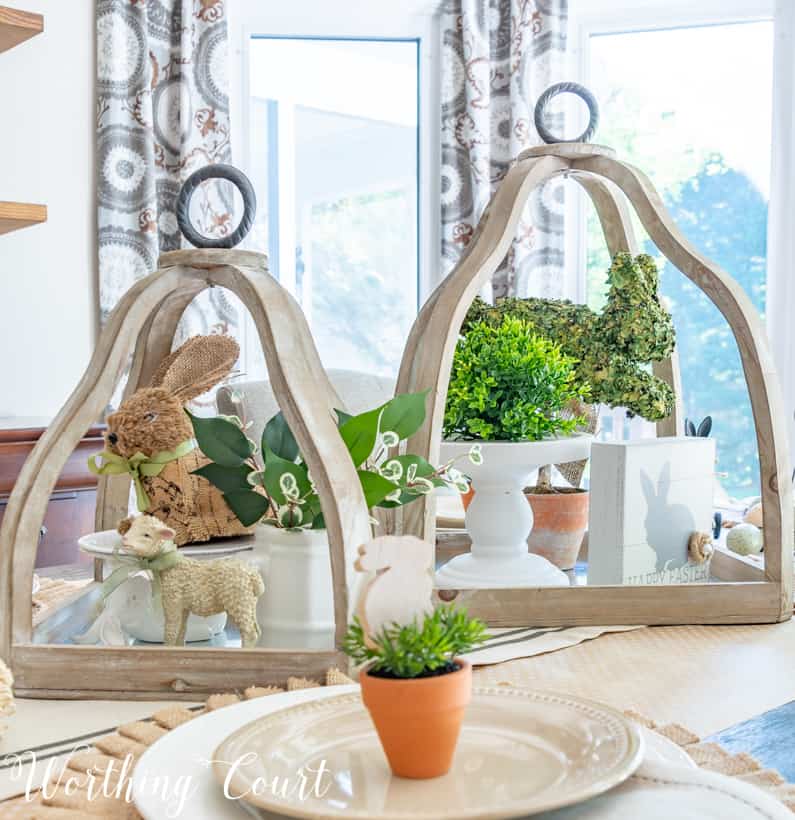 Even Uncle Sam got into the act in a lantern that acted as a centerpiece on a table that I set for July 4th on our screened porch.
One more idea is to put a lantern within a lantern.  The lanterns that you already own may be silver, black, wood or white, but this is a great way to add a pop of color and tie them in with the rest of your decor.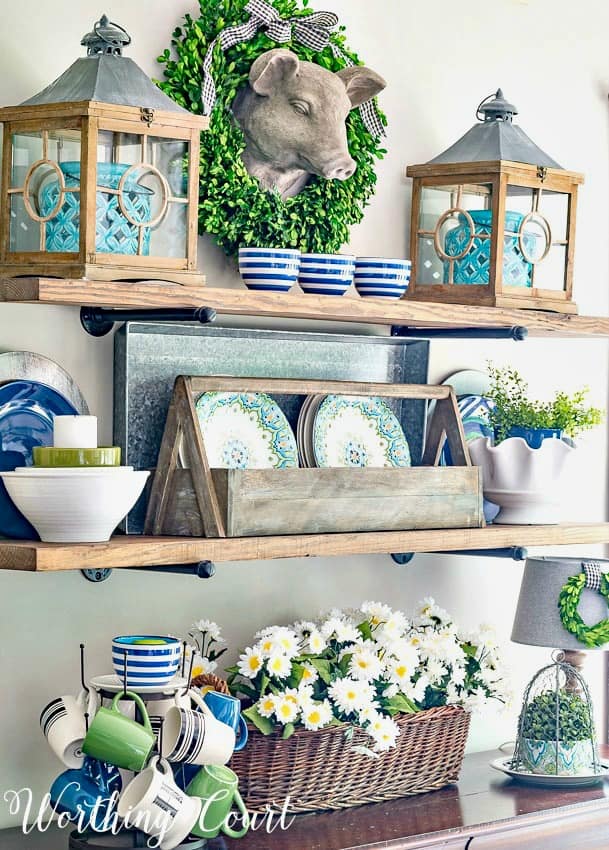 Call attention to a lantern by displaying it in an unexpected way, such as how I placed this lantern inside of a crate on my fireplace hearth.  I think the overall effect is much more eye-catching and appealing than the display would have been with just the lantern alone.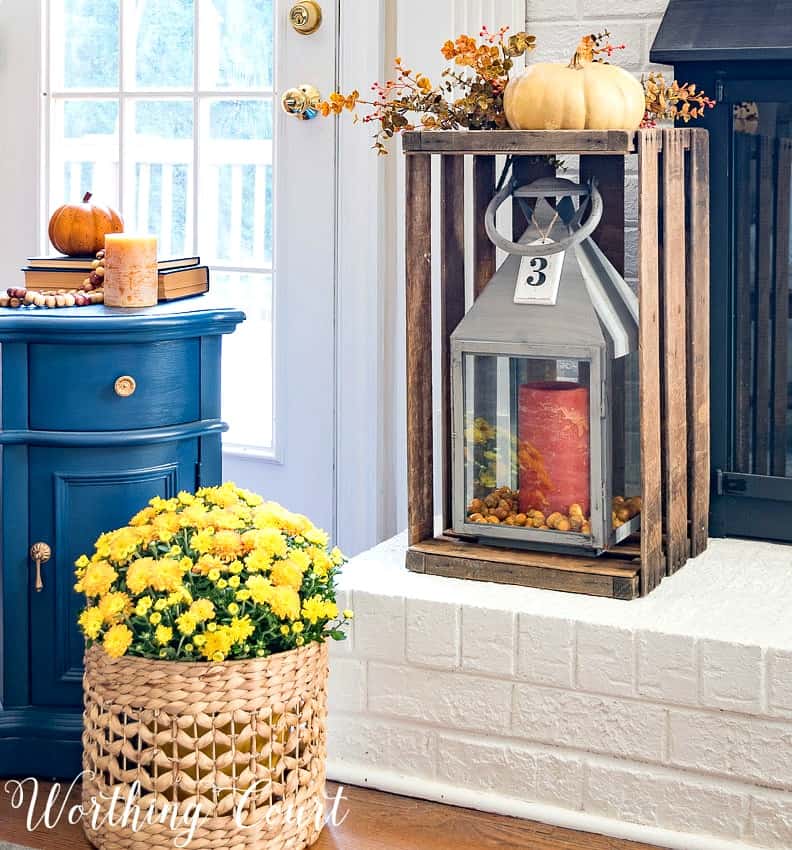 I have a pair of square lanterns that I adore.  At Christmas, they look great in the middle of a table filled with miniature Christmas trees.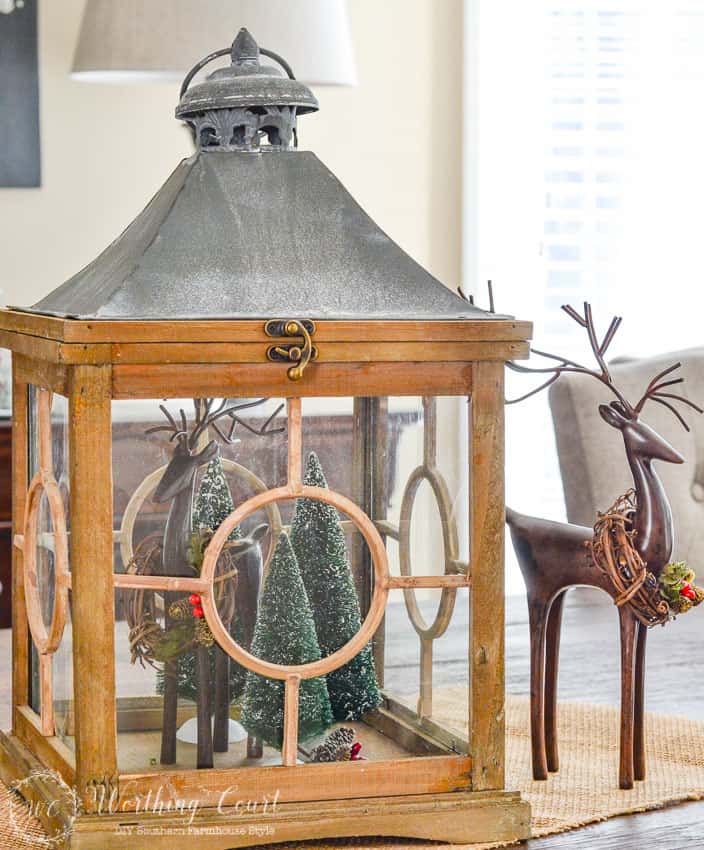 For one spring and summer look, I filled a large square lantern on the shelves in my breakfast area with a stack of plates, a pretty blue bowl and faux succulents.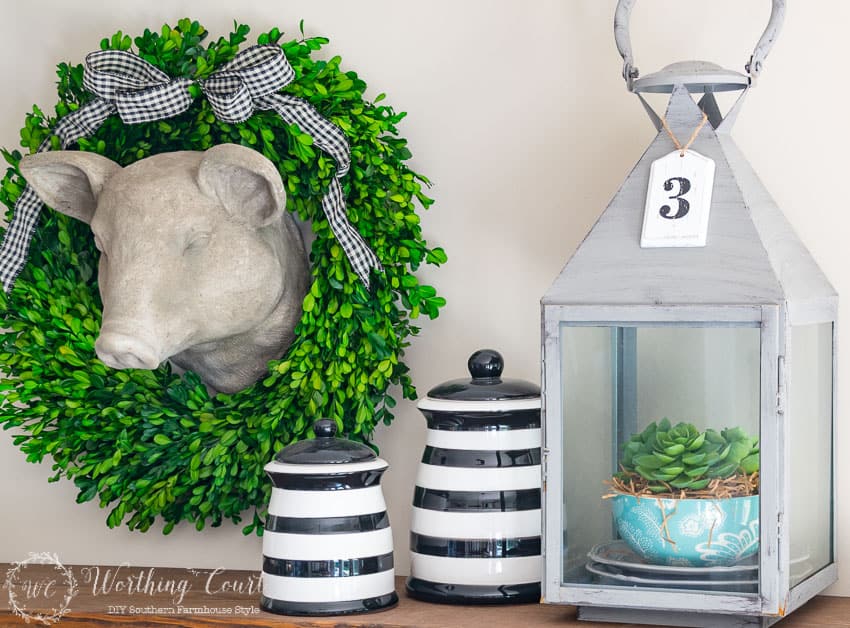 DECORATE WITH LANTERNS OUTDOORS TOO
So far, I've only talked about decorating with lanterns indoors, but they're for outdoor use too!
I used lanterns in another unexpected way on my fall front porch.  I started off by flanking my front door with a pair of black urns filled with wire lanterns and a fall colored candle, then added a grapevine wreath with a few fall picks tucked in.  This idea was a huge hit with all of you!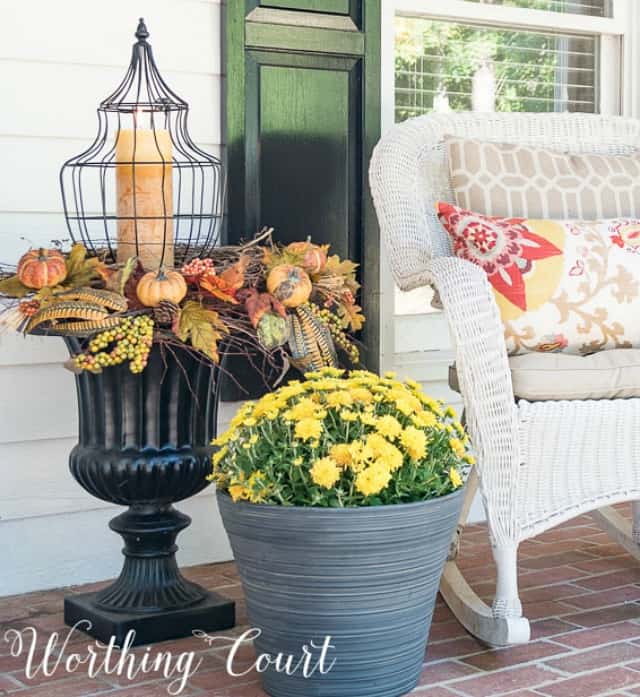 I used the same lanterns in a slightly different way for Christmas, by placing them into wooden planter boxes and surrounding the lantern with faux Christmas greenery, topped with a grapevine wreath and a few Christmas baubles.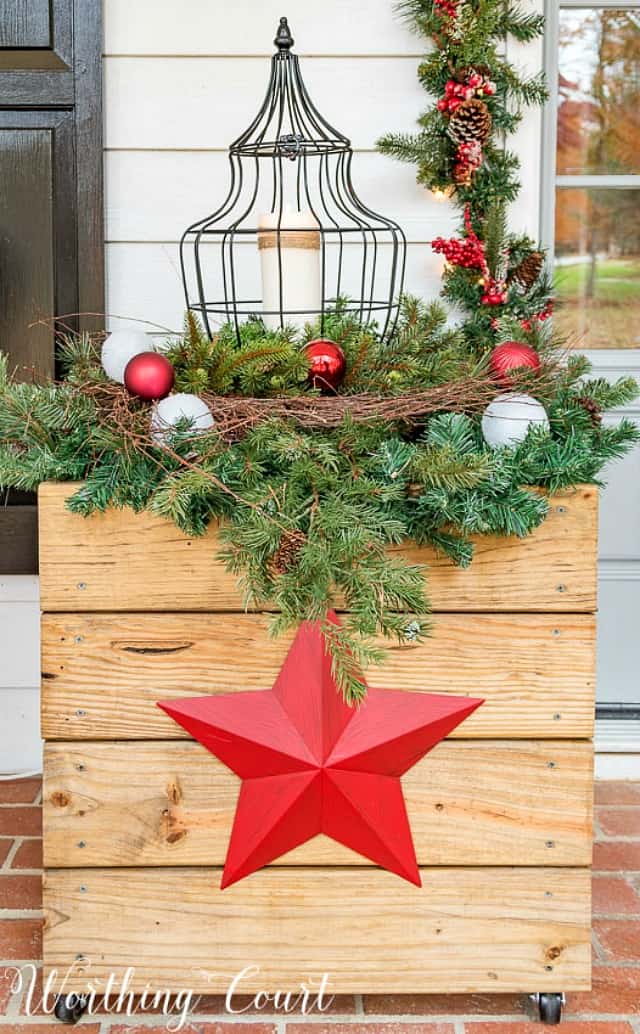 Here's another over-sized lantern that's displayed on a deck outside filled with decorations that reinforce the outdoor vibe – a mossy branch, a bird and a potted plant.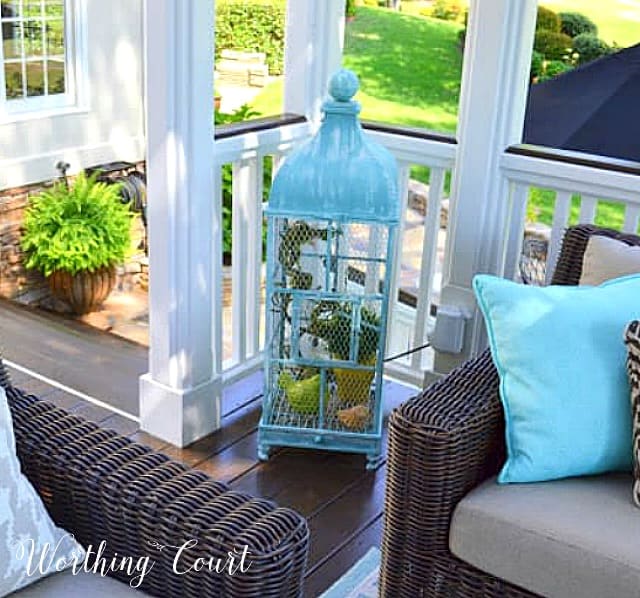 These are just a few of the many ways that I love to decorate with lanterns!  Have I made a believer out of you yet?  Gather up a lantern or ten and have some fun!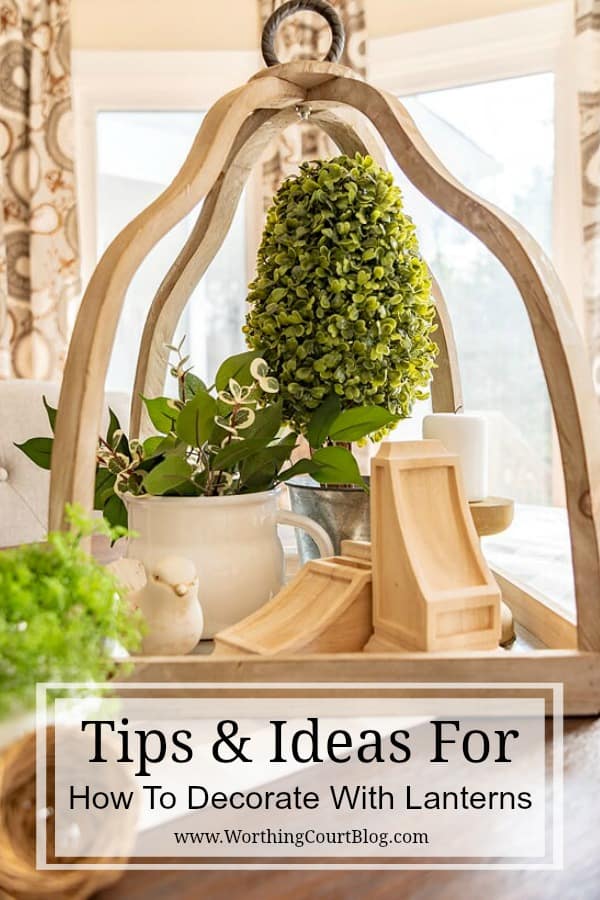 First Published: July 28, 2016… Last Updated: June 24, 2019