Driftwood is a very popular finish for furniture and home decor, but it isn't always easy to find. Here's an easy 4-step formula to get the look of driftwood when you can't find exactly what you're looking for.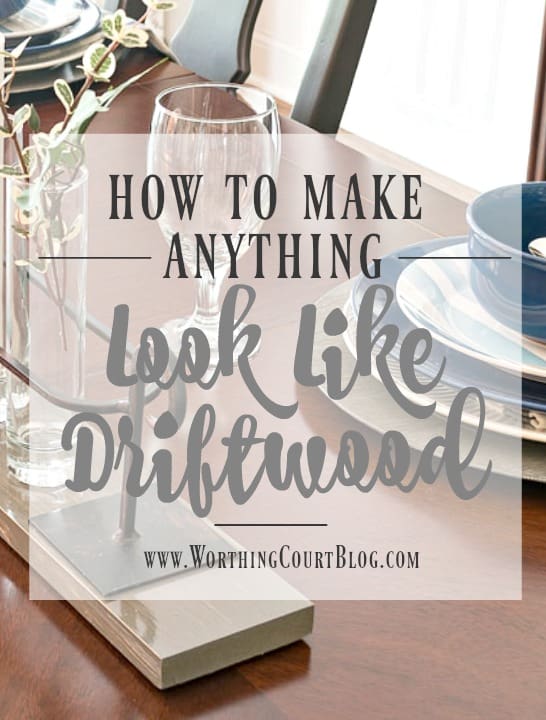 I love driftwood, don't you? It's soft gray, weathered look blends well with anything and everything. Sadly, real driftwood has become scarce along the beaches of North Carolina in recent years. Everybody is on the lookout for it, so if you happen to find some, be sure to grab it! I have several pieces that I inherited from my mom that I would never give up. Yep – real driftwood is that "valuable" to me! 😀
Just because I can't find the real thing very often, doesn't mean that I can't recreate the look though. I love incorporating the look of driftwood with furniture pieces and with my home decor accessories. Using real driftwood pieces can be awfully pricey though – if you can even find it. So, after lots of experimenting with different techniques, I've come up with an almost too-easy-to-be-true formula to get the look and you can use it on anything!
I most recently used my faux driftwood formula on the table setting for my summer dining room. Would you believe that the chargers under each place setting are plastic and used to be shiny gold? And that the piece of wood under the centerpiece is just a scrap of wood that we had lying around. You can't see it very well, but I gave the faux driftwood treatment to it also.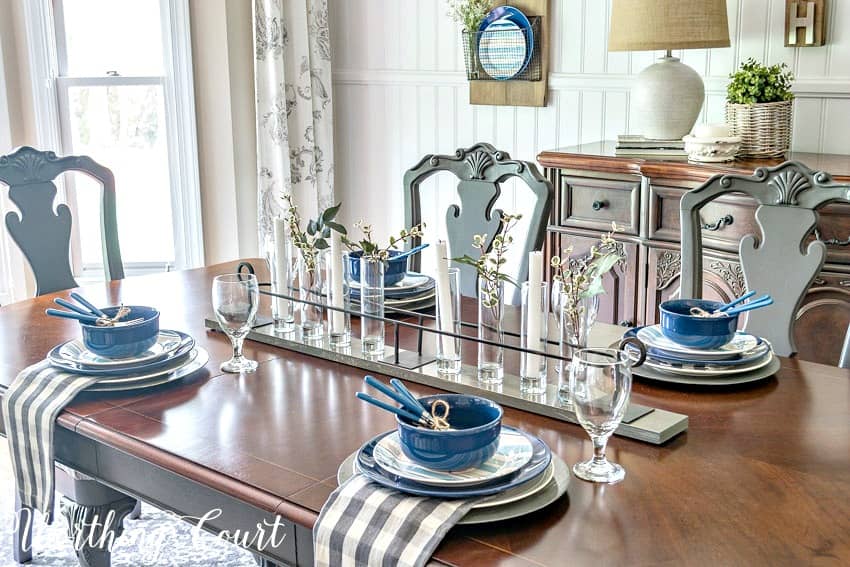 MY LATEST VIDEOS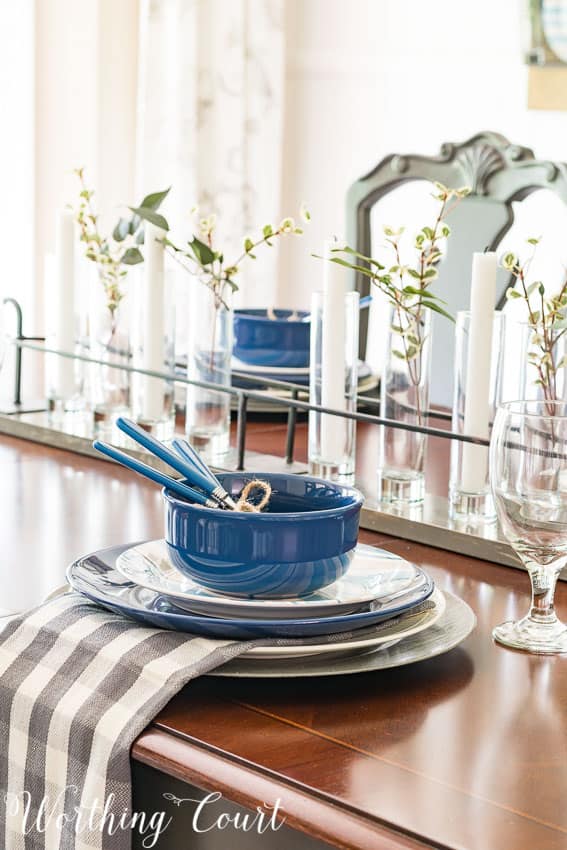 I used my driftwood formula on two different pieces that are part of the gallery wall above the sofa in our family room. One was on the picture frame that is holding the fiddle leaf fig print and the other was on a wooden arrow. The picture frame was originally black and the wooden arrow is made from unfinished wood.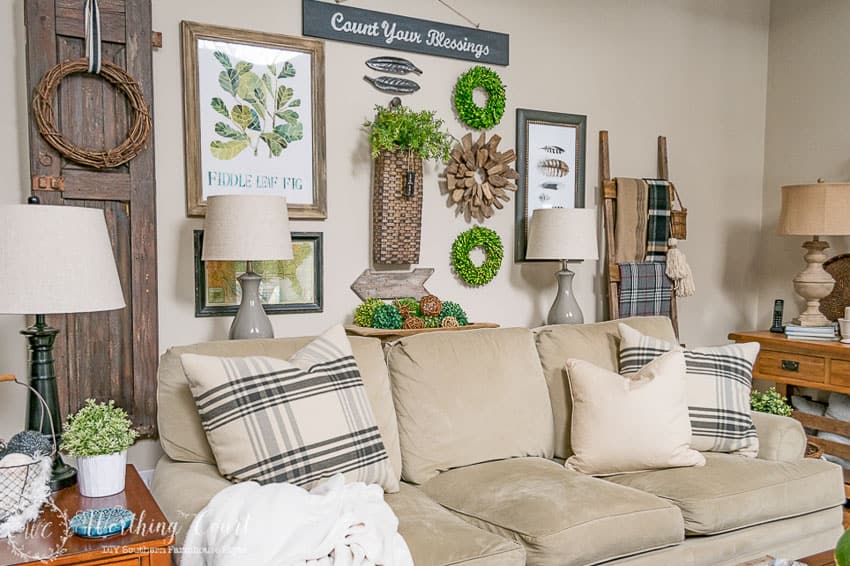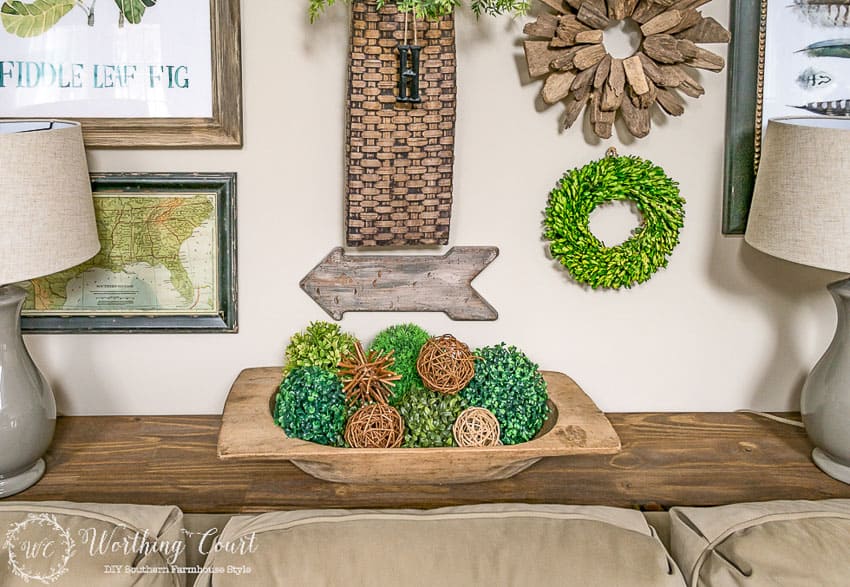 I get lots of questions about these candlesticks any time they make an appearance in a blog post. I bought them on clearance and they were originally painted red, green and yellow. Now that they look like driftwood, everyone wants to know where I found them.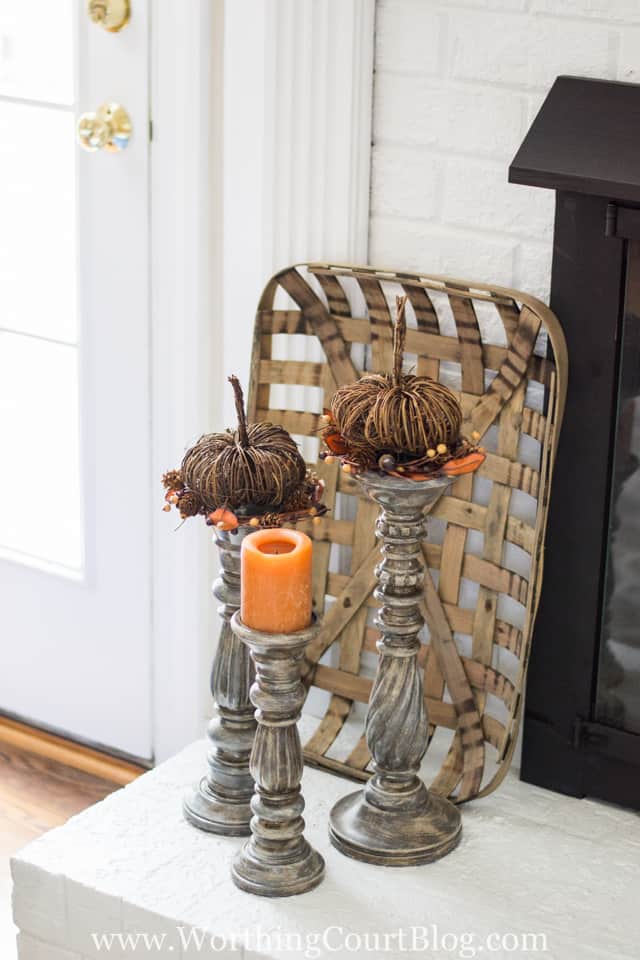 Using my shiny gold chargers as the example, let me show you just how easy my driftwood formula is!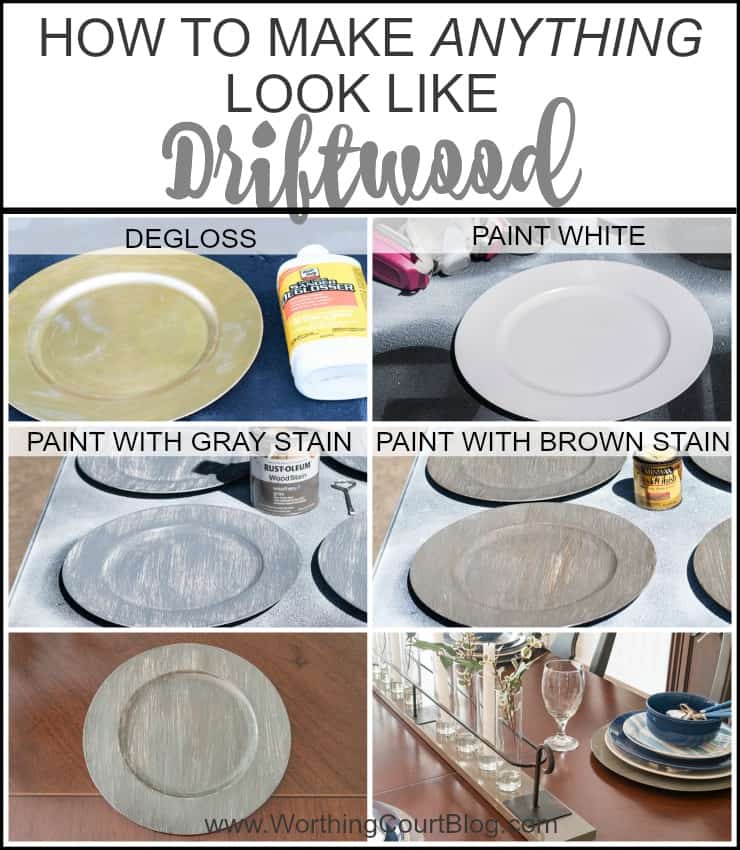 STEP 1: If the surface of your object is shiny, wipe it down with liquid sander/deglosser and allow it to dry. Liquid sander/deglosser can be found in the paint department of any big box home improvement store.
STEP 2: Paint the object solid white and allow it to completely dry. You can use spray paint or paint from a bottle or can.
STEP 3: Apply any brand of gray stain over the dried white paint. Make sure to keep all of your brushstrokes going in the same direction.
STEP 4: While the gray stain is still wet, apply a coat of any shade or brand of brown stain over it – again keeping the brush strokes going in the same direction. Allow the piece to completely dry before using! Seal with a matte sealer, if you choose, but allow the piece to completely dry once again before using.
A few tips:
Any shade of brown stain will work, but I would avoid an ebony or red mahogany shade to get this look.
If you don't want to wind up with shiny "driftwood", be sure that the white paint you use has a flat finish.
I like to apply the brown stain while the gray stain is still wet. The two kind of meld together and I believe it gives a more realistic look to the finished product.
I use an inexpensive chip brush to apply the stain. In fact, I use the same brush for both stain colors. You may want to pour some of the brown stain into a separate container if you use the same brush for both colors. That way you won't "contaminate" the whole can of brown stain with gray stain or vice versa.
Don't be afraid to add more gray or more brown to get the look that you're after. There have been times when I've added more stain even after I thought the piece was finished and everything was dry.
I've tried mixing up the steps for which color to apply when, but I think this method works the best.
So, tell me – are you a driftwood lover too? Do you find yourself scouring the beaches looking for driftwood whenever you get a chance?