Deck Decorating Ideas + A Simply Stunning New Deck – Before And After
Whether your deck is large or small, simple or elaborate, new or already established, use these 7 deck decorating ideas to create a deck perfectly tailored to your taste and to your needs.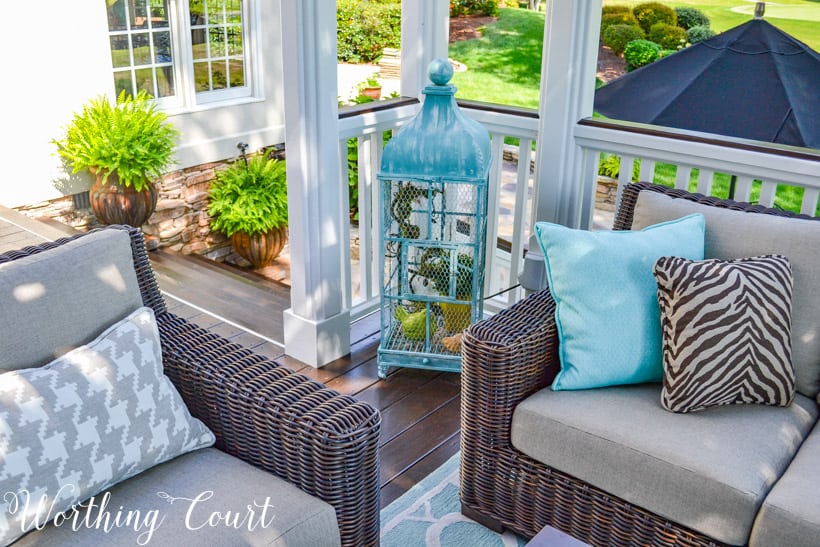 My back deck is a bit of an odd shape, is one blank space and is boring, boring, boring. Honestly? I quite simply am stumped as to what to do with it!
My friend Nancy has a beautiful home which I've featured here several times, so I've decided to use her gorgeous deck for inspiration!
My outside deck doesn't have the architectural details that her deck does, but when it comes to my own deck design, I can still look to hers for inspiration.
EXAMINE YOUR SPACE & TAKE STOCK
Before you rush into anything, closely examine your deck space and take stock of what you already own.
Do any repairs need to be made?
What function(s) to you want the deck to serve?
How many people would you like to be able to accommodate?
What do you already own that you can continue to use or repurpose?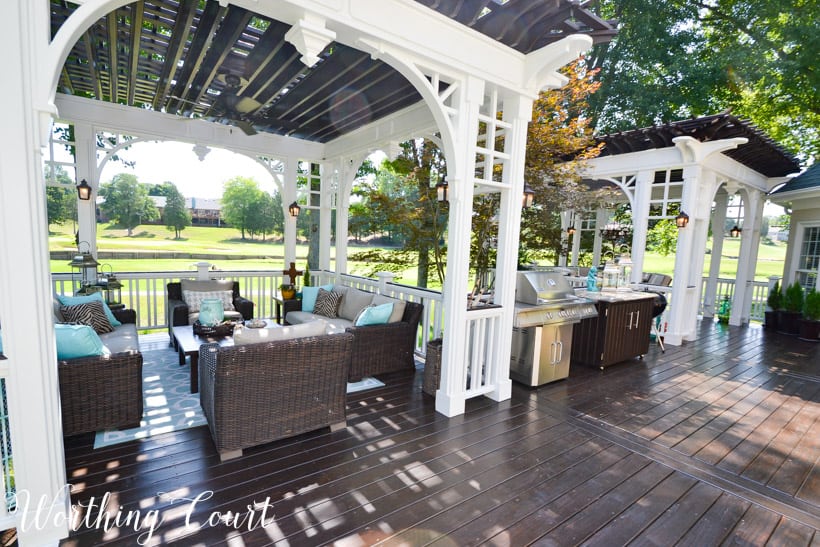 SELECT A COLOR & A DESIGN THEME
This is an important step to avoid having your deck become a hodgepodge of random stuff. A color and design theme will set the tone for your entire outdoor space!
If you aren't sure where to begin, there are multiple places you can look for deck decorating ideas:
the landscape and/or flowers around you
an outdoor throw pillow or area rug
mimic the theme on the interior of your home
often times your favorite vacation destinations, such as the beach, can become the inspiration for a theme.
Creating a design board for your deck is the best secret to creating a cohesive design and bringing your vision to life!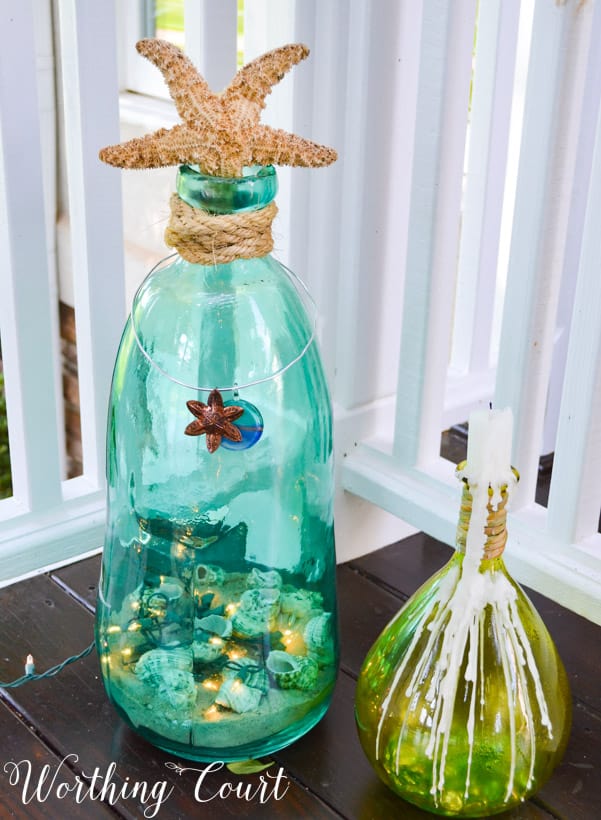 ADD ARCHITECTURAL DETAILS
If your deck is feeling a bit too plain no matter what you do, consider adding architectural details. You can make those details as elaborate or as simple as you'd like!
Here's just a few ways you can do that:
use pieces of wood to wrap the top or bottom of posts
use lattice to create a privacy panel at one or both ends of the deck
add decorative caps to the top of posts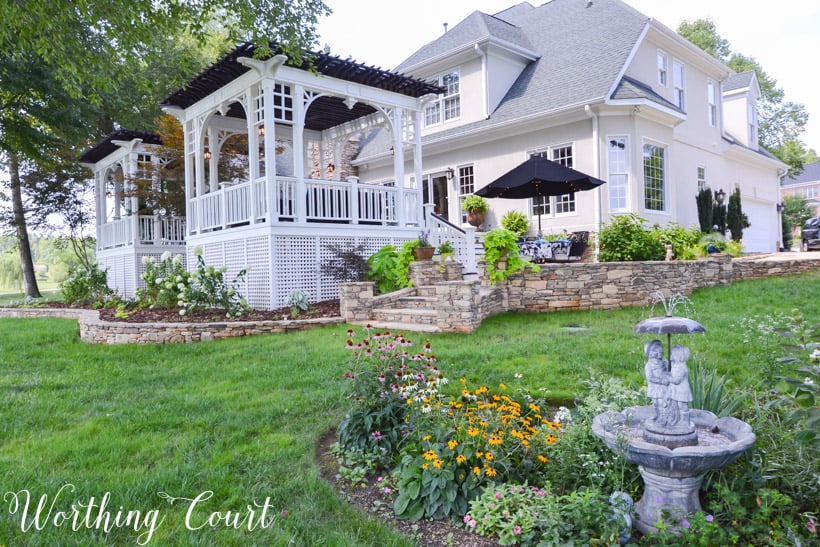 CREATE ZONES & DECIDE ON A LAYOUT
This goes back to determining the functions that you want your back deck to serve.
Do you need a dining area?
Do you need an area for cooking?
Do you want a fireplace or firepit area?
Do you want an area to watch an outdoor tv or outdoor movies?
Once you've created the zones you need, use pretty rugs and furniture groupings to define them.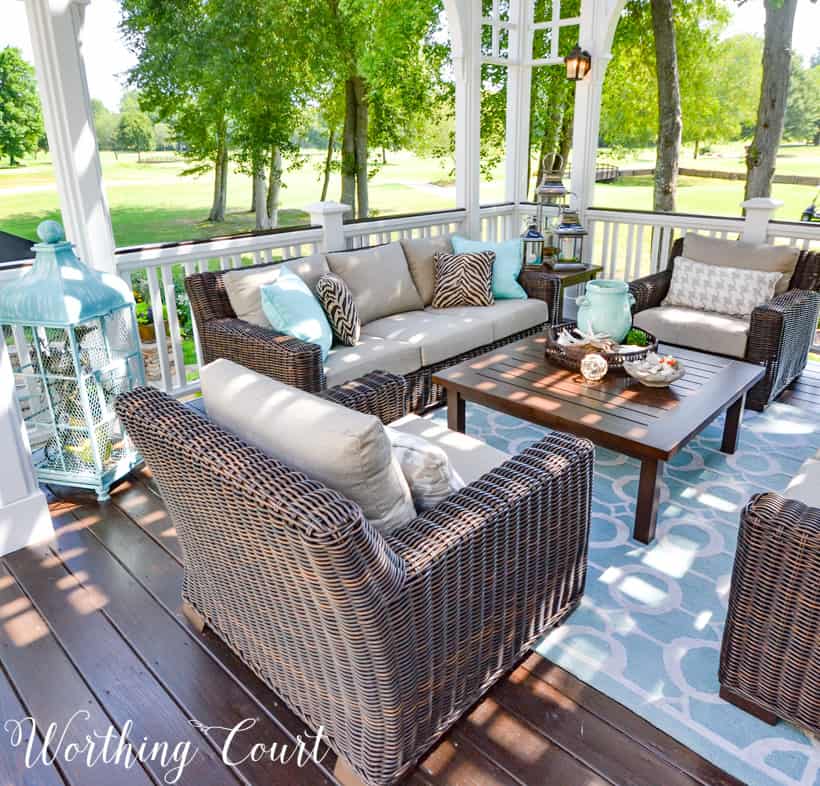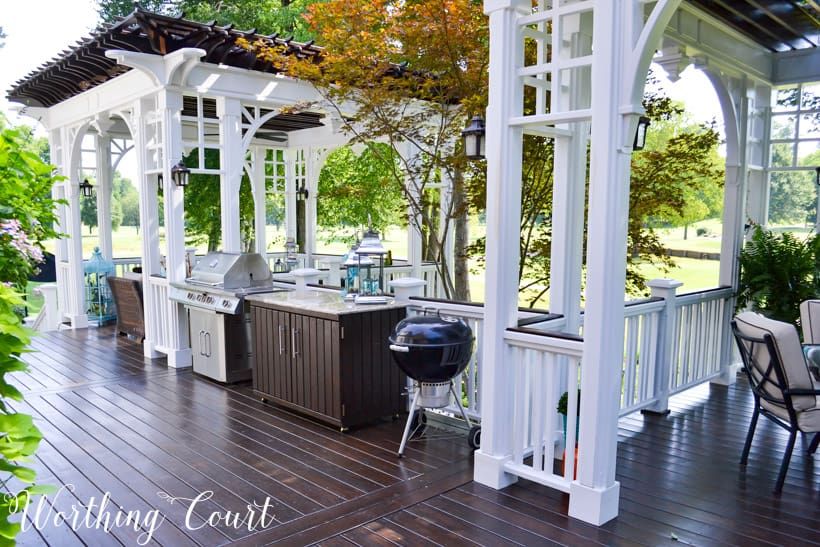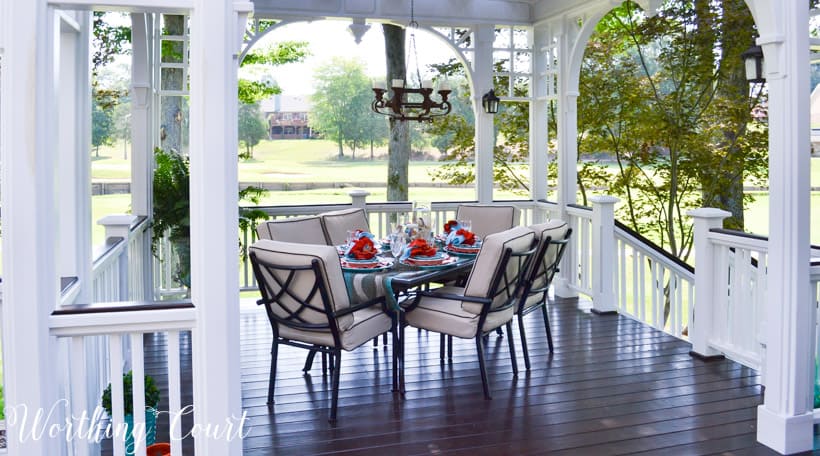 TAKE NOTE OF THE SUN
Pay attention to where the sun falls on your deck throughout the day. Depending upon what time of day you want to use your deck, you may need to add an umbrella, canopy or pergola.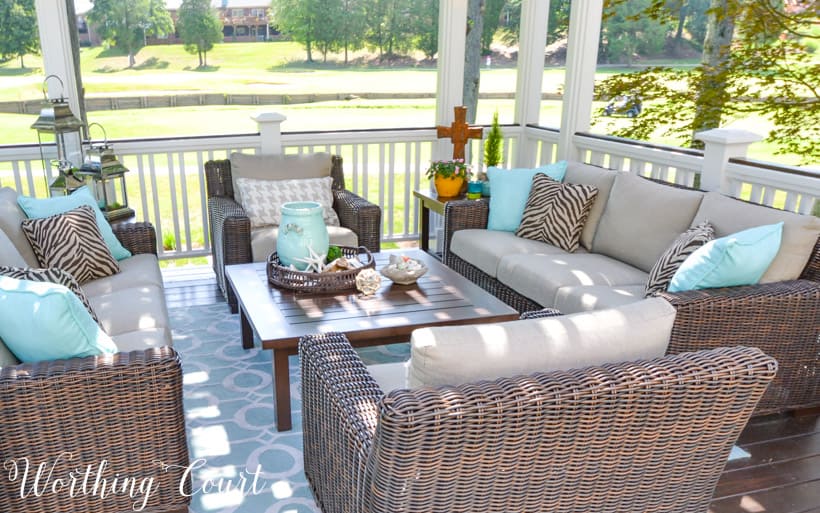 ADD LIFE
Add life to your deck and connect it to its surroundings by adding containers of plants and flowers. Select the same plants that you've used for landscaping in your yard for a truly cohesive look in the outdoor space.
TREAT THE DECK LIKE A SECOND LIVING ROOM
Now comes the really fun part of deck decorating by bringing some of your indoor touches outside! Be sure to look for decor items that can withstand the outdoor elements.
In addition to potted plants, try adding outdoor lanterns and trays, decorative outdoor pillows, and outdoor cushions and poufs.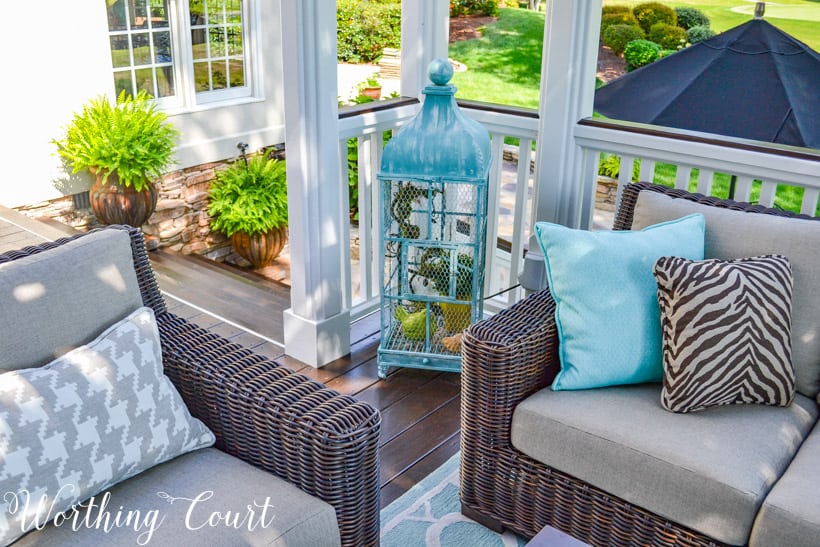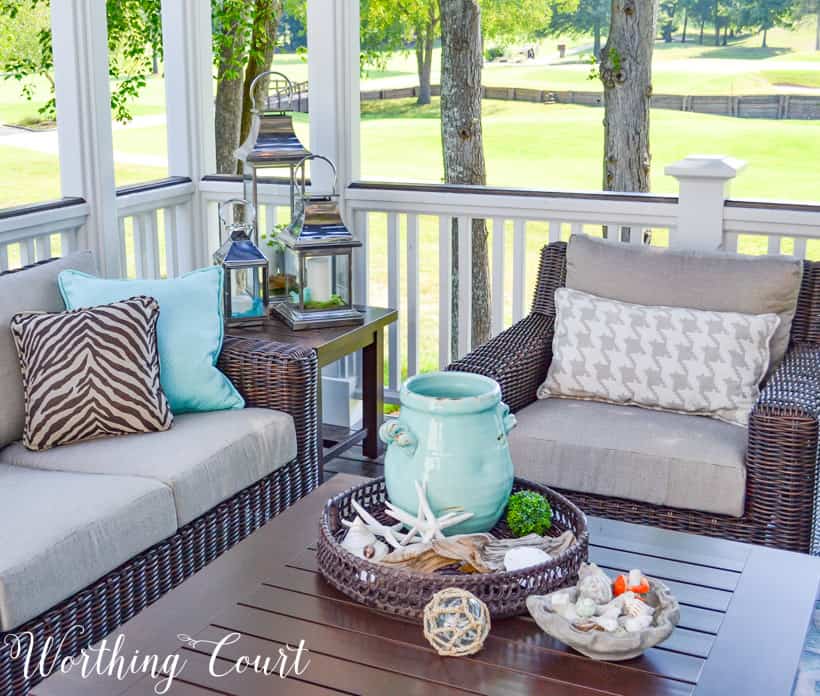 Now for the amazing before and after of Nancy's deck! After doing lots of research, Nancy completely designed the new deck herself!
BEFORE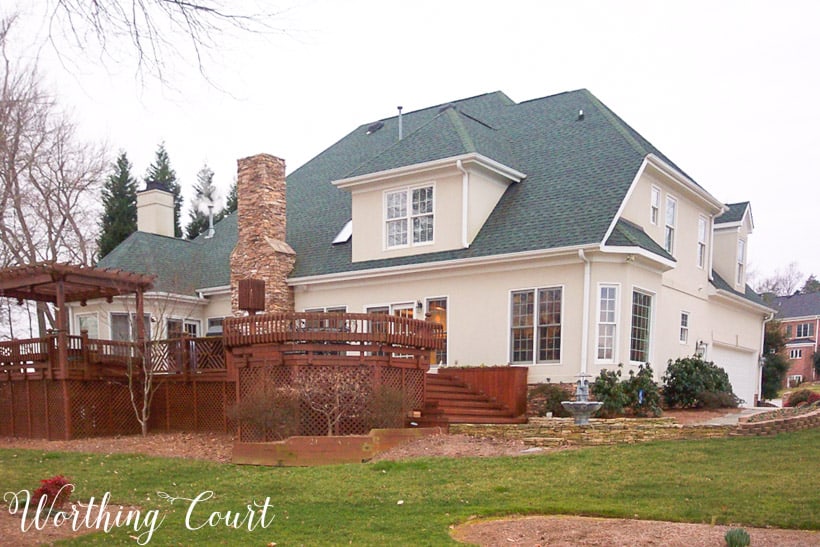 AFTER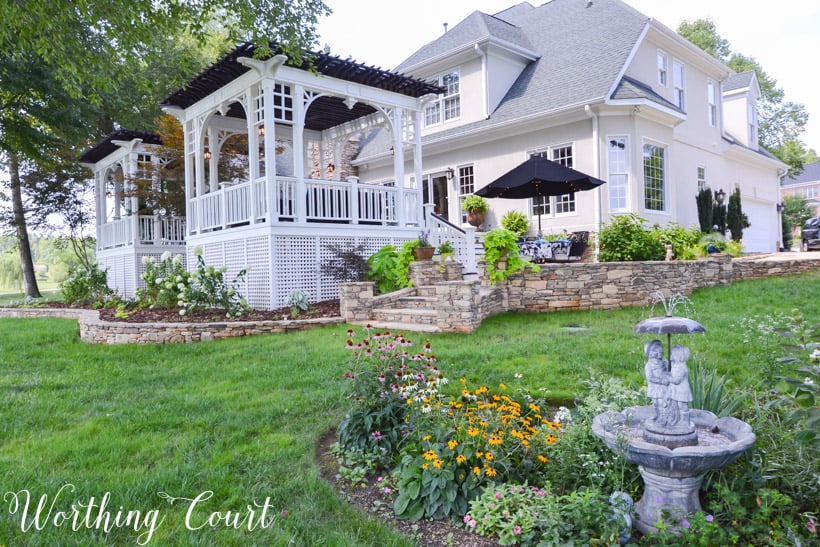 Simply stunning outdoor space, don't you agree?