My friend
Nancy has a gorgeous home
that's located on a gold course.  Naturally, she and her husband love to spend time outdoors enjoying the beautiful views, but their previous deck was
starting to show it's age and there were features that they just weren't crazy about anymore.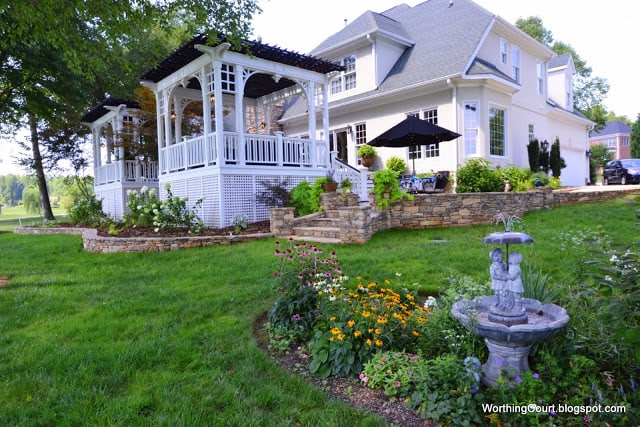 To be able to fully enjoy their outdoor space, Nancy designed a new deck herself after doing lots on online research and pulling all of her favorite components together.  She then put her design into the very capable hands of a local company who made her vision come to life!  As you look around, pay attention to all of the architectural details.
Check out the BEFORE and AFTER's down below.  You won't believe the difference!
The deck contains two pergolas and  the space between them was specially designed to accommodate the existing Japanese Maple tree.
Stepping out of the house through the french doors, the pergola to the right contains a lovely, shady dining area.
Here's a peek of the tablescape that Nancy set up in preparation for a dinner party that she was hosting.  Take a look at the rest of the tablescape HERE.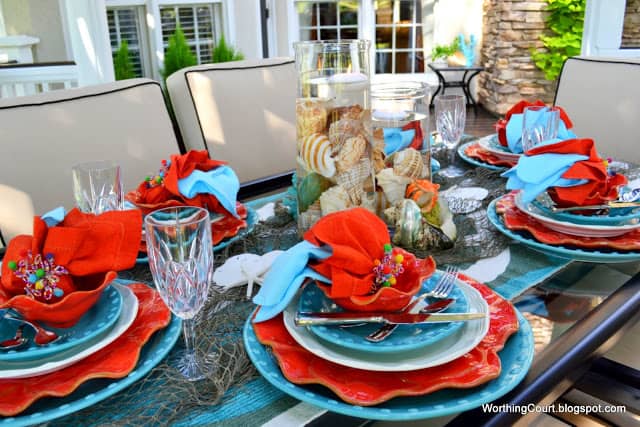 A lounging area is located in the pergola on the left.  Perfect for wiling away a quiet afternoon or evening.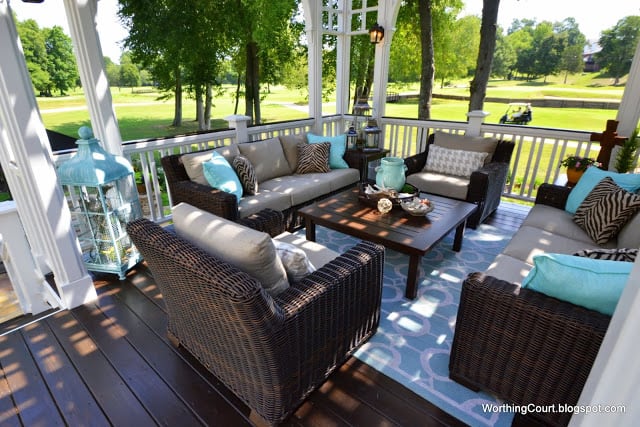 Could I take a nap here?  Only if you twist my arm!  😉
Nancy is a pro at styling her spaces, both indoors and out.
Light wrapped branches reside in a pretty basket in one corner…
…and this to-die-for birdcage resides in another.
My photo doesn't do it justice.
A cookout area, outfitted with a granite topped custom work station fits nicely between the two pergolas.
Nancy's special touches are everywhere!
The stacked stone chimney is dressed with a bountiful hanging basket.
Steps lead down to a flagstone patio.  This is where the another pretty table is set up.
The patio area can also be accessed from the driveway.
So tell me, if you were a golfer would you stop and pause in the shade of Nancy's lovely yard?
And listen to the cooling sound of sprinkling water?
I bet she'd offer you a cool glass of lemonade!
Here are a few before and after's just for fun.
BEFORE
AFTER
BEFORE
AFTER
BEFORE
AFTER