How To Protect What's On Your Porch From Rain
I often get asked how I protect my indoor lamps, accessories and furniture from the rain on my screen porch.  These are the tricks that I use.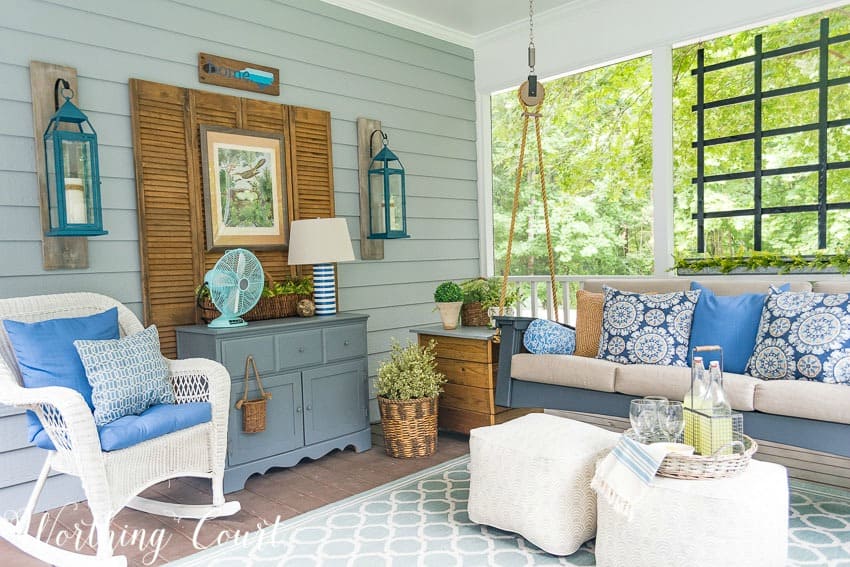 Pin
Can I share a secret with you?  Everything that I use on my screen porch isn't weatherproof.  ? I have furniture, a lamp and other accessories on my porch that aren't made for the outdoors. I've come up with a few tricks over the years to protect those items from the elements, so let me share them with you.
INDOOR FURNITURE
There are two ways that I protect the indoor furniture that I use on my porch:
EXTERIOR PAINT/STAIN: I would never place a piece of indoor furniture outdoors unless it was either painted or stained first with exterior paint or stain.  Depending upon the furniture, I might also seal it with exterior polyurethane.
When painting furniture for outdoors, I paint the areas that are visible, such as the top, front and sides, as well as the unseen parts, like the bottom and back.  It's very humid where I live, so painting every single side helps to protect the entire piece from moisture.  Depending upon the situation, I might opt to paint the interior of drawers and cabinets too.
PLACEMENT: I'm very careful with the placement of any outdoor pieces that I use.  I make sure to place those items in a location that doesn't get direct rain or sun.
The small chest on my screen porch is actually the bottom half of an old dining room buffet.  To protect it from the elements, I located it against the back wall of the porch, where rain doesn't get to it (unless we're having tropical storm force winds).  It's painted with two coats of Sherwin Williams Duration Exterior Latex in Network Gray and is also sealed with exterior polyurethane in a matte finish.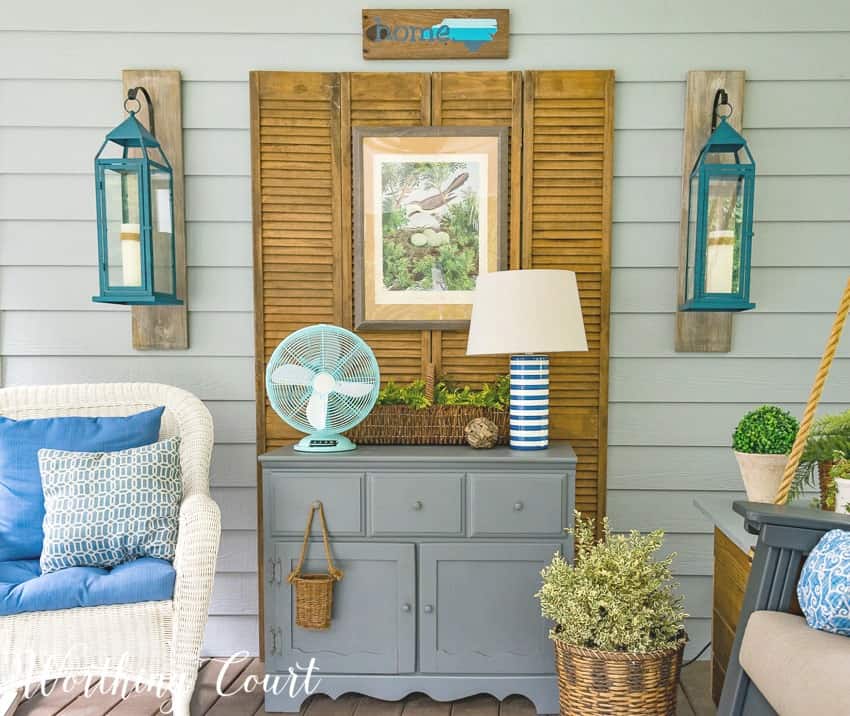 Pin
LAMPS & ANYTHING ELECTRICAL
I adore the ambiance of a lamp when sitting on our porch in the evening or at night.  There actually are lamps available that are made specifically to be used outdoors, but I've always found them to be a bit pricey and I enjoy changing my decor up too often to make a large monetary commitment like that.
To protect any lamps that I do use outside, it actually comes down to placement once again.  The lamp that I currently have on our porch is sitting on a chest against the back wall and doesn't get any direct moisture on it.  I admit that I was a little concerned about how it would react in a damp environment, in the event of an especially humid or rainy day, but so far it has done great.
If I had a situation where there was a possibility of rain getting on a lamp, I would fork over the bucks for an outdoor-safe lamp though.  Water and electricity don't mix, y'all, so be careful and use your head!  😀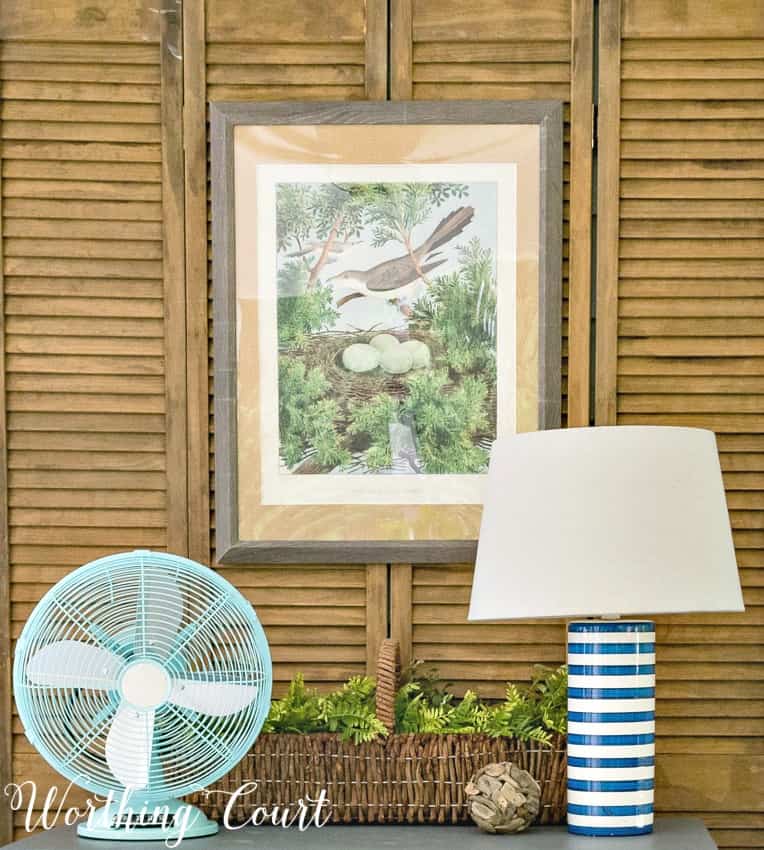 Pin
ARTWORK
When using framed art prints on my porch, my biggest concern is wrinkly paper.  Wrinkly paper you ask?  Well…try leaving a piece of paper lying out in a humid environment and see what happens to it – it gets all wrinkly, even if it doesn't come into direct contact with moisture.
My solution for this problem was to take my print to my local office supply store and have it laminated.  They basically seal the print between the laminating material which totally protects it.  If you don't want to pay someone to do this process for you, there are self-laminating supplies that can be purchased online.
Once the print has been laminated and the frame has been painted with exterior paint, frame and hang the artwork as you normally would.  I've used this same method on artwork hanging on a wall on a deck, where it got full exposure to the weather and had no problems at all.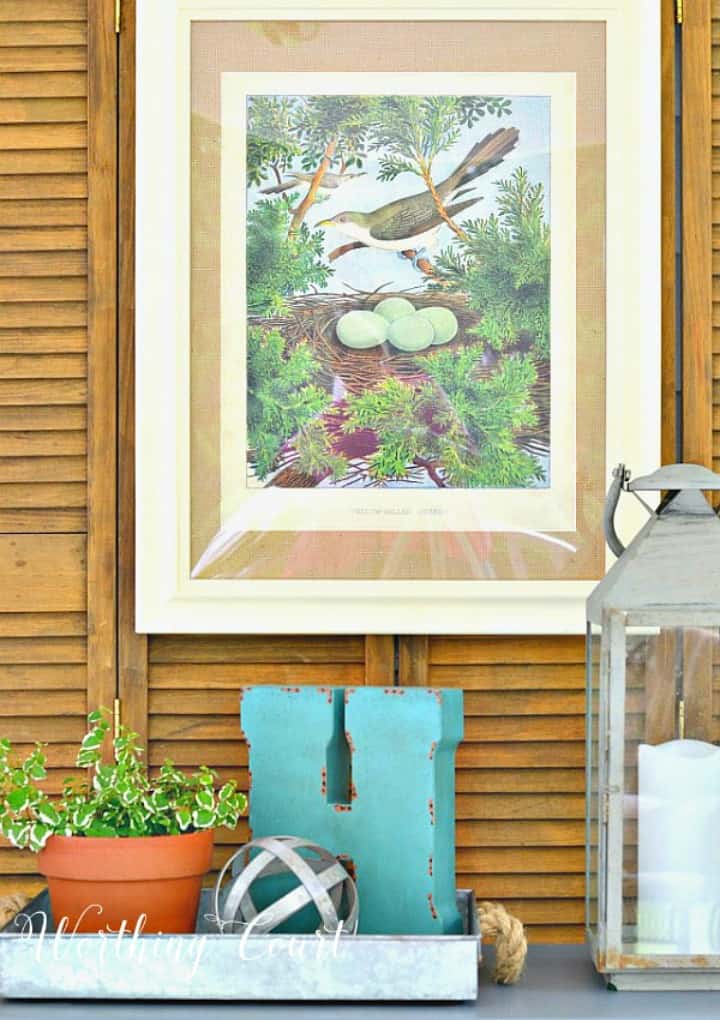 Pin
ACCESSORIES
Protecting accessories is easy to do by spraying them with outdoor-safe spray sealer.  I almost always use a matte finish, instead of gloss as the matte doesn't look so obvious that you've sprayed the item with sealant – it looks like it was purchased that way.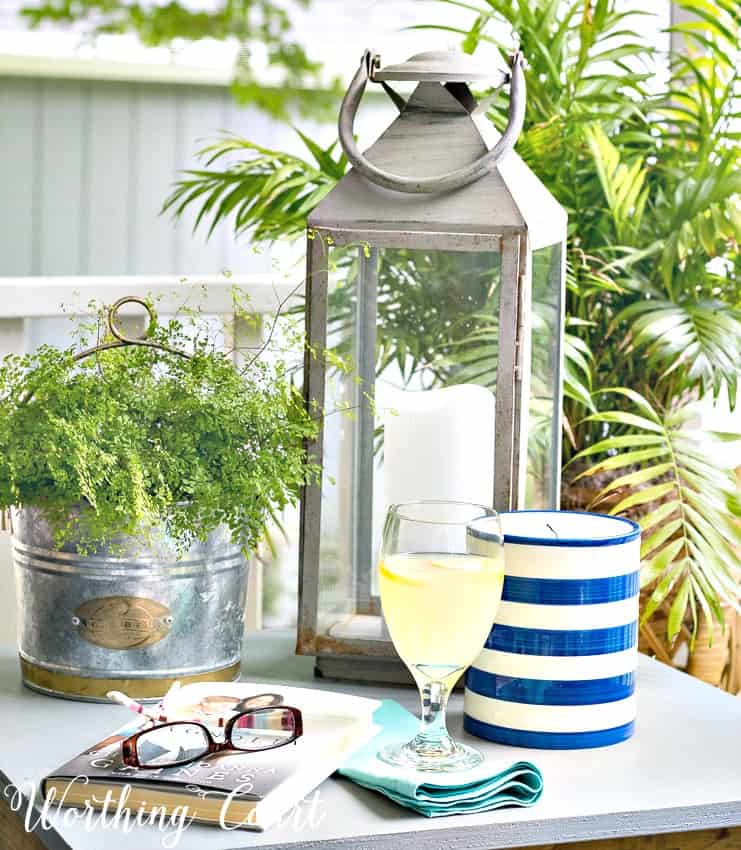 Pin
INDOOR PILLOWS
I make it a point to always buy outdoor-safe cushions for any furniture pieces that live outdoors, but I do love throw pillows, so I have quite a few of those that are meant to be indoors only.  There's an easy solution for protecting those as well and that's to spray them with outdoor Scotchguard™.  I typically use the heavy duty variety and give the pillow several coats.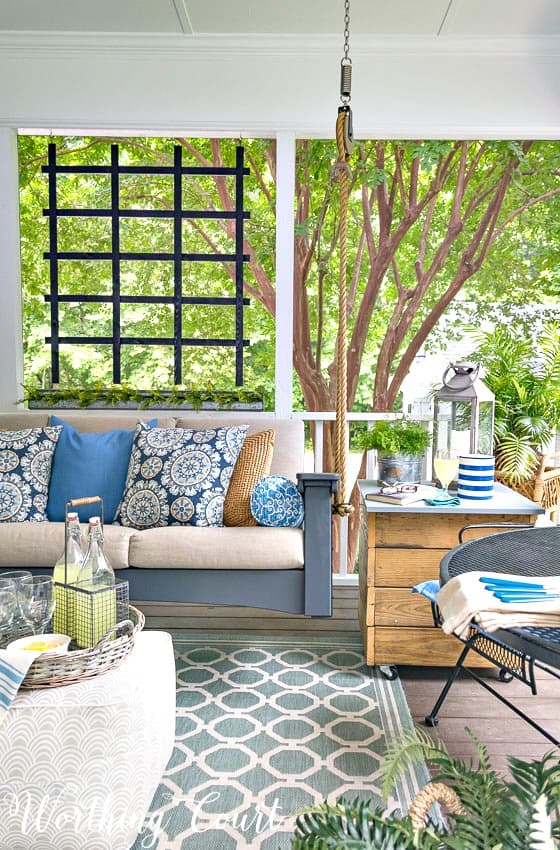 Pin
If you have more tips of your own for protecting your furniture, fabrics and accessories from the elements, please share in the comments!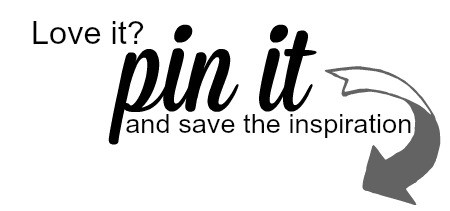 Pin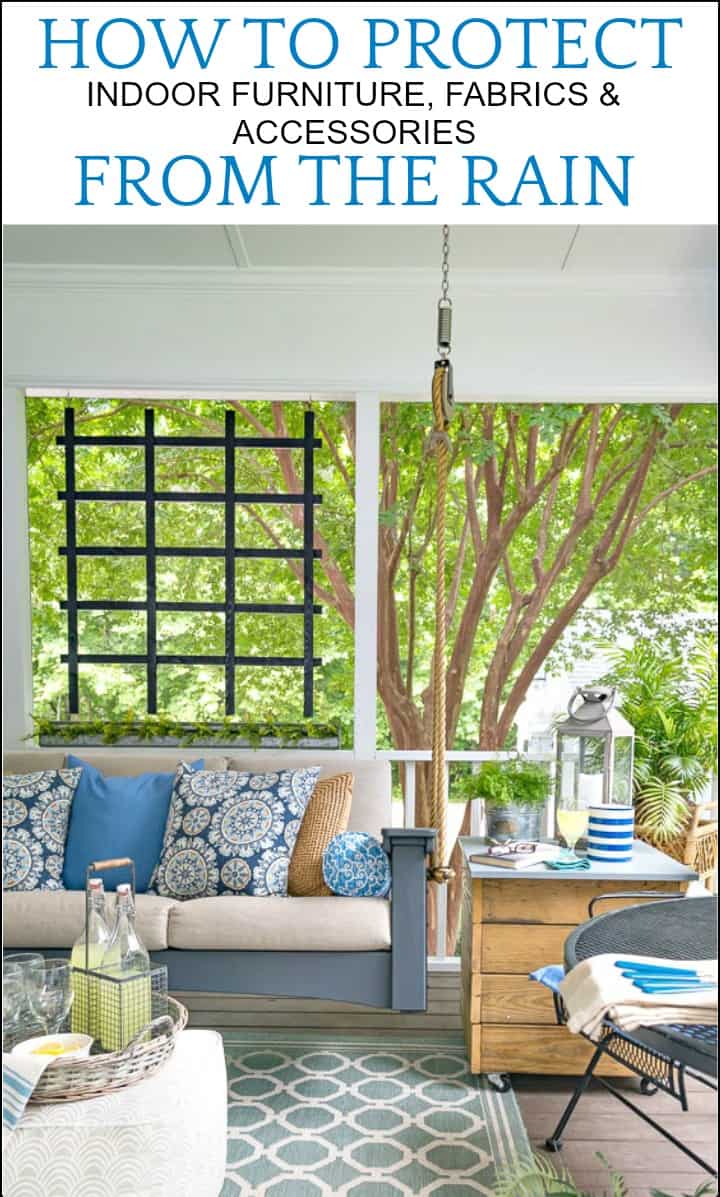 Pin