Screen Porch Refresh and Creating A Relaxing Oasis
Call me Charlotte Johnson and get ready for a rockin', swingin' good time, y'all.  Are you familiar with the country song, "Just A Swingin' ", by John Anderson?  It's a classic, I tell ya.  If you know the song, you'll know why I just might be changing my name.  😀  "Just A Swingin" has become my new favorite song ever since we put a sofa-size swing out here on our screened in porch.  I kind of equate it to singing in the shower, except with my clothes on.  haha  Pookie might even have learned the lyrics to it by now.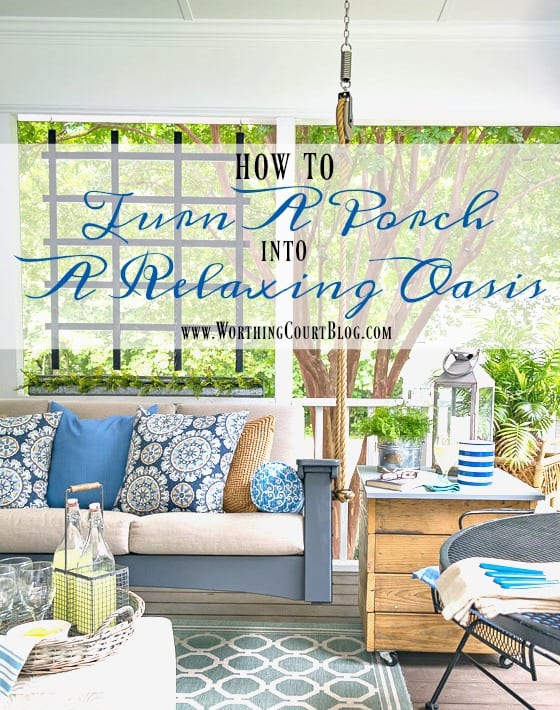 This is what our porch looked like right after we moved into our house and before I gave it its latest refresh.  It was blah and boring and definitely not a relaxing oasis!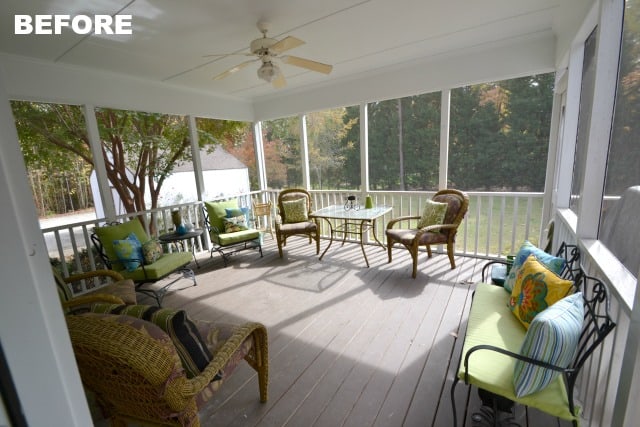 But today, if ever there was a spot that I'd refer to as my happy place, there's no doubt that this porch would be it!   Grab your glass of sweet tea and come join me in my relaxing porch oasis.  A resource list of many of the products I used is listed at the bottom.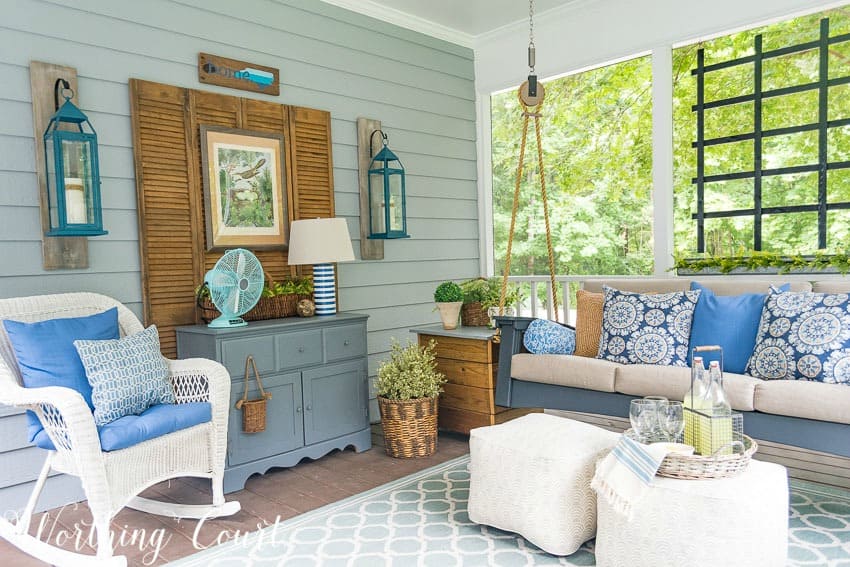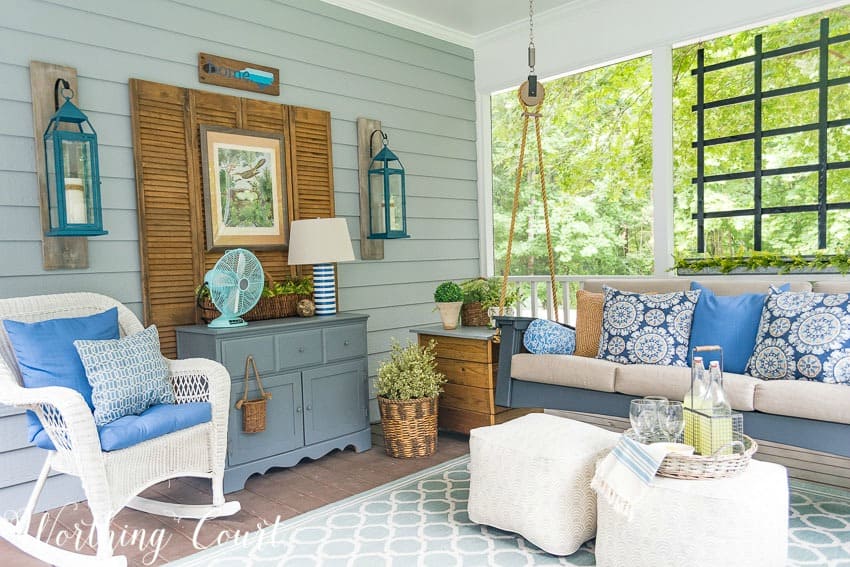 My screened in porch refresh came about all because one of our comfy rocker chairs broke and couldn't be fixed.  Boo.  I intended to replace the two chairs with a couch, because hello – nap.  But, while we were out looking for new chairs for the front porch (that's a whole 'nother blog post), this sofa swing smacked me right in my "Ooooohhhhh, look at thaaat" face!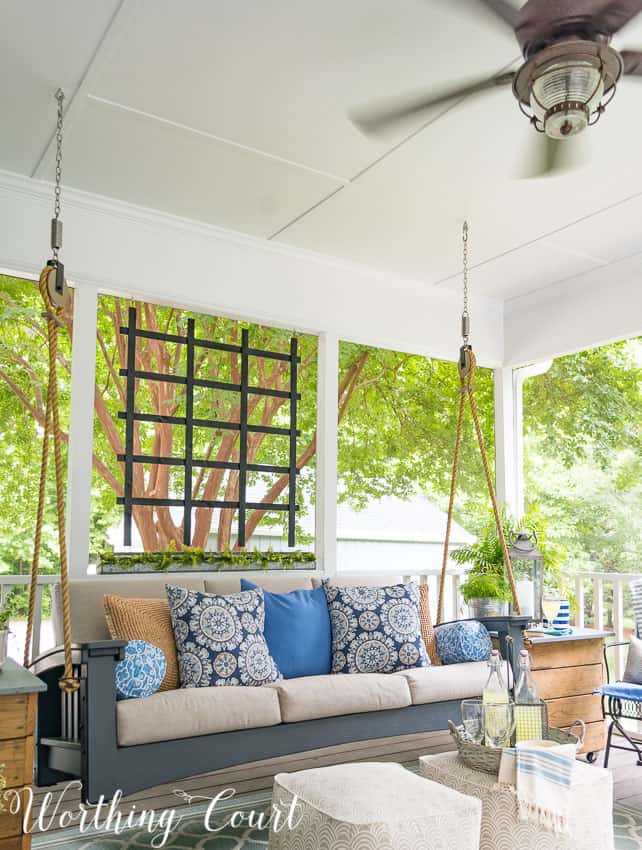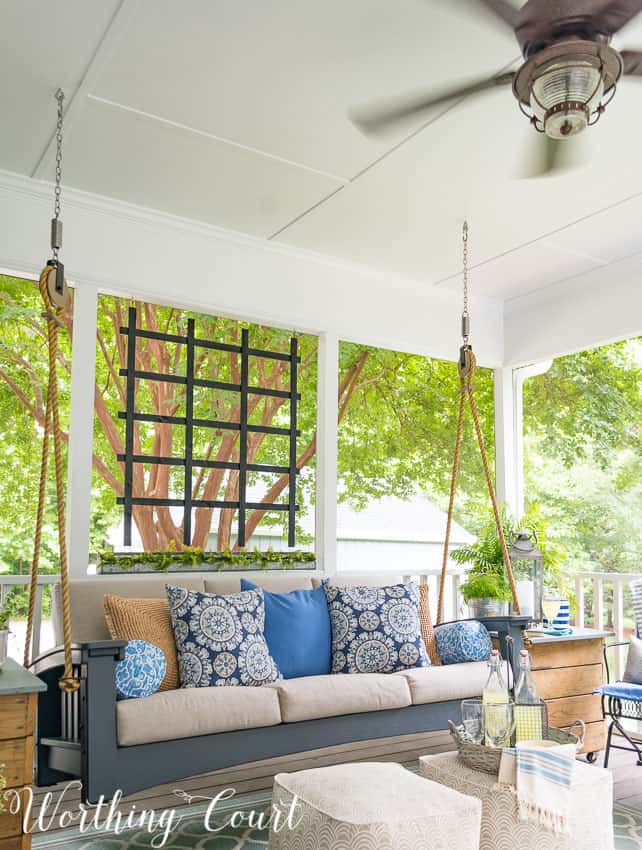 Just look at all that pulley and rope goodness!  The purchase of the swing, along with the painting of the exterior of our house, prompted a whole refresh to the porch, which got me to thinking about the tricks that I use anytime relaxation is the main focus for a space at my home.
BTW – for you locals, the swing was purchased at Amish Trading Post in High Point, NC.  They do have a website, but don't sell anything online, as far as I know.  If you're anywhere in the area and are on the hunt for great, quality outdoor furniture, I highly recommend you check them out.  And no – they're not paying me to say this – I'm just really impressed with their products!
OK, back to the whole purpose of this post – creating a relaxing oasis on your own porch, deck or patio.
SEATING
Make sure you have plenty of comfortable seating for the number of people you'd like to be able to accommodate in your space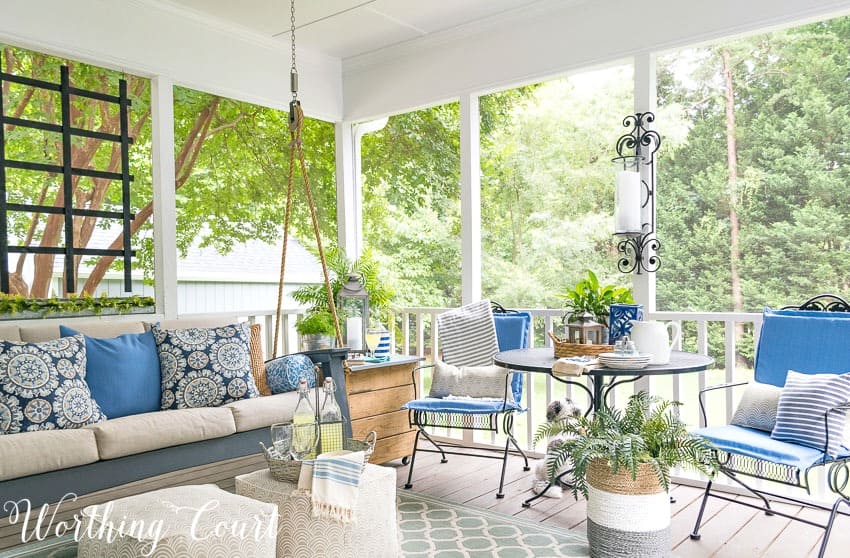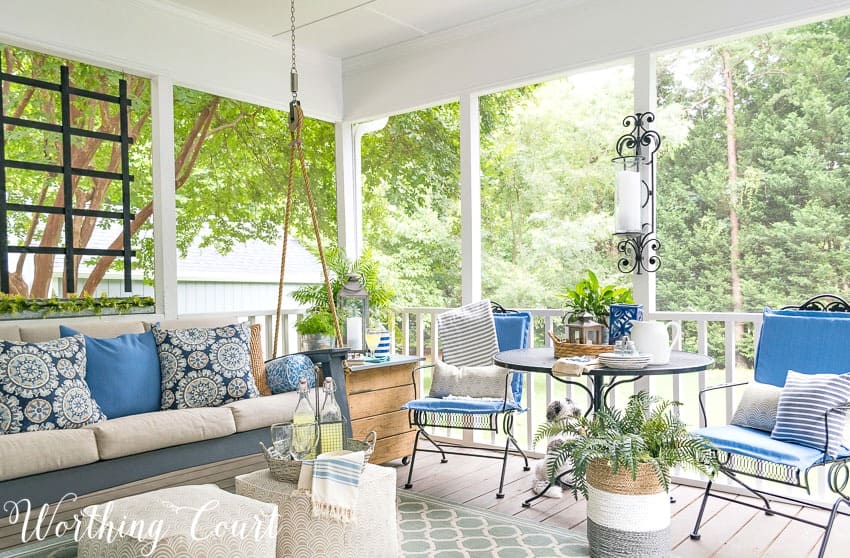 In addition to the chairs you'd expect, I added poufs, which can double as extra seating, act as tables or to serve as a place to prop my feet up.
TIP:  These poufs are a couple of years old and had become pretty sad and saggy.  I opened a seam up on one of the bottom side seams of each pouf and stuffed them full of pillow stuffing until they were nice and taut, then hand-sewed the seam closed.  Good as new!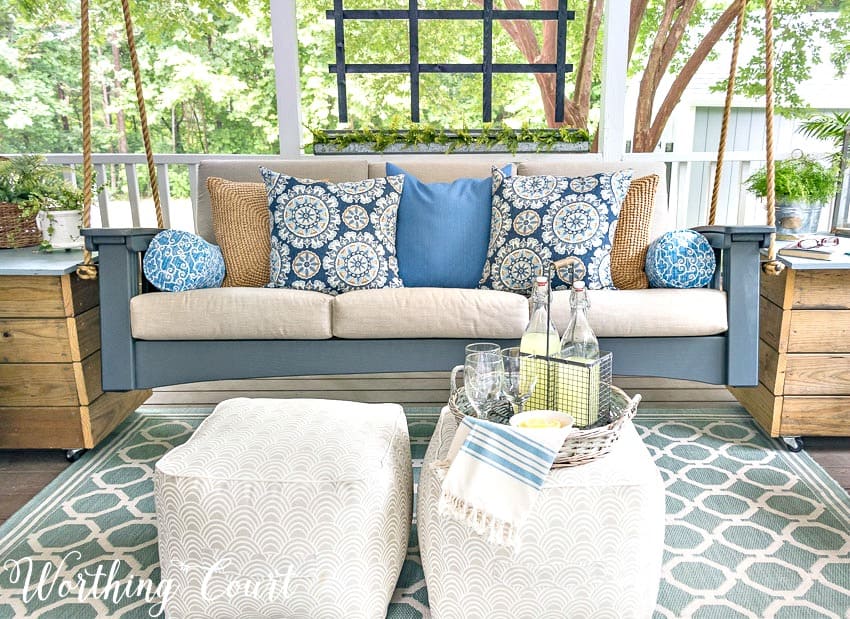 Adding a generous amount of cushions, pillows and throws makes it all as comfy as possible.  Plus, it's pretty to look at!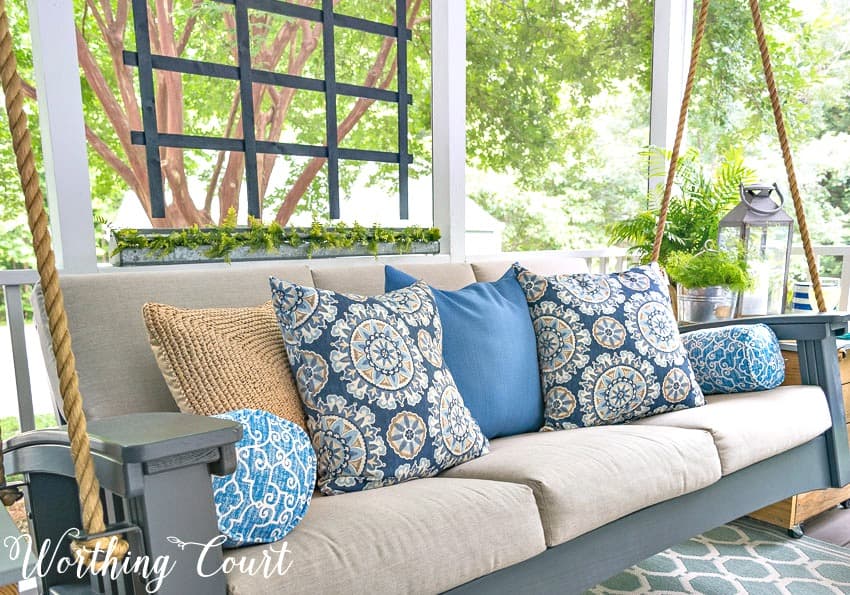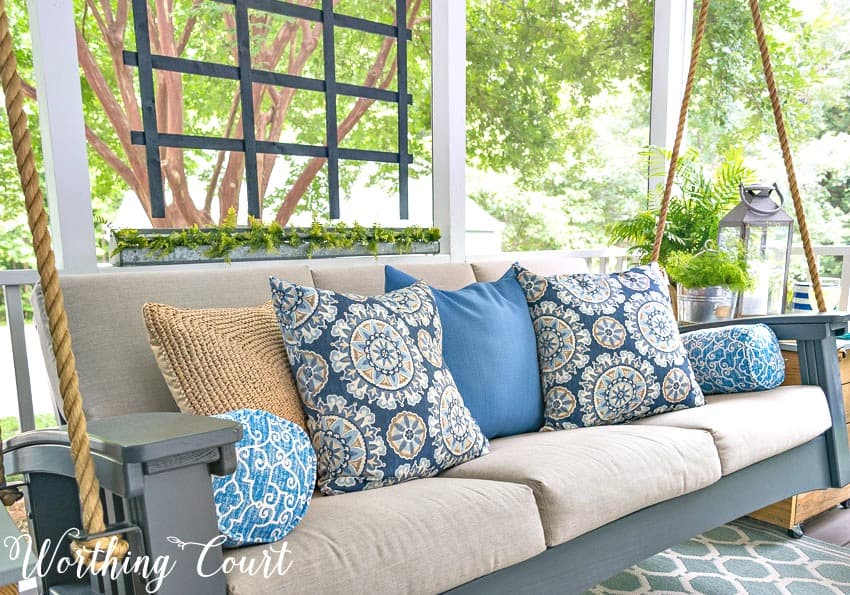 MAKE IT COZY
For me, cozy = relaxing.  No one will ever accuse me of being a minimalist (if that's your style, I say embrace it!).  I try to walk the fine line of having enough stuff to make a space feel cozy to me, without having too much.  I filled our porch with all of the basics and then added in the fluff.
An inexpensive trellis panel, like THIS one, was taken apart, painted with black spray paint and hung using cup hooks to give the illusion of a more defined space.  The trellis doesn't obscure any of the view, but it helps to make the porch seem more like a room.  I repurposed a galvanized metal chick feeder (found at a pop-up show) as a planter.  Instead of spending a lot of money for individual plants, I filled it with a 6′ faux greenery garland.
TIP: If you're going to use a metal piece like this outdoors, spray it with clear sealer to prevent rust.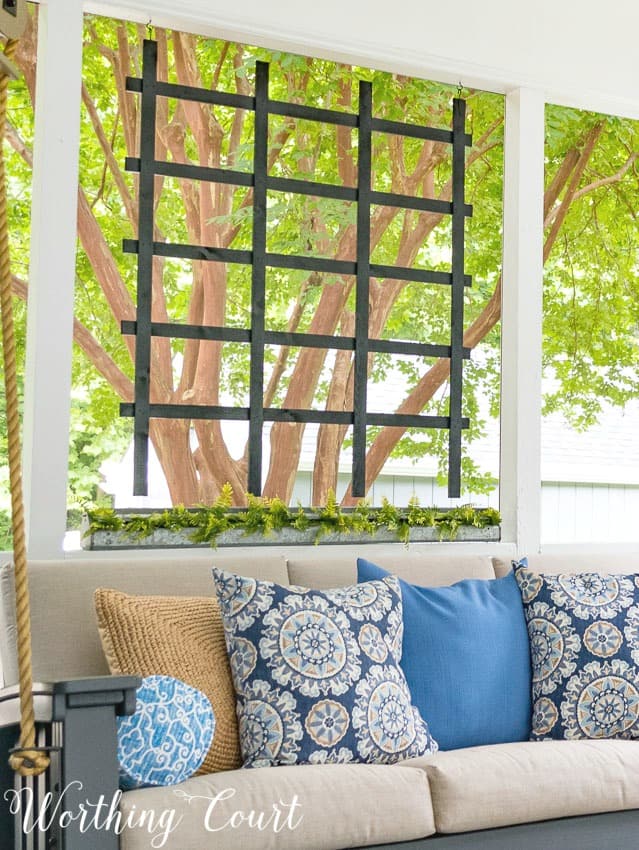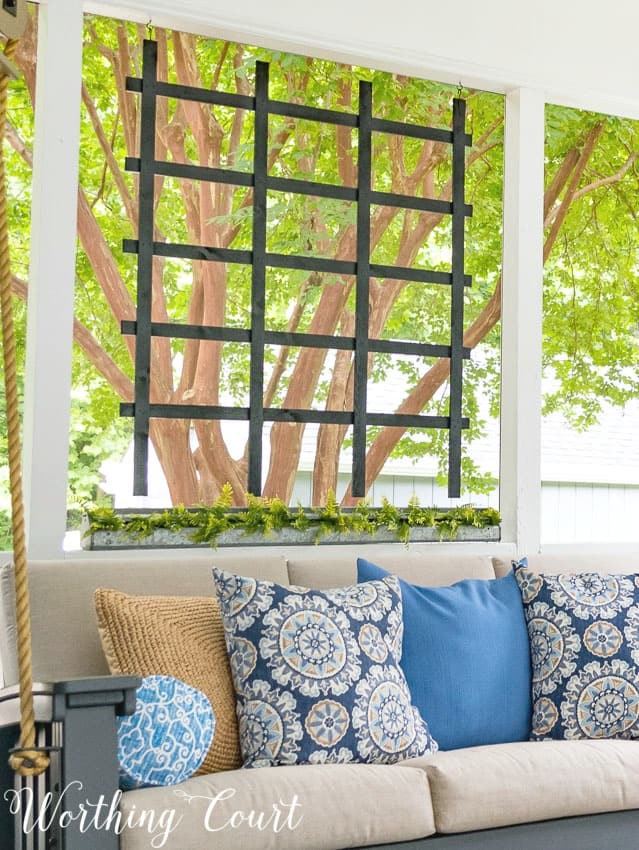 Add ambiance with candles.  I have both real and battery powered candles sprinkled throughout my porch and they're so pretty when lit at night!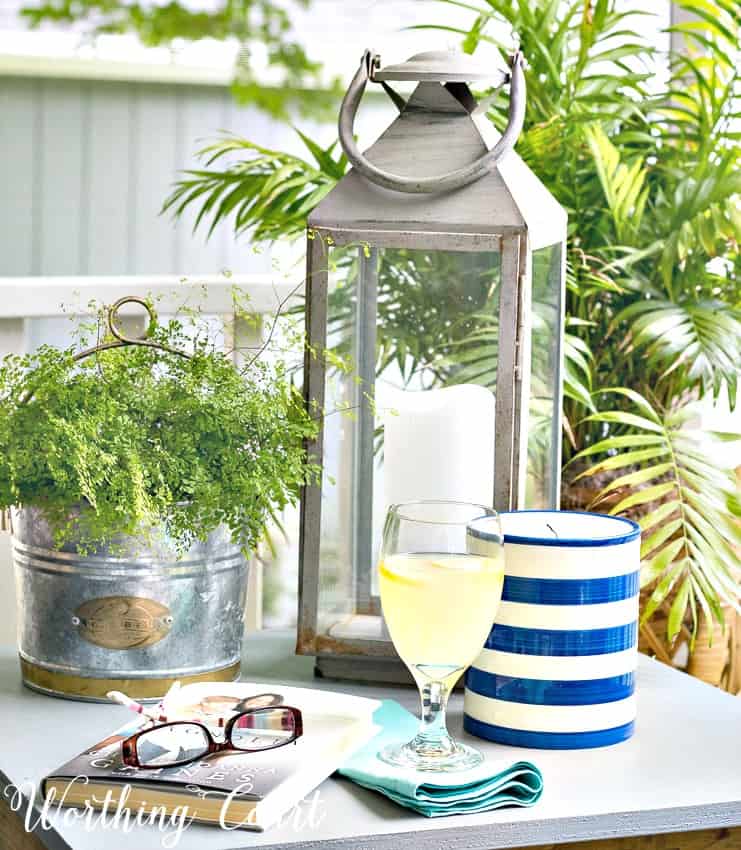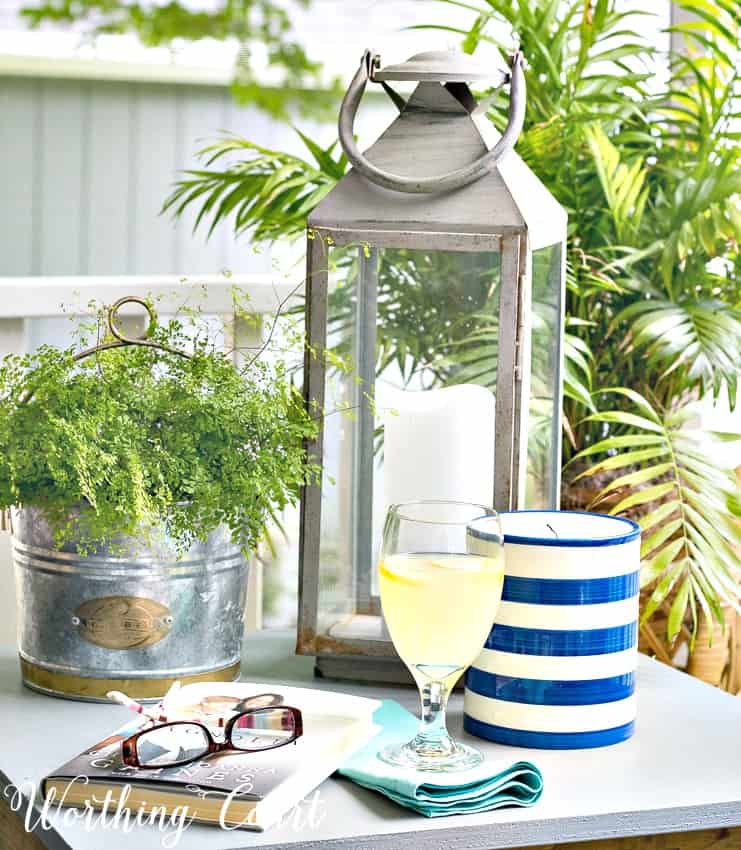 USE A CONSISTENT FLOW OF COLOR
Take it easy when adding pops of color that are outside of your overall color scheme.  By keeping a consistent flow of colors, your eyes will relax as they travel around the room.  My porch consists mainly of varying blues, grays and neutrals.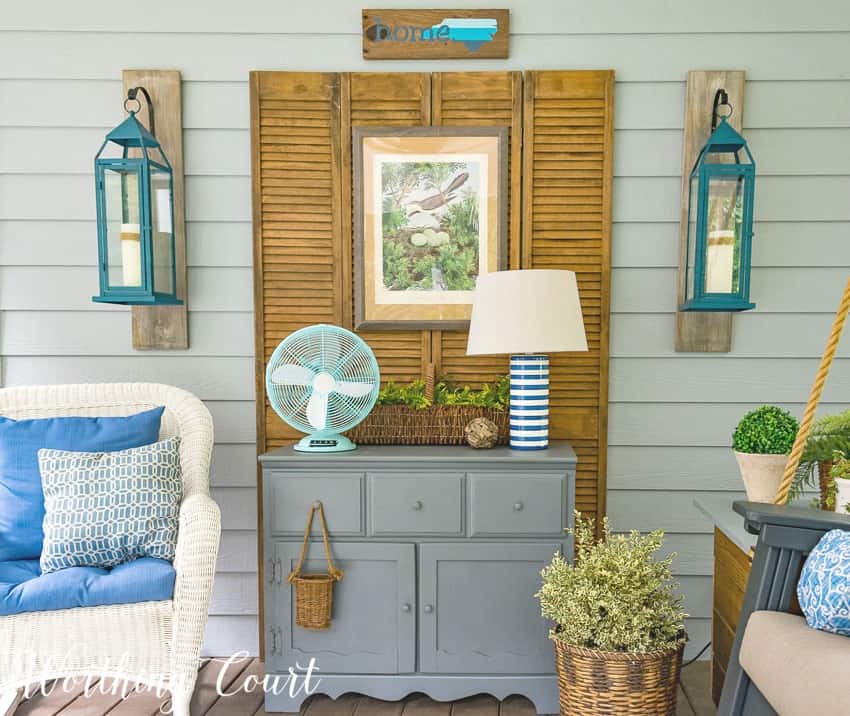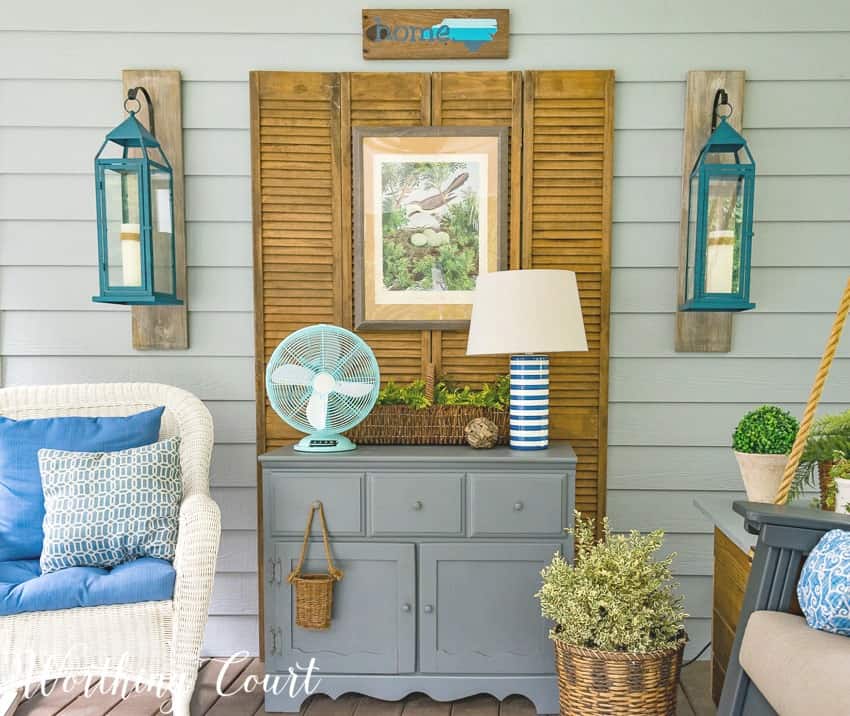 The lanterns are hung from plant hooks that are mounted to 1″ x 6″ pine boards that I used my "make anything look like driftwood technique" on.
CHOOSE A STYLE
Whether it's farmhouse, modern, eclectic, bohemian or something all together different, choose the style you like and do your best to stick with it.  It's easy to place the leftovers out on a porch, where you may not see them all of the time, but you'll find the area much more relaxing if you work to make your porch an extension of the interior of your home.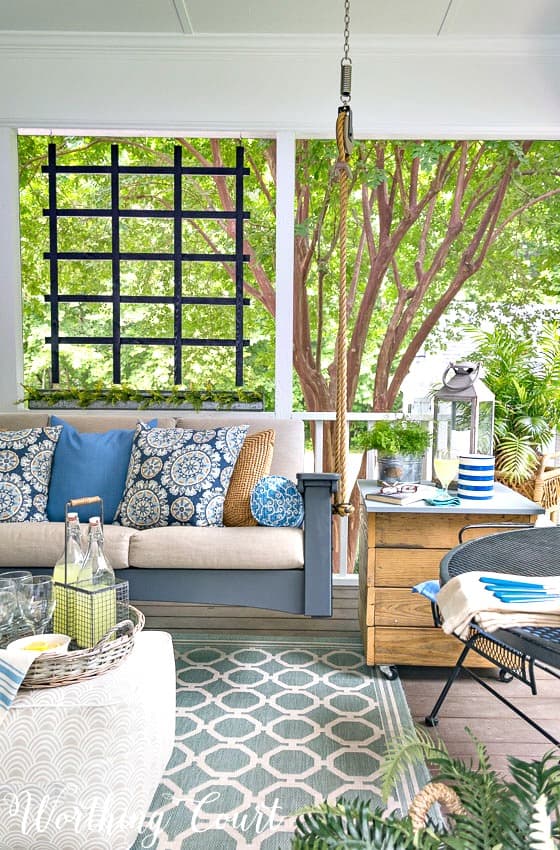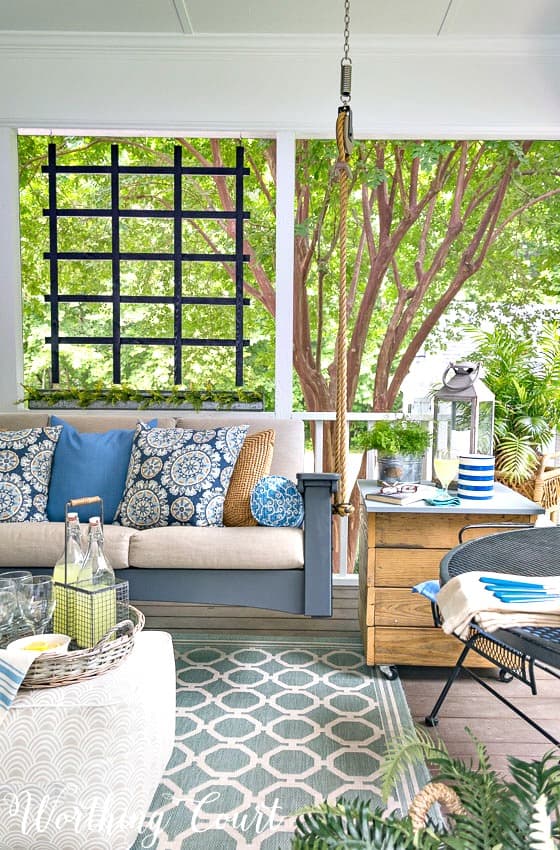 CONSIDER THE VIEW
Personally, it's much more relaxing for me to look out over the yard instead of the big slab of our concrete driveway, so we've oriented our furniture to take advantage of that view.  If your porch doesn't have the sort of view that you'd like, create a pretty focal point and do whatever you can to draw everyone's eye to that.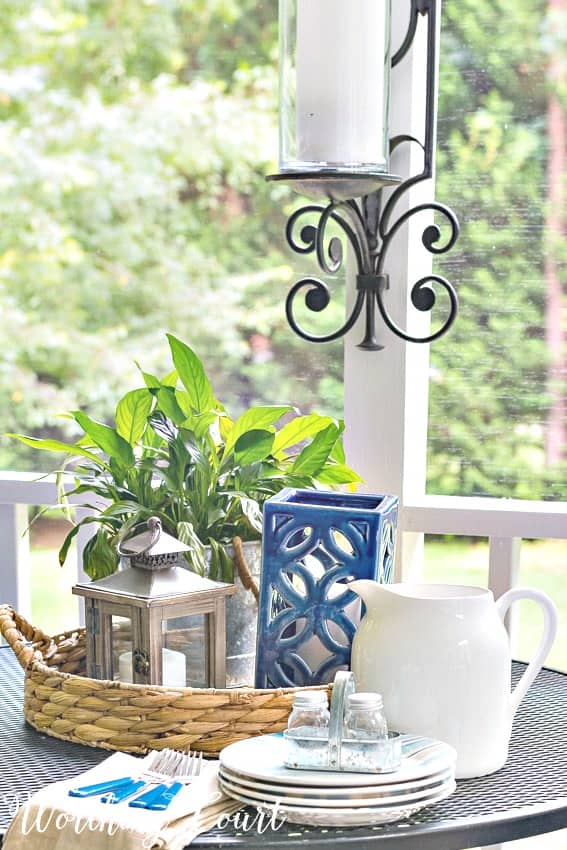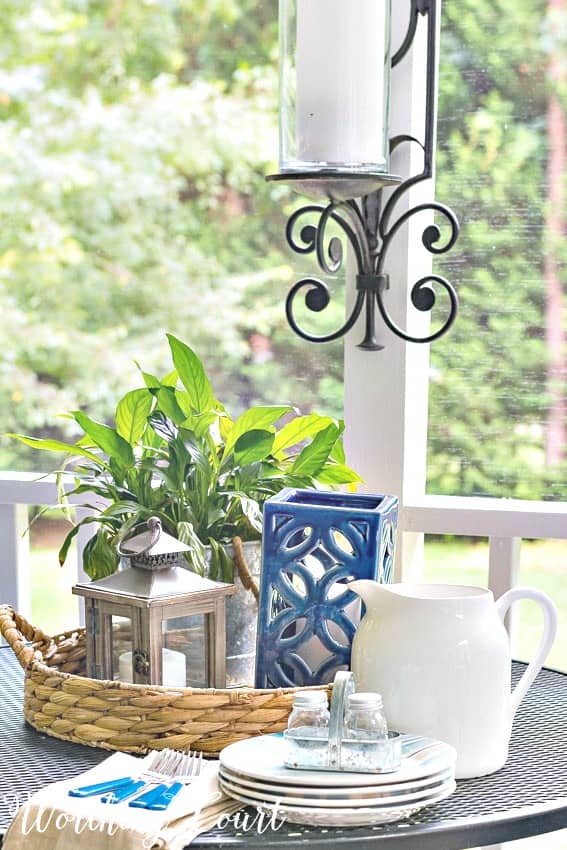 DON'T FORGET ABOUT SOUND
I love, love, love listening to the birds and the wind rustling through the trees when we're relaxing on our porch.  If you have noise that you find bothersome, consider adding a small fountain with the sound of gurgling water, the white noise of a fan or some soothing music.  We lived close to a busy city street, near a fire station (think frequent sirens), at our last house.  While we couldn't completely muffle the noise, we used a small water feature to take the focus off of all of traffic noise and sirens and found the spot much more enjoyable.  Shrubbery or a row of trees can help to break up and absorb some of the sound too.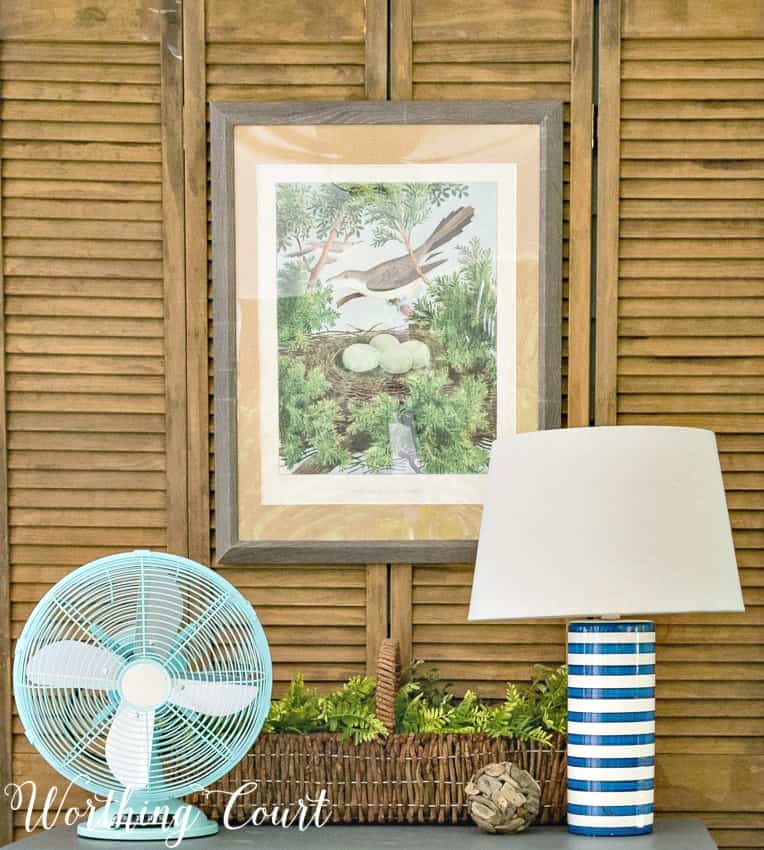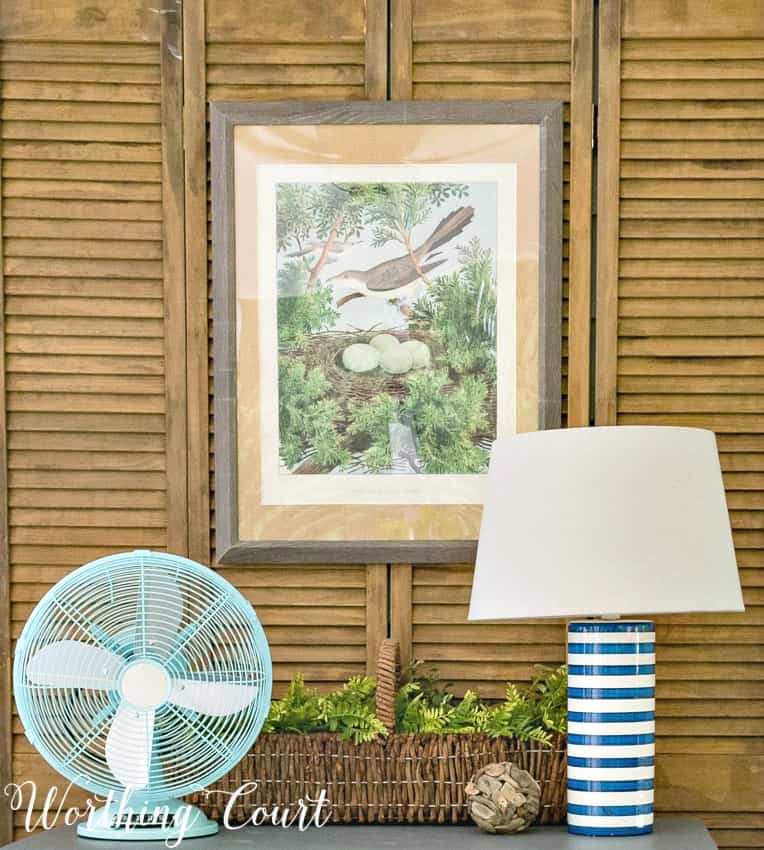 Oh, yeah – want to see the original before and the before this refresh of our screen porch?  Click HERE.
RESOURCE LIST (Some affiliate links have been used, but at no additional cost to you.  See my disclosure HERE.):
Sofa Swing – Amish Trading Post, High Point NC
Teal Lanterns – Pier 1
Trellis Panel – Lowes
Chick Feeder – pop-up show, similar available HERE
Faux Greenery Garlands – Hobby Lobby
Tabletop Fan – HomeGoods similar available HERE
Blue & White Lamp – Hayneedle
Blue Square Medallion Pillows – At Home
Natural Woven Pillows – Target
Battery Operated Candles – Wayfair
White Outdoor Rocker – Wayfair
Gray Chest – DIY project, similar available HERE
Indoor/Outdoor Rug – Ballard Designs
Side Tables – DIY project, read more HERE
Sharing at THESE great parties.