How to: Deal With Multiple Focal Points In A Room
Let's talk about focal points in room design – specifically in our living spaces such as living rooms and family rooms.  You know that thing that your eye automatically goes to when you enter a room?  That thing can be a fireplace, large window, built-in bookcase, a large furniture piece, even a big ole blank wall.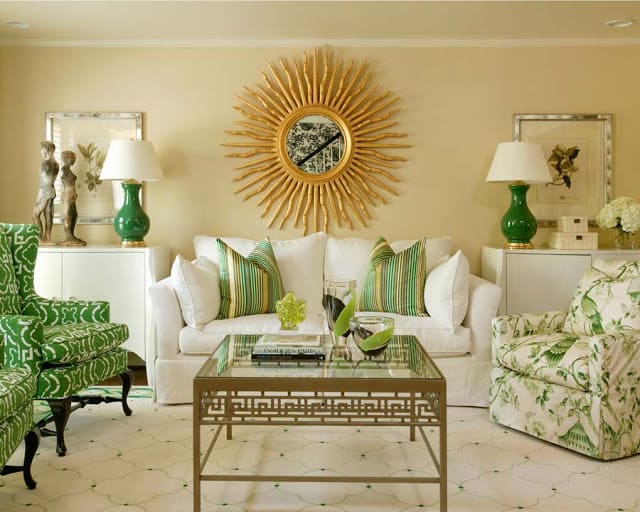 Tobi Fairley
Sometimes it's easy to identify what the focal point in a room is or should be.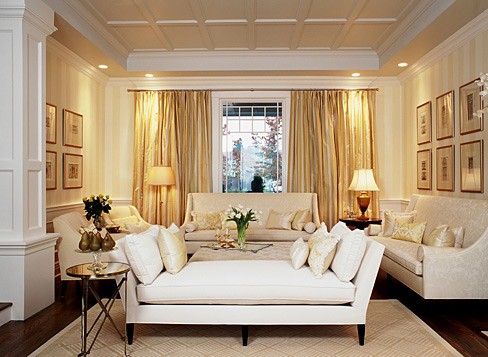 Sarah Richardson
And sometimes, not so easy.  What if your room has multiple focal points?  That's exactly what I want to talk about here.  How in the world to design a room with multiple focal points that you'll be happy with.
The room below has a large window, a fireplace and a large piece of furniture all in one area.  Any one of these features could be considered a focal point on it's own, but with them grouped in one spot and with nothing to draw my eye, I don't know where to focus my attention.  In spite of the lovely furnishings and accessories, the room has an unsettled feel to it.
Discovery and Roomakers
Every room and situation is different, but here are basic guidelines for dealing with multiple focal points when designing your living space.
1. Choose the element you most want to draw attention to.
Choose wisely because remember, this is where the eye of you and your guests will go.  Do you have a large window – say with beautiful moulding that you'd like to highlight?  That's wonderful, but make sure there's a lovely view outside of that window before you take steps to invite attention to it.  How about a fireplace?  Before making it the main focus, make sure it's clean and in good repair.
You'll also want to consider the main use of the space.  Is it for watching tv?  Lounging and reading?  Entertaining?  Each of these would likely impact what you choose as your main focal point.
Candice Olson
2. Take steps to draw the eye.
Now that you've decided what you want the main focal point to be, there are several "tricks" you can use to emphasize the area.
Here are a few:
*Arrange the furniture so that the largest pieces are facing the main focal point.
*If the furniture can't face the focal point, then arrange it in such a way that it "leads" the eye where you want it to go.
*Adding pops of color in pillows, art or accessories will draw the eye.
*If a window will be your main focal point, use fabric for the window treatments that has some color and/or a lovely pattern.  Decorative trim will also help to draw the eye.
*Paint the wall where the main focal point is located an accent color or add wallpaper or stenciling just to that one wall.
Candice Olson
3. De-emphasize the secondary focal point(s)
*Tone down the secondary focal point(s) by softening it with the use of paler colors, simple patterns and/or smoother textures.
*If the view out of that fabulous window isn't so great, use simple window treatments with clean lines and soft colors.
*If you aren't trying to make the fireplace the main focal point, keep artwork, accessories on the mantle and hearth simple and to a minimum.  Same goes for bookcases.
*If you have a situation where there is a built-in entertainment center right beside a fireplace, consider painting the secondary focal point the same color as the walls.
Candice Olson
4. More tips on furniture.
*Create multiple groups of furniture within the room.  Use the largest pieces around the main focal point.  Use fewer and smaller pieces grouped together at or near the secondary focal point.  Such as a smaller pair of occasional chairs flanking a fireplace (the secondary focal point) with the couch and larger pieces turned toward the tv (the main focal point).
*A room with multiple focal points won't feel as busy if a monochromatic color scheme is used between the walls and large pieces of furniture.
*If the fireplace and tv are on walls that are opposite of each other, consider using furniture pieces that swivel or are lightweight enough to be turned around.
Southern Livng
I hope you've found these tips helpful!  If you have this situation in your home, I'd love for you to share how you dealt with it.