8 Secrets To Successful Outdoor Entertaining And A Turquoise And Coral Tablescape
These outdoor entertaining tips will set the stage for a successful gathering that your guests will enjoy and that you can be proud of.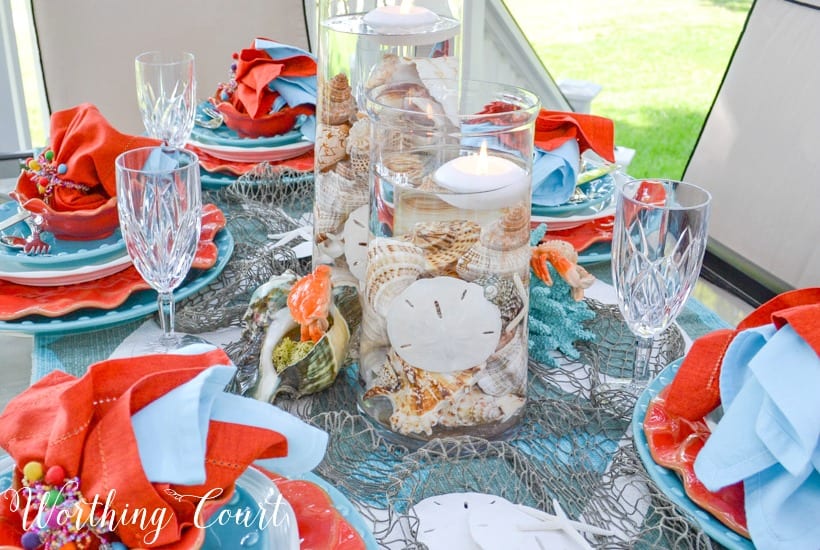 Pin
Outdoor entertaining is one of my favorite spring andsummer activities!  The table decorations are almost as important to me as the food itself.  Just like I want my meal to be a feast for the tummy, I want my table to be a feast for the eyes!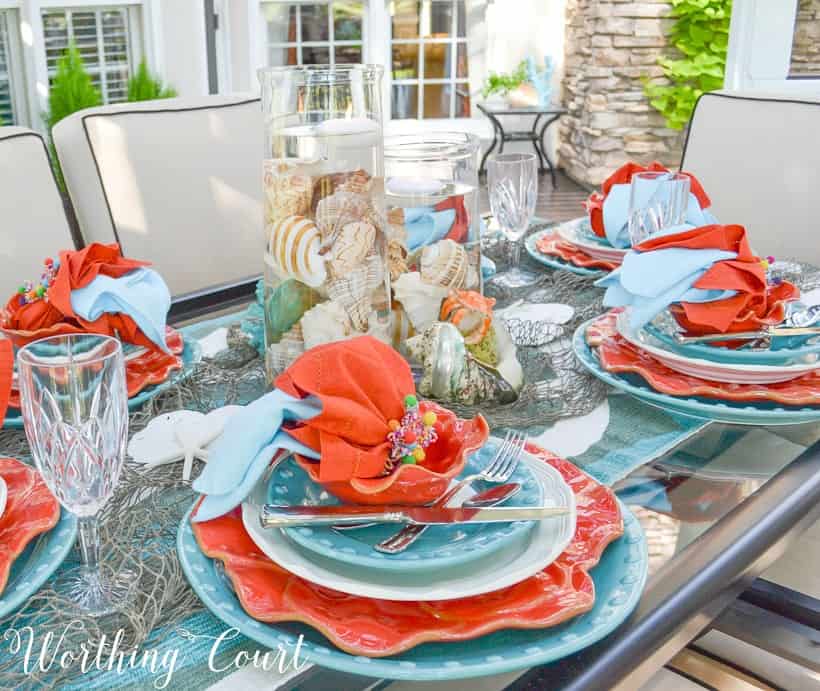 Pin
Affiliate links have been used in this post.  See my full disclosure HERE.



I guess it's kind of like opening a beautifully wrapped gift – the anticipation of what's to come makes it that much more pleasurable.  Along those same lines, think about the thrill that dining at a fabulous table will give you and your guests!
With that in mind, I have a beautiful tablescape to share with you along with some tips and  secrets for successful outdoor entertaining this summer.  We're visiting at my friend Nancy's house, where a gorgeous turquoise and coral table is set on her stunning remodeled deck.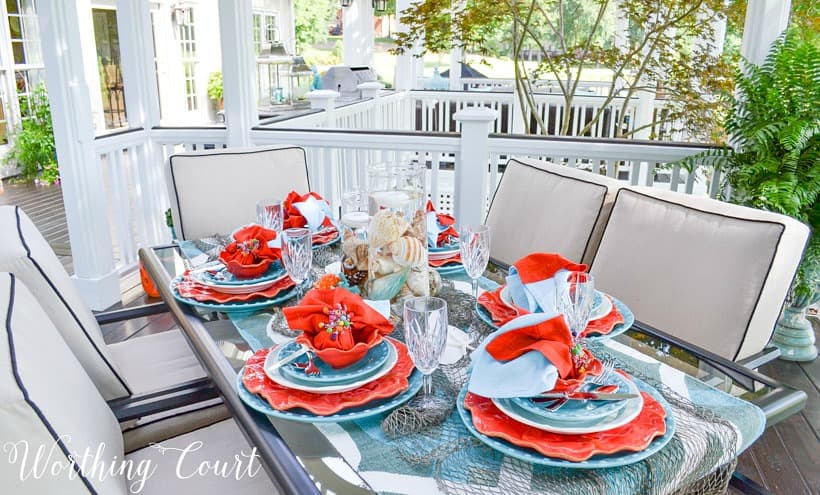 Pin
DECIDE ON A THEME & COLOR SCHEME
Inspiration for a color scheme and table decorations can come from multiple places.  Are you entertaining for a certain holiday or special occasion?  Maybe you want to coordinate your table with the surrounding area.  Or maybe you just want something fun!
Consider the menu too.  Nancy set her table for a seafood feast, so both the accessories and colors reinforce that.  Decorating the table with shells, coral and mini crabs reinforces the food that will be served and the turquoise and coral color scheme is reminiscent of the ocean and the natural colors of shrimp, crabs and lobster.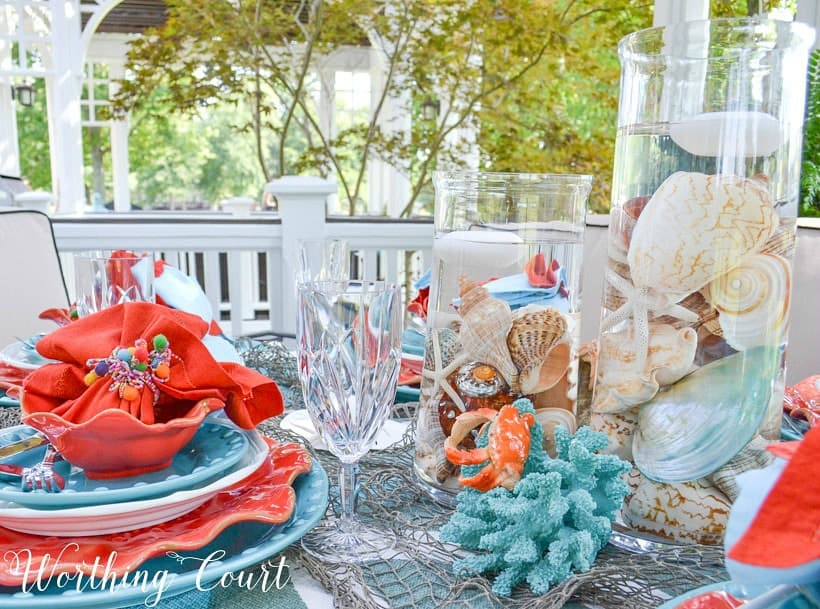 Pin
USE UNEXPECTED ELEMENTS
The most appealing tablescapes, in fact the most appealing decorating of any kind, always includes a little of the unexpected.  Now don't get me wrong – when the occasion calls for it, a table set with all white linens and china is gorgeous too, but we're entertaining in the summer and it's time to have some fun!
Maybe you aren't too surprised to see a piece of blue coral on a seafood inspired table, but I bet you're surprised to see a cute little crab nestled into it.  Think outside of the box.  Napkins rings aren't necessarily just for napkins. 😀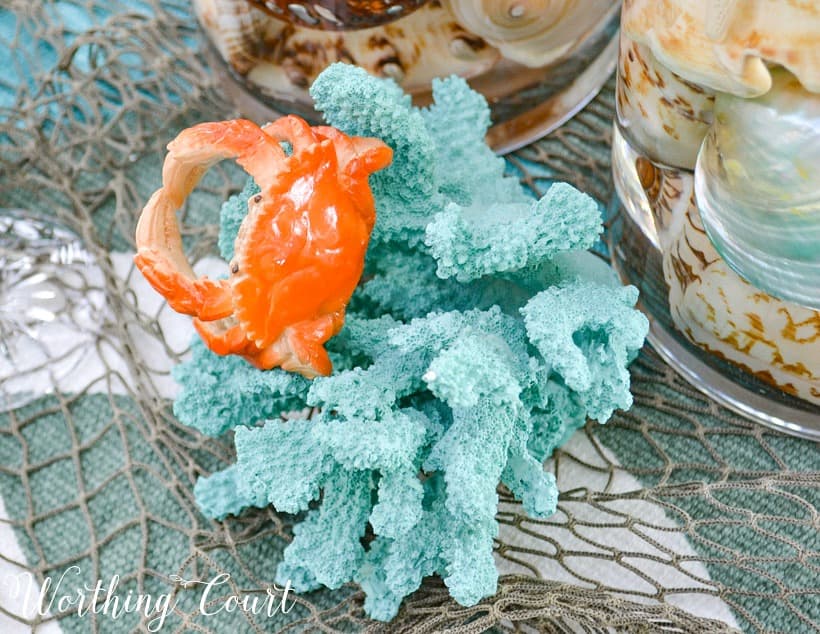 Pin
REINFORCE THE THEME WITH SMALL DETAILS
Small details tucked into empty spots create a more intimate feel, but they don't have to be bright and bold.  It's all about the overall feel.  If every single thing on the table was brightly colored, your eye wouldn't have a place to rest, which can cause any space to feel overwhelming.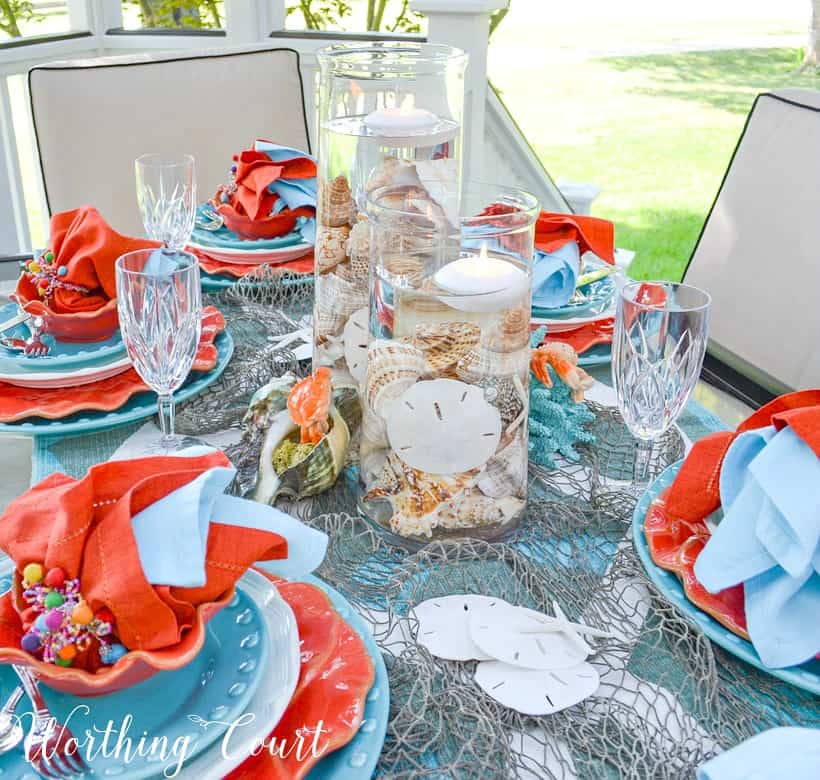 Pin
MIX TRADITIONAL, MODERN & PLAYFUL ELEMENTS
Nancy's table includes traditional solid blue plates, solid white plates, solid napkins and traditional looking acrylic glasses, but it also has modern glass cylinders as part of the table centerpiece, along with colorful and playful napkin rings around each of the orange napkins.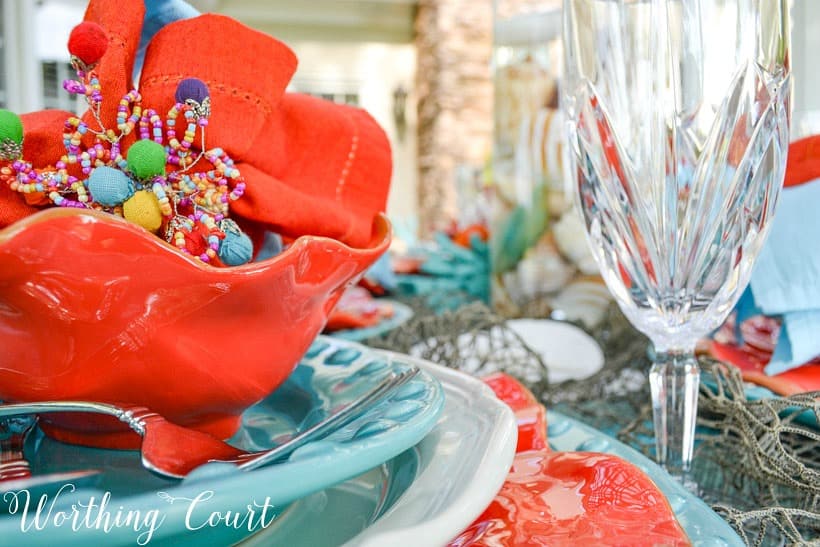 Pin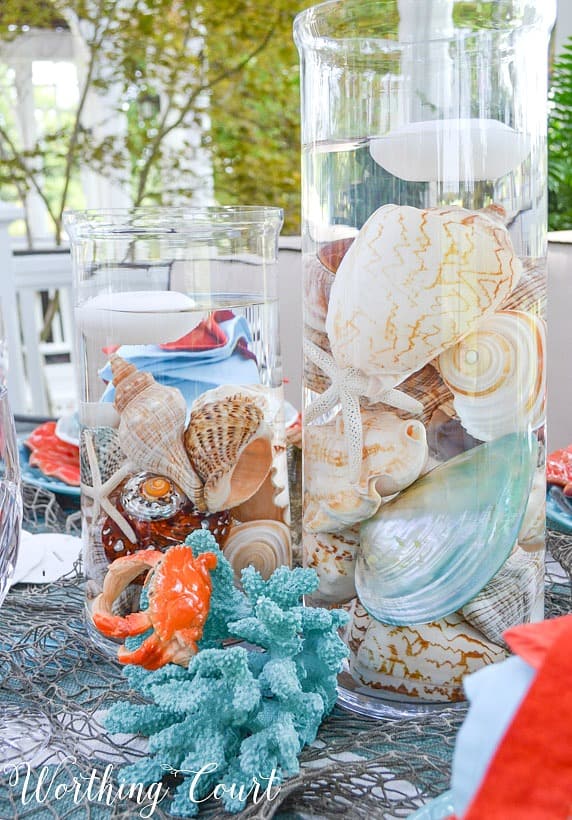 Pin
MIX COMPLIMENTARY COLORS
Turquoise and coral are a great complimentary color combo.  If you're unsure of what colors to mix together that will compliment one another, use this color wheel to help you. Generally speaking, complimentary color schemes use colors that are opposite from one another on the wheel.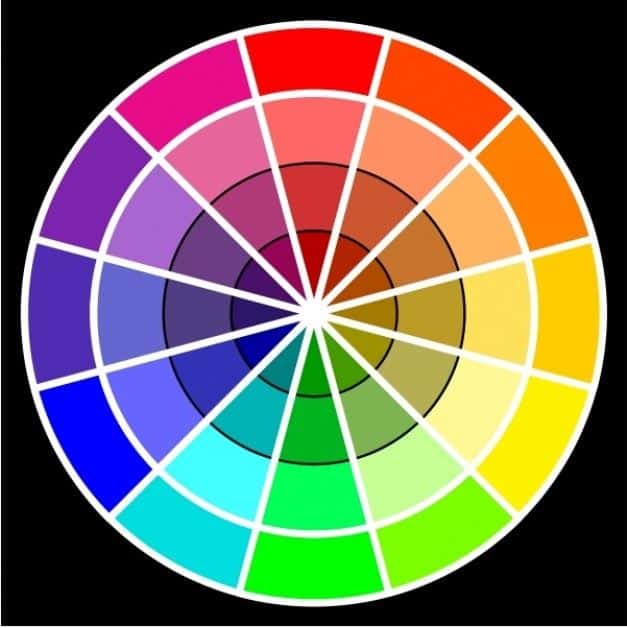 Pin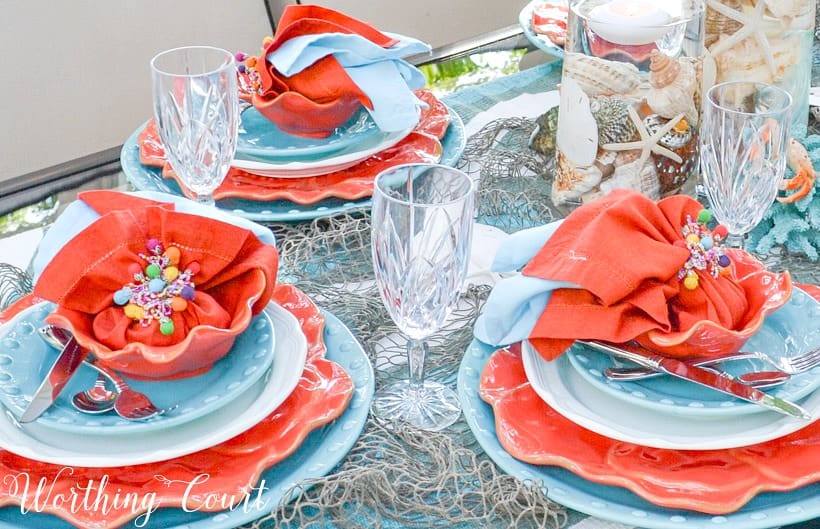 Pin
LAYER, LAYER, LAYER!
Layering is such an important part of any well done tablescape!  Without it, table settings don't have much interest and fall flat.  Nancy thought outside of the box once again when she used a cotton rug as a table runner and layered a piece of fake fishing net on top of it.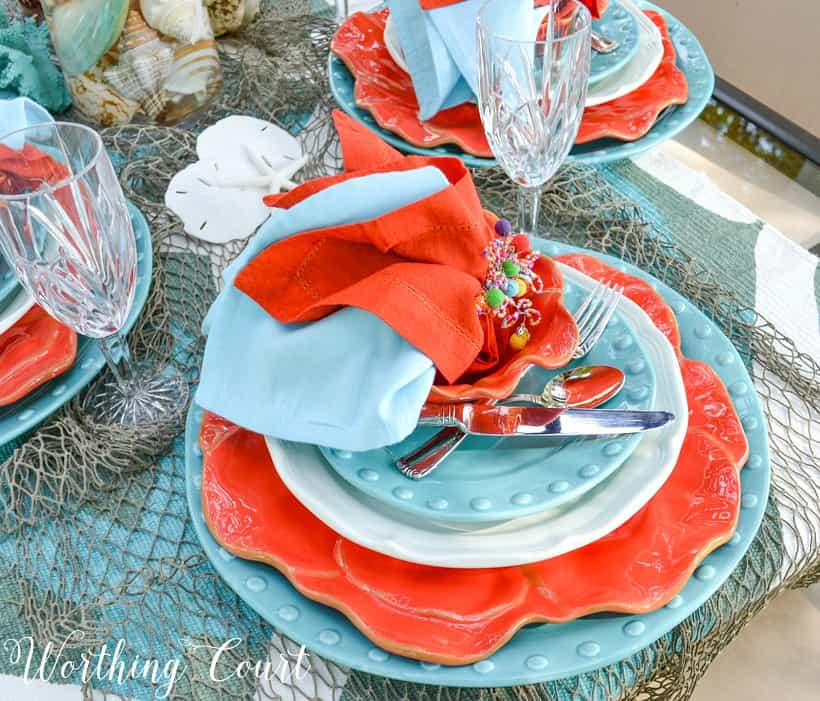 Pin
USE VARIOUS HEIGHTS
Just like with layering, using various heights of the objects on your table adds interest and keeps the eye traveling around the table and taking all the gorgeous beauty in.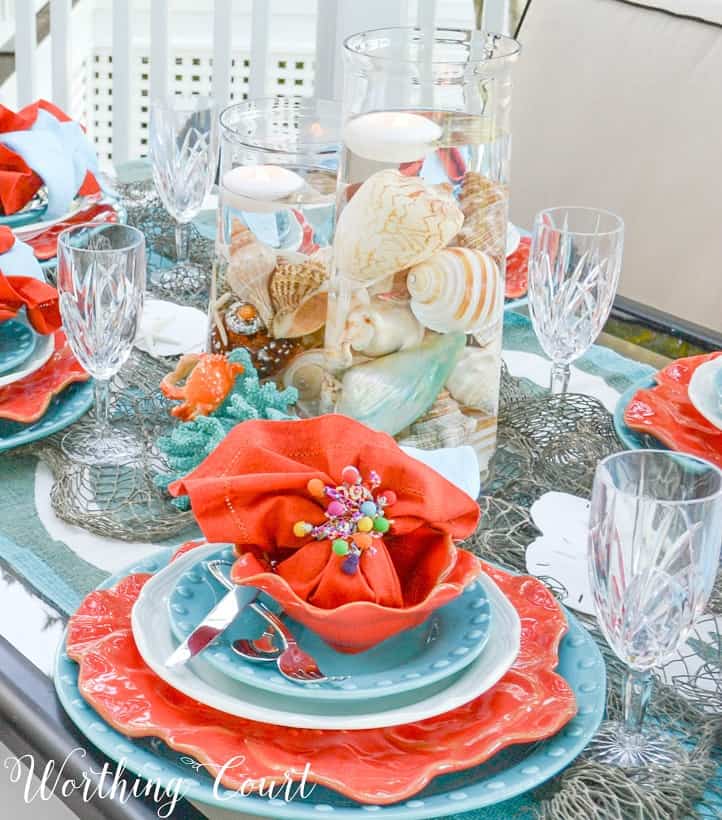 Pin
IT'S ALL ABOUT BALANCE
And lastly, it's all about the balance.  Simple place settings call for a more elaborate centerpiece and vice versa – elaborate place settings call for a simple centerpiece.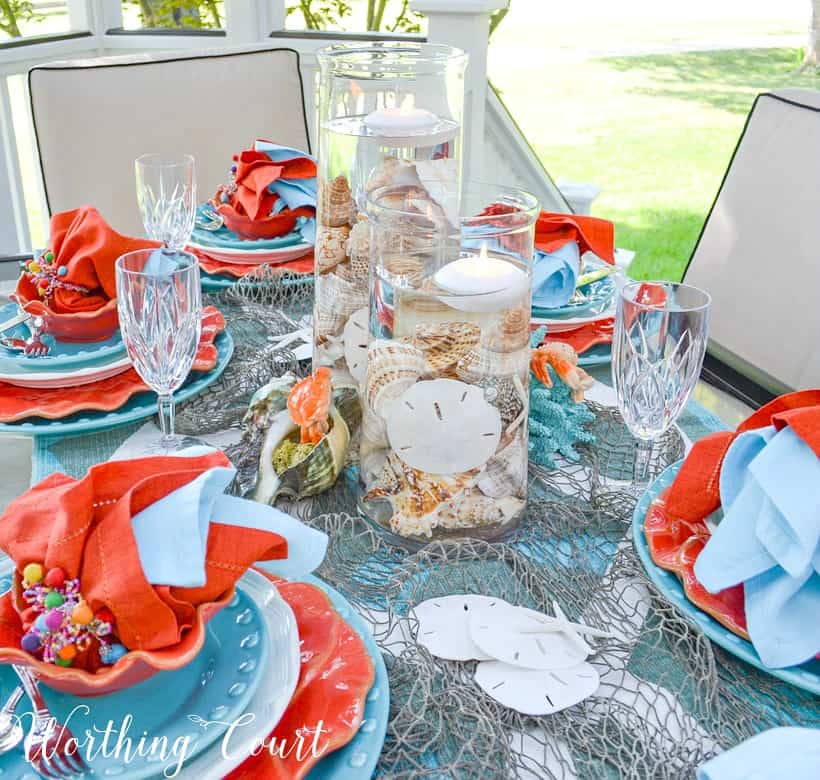 Pin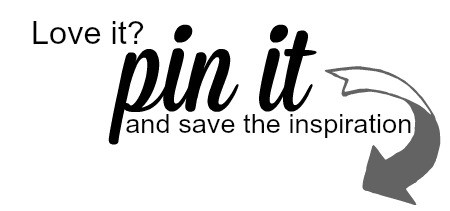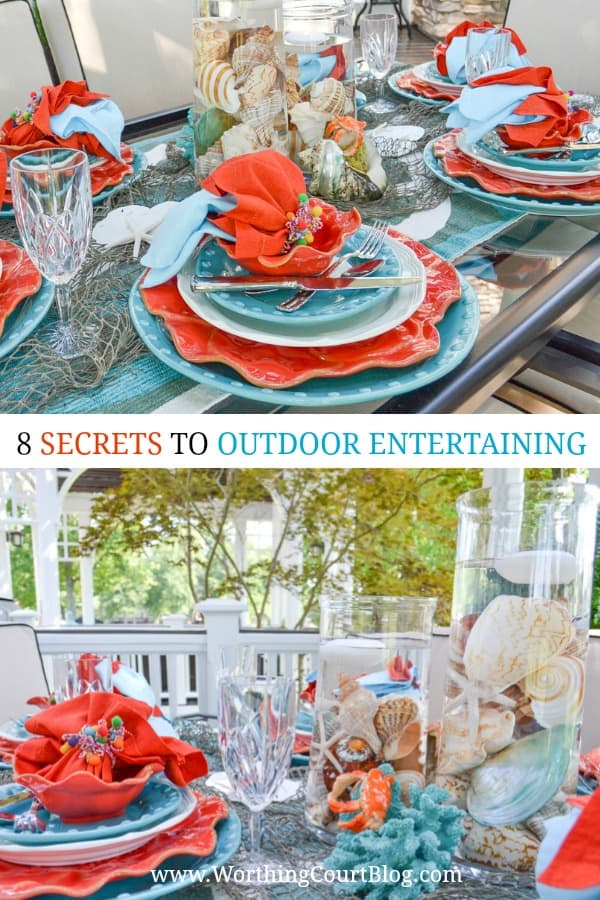 Pin