Blue And Green Summer Porch Refresh
Blue and green is the color scheme of the day for my summer porches! This post is filled with inspiring ideas for decorating your front porch and screen porch for the summer season.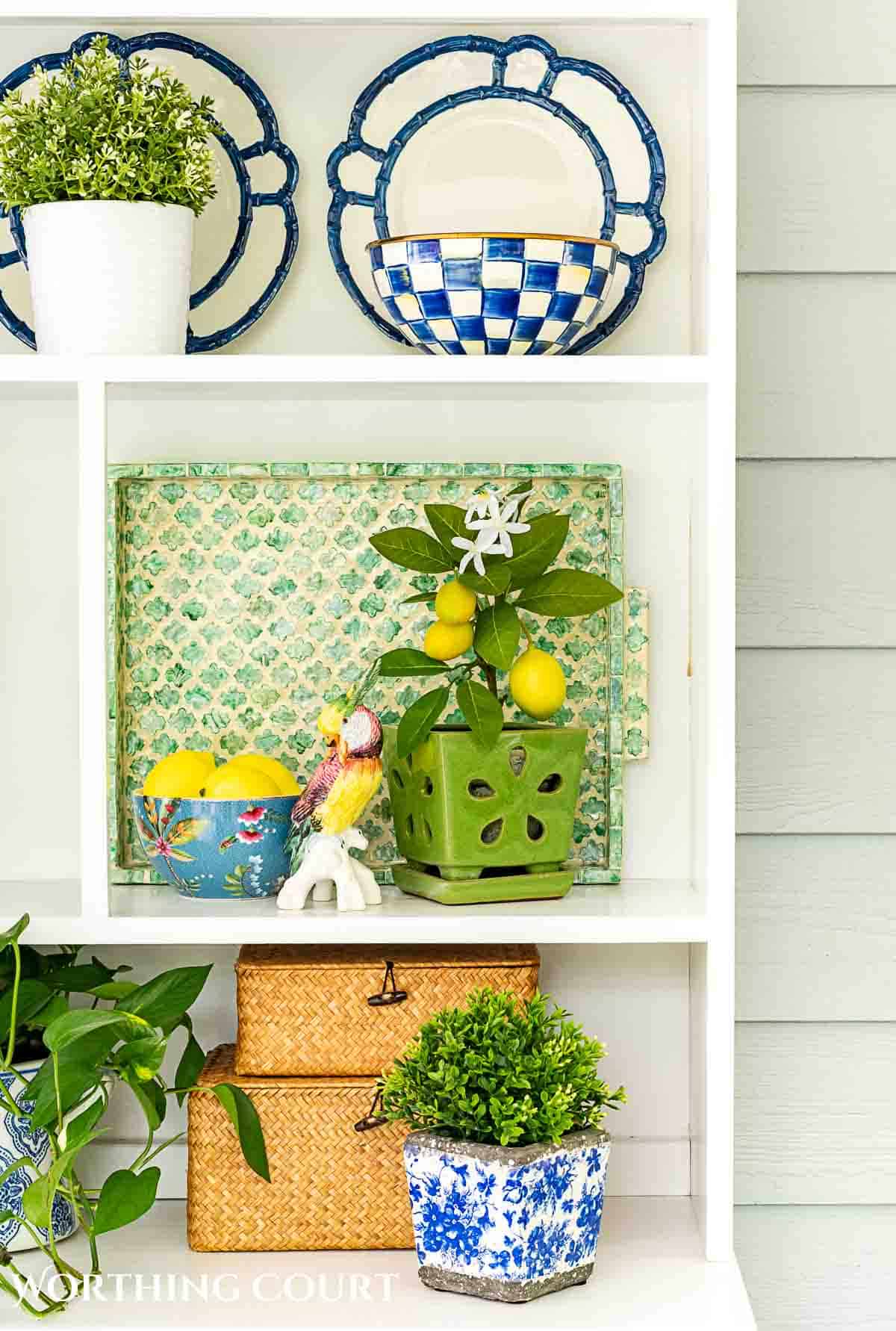 This post contains affiliate links from Amazon and other retailers. See my full disclosure policy HERE.
Are you like me? The very first parts of my home that I am in a hurry to spruce up for the summer are our outdoor spaces. I want to get them whipped into shape as quickly as I can so we can take full advantage of outdoor living during the summer!
Today is the first day of a full week of the Blogger's Best Home Tours for summer 2023, hosted by my friend Kelly from The Tattered Pew. Kelly's blog is a wonderful mix of home decor, inspiration and encouragement and she is one of sweetest souls that I'm blessed to connect with.
I love how she used blue and green for the summer in her entry, family room and kitchen.
If fact, if you're coming over from The Tattered Pew, welcome to Worthing Court!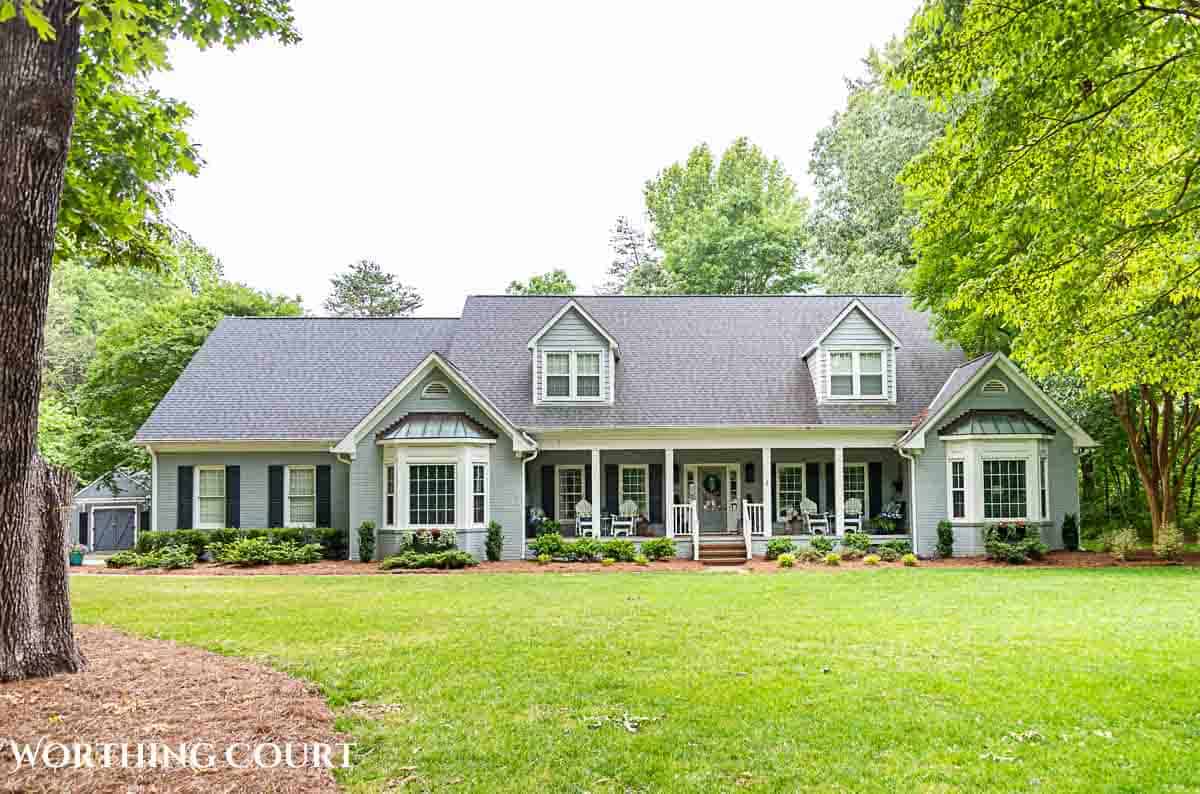 Buckle up for lots of pictures because I've worked hard over the last few weeks cleaning and painting and sewing to give both my front porch and screen porch a cheerful, summer refresh!
Let's take a look at my front porch first.
A little over a year ago, I started moving away from farmhouse style and have been embracing more of a timeless decorating style. I love the ease and comfort of farmhouse decor, but at my core, traditional decor has my heart. ❤️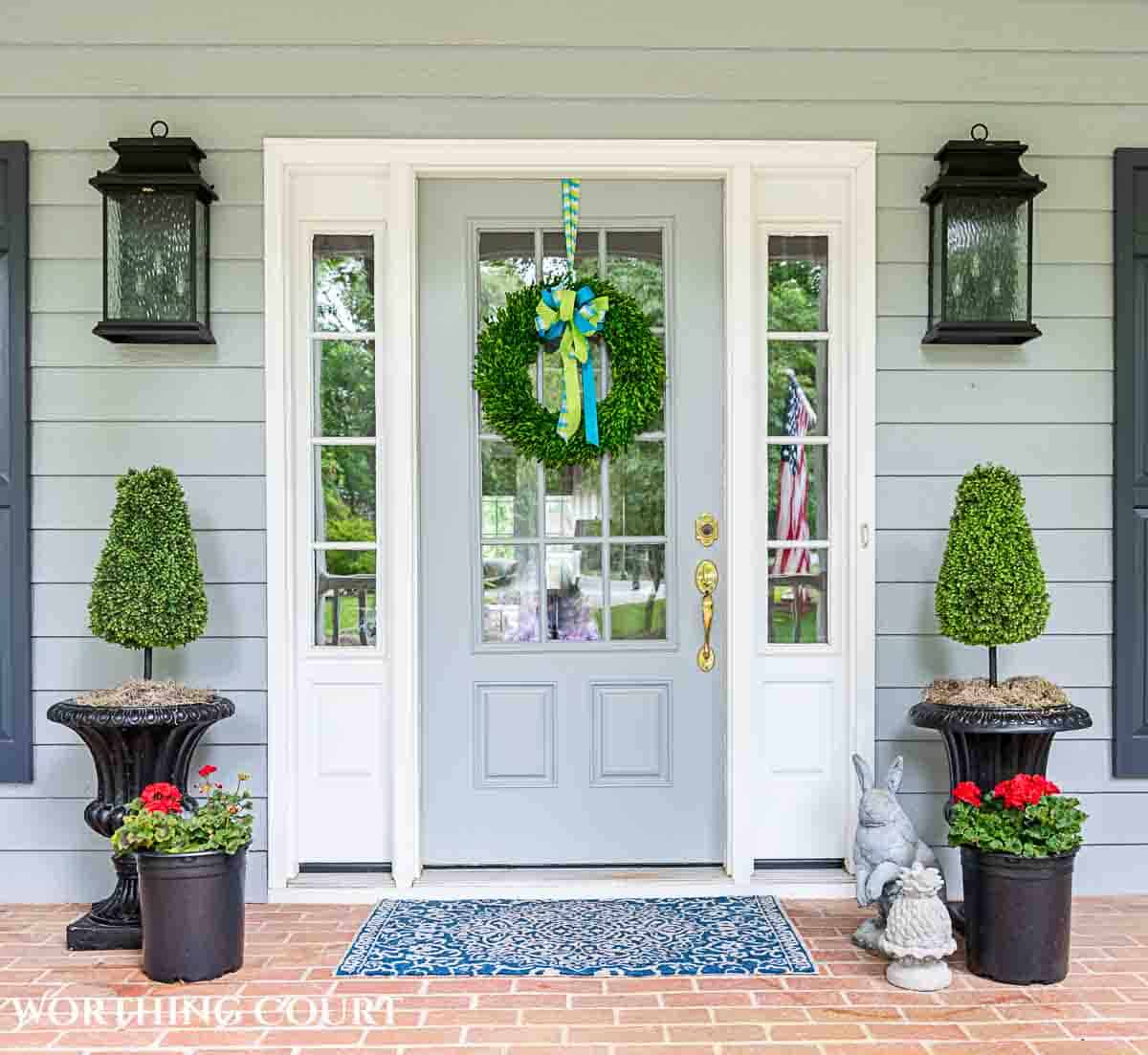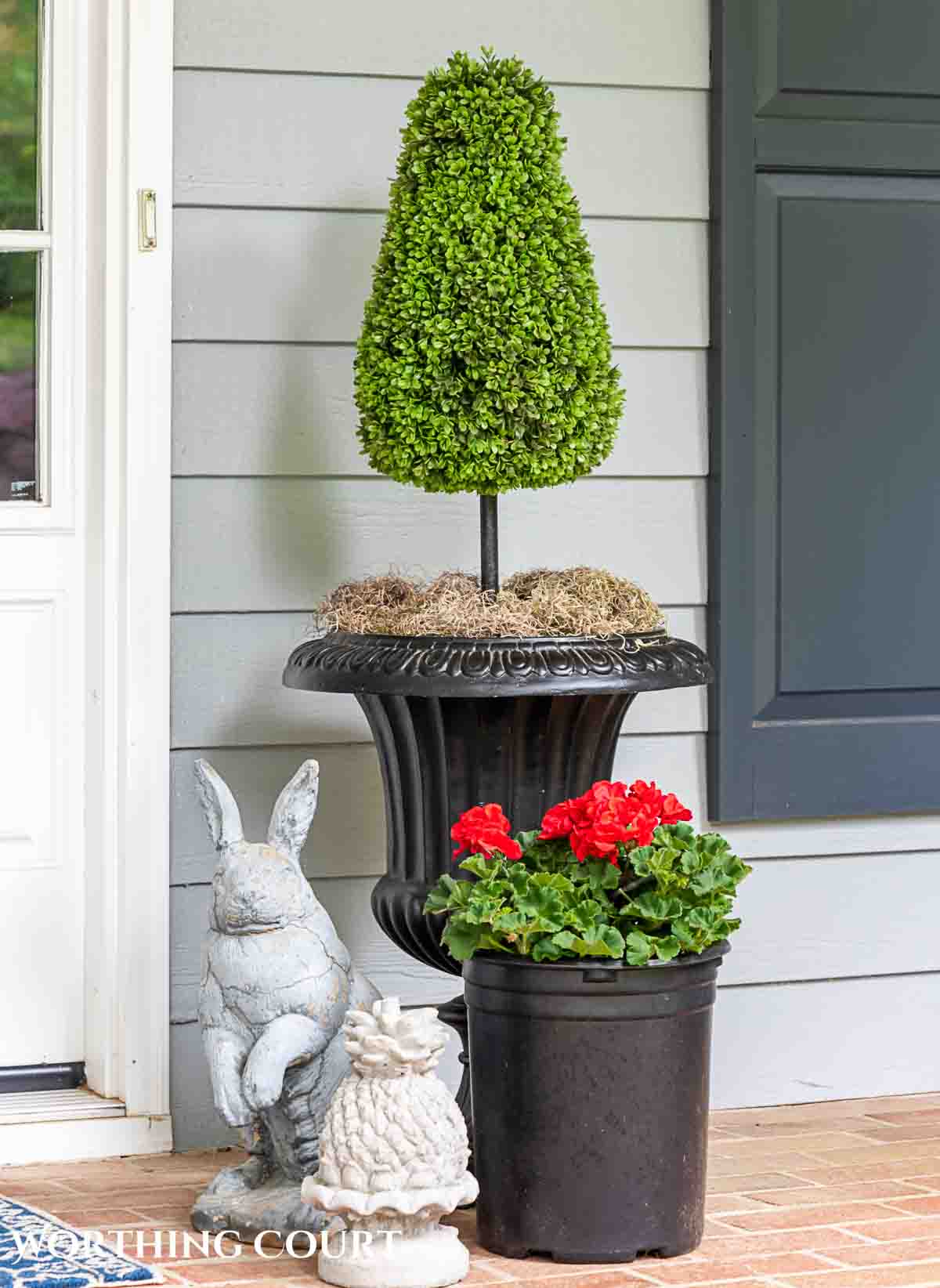 The front porch may look quite a bit different, but the only permanent change that I made was to paint our stained wood Adirondack chairs white. Making that one change totally transformed the look of our porch.
If you'd like to see them when they were stained, take a look HERE at last summer's front porch.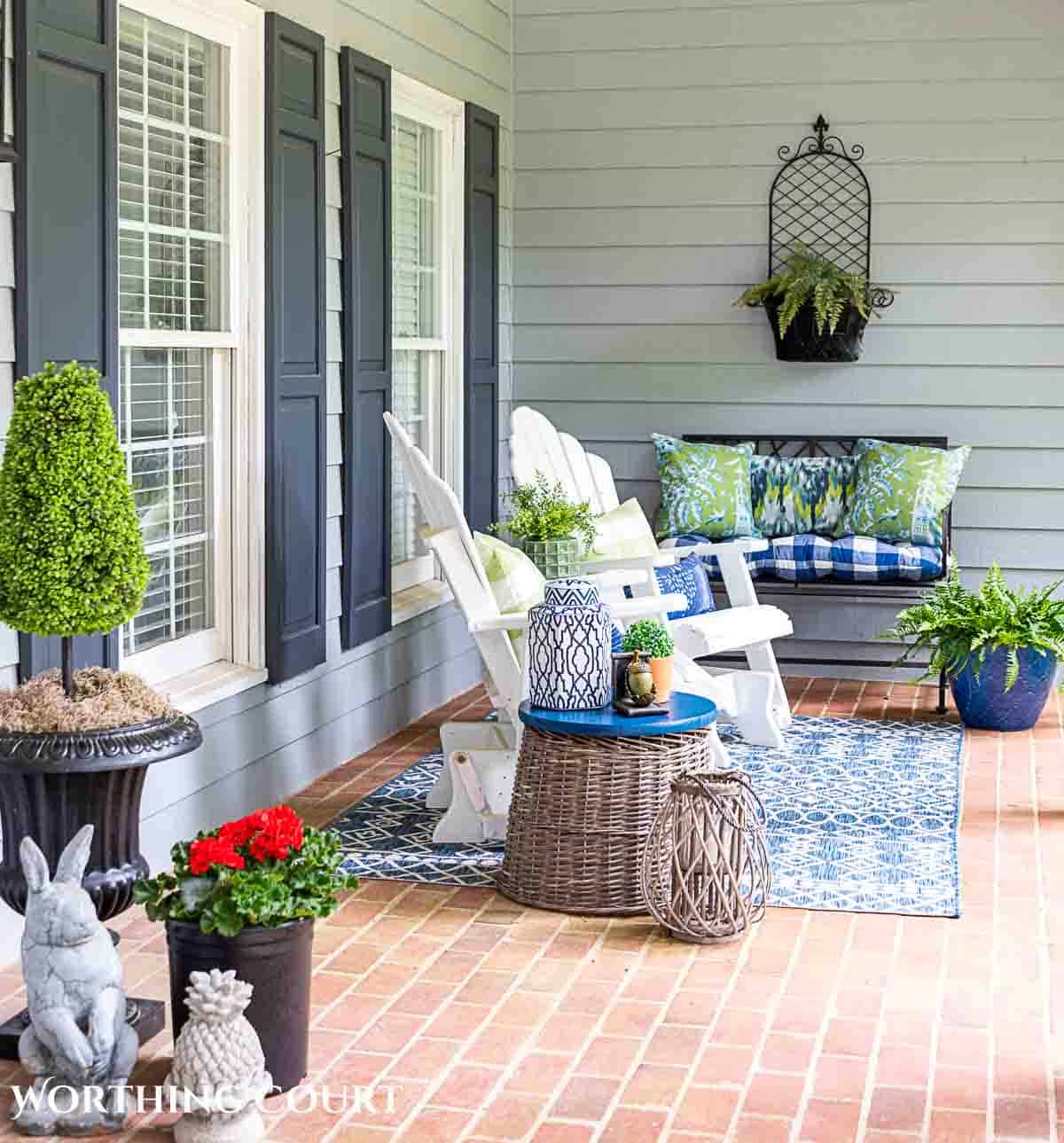 The painted version of the chairs was debuted for last year's fall front porch, which was decorated with navy and burgundy. It was so pretty!
The rest of the new, refreshed look was accomplished with pillows, bench cushions and different accessories that I pulled from my stash.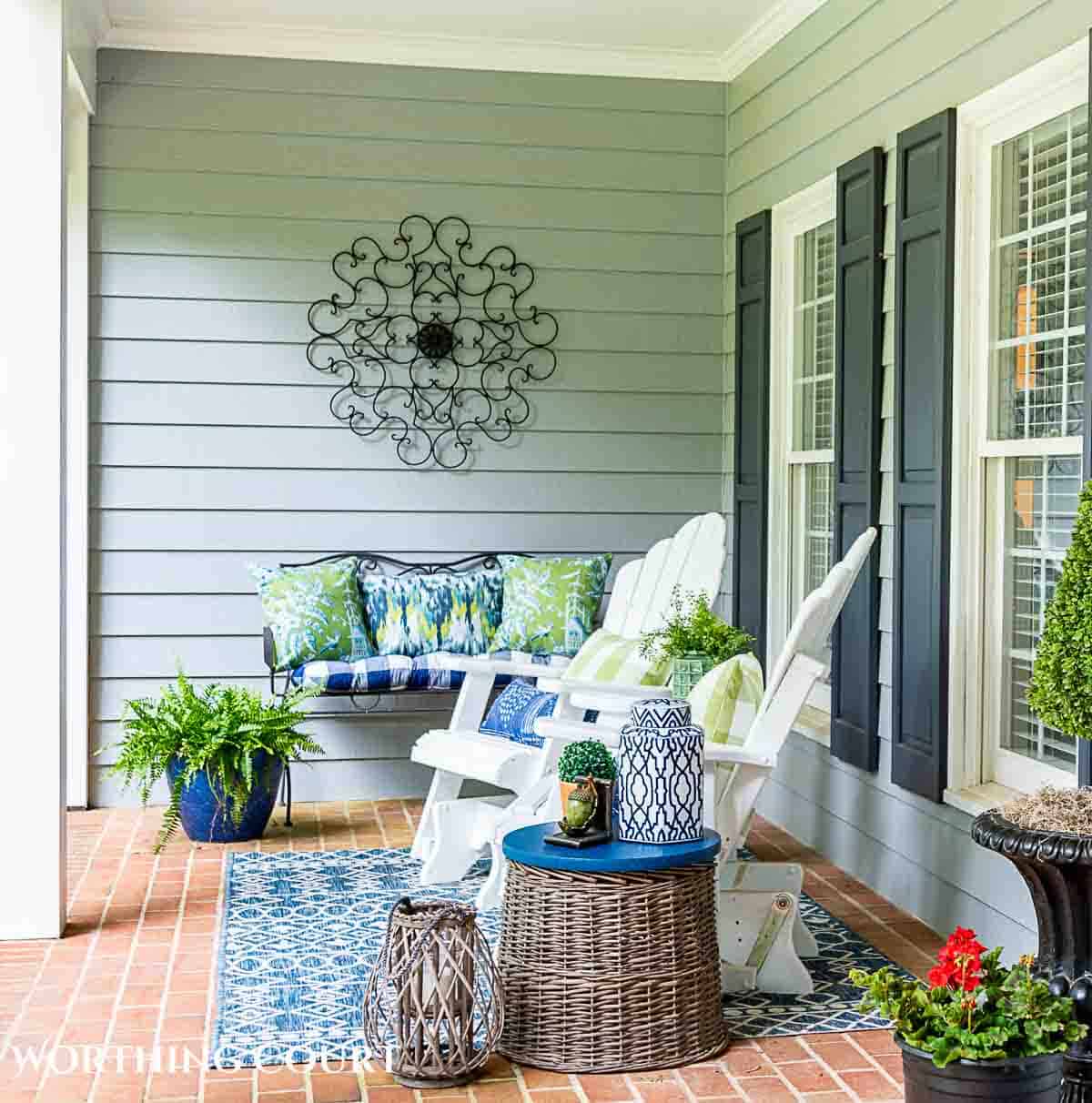 It's entirely possible that my very favorite things on the front porch are the brightly colored blue and green pagoda pillow covers.
I love them so much that I intend to move them to the inside of the house when summer is over.
You can easily tell that I love to mix patterns! Luckily, I can provide you with links to everything, or something similar, in case you'd like to embrace this color palette too: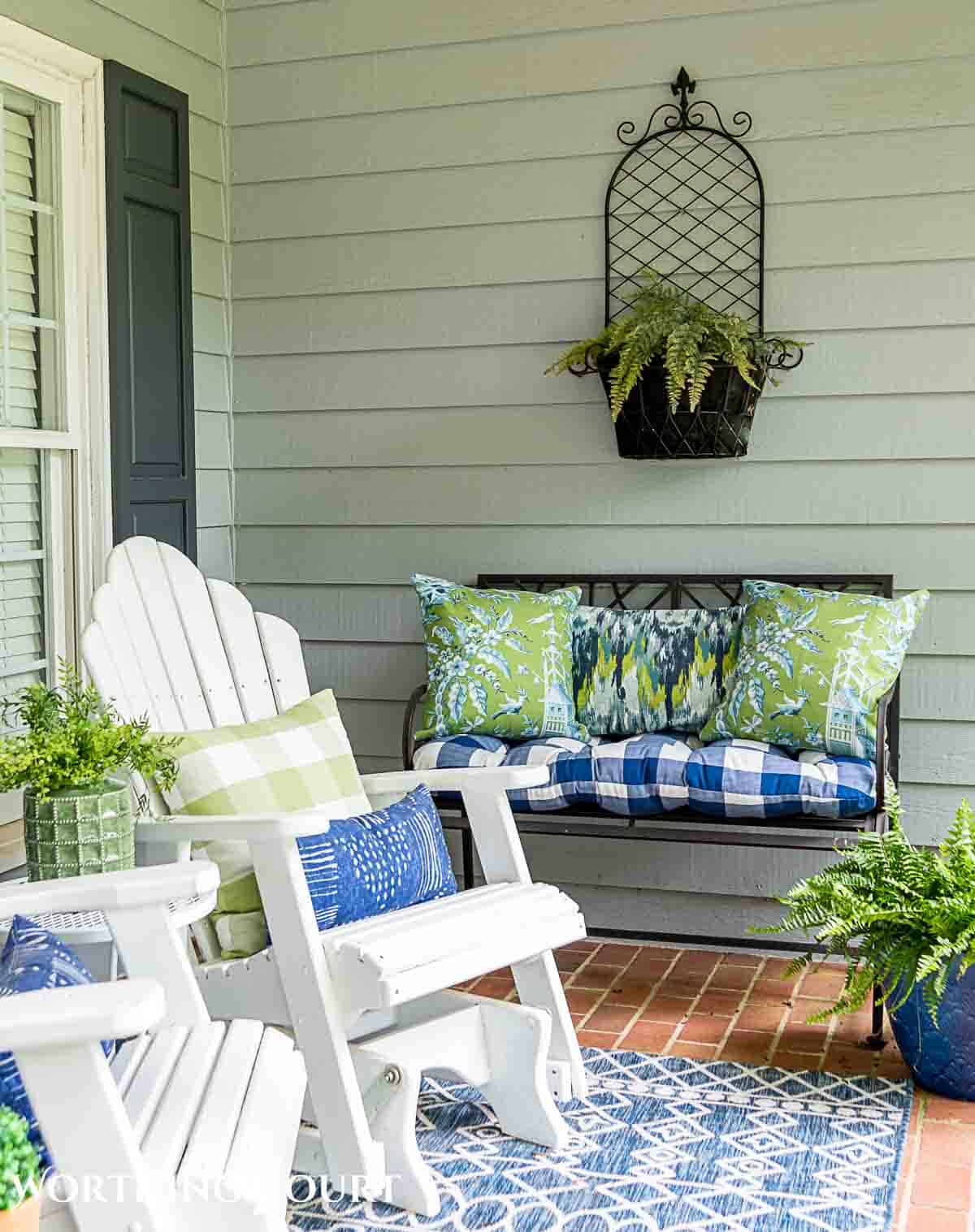 I've used large gray baskets, turned upside down, as end tables for several years. To freshen them up this year, I purchased an unfinished wood table round for each one and spray painted them a pretty shade of blue.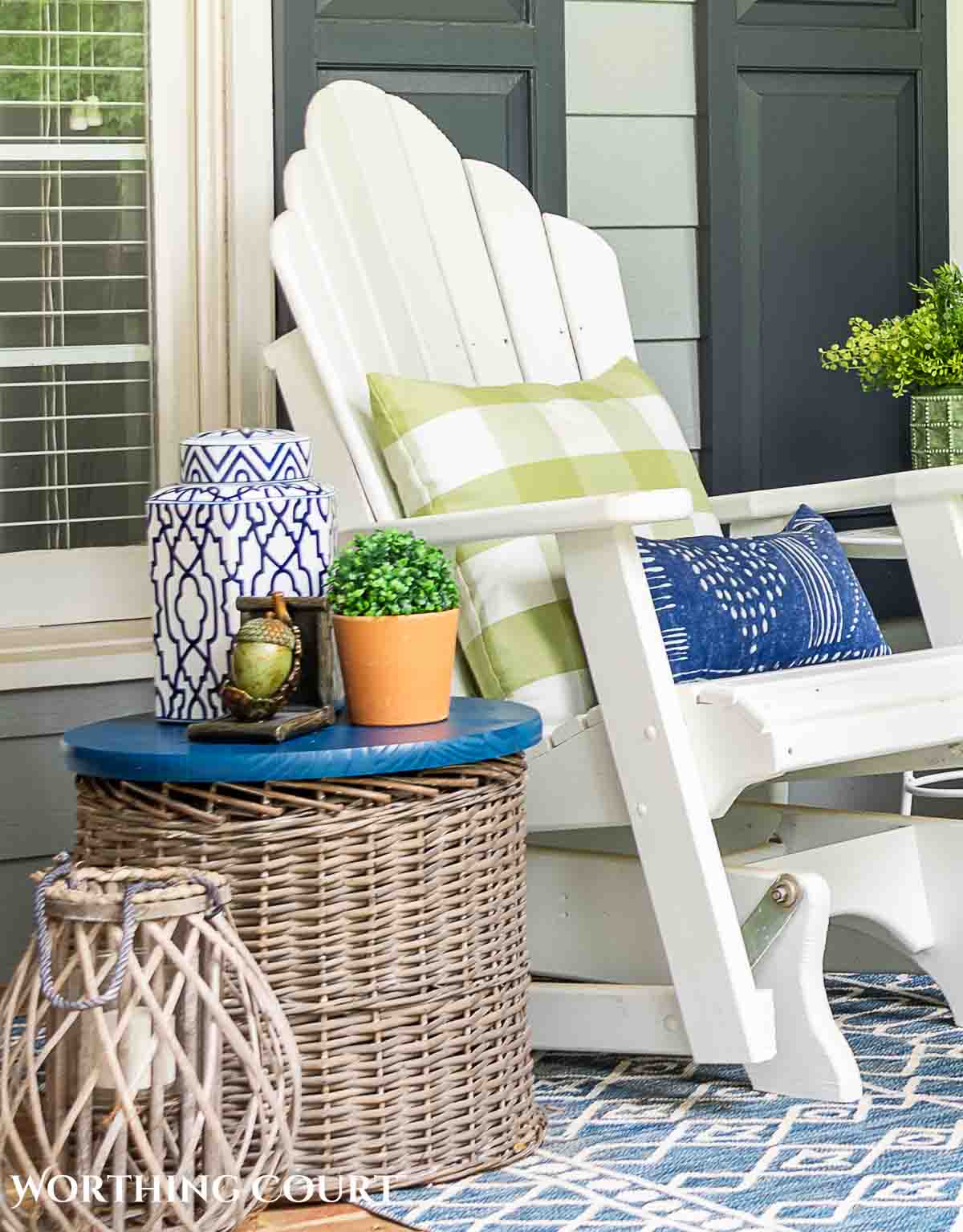 I love having a pretty front porch to welcome any visitors, but the screen porch is where we live the majority of the time during the summer.
We're so determined to take full advantage of outdoor living season, that you'll often find us out here when it's 90º with 1000% humidity, with the ceiling fan and two smaller fans going in an attempt to stay cool….talking the entire time about how hot it is. #stubborn
It seems like this porch underwent a bit more of a drastic refresh than the front porch. It's a bit of illusion though, because it was all accomplished with one minor furniture repurpose, fabric and paint.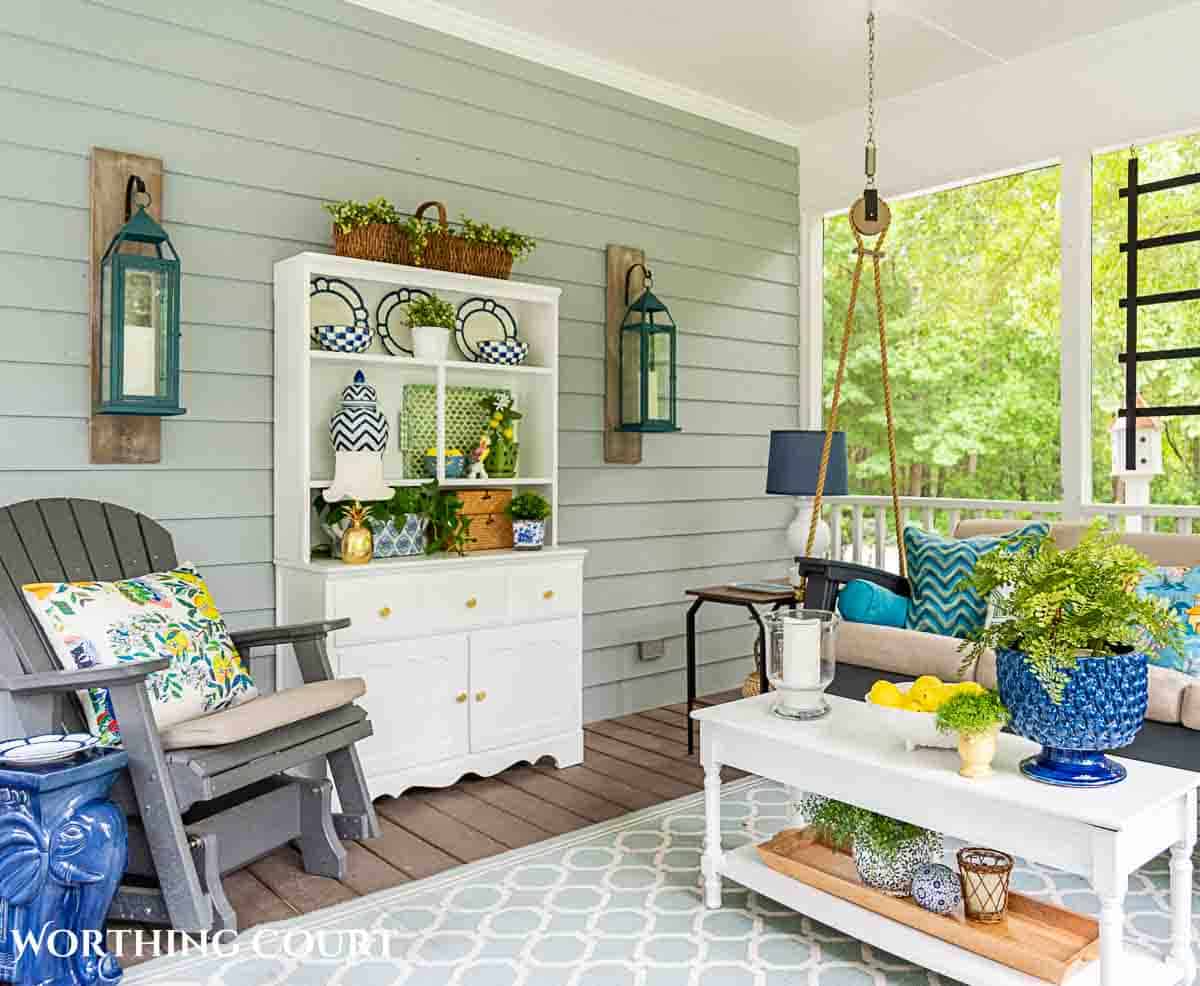 If you've seen my back porch before, you may remember that I used to have a set of louvered doors behind a small gray chest, on the same wall where this white hutch is currently located.
The chest is actually part of a hutch that we inherited from my mother-in-law. The top shelf part used to hang on the wall outside of my laundry room and acted as a drop-zone of sorts. I added hooks to it and it worked very well for corralling our coats and other paraphernalia.
With a fresh coat of exterior white paint and new hardware, I love its new look!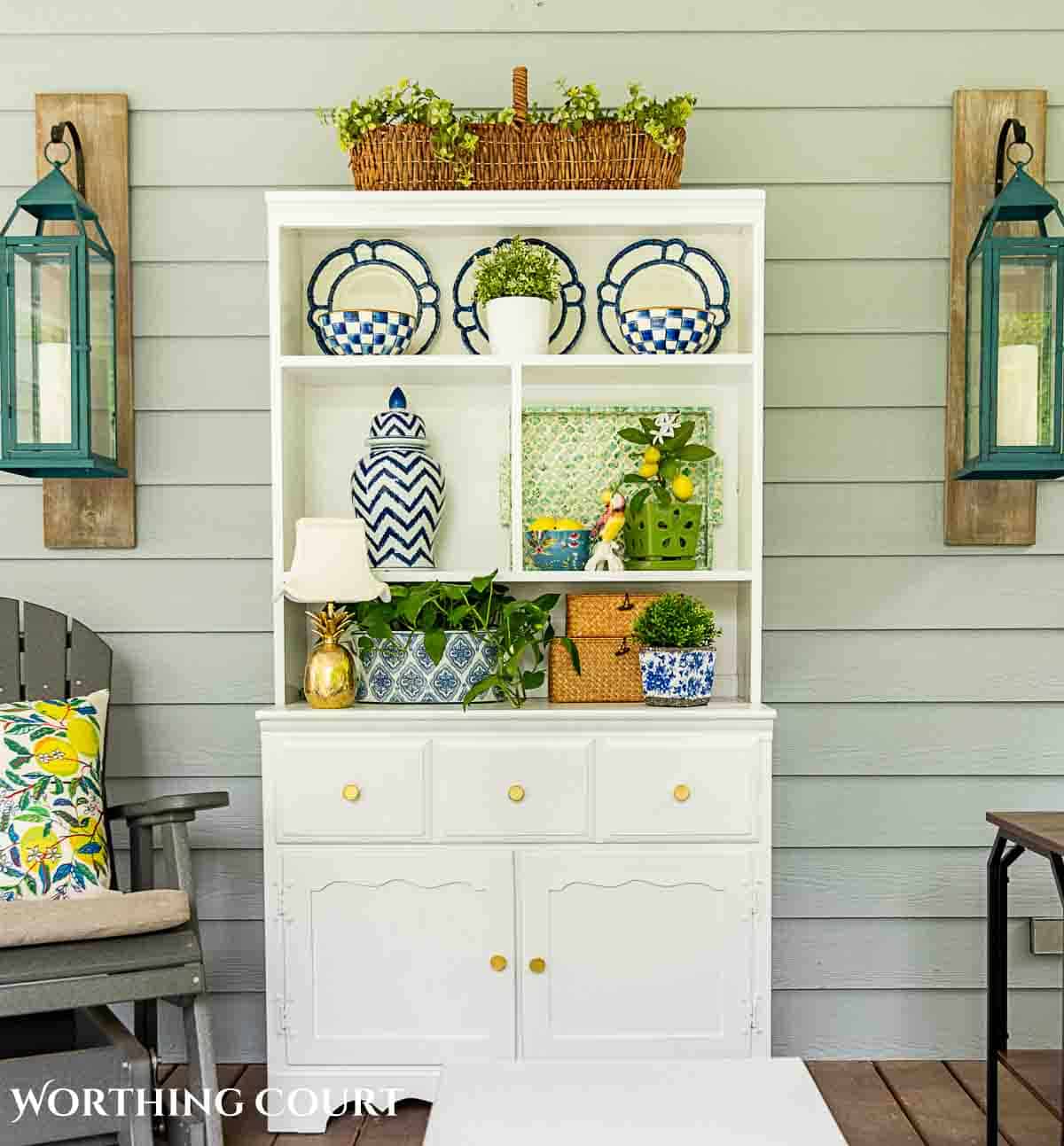 As I've been changing my decorating style over the last several months, the hubs and I have had a blast visiting every consignment store within driving distance and have found so many "treasures".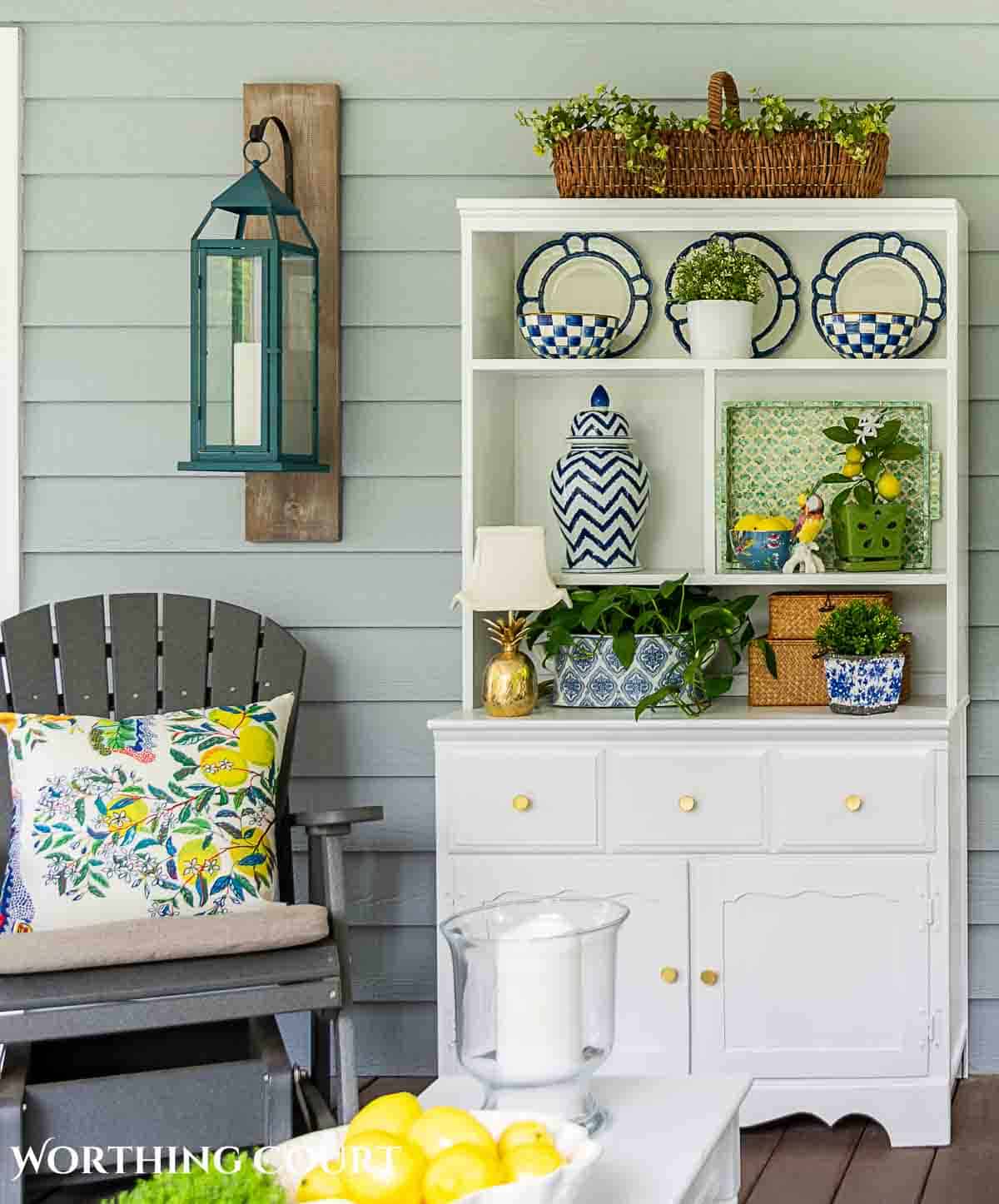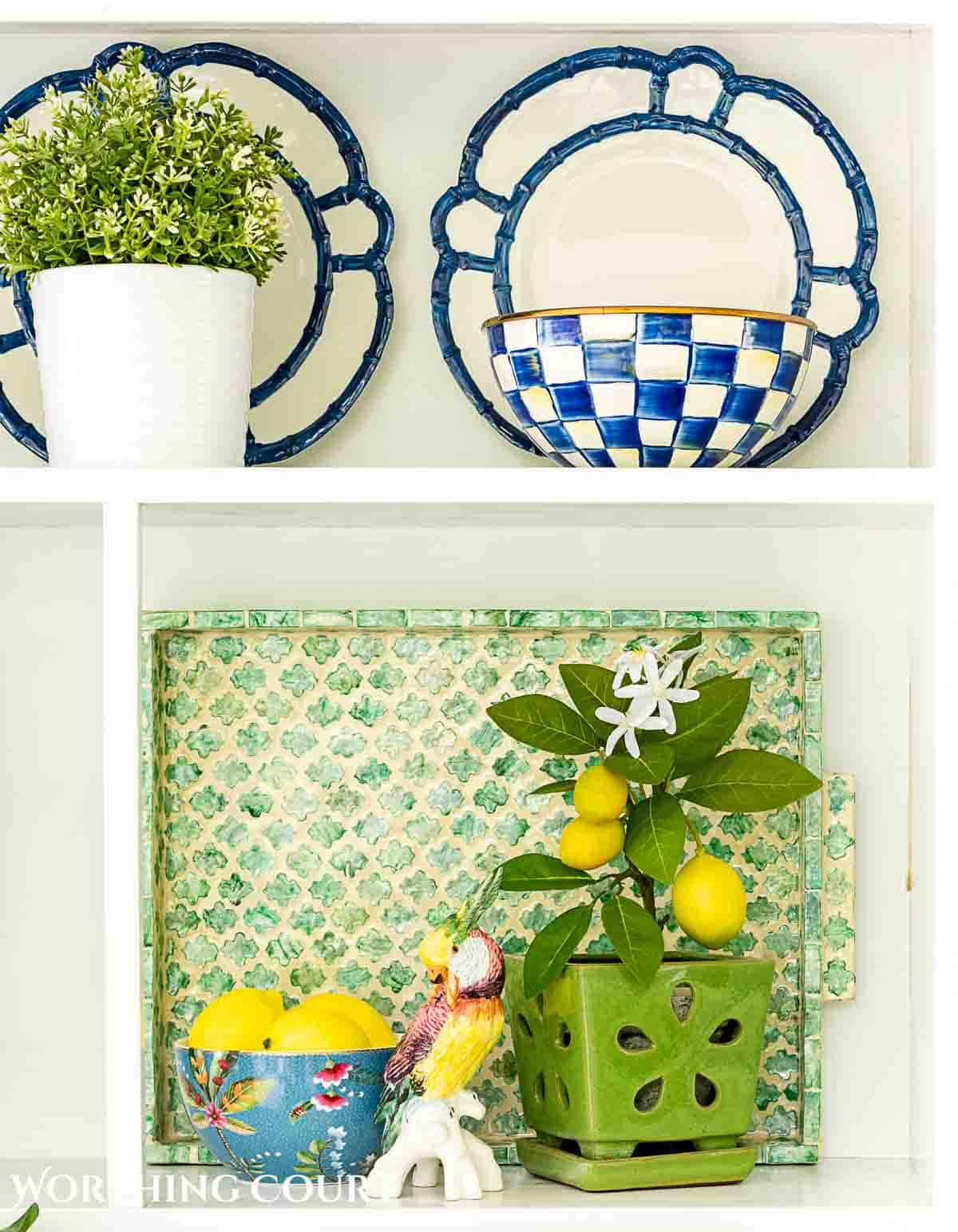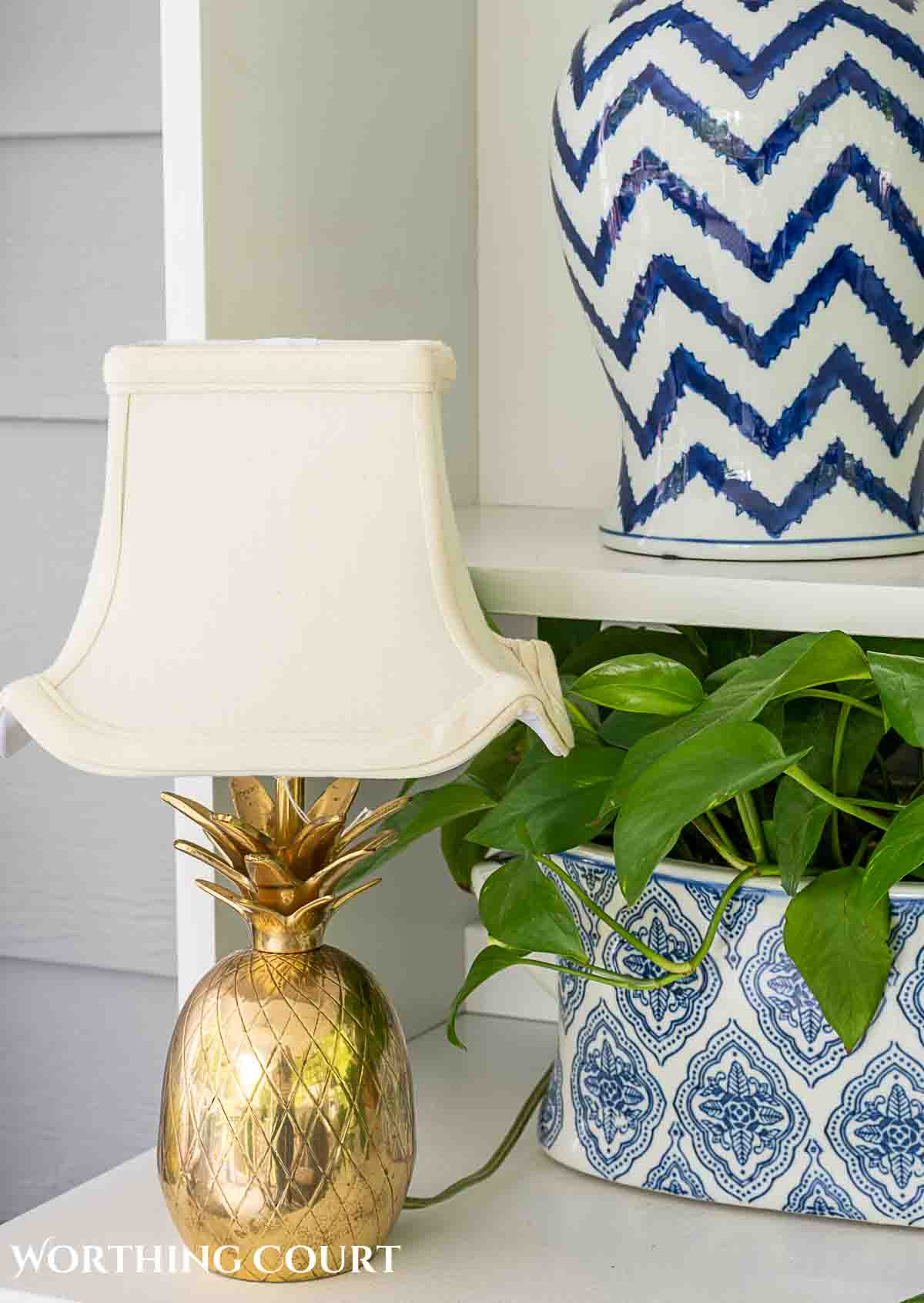 As part of our determination to take full advantage of outdoor weather, we even purchased an inexpensive tv that we place on the chest after it cools off at night. To protect it, we either carry it inside or keep it covered with a grill cover.
And there's no better place to recline and watch tv than the swing, piled high with oodles of pillows. 😃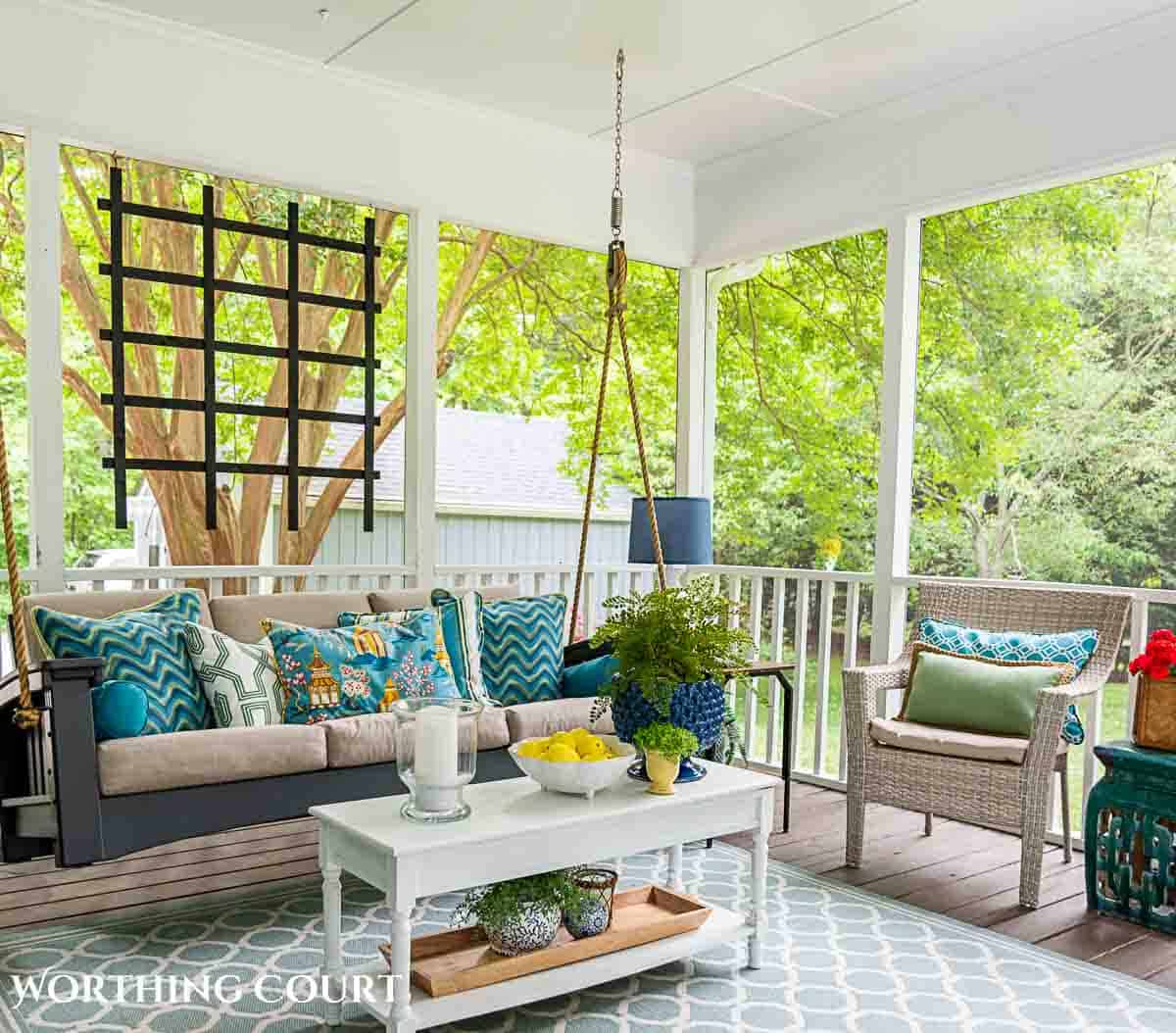 By the way – this outdoor rug is NINE years old and is from Ballard Designs. Even after power washing it every year, it still looks almost new. I find their outdoor rugs to be very durable and affordable. I can't recommend their outdoor rugs enough!
All of the pillows on the porch are a combination of consignment store finds, Amazon finds and pillows that I made. I've linked what I could below.
Just as with the blue and green pagoda pillows on the front porch, this colorful pagoda fabric is another favorite!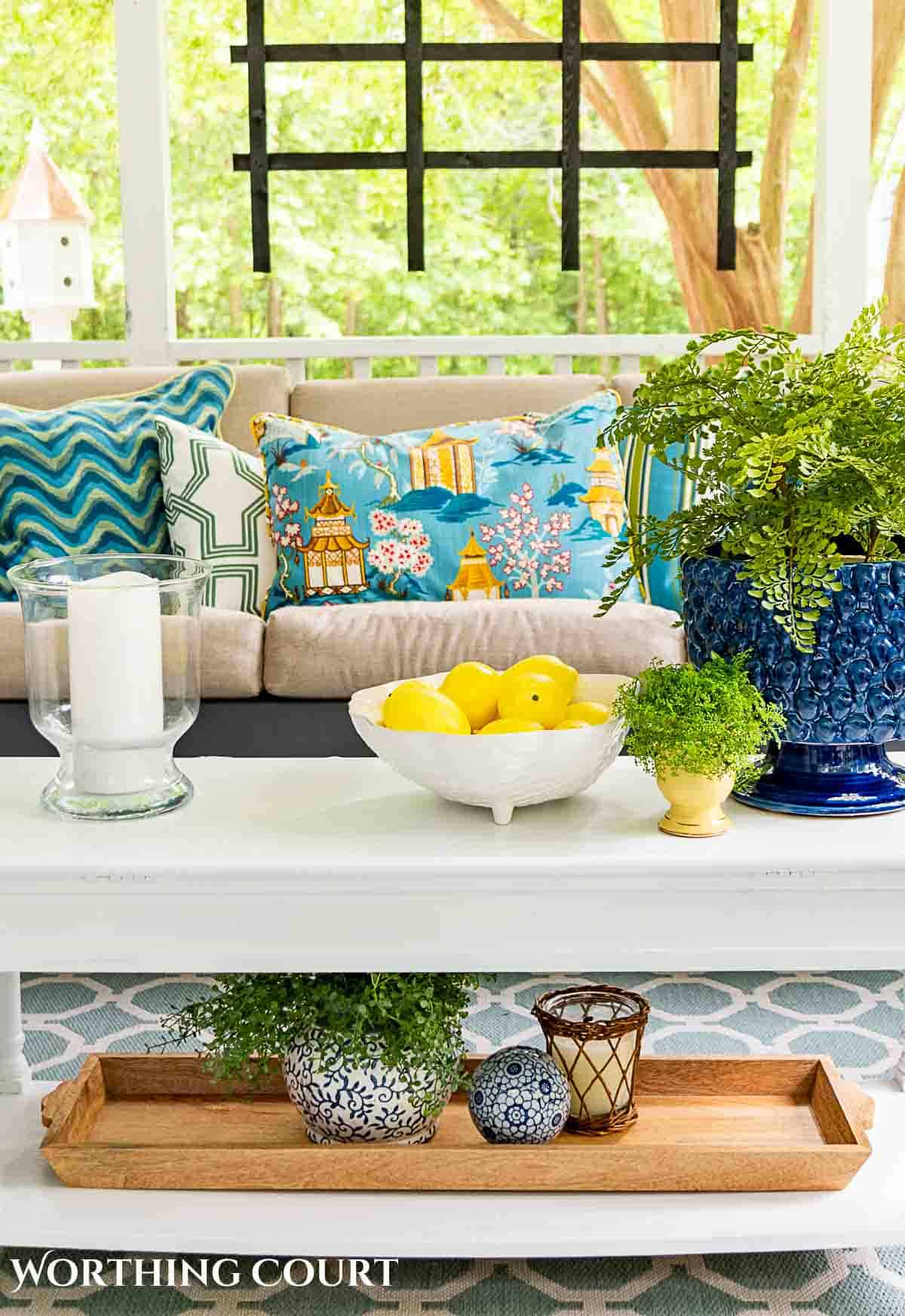 The yellow in the fabric allowed me to bring in yellow as an accent color in other areas of the porch, as you can see from this clam shell bowl filled with faux lemons…..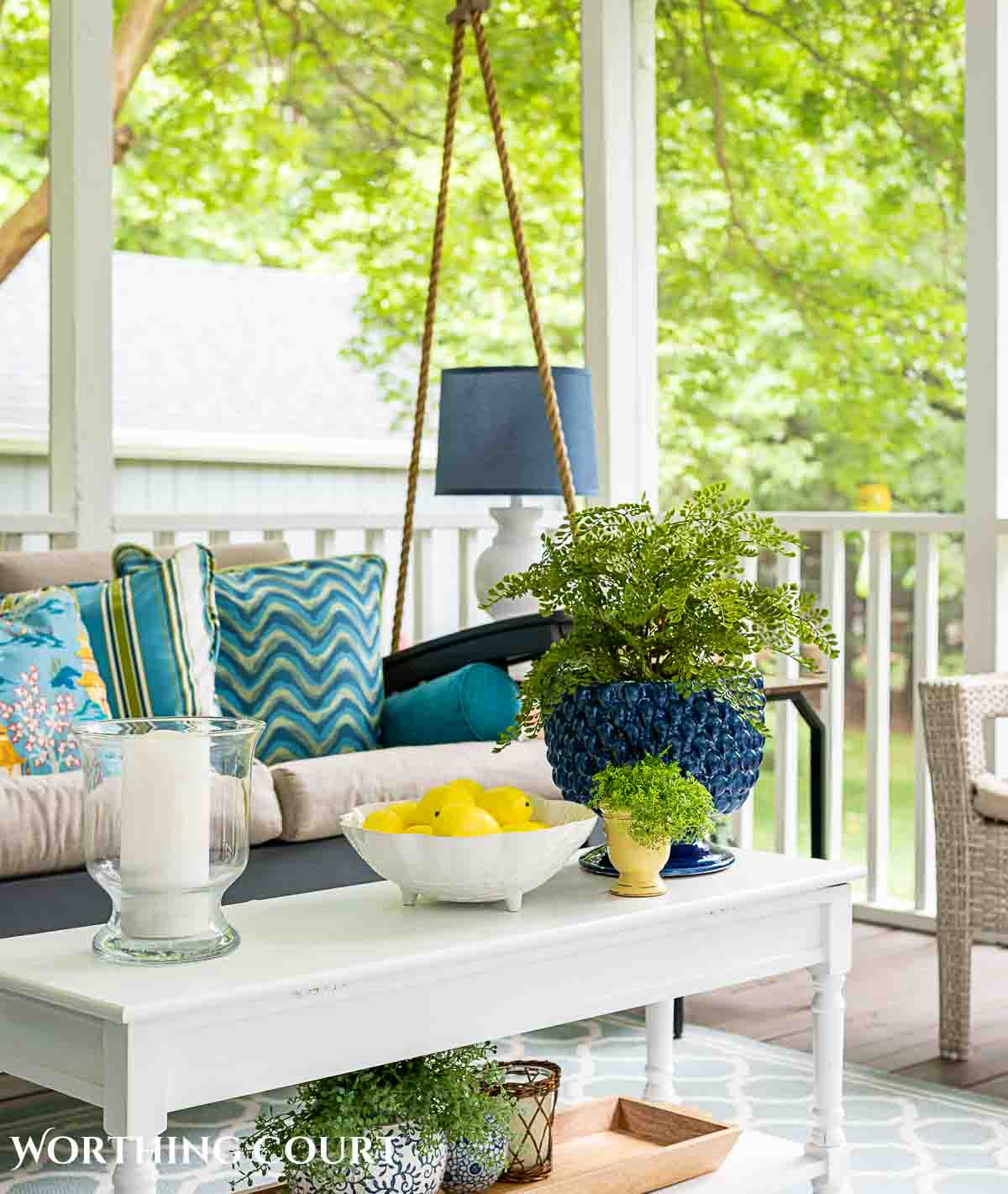 ….and the cute faux lemon tree on the shelves too!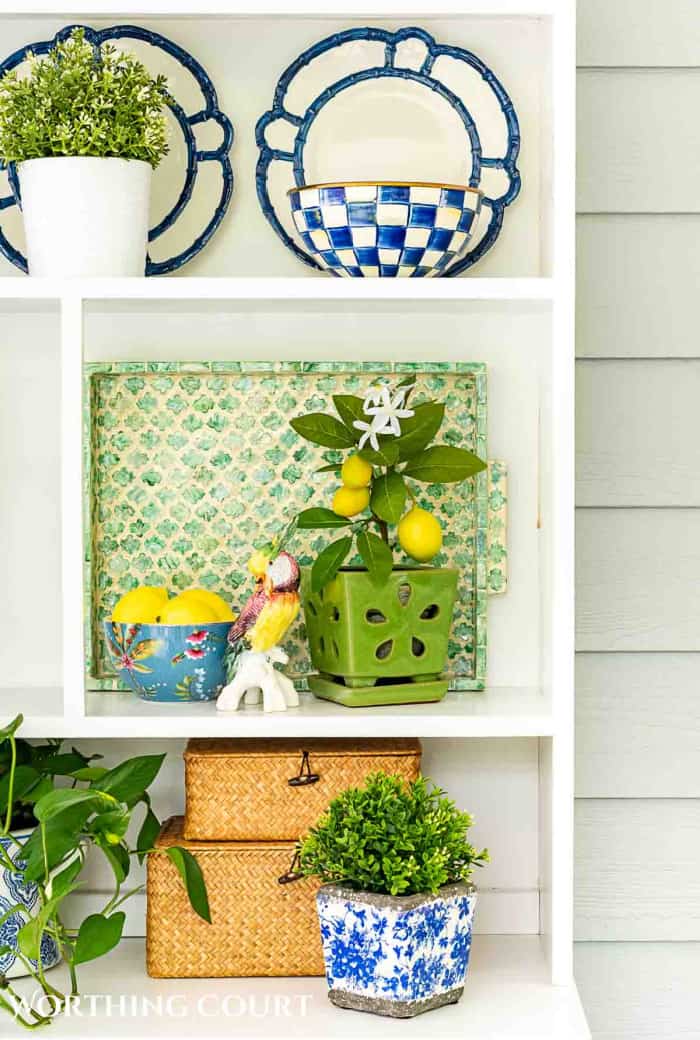 And it gave me the idea to set our table-for-two with a pretty lemon tablecloth and a few if the yellow cabbage-ware dishes that I inherited from my mom.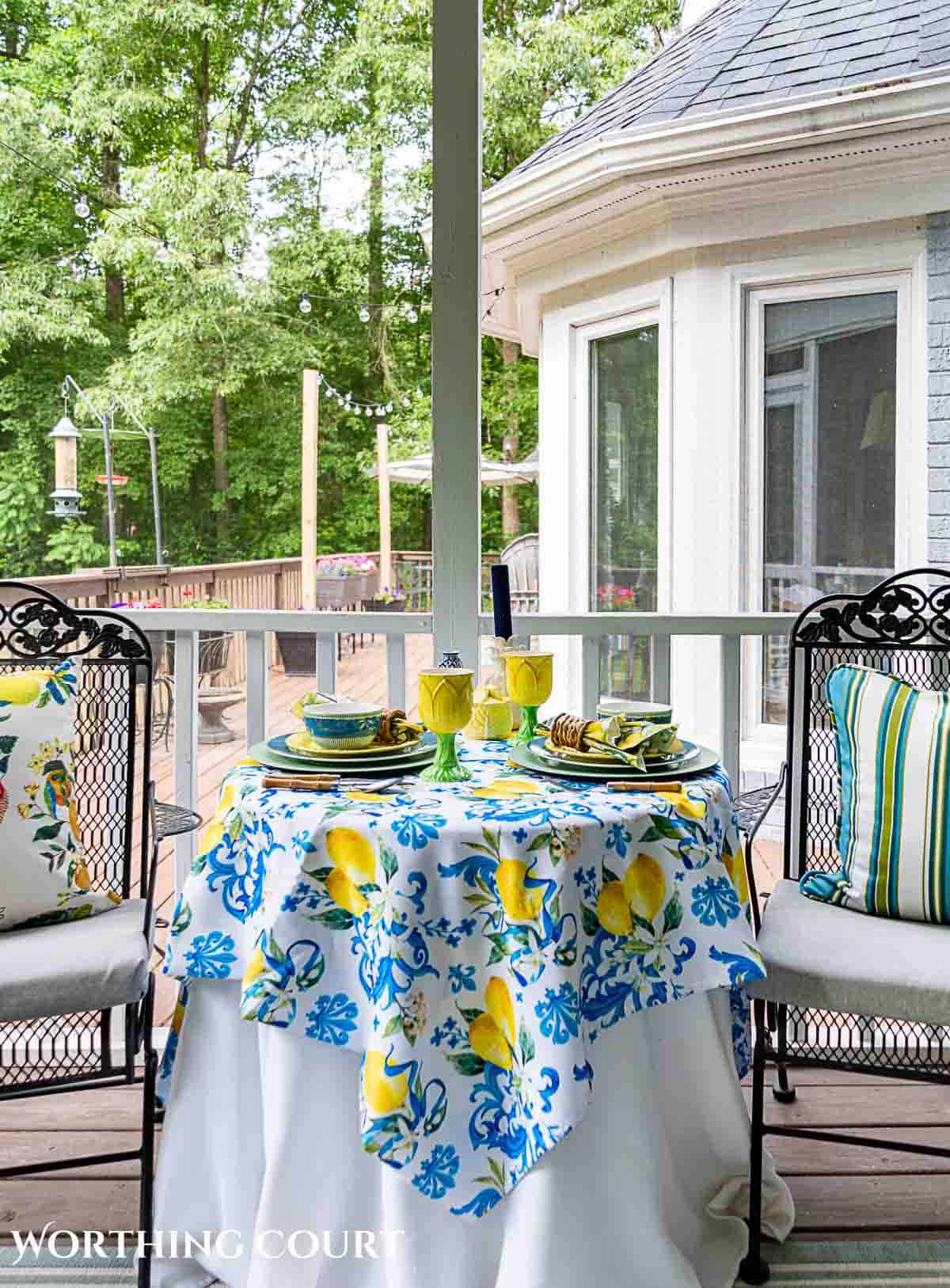 The tulip goblets are from her too, and are a favorite to use for my favorite low calorie summer drink.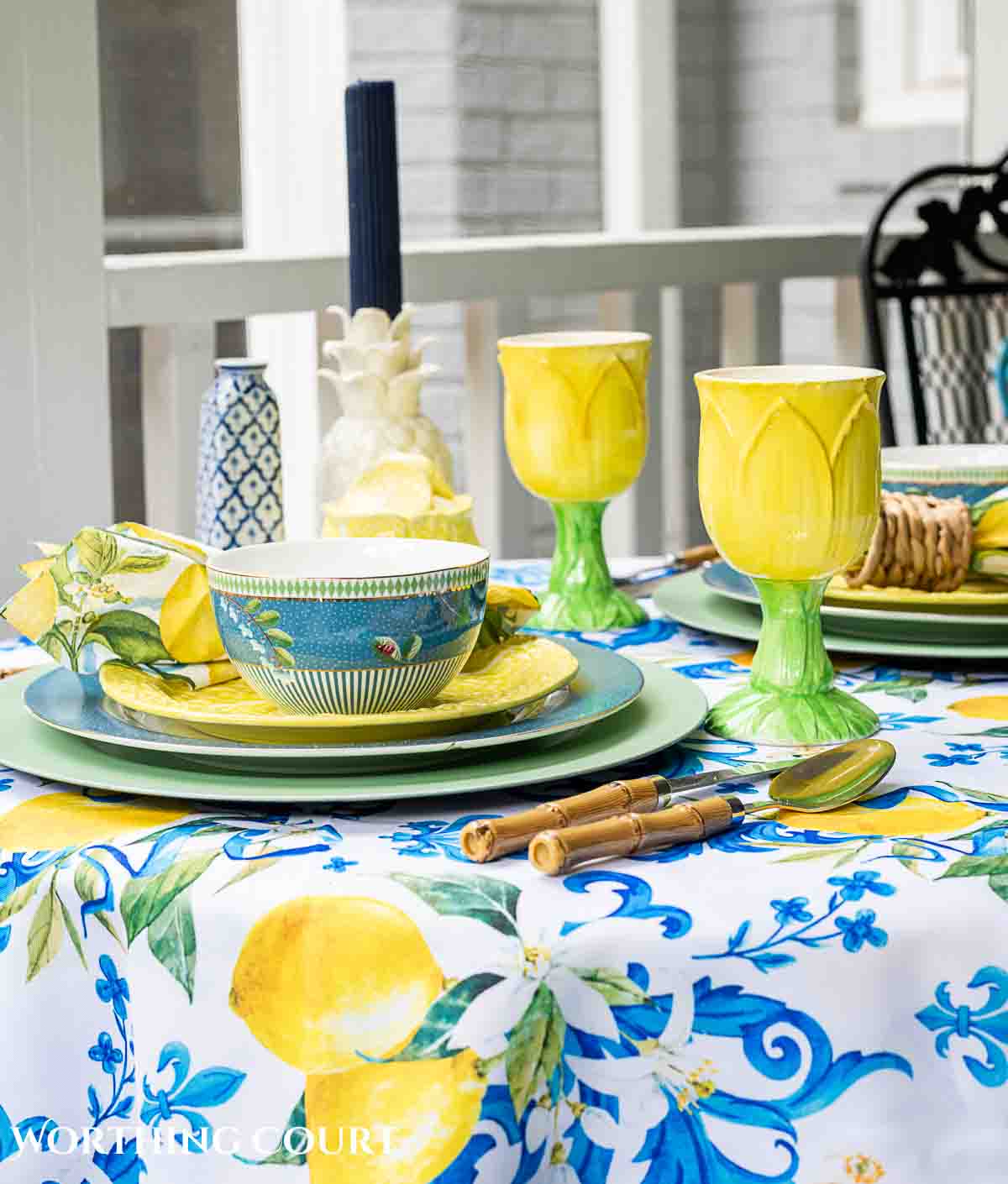 The faux bamboo flatware and wicker napkin rings are a perfect fit for the style of this summer tablescape!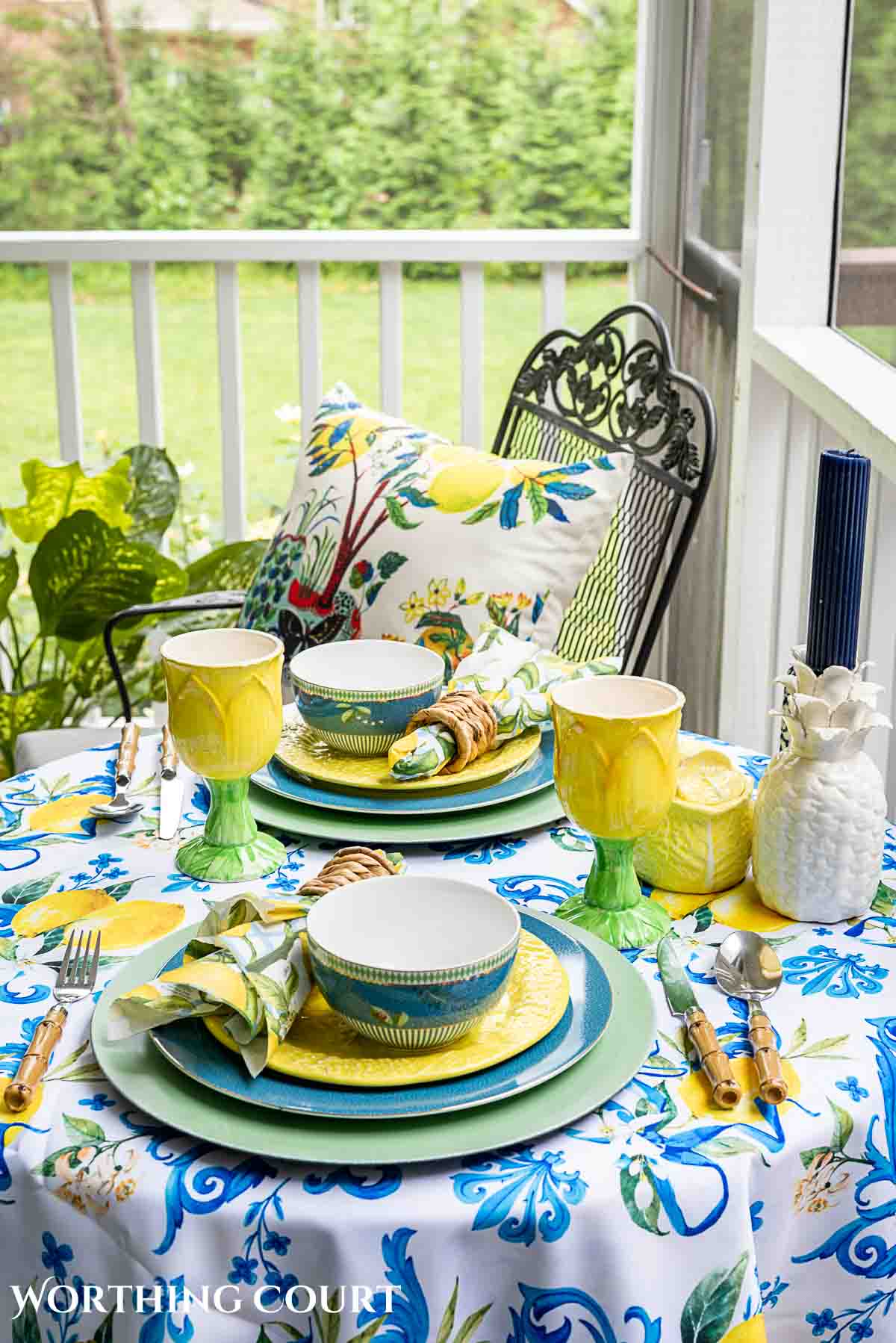 You may have noticed touches of red on a couple of the pillow fabrics, so I added a bush of the most realistic faux red geraniums that I've ever seen. The spot of red and pops of yellow give your eye a bit of a rest from all of the blue and green.
The rattan planter is another consignment store score!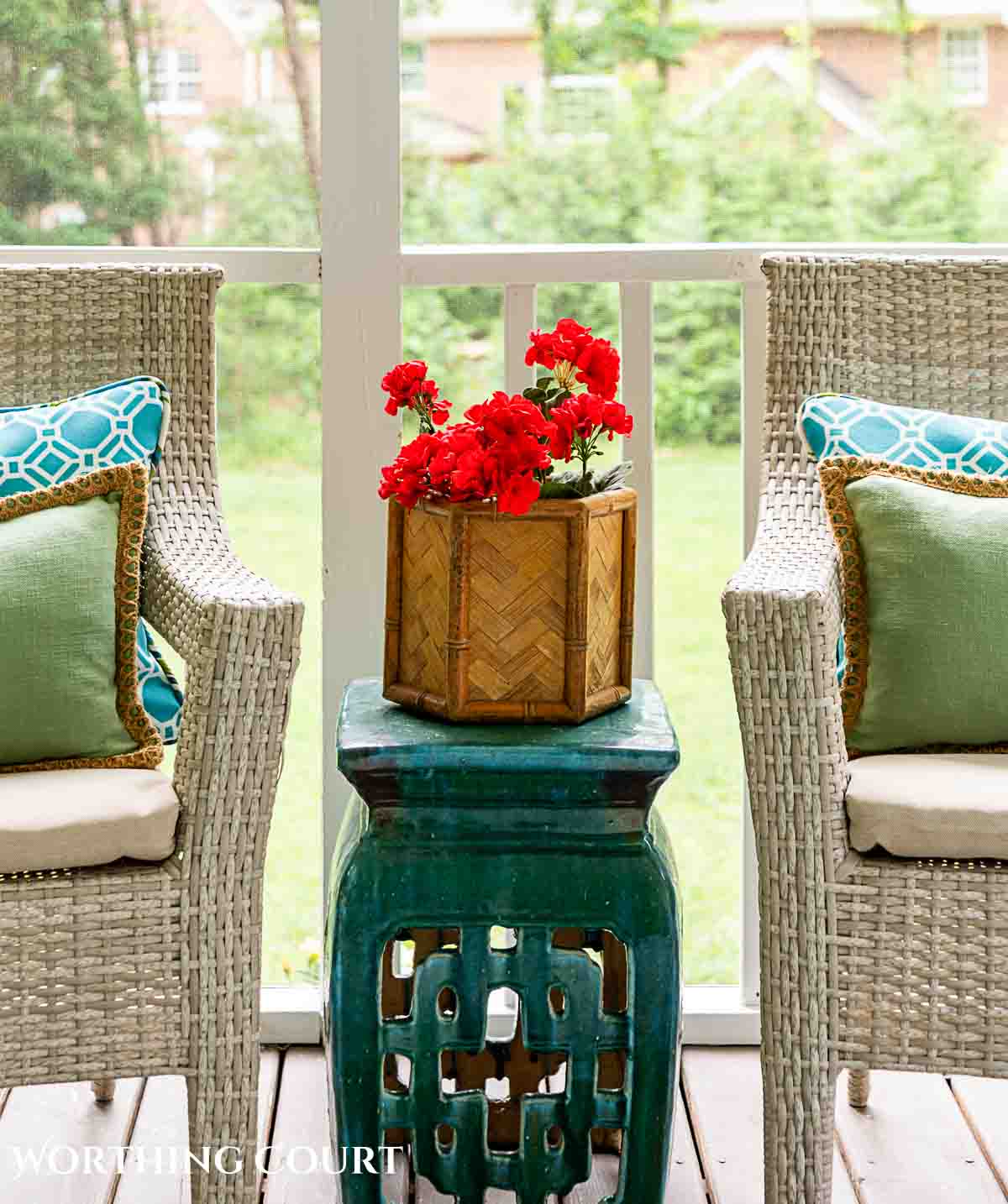 Thank you for coming by for a visit on my summer styled porches today!
Next up on the summer tour is Yvonne, from StoneGable. You definitely don't want to miss her simple summer decorating tips and ideas that she's sharing from her foyer, living room, dining room and sunroom.
Then be sure to check out the rest of the tours this week.
Bloggers' Best Summer Home Tours
This week I am joining some of my blogging friends for the Bloggers' Best Summer Home Tours. Twenty eight talented and creative women will be opening their homes up for you to tour all week long. You can visit each summer home tour by clicking the links below.
Monday's Tours

The Tattered Pew // Worthing Court // StoneGable
My Wee Abode // Southern Home and Hospitality // My Thrift Store Addiction
Tuesday's Tours

She Gave It a Go // Cottage In The Mitten // Eleanor Rose Home
Peacock Ridge Farm // Bricks n' Blooms // Cottage On Bunker Hill
Wednesday's Tours

White Arrows Home // A Life Unfolding // Simply2Moms
WM Design House // White Lilac Farmhouse
Thursday's Tours

The Ponds Farmhouse // Thistle Key Lane // Open Doors Open Hearts
Robyn's French Nest // Cloches and Lavender // DIY Beautify
Friday's Tours

Pasha Is Home // My Family Thyme