Happy And Bright Spring And Summer Front Porch Tour
A bright and cheerful front porch decorated for spring that will last all the way through the summer.
One of my favorite things about our house is the large, traditional Southern style front porch that spans most of the middle width of our house.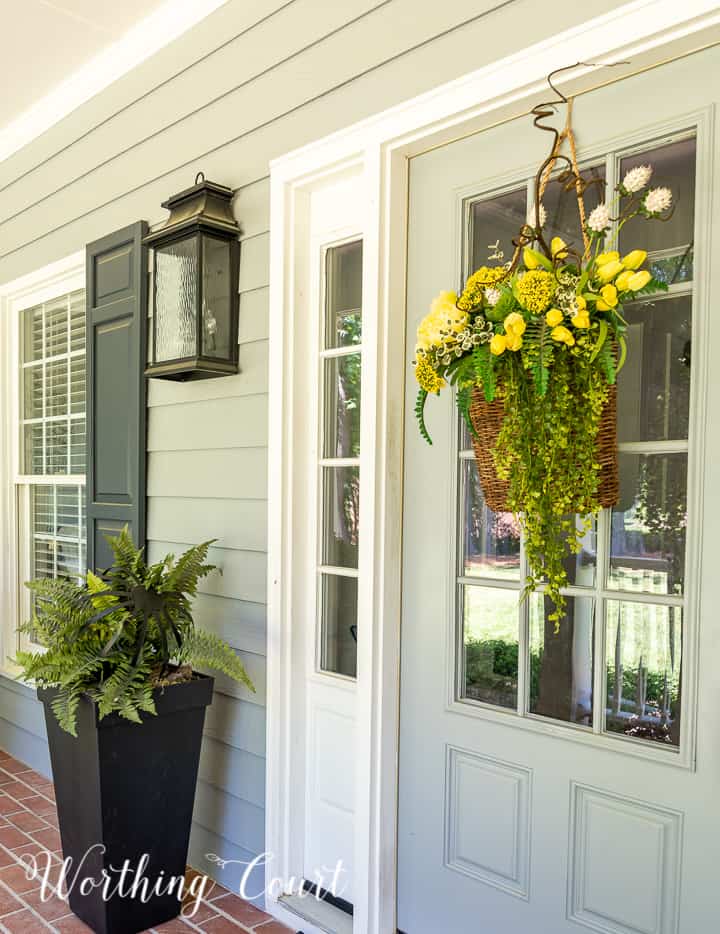 Pin
I've never had a house with a front porch as large as this one, so it took me a while to figure out how to best decorate it, so that it would seem welcoming without feeling too full or too empty.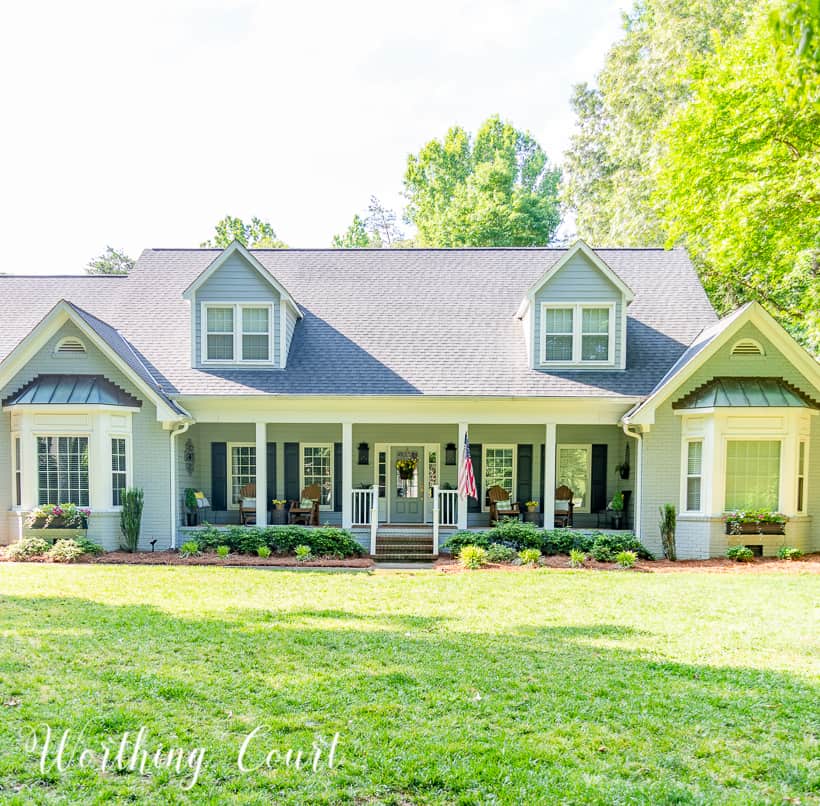 Pin
A few years ago, we replaced the mahogany front door, that had an oval glass in it, with a door with large glass panes. It's one of the best changes that we've made to the front exterior of our house because it let's so much more light into our rather dark foyer. You can see the original door and house color HERE.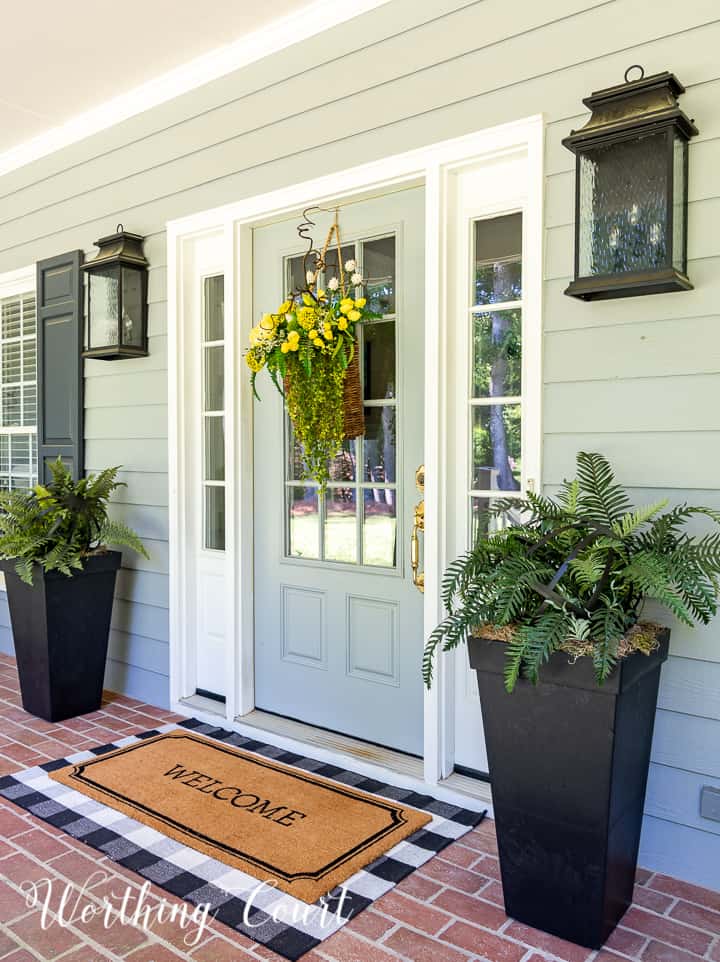 Pin
You might wonder why I don't have a privacy shade over all that glass, but we do all of our living in the back of our house, so the only time anyone could see us from the door is if we happen to walk by.
I agonized over the paint color! I really wanted a pretty shade of blue, but because our porch is covered and because our house sits rather far from the street, every shade of blue that I liked and tried looked black from the street.
Long story short, I wound up deciding to paint the door the same color as the brick, which is Sherwin Williams Network Gray. We chose to mix the paint at 85% intensity for the brick, but I used full intensity on the front door to give me a bit of contrast.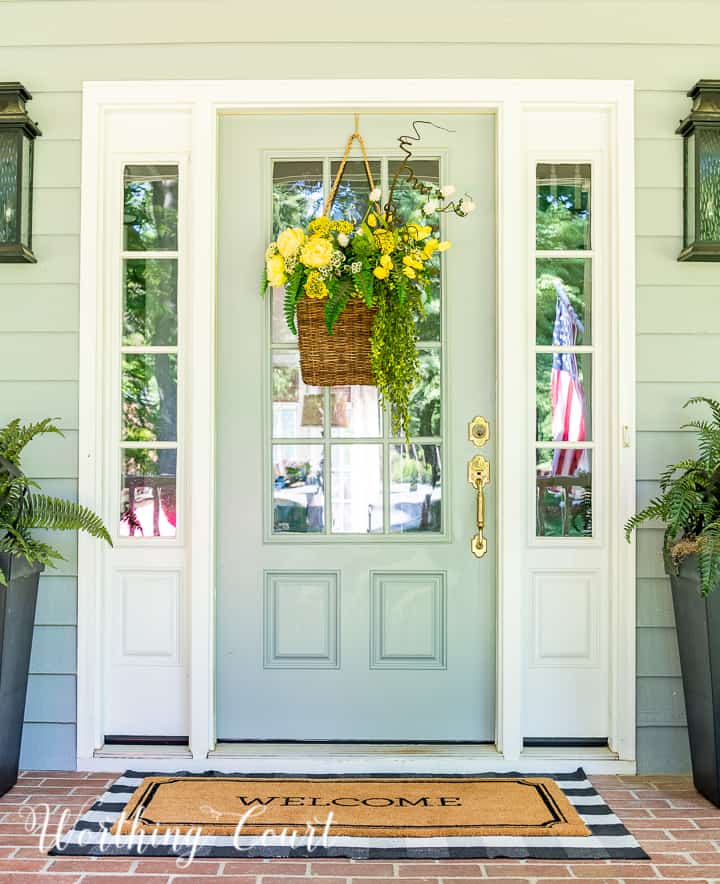 Pin
I gave the area around the door an updated look by replacing my traditional urns with tall, square ones. I love how they look! The ones that I used can be found HERE and are available in three different sizes.
The problem with planters like these is that you would have to use a huge amount of dirt to fill them, so I had the hubs cut a few pieces of wood for me that wedge down inside the planters to create a sort of shelf where I can simply place pots into the planters instead of actually planting in them.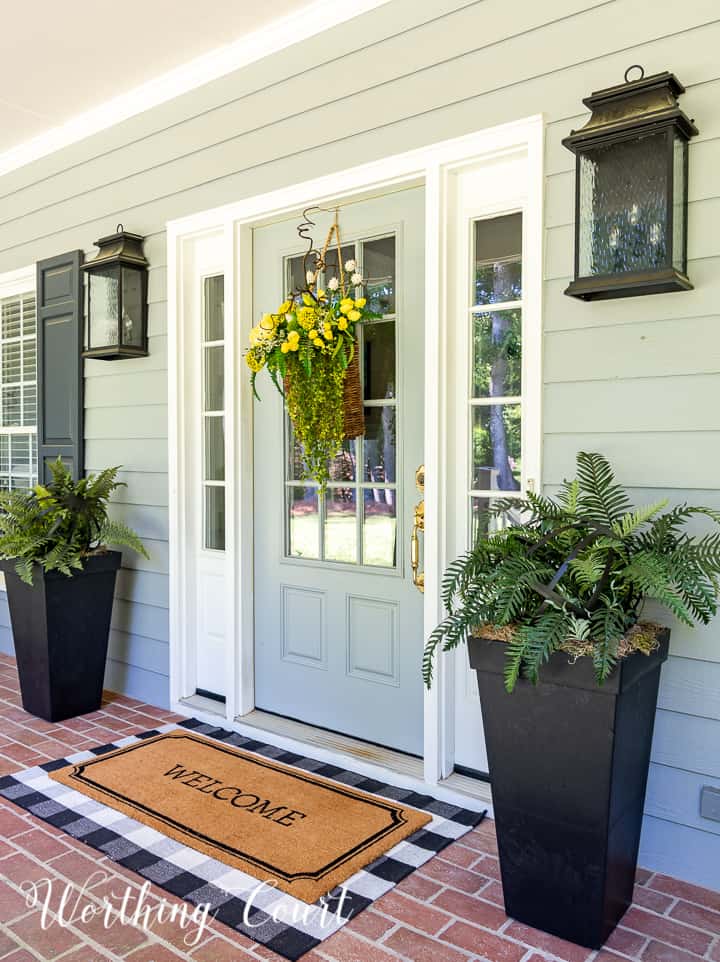 Pin
I decided to try something a little different than plants this year though. I love, love, love the look of metal garden orbs, but those puppies are expensive!
My solution was to create an orb by using zip ties to attach two round hanging planters together to form a ball. THESE PLANTERS would work well for emulating what I did.
My diy orbs are resting on a nest of Spanish moss, that is on top of the "shelf" that I created with the pieces of wood that are wedged down inside the container. I then filled each orb with a very realistic looking faux fern bush and pulled leaves through several of the openings.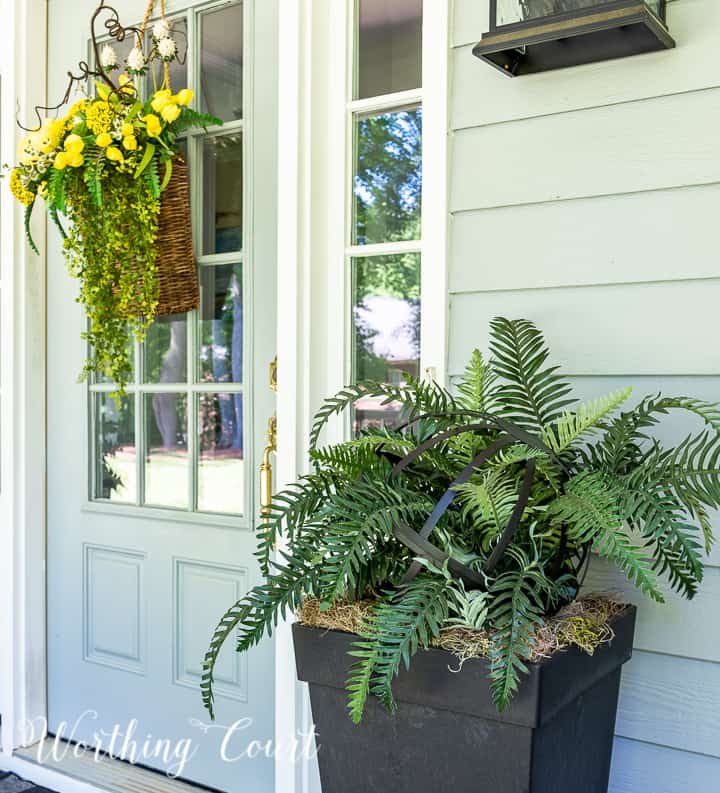 Pin
For my "wreath", I returned to one of my favorites, which is a hanging basket filled with a variety of artificial greenery and florals.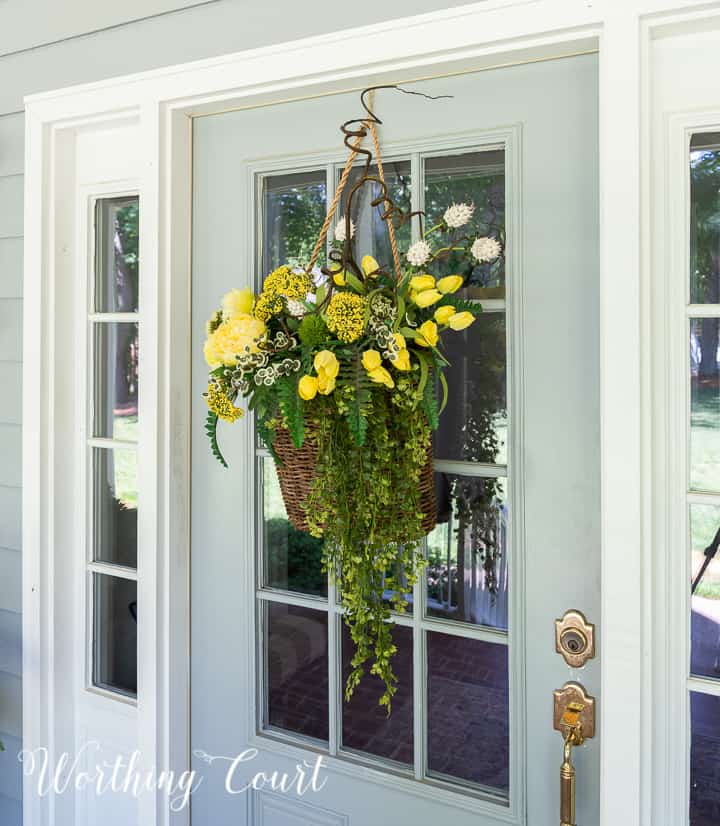 Pin
The height of the bendable branch and the length of the greenery sway add a lot of drama to the door.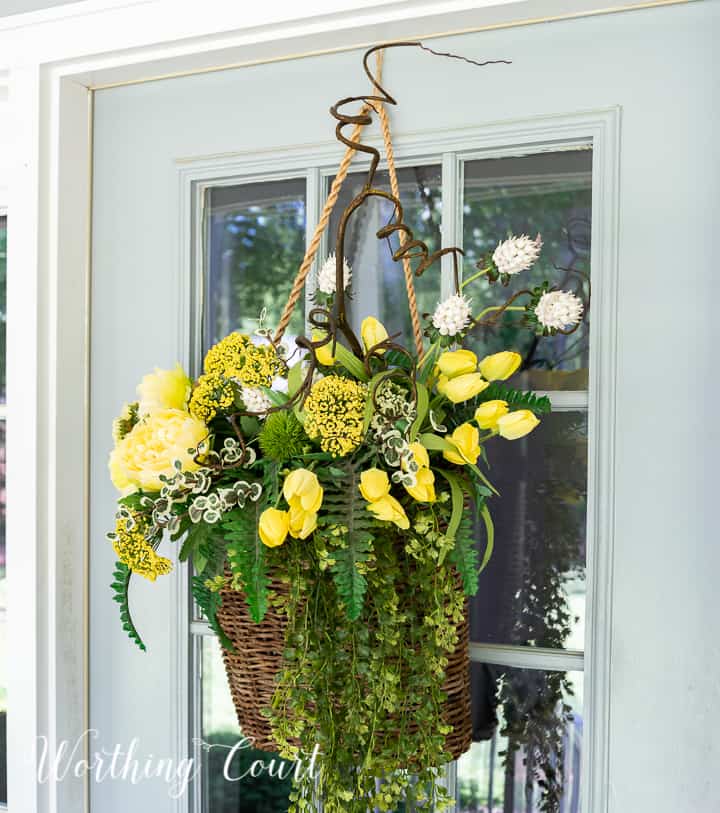 Pin
The yellow flowers are so sunny and cheerful! The yellow peonies that I used are so pretty. They come in several colors, are very affordable and can be found HERE. The rest of the flowers and greenery came out of my stash.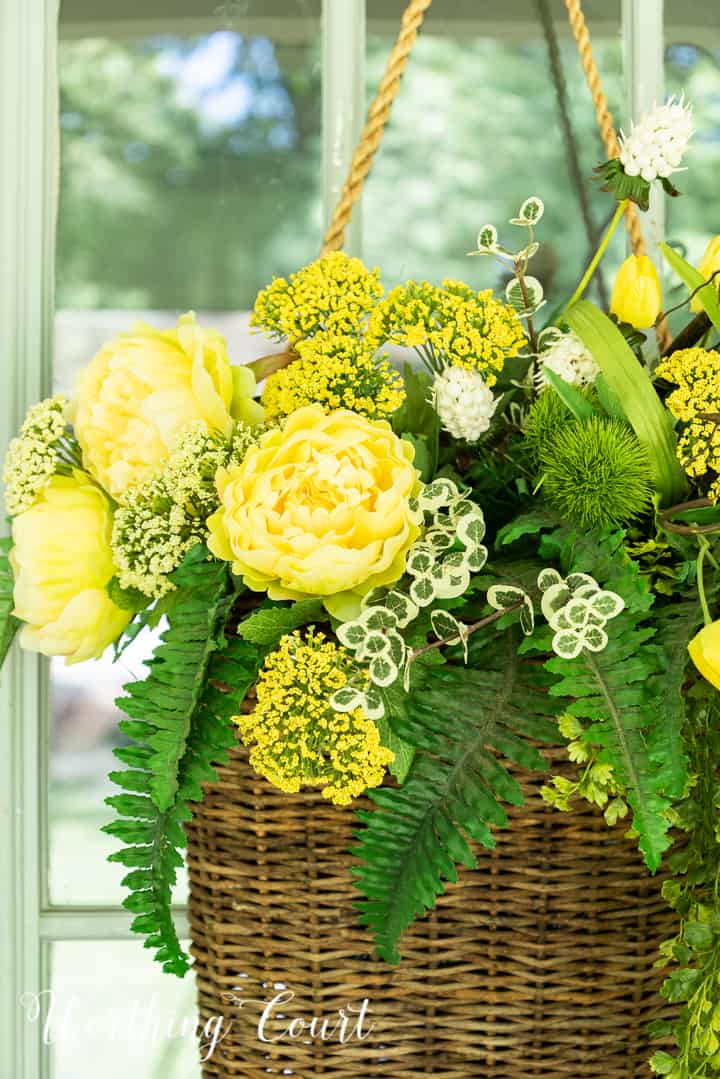 Pin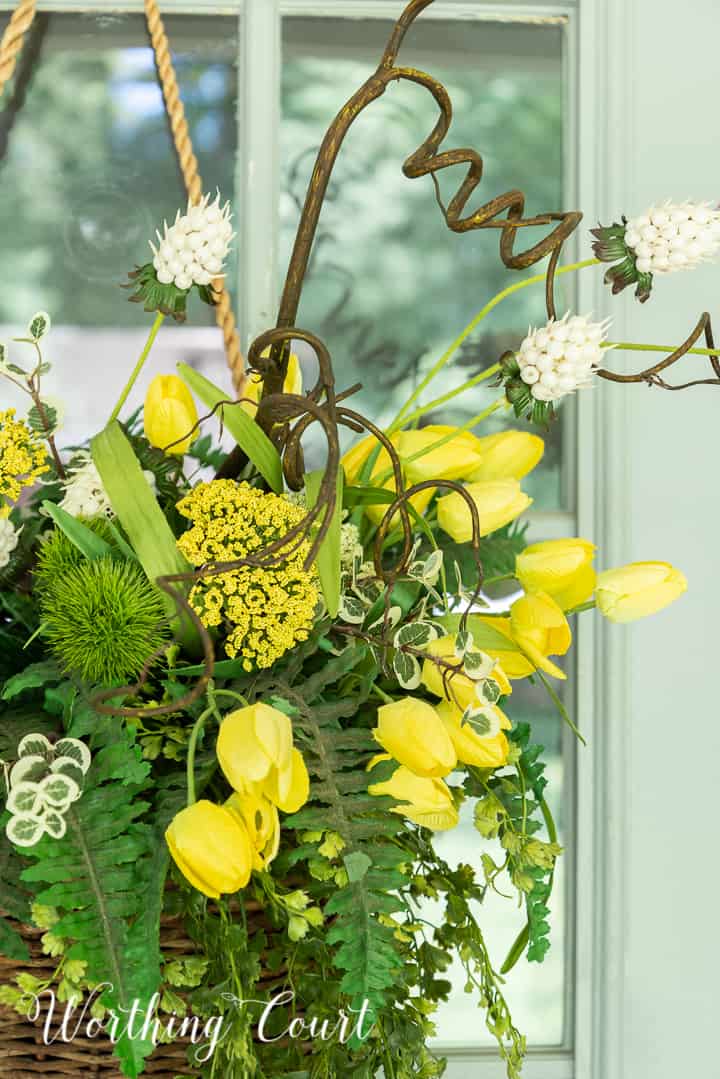 Pin
Decorating around the front door was the easy part! Not so much the rest of the porch. As I mentioned before, it took me a while to find a vibe that I was happy with.
Being the symmetrical person that I am (most of the time), I decided to create matching conversation areas on each end of the porch. Using neutral colors allows me to easily change up what I have on the porch for every season and holiday.
Pin
The only difference between the ends of the porch are the pieces hanging on the wall and the two benches, which are slightly different.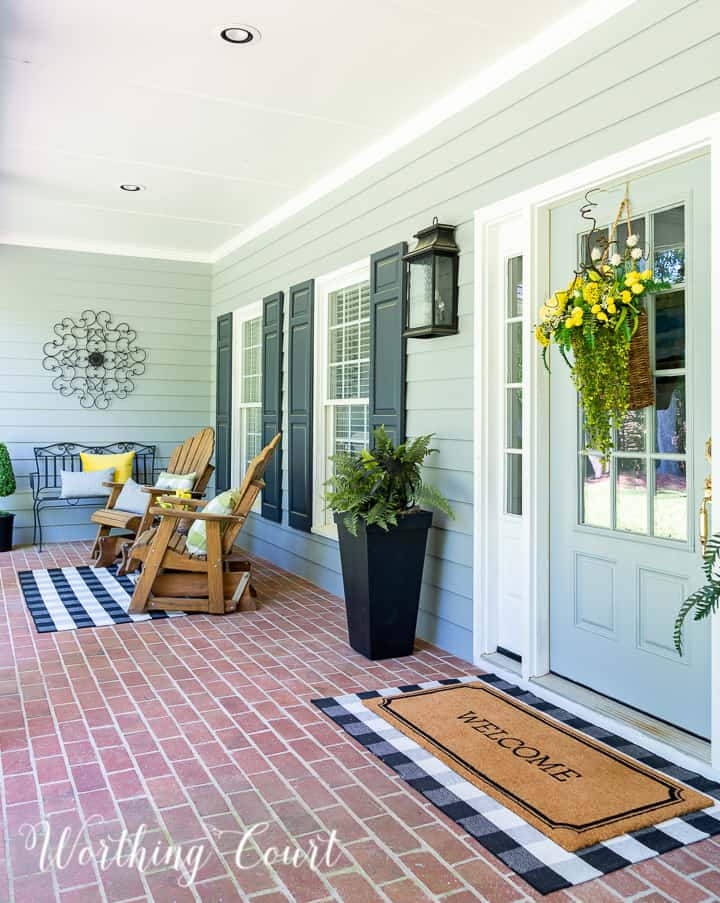 Pin
I've often thought about defining each on of the conversation areas with a small area rug, but always shied away from it. I don't know why because I really love how cozy the black and white buffalo check rugs look! The rugs that I used can be found HERE and are available in several sizes and colors.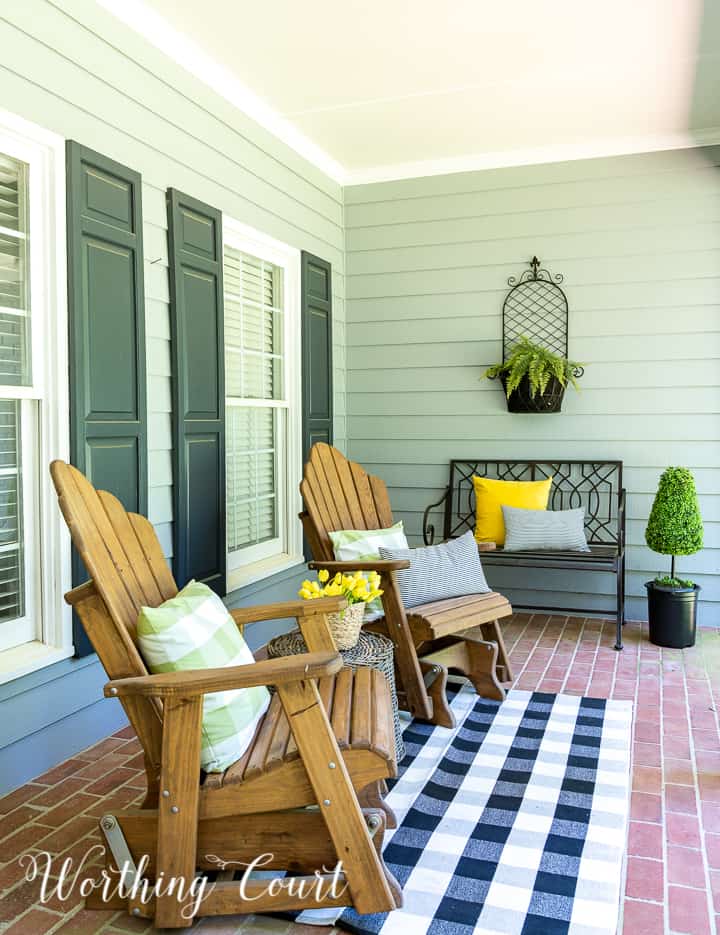 Pin
Even though we have a screen porch on the back of the house, my husband and I find ourselves sitting out here quite often watching our small furbabies try their best to catch the squirrels (which is hopeless, btw).
A large'ish basket, turned upside down, makes and great and inexpensive side table between the chairs!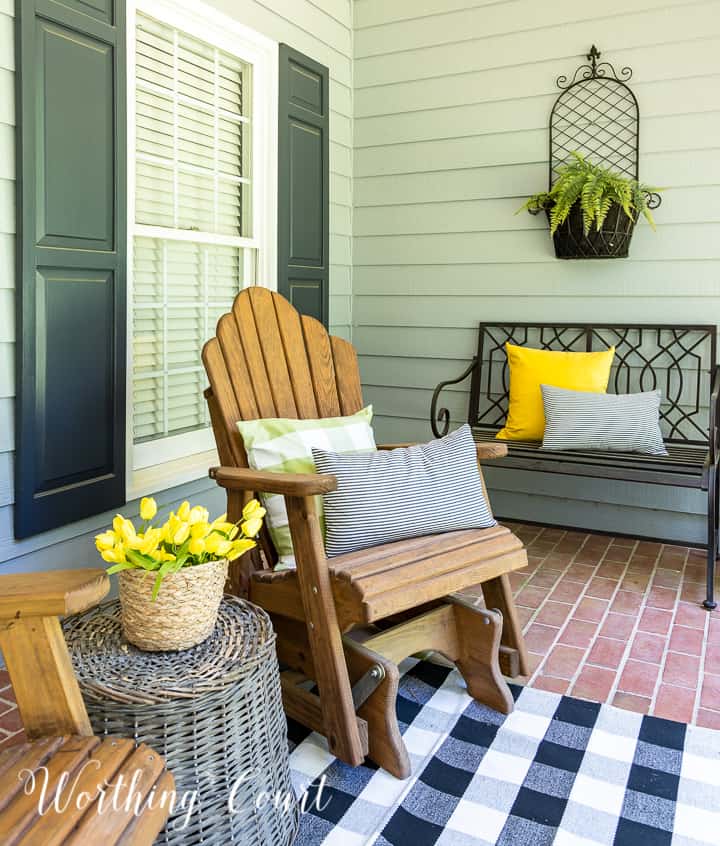 Pin
As always, my goal is give you inspiration that you can use at your own home. Whether your front porch is large or small, you can easily adapt and use the ideas from my front porch on your own!
Thank you for stopping by today! I hope you'll come back next week when I be sharing a look at the summer decor inside of our home.