A New Front Door And A Spring Farmhouse Front Entry
Come see my front entry refresh with a new front door and a beautiful suburban farmhouse feel!

Have you started your outdoor planters yet?  Here in central North Carolina, it's a wee bit early to be doing any planting, but I'm certainly doing a lot of planning ahead!  I'll be spending this upcoming weekend prepping the front porch for spring by tidying up the pine straw beds and giving my front porch and furniture a good cleaning.  Sadly, I'll have to repeat much of the cleaning process once the pollen stops falling later in the spring.  🙁
For this week's edition of The Best Of Worthing Court, let's take a look back at my front entry from last year.  But first, here's what the original front door on this house looked like when we bought it.  We had just started the house remodel and at this point, I had no idea that Pookie would be surprising me with a new door for my birthday the following year, so I snapped this photo just as I was getting ready to give the door a good and well needed cleaning.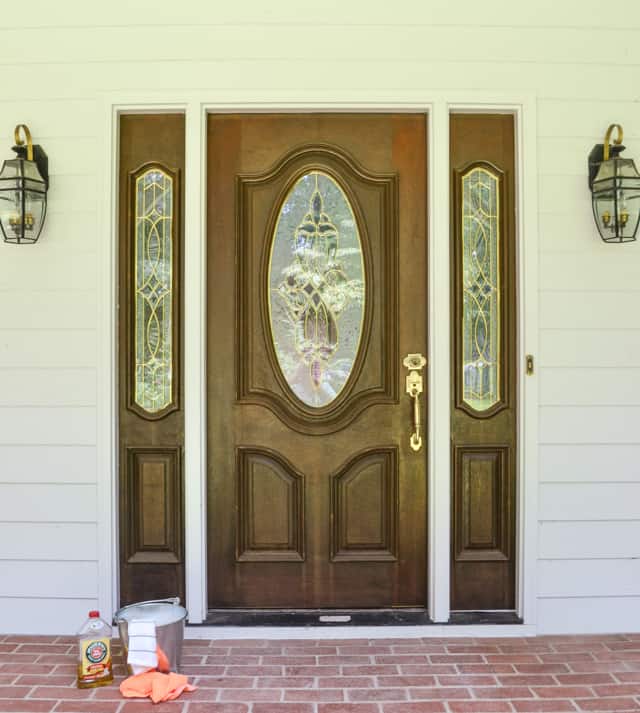 Pin
And here's our new stylish front door, all decked out for spring.  Love!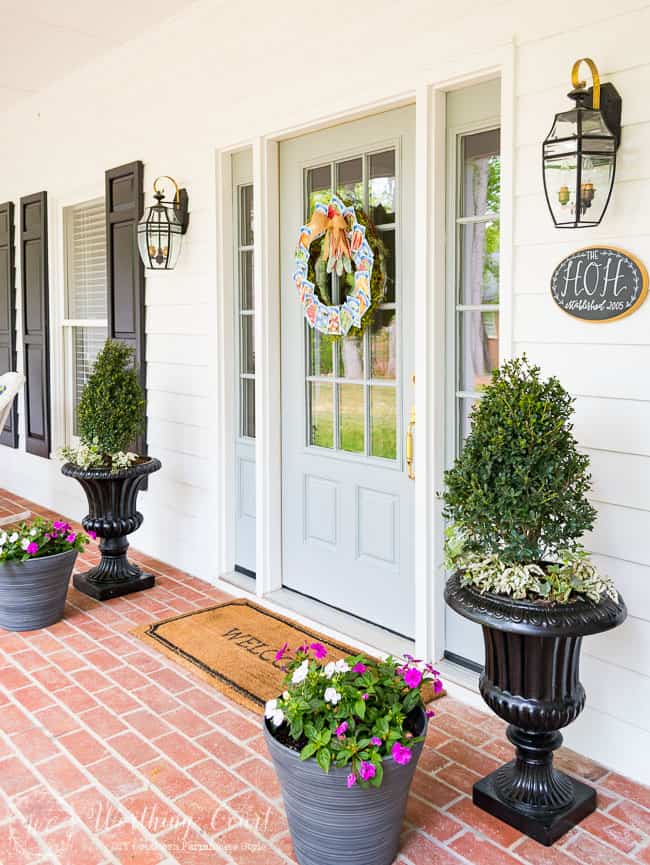 Pin
To me, farmhouse style doesn't have to mean fussy or complicated or having a space filled to the brim with chotchkies.  When it comes to outdoor spaces and landscaping, I much prefer tailored, clean, groomed lines.  Thus, my choice of just a few planters flanking my front door.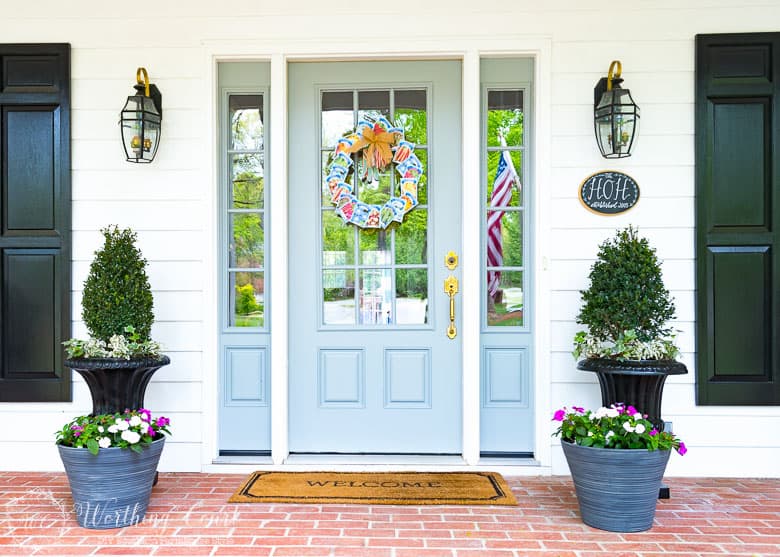 Pin
Matching shaped boxwoods in black urns with green and white ivy and polka dot plants are a classic.  As summer progresses the lovely ivy will trail down the sides and the polka dot plants will fill out and create an eye catching spot of brightness on our shady front porch.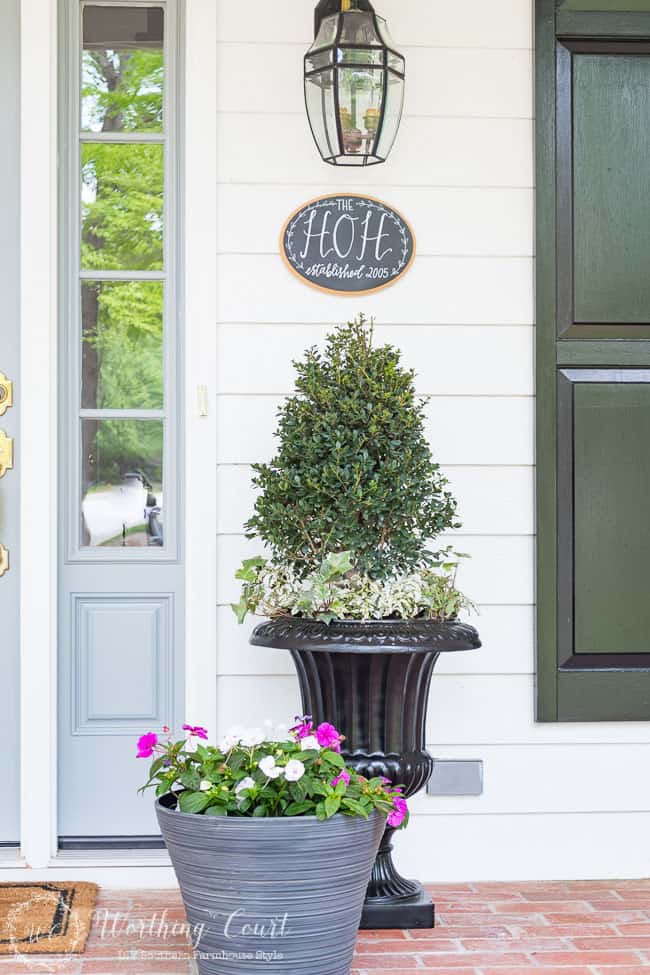 Pin
I found the smaller gray pots at a great price at a local big box home improvement store.  What attracted me to these pots the most was their textured surface.  I want them to quickly fill out and get nice and lush, so I filled them with four impatiens plants instead of just one – three fuchsia and one white with a fuchsia center.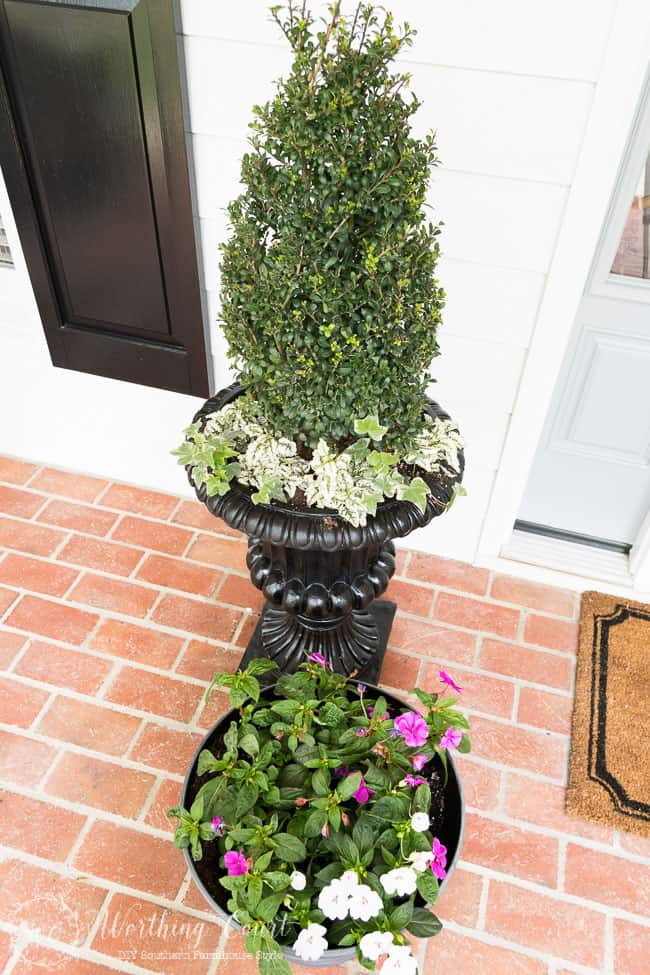 Pin
Especially for spring, a diy seed packet wreath graces the front door.  Wow – it was so fun and easy to make and most of the supplies came from the dollar store!  Click HERE for the step by step tutorial.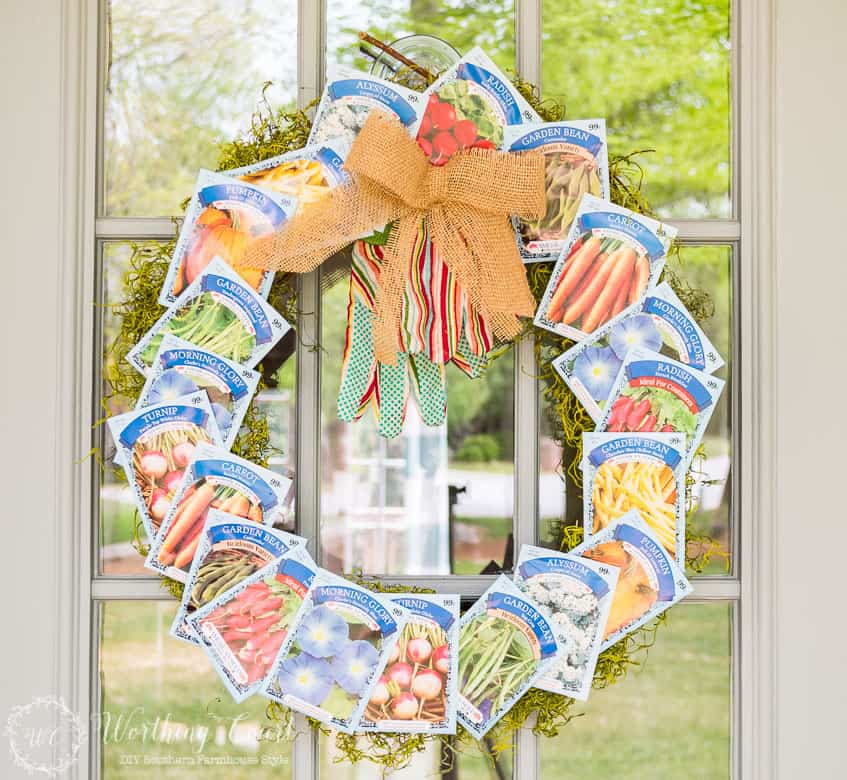 Pin
The last finishing touch that I added is an adorable customized wood plaque that I ordered from Sara Vrooman Designs on Etsy.  I had Sara make it using the letters HOH in place of our last name since Handgraaf is so long.  HOH stands for House Of Handgraaf and 2005 is the year that Pookie and I were married.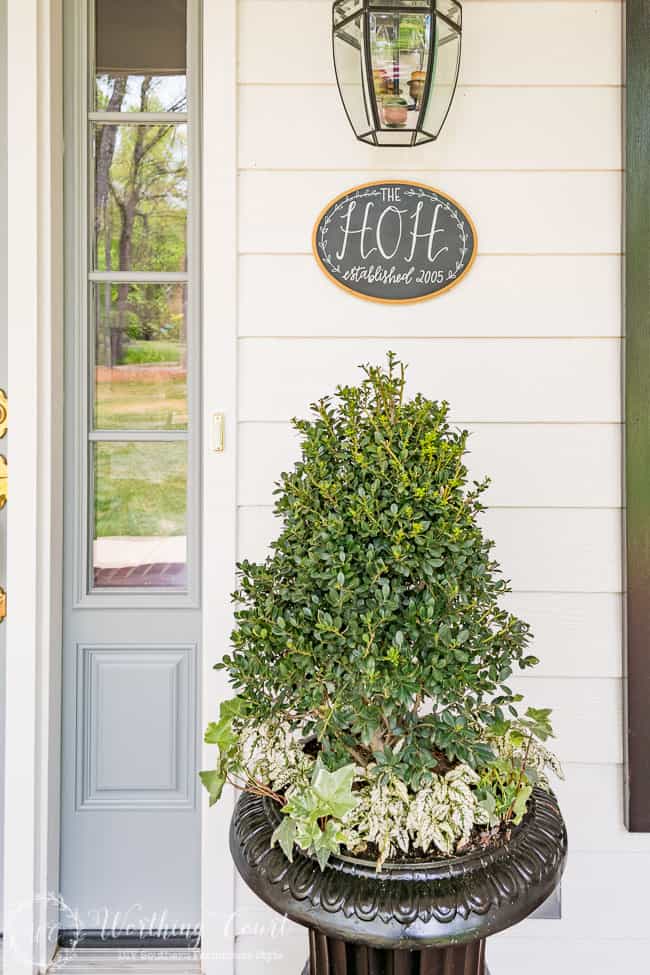 Pin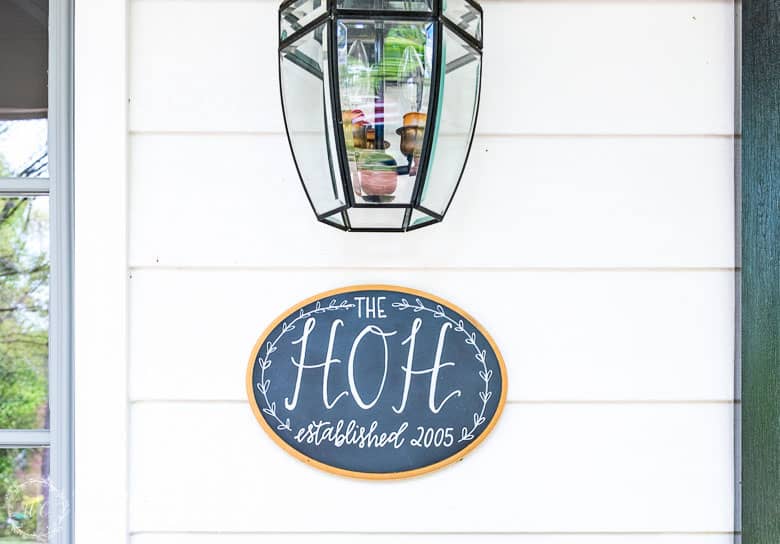 Pin
Thank you for stopping by my front porch today!  I think I'll just sit in one of the rockers with a glass of ice cold sweet tea and enjoy the view.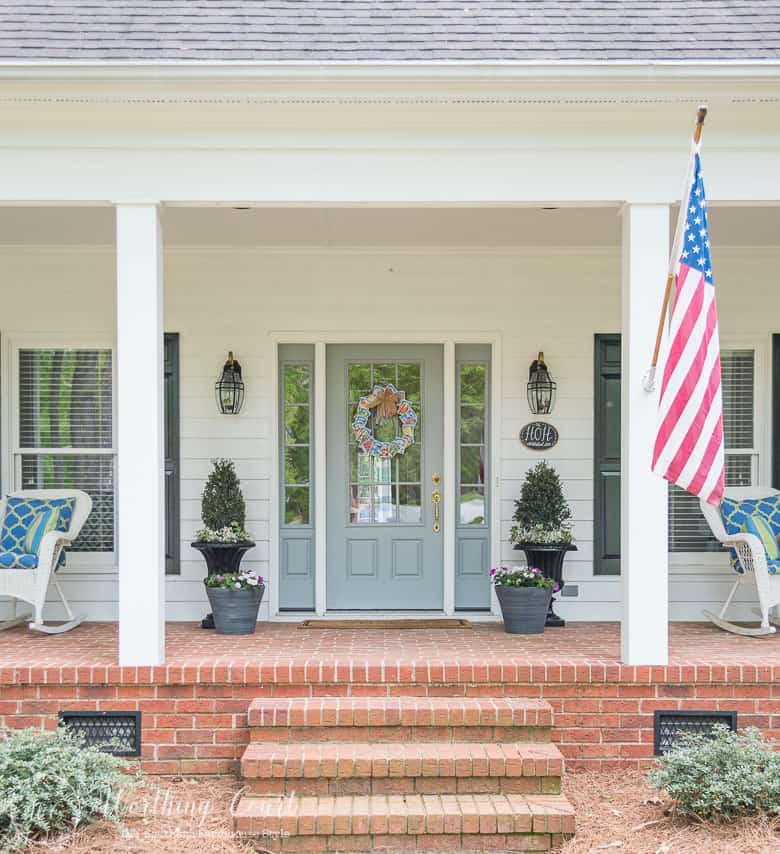 Pin
We have HUGE changes in store for the exterior of our home this spring and summer!  By this time next year, I'm expecting things to look totally different.  Of course, you know I'll keep you in the loop…wink wink.
Want to see more of my porch?  Click on the title directly above the photo to take the full tour of my porch all decked out for fall and Christmas.
SUBURBAN FARMHOUSE FRONT PORCH DECORATED FOR FALL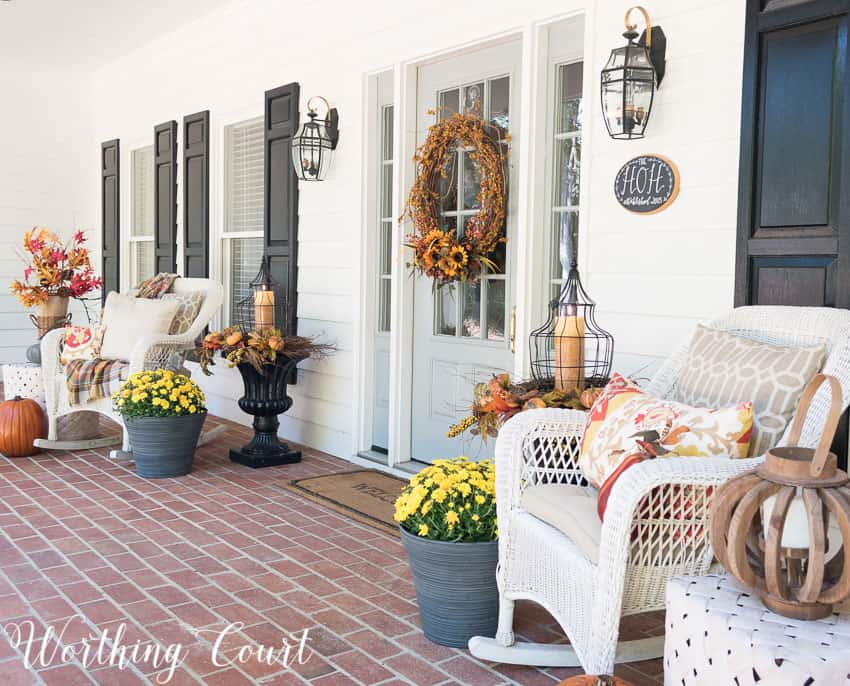 Pin
SUBURBAN FARMHOUSE FRONT PORCH DECORATED FOR CHRISTMAS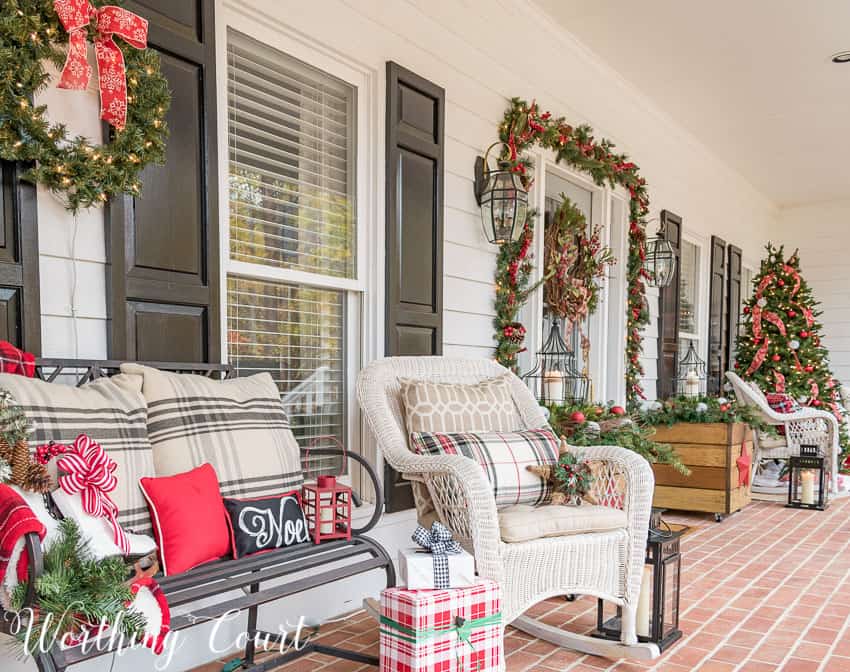 Pin