Navy Blue And Burgundy Fall Front Porch Decor Ideas
Get all the fall feels with this fresh take on fall front porch decor using navy blue and burgundy, including a so-easy-to-make fabulous diy wreath.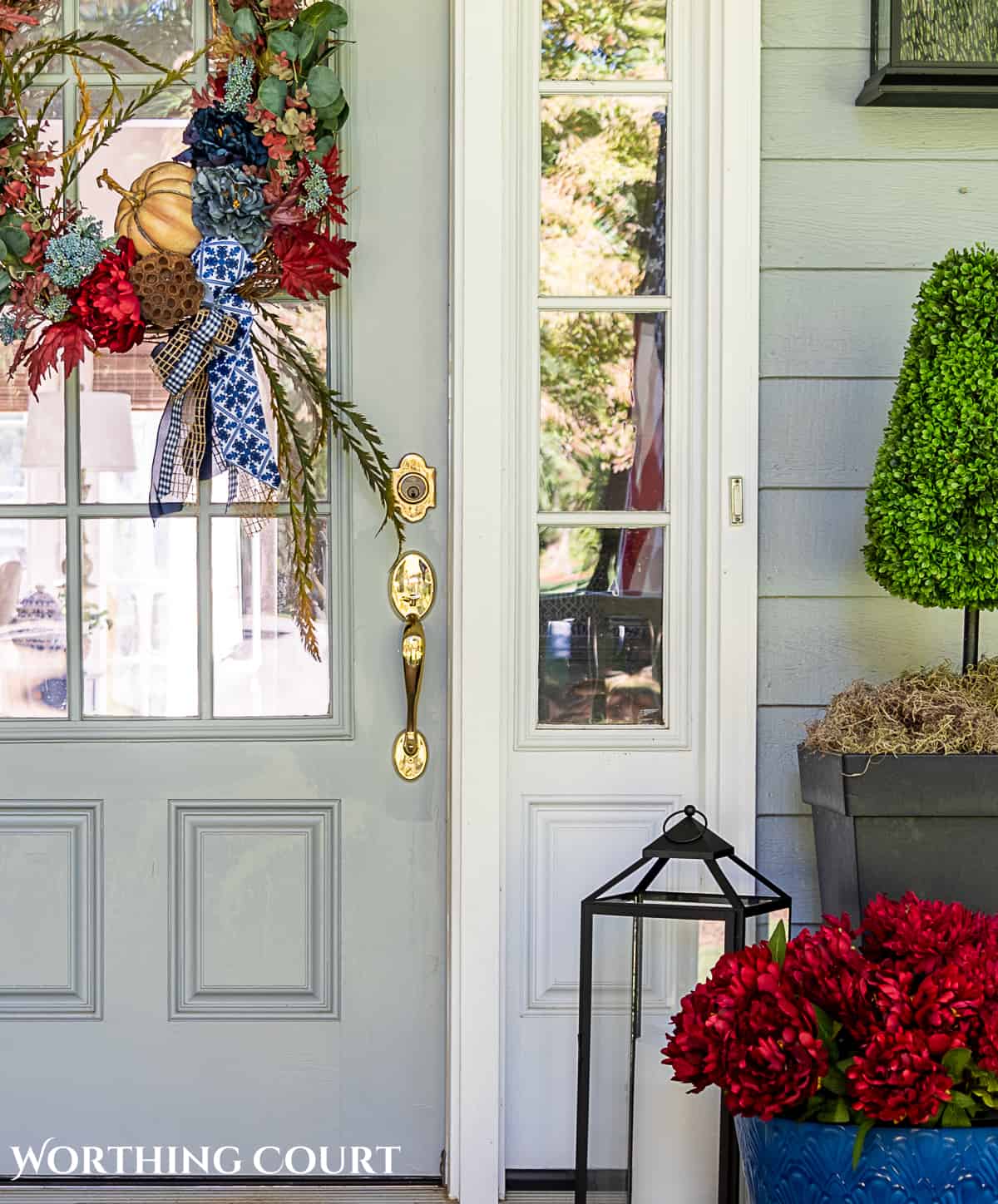 If there's ever a time to draw decorating inspiration from nature, this is it.
Think about it – is there anything more wonderfully fall'ish than wandering through the woods on a crisp clear day, with the sound of dried leaves beneath your feet???
I can smell the tantalizing aroma of burning leaves now. Ahhhh….
For every season of every year, I challenge myself to see how I can give my seasonal decor a fresh new look. It usually revolves around some sort of color scheme and this year was no different!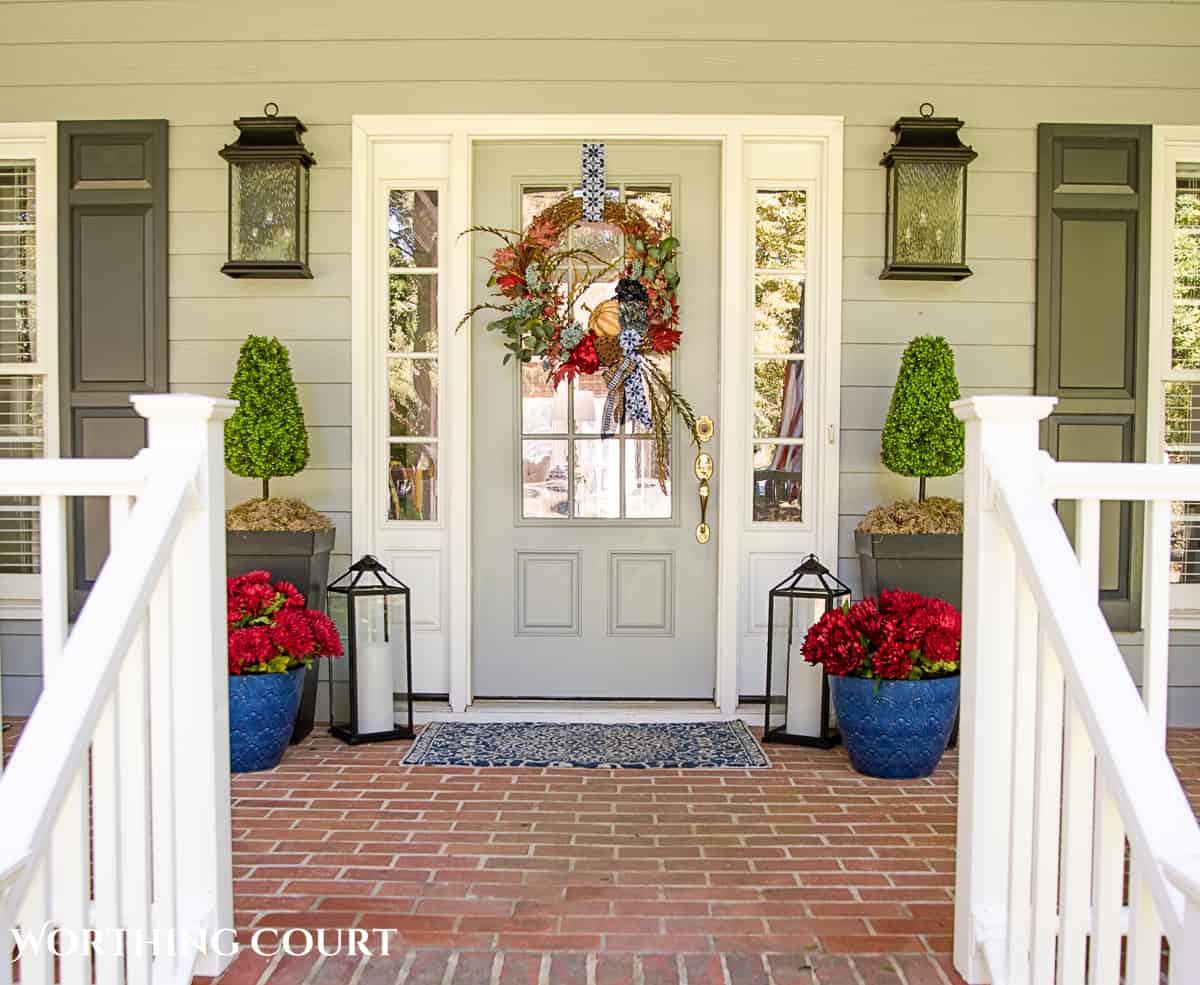 And then there are those years where I so loved what I did, that I want to repeat the same decorations year after year. But that wouldn't be very inspiring for you would it? 😉
If you saw the fall decorations that I added to my family room, kitchen and breakfast room, you already know that this year's fresh fall theme is navy blue and burgundy.
These may not be colors that you normally associate with fall, but if you look to nature you'll see that there are plenty of burgundy hued trees this time of year.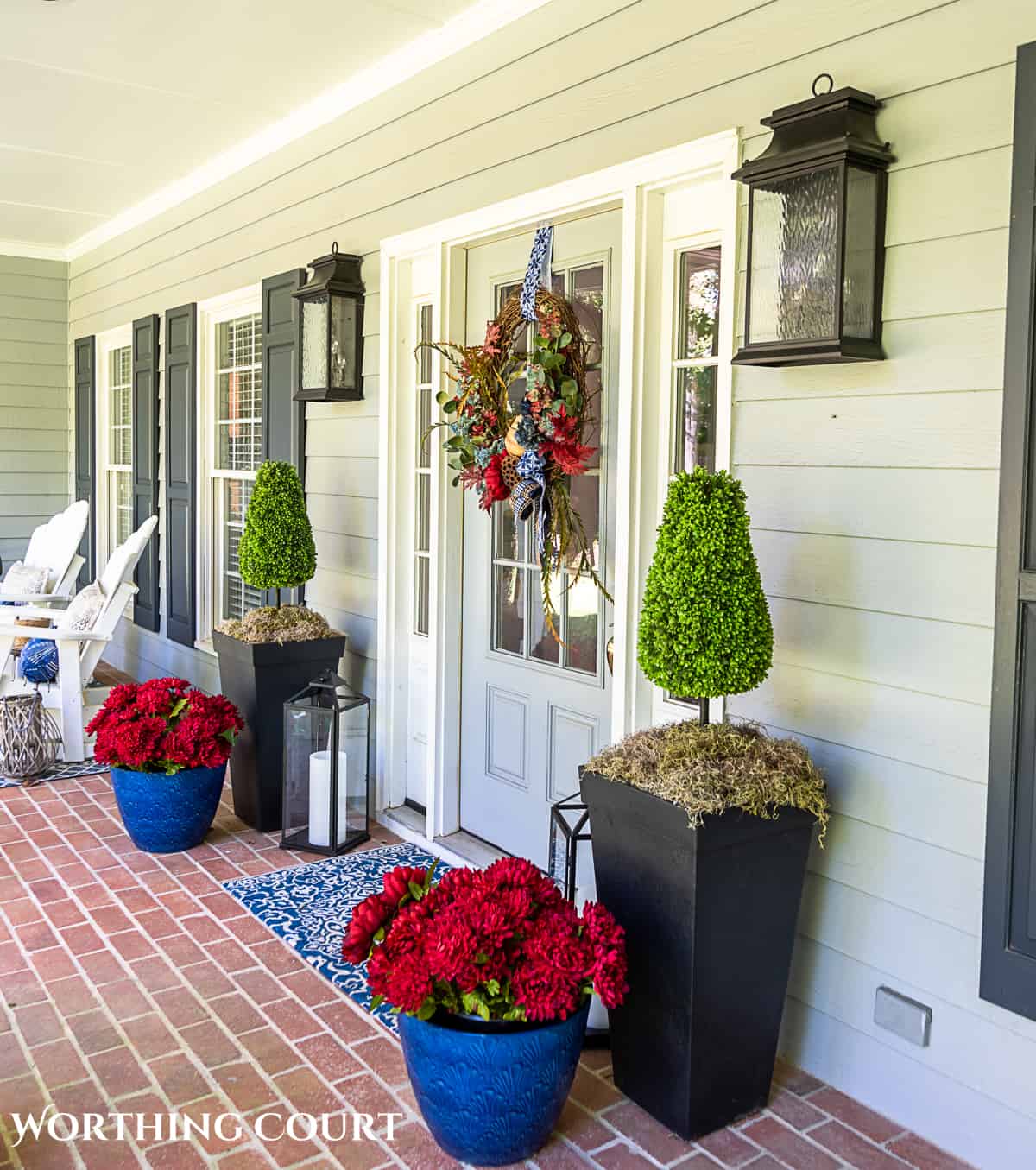 And the navy blue is a reflection of the crisp, bright blue skies that are common in my neck of the woods during September through November.
That all says consummate fall to me, so why not incorporate those colors into your fall decor?
To decorate my front porch for fall this year, I kept the topiaries, lanterns, welcome mat and planters that have been there for months and simply placed new flowers in the planters and made a new fall wreath.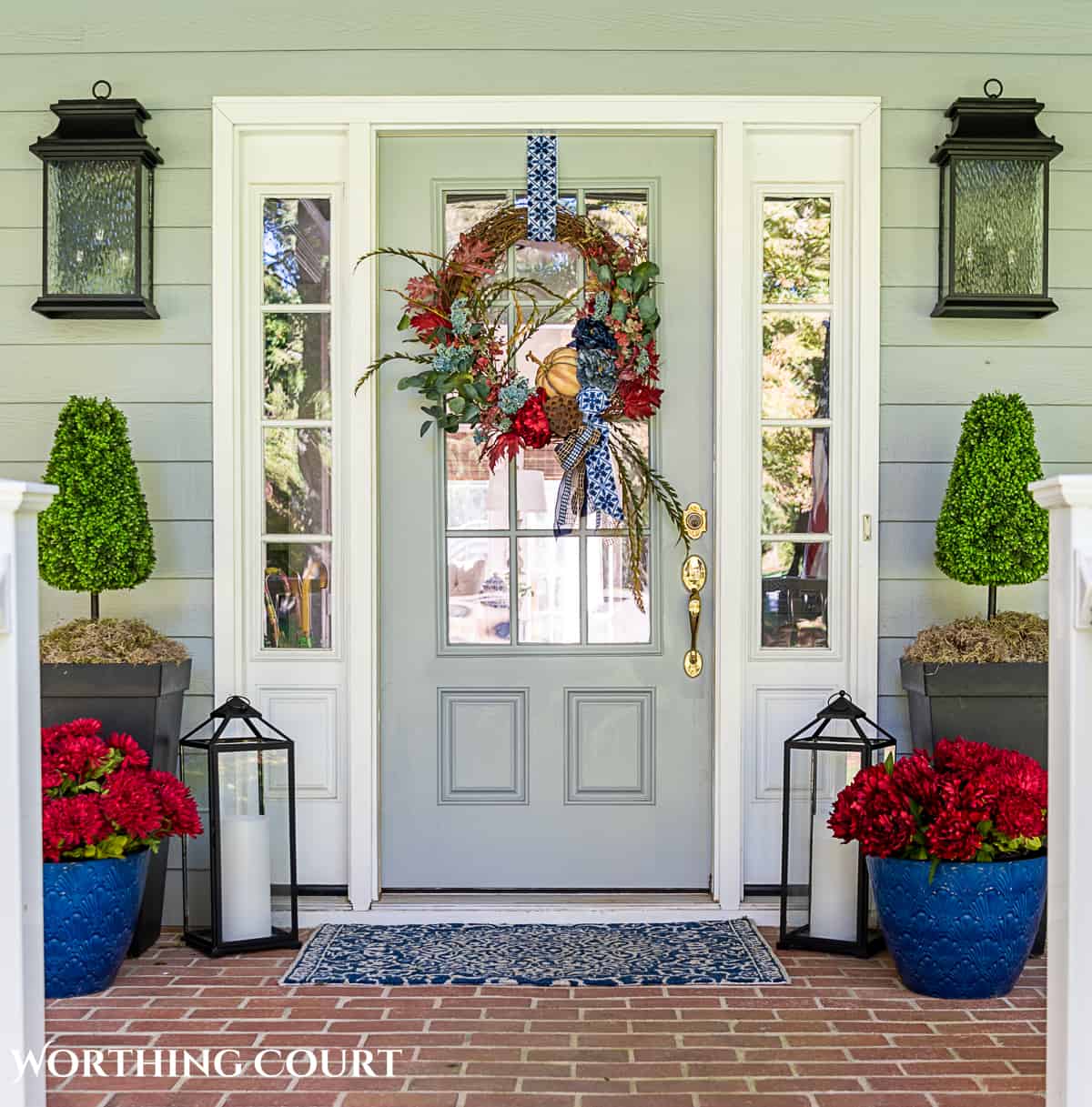 And yes, those are faux mums. I know me and I've wasted way too much money in the past by not being a good mum mommy and keeping them watered.
Even with all of the tips for keeping them alive, mine usually die pretty quickly, so fake it is for me.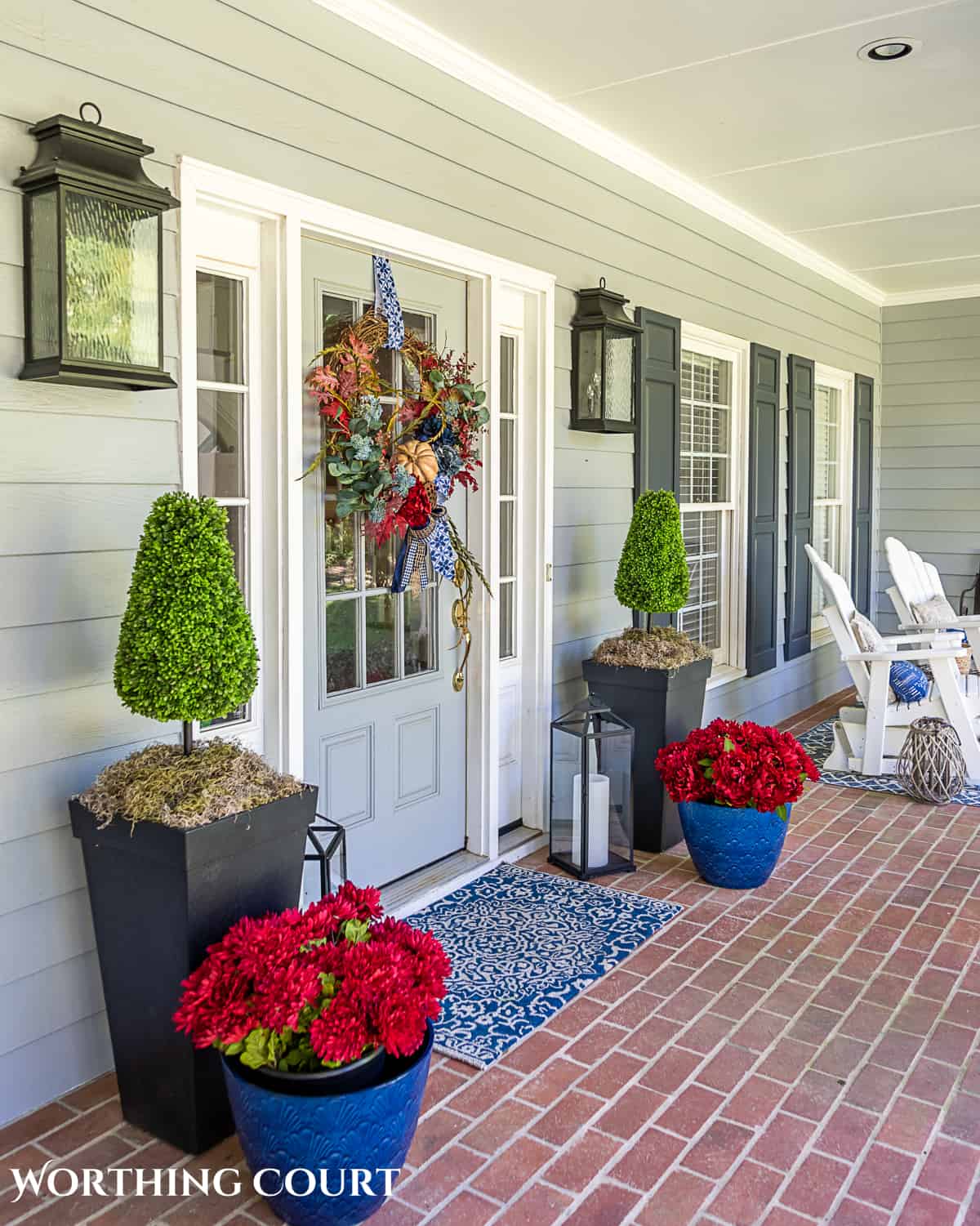 I've spoken about my love of grapevine wreaths many times and it's because making a new wreath with them is just so easy!
Since I change my wreaths so often (and very rarely purchase a readymade one), I never hot glue anything to them so I can reuse the same grapevine wreaths over and over again.
At the end of the season, all I have to do is remove the stems and it's ready for a new look!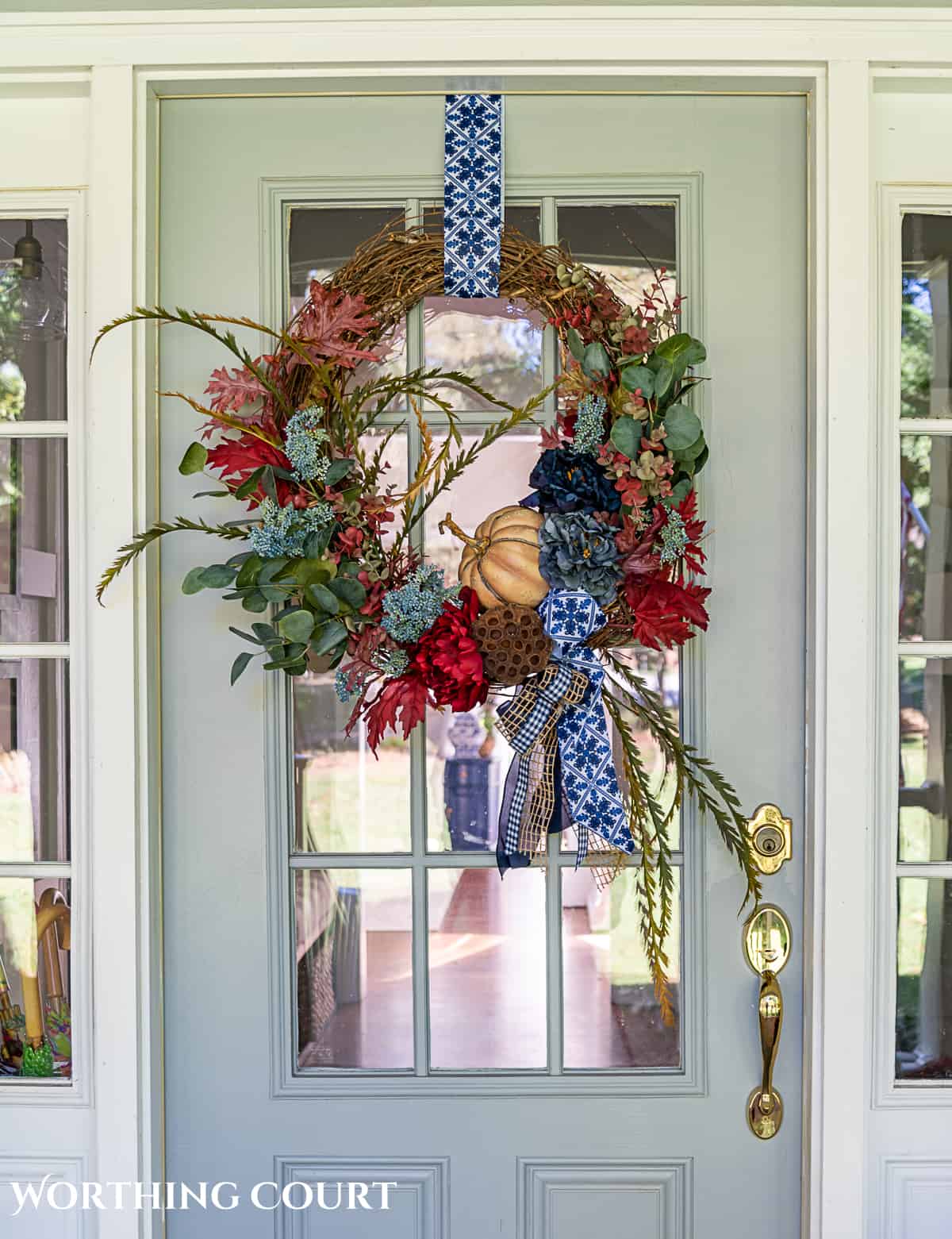 Using a grapevine wreath as the base for a diy wreath is pretty much a no brainer. Basically, you select the stems that you want to use, cut them to size (if needed), fluff them and wedge them between the vines of the wreath.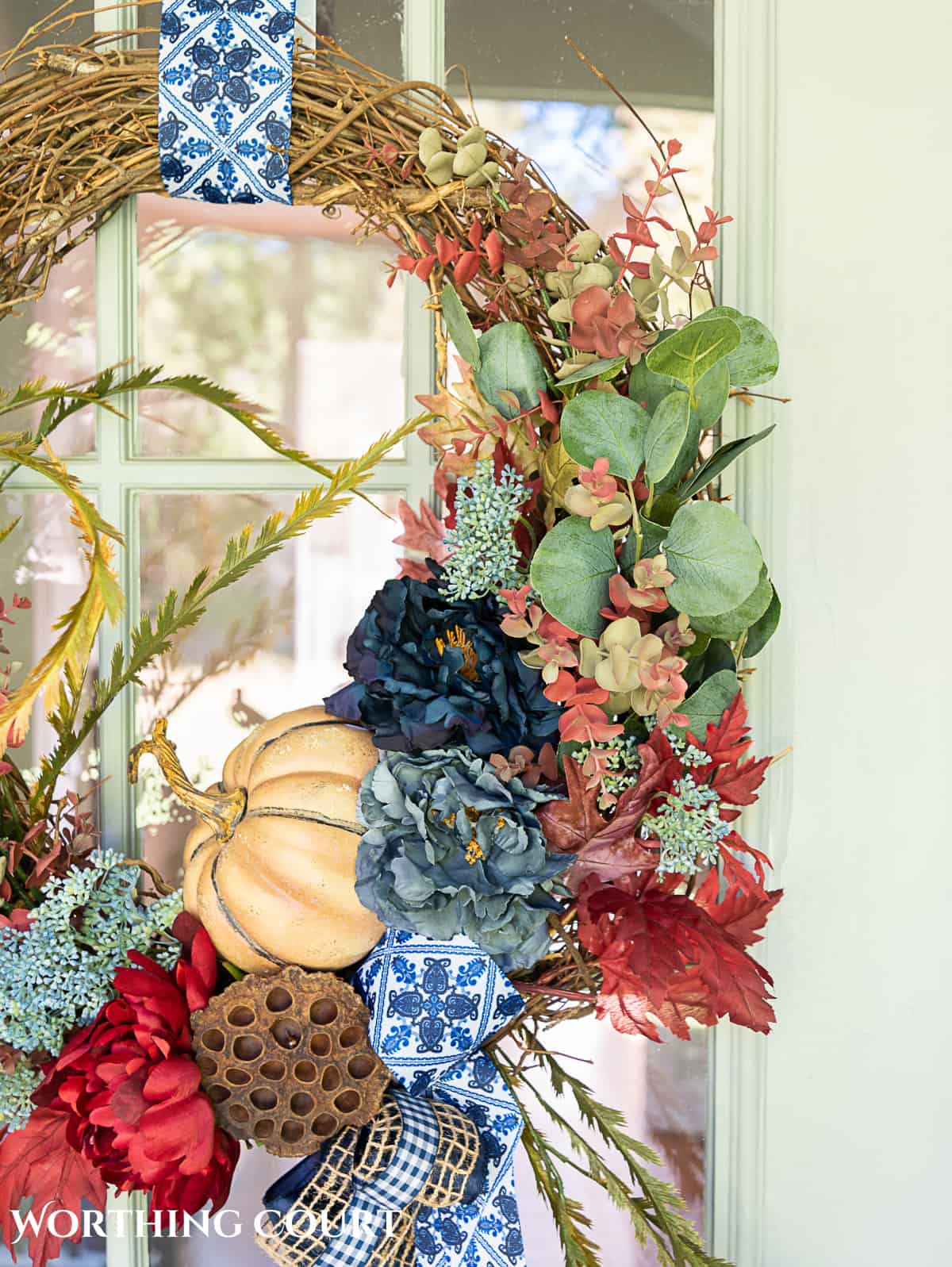 I do use floral wire to make and attach a bow and to help hold wayward stems in the exact location that I want them, but that's it!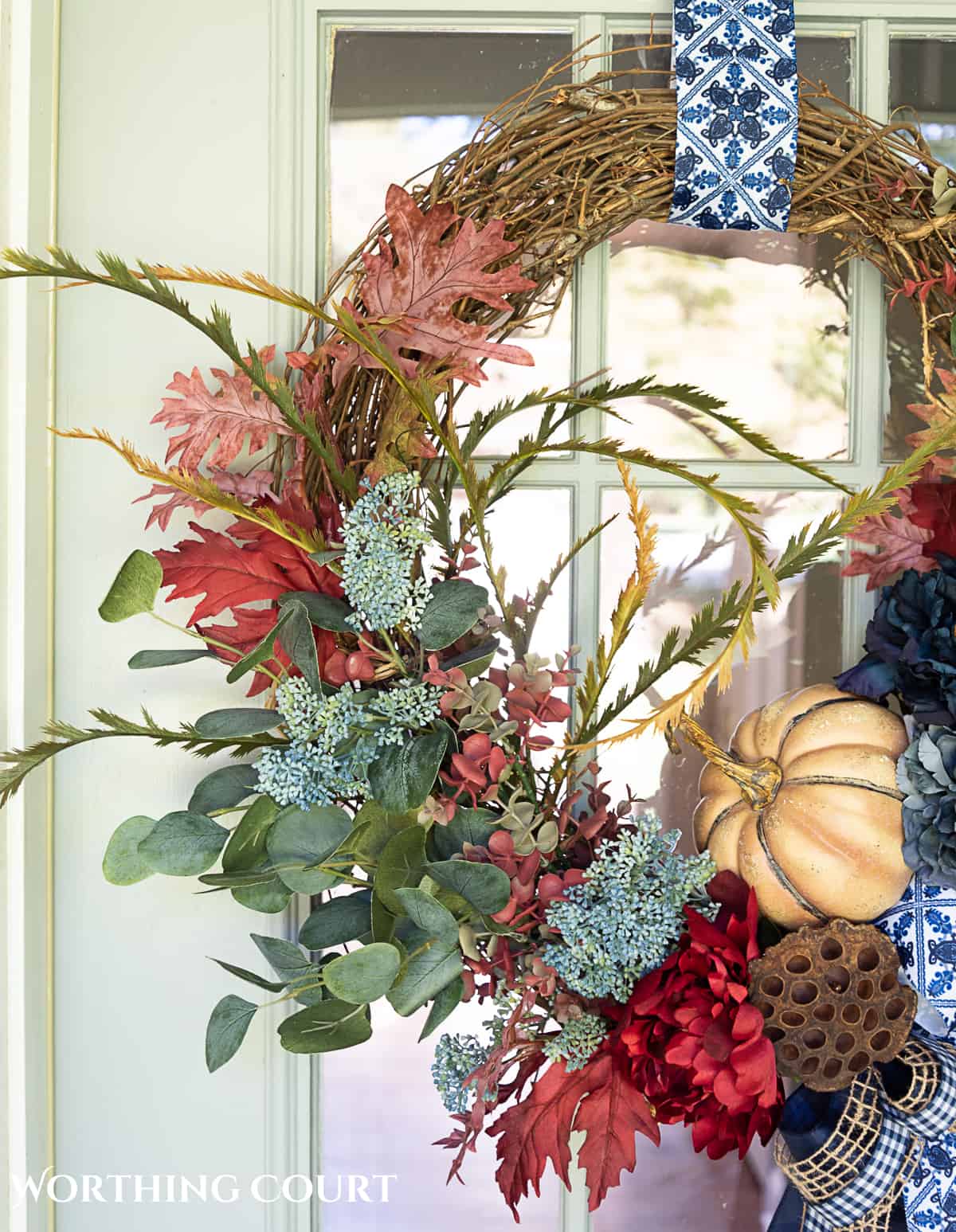 You may be wondering about the pumpkin on this wreath though. How am I holding it in place? It looks like it should be glued, but it isn't.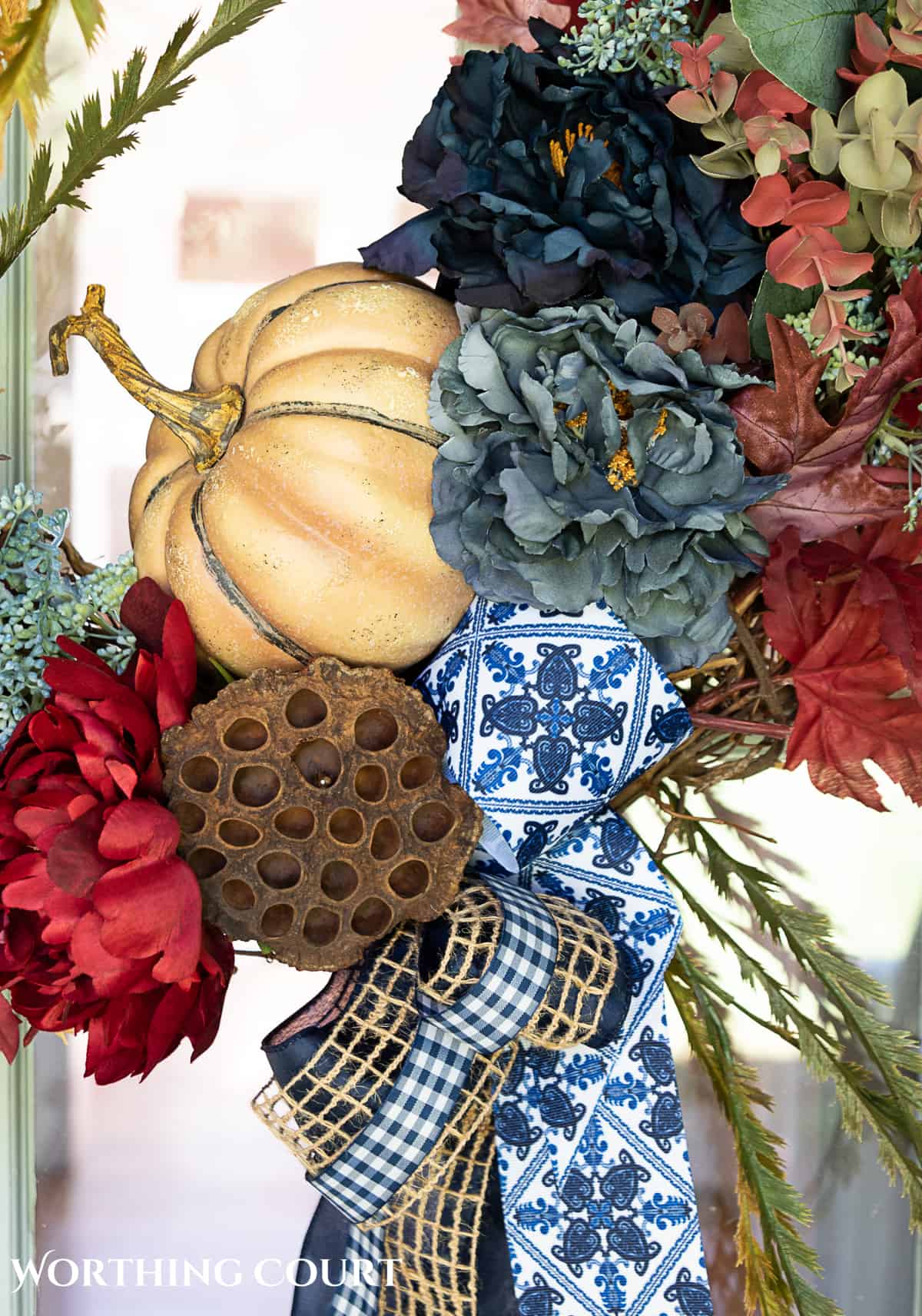 I created a "stem" for it by sticking a wooden skewer, like the ones you would use to make kabobs, into the bottom of it and wedged the other end of the skewer into the grapevines.
Check out this post, if you'd really like to see a more detailed tutorial for making a grapevine wreath.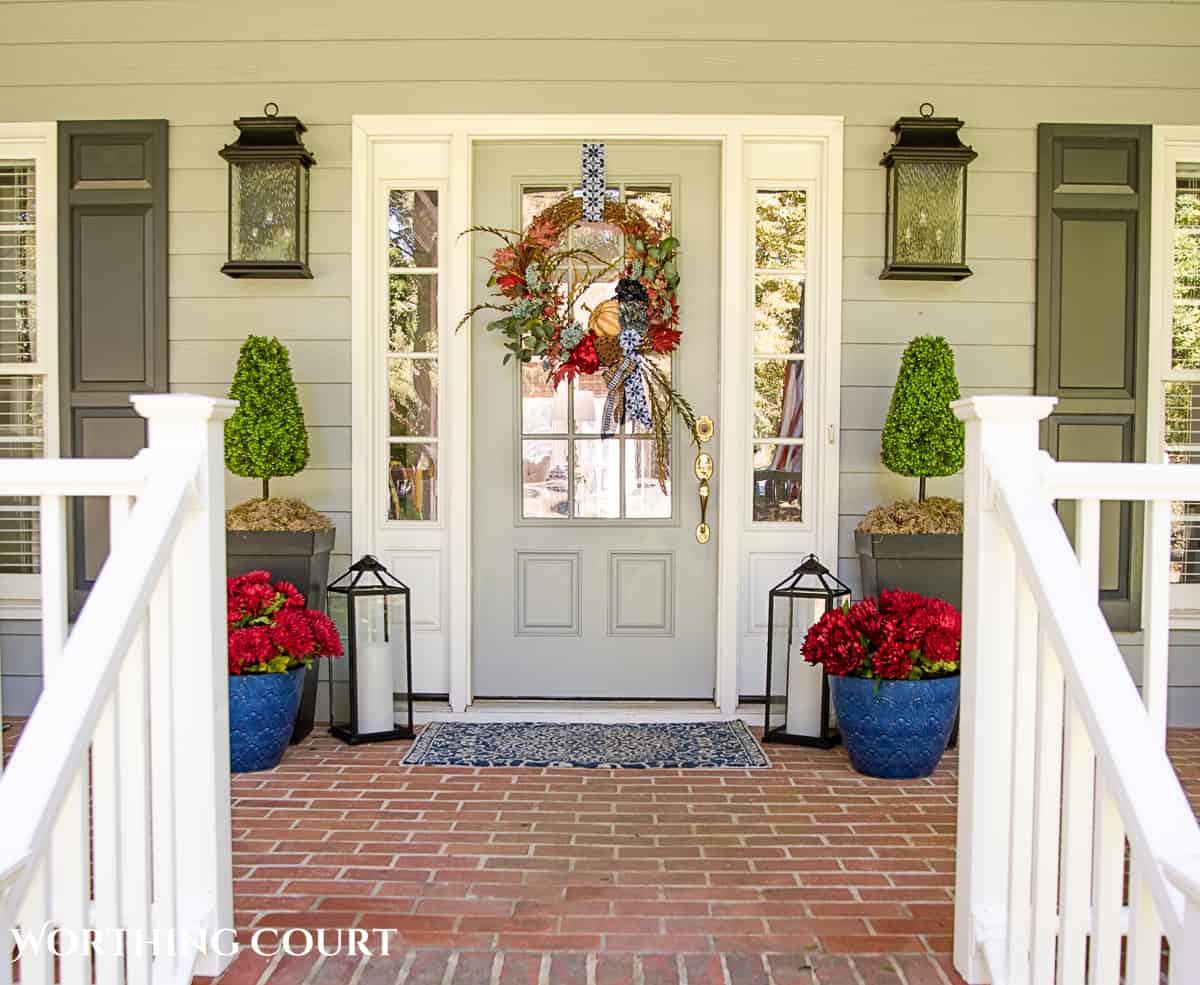 What colors are you decorating with this fall?