Burgundy And Blue Fall Decor Ideas For A Living Room
Inside: Ideas for decorating your living room with blue and burgundy. Non-traditional colors that say fall without screaming "it's fall y'all"!
Let me take you on a journey. Close your eyes…..
No wait – don't! It's a visual journey.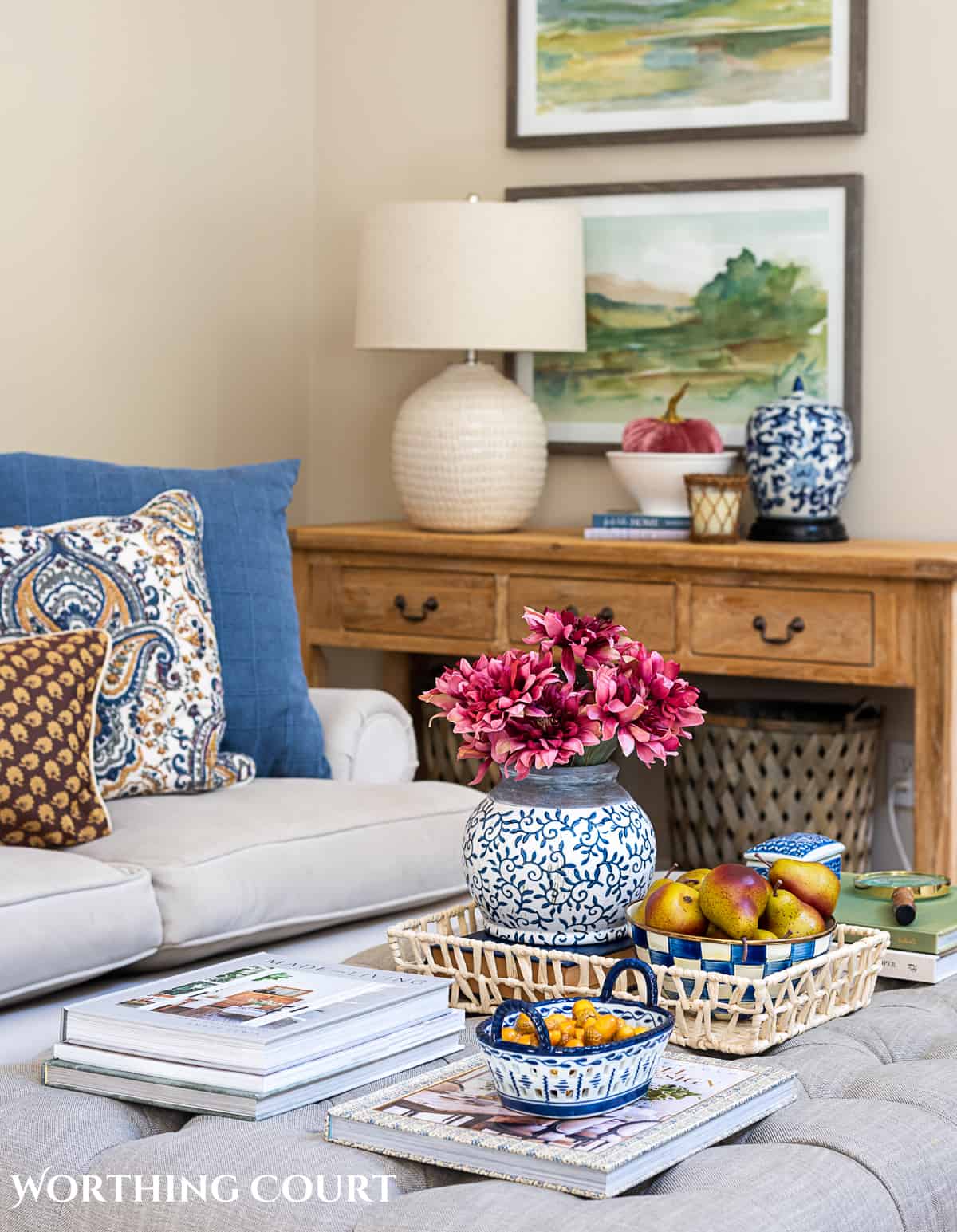 I want to take you on a journey to show you wonderful blue and burgundy fall decor can look in your living room. This combo works especially well for all of us blue and white lovers out there!
Before I take you around the whole room though, I want to welcome you to the annual Fall Home Tour hosted by my friend, Marty, from a A Stroll Thru Life. I so appreciate Marty putting these tours for we home decor bloggers together!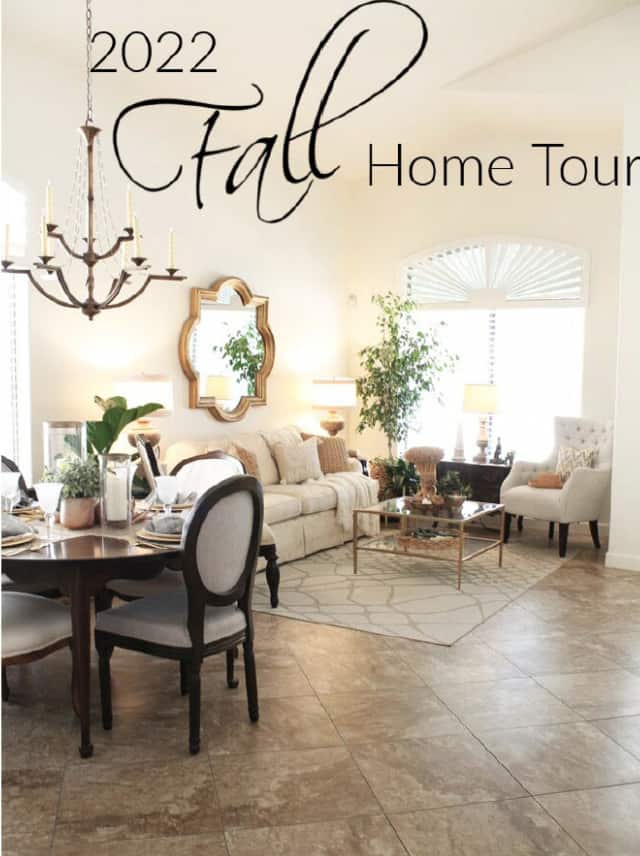 Each season, Marty lines up 25 or more bloggers to share their homes and there is literally something for every decorating taste! If you're curious, you can see my past seasonal home tours with Marty HERE.
If you're coming over from Hymns And Verses, welcome! I've virtually known Doreen for several years and always love her recipes, diy projects and the way she decorates her beautiful home. Be sure to check out her fall tour HERE.
So, let's get back to our journey, shall we?
My living room has seen multiple diy projects and decorating changes over the years – some good and some that make me wonder what I was thinking.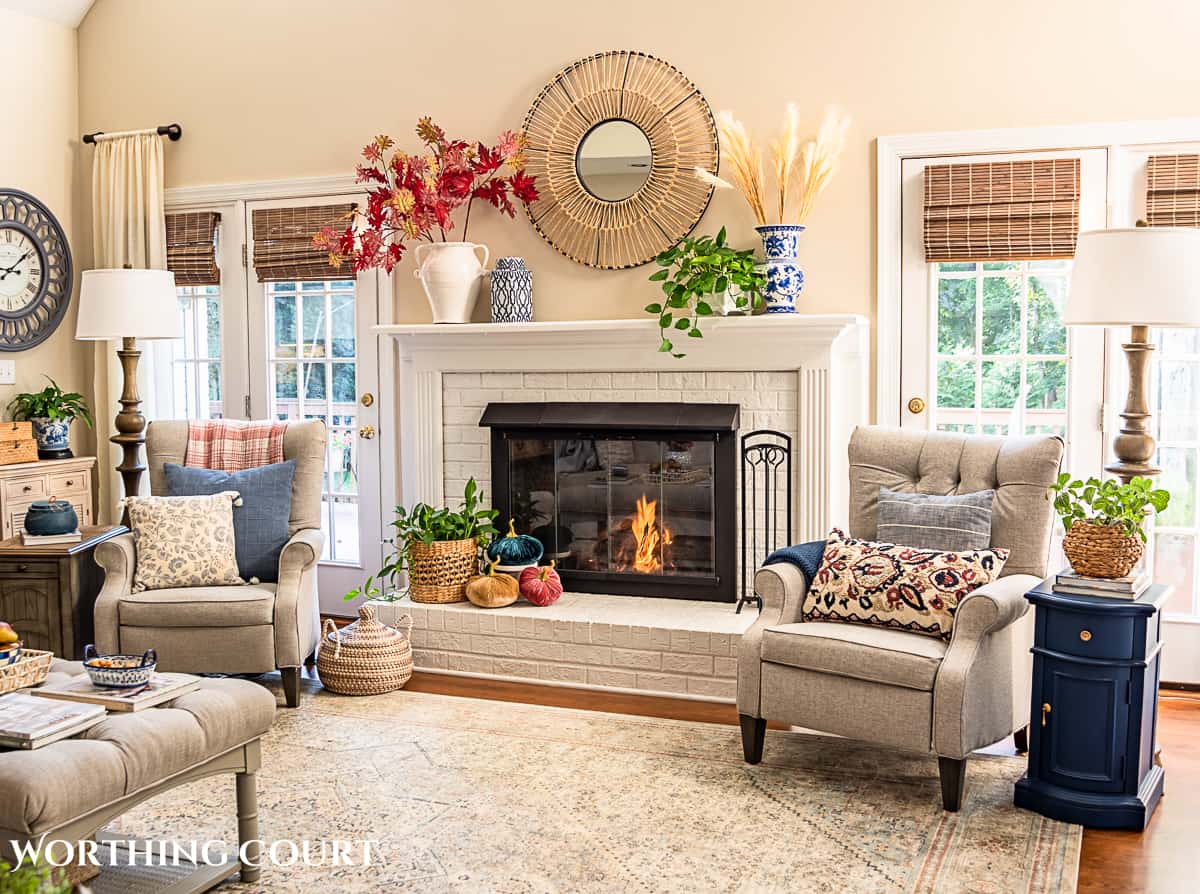 I loved each and every project and seasonal decorating change at the time (even the ones that make me cringe today), but I find myself transitioning into more of a cottage style with traditional and grand millennial touches added in and I'm much happier and feel like I've finally hit my stride.
When I decorate for fall every year, one of the first decisions that I make is what color palette I want to use. In fact, I wrote a whole blog post with 12 different autumn colors palettes that you can view HERE, if you're looking for inspiration for your own home.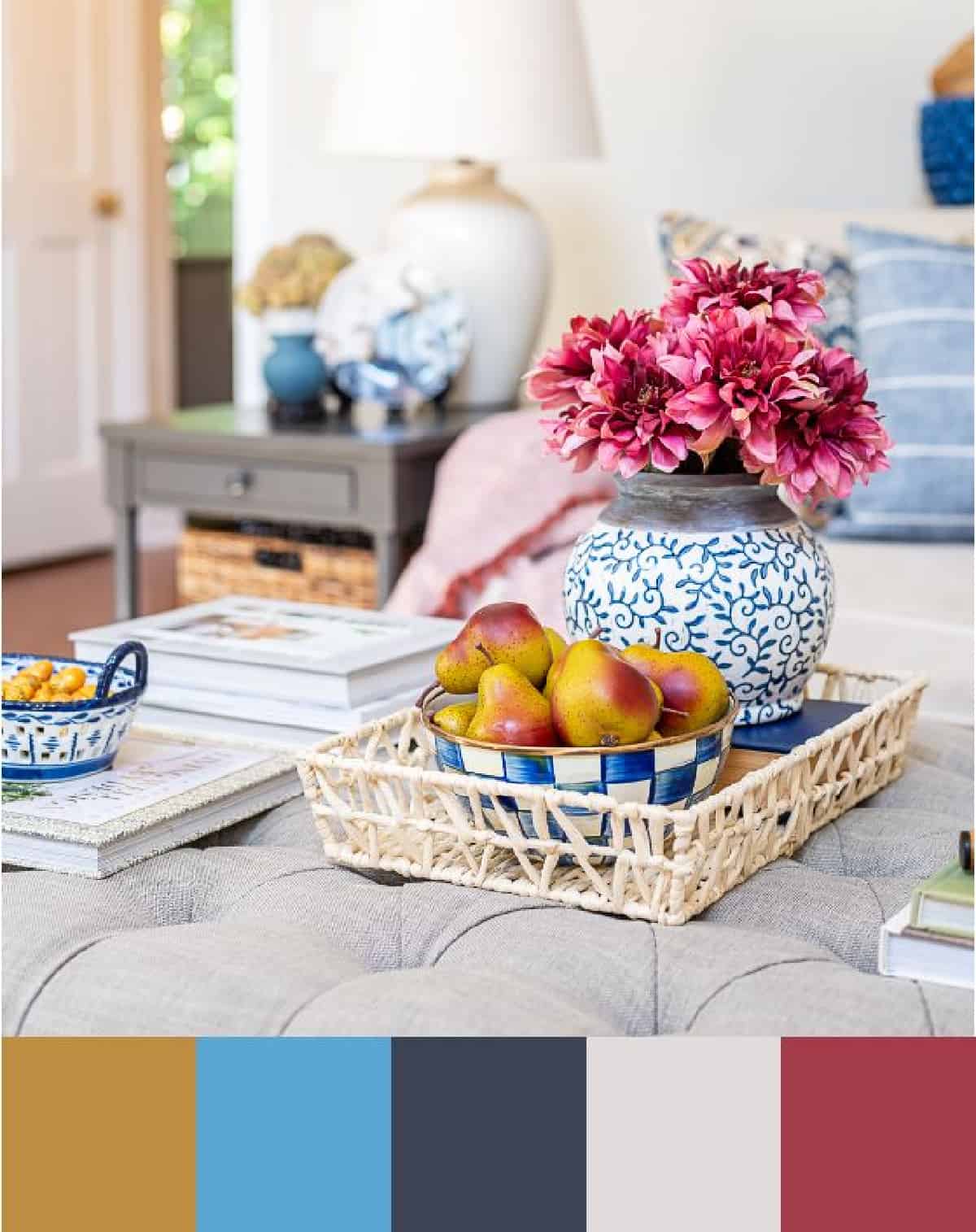 I've used some pretty non-traditional palettes before, but none that I love as much as this burgundy and blue combination.
I pretty much banished orange from my home this fall. 😊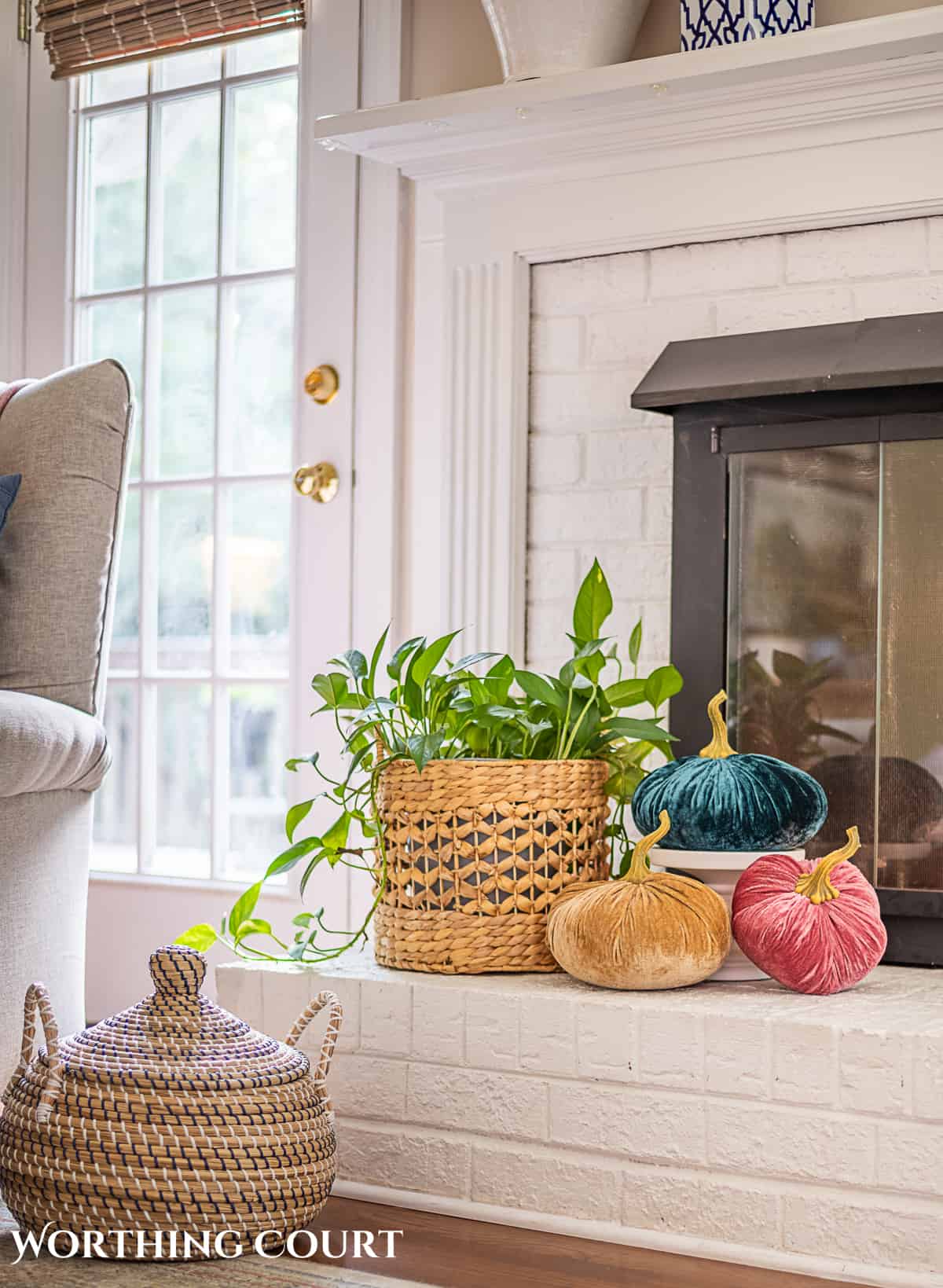 In years past, I pulled out "all the things" when I decorated for fall. Those are the ones that make me cringe when I look back at them. Check out this example if you want to see what I mean.
Nowadays, I take a much more tasteful approach to seasonal and holiday decorating. I've learned to add seasonal touches to my everyday decor instead of redecorating the whole kitten caboodle.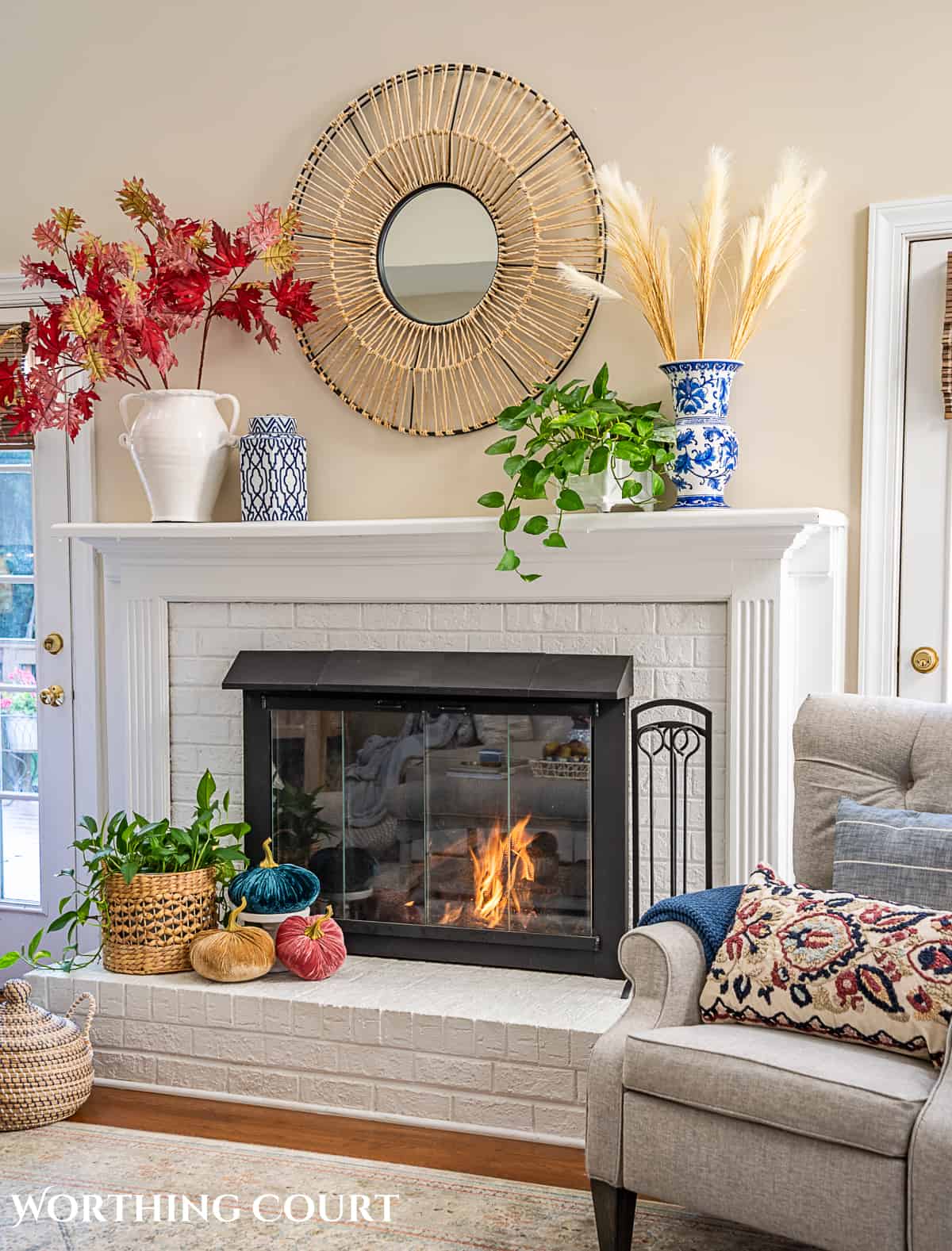 No more fireplace literally overflowing with every rustic thing. Instead, I've kept my everyday look, but added some beautiful fall leaf branches in shades of burgundy to a large white vase and a few golden faux pampas grass branches to a pretty blue and white vase.
Decorating Tip: If you have a tall ceilings in the room with your fireplace, use tall, large'ish pieces on your mantel. Go for the drama. Using lots of small items in a large room, makes the area look cluttered.
By keeping my same live plants on the mantel and hearth, it reinforces that this is my everyday look vs making the statement that I've changed everything up for fall.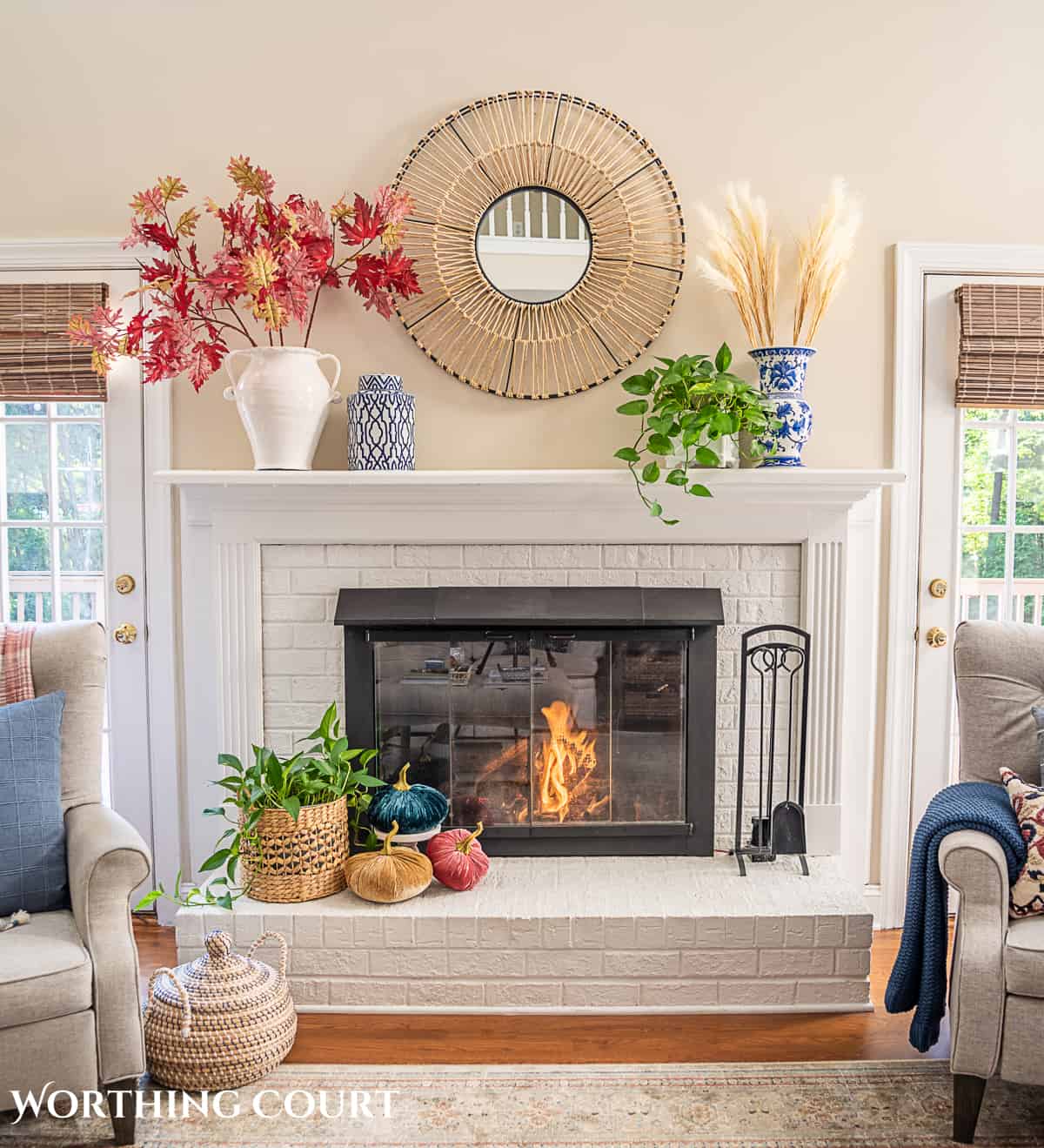 One thing I do change each season are the throw pillows and blankets on my recliners and on the couch.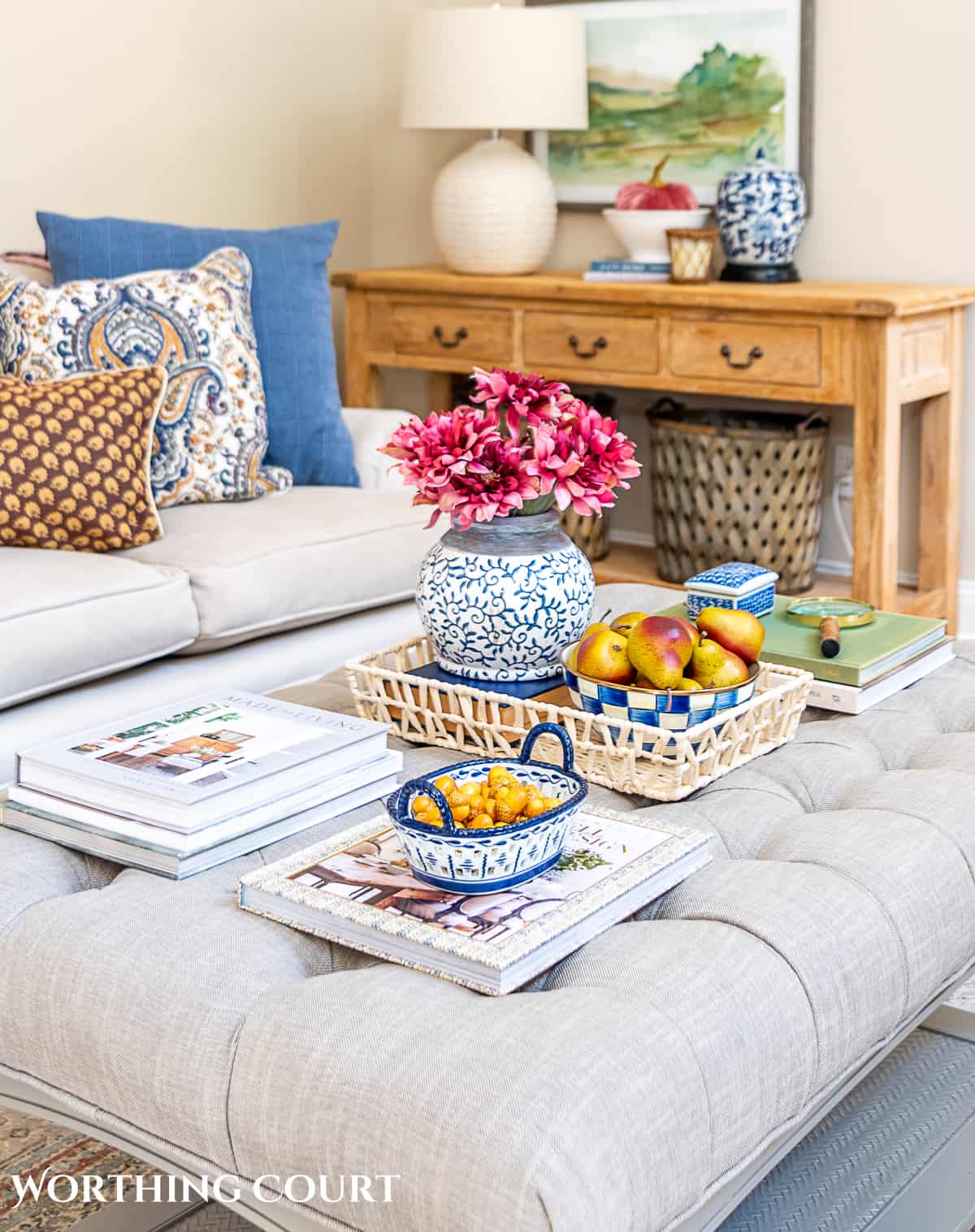 Pillows are often my inspiration when I'm choosing a color palette to decorate with. All it takes is running across one drool-worthy pillow and I'm decorating my whole room around it in my head. 😜
And in my mind, there's almost nothing more fun in the world of decorating than mixing patterns!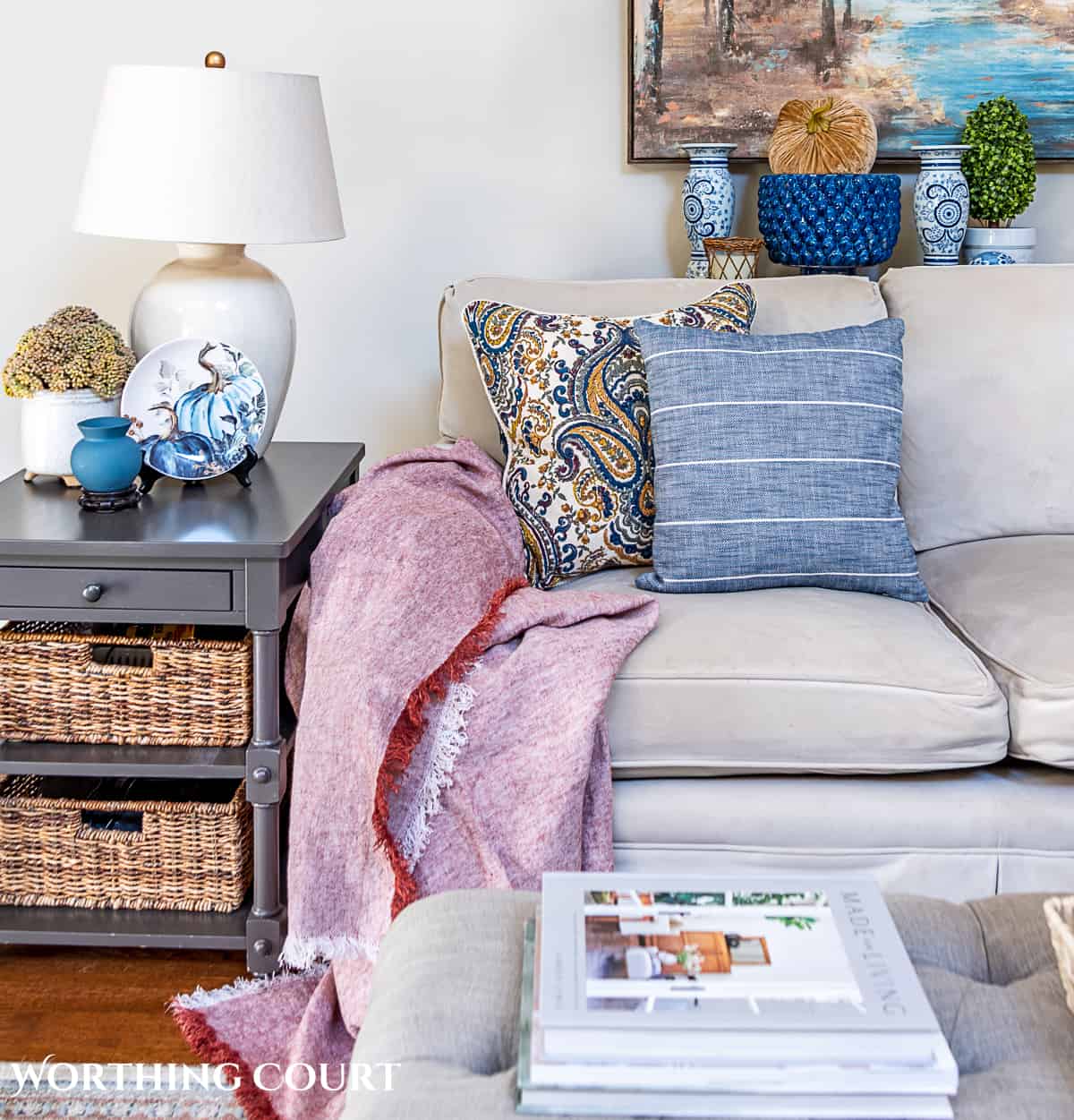 Decorating Tip: As a rule of thumb, use at least three patterns in a room. Use different size patterns, use similar colors and mix simple and complex patterns together.
And how perfect is that pretty blue and white pumpkin plate on the end table???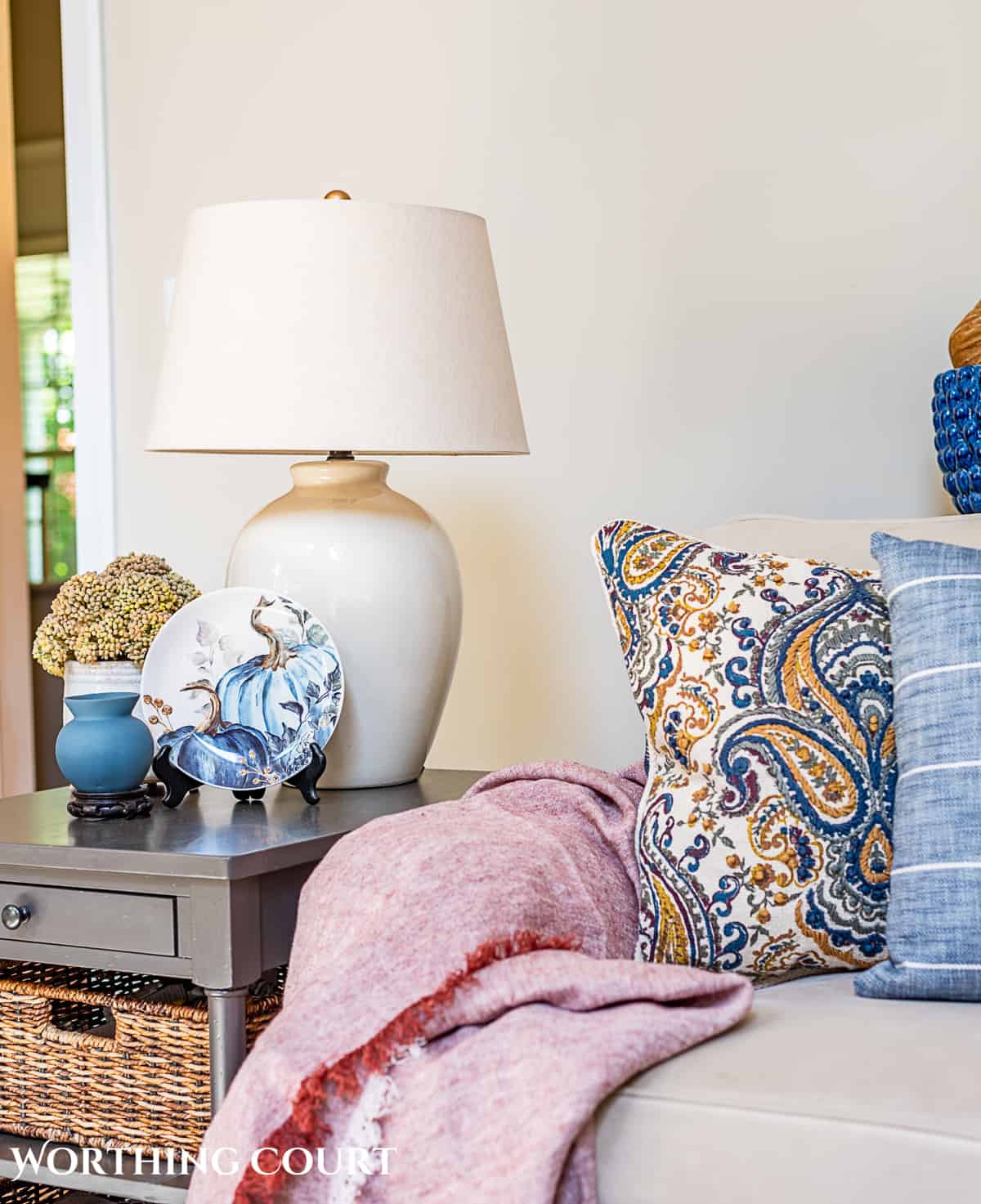 Even though I came up with a great storage solution for my pillows, I keep telling myself that my pillow addiction has got to stop!
In keeping with my everyday-look fall decorating, the main thing I did to my coffee table was to rearrange the things that I normally keep there and replace the summer-specific decorations with fall inspired ones.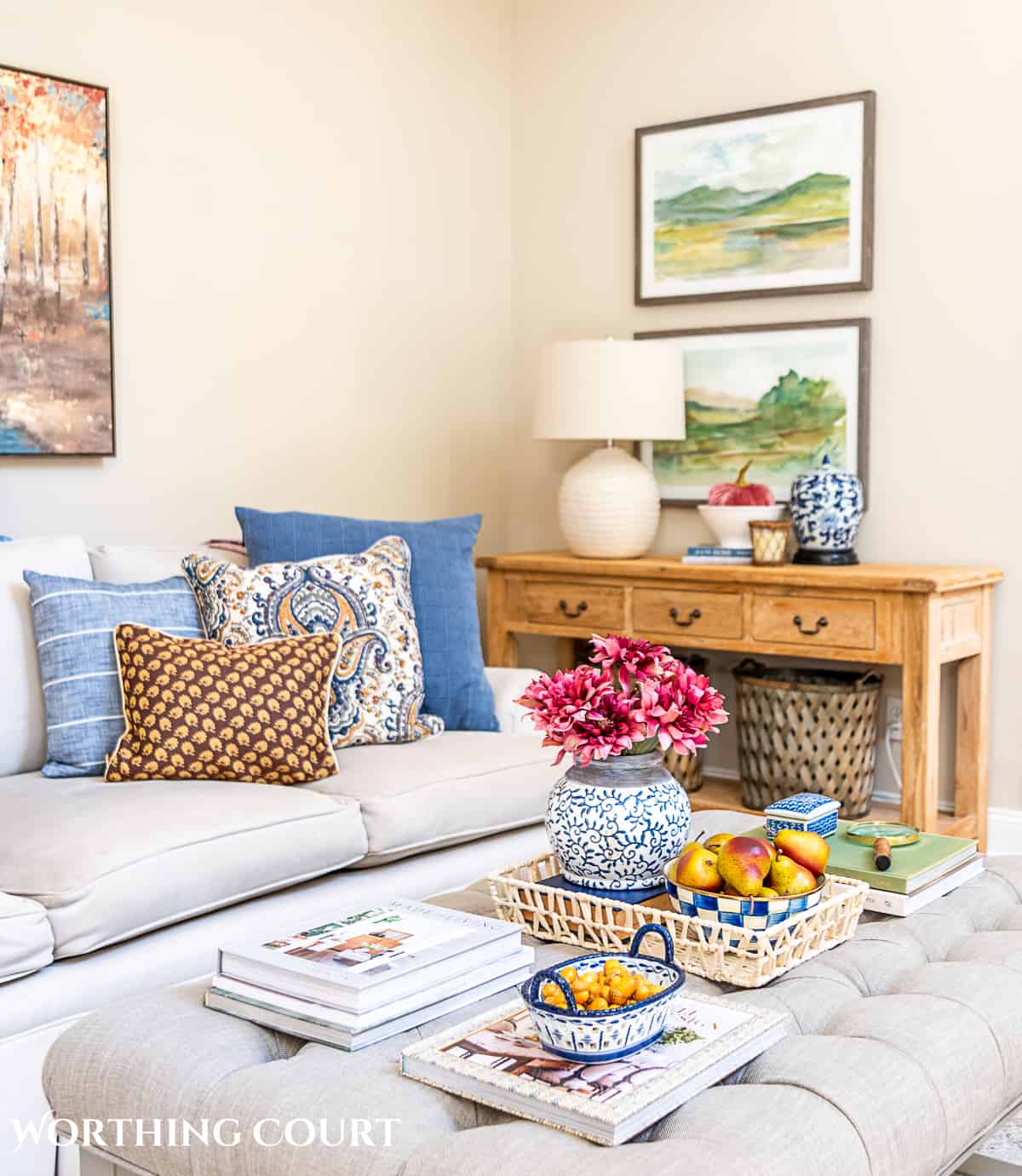 I swapped out the bowl of shells and a other pieces that were on the table for the summer with a sweet arrangement of burgundy mums in a pretty blue and white vase, a blue and white checked bowl filled with faux pears and a thrifted blue and white dish filled with acorns.
In the background, you can see that I also replaced the sea shells in the summer vignette on the console table with a gorgeous light burgundy velvet pumpkin plopped into a bowl and paired it with a pretty blue and white ginger jar.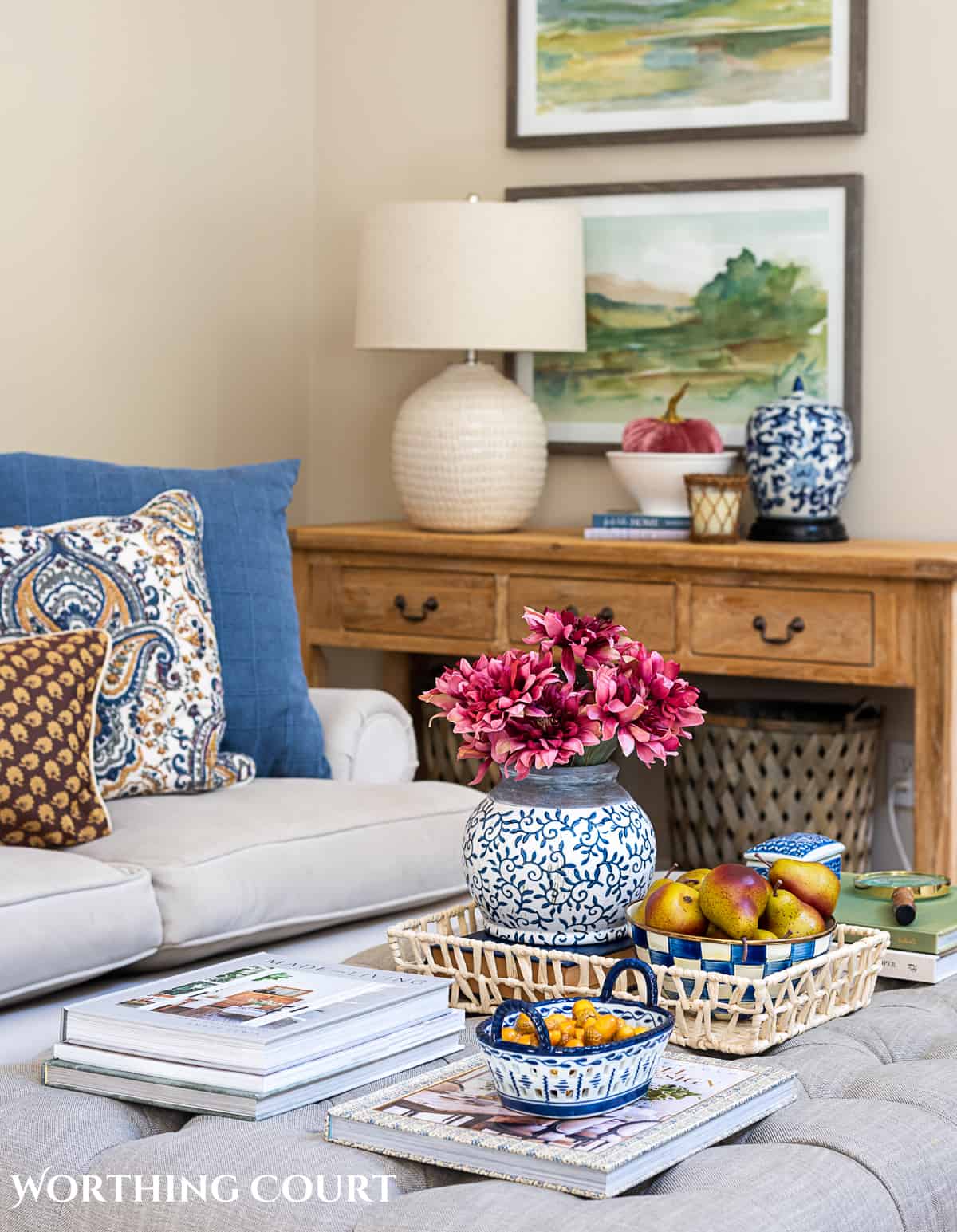 All of these small changes are my way of welcoming fall to my home this year.
I hope you were able to get some ideas to use in your own home, but now you'll want to go to the next person in the tour, which is Kate from Southern Home And Hospitality.
I know Kate personally and can vouch for what a beautiful home she has. You'll really enjoy the budget-friendly ways that she's decorated her home for fall this year.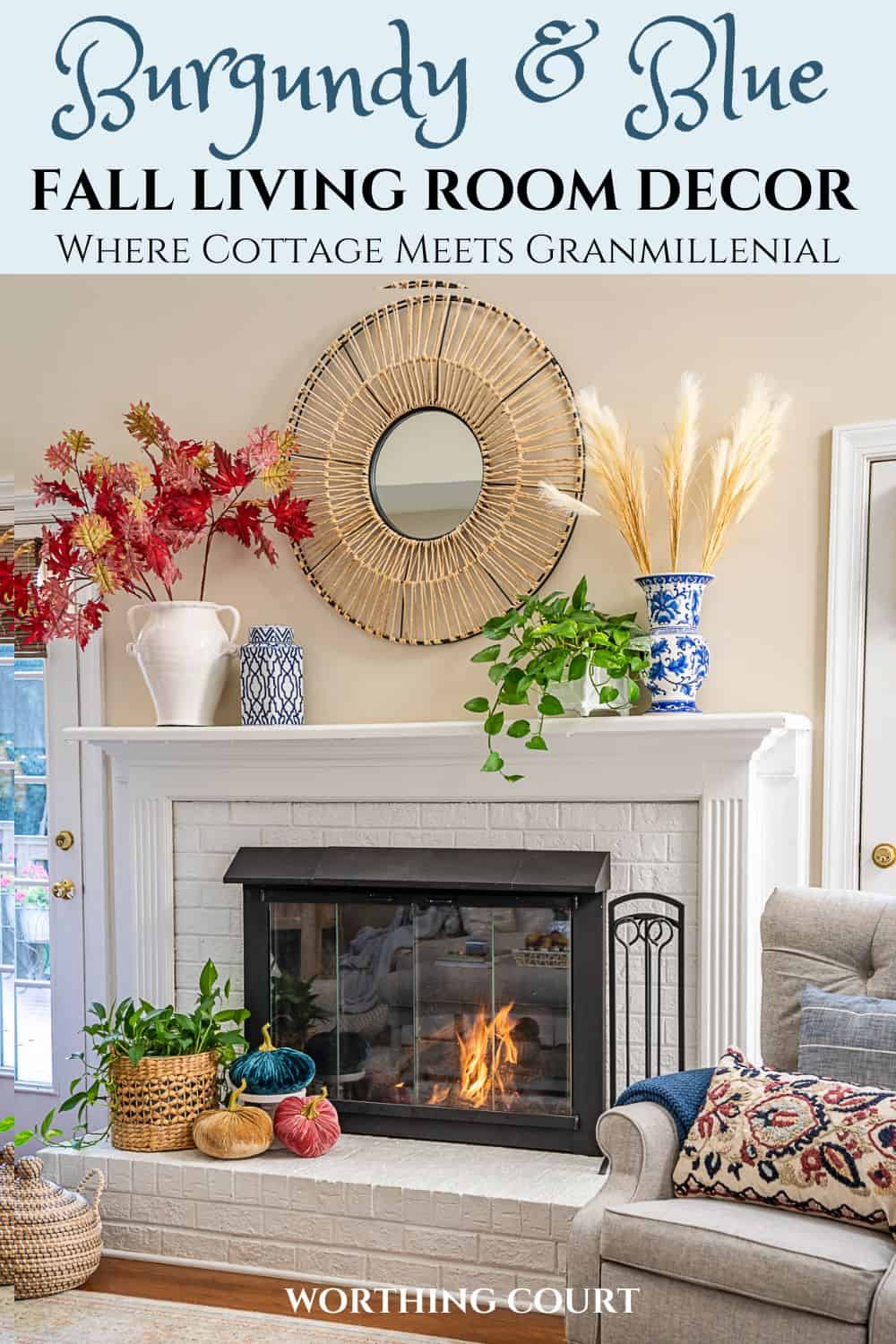 Monday September 12 Lineup
A Stroll Thru Life – The Stonybrook House – StoneGable – Shiplap and Shells –
White Arrows Home – Clean and Scentsible.
Tuesday September 13 Lineup
Decor to Adore – Simply2Moms – 11 Magnolia Lane – Calypso in the Country –
Country Road 407 – Pink Peppermint Design
Wednesday September 14
Whispering Pines Homestead – Cuckoo4Design – Southern State of Mind –
This is Our Bliss – Thrifty and Chic
Thursday September 15
Our Southern Home – Southern Hospitality – Hymns and Verses – Worthing Court –
Southern Home and Hospitality – Remodelandolacasa
Friday September 16
Pasha is Home – CitrineLiving – Quarters One – Up to Date Interiors –