How To Decorate Your Home For Fall In A Tasteful Manner
Want to know how to decorate your home for fall so that it's done tastefully? These are just a few guidelines that you should follow that will allow you to enjoy the beauty of the season while still keeping the look in your home refined.
Let me just say upfront, that no matter what kind of tips for decorating your home that you might run across, THE most important thing of all is for you to do YOU!
Your home needs to be a reflection of you and your family's likes and needs – not what some magazine, Instagrammer or even blogger says.
BUT – I believe that one of the reasons that you visit me here is not only to be inspired, but also to get decorating advice. If you'll look my archives, you'll see that I have oodles and oodles of blog posts about the various aspects of decorating your home.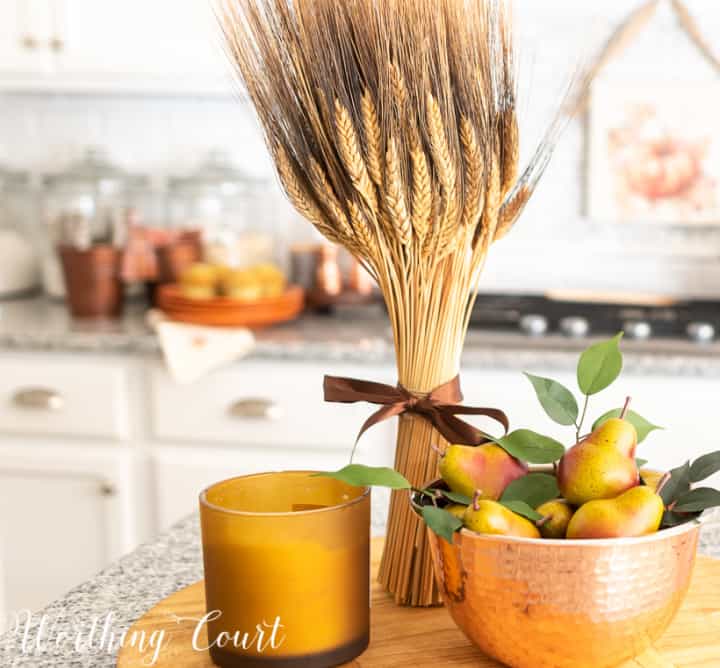 Most of those how-to-decorate have to do with general everyday decorating, but today let's get a little more specific. Let's go over some tips and ideas that you can use to tastefully decorate your home for fall.
In other words, let's talk about how you can decorate your home so that your home doesn't scream "it's fall y'all!", but is still a reflection of this beautiful, cozy season.
Tastefully decorating your home for fall means turning your living space into a warm, inviting, and seasonally-inspired haven without overwhelming it. It involves thoughtfully selecting decor elements that capture the essence of the season.
TASTEFUL FALL DECORATING DO'S:
Using these fall decorating "do's" will not only give you a home that's tastefully decorated for fall, but will give you a home that is sophisticated, relaxed and cozy.
Celebrate the arrival of fall right on your front porch with a beautiful wreath on your front door. Fall wreaths don't have to be filled with fall elements such as acorns, pinecone or pumpkins.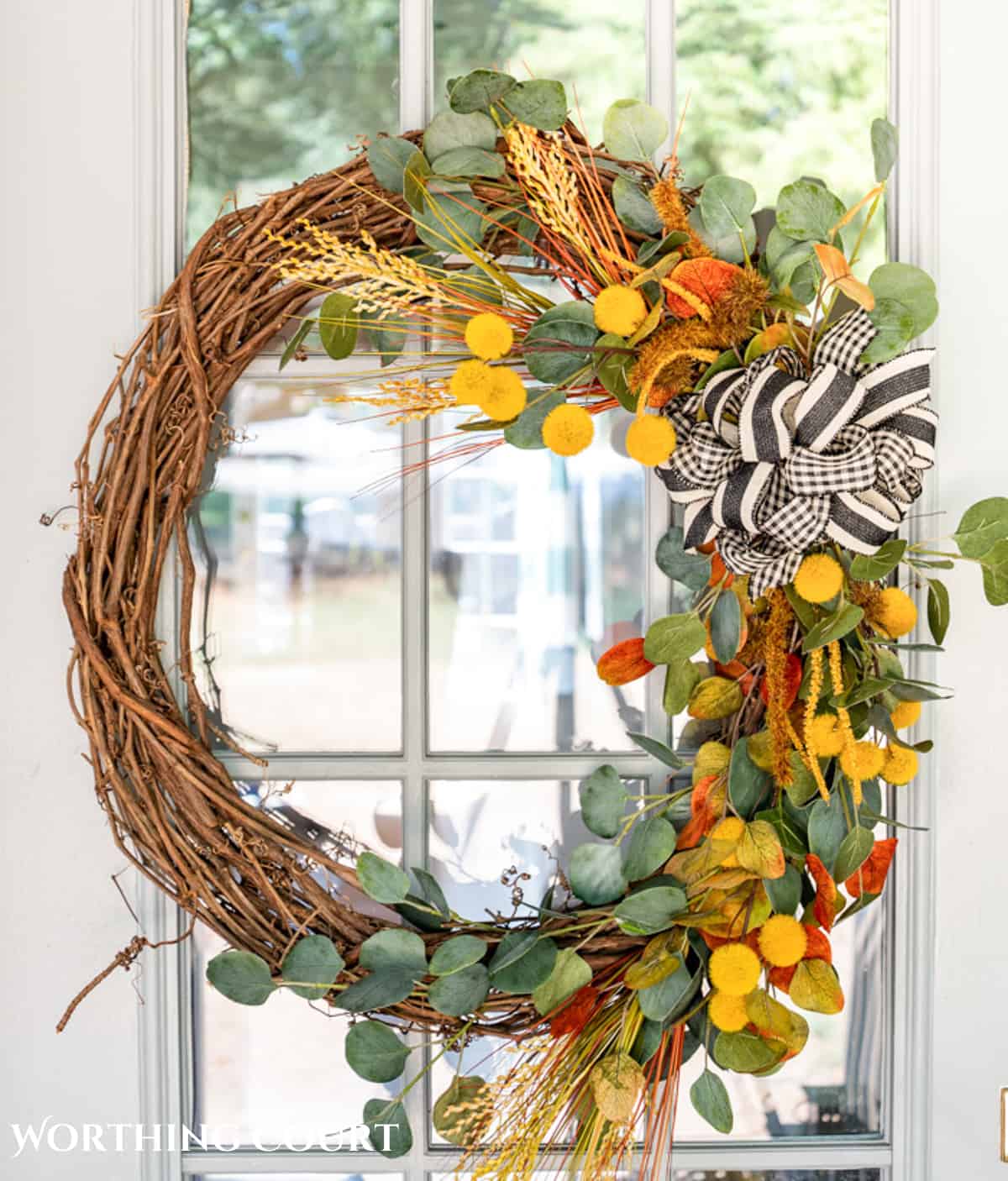 Instead, fill your wreath with foliage in seasonal colors. You can get as elaborate as you want at your entryway, but honestly, a simple wreath is very tasteful, will take center stage and sets the tone for the rest of your home.
Do exercise restraint. Seasonal decor items don't have to be fall-specific. Tasteful decorating for fall is all about strategically using accents. For example:
Keep the same decorative bowl and planter on your coffee table, but fill it with a fabulous mum instead of the greenery that was in place during the summer.
Side tables make a good spot to replace summer greenery or florals in a vase with fall foliage.
Display decorative plates that are a seasonal color in a bookcase.
Add natural elements to a bowl or tray in your living room.
Just about any type of dried stems are also good for adding seasonal touches to a room.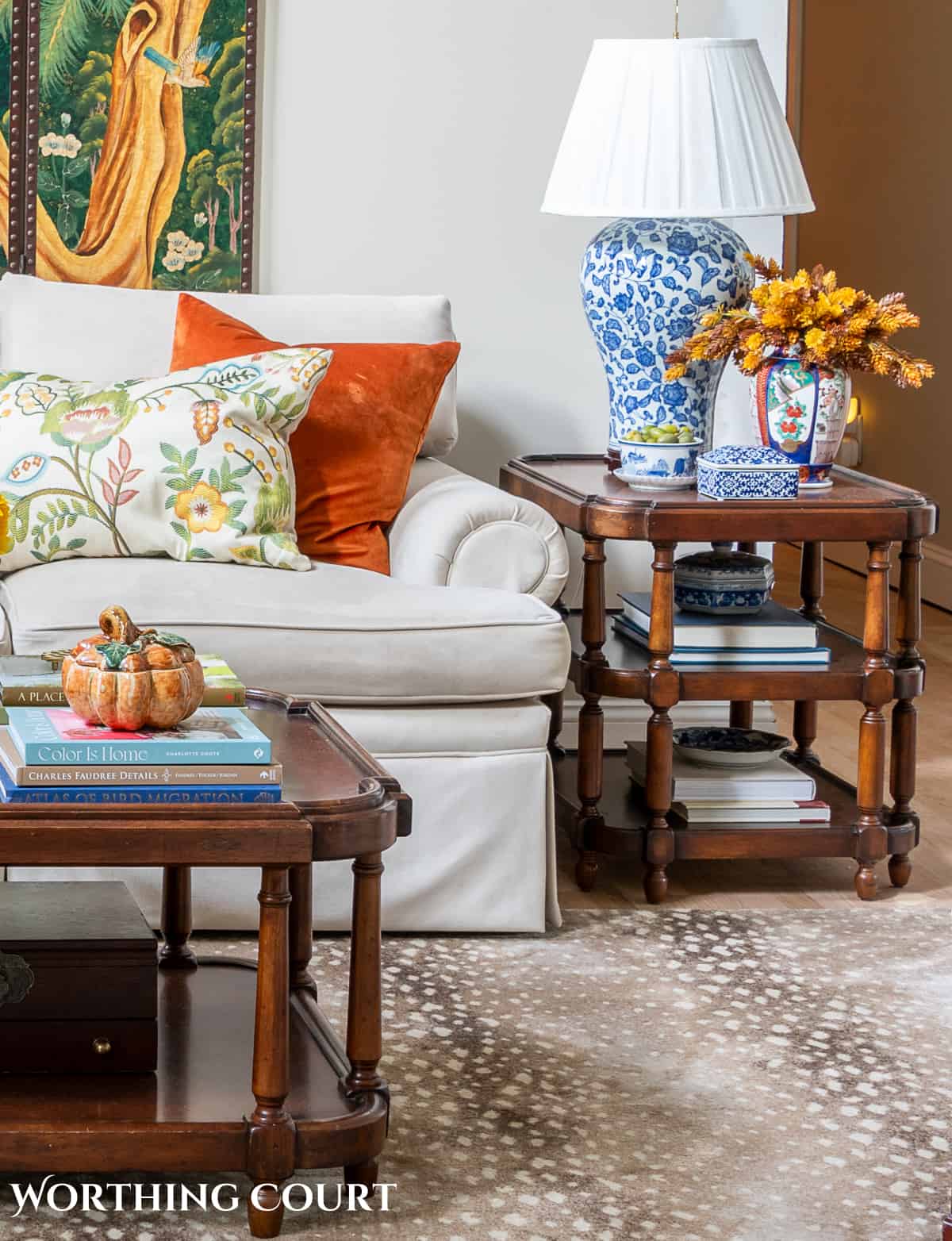 Choose a color palette of warm tones that are found in nature. A warm palette doesn't have to include orange either. Look for fall florals that are in more muted, warm hues of green, cream, gold and brown. Click HERE for 12 different color palette ideas that are perfect for fall.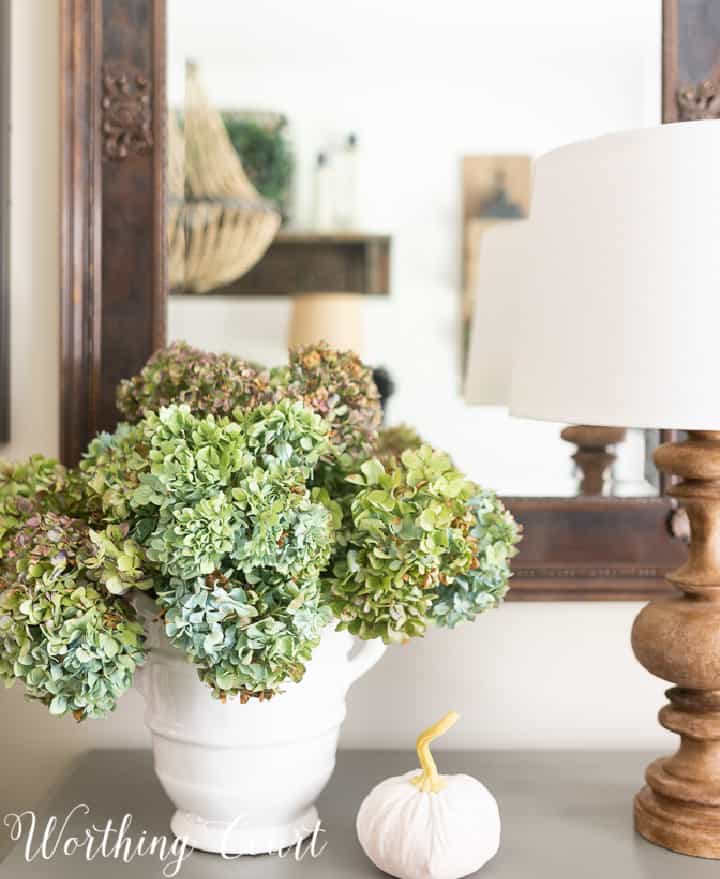 Layering decor is everything. Layering throw pillows, throw blankets and decor items is a decorating secret that interior designers use, no matter the season.
If you're unsure, start with a base of neutral pillows, then add pillows or throw blankets in fall colors to the mix. Get my tips for how to layer decor by clicking HERE.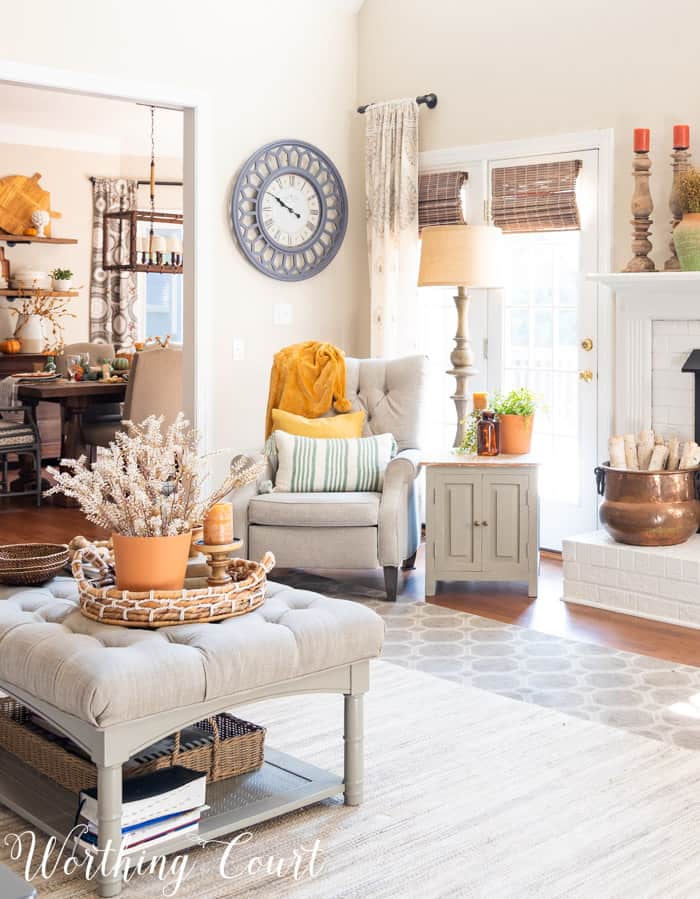 Pattern always plays an important role in home decor. Add a few pillows with a small pattern instead of only using solid colored pillows.
Plaids, stripes and small prints are all good. The pattern can also come from the weave of the fabric, such as the cable-knit sweater look that's woven into the fabric.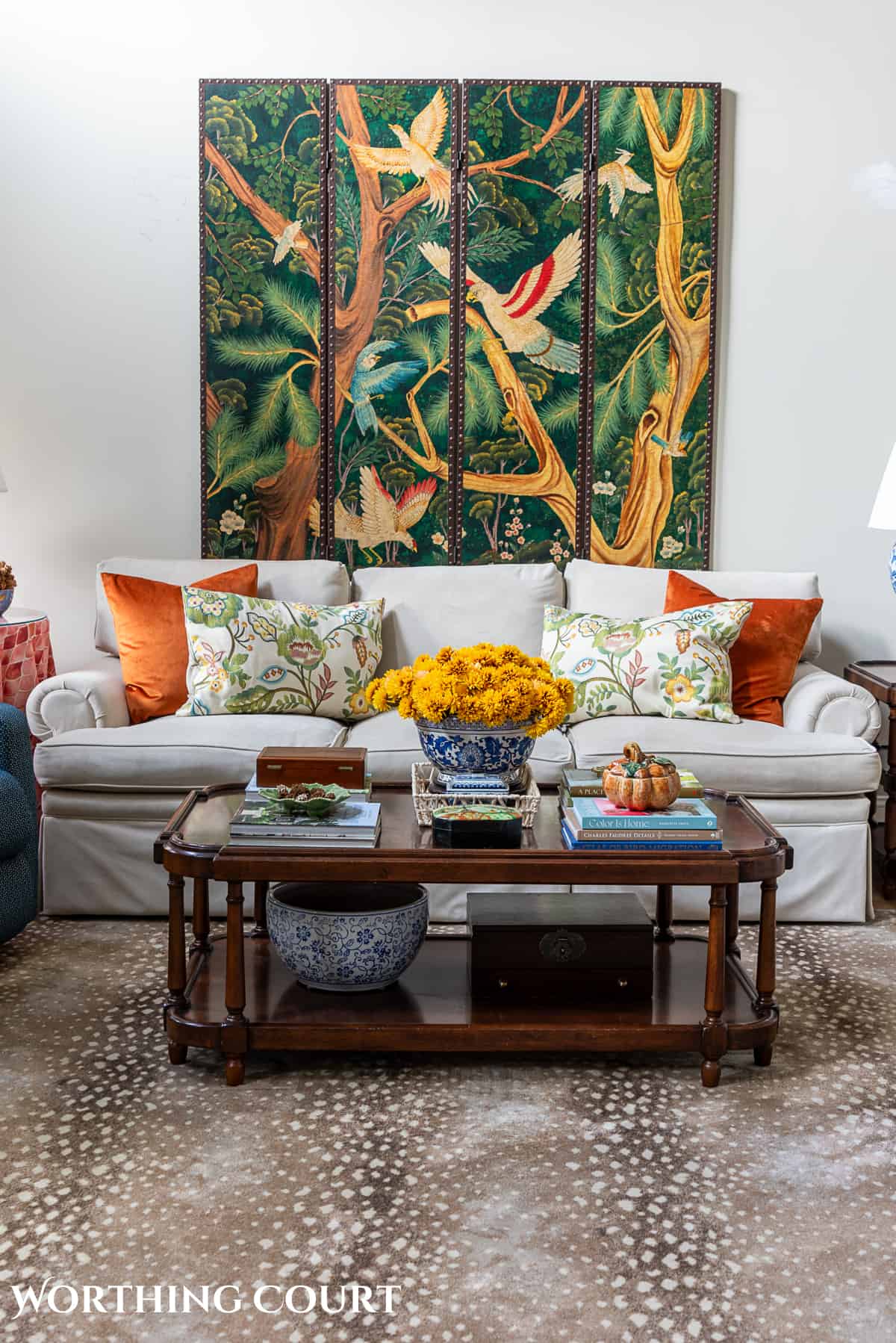 Remember to incorporate plenty of texture to add tactile interest and to exude a feeling of coziness. Think baskets, snuggly knit throw blankets, soft furs and velvets.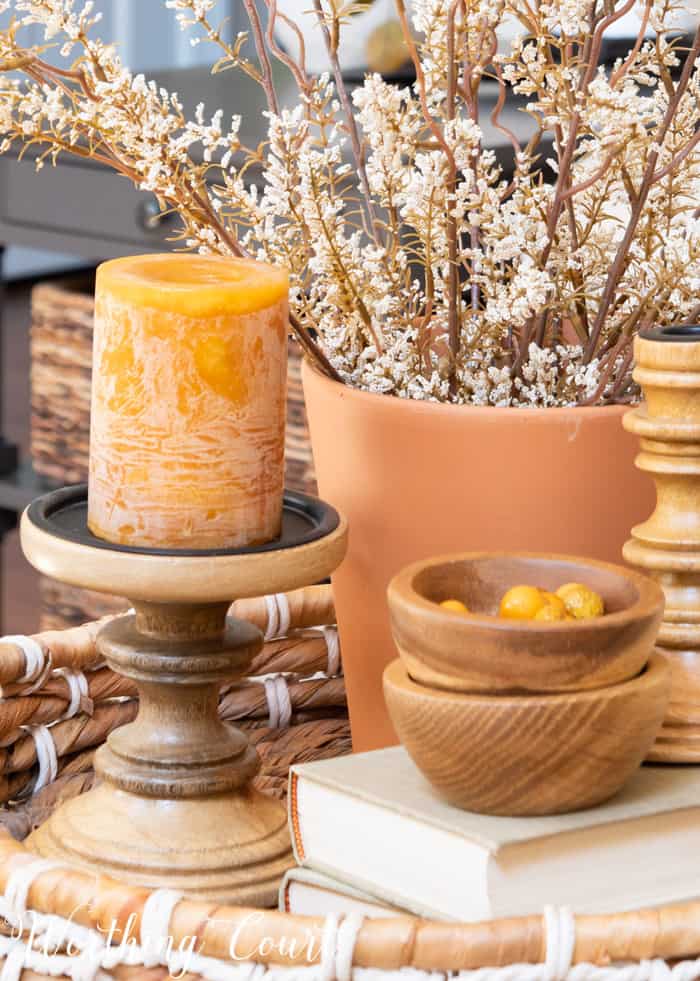 A fall centerpiece, containing seasonal flowers, placed on a dining room table would be a beautiful focal point. In the spirit of decorating tastefully, it's likely to be the only seasonal touch that you'll need in that entire room.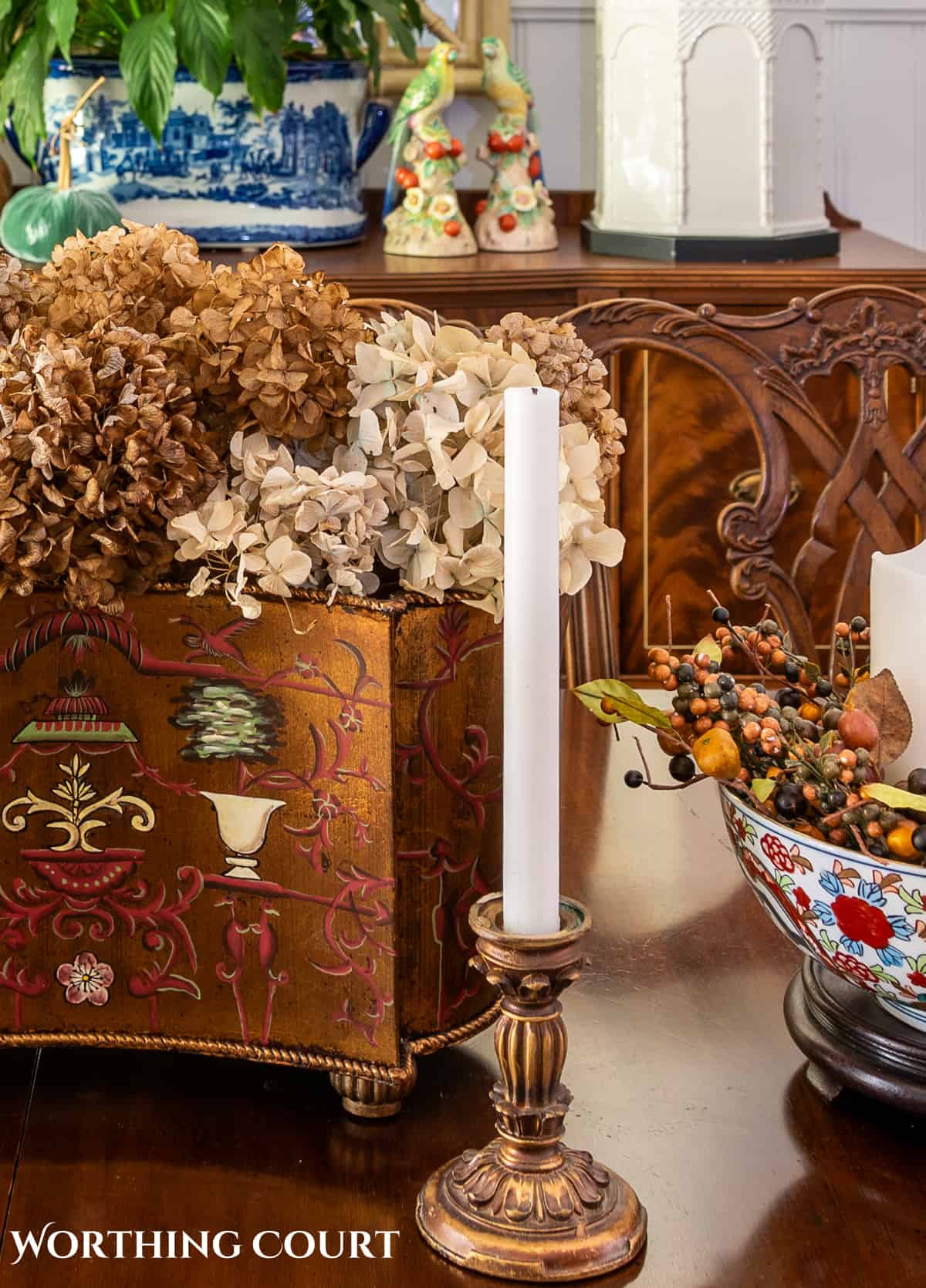 TASTEFUL FALL DECORATING DON'TS:
There are lots of "do's" when it comes to seasonal decorating, but there are also some things that you should avoid. Styles change over the years and many of the things that gave a cozy vibe a few years ago just don't work well today.
Don't get carried away with a fall theme, such as owls, too many pumpkins, fall signs, etc. Decorating for a season with a theme can take it from charming to kitschy if you aren't careful.
That doesn't mean that you shouldn't use any of these items – rather that you should use them sparingly. The below mantel that I decorated several years ago is a prime example of a fall mantel gone bad. I loved it at the time, but not so much today.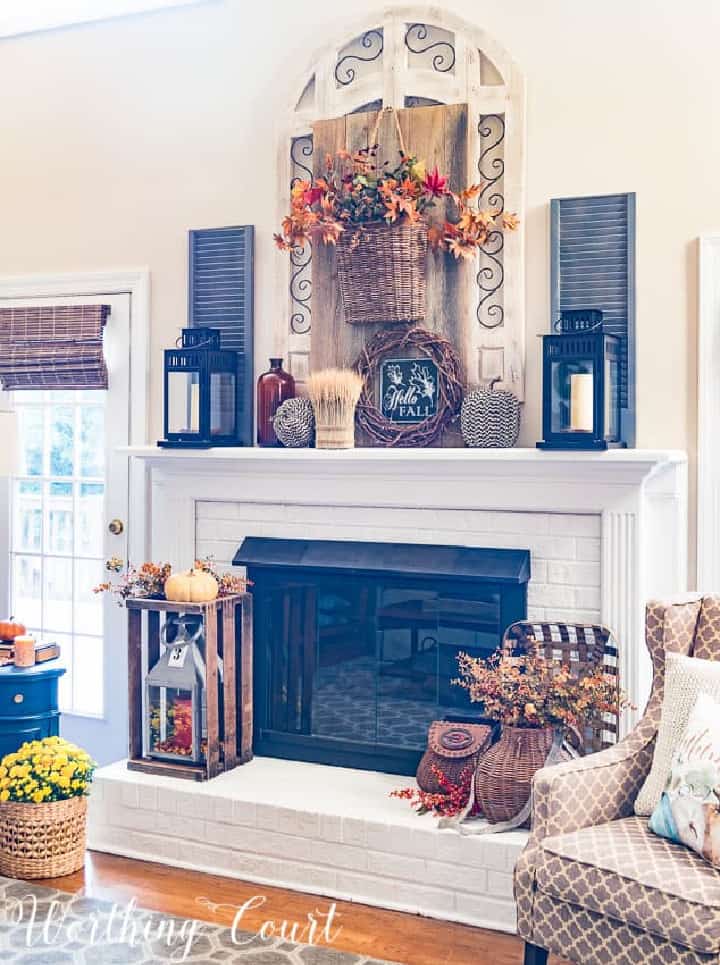 As tempting as it may be to purchase that adorable owl with a cute little hat holding a welcome fall sign, you need to practice restraint and avoid what I call cutesy decor.
Don't fill shelves or surfaces with lots of small items such as figurines, a plethora of pumpkins, or signs with quotes. Too much of a good thing just looks like clutter instead of beautiful decor and will not look sophisticated.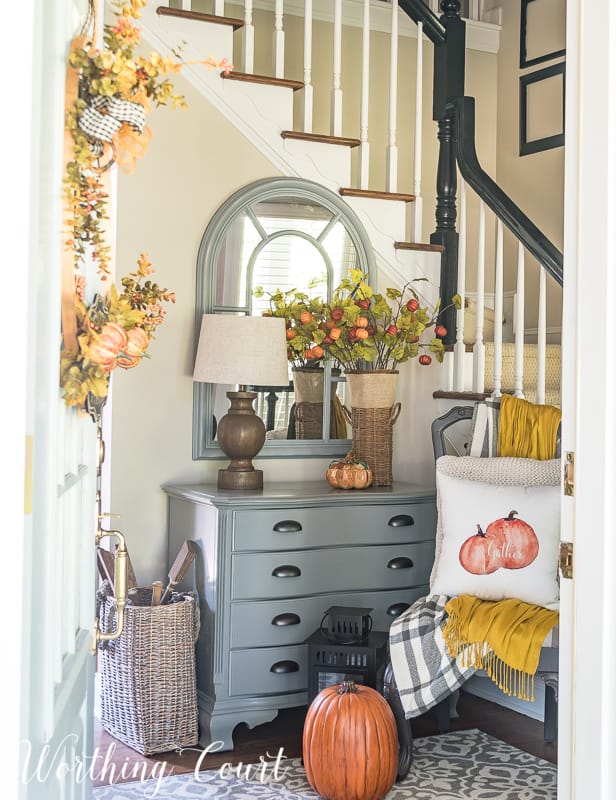 By all means, use a fall color palette that appeals to you, but avoid super bright colors. For example, most pumpkins are orange, but if you'll think about it, it's a saturated orange, not a bright neon orange.
TIP: Bright orange pumpkins can be toned down by applying dark wax to them.
Avoid mulitple throw pillows that have specific fall images on them, such as pumpkins, pickup trucks filled with pumpkins, etc. Just one is enough. ☺️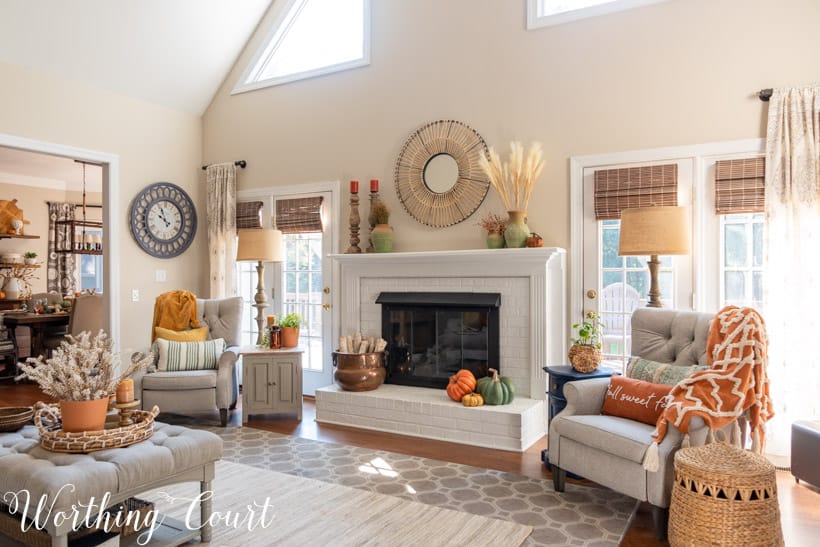 No matter what you choose to decorate your home with, remember that indulging in subtle expressions of fall will give the maximum, tastefully decorated effect!