Fall Kitchen And Breakfast Room Decor – Cottage Style
Inside: Cottage style fall decorating ideas for your kitchen and breakfast room using blue and burgundy and a diy chinoiserie pumpkin for inspiration.
I guess you can call this a double-duty post. This isn't just about fall.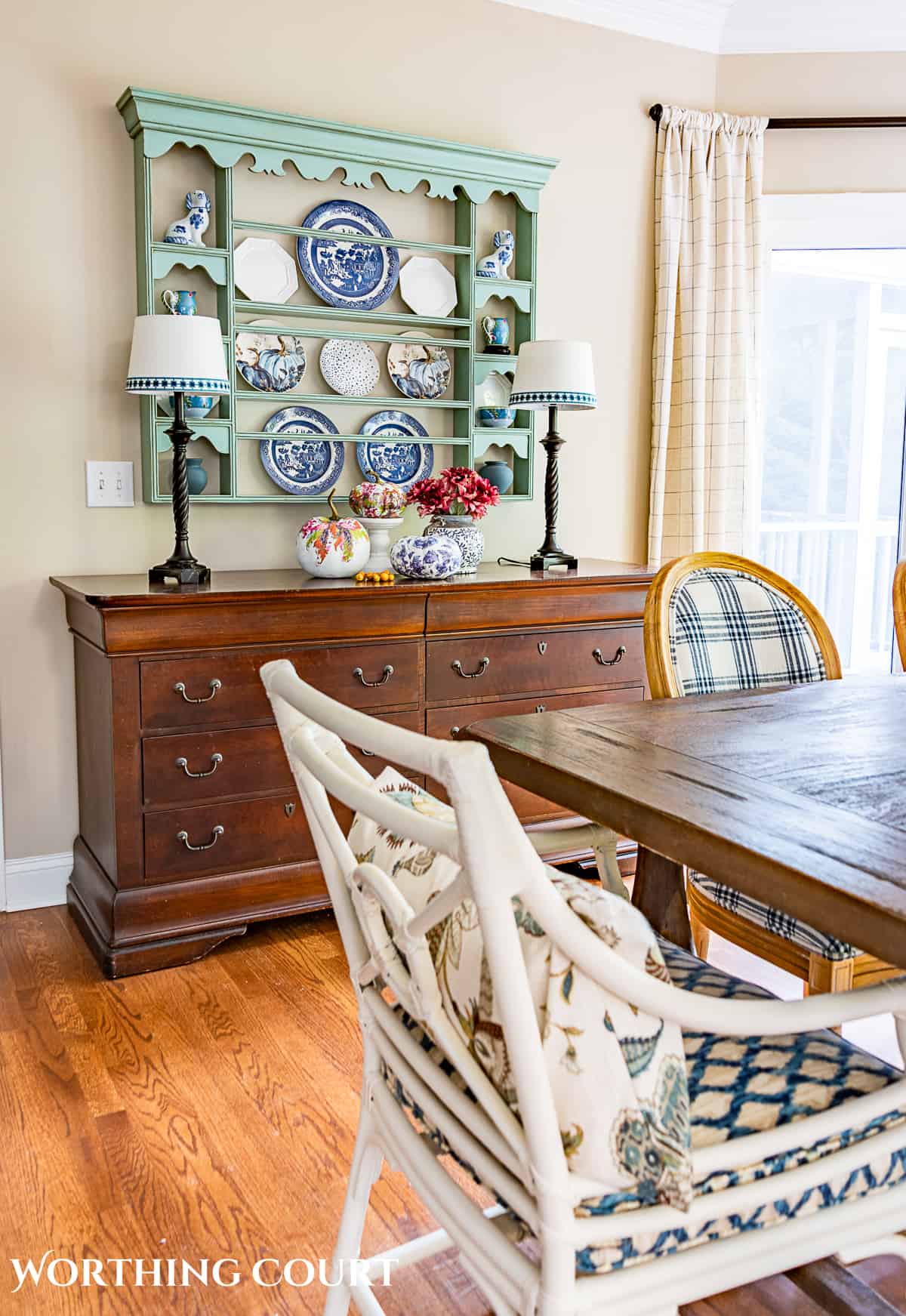 This post and photos may contain Amazon or other affiliate links. As an Amazon Associate I earn from qualifying purchases. If you purchase something through any link, I may receive a small commission, at no extra charge to you. Where possible, the exact product has been linked. If that product isn't available to link, I've linked something similar. All opinions are my own. See my full disclosure HERE.
Oh, the fall decorations play a big part of it, but this is also an update on the progress of my breakfast room makeover and to share some updates that we made in our kitchen this past summer. So fair warning – be prepared for lots of pictures!
The entire space looks SO different and I love it!
I've linked everything that I can in the slider that's below some of the images.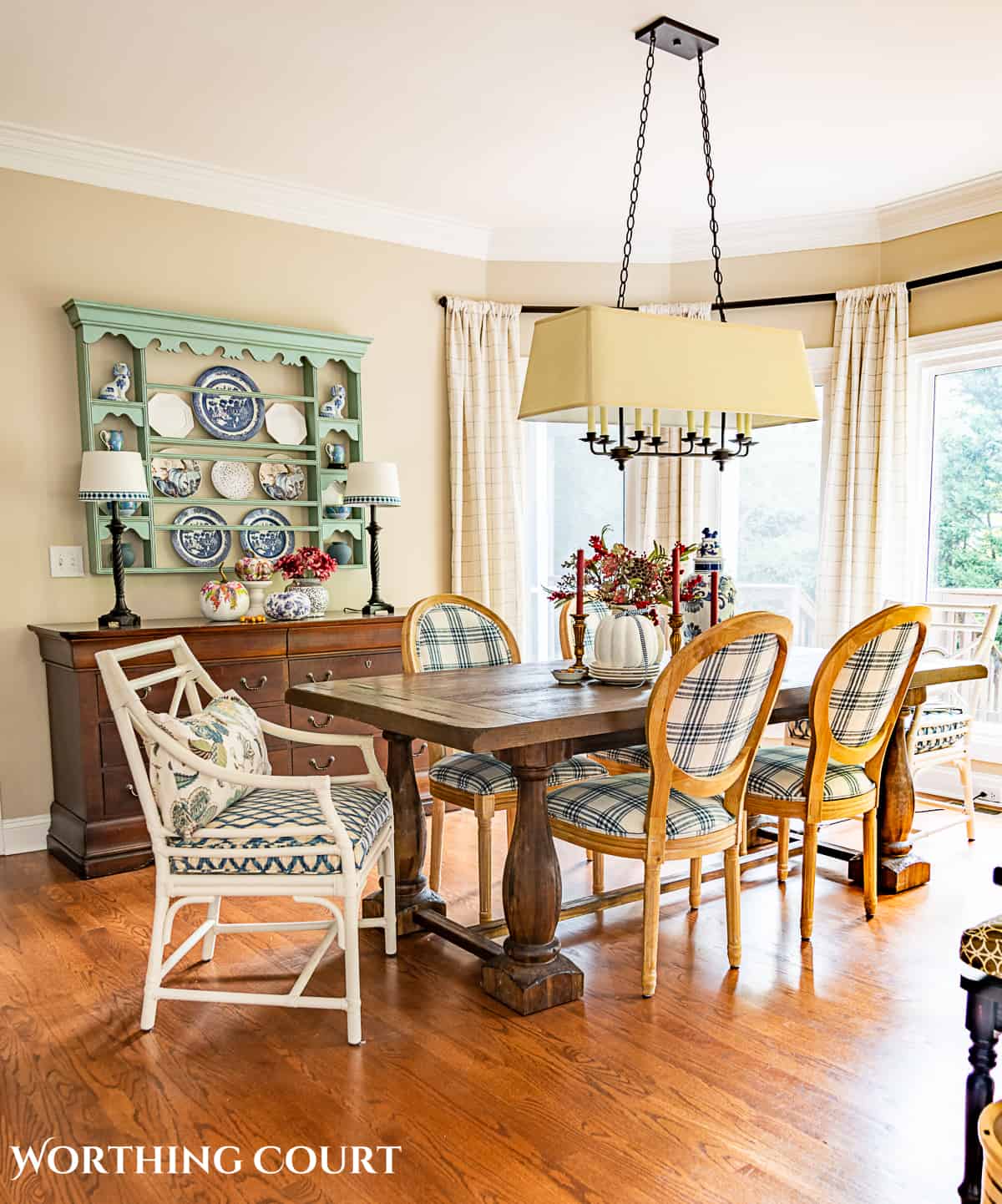 Welcome to Celebrate Home Fall Home Tours, where 23 of us are sharing a portion of our homes decorated for fall this week. The tour is hosted by my friend Leen at Sand Dollar Lane, who is fortunate to live right at the coast and shares the best coastal decorating ideas.
If you're coming over from Thistlekey Lane, welcome to Worthing Court! Her entire home is lovely and you're going to love her cozy fall living room.
Believe it or not, this year's fall color scheme was inspired by napkins. Specifically by the napkins that I used to make diy chinoiserie pumpkins.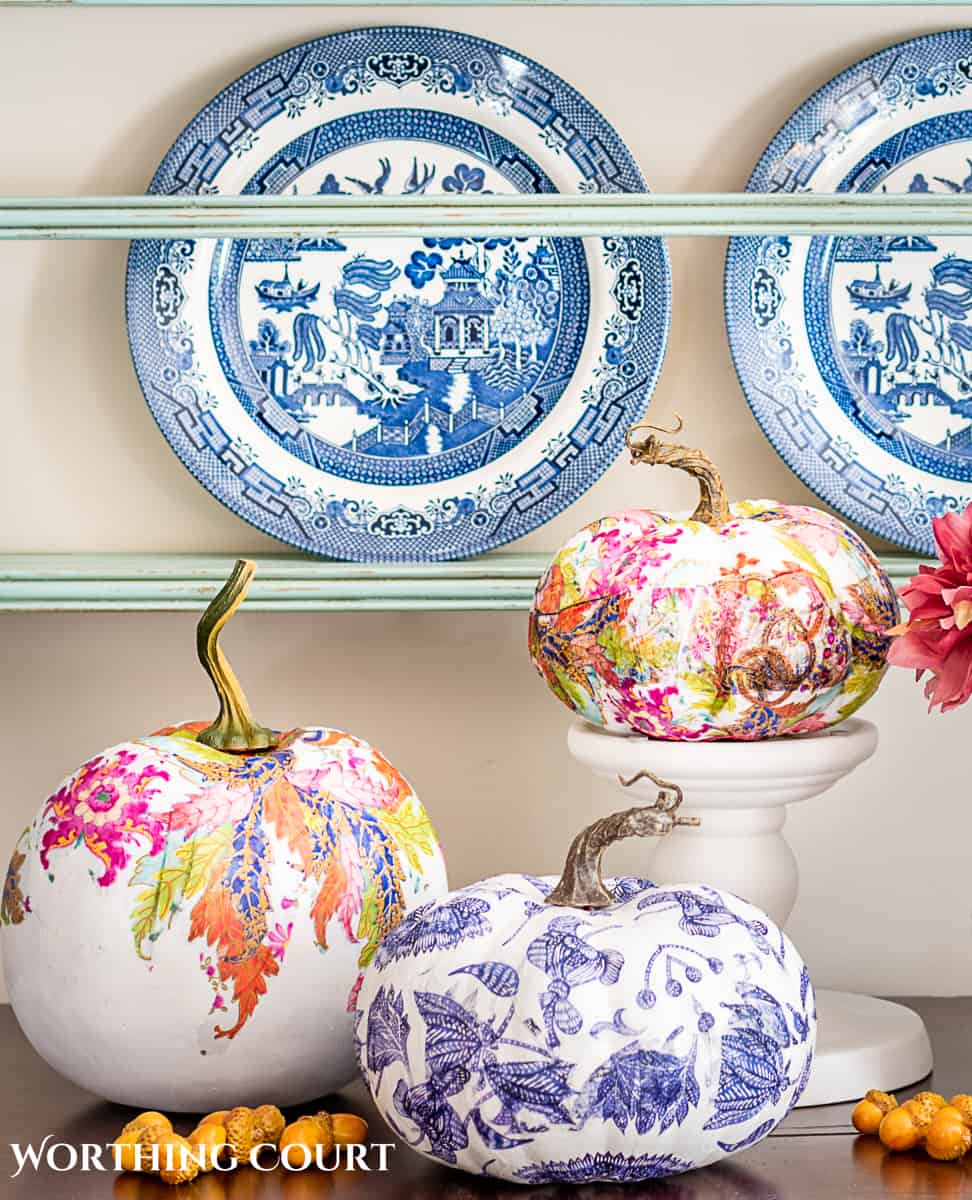 If you've never decoupaged pumpkins, you definitely need to give it a try! Easiest and most fun project I've done in a long time. You can get the step-by-step tutorial HERE.
I know how smart you are though, so if you've been watching my posts, you probably already knew what direction I was going in this fall based on my recent fall shopping guide.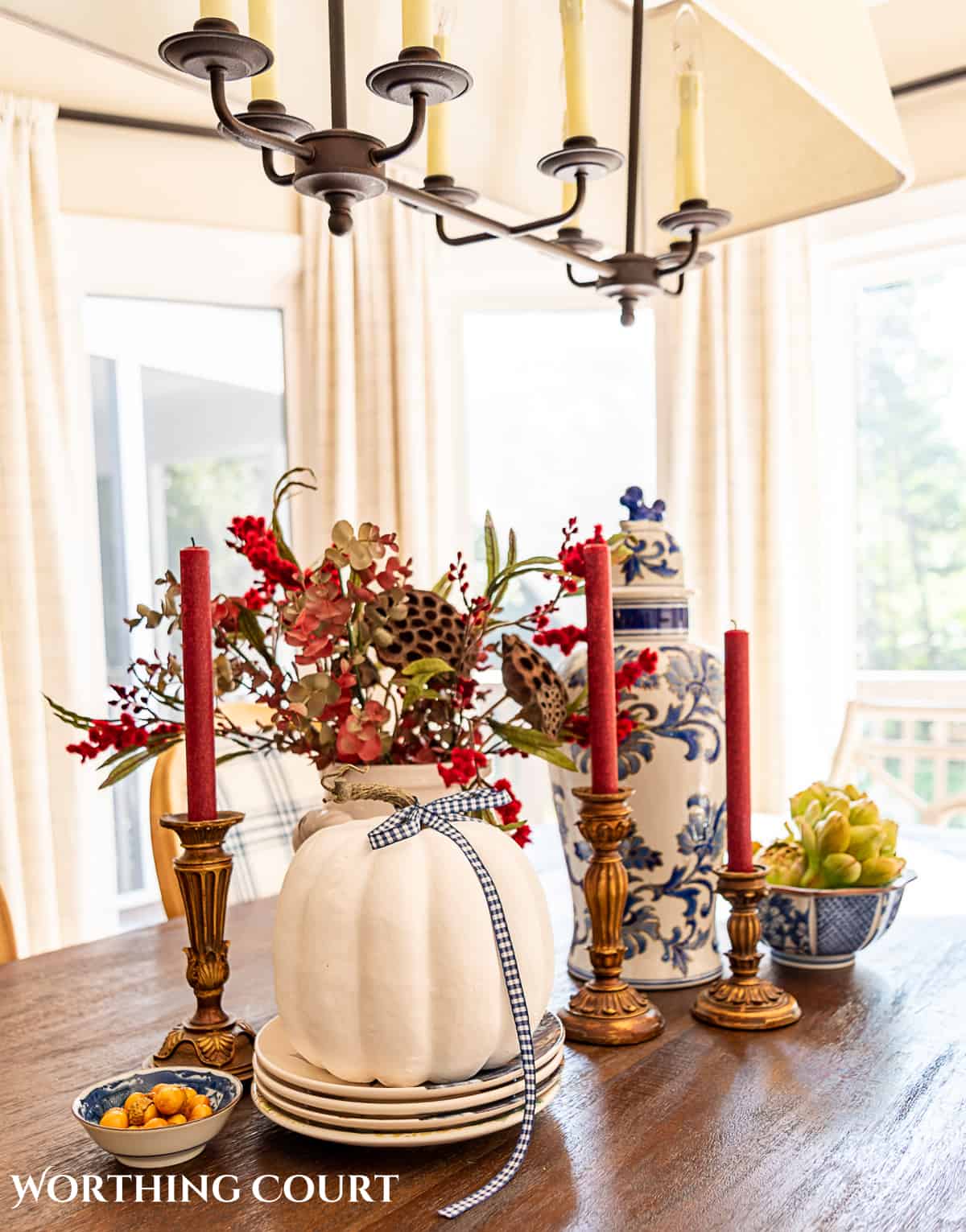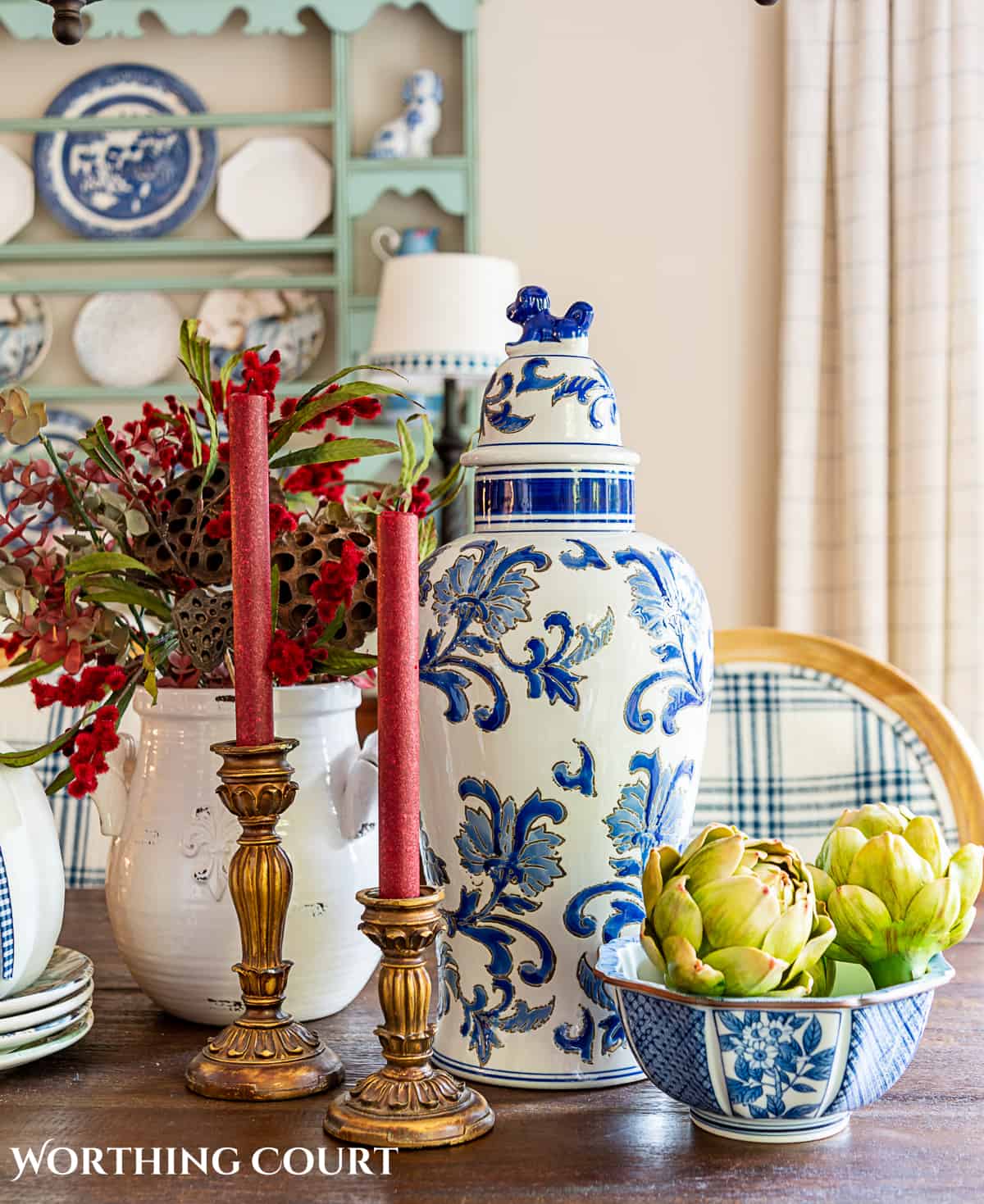 I kicked the color scheme off in my living room, which I shared last week. I'll be using the same palette on my front porch. I hope to share it next week, so I hope you'll come back for that!
The pumpkins that I made are placed in a prominent place on the sideboard, right below my new plate rack.
Sadly, the plate rack is one of a kind, so I don't have a link for it.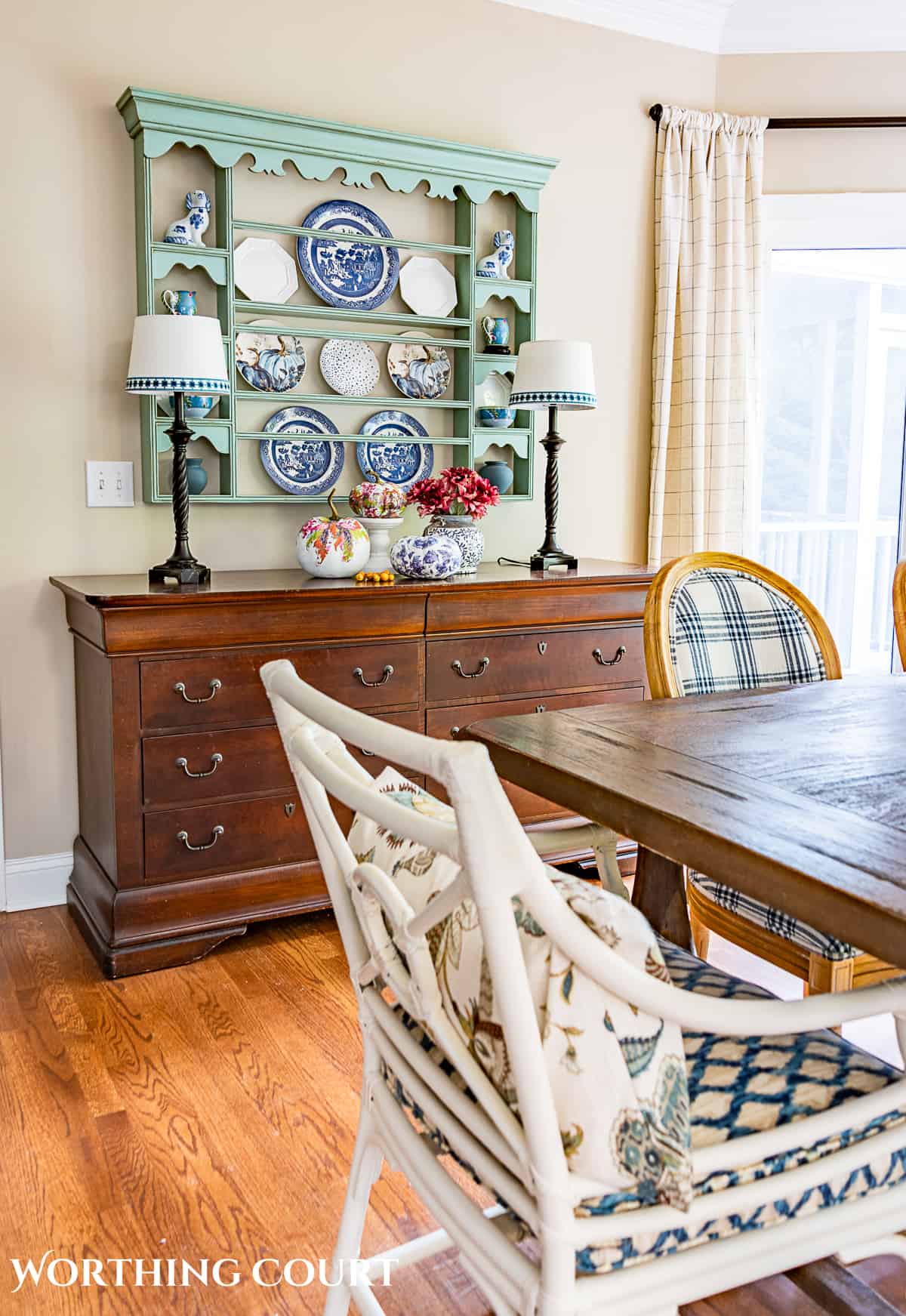 I've had so much fun collecting plates and other small items to display!
I admit that I struggled with how to style it for fall without being over the top, but I think the addition of a couple of pumpkin plates is just enough. Honestly, the rest of what's there could be left year round.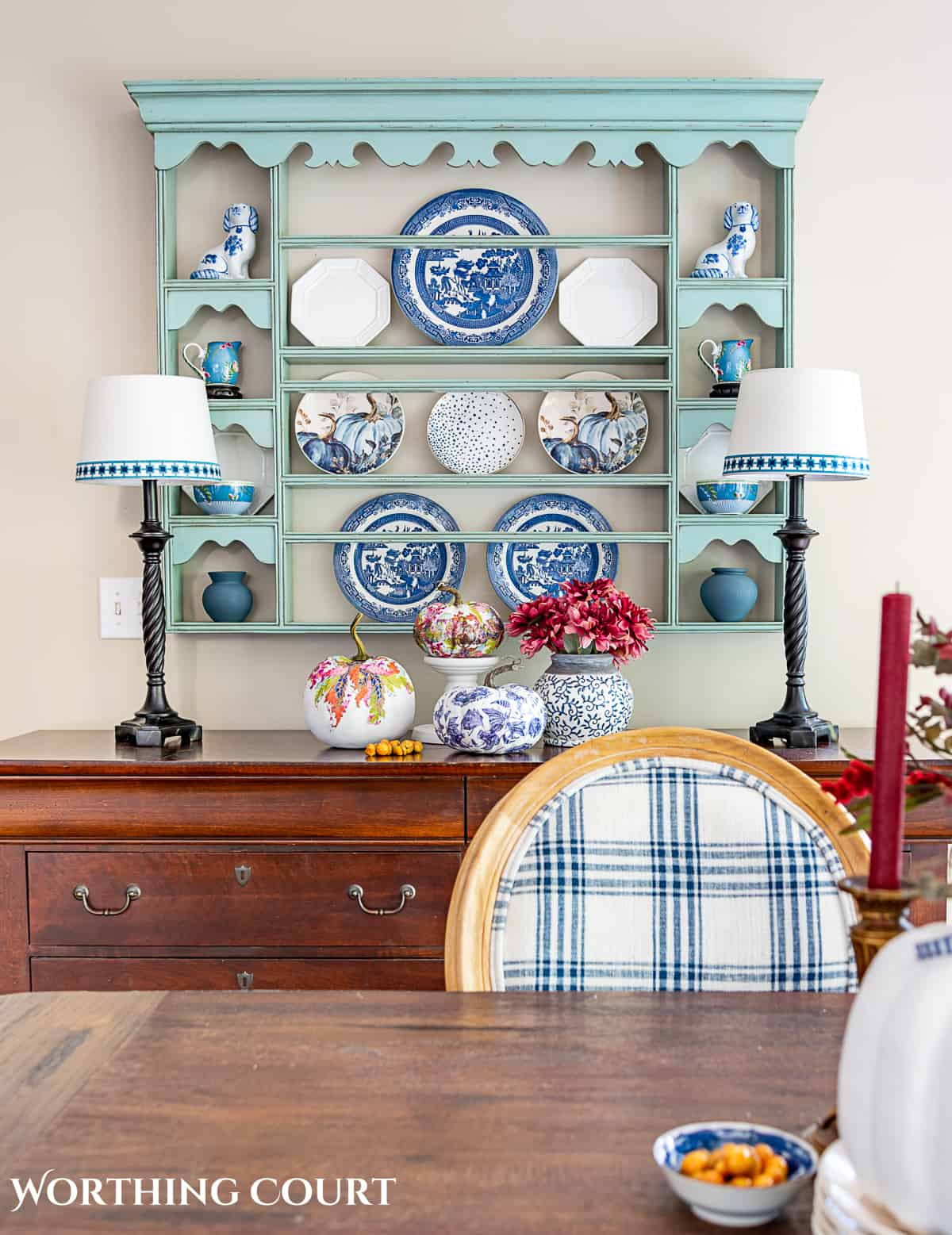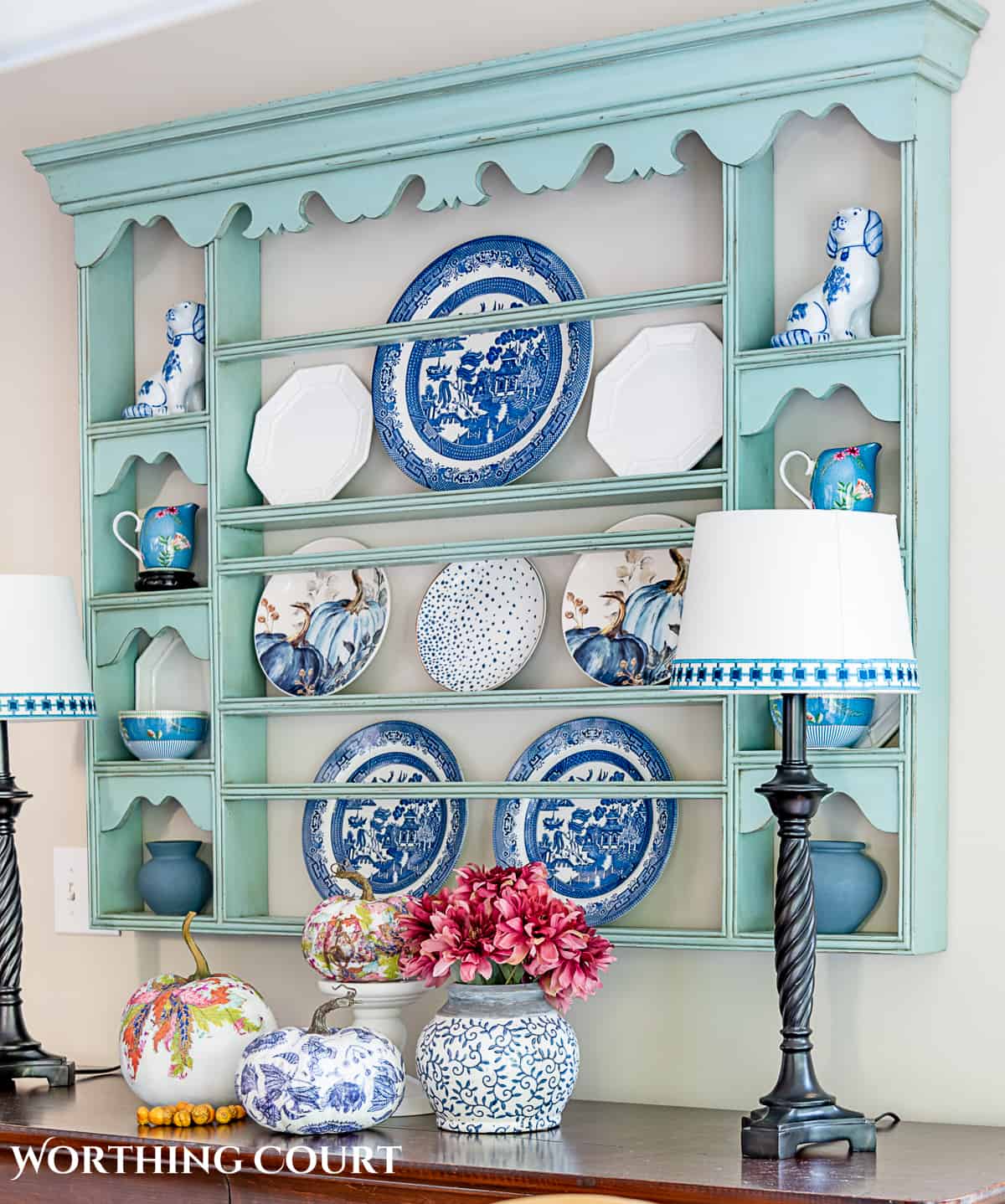 The light fixture, above the table, is the very first thing that I changed when I started this room makeover and it pretty much set the tone for the entire area.
It's a little bit formal while still retaining the cottage feel that I wanted for this room.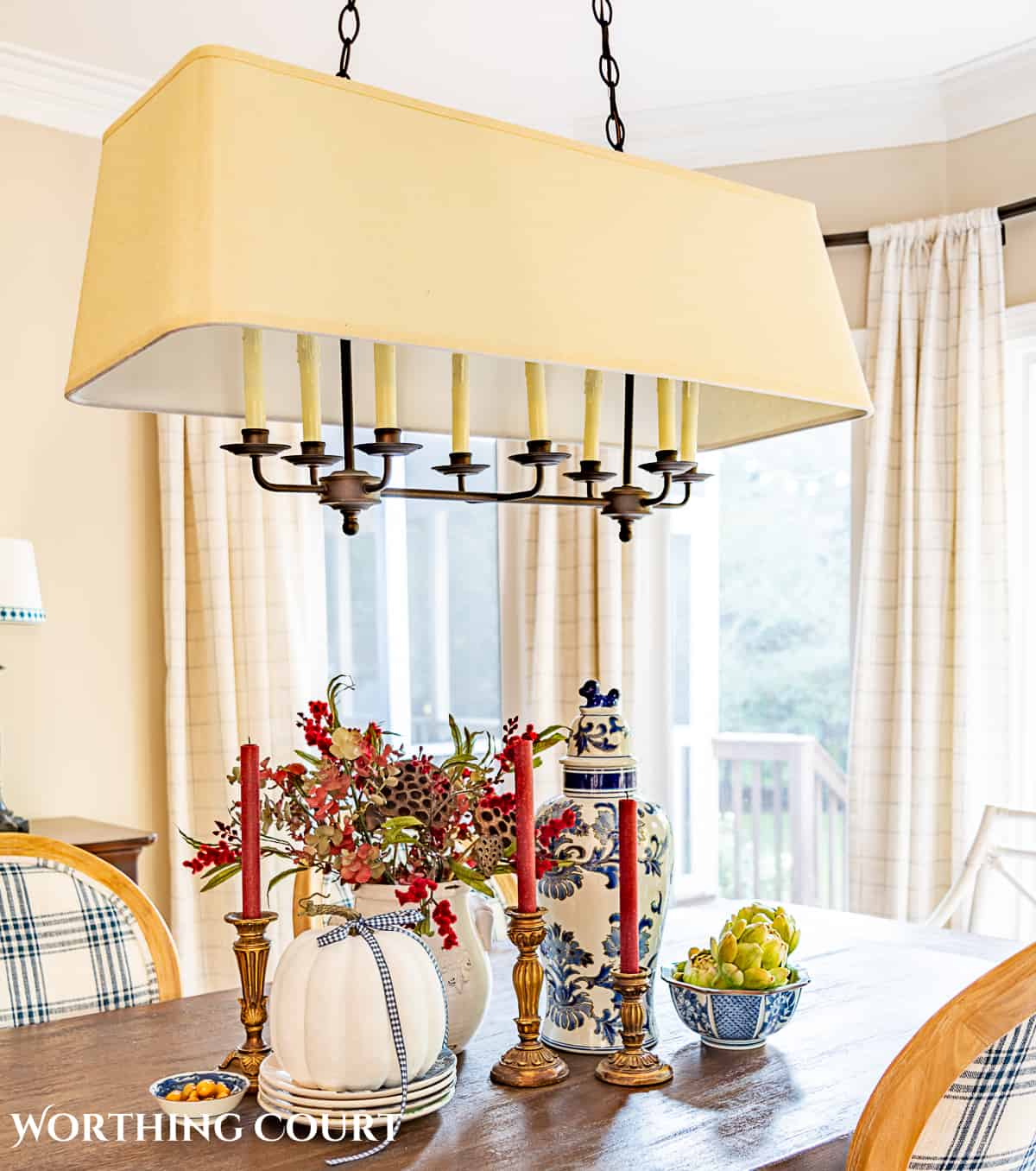 If you've been around for a while, you'll see that I kept my same dining table, but replaced the side chairs. The end chairs are the same, but the cushions have been reupholstered and the frames have been spray painted.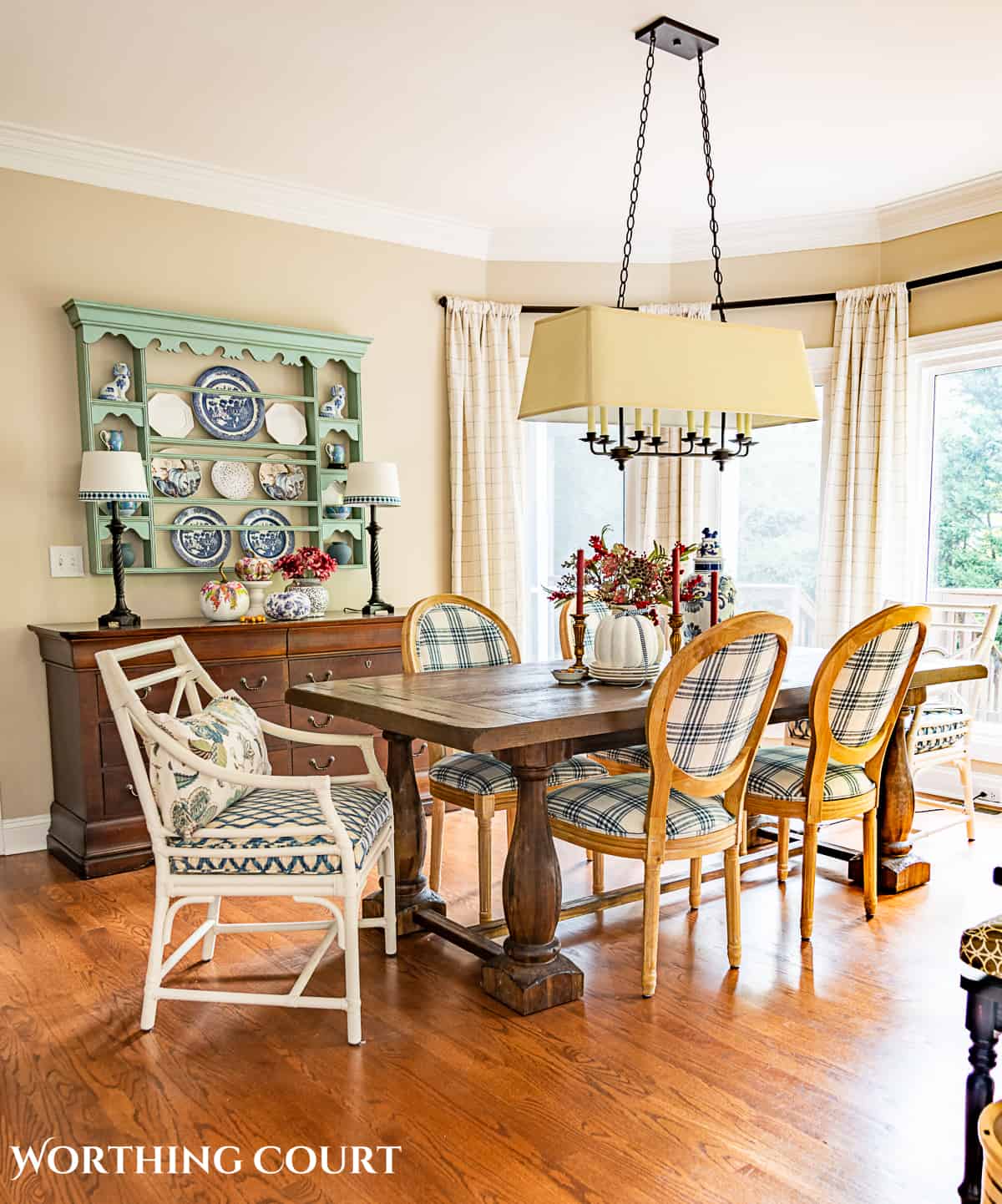 The bench on the opposite side of the table got a little makeover too, in the form of a new seat cushion that I had made. And the fabric on the pillow was my inspiration for the entire room makeover.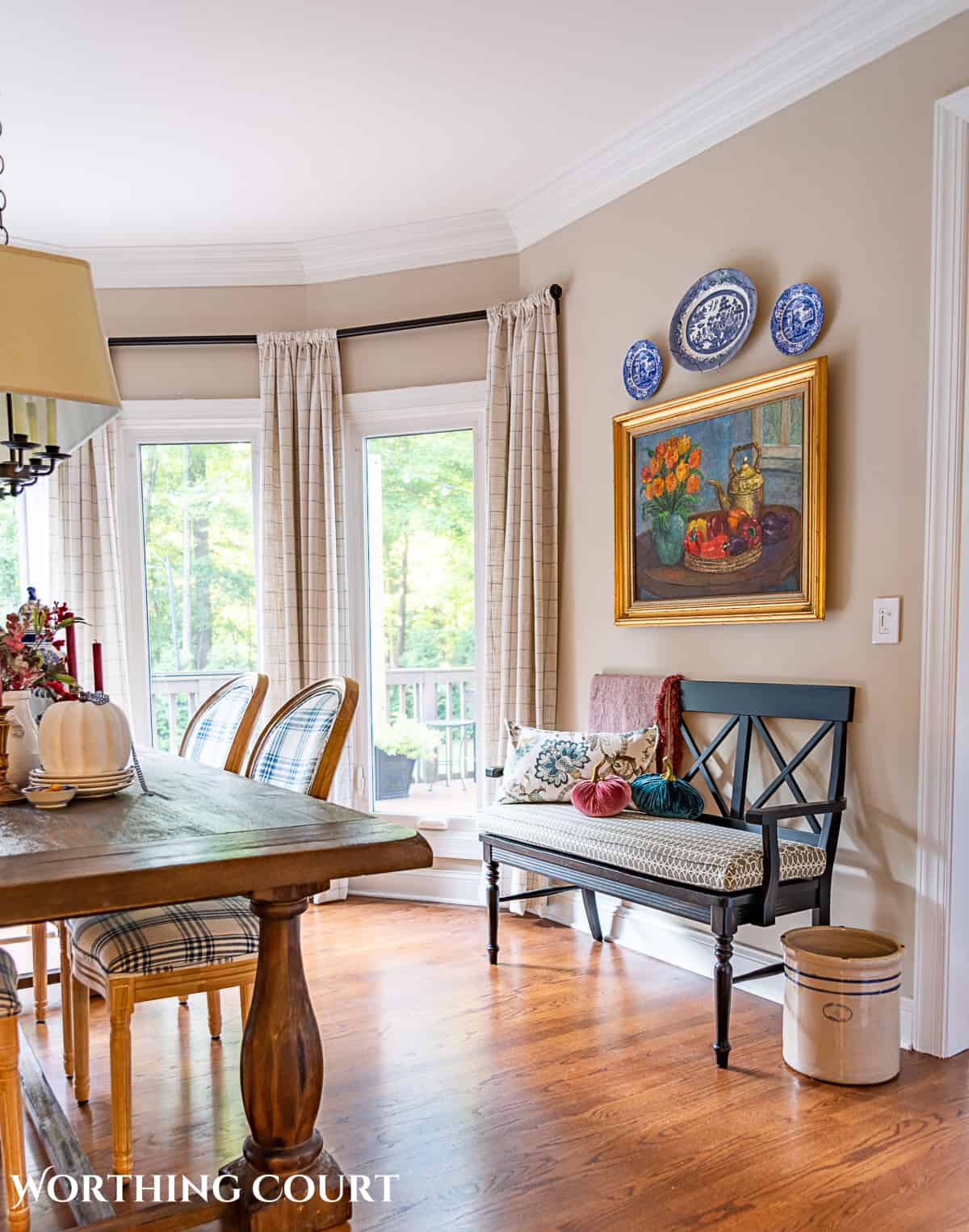 I'm trying to decide if having plates above the original oil painting (painted by my aunt) is too much, since I have them in the plate rack on the opposite wall. What do you think?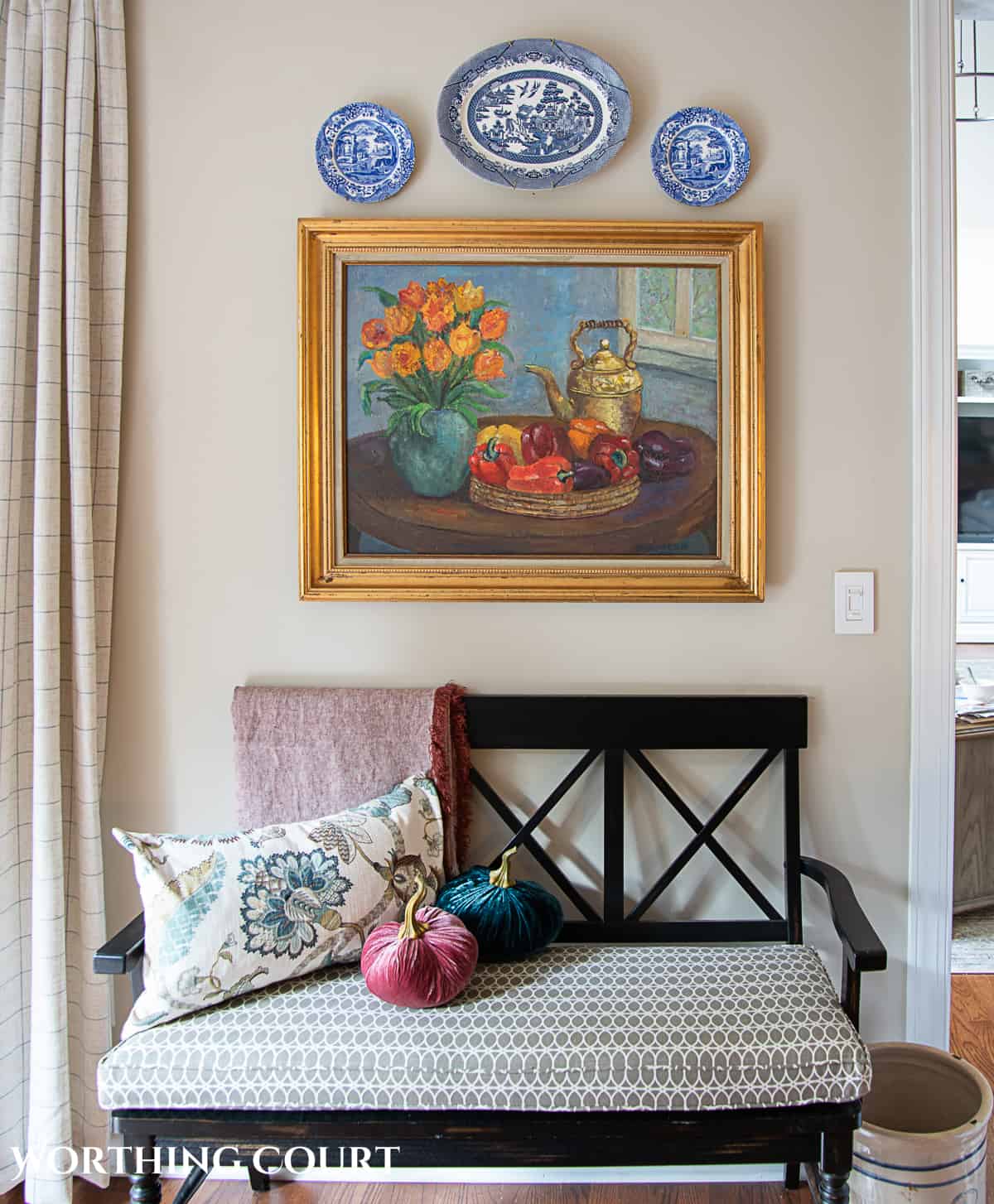 I have a big project left to do for this room – making new curtains. They will be made out of the same fabric that the pillow is made out of.
I look forward to seeing them in place, but I dread making them. haha The curtains that are currently in the room are too bland for my taste, so the new ones will make a big difference in here!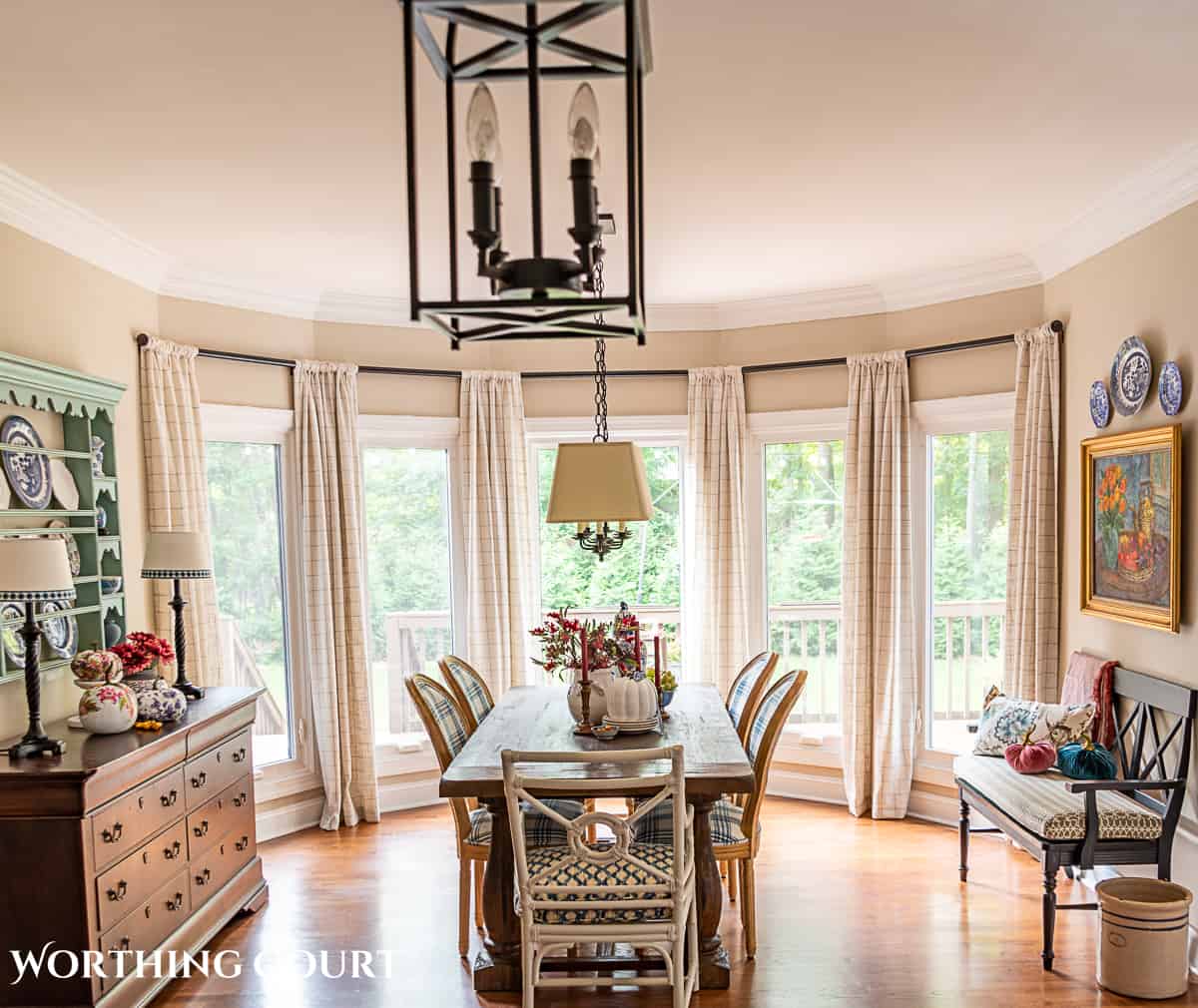 Now let me show you the kitchen end of the room, where we changed out countertops this summer. Click HERE if you'd like to see what the kitchen looked like before.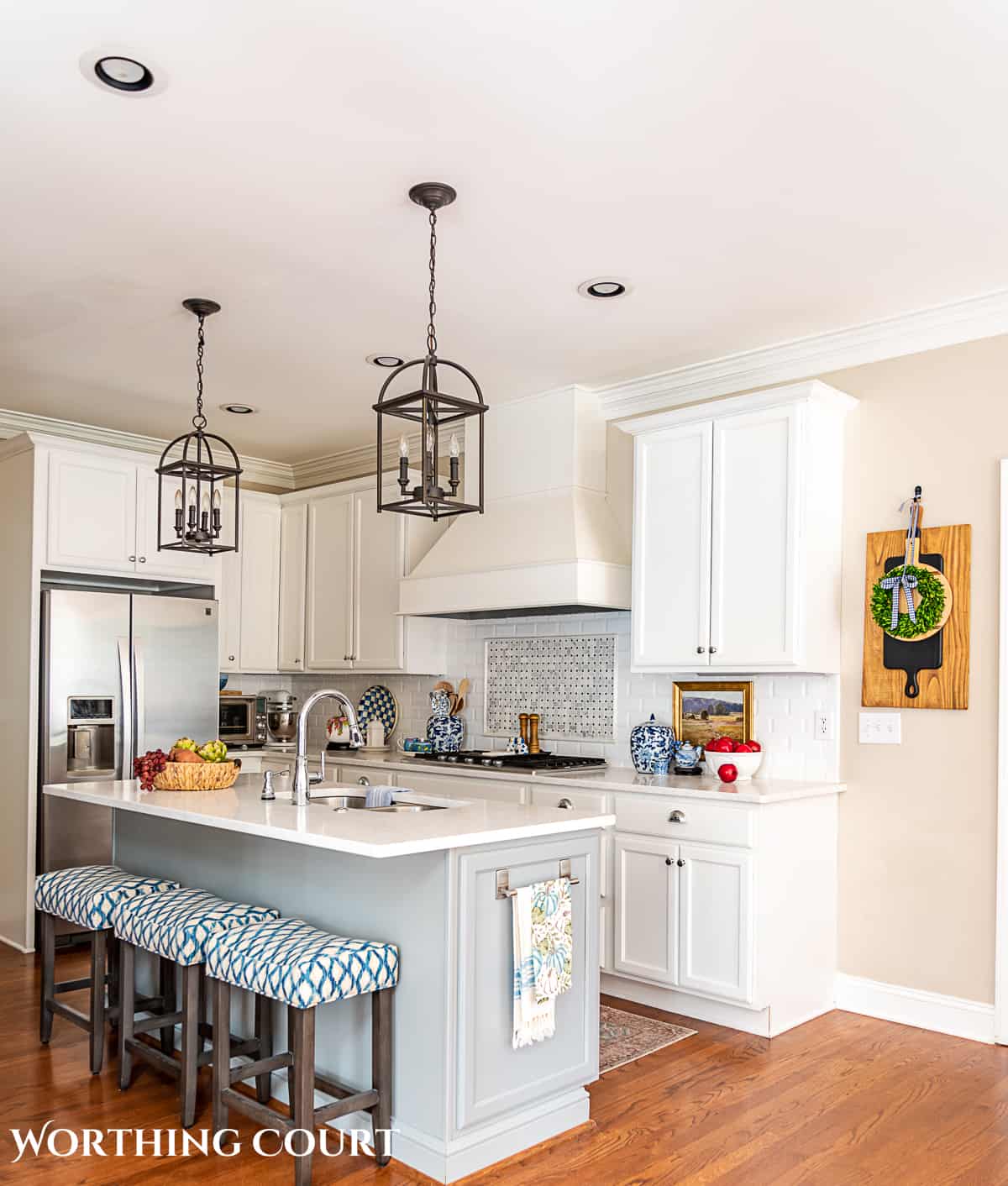 Total love on my part! The counters are Carrera marble-look quartz and have changed the look and feel of our kitchen so much. I pet the new counters every day and tell them that I love them. 😂
We also changed out the faucet and cabinet hardware from brushed nickel to polished chrome. It all really looks like it's jewelry for the kitchen!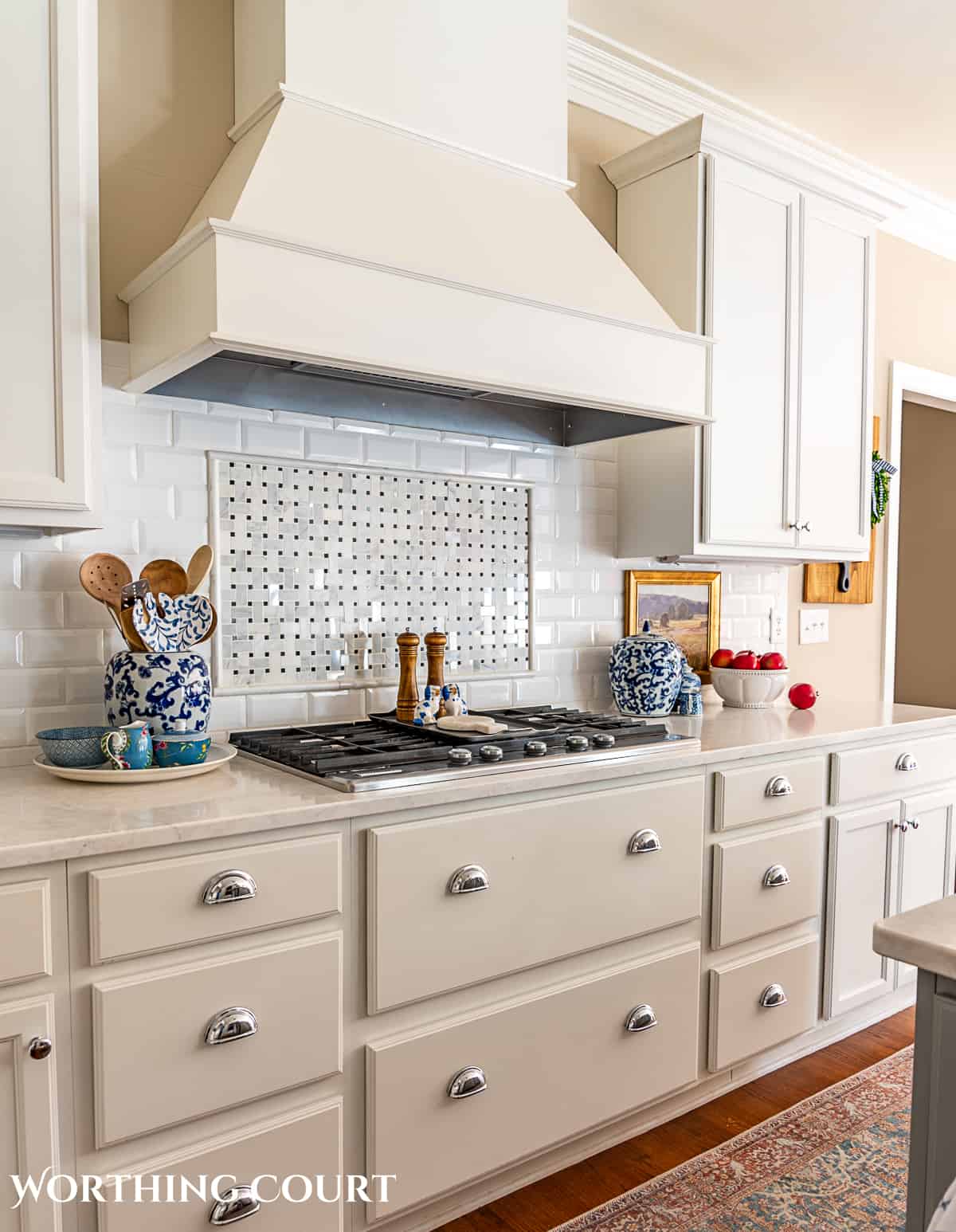 New colors in the breakfast room end meant that the counter height stools also needed to be reupholstered.
You can probably see that I used the same fabric that the chair cushions are made with, but after much debate, I decided not to change the color of the bases to match the end chairs at the table.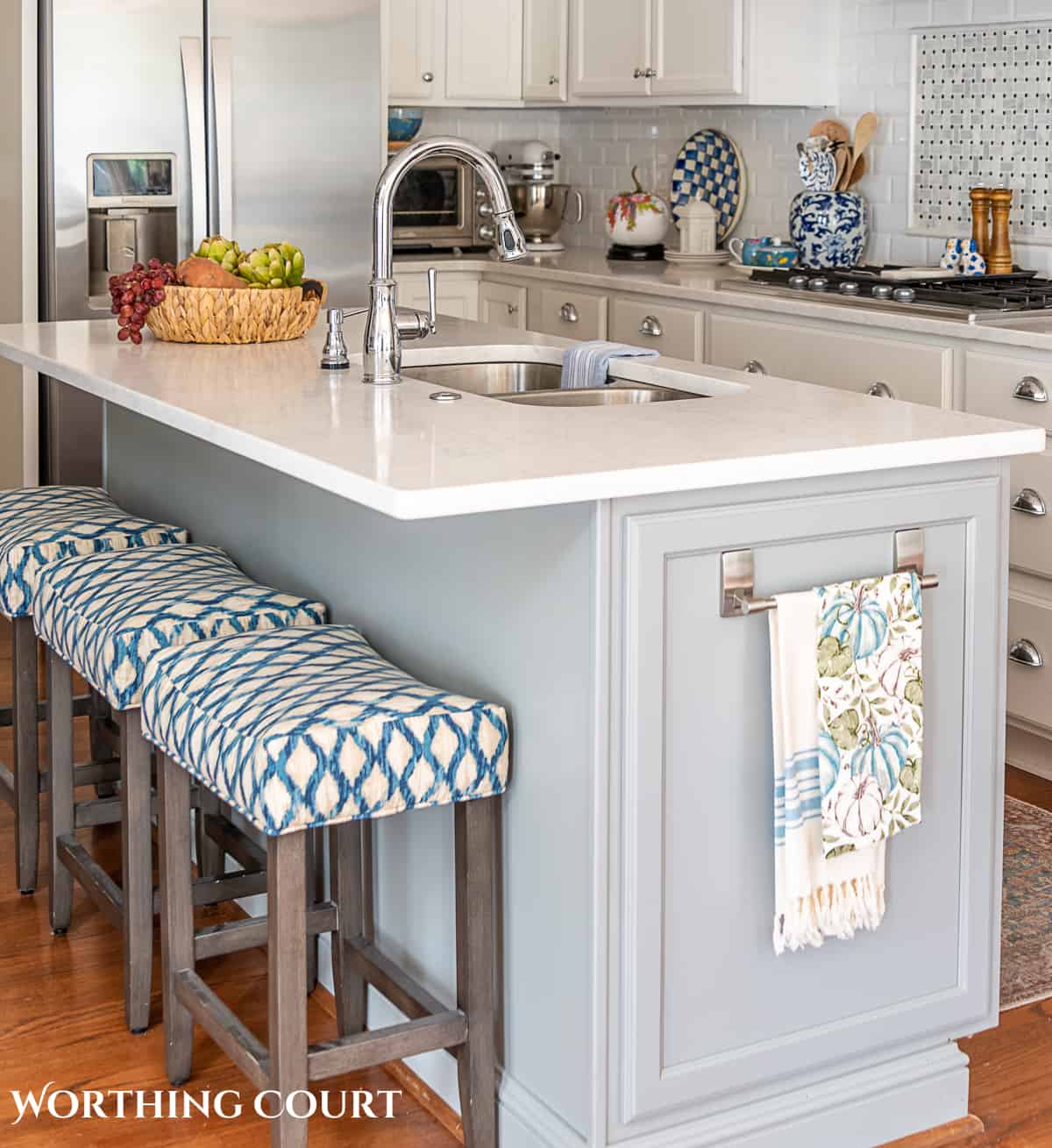 Since I prefer to keep my counters pretty clear, it doesn't take much to decorate the kitchen. My blue and white pieces live here every day, so all I needed to do was to add a couple of fall touches.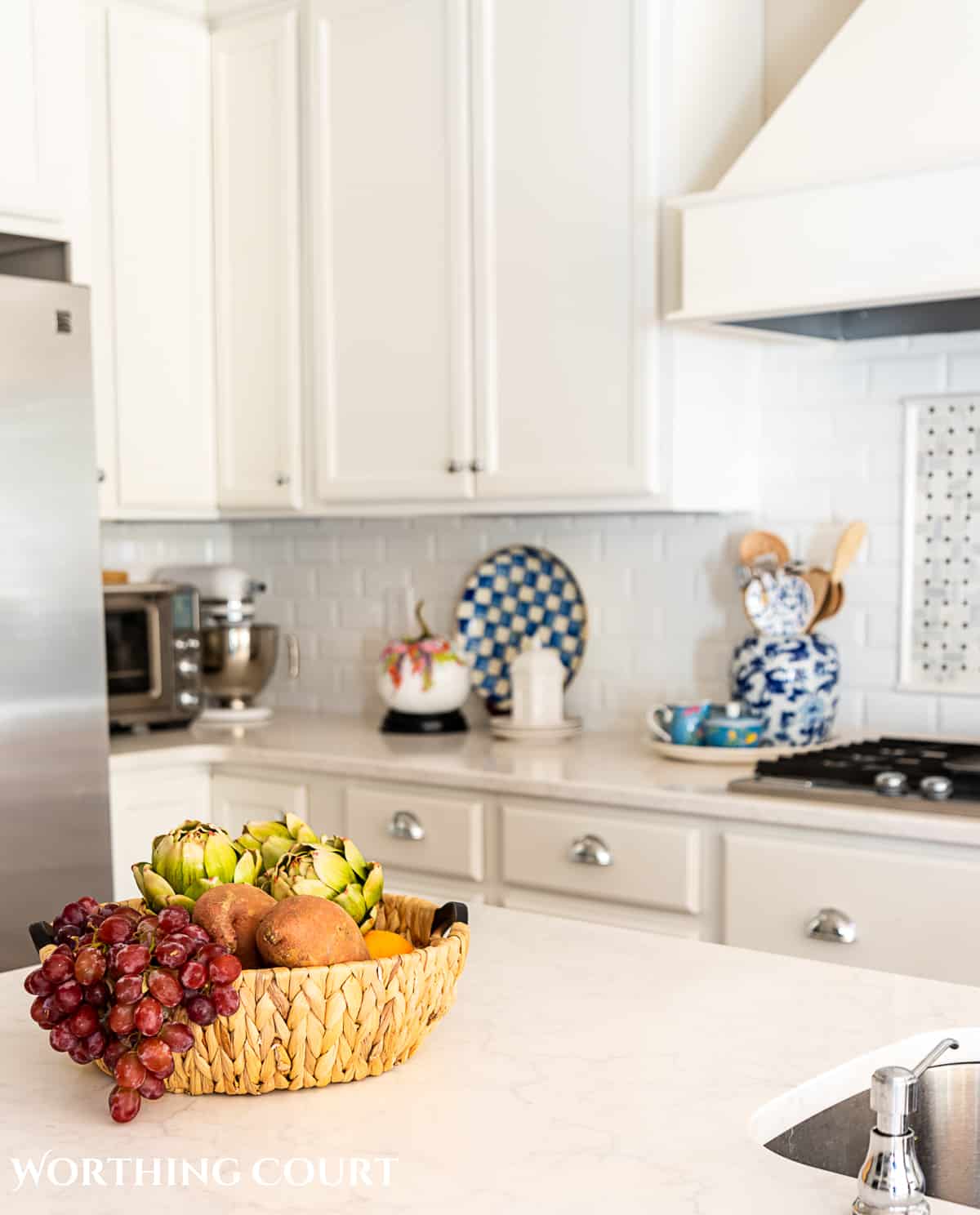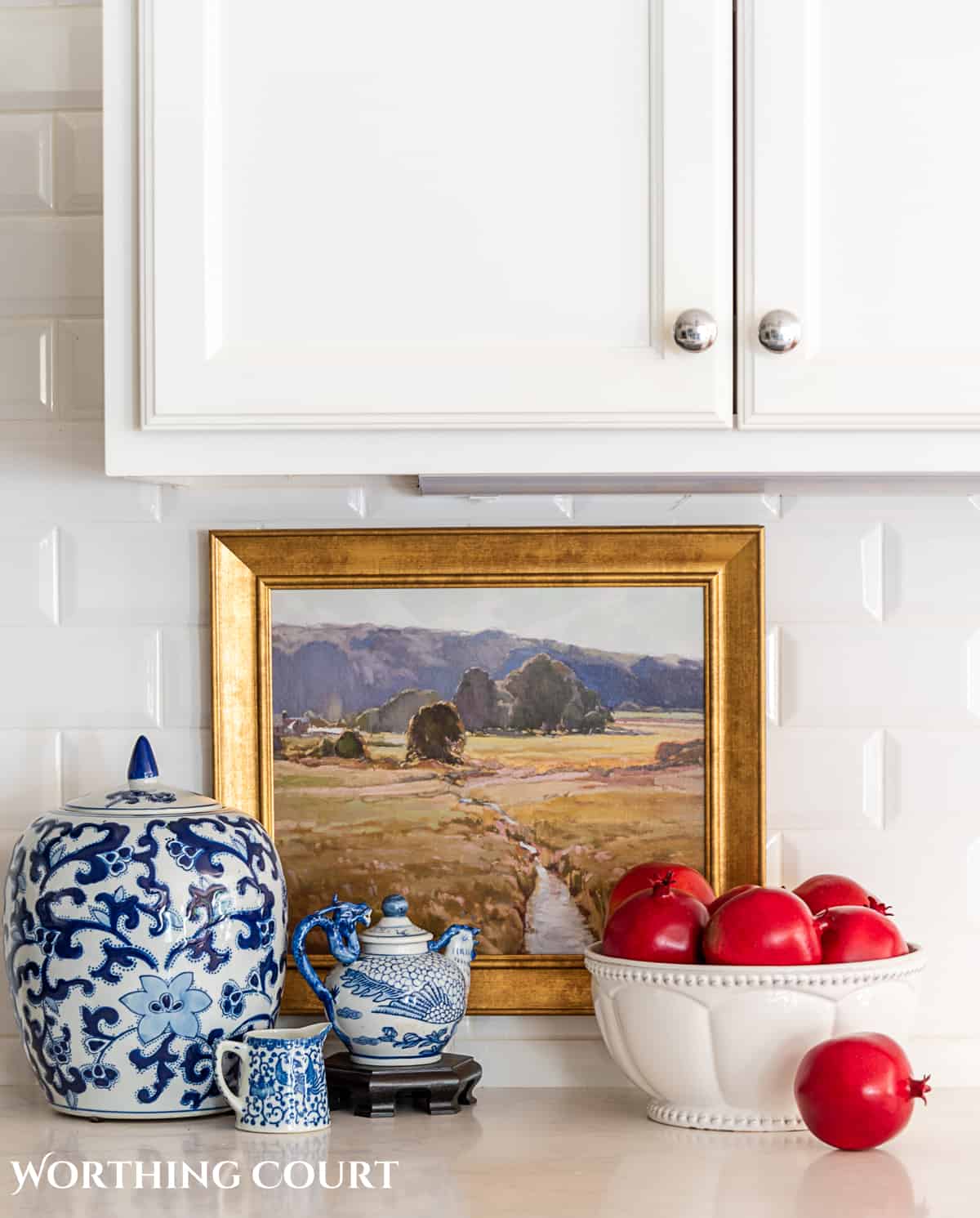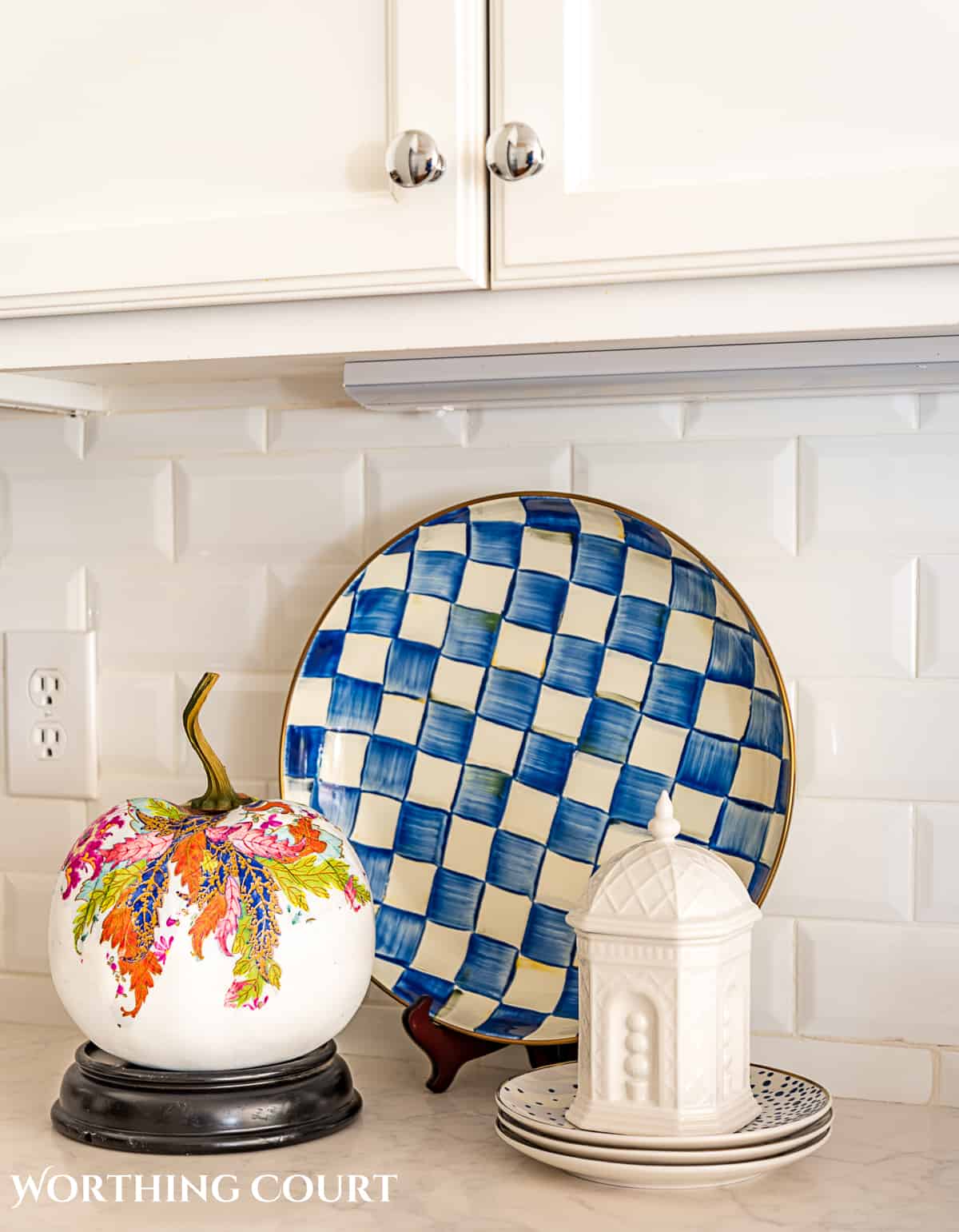 This is one of my favorite spots in the entire kitchen – a trio of cutting boards topped with a boxwood wreath sporting a blue and white gingham bow.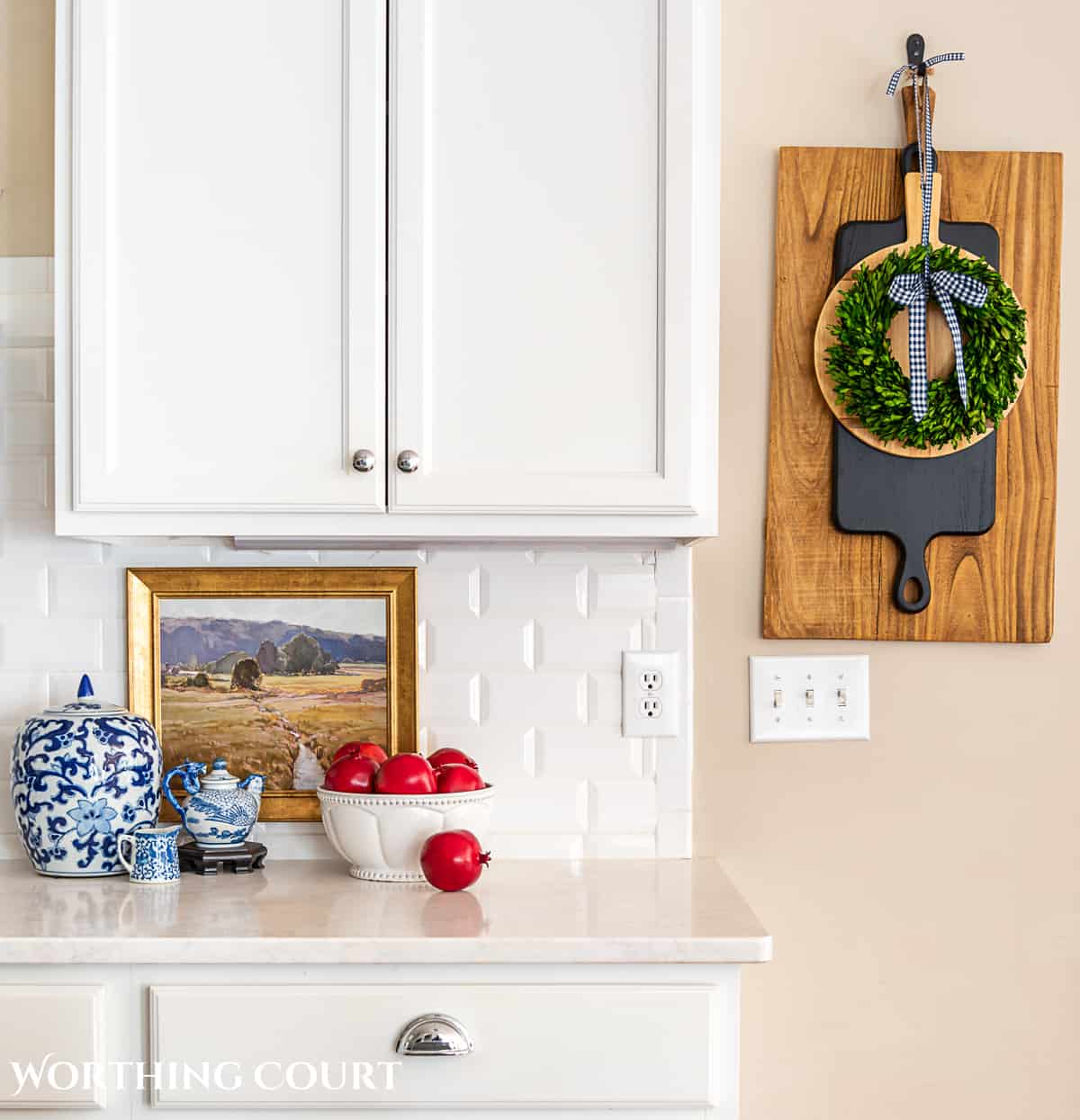 Another favorite little moment are these too-cute Staffordshire-look dog salt and pepper shakers that sit on a tray on my cooktop.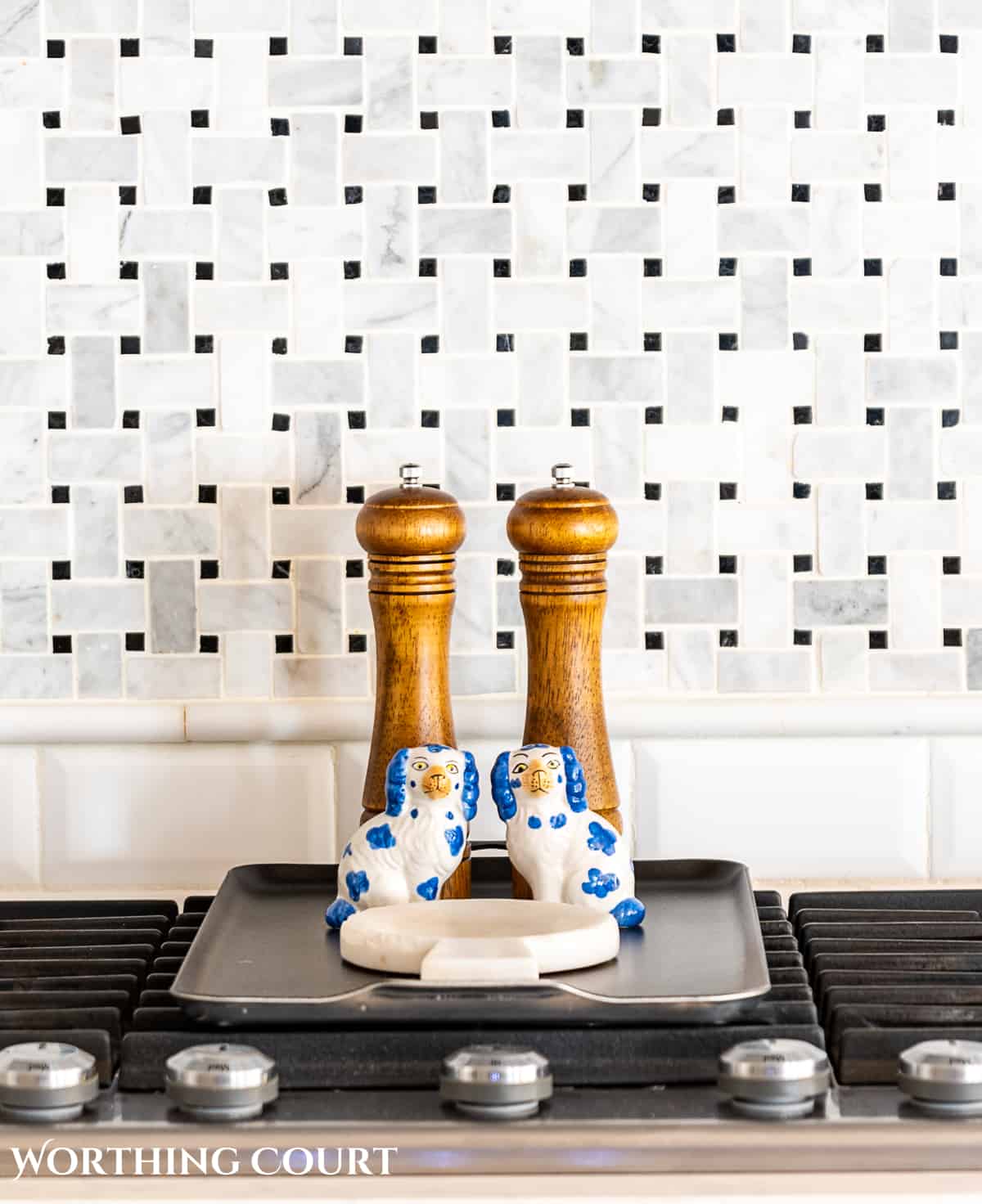 A change that I hope to make to the kitchen in the coming year is to replace the open microwave shelf with a cabinet that makes the microwave look built in. We won't talk about how many times I've banged my head on this thing. 😠
I've switched to using pretty blue and white ginger jars in place of cannisters to hold all my different k-cups and tea bags. I love the way that they dress the area up a bit.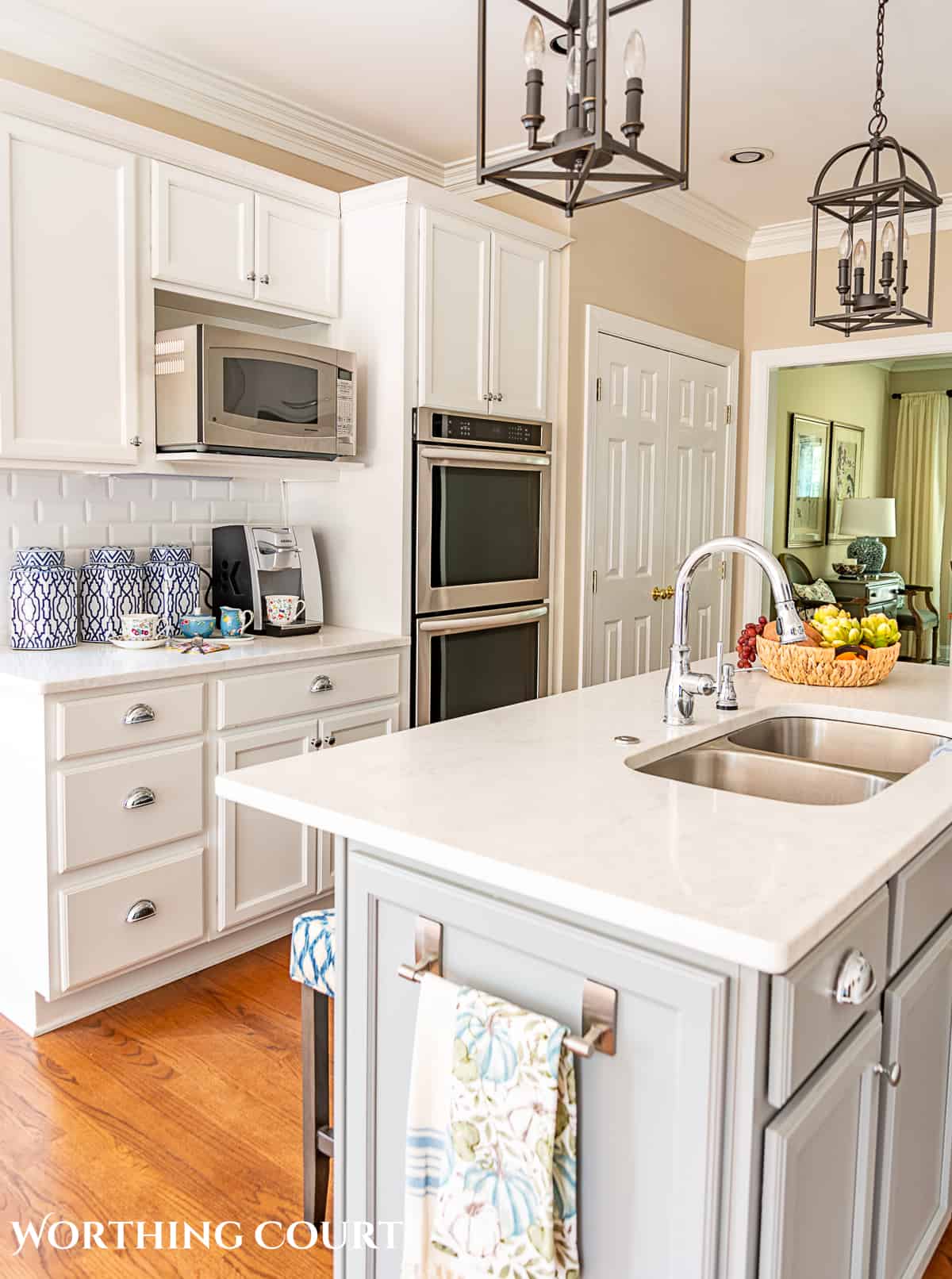 Although I drink only decaf, I am a coffee lover! And I'm a coffee mug snob – they have to be large mugs with a large handle or the coffee just doesn't taste the same.
But hot tea cups are a whole 'nother thing. They need to be more dainty, not chunky, have a sweet pattern on the cup and have a matching saucer.
I'm also a sucker for sugar bowl and creamer sets. I recently stumbled across the Pip Studio brand and have collected several pieces of it.
Unless you luck up on it in a place like HomeGoods, the only place I've been able to find it is from stores in England and Denmark. I've ordered several pieces from both, but the store in Denmark has a shipping rate of only $17.95 and it arrives in less than a week.
Everything that I've ordered has been excellently packaged and nothing has arrived cracked or broken. Here's the link to that store and search for La Majorelle Blue if you want this same pattern.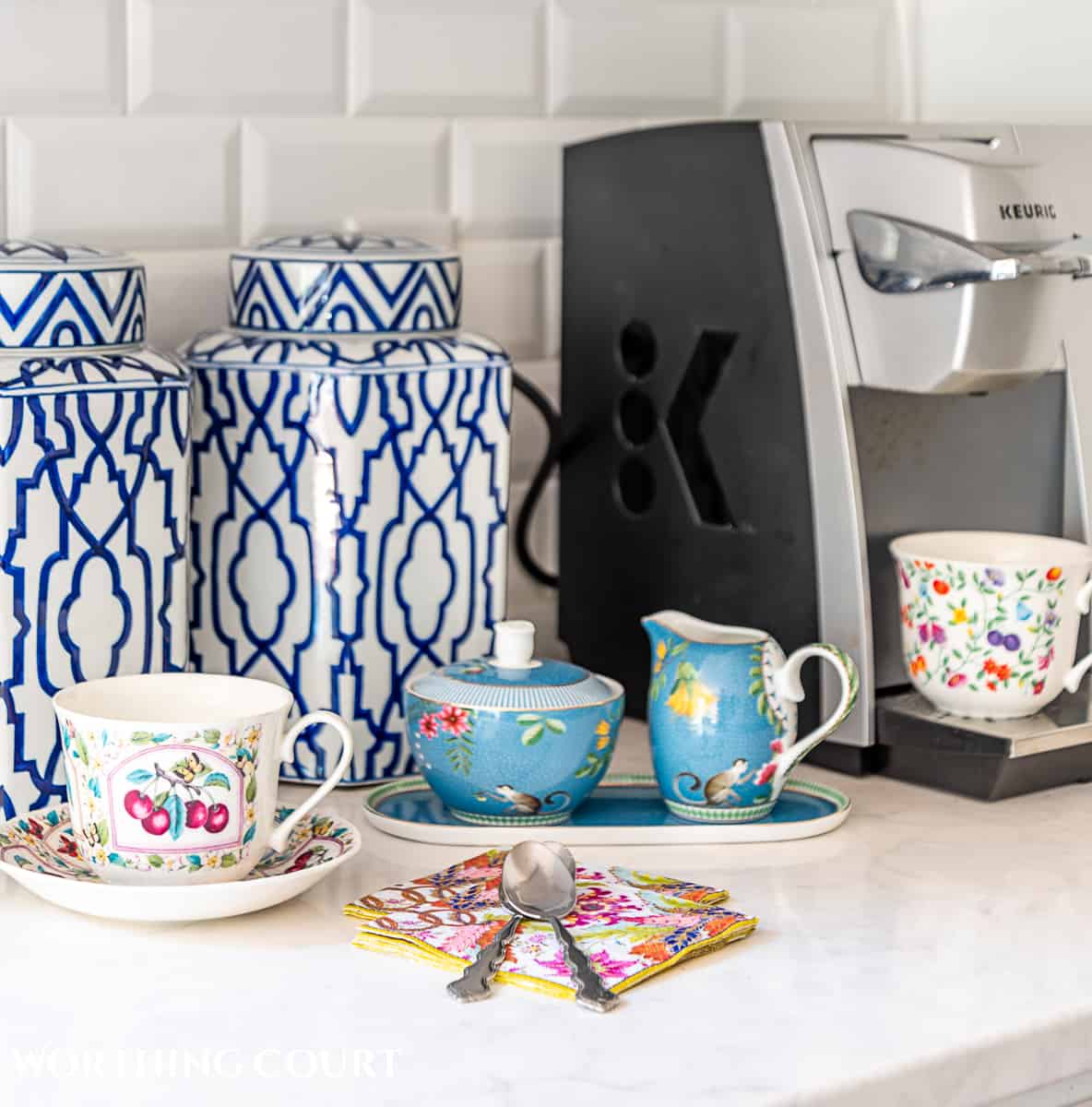 I hope you enjoyed taking a look around my breakfast room and kitchen and that you found some inspiration for your own home!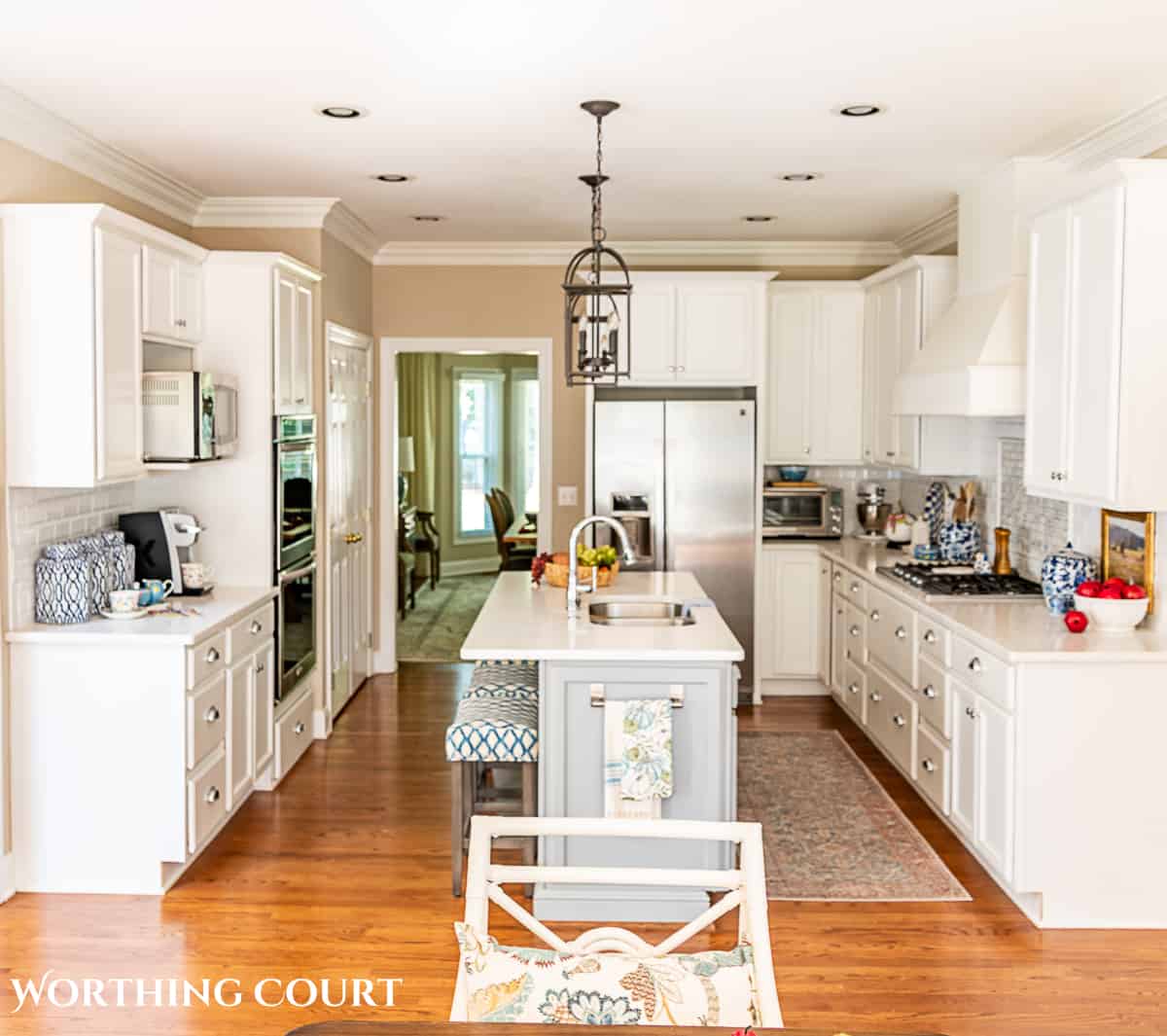 Now, you'll want to be sure to visit Kelly from The Tattered Pew. You're going to love her natural fall decor. She recently moved into a new home and I'm enjoying watching how she's making it hers.
And be sure to check out the rest of the fall decorating ideas from all the others!
Monday
Sand Dollar Lane // Simply 2 Moms // Pasha is Home // My Family Thyme // Southern Crush at Home
Tuesday
Bluesky at Home // DIY Beautify // Amy Sadler Designs // 2 Bees in a Pod
Wednesday
Worthing Court // The Tattered Pew // Our Crafty Mom // Hearth and Vine // Thistle Key Lane
Thursday
Exquisitely Unremarkable // Aratari at Home // Sonya Burgess // At Lane and High // The Roots of Home
Friday
Dabbling and Decorating // A Life Unfolding // Zucchini Sisters
Southern Home and Hospitality // Feet Under My Table