7 Ideas For Easy And Beautiful DIY Fall Wreaths To Make
Decorate your front door for fall with an easy DIY fall wreath! Here are 7 ideas and my must-have wreath making tools to inspire you.
This post and photos may contain Amazon or other affiliate links. As an Amazon Associate I earn from qualifying purchases. If you purchase something through any link, I may receive a small commission, at no extra charge to you. All opinions are my own. See my full disclosure HERE.
I feel like fall is a time to celebrate! To me, it's the most beautiful season of the whole year. The air is fresher, the humidity and temps go down and nature puts on a stellar show filled with gorgeous colors.
What better way to celebrate and welcome fall into our homes than by crafting your very own diy fall wreath?

Nothing gives a more heartfelt and cheery welcome to my guests than greeting them with a beautiful wreath on my front door!
I love to make myself a new fall wreath every year! So, each one of these is unique and sets the tone for the fall decorations on the rest of the front porch.
Down below, I've also included my favorite must-have wreath making supplies that make the job so much easier! Not that it's a hard job, but who doesn't love any type of tool to simplify a job?
Basic DIY Wreath Steps
You'll see that most of my wreaths start out with a grapevine wreath for the base. They are my favorite when it comes to making a wreath!
They are inexpensive and the vines are perfect for wedging picks into. Often they don't even need to be wired to hold them in place. The beauty is that I simply deconstruct the wreath so that I can use it over and over again!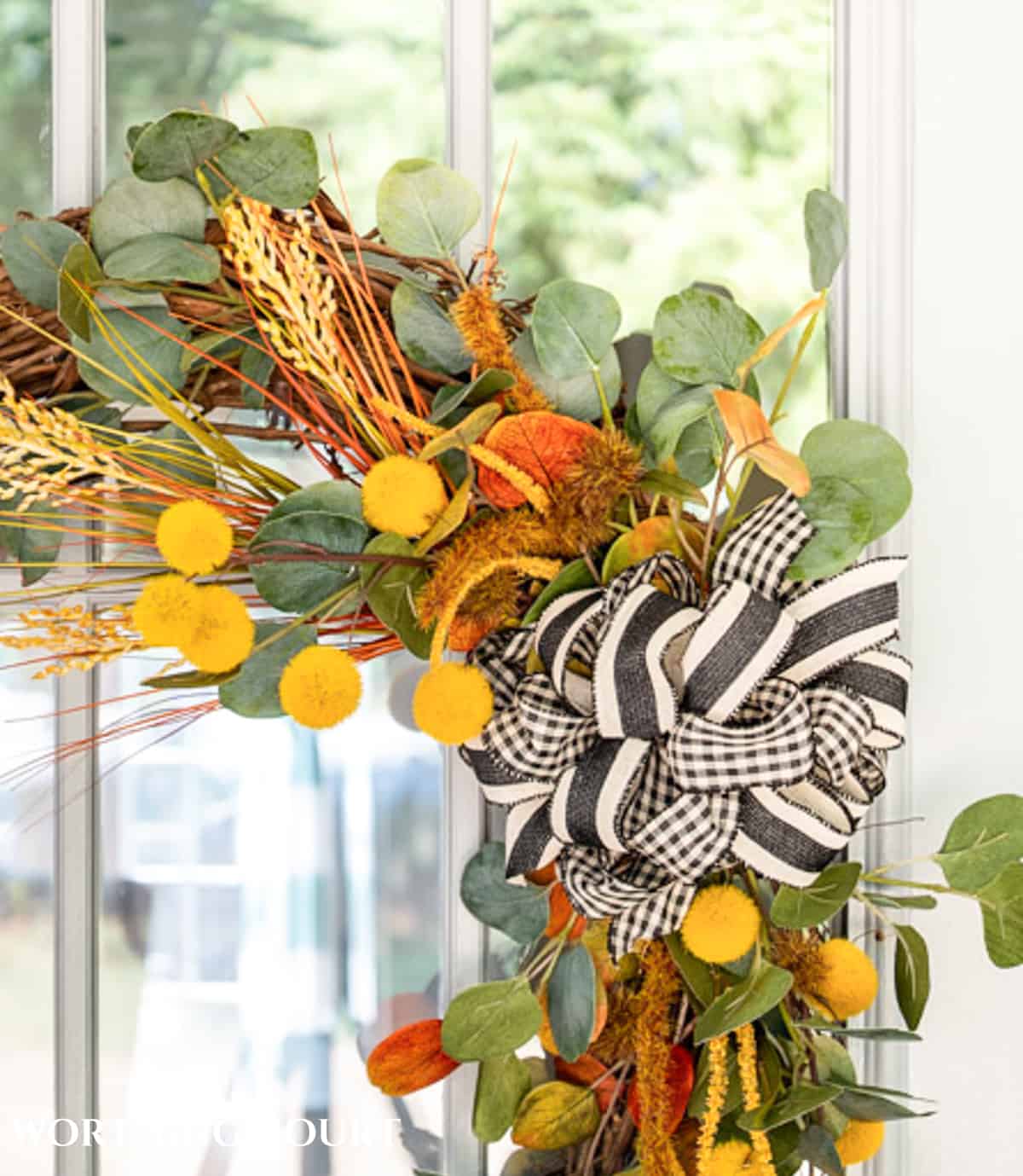 No matter how complicated they may look, every single one of them is easy to make. The steps to make a wreath will vary by wreath, but let's break making a grapevine wreath down into — very basic steps:
Choose the right size wreath. As a general rule, a wreath's diameter should be ½ to ⅔ the height of the door. The larger the wreath – the greater the statement.
Supplies to have on hand include: floral wire, wire cutters, hot glue gun and glue sticks. See below for my must-haves.
Decide on the look you want – flowy and full, clean and simple? Determine the orientation you want – picks only on the bottom or top, only on one side, or all the way around. The ideas here can serve as great inspiration!
Decide on a color scheme and shop for a variety of faux leafy stems, picks and/or floral stems. You'll want a variety of lengths and bushiness.
Begin wedging the picks between the vines in layers. Start with the longest stems and work your way forward with short stems. Heavier stems may need a little help with floral wire and/or hot glue to hold them in place.
Use small bushy stems to help fill gaps and to add accents.
Top your wreath off with a bow made with a gorgeous ribbon.
TIP: Hang your wreath with a piece of ribbon that matches or coordinates with the bow instead of using a metal wreath hanger. To secure the ribbon, place a Command Hook, upside down, at the top of the interior of your door. Run the ribbon up from the wreath and over the top of the door. Tie a knot at the end of the ribbon and place it over the hook.
Navy & Burgundy Chinoiserie Wreath
This wreath was inspired by my love of blue and white and all things chinoiserie.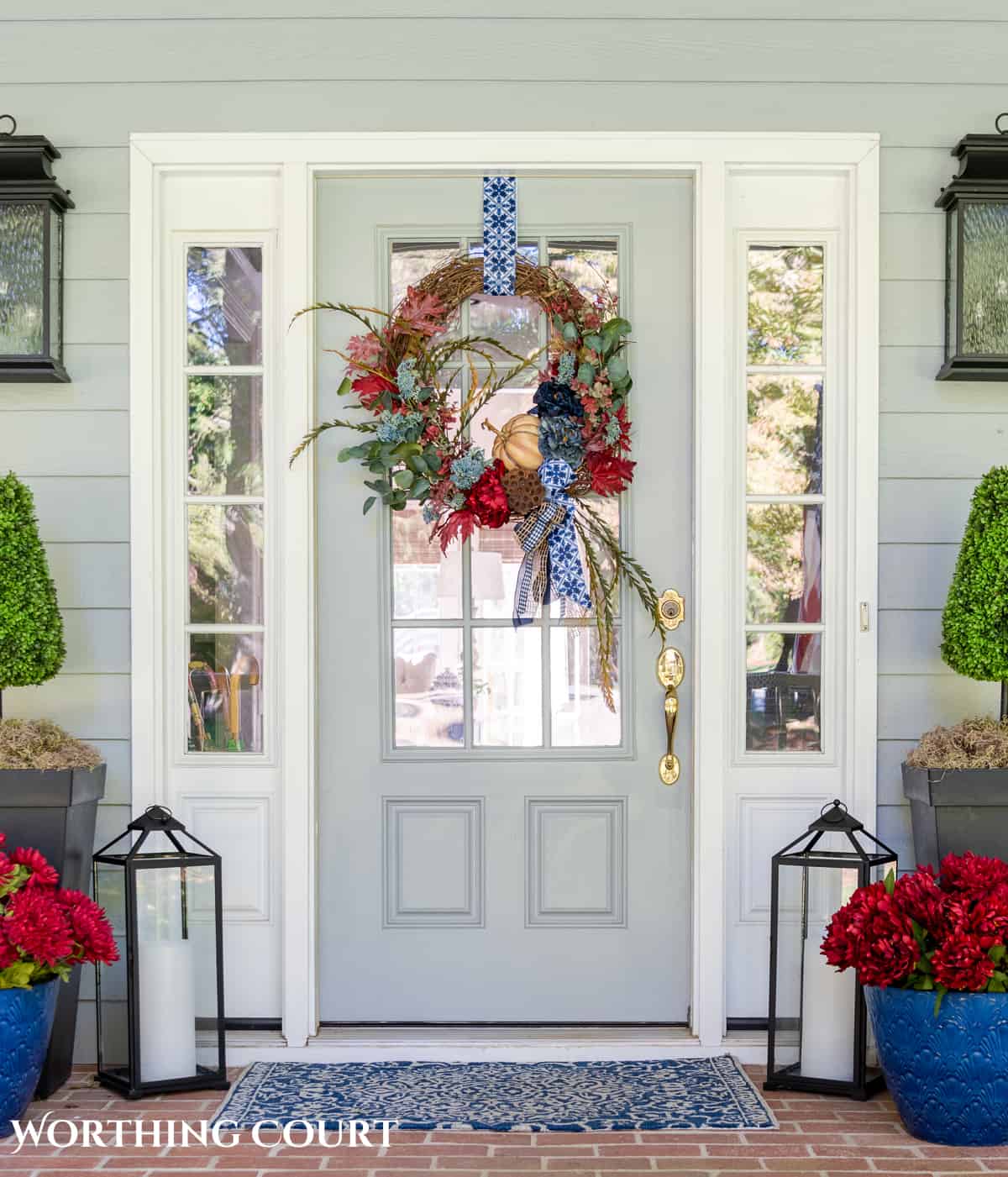 I determined that I wanted the decor at the bottom with the pumpkin and bow slightly off-center. My first step was to add long eucalyptus and fall leaf stems, facing opposite direction, while leaving a bit of space where the pumpkin would ultimately sit.
I love to add a bit of drama to my wreaths, so I then added a few long, narrow leaf stems. Some are oriented upward and drape down a bit and others are angled so that they hang below the wreath.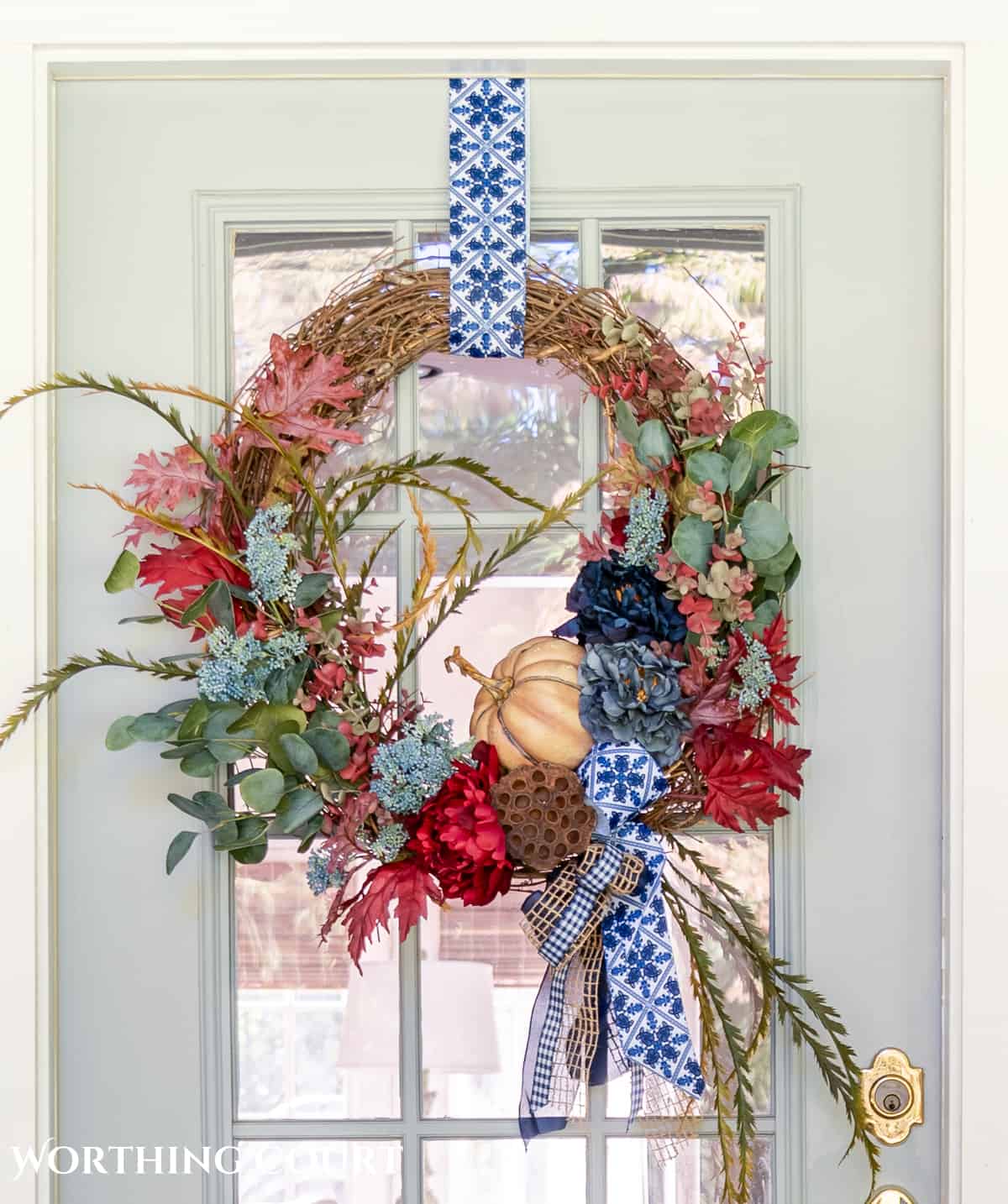 From there, I added the rest of the items, tucking them into spots that needed filling. I made sure to leave room for the large flower blossoms, seed pod, bow and pumpkin to be added last.
I did have to wire some of the long stems that are upright to the grapevine wreath to hold them in place. The pumpkin was added last with a small amount of hot glue.
TIP: To remove an item secured with hot glue, hold the heated tip of a glue gun to the hardened glue until it softens.
Front Door Hanging Basket
Sometimes a front door wreath isn't a wreath – it's a front door basket.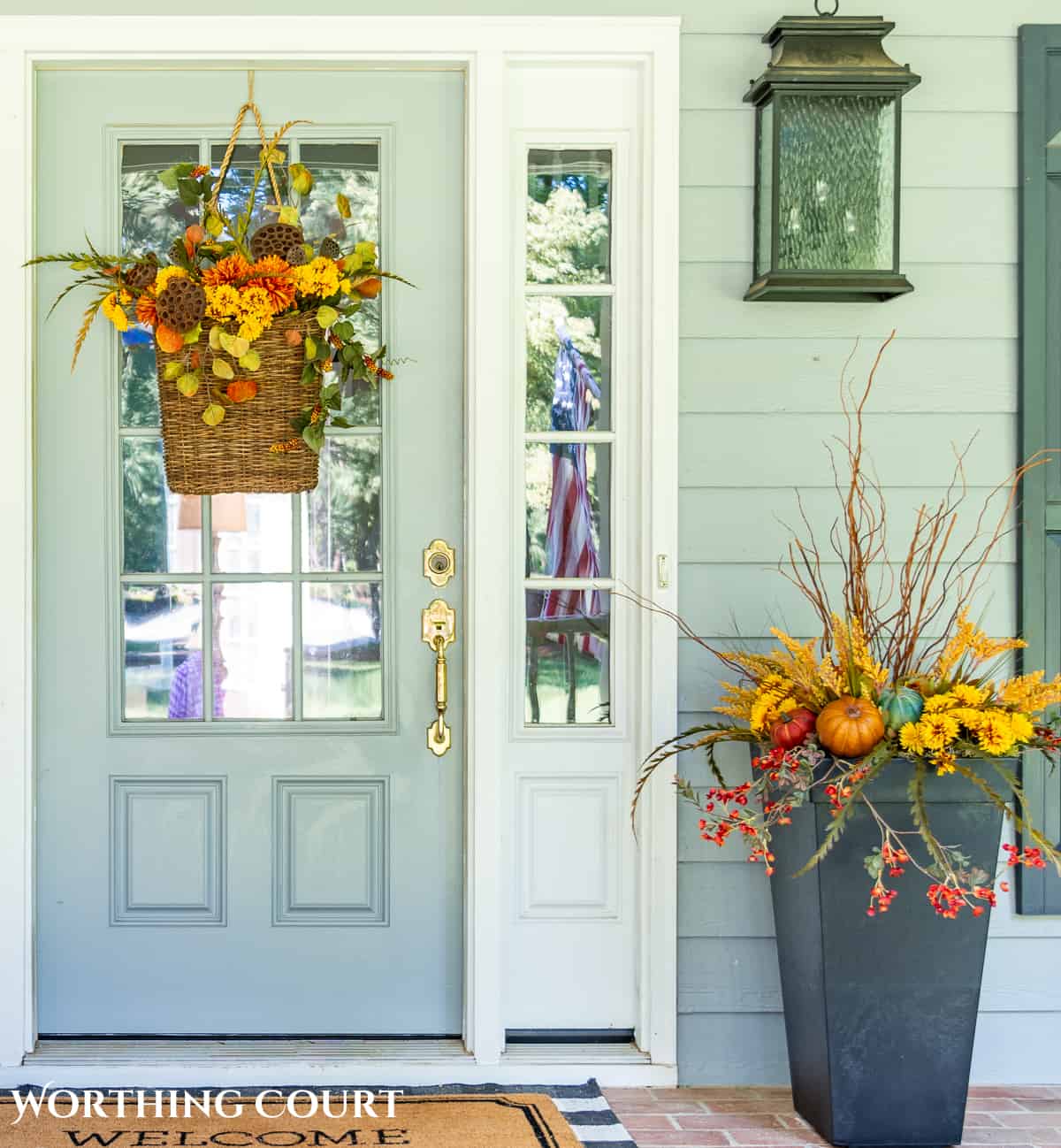 Using a hanging basket is a wonderful way to do a something a little different on your front door for fall. Why not add a little variety to your life!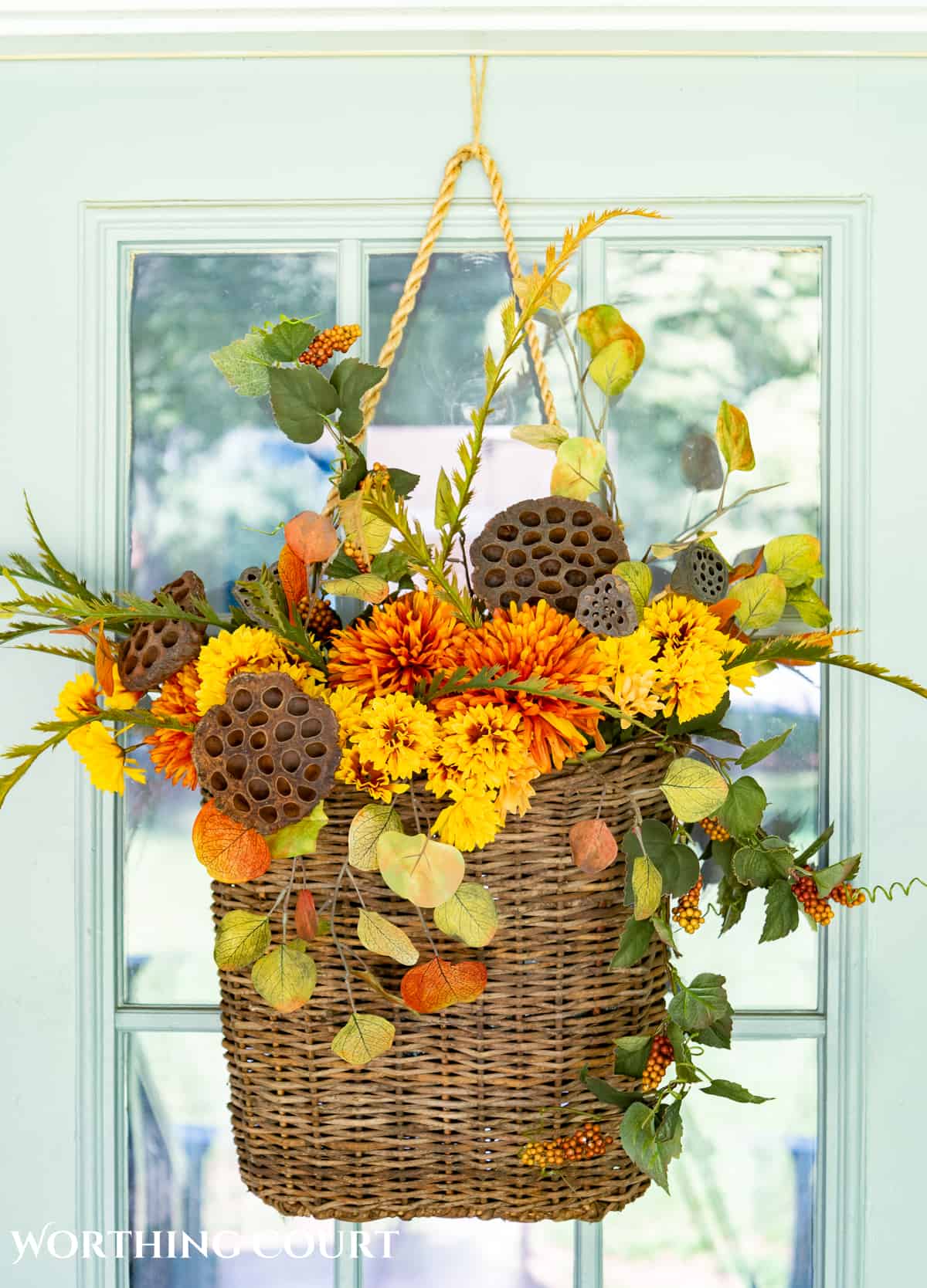 This type of basket is so easy to assemble, but I do have a few tips for you:
Choose a basket that is sturdy enough to support the weight of the stems and florals you will use.
Use a variety of stem types and lengths, but place the longest stems toward the back.
Create a focal point. It could be a statement flower or a combination of blooms that draws attention. It can be in the center or off to one side.
Add the "base" layer of foliage stems first, spreading them around the basket. This will help to provide a foundation for everything else.
Add longer stems toward the back of the basket.
Arrange the rest of items in a visually pleasing way, placing some toward the front and others toward the middle.
For drama, incorporate trailing elements that hang over the edges of the basket.
Tip: Fill the bottom of the basket with black trash bags if the stems you are using are too short for the depth of the basket. The black bags will disappear in the openings in the weave of the basket.
Traditional Fall Colors Wreath
If I had to pick a favorite fall front porch that I've decorated, it has to be the one with this wreath.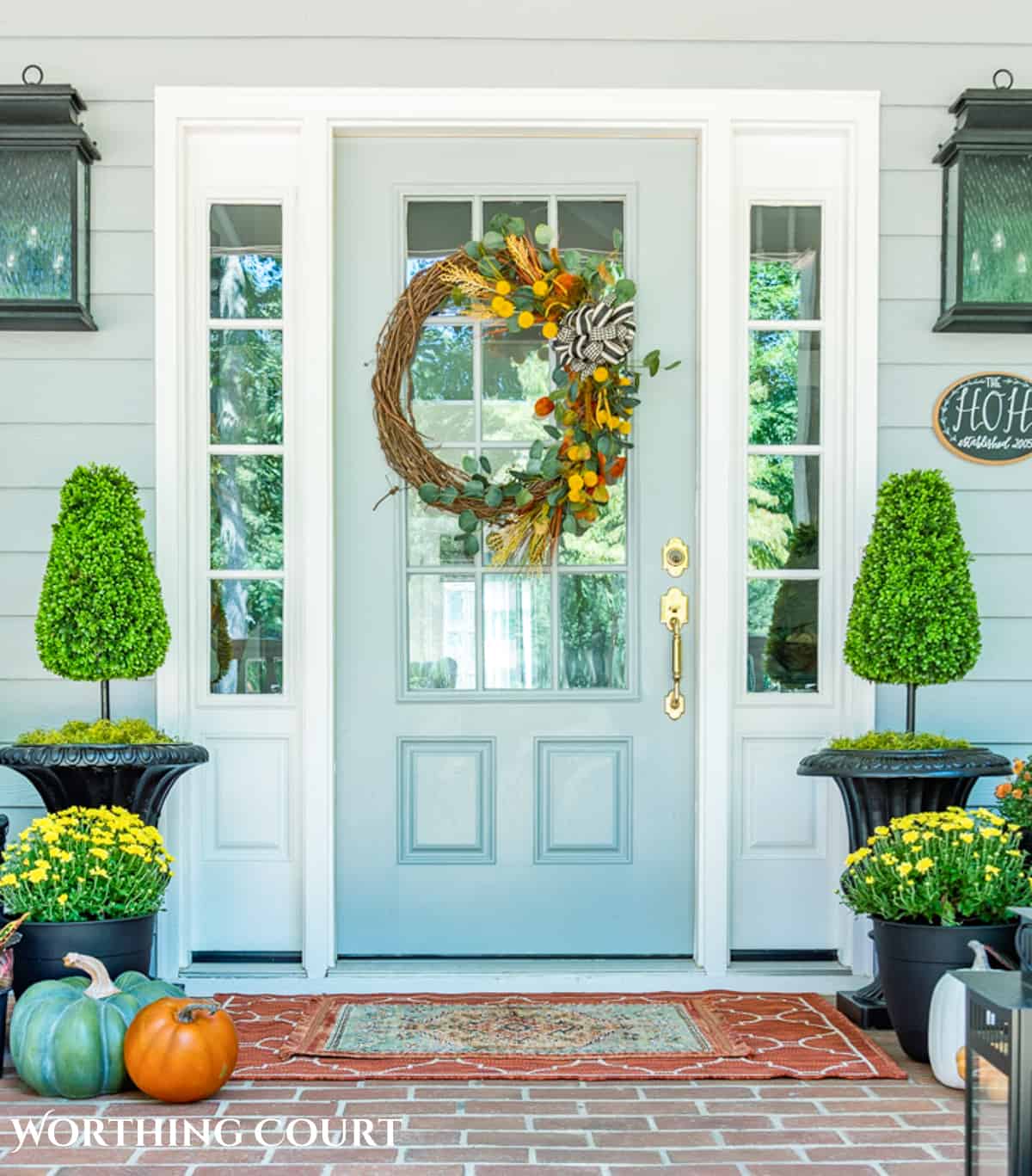 I just love the combination of colors, the fuzzy yellow whimsical balls and the attention grabbing black and white ribbons used to make the bow.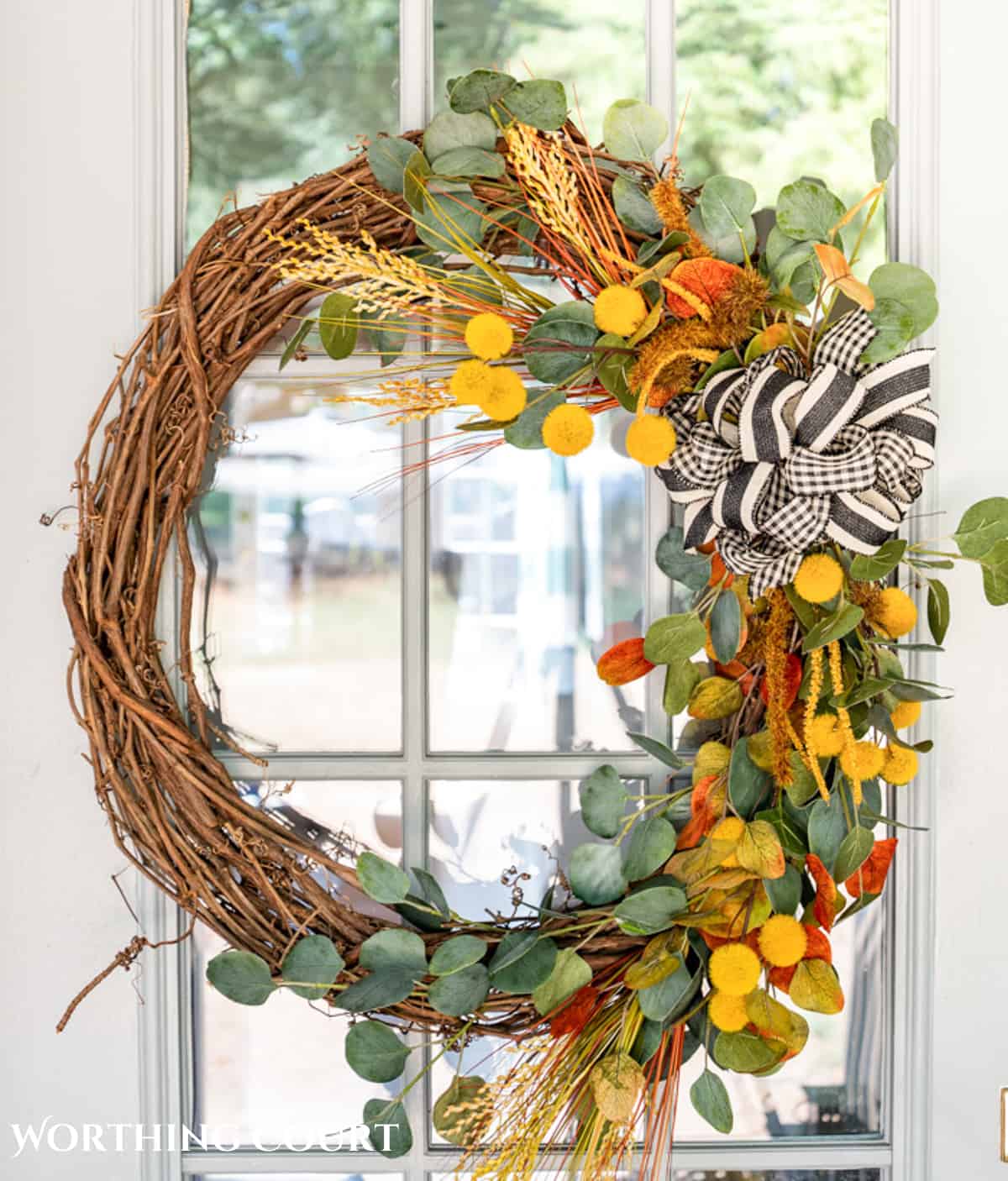 This wreath started out with a base of both green and fall colored, eucalyptus stems. Notice that the stems are going in opposite directions, which is based on where I wanted to locate the bow.
The eucalyptus have been reused so many times in wreaths and on Christmas trees, that I'm surprised they aren't worn out.
Tip: Save money by purchasing picks that will be used as filler from the dollar store. They may not look nice enough to use in an arrangement inside, but they're just fine for a wreath.
Make A Knockoff Wreath
Truly gorgeous wreaths at many retailers are priced at $150 or more. That was the case with this one.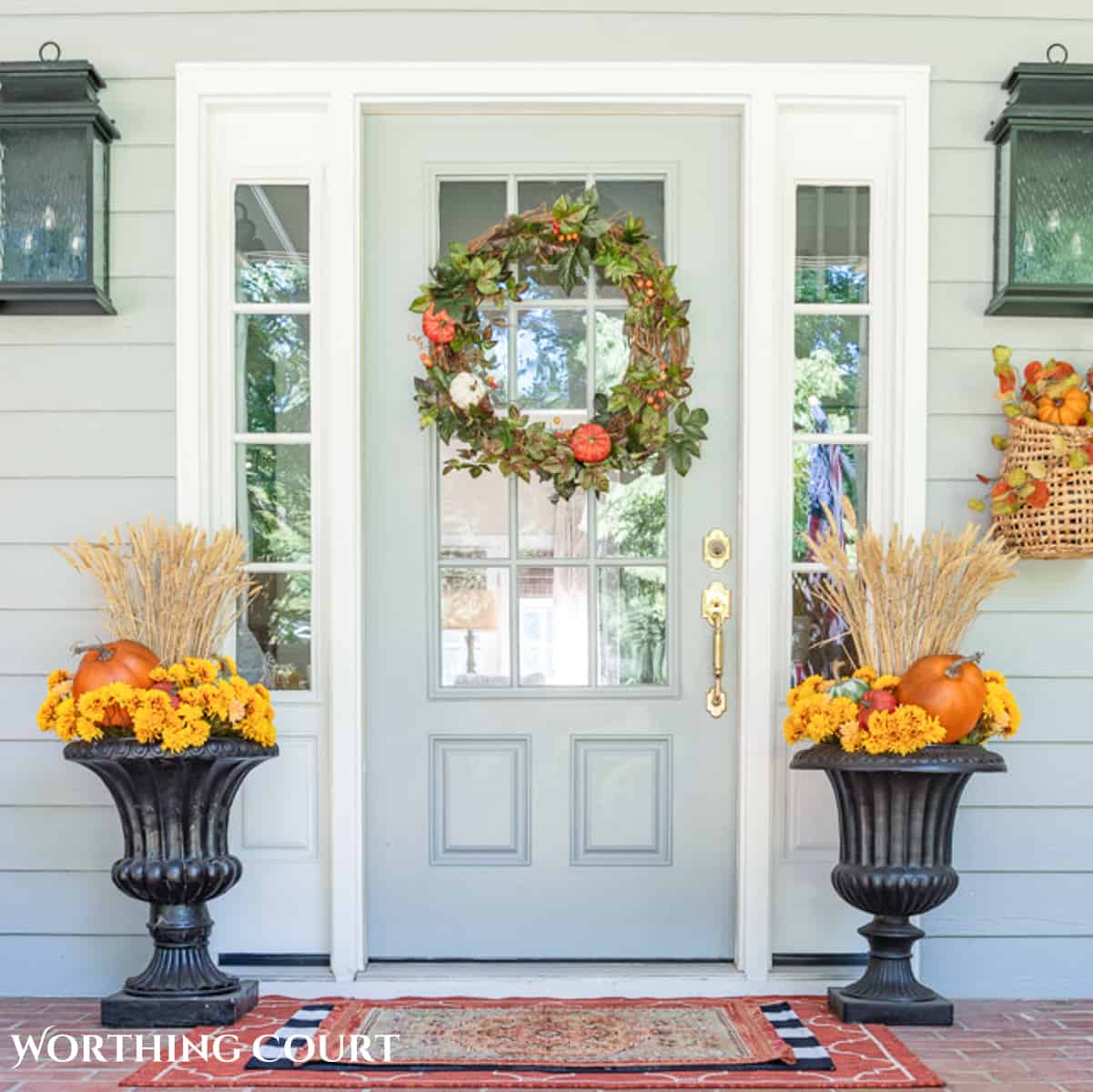 I fell in love with a wreath from Pottery Barn one year, which was priced much higher than I was willing to pay.
But – upon examination, I felt like I could easily get the same look myself for much less. Especially since I already had so many of the needed components on hand that I've accumluated over the years.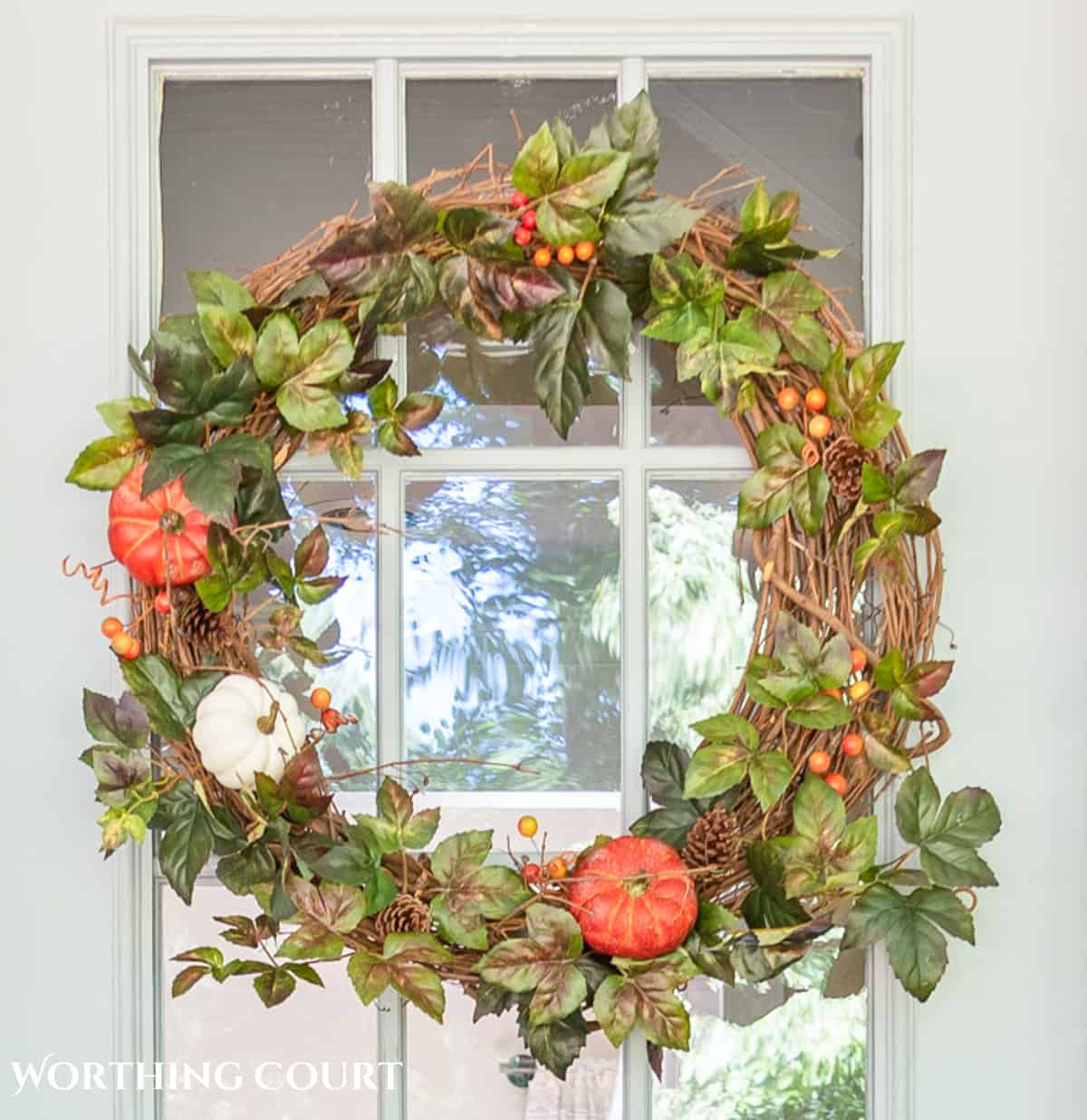 As you can see, it's just a mix of green grape-like leaves, instead of fall leaves, a few pumpkins, some fall crab apple colored berry picks and a few small pine cones.
TIP: Browse catalogs from your favorite retailer, Instagram and Etsy to look for knock-off wreath ideas.
If you want something a little different, this is a great option.
You only need a few supplies to make a knockout diy fall wreath like this one. You'll need a large embroidery hoop, two types of ribbon, a few fall sprigs, a cute fall sign and a hot glue gun.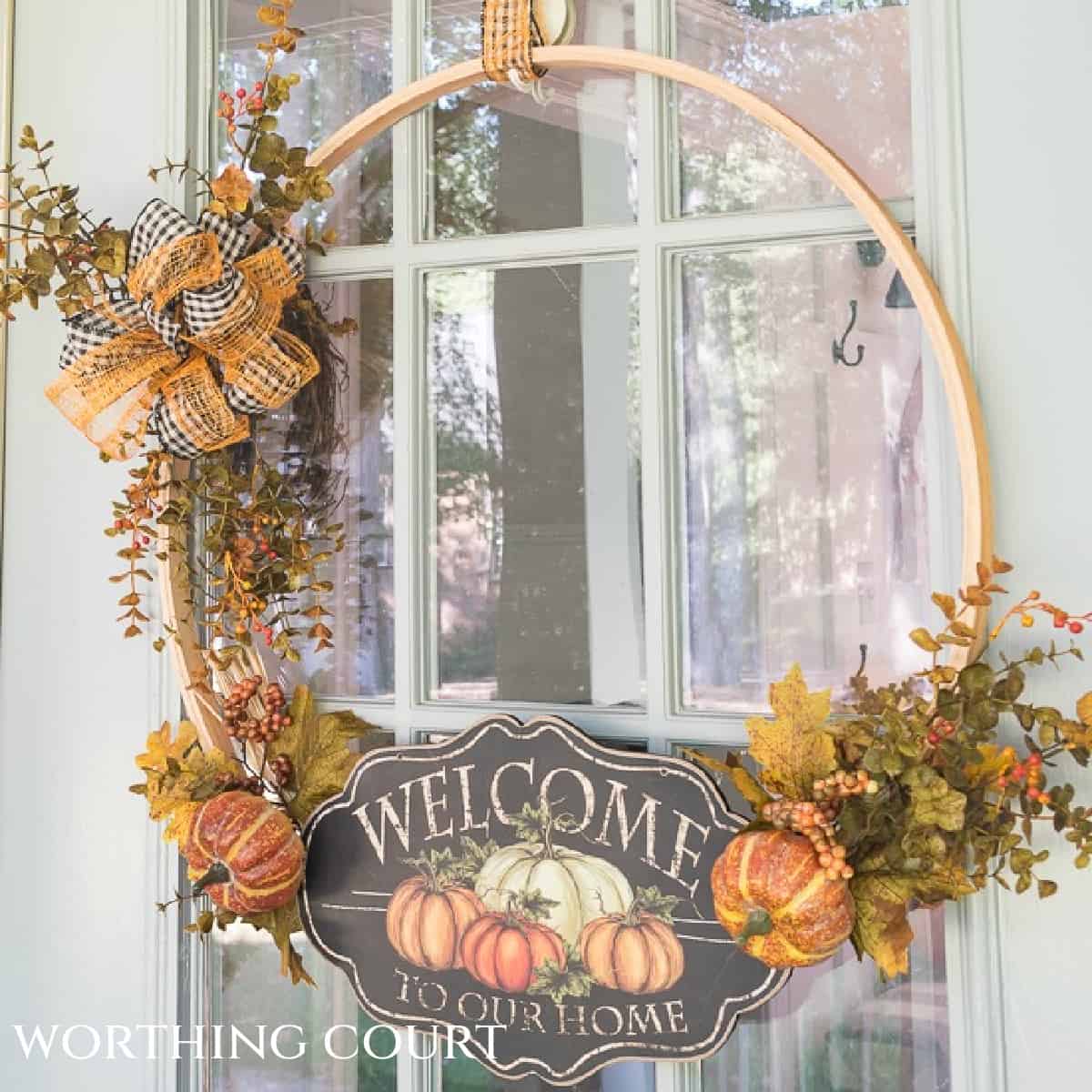 This wreath was perfect for me when I was super straped for time one year!
TIP: When making an embroidery hoop wreath, use both the inner and outer rings to give you a wider surface to adhere elements to.
You don't even need any hot glue for this cost-effective wreath. All you need is a pre-made grapevine wreath and a few fall springs.
I only used a total of four fall picks – and that's it! They're simply wedged in between the stems of the grapevine wreath.
The picks are so pretty on their own that no bow is needed.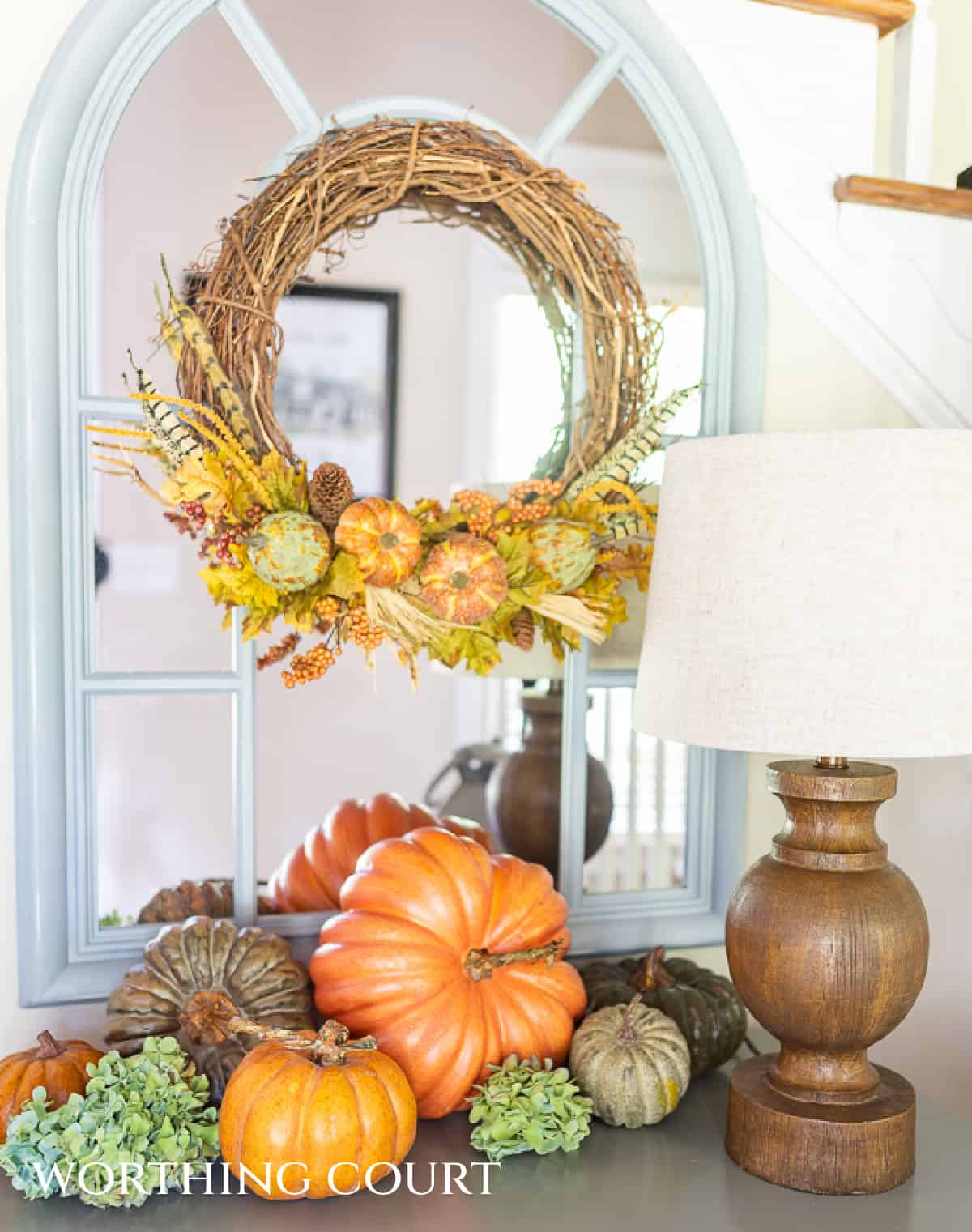 Even though this example is hanging in my foyer, it would be pretty on a front door too!
TIP: For more fullness and impact, look for picks with multiple elements incorporated in them.
Must-Have Wreath Making Supplies
I make a different wreath for every season of every year – that's a lot of wreaths!
I've found these "tools" to make the job much, much easier.
See a diy fall wreath idea that inspires you? Let me know in the comments!