Fall is prettiest season of the whole year! Get your front door and the interior of your home fall ready with these easy to make diy fall wreath ideas.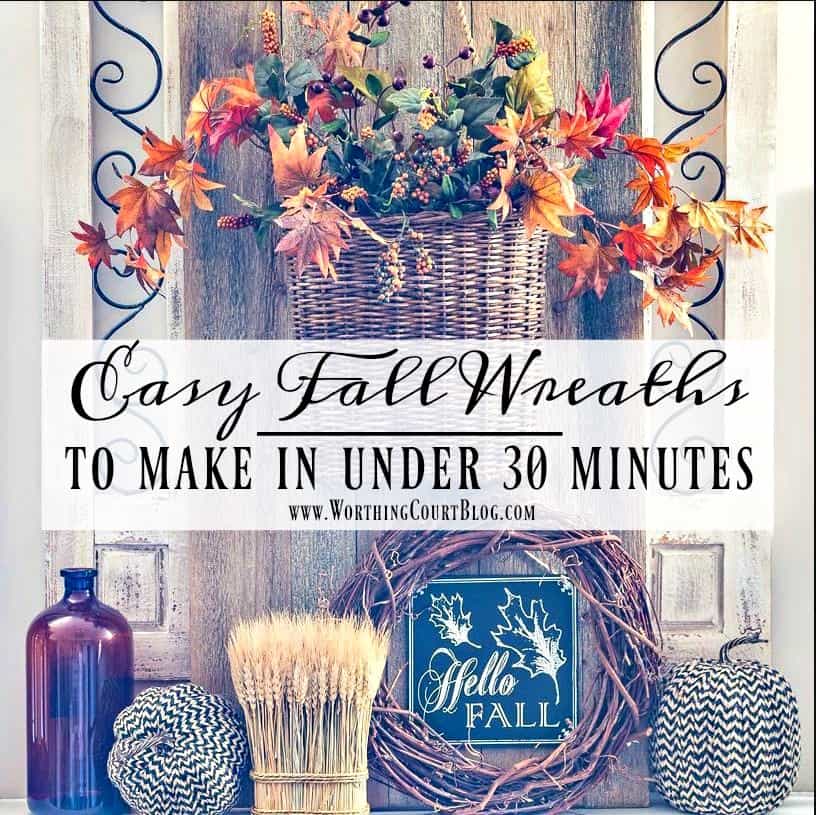 I have a confession to make – I generally don't purchase ready-made wreaths for any season or holiday. It isn't because there's anything wrong with them. It's because of the price! I love to try out new looks each year for my seasonal decor, so if I were to purchase an expensive ready-made wreath, I'd feel like I have to use it every single year and that would get old to me. So – if you feel the same way, these easy and affordable diy fall wreath ideas will inspire you!
I'm sharing my easy diy fall wreath projects as part of the Fall Ideas Tour where 25 of your favorite bloggers are sharing fall ideas for your mantels, tables, free printables and porches. Be sure to check out the links to their posts at the bottom so you can get a peek into their homes!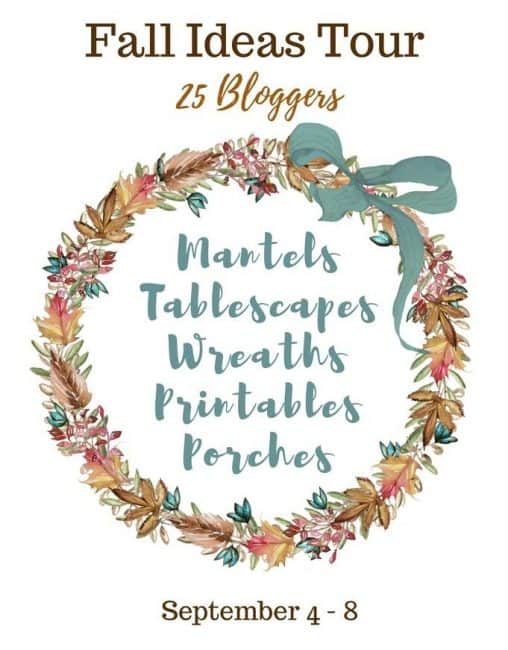 One of the easiest and most affordable ways to decorate a wreath or create a door hanging, is to purchase a faux foliage bush, especially when they're on sale. Sometimes I cut the bush apart, but other times I leave it together and simply fluff it by twisting and turning the stems until I get the look that I'm after. Using foliage bushes will make you look like a floral designer even if you aren't!

MY LATEST VIDEOS
A few years ago, I used a long wicker basket for a welcoming fall arrangement for the front door of my former home. I purchased several long stems of faux sunflowers and a few foliage bushes that contained feathers, fall leaves, acorns and more sunflowers in varying fall colors. I added the tall sunflower stems to the back for height then added the foliage bushes for fullness. After fluffing the bushes, I added a few faux pumpkin picks for an added bit of fall color and finished the basket off with burlap ribbon and chalkboard sign.
ALL THINGS HOME FALL TOUR AT WORTHING COURT
(Click on the link above to get a peek into my former home!)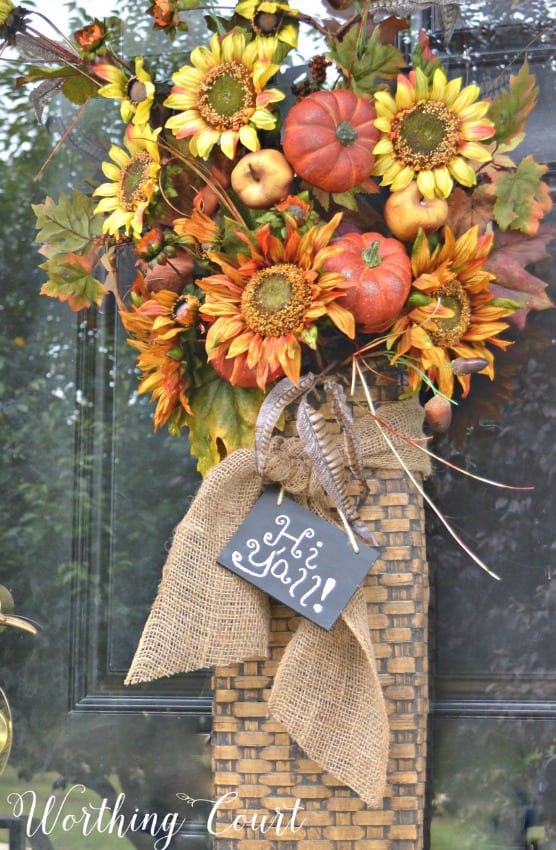 All of that foliage was a smart purchase on my part because I have used all of it over and over again in different fall decorations in my home – in vases and baskets as well as for fall decorations for my front porch.
I reused the foliage in a different hanging wicker basket when I put together my very simple fall front porch one year when I was so starved for time that I needed something that I could put together in no time at all. Maybe you need an idea as easy as this one too!
EASY AND SIMPLE FALL FRONT PORCH
(Click on the link above to also see the super easy fall planters!)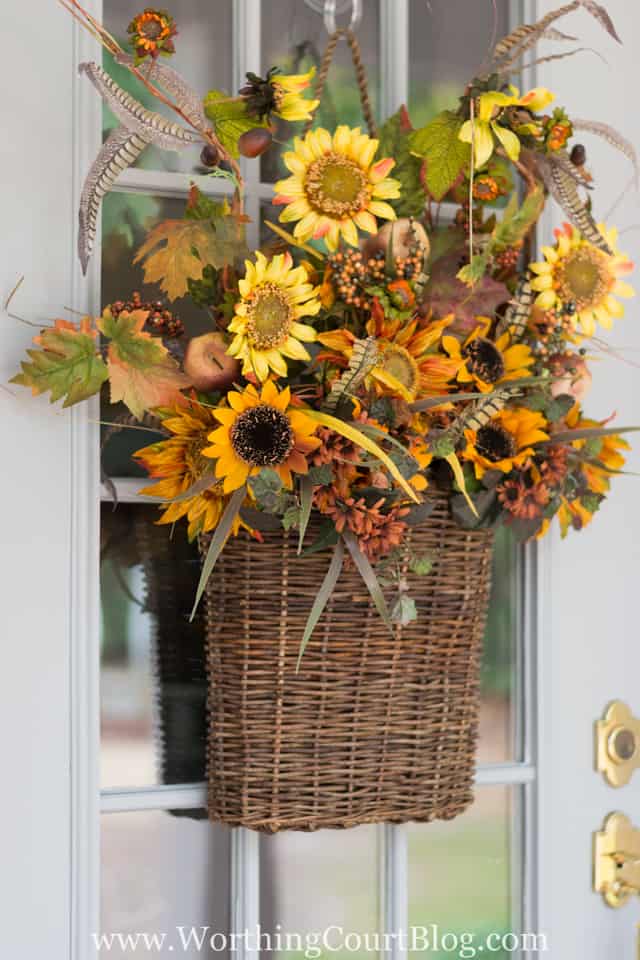 And I used much of it again last year on my fall front porch when I added some of the sunflower bushes to the bottom of the wreath on my front door and cut other bushes apart to add to the grapevine wreaths resting on top of my planters.
WELCOME FALL ON MY FRONT PORCH
(Click on the link above to see the rest of the fall decor on the porch.)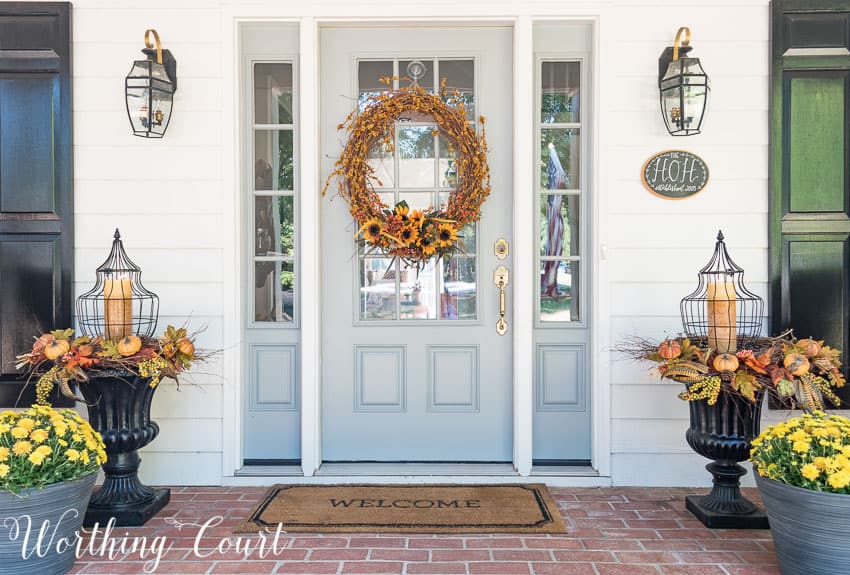 To make the wreath I simply cut apart several stems of faux bittersweet branches and tucked the pieces into the spaces between the grapevines that make up the wreath. The bushes were tucked in too, but were also secured with a bit of wire. Nothing was glued in place so that when the season was over, I was able to take it all apart and reuse the wreath and foliage another time. In fact, this same grapevine wreath will be making another fall appearance in my home in just a few days!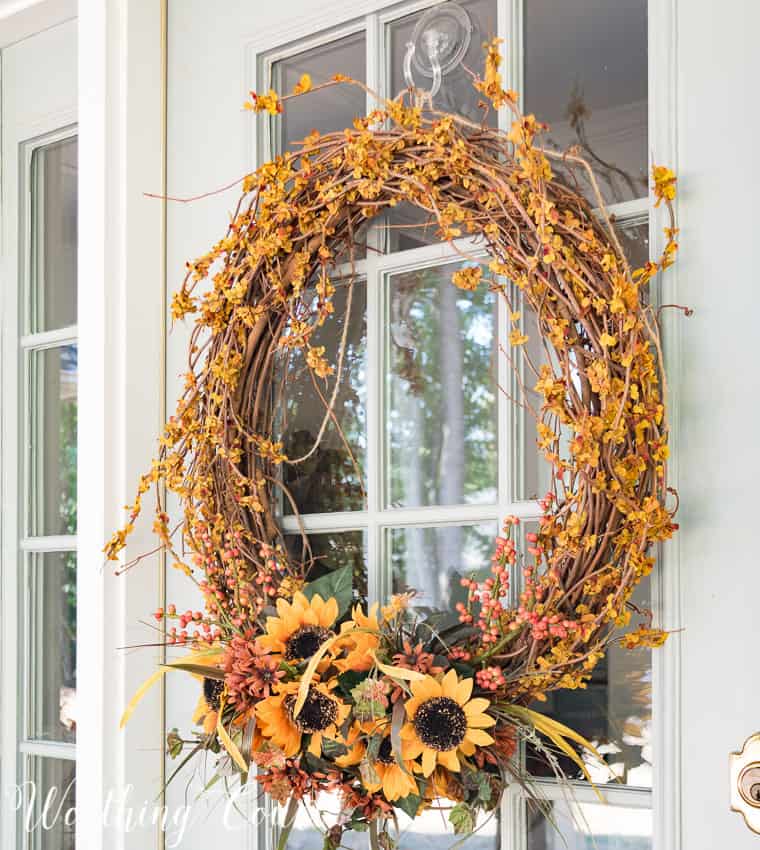 When doing my fall decorating, I find myself using wicker baskets and grapevine wreaths most of the time because their color and texture is perfect for this time of year.
In my dining room last fall, I tucked a few berry springs onto a grapevine wreath and hung it from a mirror using a suction cup. I attached a couple of fall'ish candle rings to two of the plates on the shutters to act as wreaths and two very small grapevine wreaths to the other two plates. Y'all – this is so fast and so easy! By hanging a wreath on the mirror, you kind of get double the bang for your buck because of the reflection.
FALL IN MY FARMHOUSE DINING ROOM
(Click on the link above to see the fall decor in the rest of the dining room)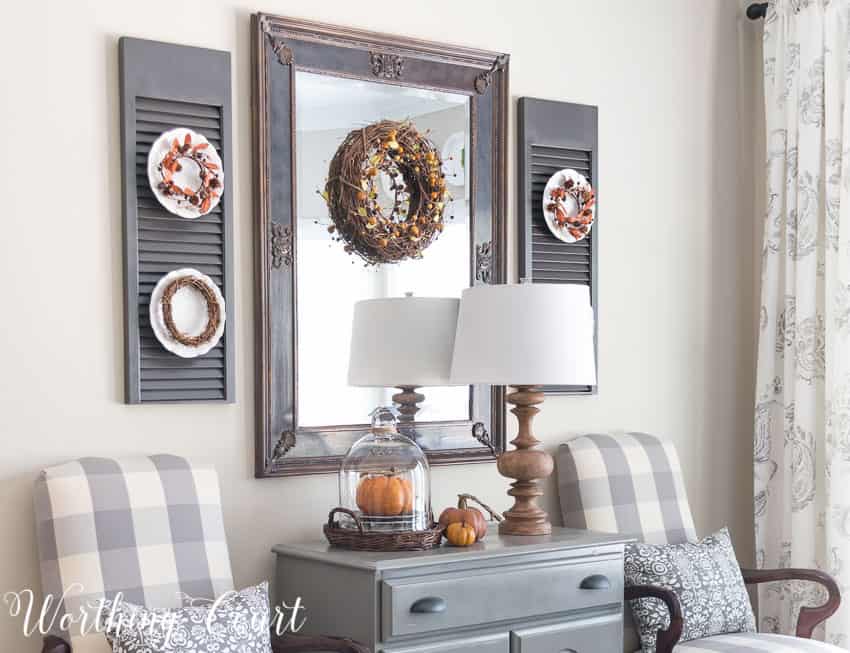 When decorating my fireplace for fall last year, I pulled out all the stops as I tried to reflect the bounty of fall's harvest in my home. In addition to using a wicker basket and grapevine wreath for texture, I also used a layering technique to add interest. I layered my diy old barnwood against the large wood and metal plaque and then layered other fall decor in front of that. I chose to add another layer by using a hanging wicker basket filled with faux fall leaves and a few berry sprigs as my "wreath". Super fast and super easy!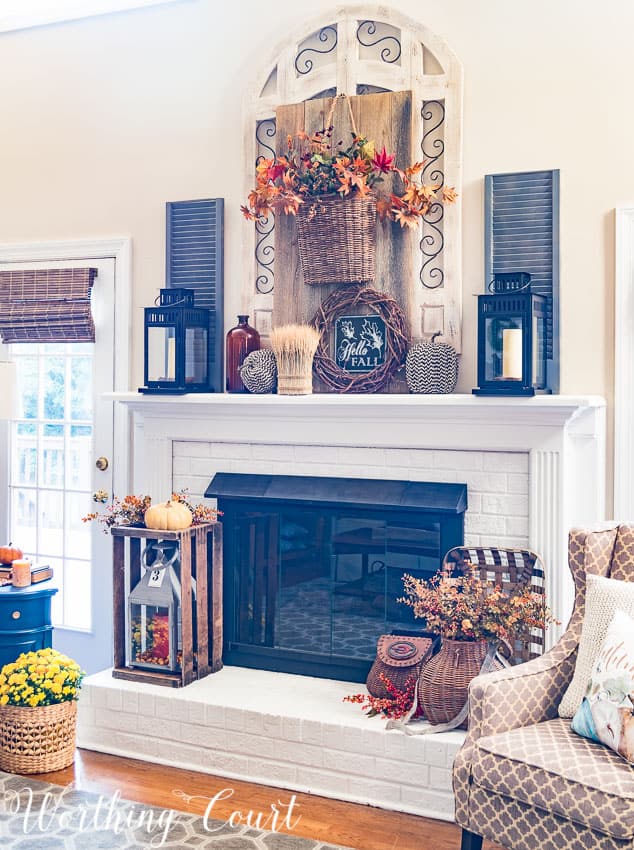 I'll leave you with one last idea. Have an old ready-made wreath that is looking a little sad and worn? Don't throw it out! Check out the three different looks that I gave to this one wreath after years and years and years of use!

And now, here's are the links to all of my friend's inspiring fall decorations!
Mantels on Monday
Postcards From the Ridge / The Chelsea Project / The Everyday Home / Shabbyfufu /
Atta Girl Says / Stone Gable
Tablescapes on Tuesday
Vin'yet Etc. / What Meegan Makes / Home is Where the Boat is / Making it in the Mountains
Wreaths on Wednesday
Worthing Court / Dukes and Duchesses / Cupcakes and Crinolines / My Creative Days /
Virginia Sweet Pea
Printables on Thursday
Inspiration for Moms / Hunt and Host / Domestically Speaking / On Sutton Place / I Should Be Mopping The Floor
Porches on Friday
Petticoat Junktion / Housepitality Designs / Hymns and Verses / Cottage at the Crossroads /2 Bees in a Pod
THANK YOU FOR STOPPING BY! DON'T FORGET TO PIN IT FOR LATER!