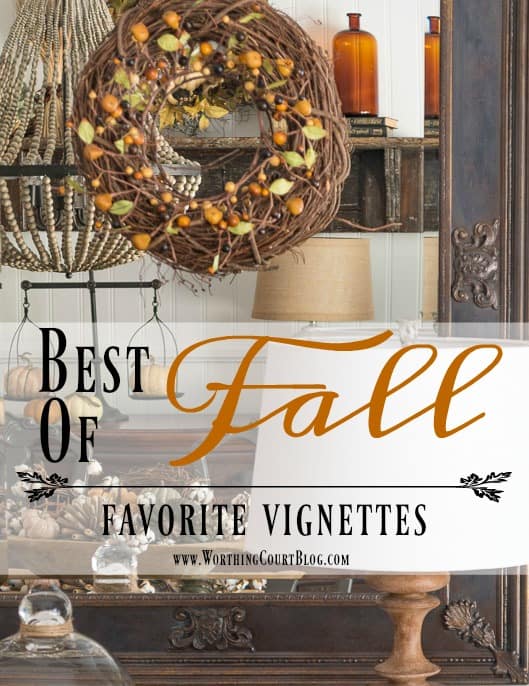 I've shared lots and lots of fall with you these past few weeks and I hope you've found something to inspire you! While I love nothing better than seeing a whole space all decked out, I usually need to stroll through for a second time (or even a third or fourth!) to get a closer look – to see the details. So that's what today is all about – I want to come back through and take a closer look at some of my favorite spots.
Mr. Herbert is one of my favorite things in the breakfast area. The boxwood wreath and black and white checked ribbon make him pretty much season-less. All I need to do is to change out what is displayed around him.
KISS FALL DECORATING AND MY OPEN FARMHOUSE SHELVES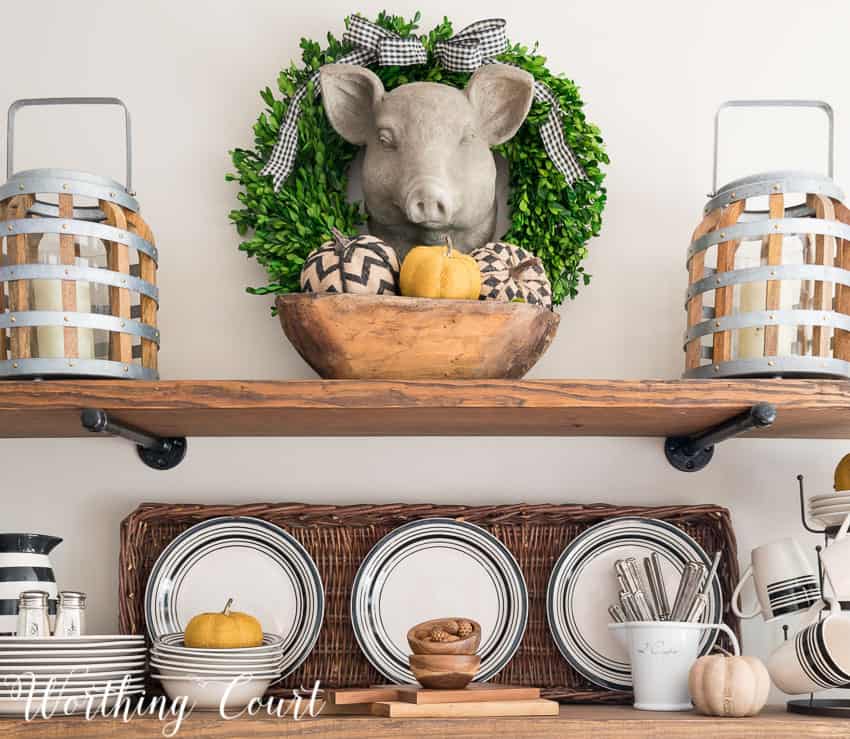 The dough bowl on my dining room table is filled to overflowing with all sorts of goodies! I love the mix of textures and fall colors. I probably would have crammed more into it if there had been room. LOL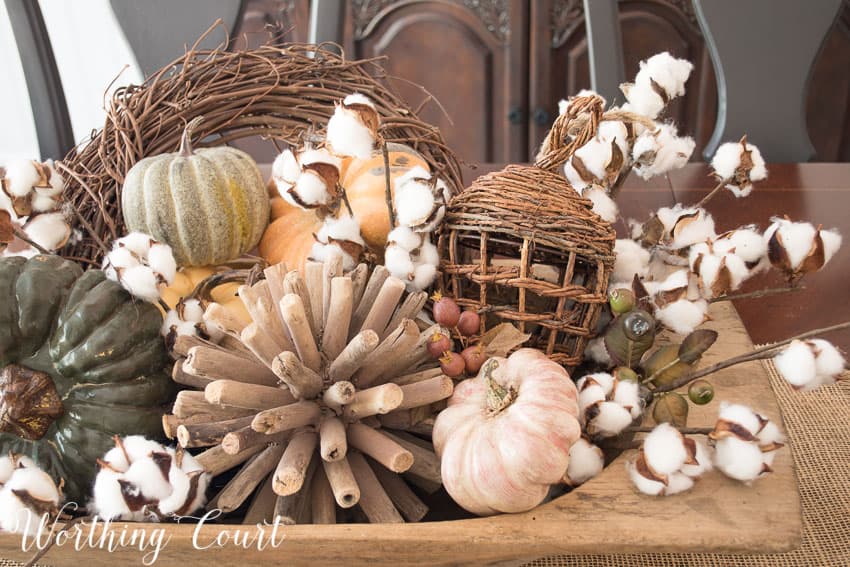 From a distance, I think it's hard to get a good look at what I have displayed on the vintage shelf in my dining room. Loving the muted colors in the wreath and the bundle of standing wheat. Wish I could find some more at a reasonable price!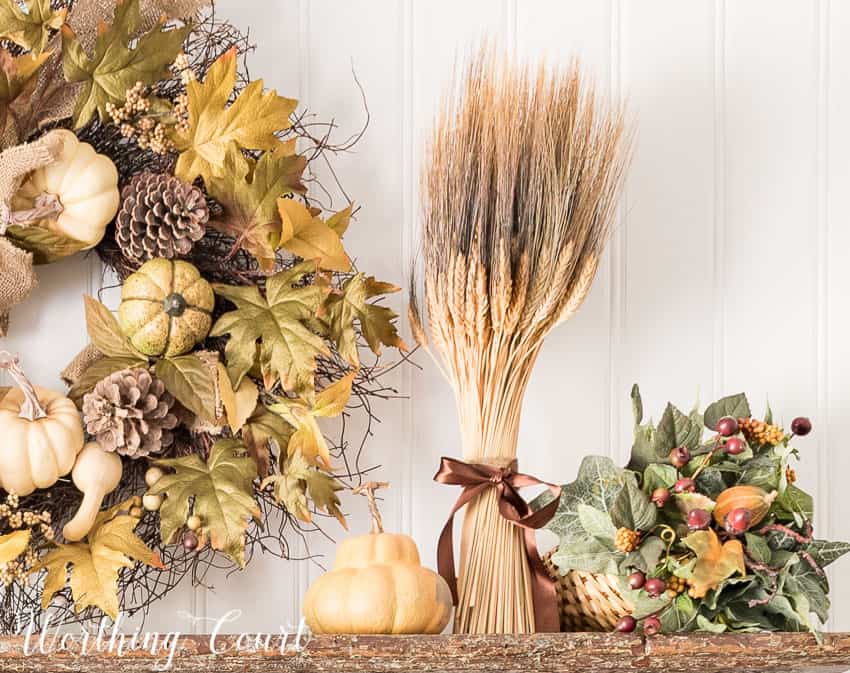 Even though I shared it before, the reflection of fall in my dining room mirror is still a favorite of mine!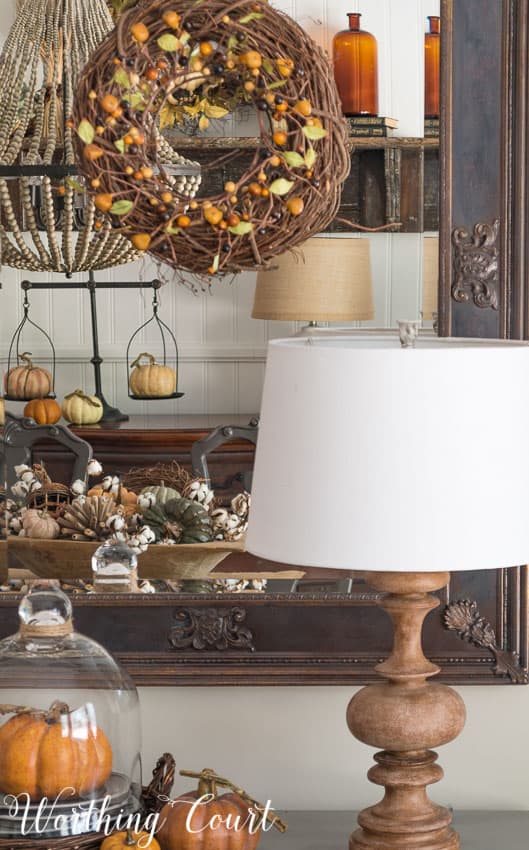 On the mantel in my family room, I'm especially happy with the hanging basket that I used above the fireplace. Maybe it's the backdrop of fake old barn wood that makes me like it so much.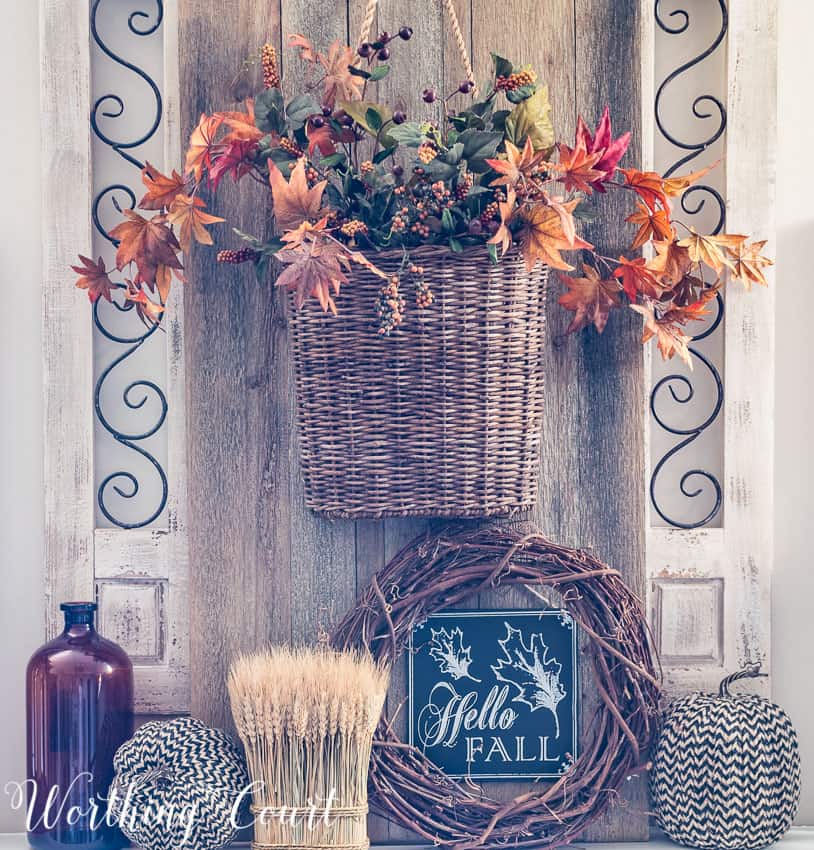 And the crate on my hearth…well I just love the slightly corroded looking lantern tucked in there.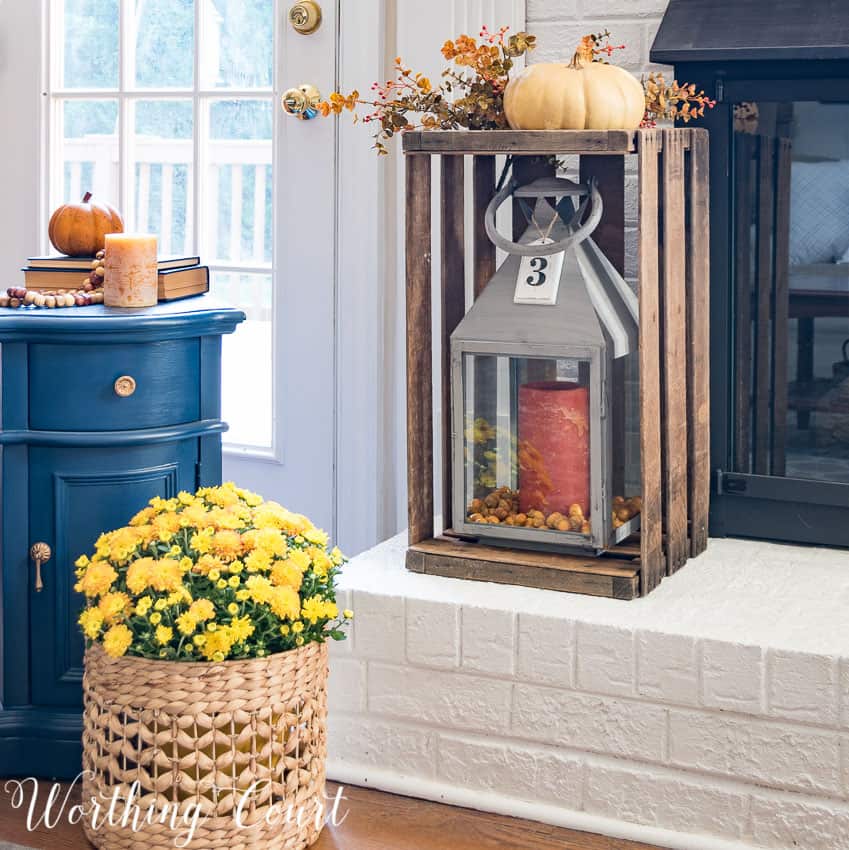 I love this image of pillow in the background of the fall vignette on the coffee table. I think that the colors in the pillow are enhanced even more by the throw that it's on. BTW – you can purchase the pillow by clicking HERE if you're interested (affiliate link – see my full disclosure HERE).
ONE FALL COFFEE TABLE – TWO WAYS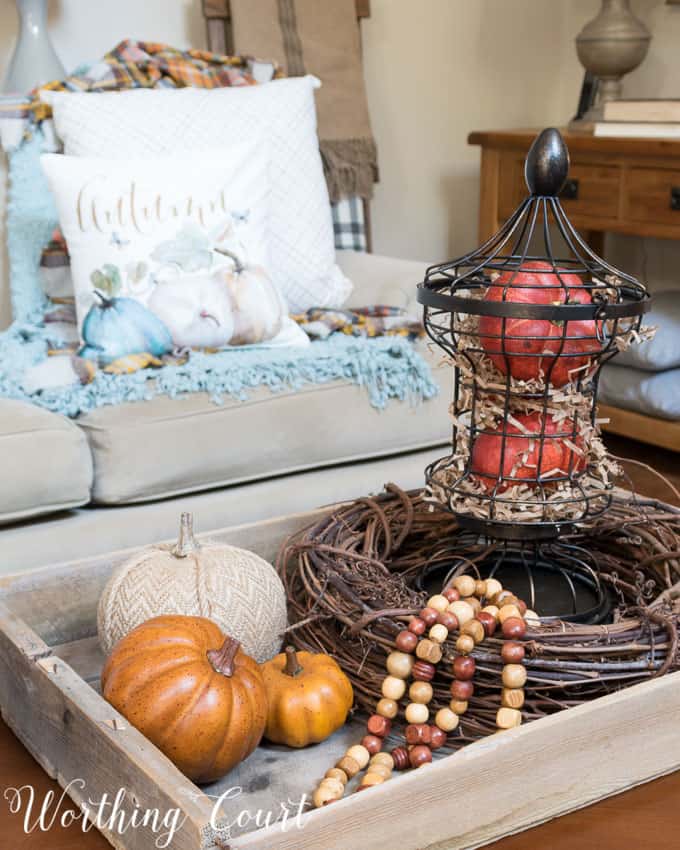 Out on the front porch, this spot definitely calls my name – come rock for a while and enjoy some hot apple cider!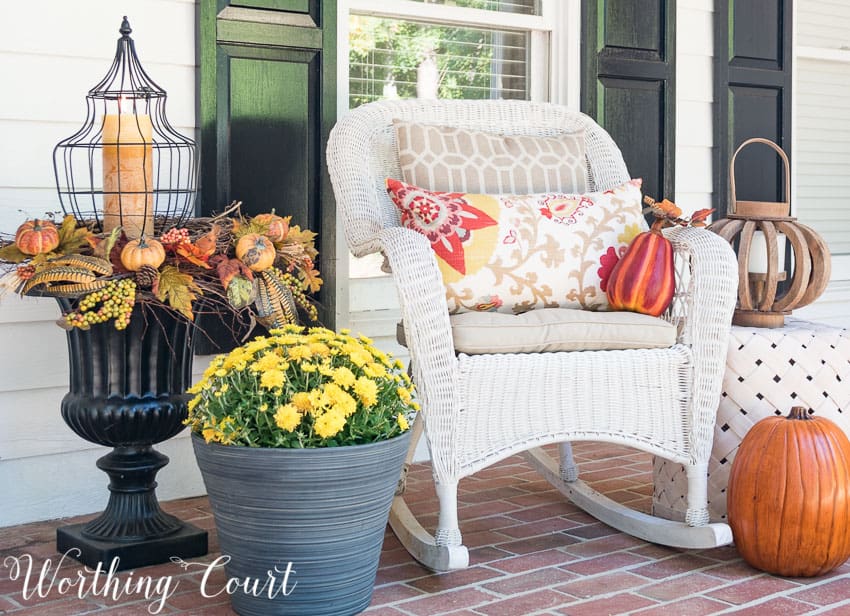 And these urns just might be some of my favorites ever! Using fall picks and twig wreaths makes decorating so easy and quick!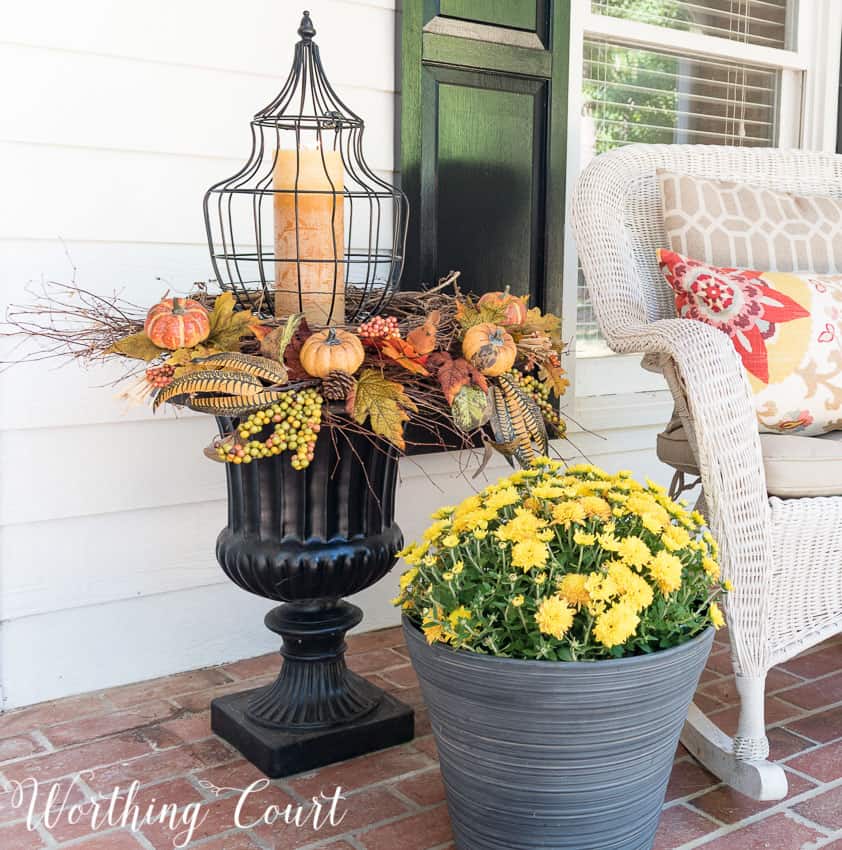 Do you ever take the time to stroll around your own home and take a closer look at your favorite spots? It's kind of like slowing down to take time to smell the roses!
Sharing at THESE great parties.