Entry Table Decor Tips And Ideas For Fall
These fall entry table decor ideas are eye-catching! Plus, the helpful tips will show you how to make a fantastic first impression in your own home.
Don't ignore your entry table decor this fall! It's probably one of the first things that you or your guests see upon entering your home and is the perfect place to create a warm and welcoming first impression.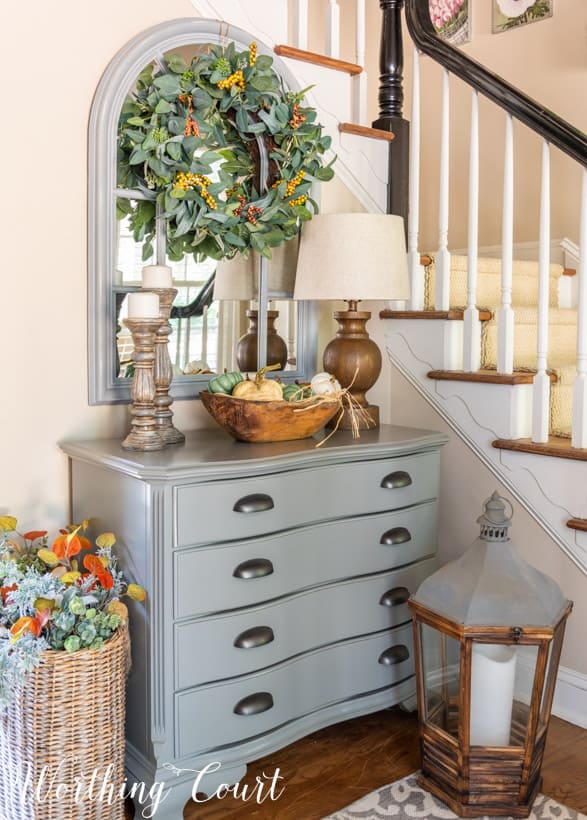 It doesn't matter if your entry contains a console table or small chest, these tips and ideas can be used in any setting, for any season or holiday!

Creating a cohesive design is just as important with your seasonal and holiday decorating as it is with your everyday decor.
I always, always like to begin at my front door and continue whatever theme or color palette I'm working with right into my foyer and throughout the rest of my home.
LAYER WITH A WREATH
Whether you have a mirror or a piece of artwork above your entry table, try layering a wreath on top of it. It makes such a statement!
On a mirror, you can hang a wreath with a removable stick-on hook or suction cup hook. On a piece of art work, run a piece of twine around the wreath and tack it to the back of the picture frame.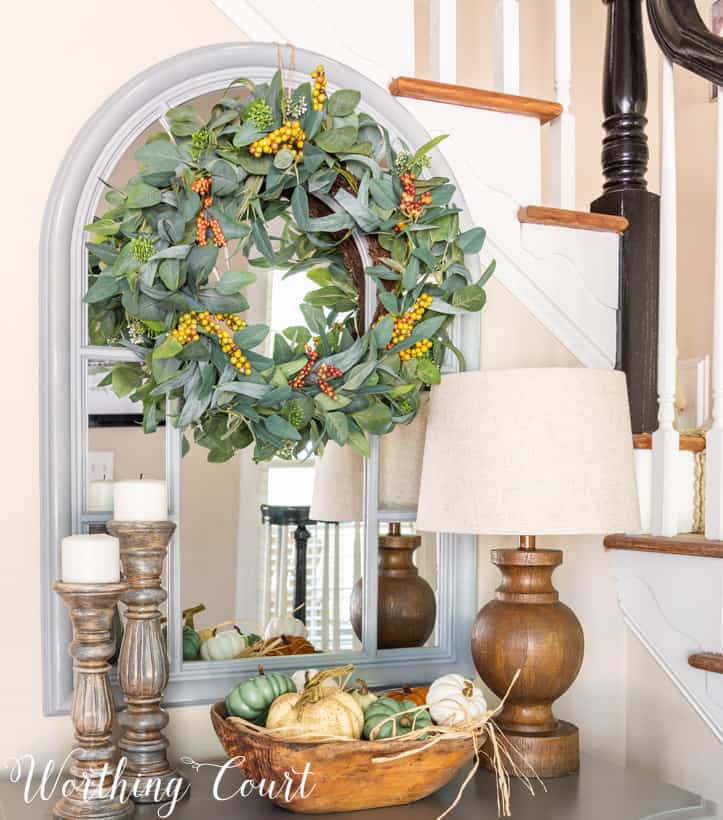 DON'T CROWD THE SURFACE
It's best to only use a few simple decorations as part of your entry table decor. Try to avoid using a lot of small items so as not to create a cluttered look.
If you simply must put your small items on display, corral them into a tray or container. Or group them in a cluster instead of spread across the surface. This will fool the eye into thinking there's one larger item, instead of several small ones.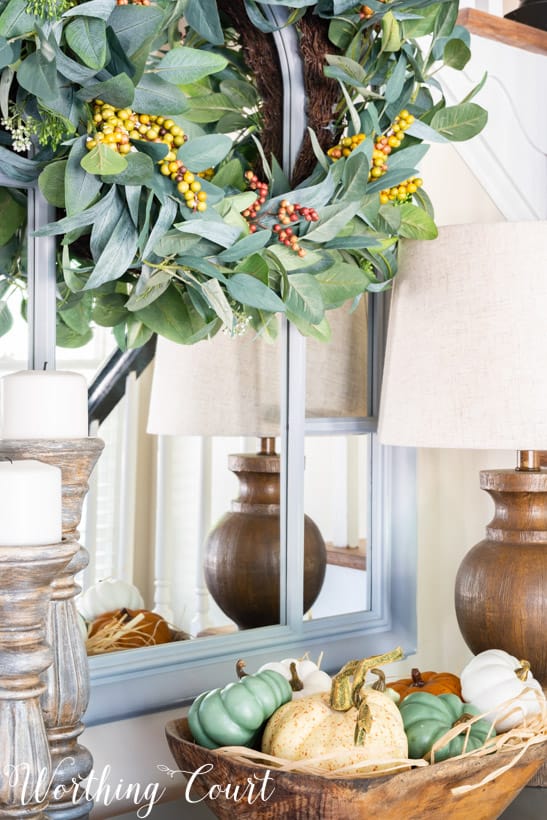 ADD A SMALL LAMP
I love, love, love having a lamp in my entry! In fact, I love it so much that I keep a lamp here year round.
I only use mine as ambient lighting, so I have a low wattage bulb in it and have in on a timer so that it automatically turns itself on and off each night.
The ambiance is amazing – it adds such a warm, cozy and welcoming feeling to my foyer!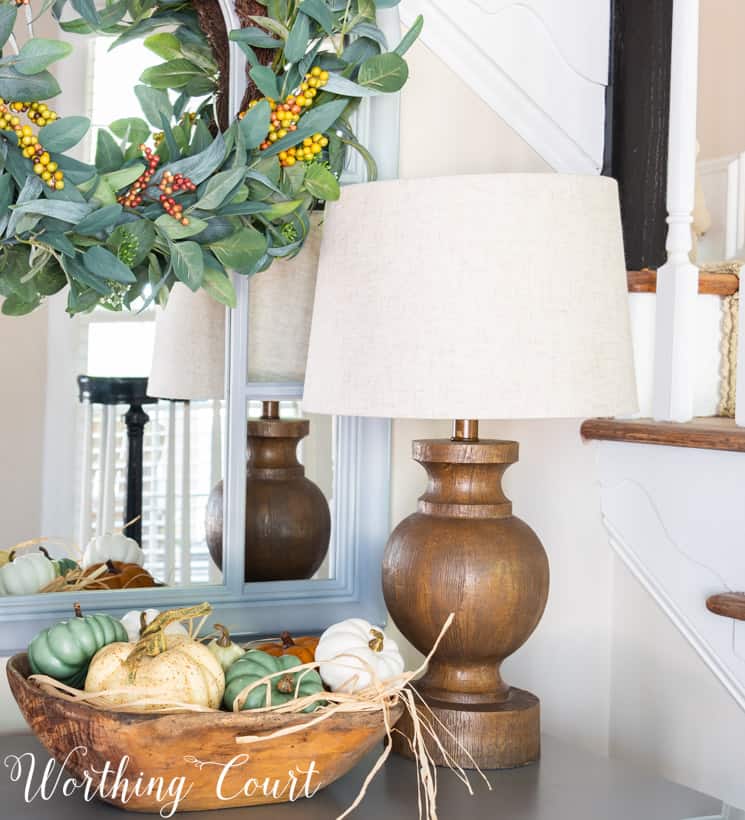 USE THE SAME COLOR PALETTE
Since this is the space that sets the tone for the rest of your home, you'll want to be sure that your entry table decor is the same color palette as the decor in the rest of your home. That will provide a smooth and cohesive transition from space to space.
You can see from the wreath hanging on my front door, that I've carried the same palette right into my foyer. The same fall colors that I used to decorate my front porch, continue into my family room and kitchen/breakfast room as well.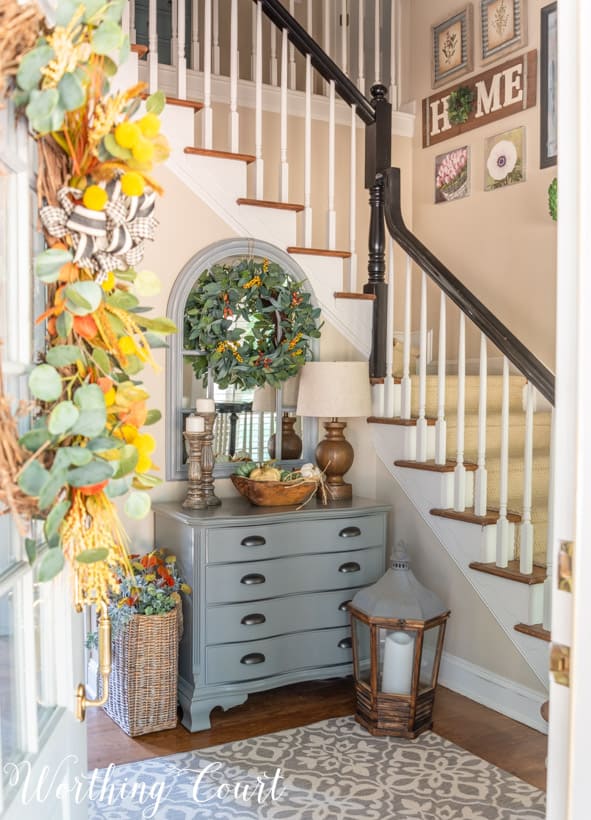 ADD SOME EXTRAS
If space allows, consider adding an extra item or two on the floor, either in front of or to the side of your entry table.
Even though my chest is nicely tucked into the corner of the staircase, it tends to look a incomplete if I don't add a little something extra around it.
A narrow basket to the side, filled with foliage, and a large, candle filled lantern, hints at more coziness and ambiance.