A Cozy And Soothing Fall Color Palette For My Family Room This Year
Simple, cozy seasonal decor inspiration for your living room or family room using a soothing fall color palette.
My beautiful family room decor this season is all about using a soothing fall color palette, but is still keeping with the gorgeous colors that abound this time of year.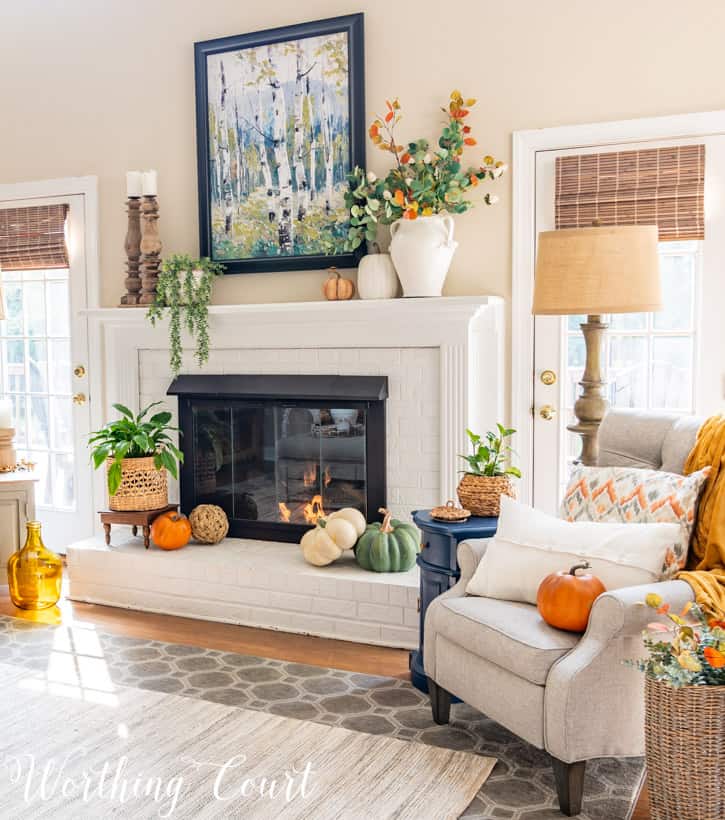 I can't do neutrals for fall. I love it and I've tried, but it just isn't me. Soooo, I decided to stick with what I love and brought fall colors in, but I kept the tones on the subtle muted side.
This week, I'm teaming up with several of my blogging buds to bring you all sorts of fall inspiration for your home. My friend, Leen at Sand Dollar Lane is graciously hosting this event for us, so be sure to head over to her blog to check out her beautiful coastal inspired home. If you're coming here from We're The Jones, welcome!

For me, seasonal decorating always starts with decor inspiration of some sort. It could be anything – a photo, something I see in a store, fabric, nature – literally anything. This year, I was inspired by a striped pillow that I purchased that contained rich mustard yellow, rusty orange, dark green and sagey eucalyptus green.
It's kind of funny, because even though I was inspired by that pillow, it doesn't make an appearance in this room. You can see it on my fall front porch next week though.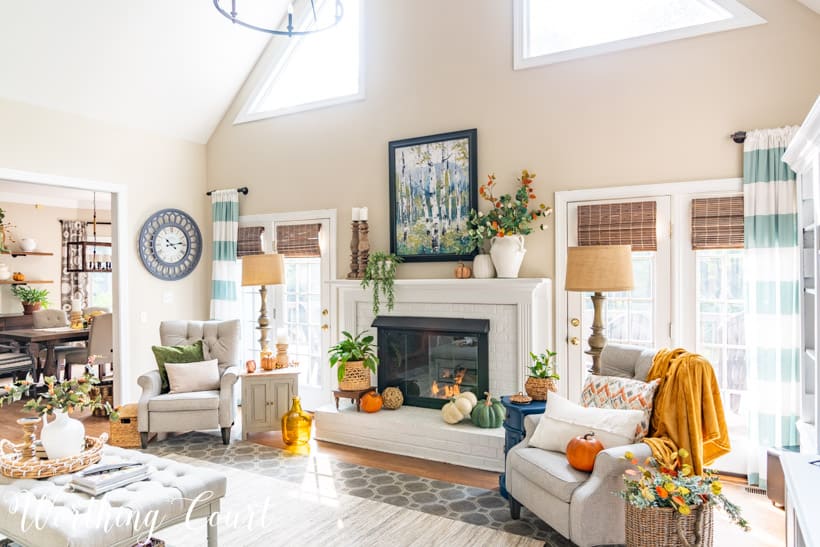 Naturally, the fireplace is the very first spot that gets redecorated each season, but, I don't change everything out. When I gave my family room a refresh a few months ago, I purposely hung a piece of lovely art above the mantel that I could always decorate around, no matter the time of year. A very versatile decor piece!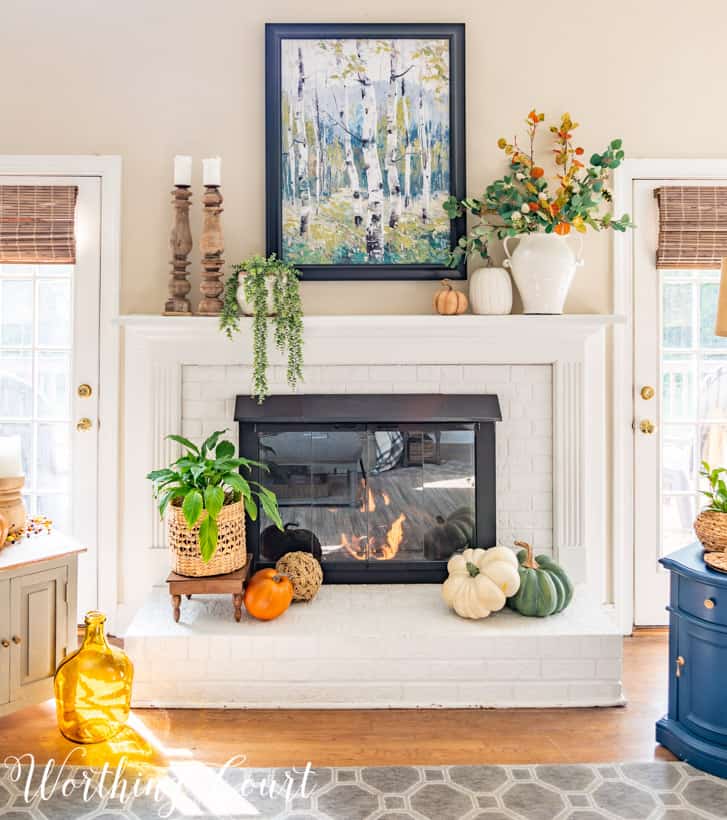 Oh, and did you notice the fire in the fireplace? I'm pretending that it's a chilly fall day outside, even though the temps here in central North Carolina are in the 90's. Where in the world is fall???
The sagey color of the eucalyptus is what inspired me the most and then I was further inspired when I stumbled across some faux eucalyptus stems in rich, warm fall colors. The two look great mixed together!
The other side of the fireplace mantel holds my very favorite ever wooden candlesticks that I purchased during my trip to the silos last year.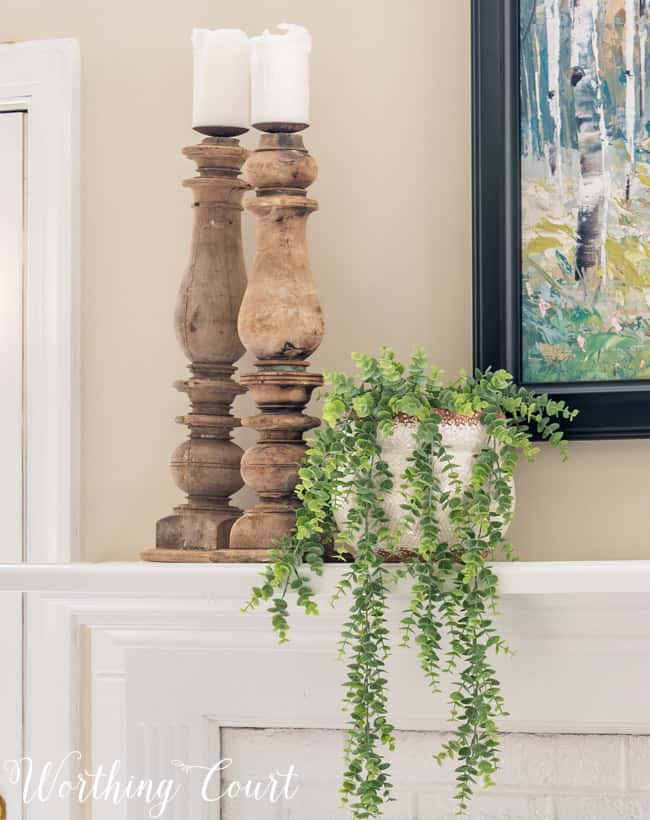 I love using my indoor plants year round, so I placed a peace lily on a decorative riser and added a few faux pumpkins on the hearth.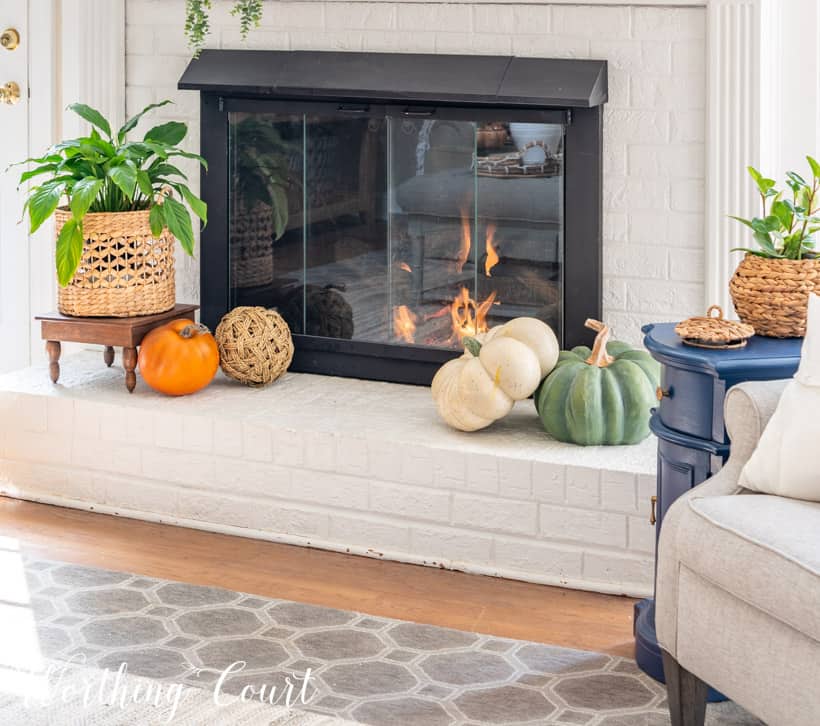 I'm a budget decorator, so I don't purchase special seasonal signs or other seasonal artwork or switch the artwork for several layered mirrors. Although I love those looks, I much prefer using my K-I-S-S method of decorating, which saves me so much time and money!
I scattered a few pumpkins around the room, but they're kept to a minimum. Nothing like previous years when I used so much stuff, it looked like my room threw up fall! 😀
I mixed in a variety of pillows in that same fall color palette. The mustard colored ones are new, but the rest came from my pillow stash (which is way out of control, btw!)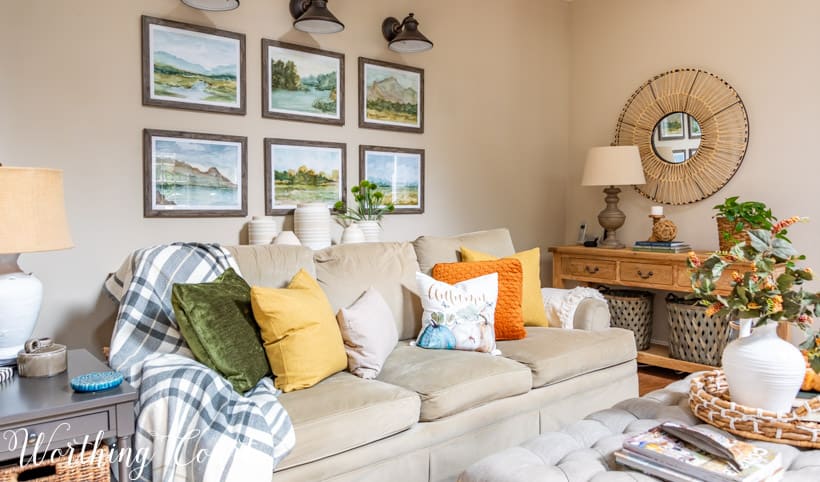 As part of my fall family room decor, I didn't add anything fall specific to the console table, but I did throw in a few accessories that remind me of the fall season.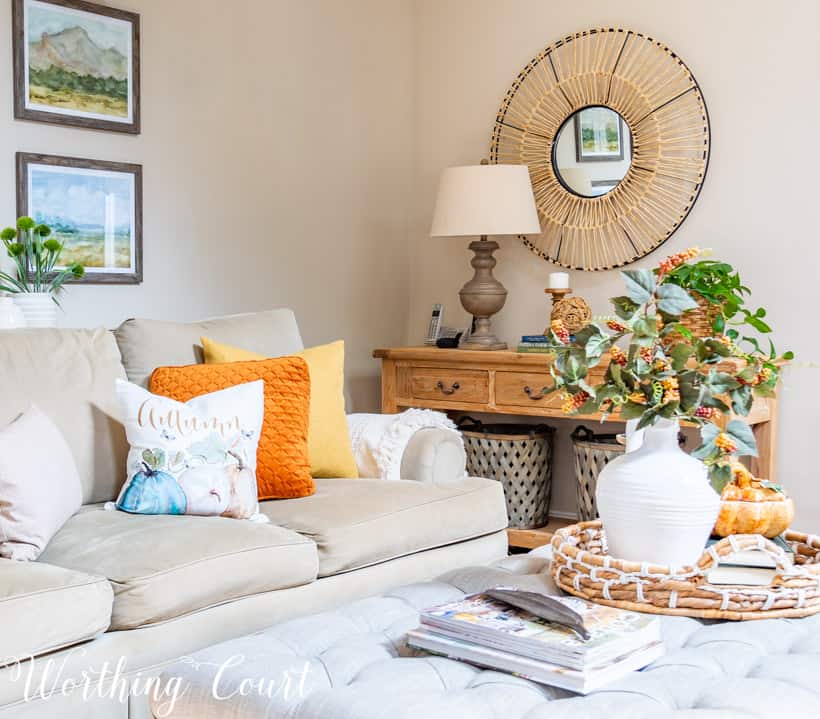 My coffee table decor is simple too. A round tray holds a favorite ceramic pumpkin box and a few faux fall berry sprigs in a white vase. I didn't even bother to place a candle on the candlestick, but I kind of like it that way in this instance.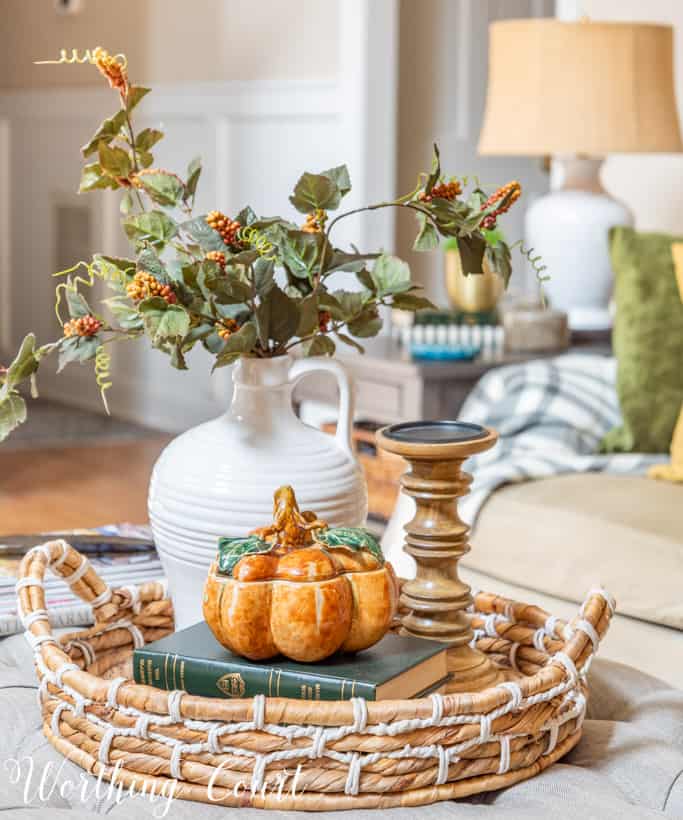 I hope my family room gave you some fall decor inspiration for your own home!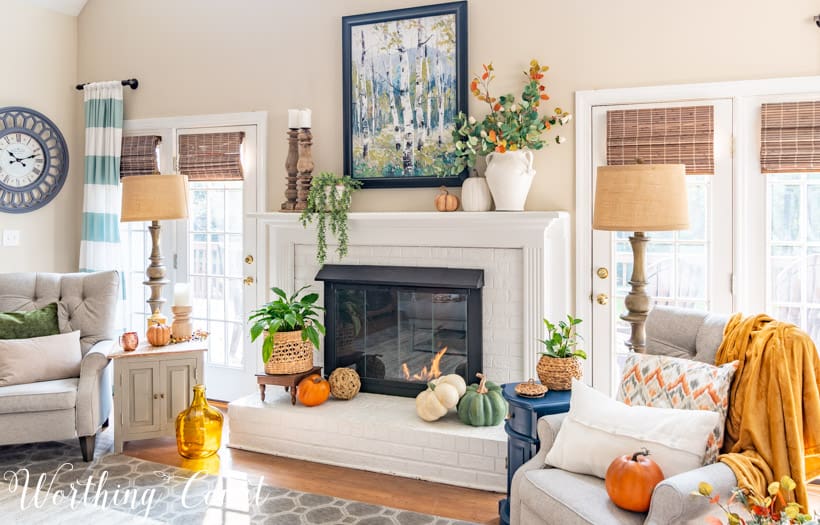 Next up on the tour is my friend Kelly, from The Tattered Pew. We actually met in person a few months ago, and she is so talented and simply the sweetest. I just know you'll enjoy touring her home!
Tuesday
Sand Dollar Lane // A Life Unfolding // Postcards From the Ridge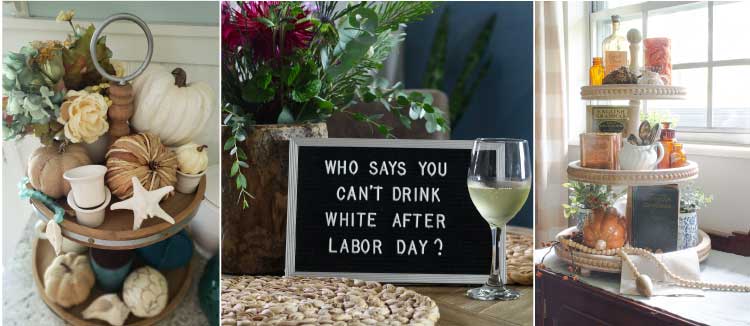 Wednesday
We're The Joneses // Worthing Court // The Tattered Pew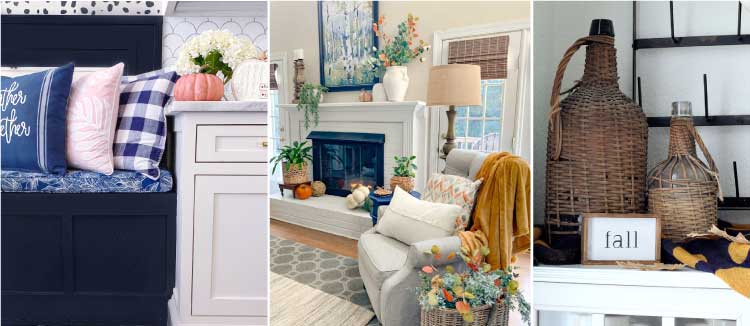 Sonya Burgess // Seeking Lavender Lane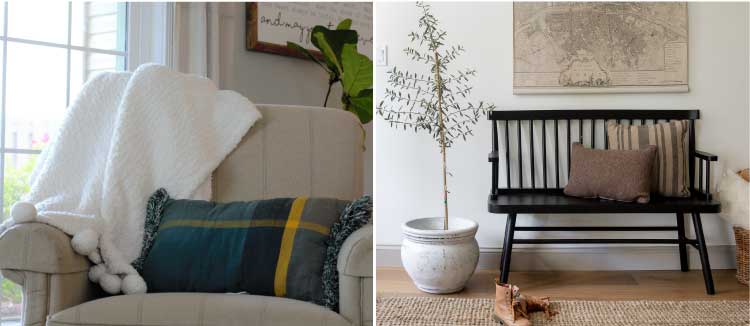 Thursday
Noting Grace // My Wee Abode // Cribbs Style