Front Porch Decor Ideas For This Fall + Tips For Creating Your Own Charming Porch
Create a welcoming vibe with these fall front porch decor ideas. Loads of ideas that you can use at your own home, no matter what size porch you have.
Are you ready for some front porch decor ideas for fall? Then you've come to the right place! I'm excited to be participating in the 5th annual Fall Ideas Tour, hosted by my friend Angie from Postcards On The Ridge.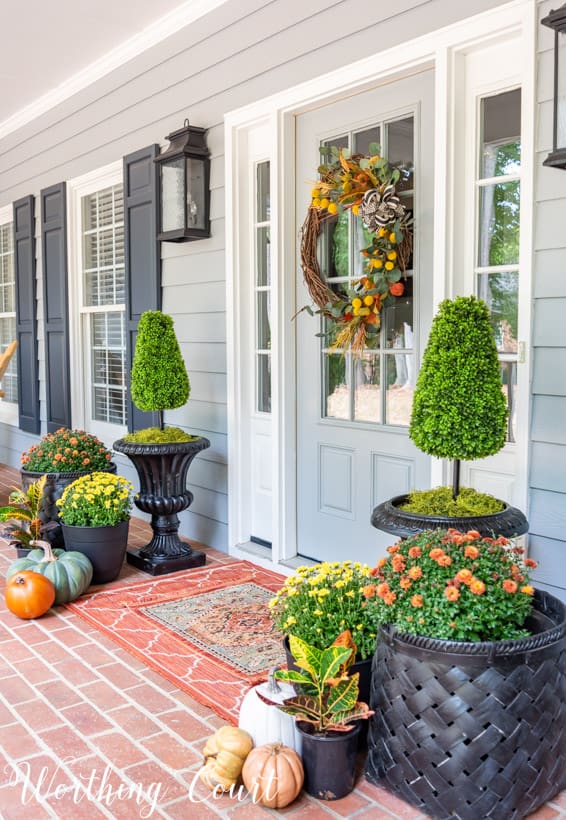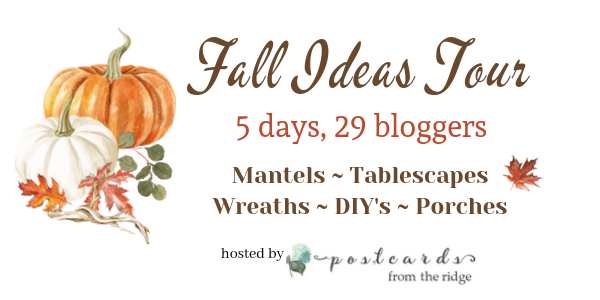 This year, 29 bloggers have been sharing our favorite fall ideas for mantels, tables, wreaths and crafts. Today it's all about fall porches! You'll want to scroll down to the bottom to get a link to everyone's posts so that you can enjoy all of our inspiring fall ideas.

Now, let me show you around my porch. 😀 Grab your favorite beverage 'cause I have lots to show you!
USE RICH FALL COLORS
I so enjoyed decorating my front porch for fall this year. Not only was it simple to do, it's also filled with rich fall color! There's no bright orange – no bright anything, in fact. Just a yummy color palette that says "welcome to my home".
The inspiration for my colors this year are the striped pillows that you can see on the benches at each end of the porch. Those pillows inspired me to use a fall color palette of sagey green, rusty burnt orange and rich mustard gold.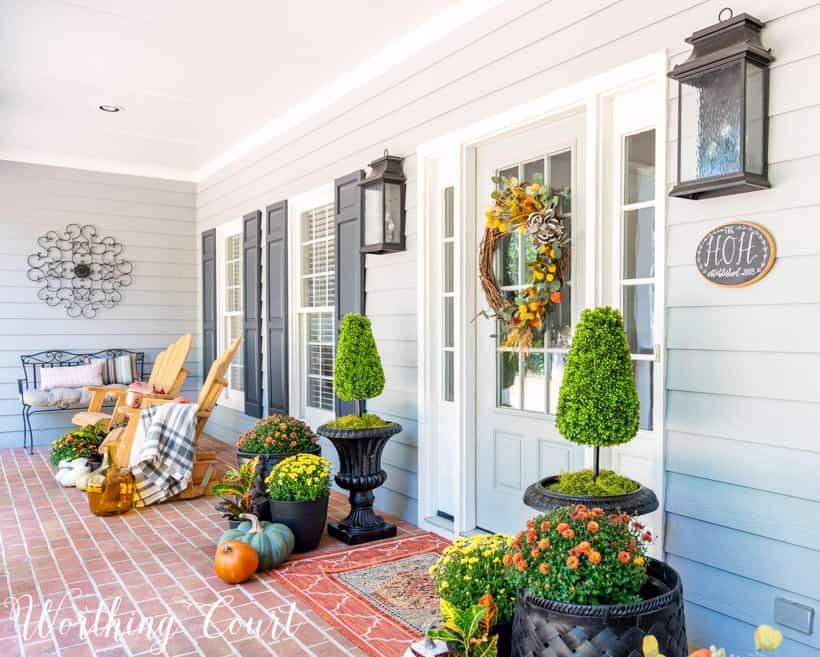 INVITE VISITORS TO "ENJOY THE VIEW"
Whether your front porch is small or large, be sure to decorate your space so that there are multiple eye-catching opportunities. I'm not talking about cramming so much stuff onto your porch that you don't know where to look first.
I'm talking about walking that fine line between too much and just enough, so that your eye has places to rest while you're still taking it all in.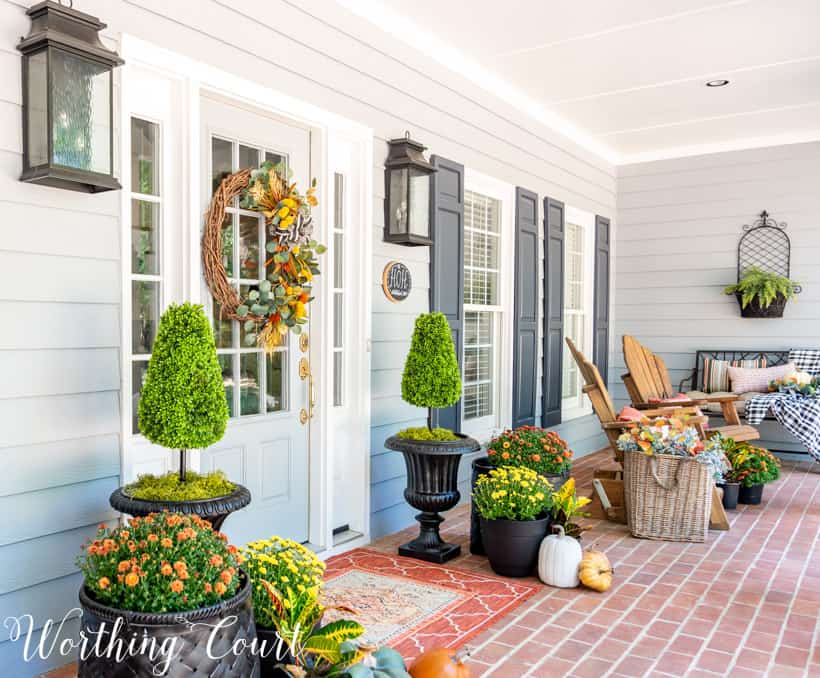 MAKE YOUR FRONT PORCH DECOR COZY
If you look closely, you'll see that even though our porch is long and deep, it still feels cozy. There are a couple of tricks to pulling that off.
Having a defined seating area along with a separate actual entry area, creates an intimate feel and invites conversation.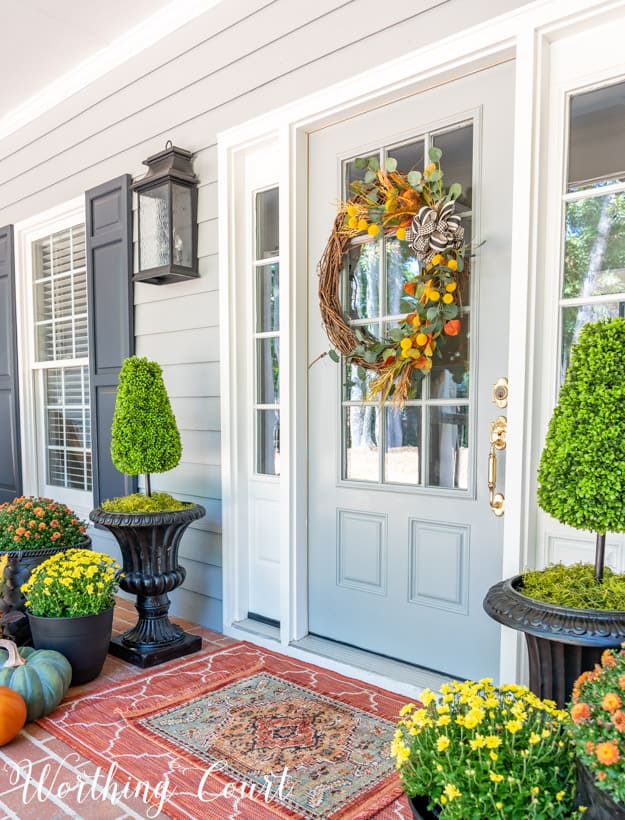 Grouping mums and pumpkins and other decorative items into small vignettes adds to the coziness too.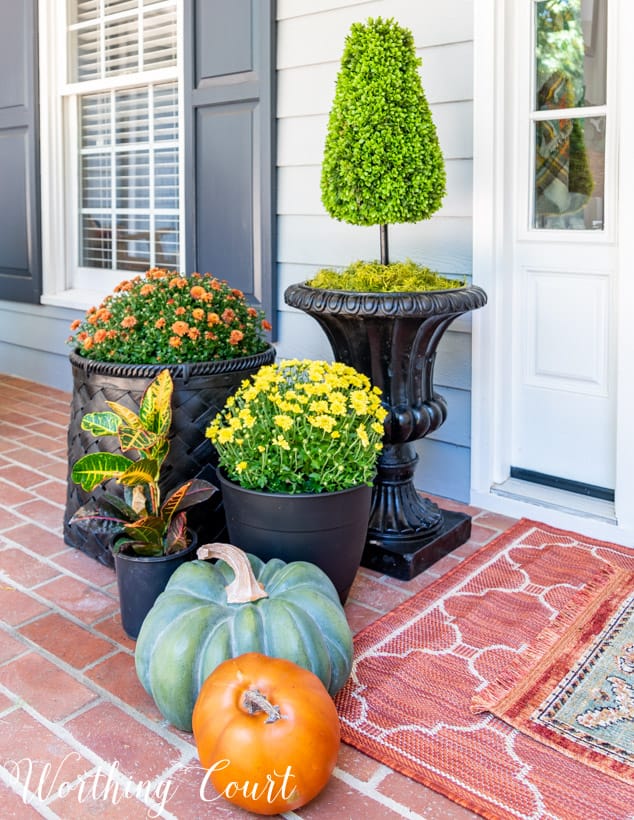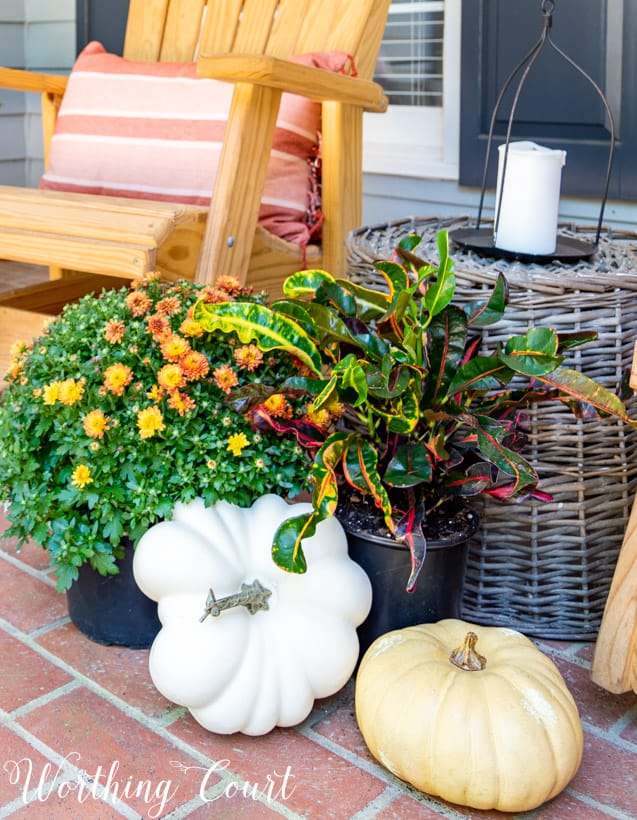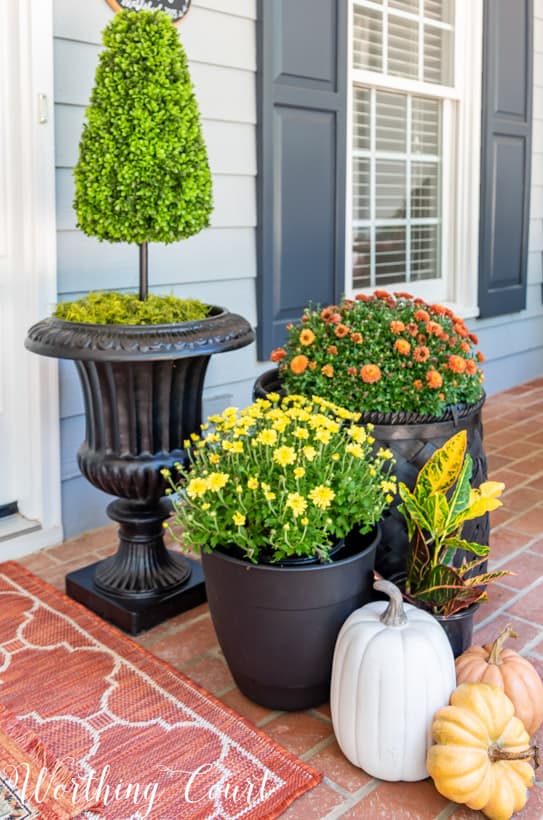 The addition of throw blankets and pillows is the proverbial cozy icing on the cake!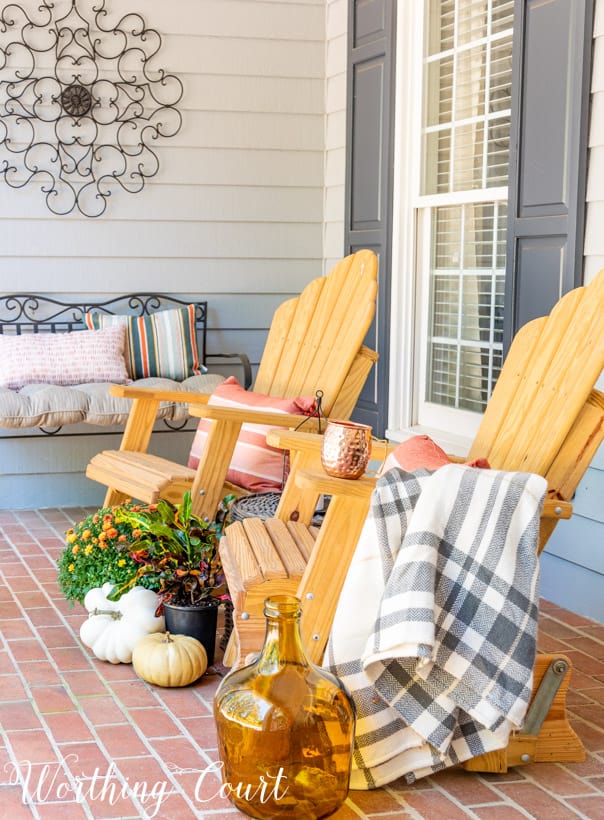 THE FALL WREATH SHOULD BE THE STAR
My fall wreath this year is a stunner! The secret is to use the correct size wreath. I see so many beautiful wreaths that lose their impact and get lost because they're too small for the door or porch that they're displayed on.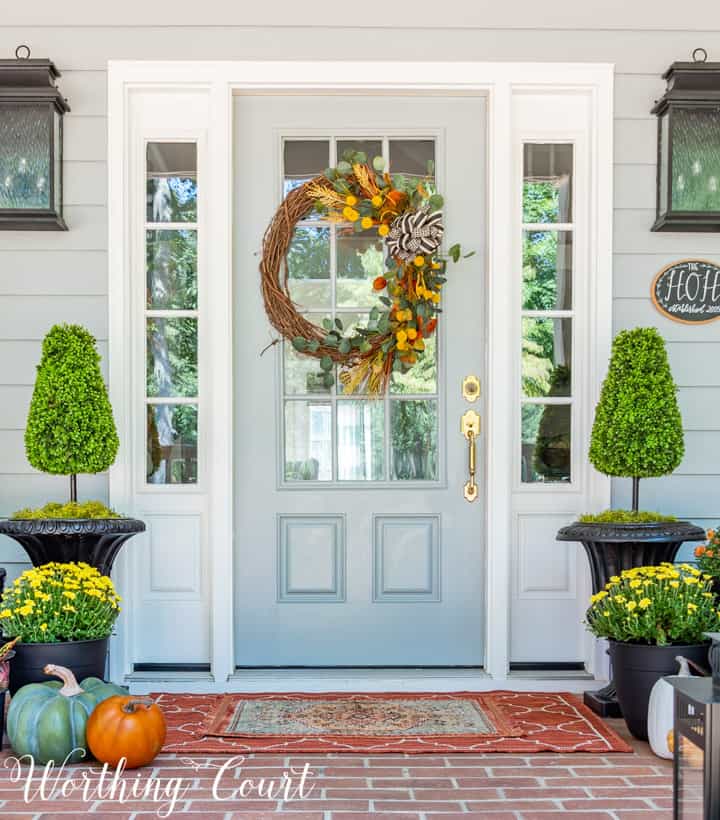 My wreath is 24″, which is larger than most ready-made wreaths, but my door and porch need that extra size. I took into consideration that the porch is large'ish and my door is combined with two sidelights instead of just being a single door by itself.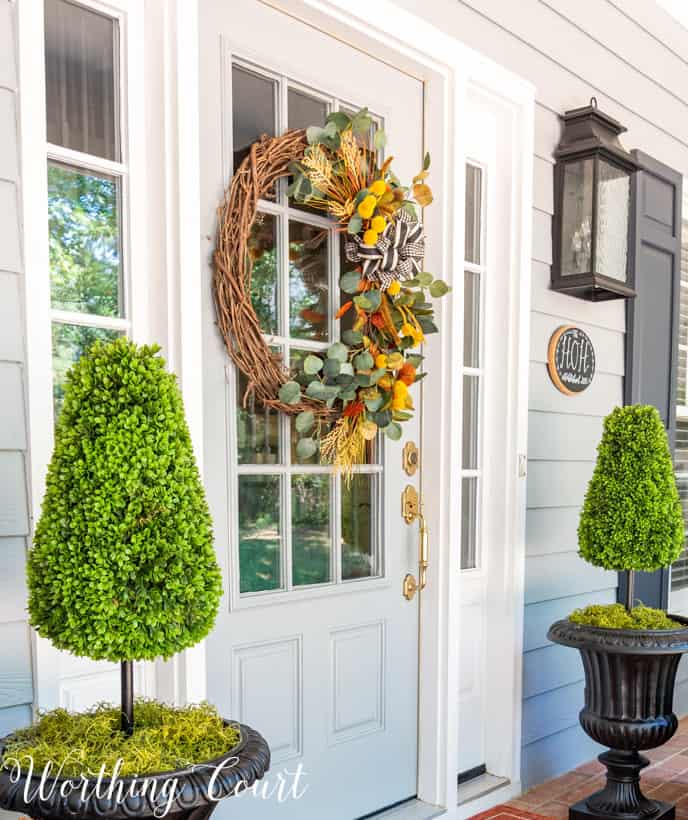 The wreath was SO easy to make and so was the bow! The wreath was made by simply wedging stems between the branches of a grapevine wreath and attaching a pretty bow.
To learn how to make a bow, head over to my Instagram profile and click on the button titled "Fall Wreath". You'll get step-by-step directions for how to make a bow with one or multiple ribbons.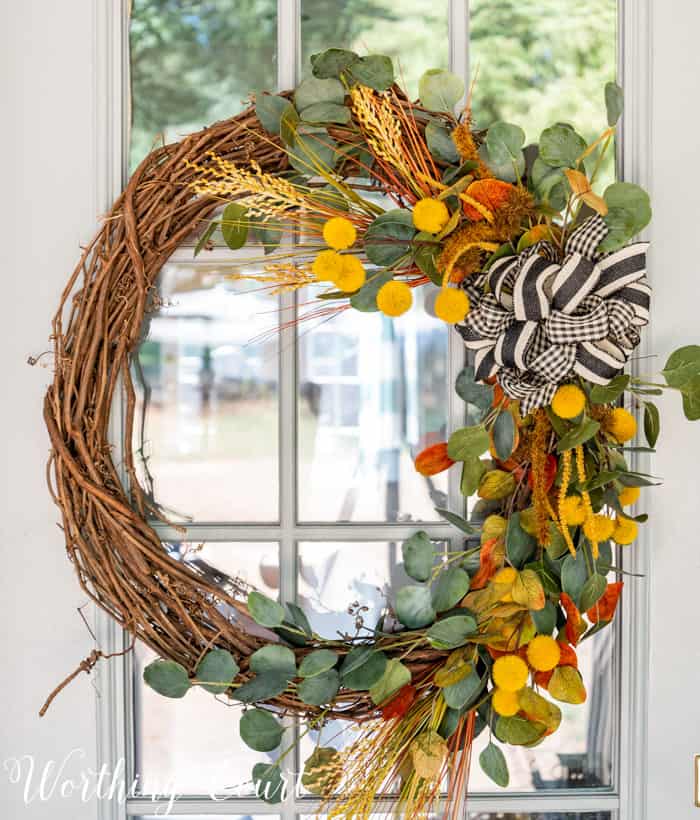 MUMS ARE YOUR BUDGET FRIENDLY PAL
When it comes to decorating your front porch for fall, mums are your budget friendly pal. The big box discount stores have really ramped up their mum game over the last few years and their lower prices make it easy to create quite an impact for not a lot of money.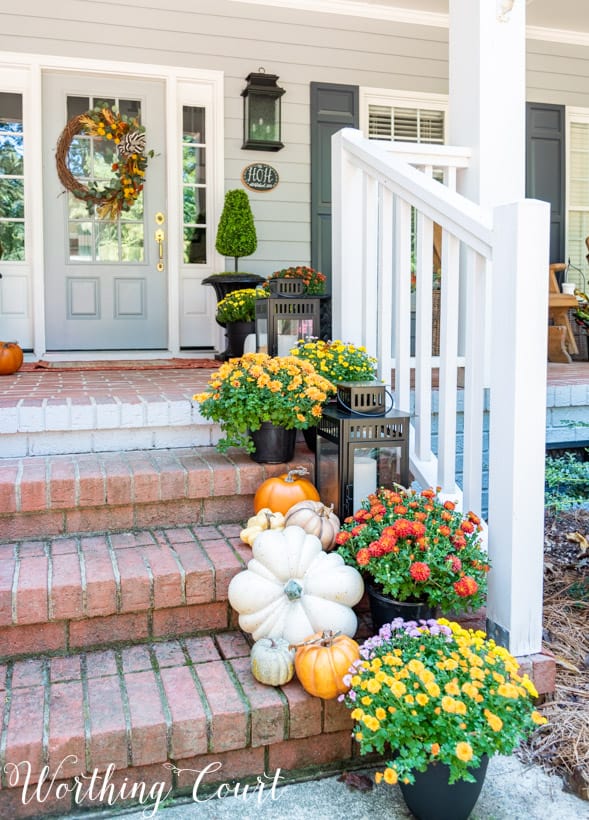 Plus – hello color! Mums come in so many beautiful colors! I even found some that were three colors combined into one pot. Obviously, I took full advantage of the great prices.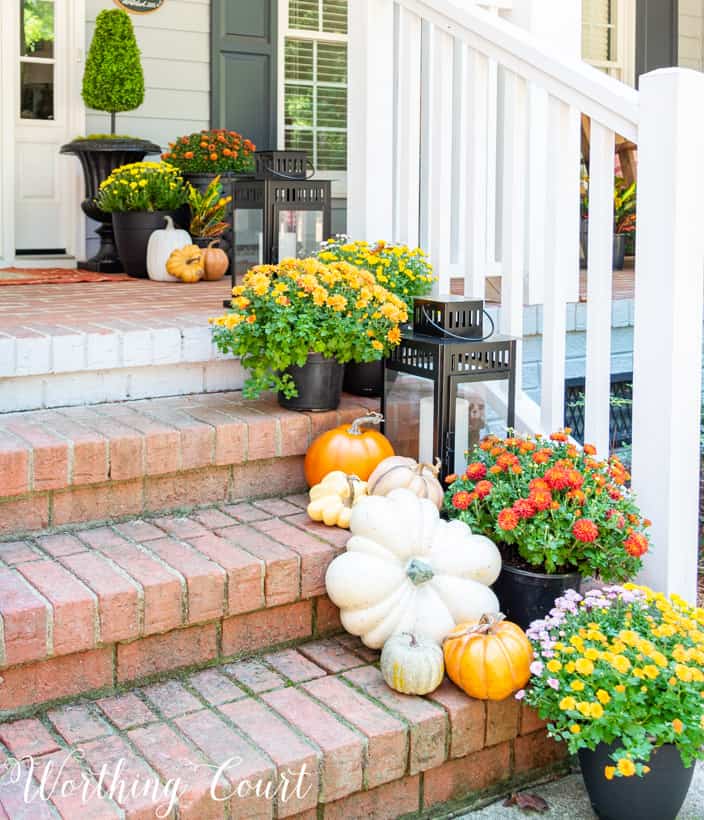 I sure do hope you enjoyed the tour and found some front porch decor ideas for your own entryway this fall! Click HERE to see the interior of my home decorated for fall this year.
Be sure to scroll on down to see the inspiration from every one else on the tour.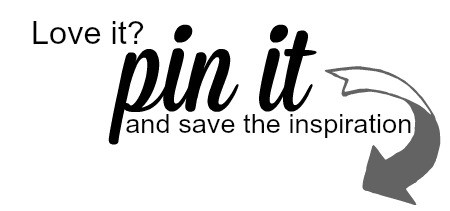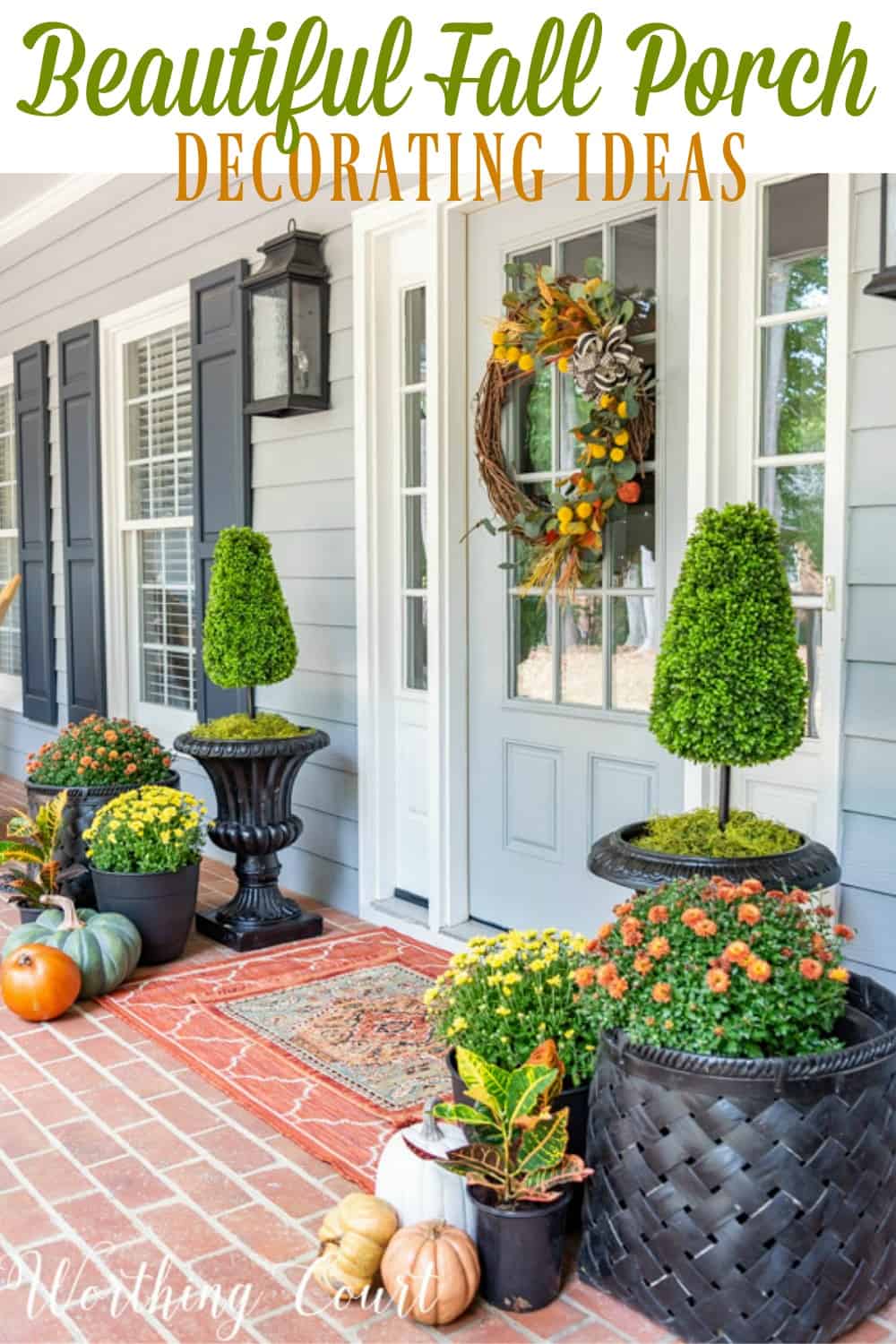 Monday ~ Mantels
Tuesday – Tablescapes
Wednesday – Wreaths

Pin
Petticoat Junktion / Lora Bloomquist / Exquisitely Unremarkable
Bliss Ranch / The Interior Frugalista / Chatfield Court
Thursday – Crafts & DIY
Domestically Speaking / DIY Beautify
Homeroad / Christina Faye Repurposed
not pictured Weekend Craft
Friday – Porches

Pin
The Chelsea Project / Vinyet etc / Worthing Court
Cottage at the Crossroads / House of Hawthornes / Hymns and Verses