These cute fall porch ideas are simple to do and will add cozy and inviting curb appeal to your home.
Get your porch fall ready with any of these 12 cute fall porch ideas!  From decorating with wreaths to containers to pillows to lanterns and more, I've gathered a slew of ideas and inspiration that you can use at your own home!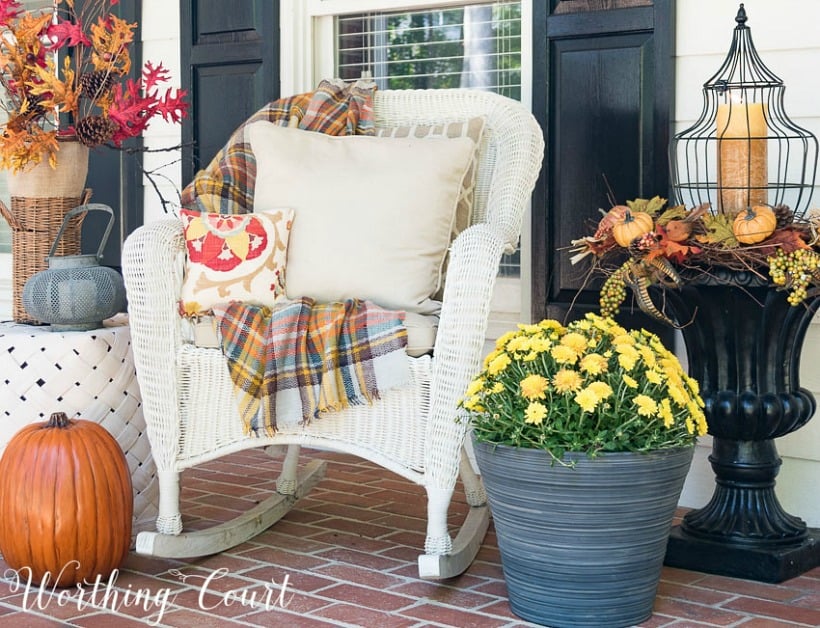 I'm guessing that this is the time of year when you're preparing to add some cozy fall decor to the interior of your home, but let's not forget about the front entryway!  The front entrance to your home is the #1 chance you have to make a good first impression and for making guests feel welcome.
I tend to decorate with traditional fall colors, so read on if that appeals to you!  I've added a link to the blog post that you can click on that corresponds to each of the photos just in case you'd like to see the rest of the porches or get more information.
FALL CONTAINERS AND URNS
These urns were inspired by some of the very expensive pre-made fall urns that I've seen in home decor catalogs, but they were very inexpensive and simple to put together.  Top a container with a grapevine wreath, add a lantern that will fit into the hole in the middle of the wreath, add a fall candle and then simply poke fall picks into the branches of the grapevine wreath.  You can't get any easier than that!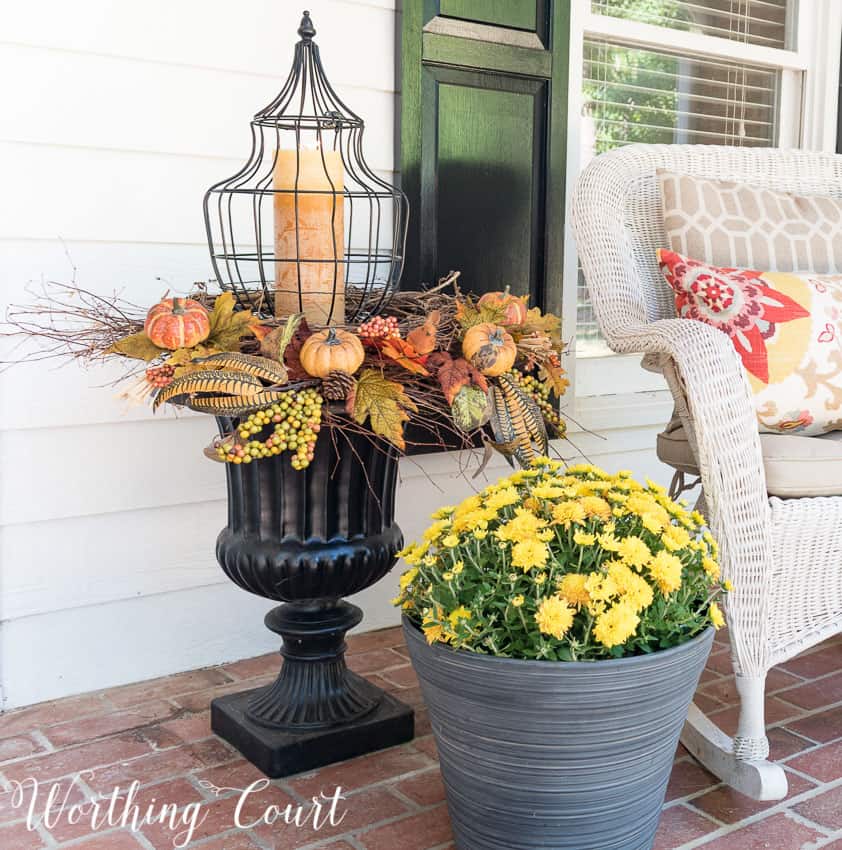 These urns probably took me all of 5 minutes to put together!  I stacked two grapevine wreaths on top of each urn, added a fall pip berry vine and then topped each of the wreath stacks with large faux pumpkins.  TIP: if faux pumpkins are too bright orange for you, simply add a coat of dark wax to them, which is what I did with these.
You don't need any elaborate decorations to make your front porch welcoming this season.  The wreath is the star, but the rest of the decor is kept very simple with the addition of just a few mums and a single lantern.
I love to keep ivy growing in my containers year round, so that all I have to do is add simple touches of current season's decor.  In this case, I simply set a few coleus plants (still in their pots) on top of the soil and added a few faux pumpkins.
FALL WREATHS
In my opinion, the next easiest thing to purchasing a ready made wreath, is putting together a hanging door basket.  They're often more interesting than a wreath because a basket on your door is a little unexpected, plus you can say that you made it!
Simply fill a basket with an abundance of faux stems in various heights.  Be sure to arrange them so that the tallest stems are in the back.  Done!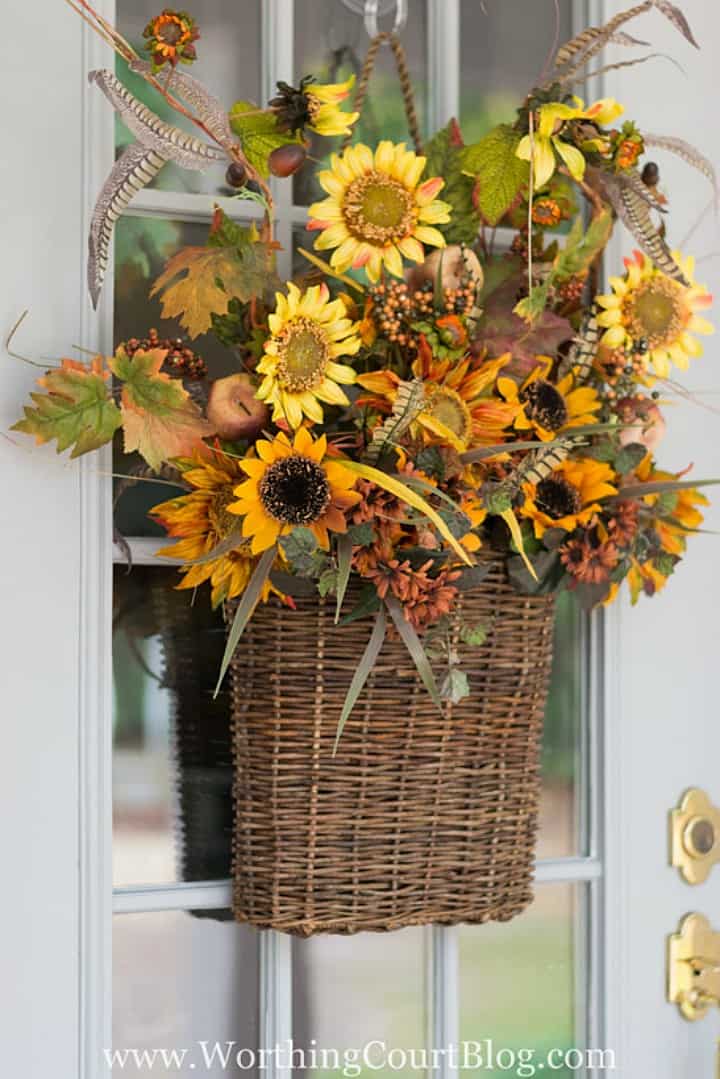 Trying to incorporate coastal style into fall decorating can sometimes be a challenge.  If you can't find a wreath to reflect your style, paint the pumpkins on an existing wreath in your favorite coastal colors, then add a few starfish and pieces of ribbon with hot glue.
To make this fall wreath, I purchased long stems of faux bittersweet, cut them into shorter pieces and poked the ends in between the branches of the wreath.  I could have left it just like that, but to give it an extra pop, I also poked in a few fall picks to the bottom.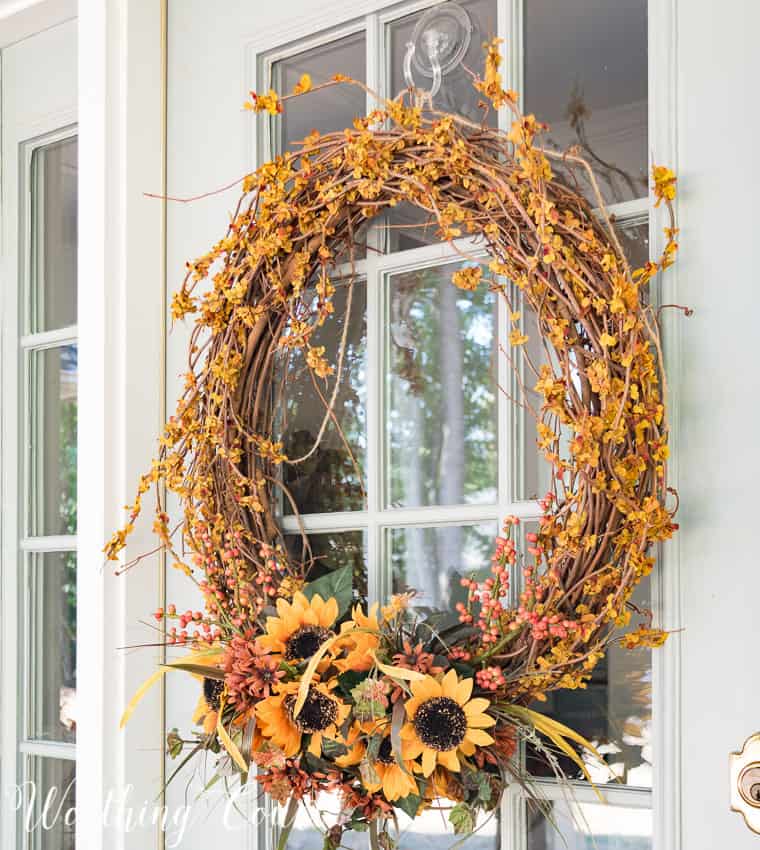 If you love simplicity, then you'll love making a fall wreath from an embroidery hoop.  Click over to the blog post for complete directions for this easy project.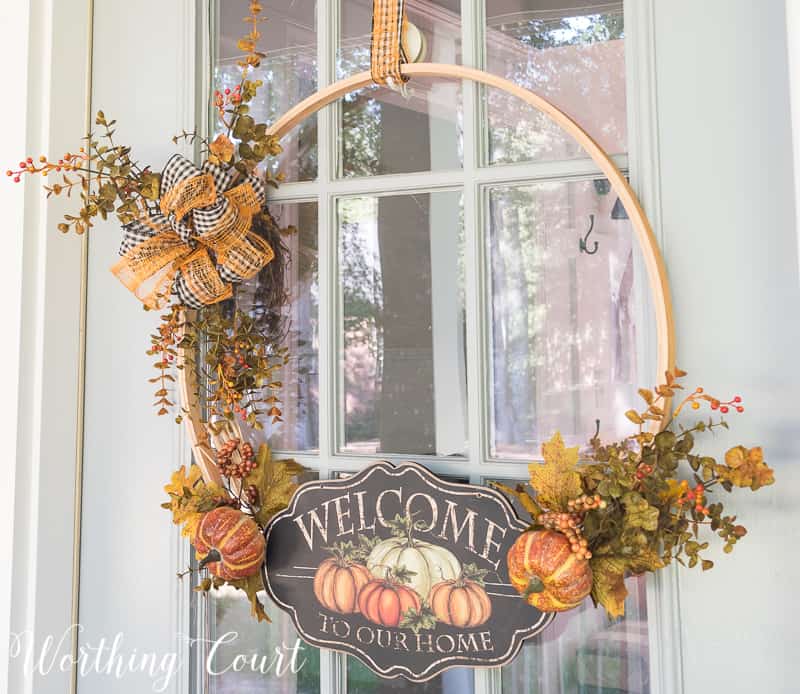 You can't claim that you're too busy to make a wreath for fall with this idea.  All you need to do is wire a pre-made eucalyptus wreath to a twiggy grapevine wreath.  Then simply cut the pumpkins from mini pumpkin stems and poke them in between the leaves.  I think this took me all of 5 minutes!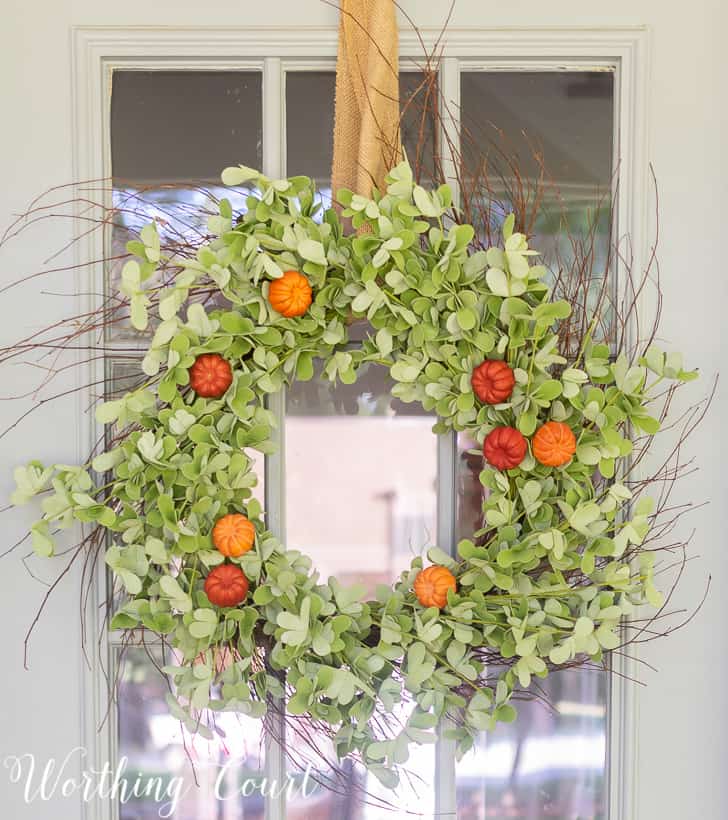 FALL SEATING, PILLOWS, THROWS AND DECOR
Oversized blanket scarves make great stand ins for a full sized throw and are usually much less expensive!  Add a couple of cute fall pillows to finish the spot off.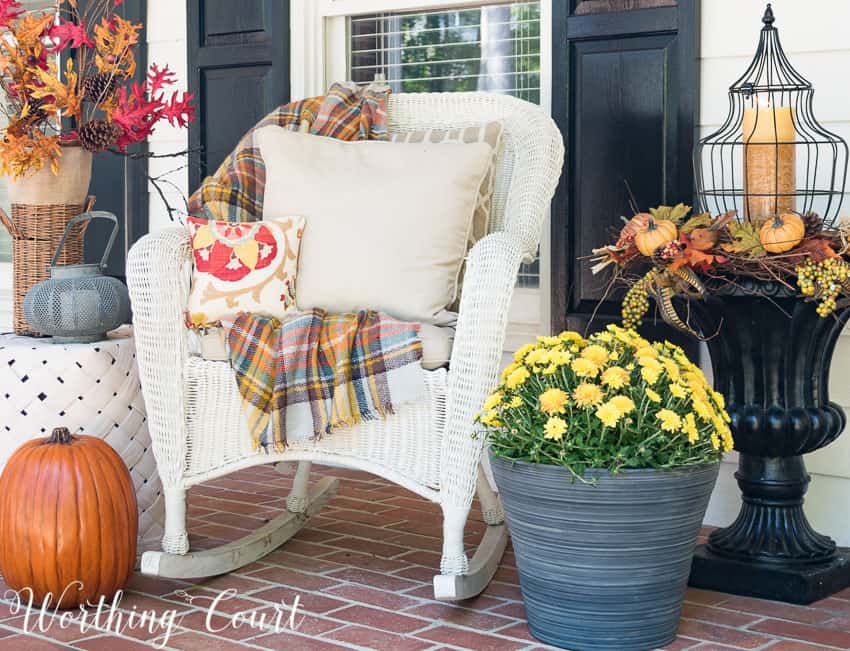 Here's another cute fall porch idea that'll give you a coastal vibe.  Fill a bucket, basket or other container with a variety of pumpkins, paint a few the pumpkins in your favorite beachy color and add a starfish or three!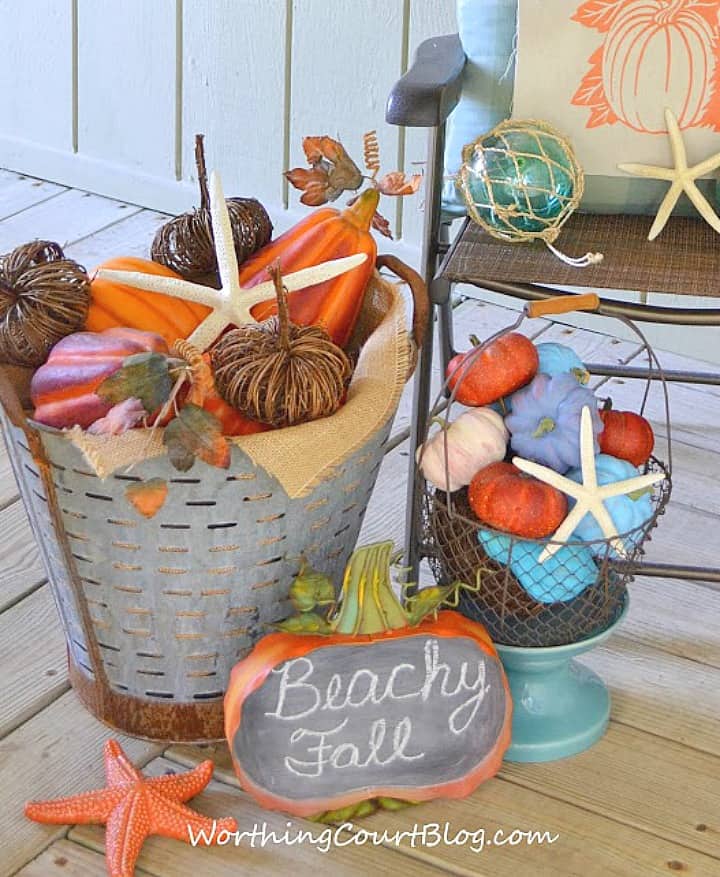 Don't be afraid to mix patterns!  The throw, the striped pillow and the pumpkin pillow mix well together because they all have colors in common and the sizes of the patterns don't fight with one another.