Keeping The Fall Decor Simple In My Foyer + A Video Tour
Welcome to fall at Worthing Court – I'm excited to invite you into my home!  This time of year you'll find the fall decor in my foyer to be cheery and welcoming.  Nothing fussy, overdone or complicated allowed!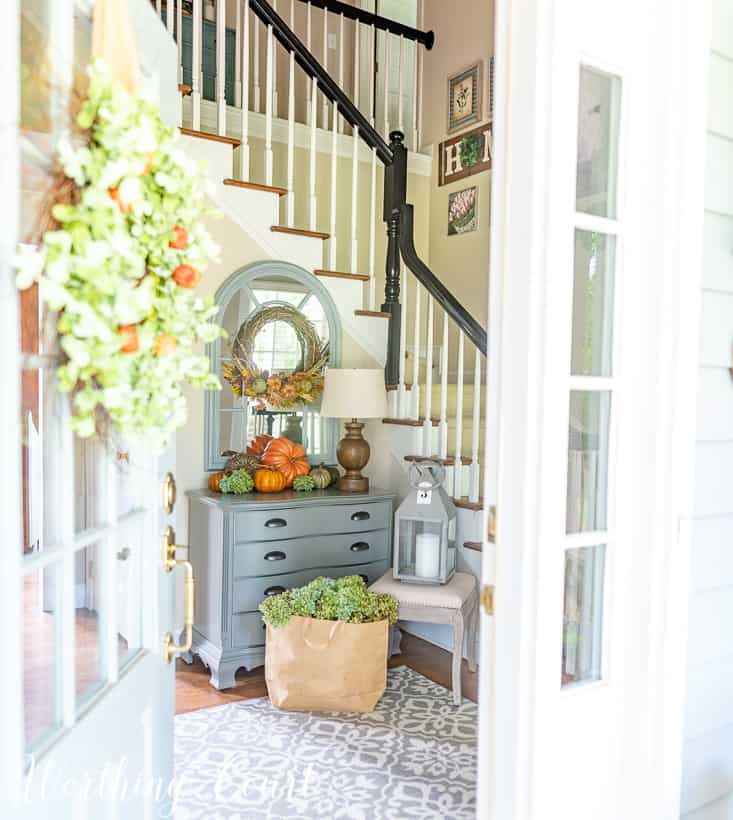 Pin
I've used a variety of colors for the fall decor in the entryway this year.  Since the foyer sets the tone for the rest of the house, I've included beautiful colors in this space that you'll see in other rooms too.  Plus there is a video (find it down below) of the entire space, taking a peek into some of my other rooms to help it all make sense.
Colorful Fall Decor
I don't have traditional fall colors or blue hydrangeas in every room, but those colors can be found in some of the rooms, so the foyer is a good space to tie it all together.  Besides – name a color that doesn't look awesome with blue and green hydrangeas!! 😀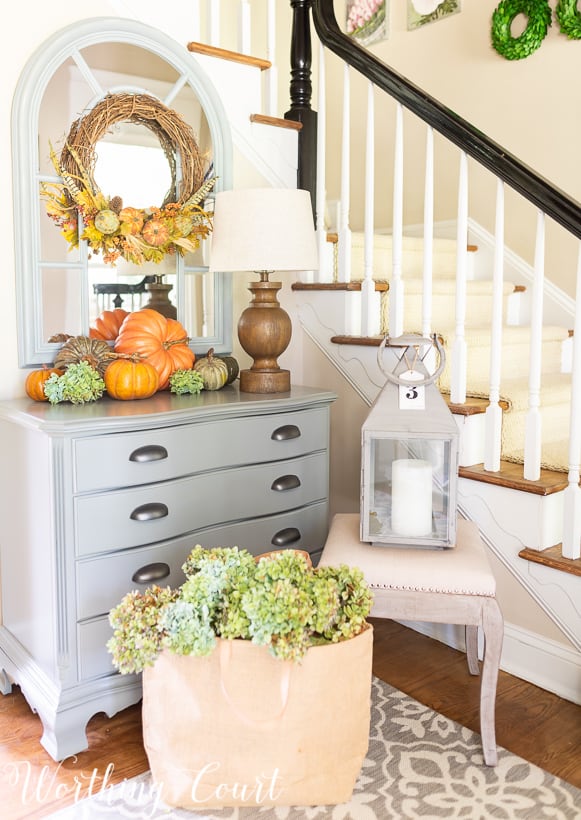 Pin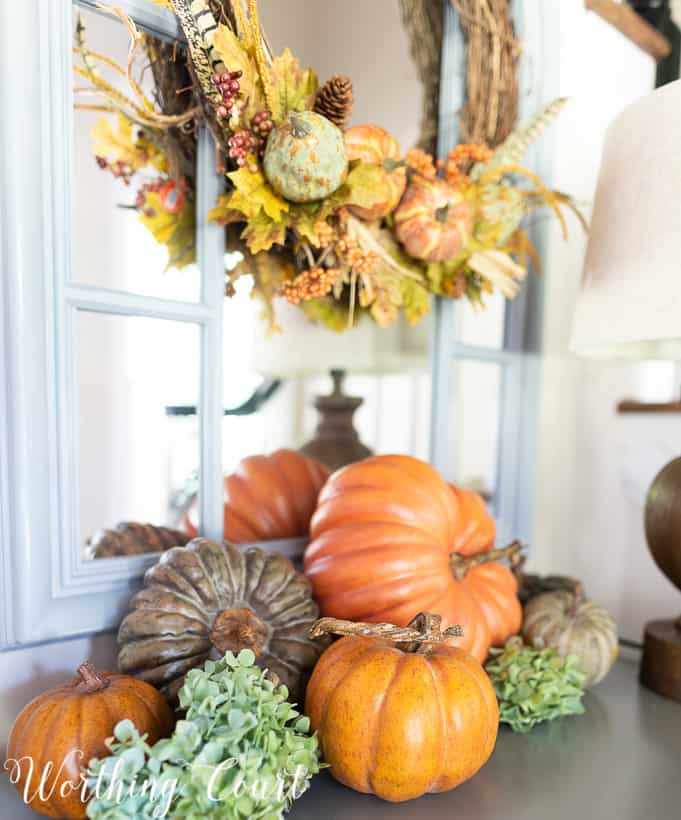 Pin
The DIY fall wreath hanging on the mirror is just about the easiest thing in the world to make!  It consists of four fall picks that are literally wedged into the branches of a grapevine wreath and then fluffed a bit.  That's it!  I made sure that the picks I chose contained all of the elements that I wanted to include – pumpkins, berries, fall leaves and feathers.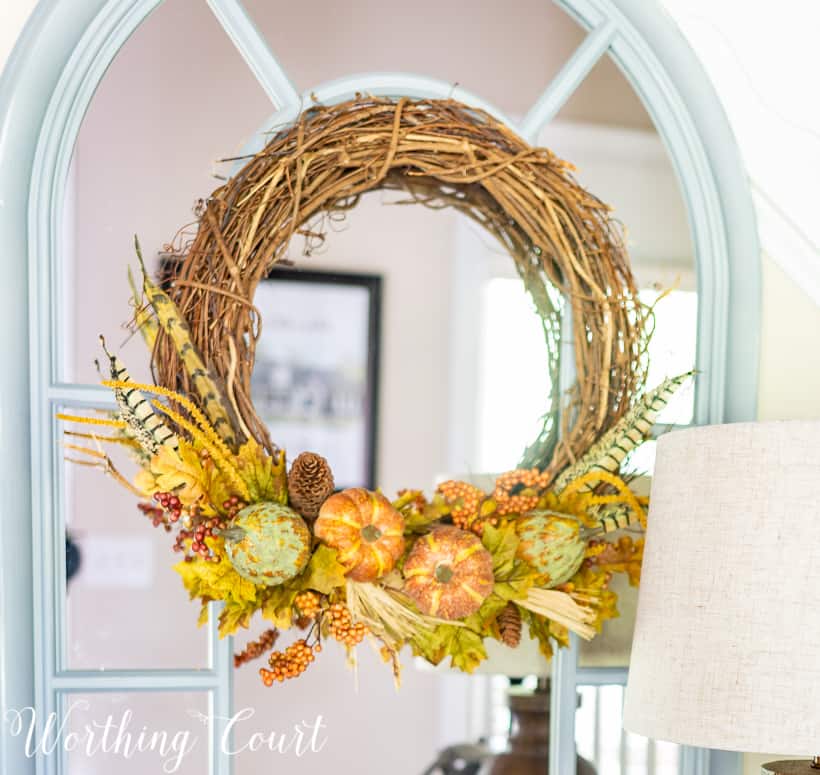 Pin
The fall decor on the chest may be showing off a bounty of pumpkins, but I've kept the rest of the foyer very, very simple.  Instead of loading down the board and batten wall with all the things, I only added a couple of touches for fall.  Keeping the fall decor easy and simple throughout my home was my mantra this year.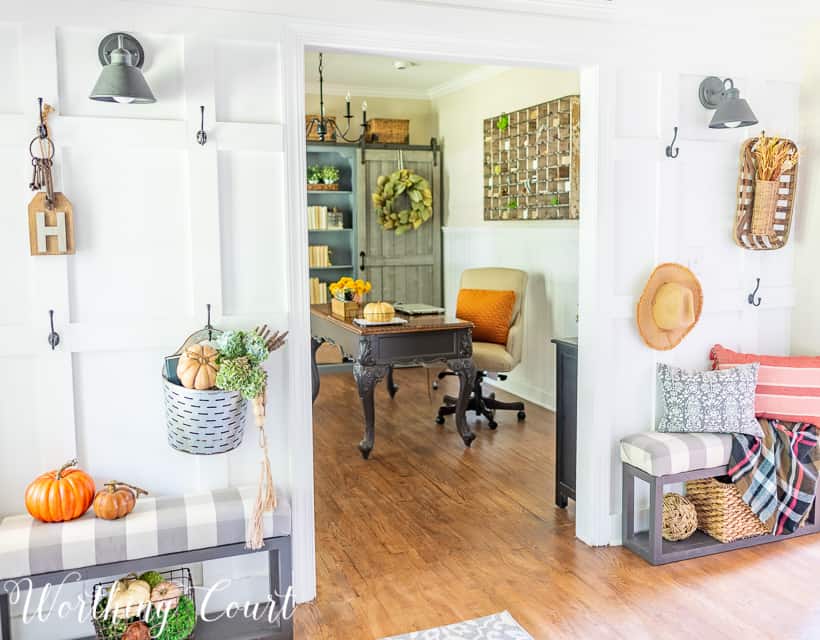 Pin
My foyer is an awkwardly shaped, difficult area to photograph that isn't very large, so I have to show you small snippets.  To make matters even more complicated – in true 'keeping it real' fashion – the steps themselves were piled with things that needed to be taken upstairs, so I had to keep them out of the photos.  Oops.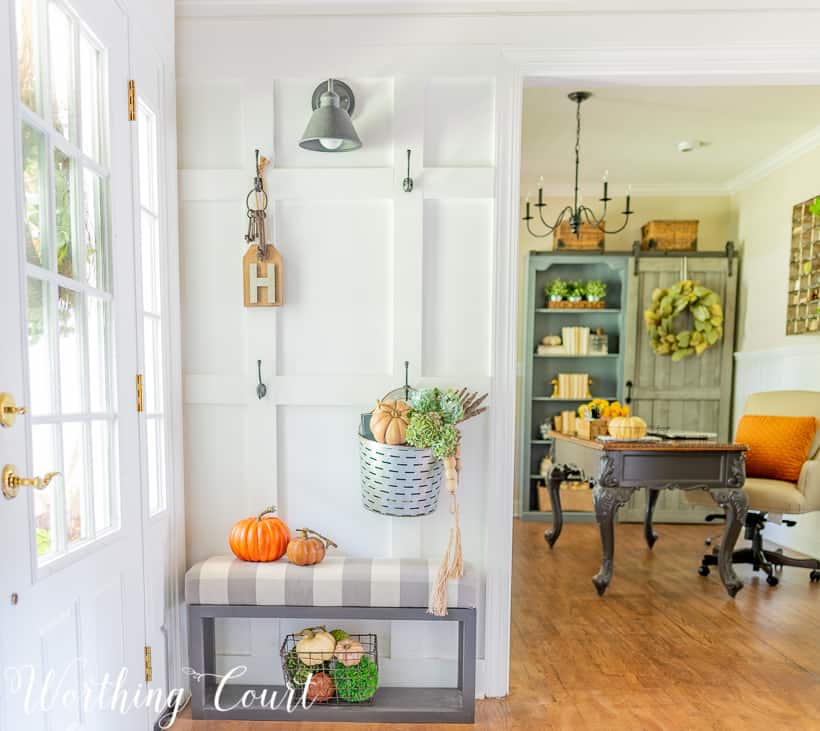 Pin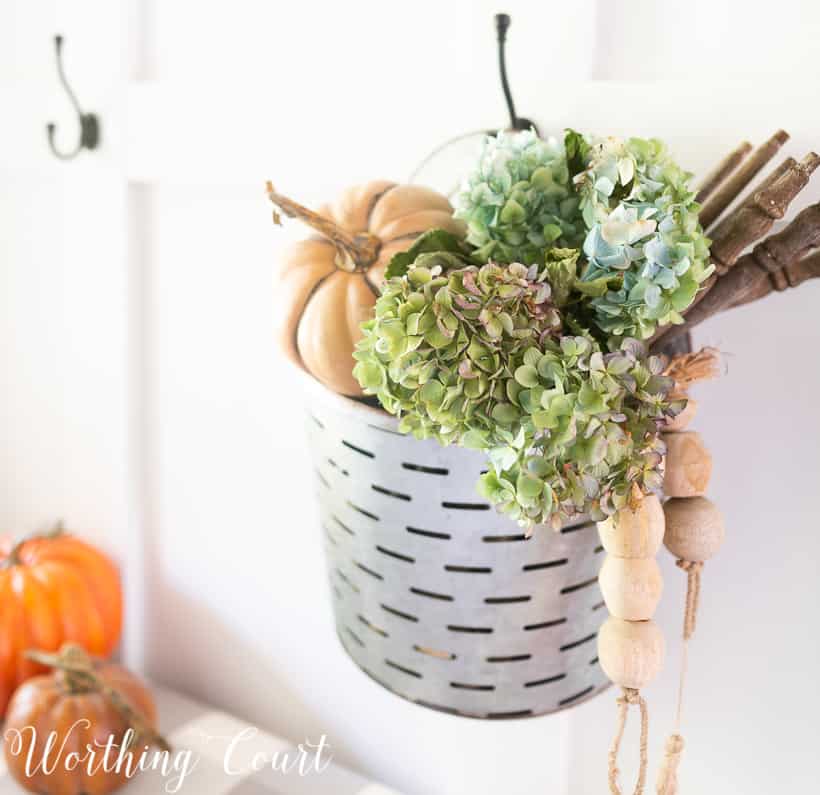 Pin
When you enter our home through the front door, both the office and our family room are right off of the foyer and then the dining room opens right off of the home office.  That's why it's so important for me to make sure that I use colors in the entryway that will tie the fall decorations throughout the rest of the house together.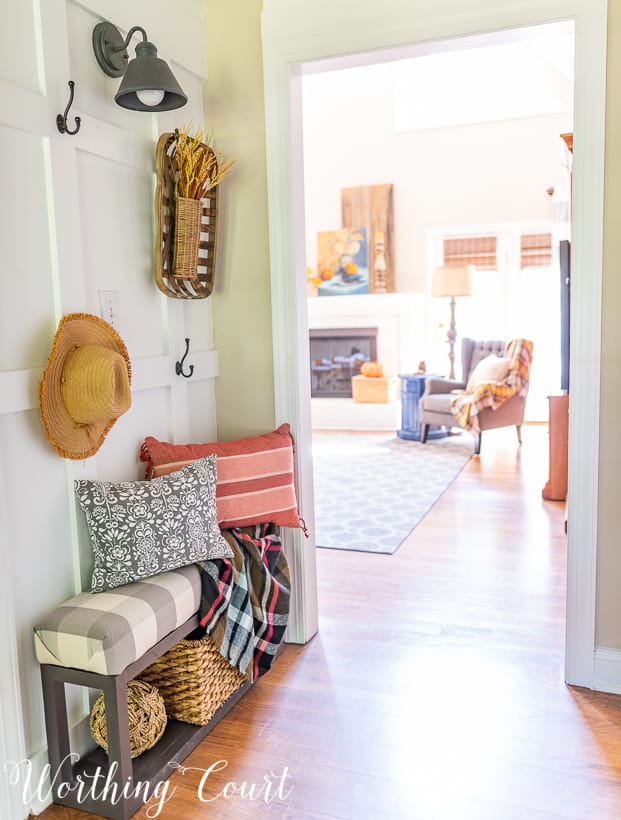 Pin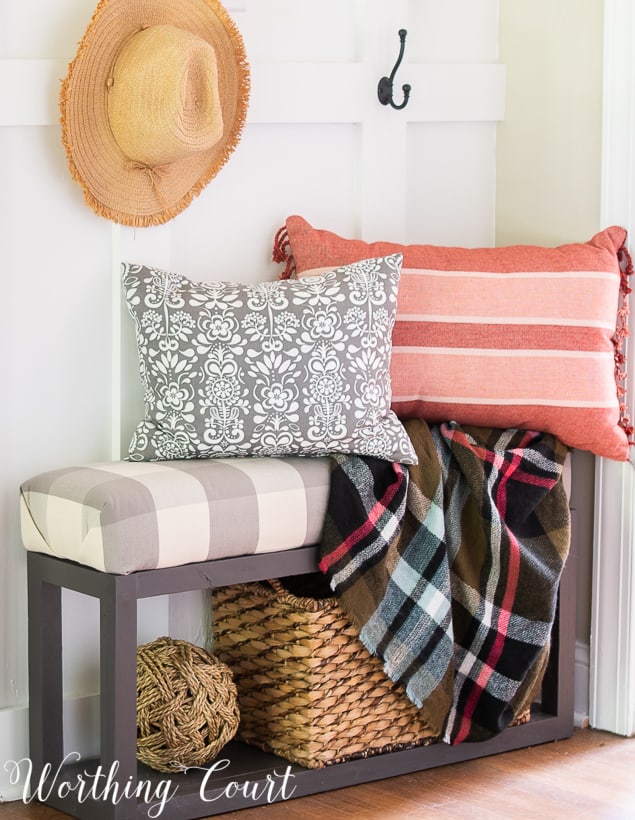 Pin
TAKE THE VIDEO TOUR!
https://youtu.be/AwrFYljhoFU
Thanks for stopping by for a visit today!  You might want to take a tour of how I decorated my foyer for fall last year too!
YOUR FOYER IS THE BEST PLACE TO WELCOME FALL INTO YOUR HOME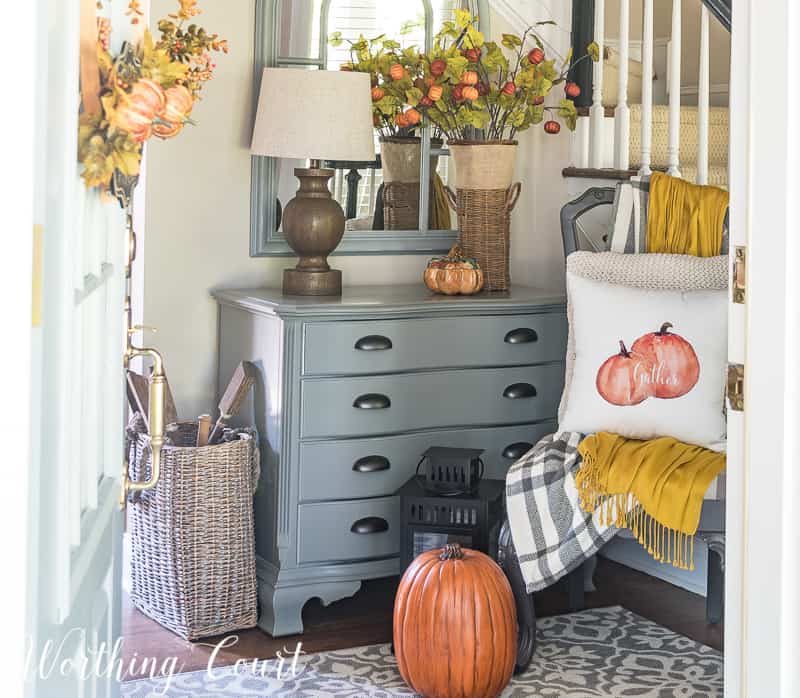 Pin