Today I'm opening the doors wide and welcoming you to fall at Worthing Court!  I want to kick off this fall season by sharing simple decorating tips and ideas to inspire you when adding fall decor throughout your own home.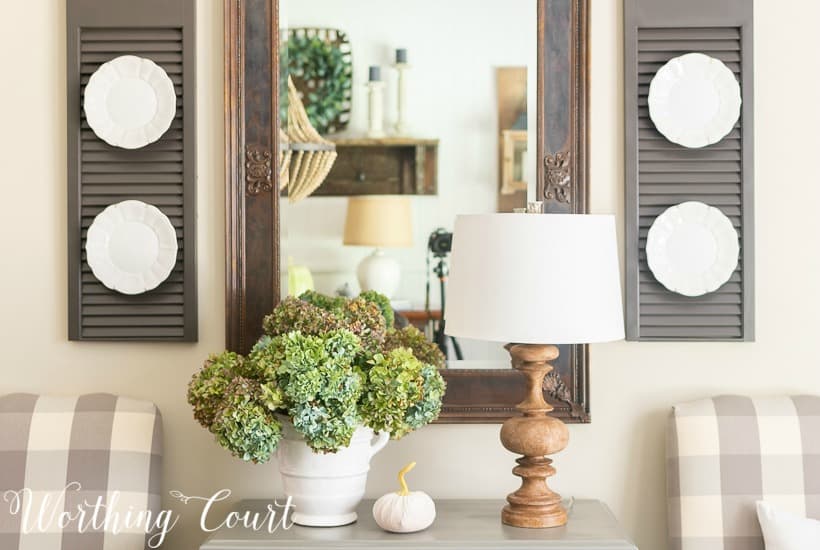 To get ready, I've spent the last couple of weeks de-summerizing, fluffing and getting my home ready to shine for the season!  My mantra was to keep things simple and easy to do.  When I don't restrain myself, I tend to go overboard and pull out all the things.  But this year I kept reminding myself of that thought every time I was tempted to add just a little bit more.  😀
After years of being intentional about collecting and building my fall decorations stash, there was very little that I needed to purchase.  You'll see a couple of new pillows and a few borrowed and new pieces of copper, but that's about all I needed to add to keep my fall decor looking fresh.  Full room reveals will be coming later, but today let's take a little advance peekaboo in all the rooms.

The shelves in my breakfast room are always one of the first places that I change whenever I'm redecorating for a season or holiday.  They're in a prominent place so they usually set the tone for a lot of what goes on in the rest of the house.  Not that I match everything in all the rooms, but I do want to make sure that the decorations throughout all the rooms flow together, so that none of them fight with each other.
This year, I focused on using copper on the shelves.  The glow of copper has a warmth like no other and its color mixes so well with anything that I combine it with.  One of my favorite vignettes for this fall is a display of copper Moscow mule mugs on a two tiered tray on the sideboard, which is right below the shelves.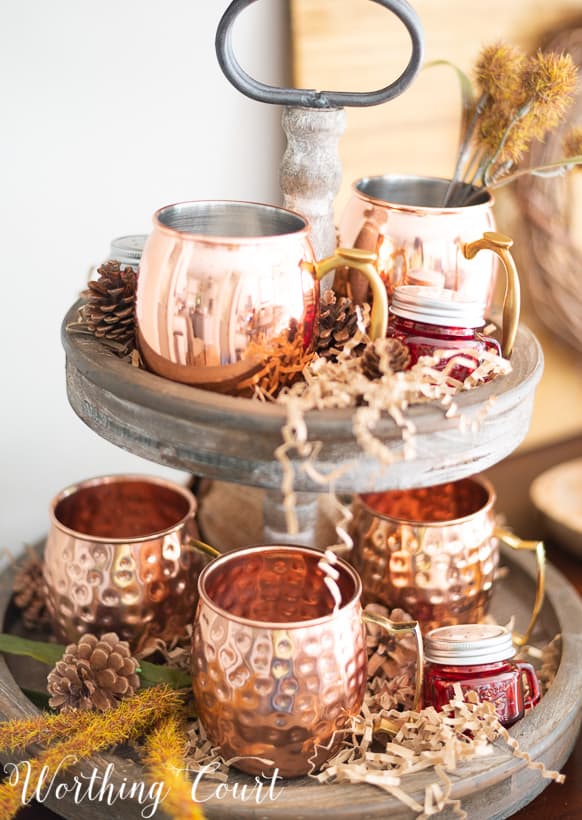 I also added a few copper touches to the kitchen, which is located at the other end of my breakfast room.  A bundle of wheat paired with a copper bowl filled with small pears and one of the best smelling candles I've ever had looks so pretty on the island!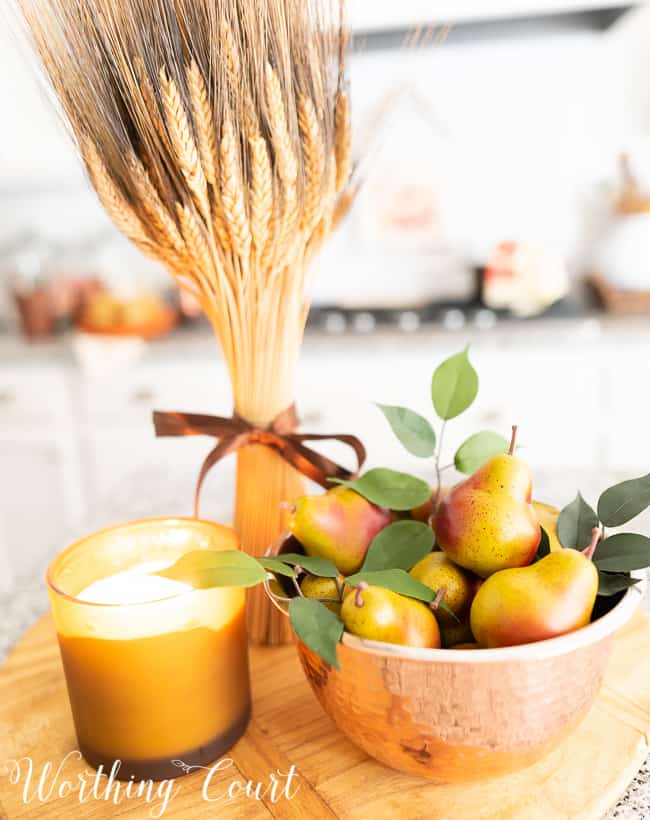 There's another little touch of copper on the coffee table in my family room where I've filled a brushed copper bowl full of mums!  Since I can't get a live mum to live very long indoors, I created the arrangement by simply clipping all of the stems from an artificial foliage bush and placing them just so in the bowl.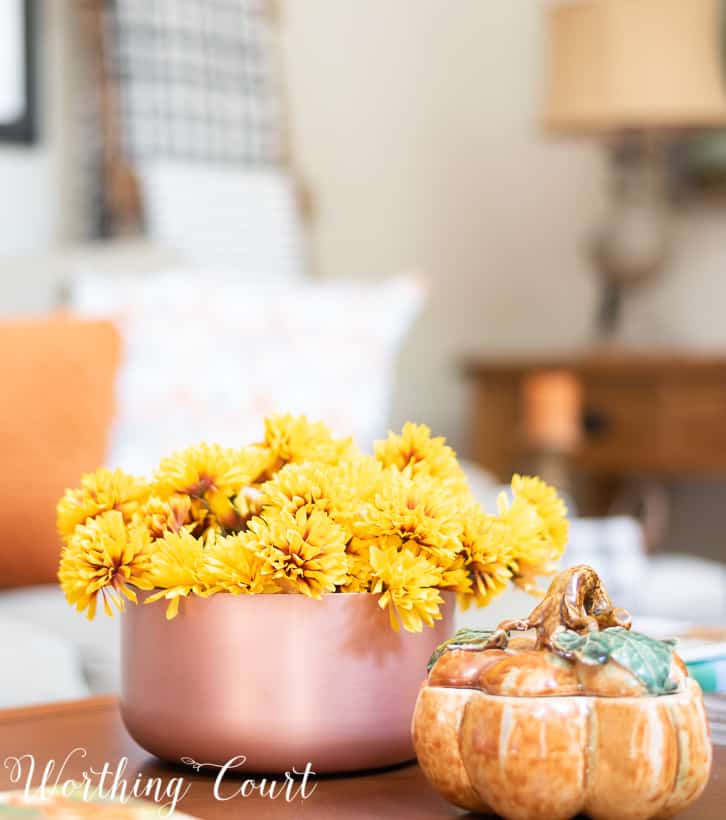 No self-respecting fall home decor would be complete without a few pumpkins!  So, the chest in my foyer is sporting a mound of  pumpkins in all sorts of shapes, sizes and colors.  I introduced shades of blue and green by tucking in a few dried blooms from the hydrangea bushes in my yard.  You'll see why I added those colors to the mix down below.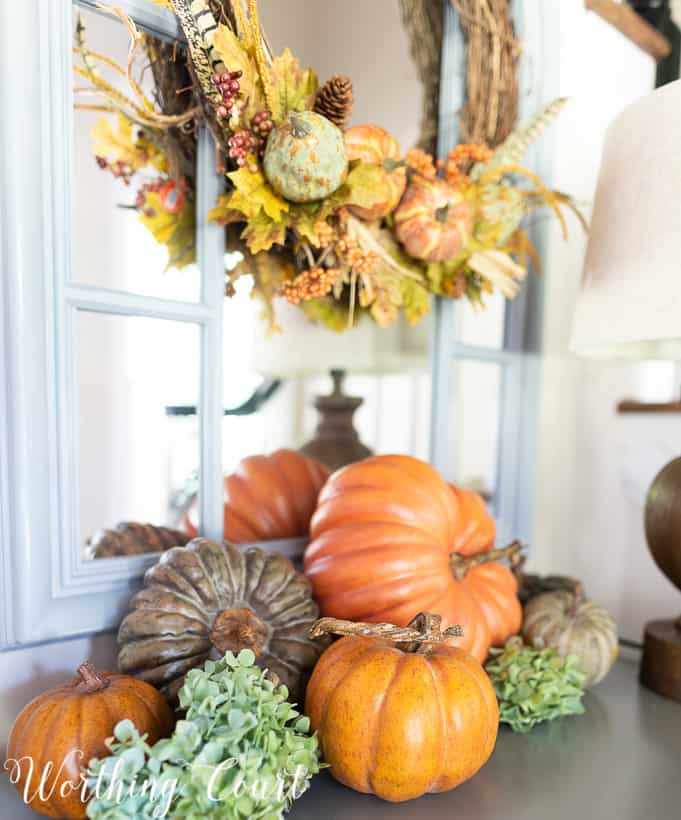 A few more hydrangea blossoms were included in a cute galvanized metal bucket that I have hanging on the board and batten wall that surrounds the opening to our office.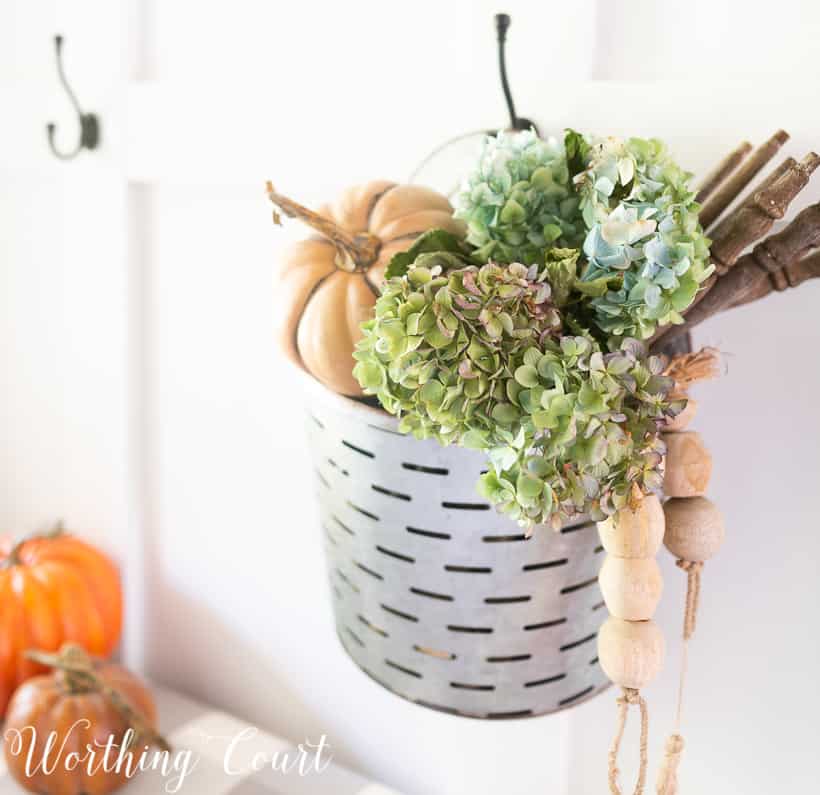 And here's what I'm calling the pièce de résistance – this glorious arrangement of dried hydrangea blossoms on the chest in my dining room!  This is why I added in the blue and green blossoms in my foyer – it's all because other rooms flow off of the foyer.  Remember that pesky thing about making the decorations in your rooms flow from one to the other?
I'm so, so proud of these babies that I placed the arrangement in front of a mirror for double the exposure!  I've never, ever had success getting my hydrangea bushes to bloom until this year.  All it took was for me to pay just a little attention to them by giving them enough water and making sure they were fertilized.  I'd say they rewarded me in spades, er blooms that is!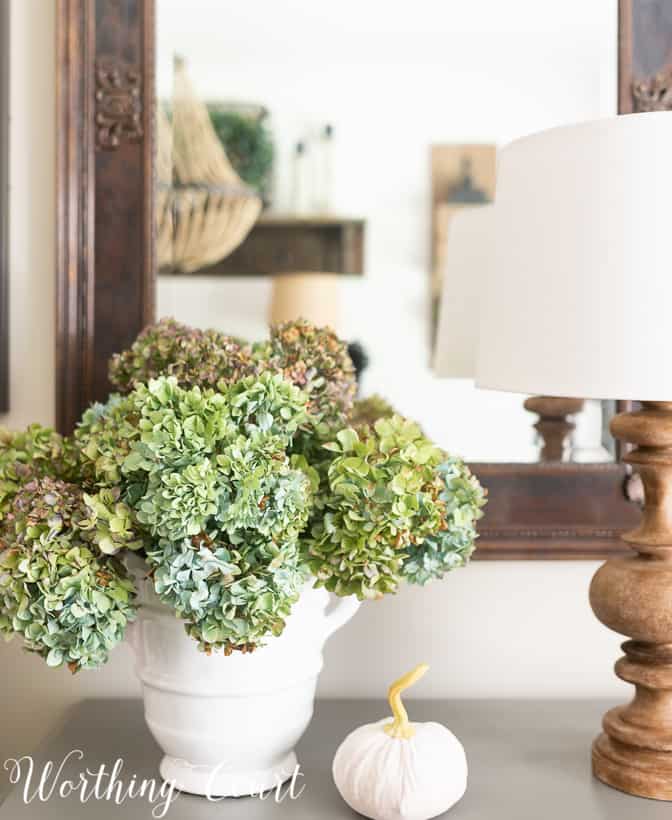 To keep my simplicity mantra going, the only outdoor fall decorating ideas I needed to use on my front porch was to add a couple of throws and some pretty pillows to set the tone for the whole house.  The colors in the throw and of the pumpkins on the pillow hint at what's to be found inside the rest of the house.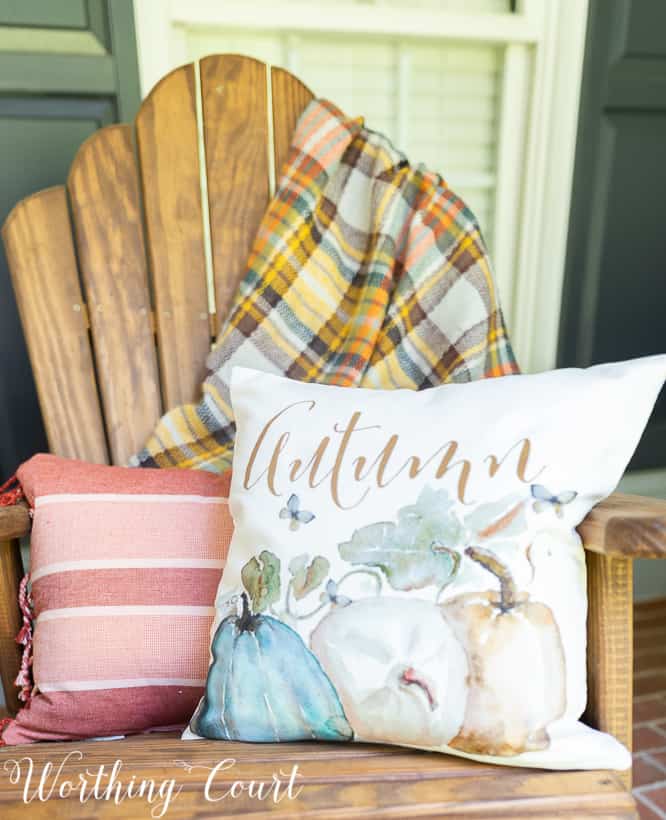 So there's a little peekaboo at what's to come at Worthing Court this fall.  I hope you've found some ideas to inspire you with your own fall decorations!