Outdoor Summer Decorating Trends
Looking to freshen up your outdoor decor this summer? Here are the latest summer decorating trends, plus a shopping guide to help you achieve the perfect look.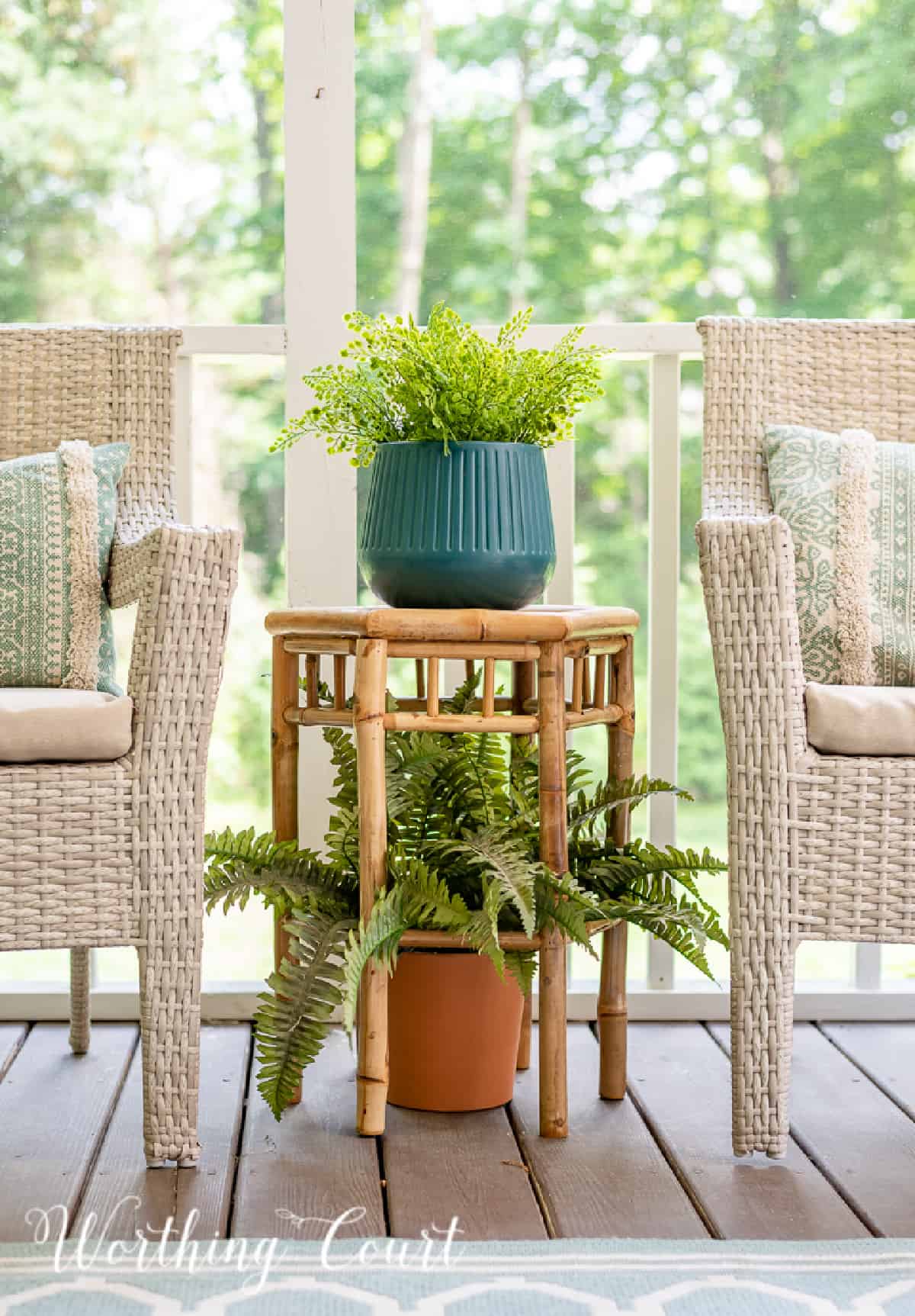 From bright and bold colors to, fresh seasonal accents to natural textures and materials, you'll find everything you need to create a stylish and inviting space.
BRIGHT COLORS
Using bright colors can create a fun and inviting atmosphere in your outdoor area.
You don't need to go overboard – use them in small doses instead, such as painting your front door or window shutters, adding colorful outdoor furniture or cushions, or using bright flowers in your garden or in pots.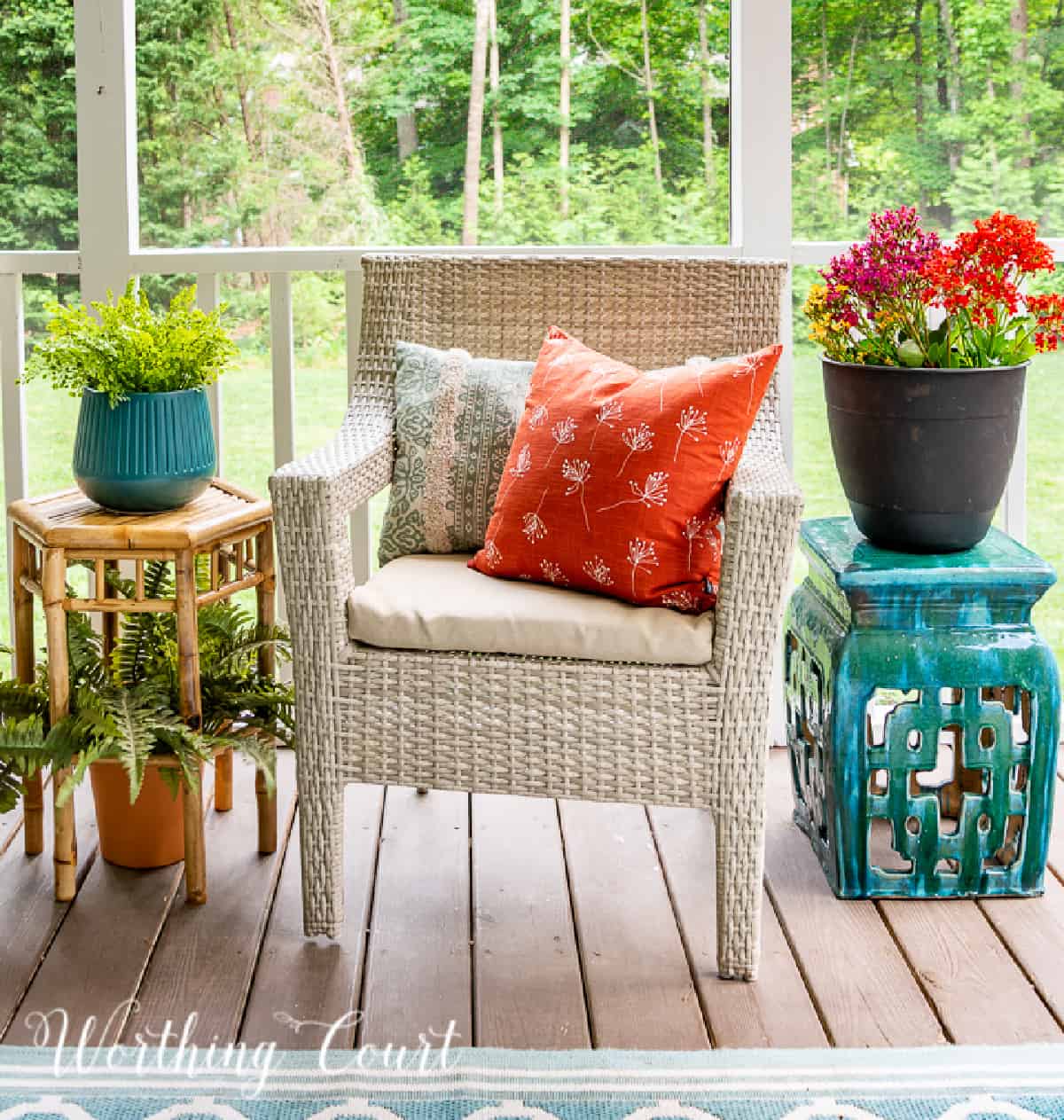 Just make sure to balance the colors with neutral tones or other muted colors to avoid overwhelming the space.
There's no easier way to add small pops of color than with pillows! Here are a few outdoor-safe pillows and pillow cover favorites of mine.
And don't forget outdoor-safe pillow inserts for those pillow covers. THESE are the ones that I use.
NATURAL MATERIALS
Natural materials are the way to go if you're looking to bring a sense of warmth and texture to your outdoor space.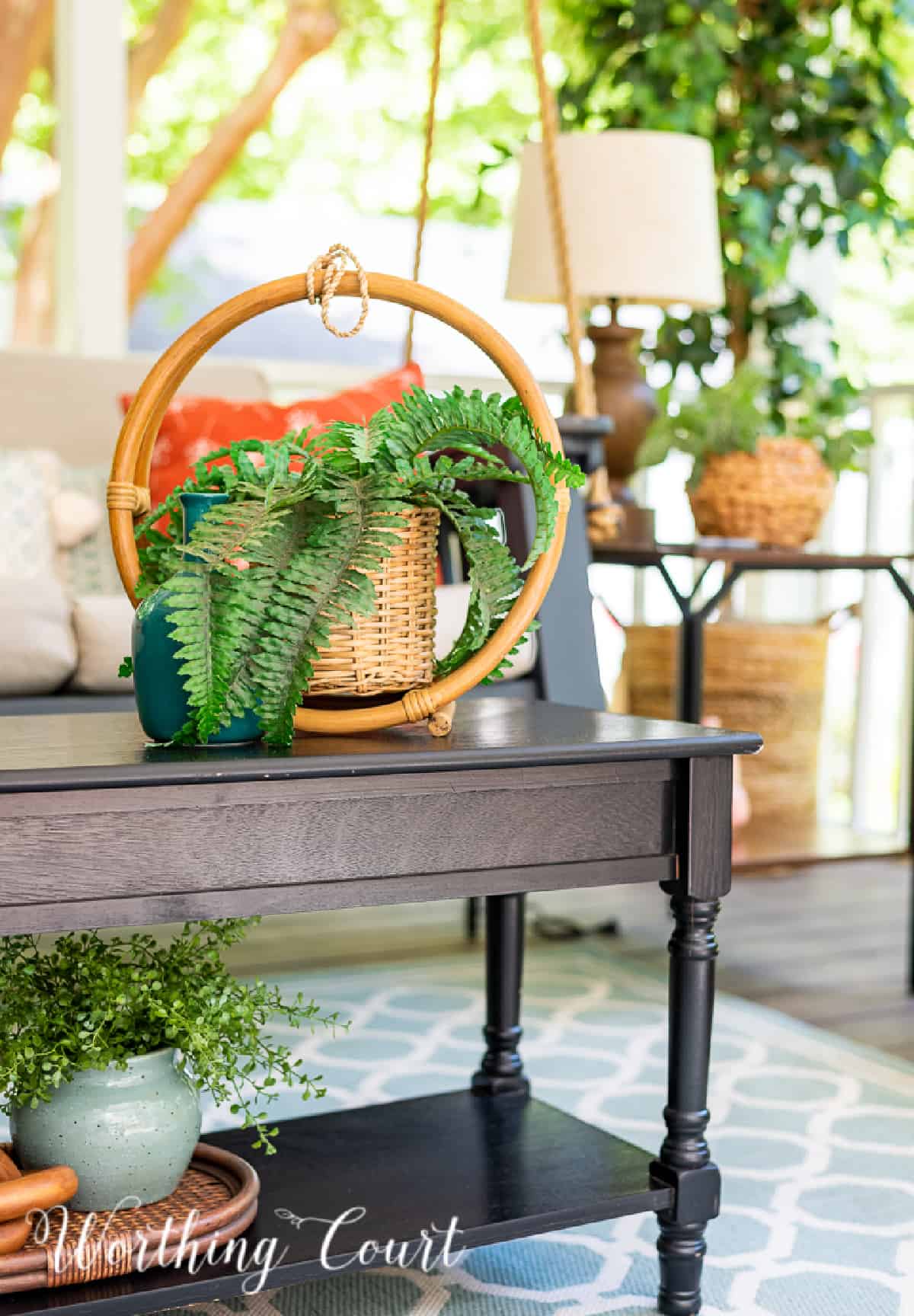 Materials such as wood, stone, and rattan can create a natural and earthy ambiance. You can use wooden furniture or accents, like benches, chairs, and tables, to create a warm and welcoming area.
Natural materials can blend seamlessly with the environment, making your outdoor space feel harmonious and cozy.
COASTAL/BEACHY
Coastal style decorating is such a popular design style, especially during the summer. It's a great way to bring a sense of calmness and serenity to your outdoor space.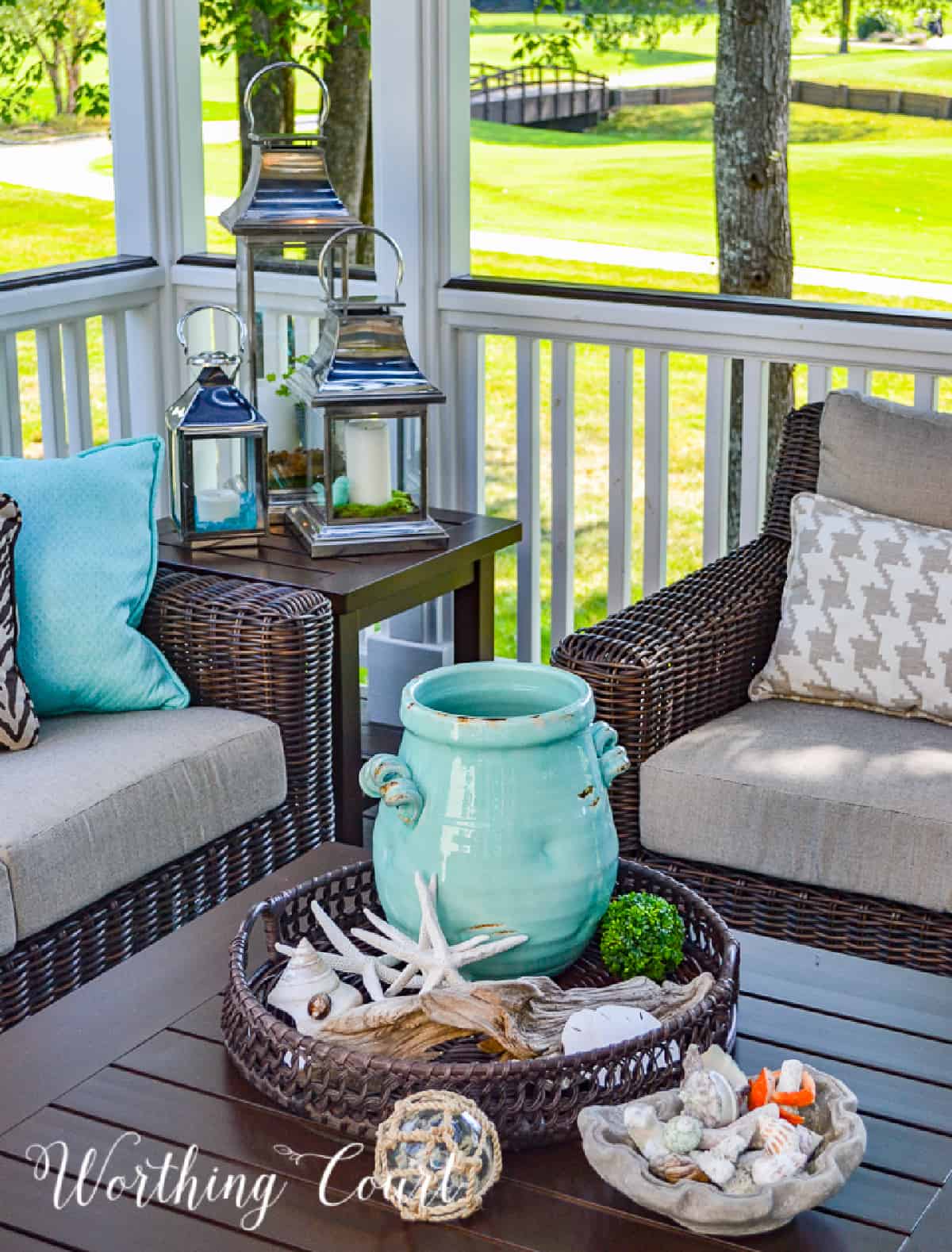 It typically features a light and airy color palette of blues, greens, and whites, with natural textures such as wood, rattan, and jute.
Small accents such as seashells, starfish, and piece of coral are perfect for scattering around on tables or benches.
Just as with using bright colors, this is another decorating style to be careful with. Too much and it might look the beach threw up on your porch or deck.
AL FRESCO DINING
Al fresco dining seems to gain in popularity more and more. Just take a look at the crowds filling outdoor seating areas at any reastaurant.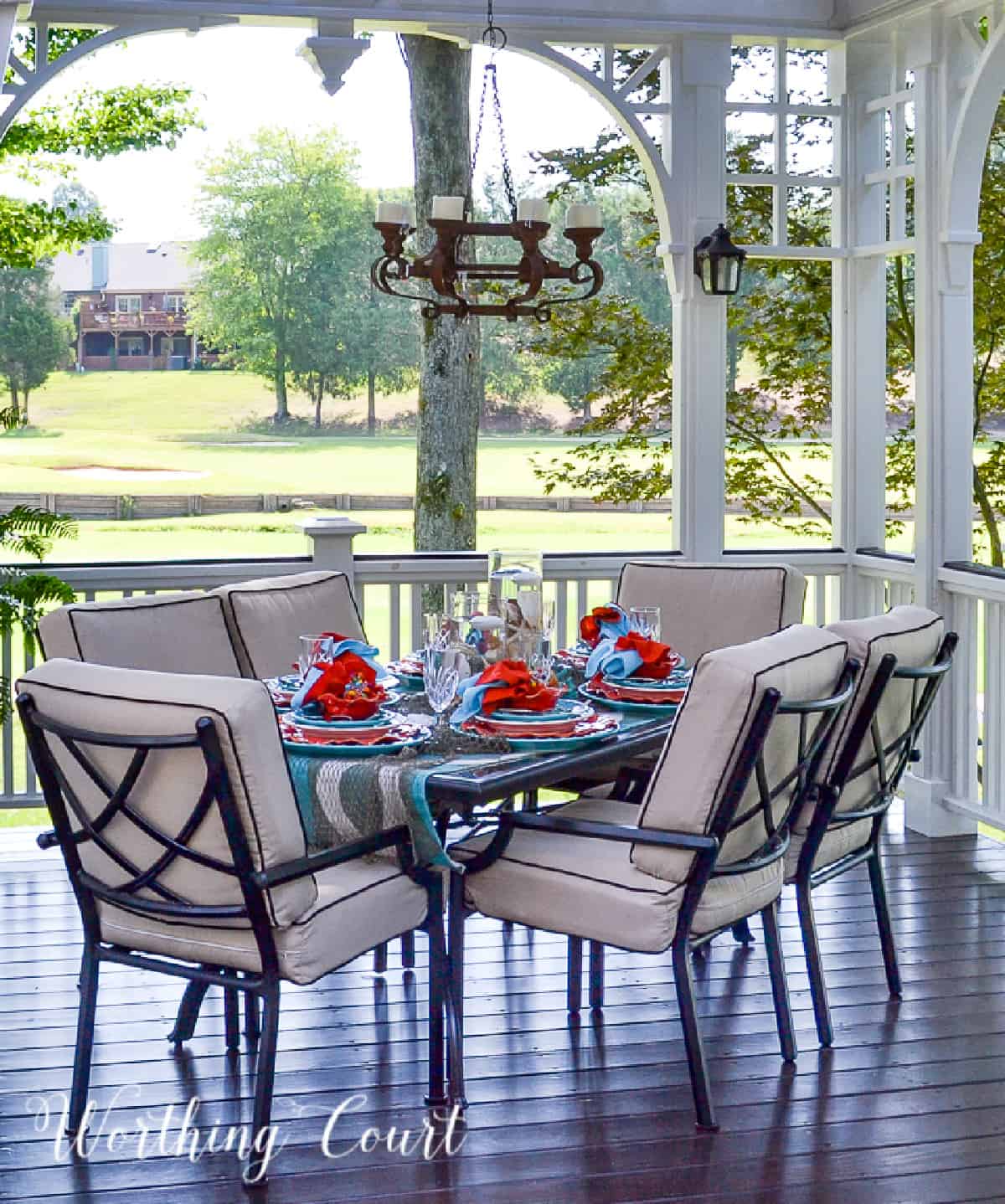 Start by setting the mood with ambient lighting, such as string lights or lanterns, to create a cozy and intimate setting.
Using outdoor tablecloths, placemats, or table runners will elevate the whole experience. Add decorative outdoor candles for a relaxing ambiance.
Comfortable outdoor seating with plush cushions and pillows can make your guests feel relaxed and at ease. Lastly, add personal touches such as place cards, decorative napkin rings, or custom wine glasses to make your outdoor dining experience unique and memorable.
RELAXING RETREAT
Summer is all about relaxation and staying cool. Creating a relaxing retreat outdoors can be a great way to unwind and recharge.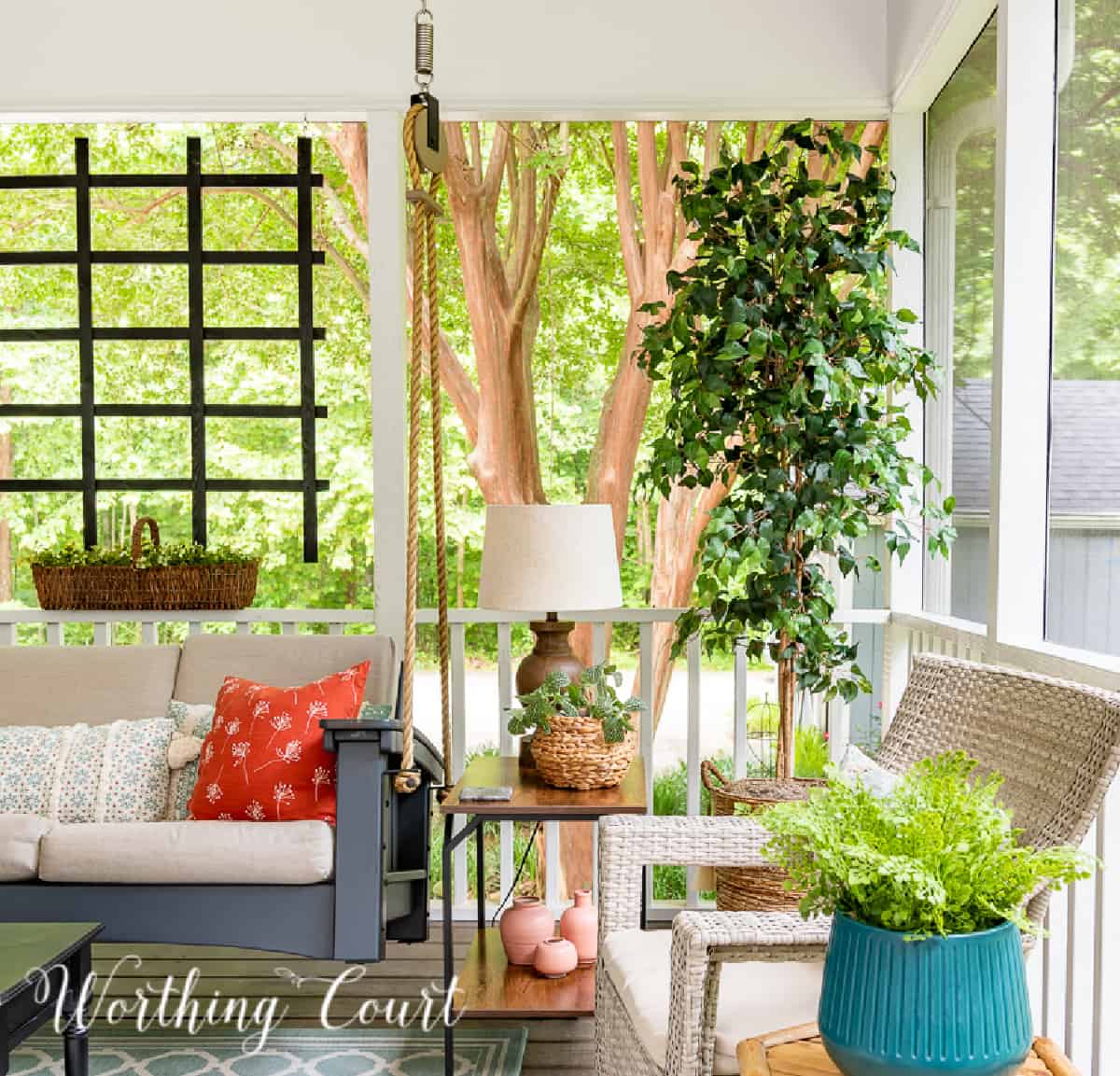 When it comes to relaxing outdoors, think swings, lounge chairs, the shade of an umbrella or a hammock, that allows you to stretch out and relax.
A small water feature will create a calming and soothing atmosphere. Ambient lighting, such as solar-powered lamps or candles, can create a serene ambiance in the evenings.
Small outdoor speakers for music for playing soothing music would be the ultimate way to top off a relaxing outdoor space.
Summer always promises to be an exciting time for outdoor living. With the right combination of colors, textures, and accessories, you can create a beautiful outdoor space that reflects your unique style and personality.