Come Home For Christmas Tour: My Cozy And Inviting Christmas Dining Room
Get your dining room in the holiday spirit with this festive combination of red, black and white Christmas decor.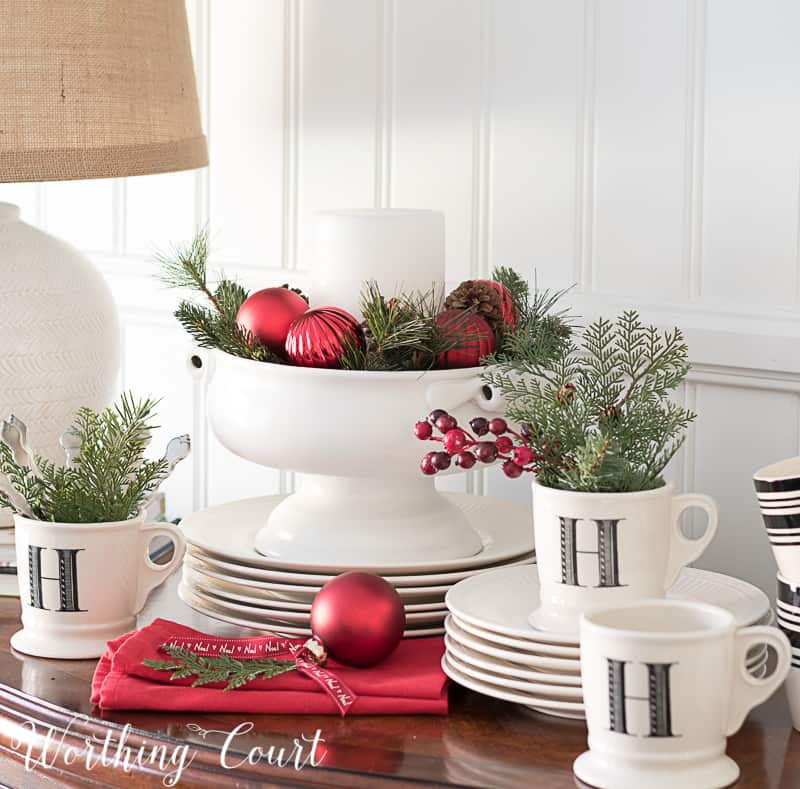 Pin
This will be our fourth Christmas in this house, but only the second time that I've decorated our dining room for the holidays. I had to wait until I completed the total makeover of the room before it could let me know what it wants to look like at Christmas. 😀
In my dining room last Christmas, I was all about using neutrals and burnished golds, even though most of the rest of the house was decorated with red and green and plaid. I did manage to bring a little bit of red into the dining room with a Christmas tablescape that I put together, but the room itself was still heavily on the neutral and gold side. I suppose I thought that a dining room is supposed to be a more formal space in a home, so I figured my Christmas decorations in that room needed to reflect that.
The problem was, the room didn't go with the rest of my house. Nor did it project that warm, cozy and welcoming feeling that I want to surround my family and friends with at Christmas. So this year, I mended my ways. I listened to the room and it told me that it wants to have a more relaxed and casual style. It wants to blend in with the rest of the decorations in the house. So…out with the neutrals and out with the gold. And in with my Christmas'y red, black and white color palette!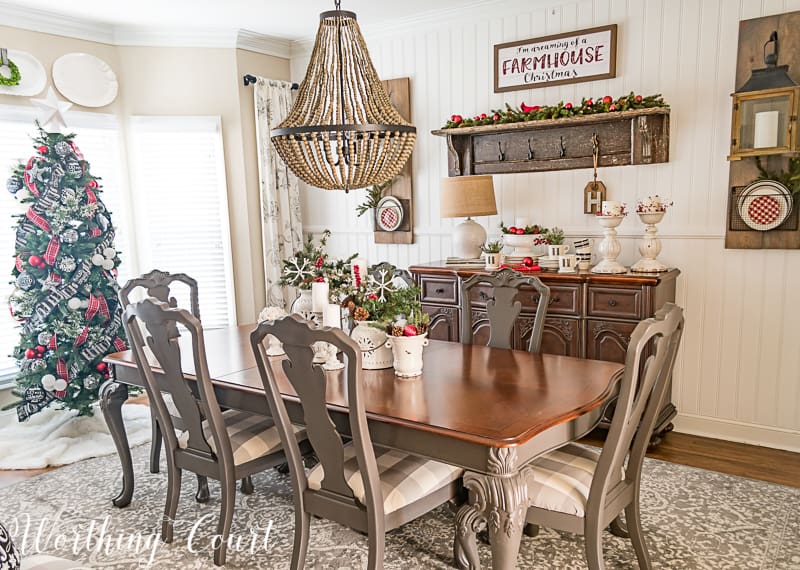 Pin
I'm really excited to be participating in the Come Home For Christmas Room To Room Tours hosted by 2 Bees In A Pod! Vicki and Jennifer have put together a wonderfully talented group of bloggers who are taking you through every room of the house this week. And today it's all about Christmas dining rooms. Look for a list of of featured rooms and all of the participants at the bottom!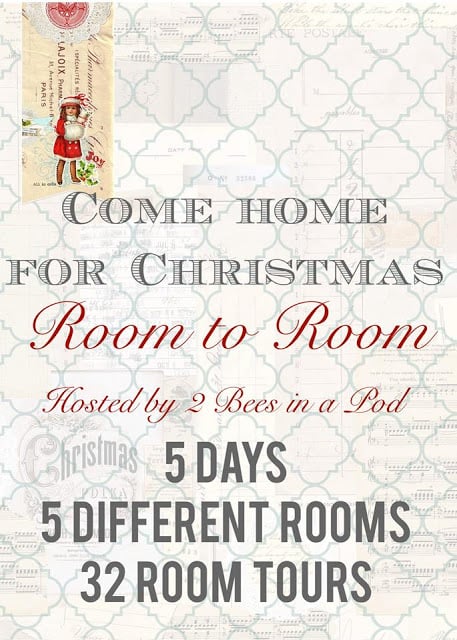 Pin
Our dining room is located on the front of our house and has a full length bay window in it. One thing I knew for sure when we bought this house, is that there would definitely be a Christmas tree in that window! If you have sharp eyes, you probably noticed that there were no presents under the tree yet in the above photo. But there are now! I've been a busy shopping and wrapping bee and was finally able to add a few gifts over the last couple of days.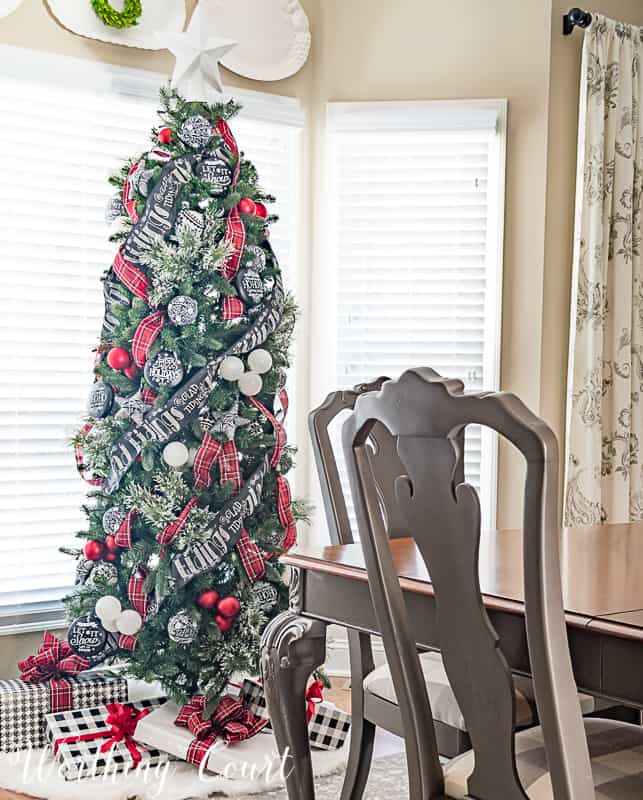 Pin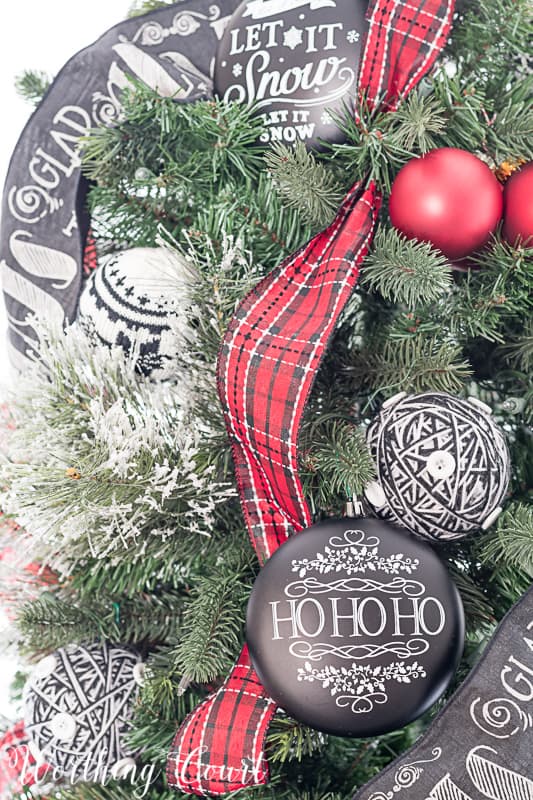 Pin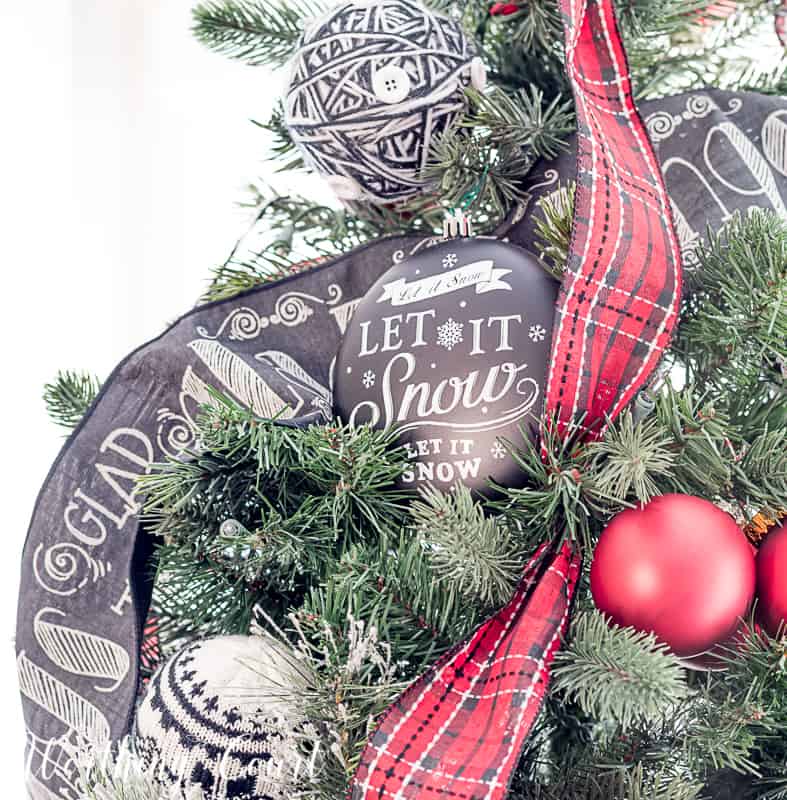 Pin
Using wrapping paper and ribbon that coordinates with the ornaments on the tree pulls the whole look together and I love it!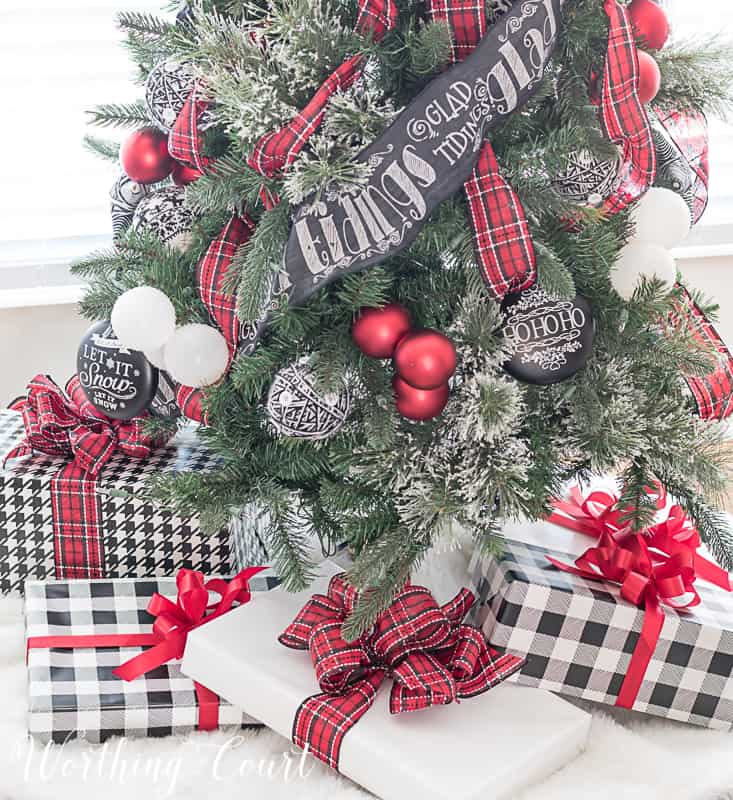 Pin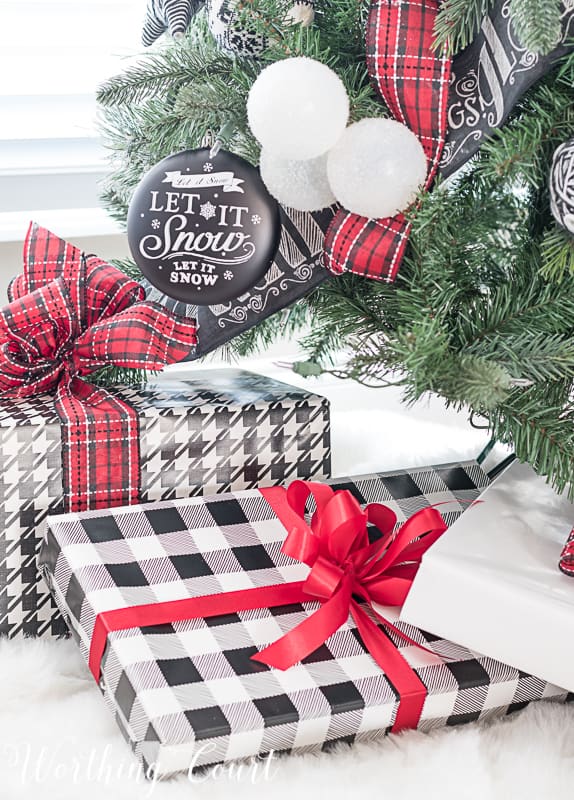 Pin
Our diy cheater planked wall is the perfect backdrop for a vintage fireplace mantel top turned shelf, the sideboard and my diy Fixer Upper style hanging lanterns. This wall is the first thing that you see when you enter our dining room through the office (that used to be the formal living room until it got a complete overhaul).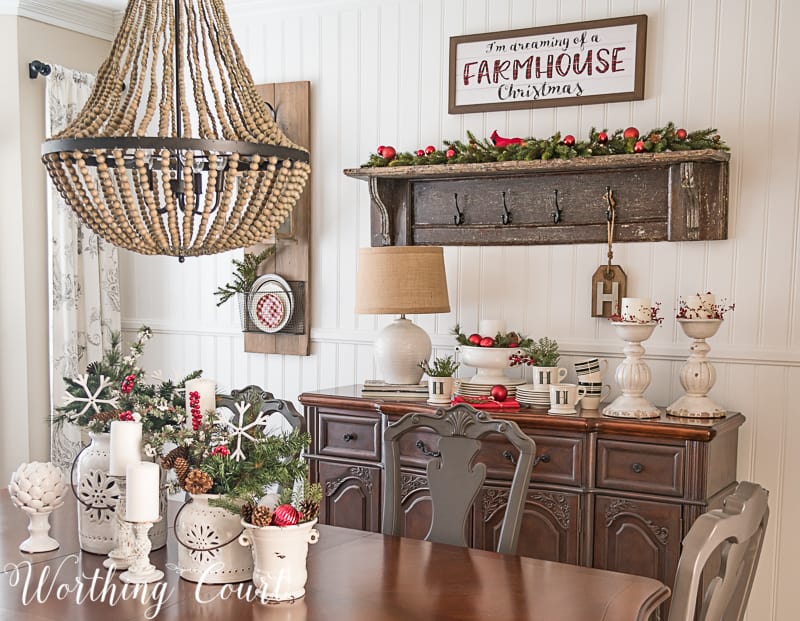 Pin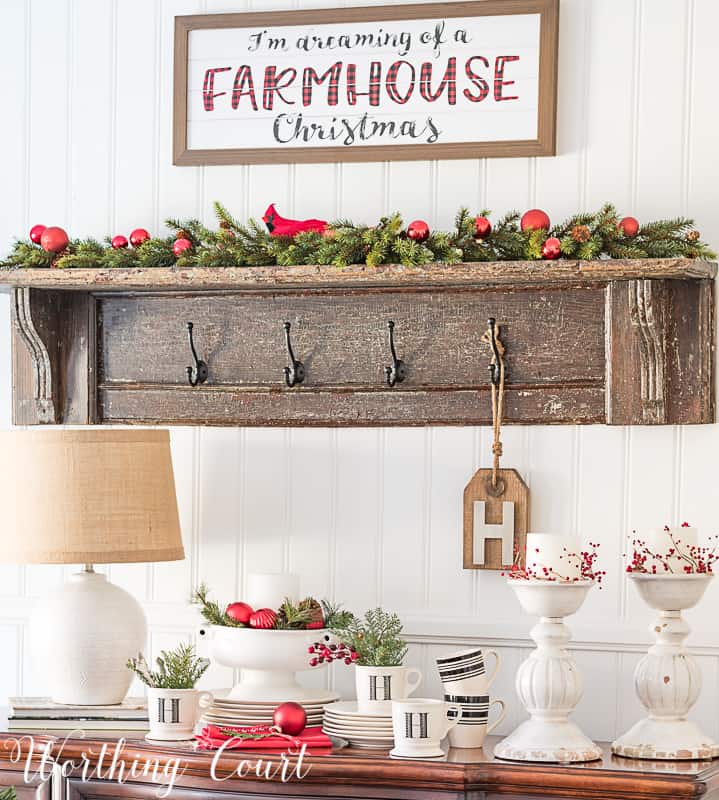 Pin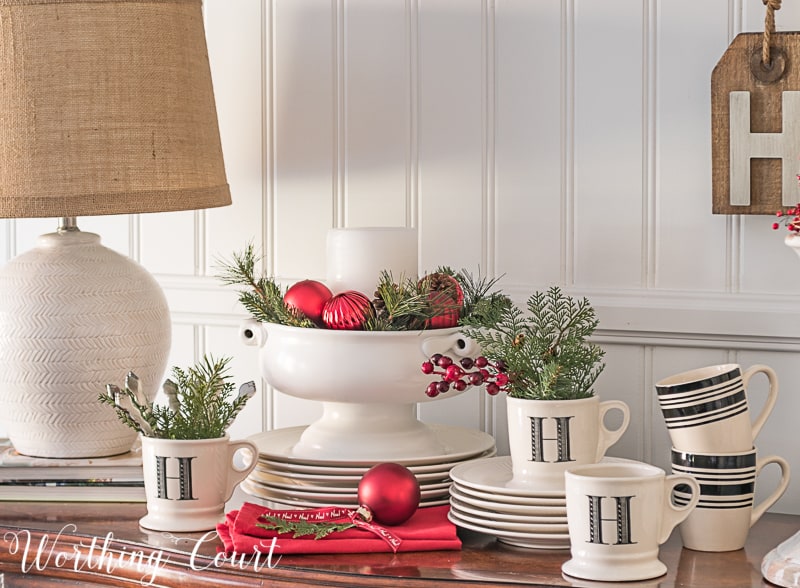 Pin
On the other side of the dining room, you'll find a small painted chest flanked with two Martha Washington chairs covered with gray and white buffalo fabric. I had these chairs reupholstered to fit in with the color that I painted the rest of the furniture in the dining room with during its makeover.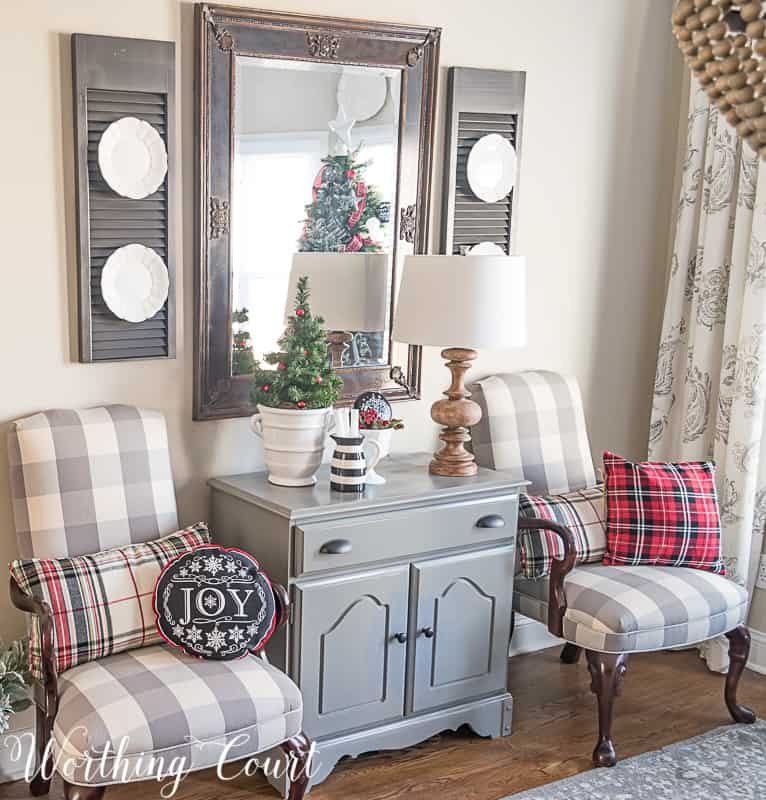 Pin
Change your vantage point and you pick up one of my favorite things – the reflection in the mirror above the chest.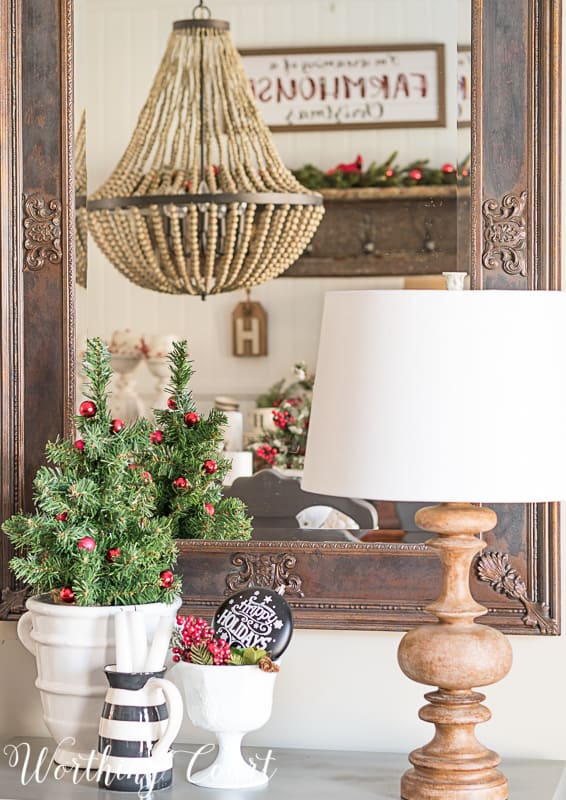 Pin
If you follow me on Instagram (you can do that by clicking right HERE), you'll already know that using snowflakes in my dining room table centerpiece was wishful thinking on my part. We live in central North Carolina, so having a white Christmas is extremely unlikely for us. In fact, I've only had two white Christmases in my lifetime. So sad.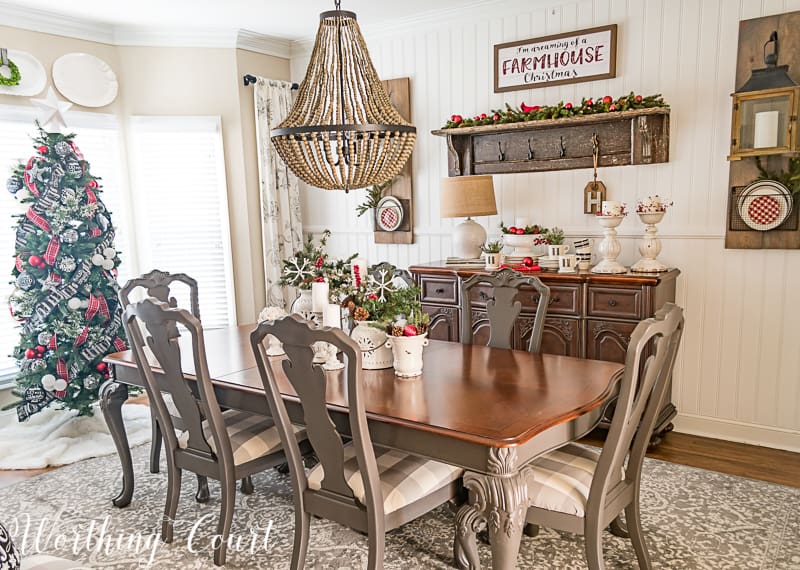 Pin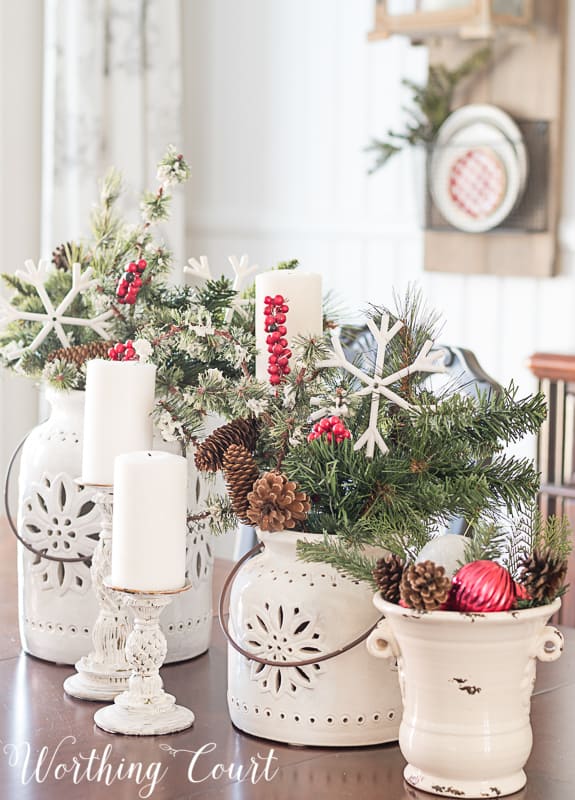 Pin
Thank you for stopping by today! I'm soooo looking forward to our annual Christmas party when this room will be filled with family and friends and my table will be loaded down with yummy Christmas goodies!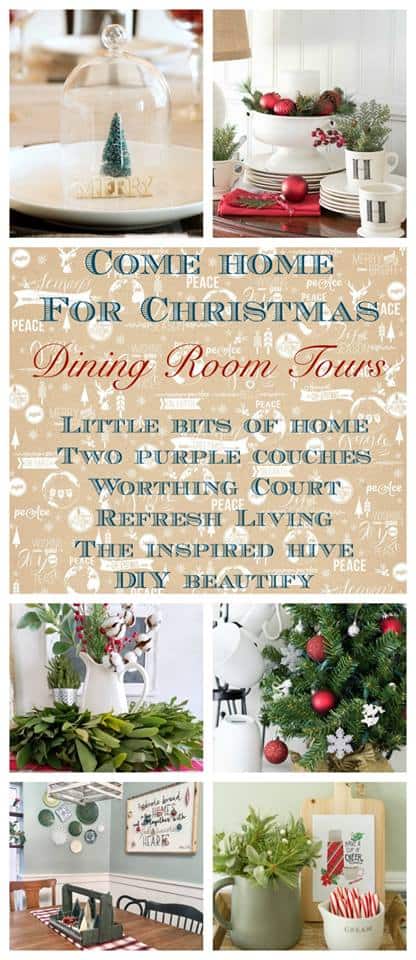 Pin
MONDAY – Entryway/Foyer
TUESDAY – Living Room
Wednesday – Bedroom
Thursday – Dining Room
Friday – Kitchen
Noting Grace