Celebrating A Nostalgic Christmas In My Breakfast Room
Create a space where Christmas memories are made! Decorate your breakfast room with nostalgic and classic red and green Christmas decorations for a look you and your family will love.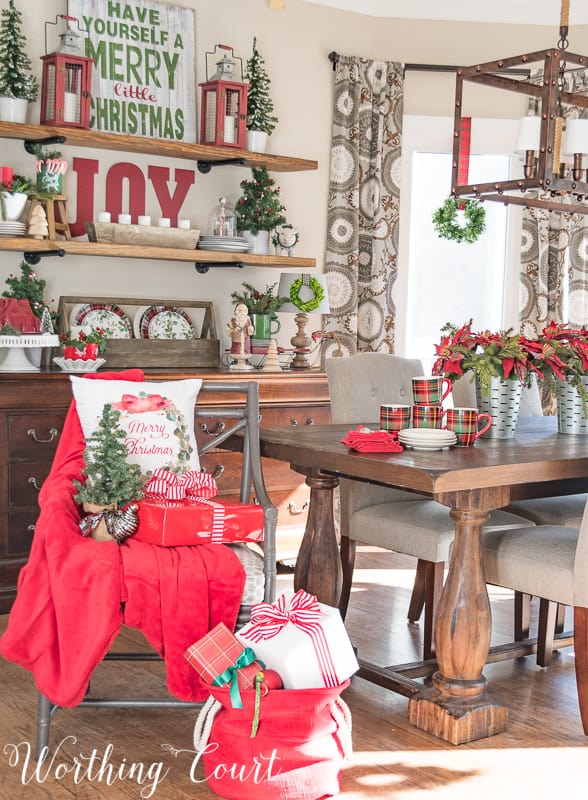 PinClassic Christmas red and green has returned to Worthing Court this year, in a big way! Over the years, I've tried decorating with glitter, neutrals and whatever other thing was trending at the time, but I've accepted the fact that red and green is where it's at during Christmas for me! 😀 After returning to my classic Christmas decorating style last year, I've discovered that my family loves it too.
To be honest, I just kind of "did my thing" year after year, thinking that no one really paid much attention. Oh, everyone always had nice things to say, but in trying to follow the latest trends, I think that some of the magic of Christmas was lost for my family. But, now I've realized that there's something very gratifying watching Pookie and other family members walk through the house with a little smile on their faces as they take in all of the decorations. And it makes my little heart go pitter-patter when I see that the magic Christmasc sparkle has returned to their eyes.
I shared this year's Christmas front porch with you a few days ago, which was really very simple and nothing as elaborate as the year before. But all that simplicity ends when you come inside! So settle back with your favorite refreshment and join me for a photo-heavy tour of my nostalgic, classic Christmas breakfast room.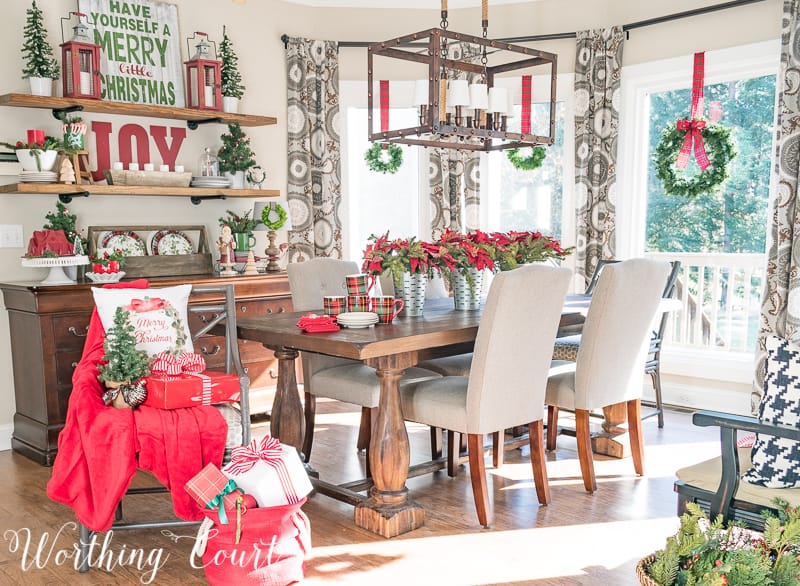 Pin
Our diy rustic shelves always take center stage in the breakfast room. When you come into our family room from the foyer, they're easily visible through the wide opening between the two rooms. I filled the shelves with all kinds of nostalgic red and green touches, plus just a little bit of tartan plaid. Gotta have me some plaid. 😀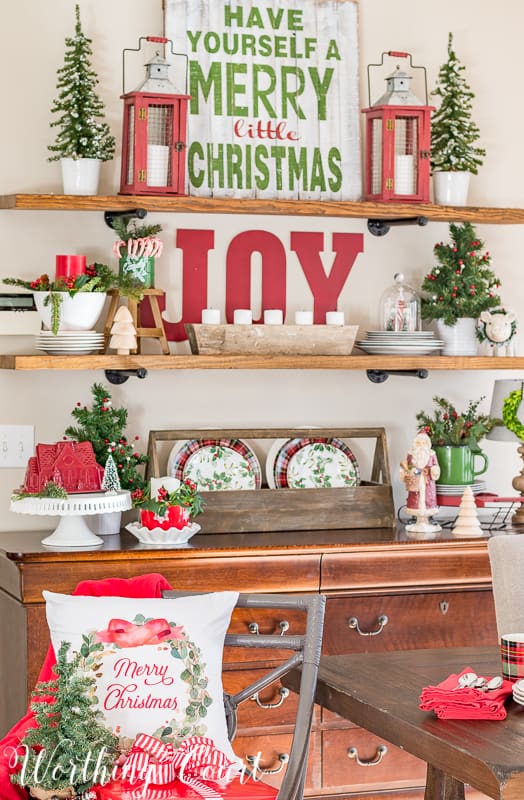 Pin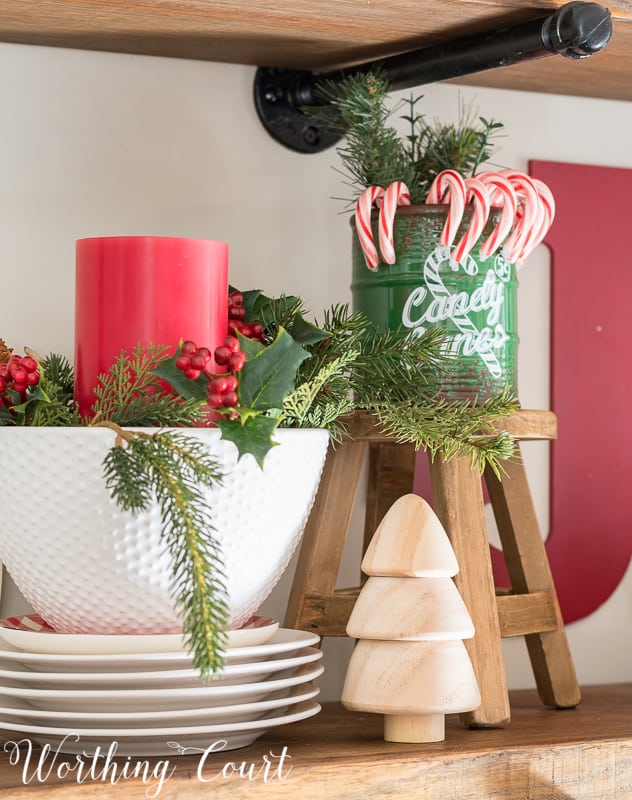 Pin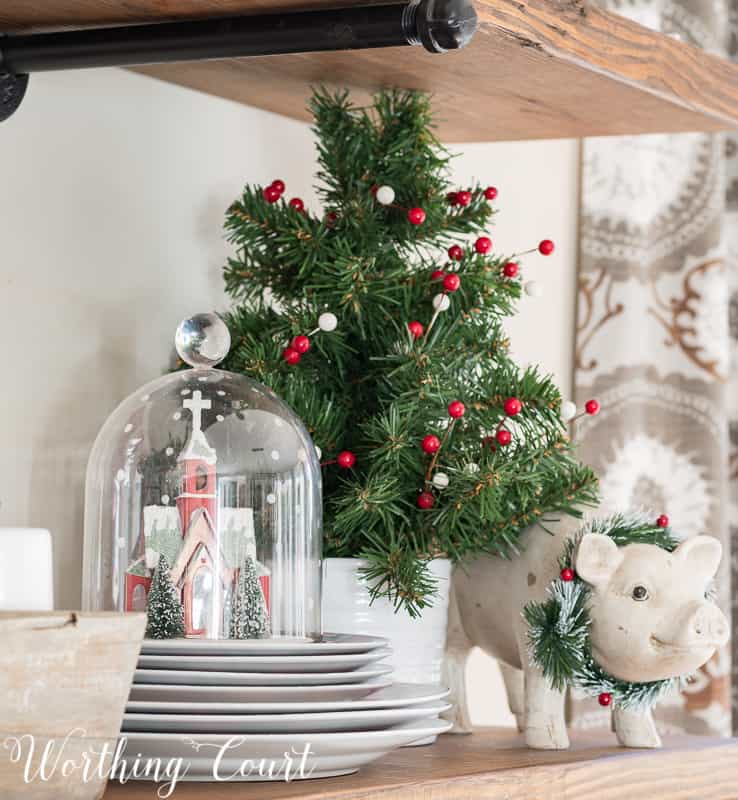 Pin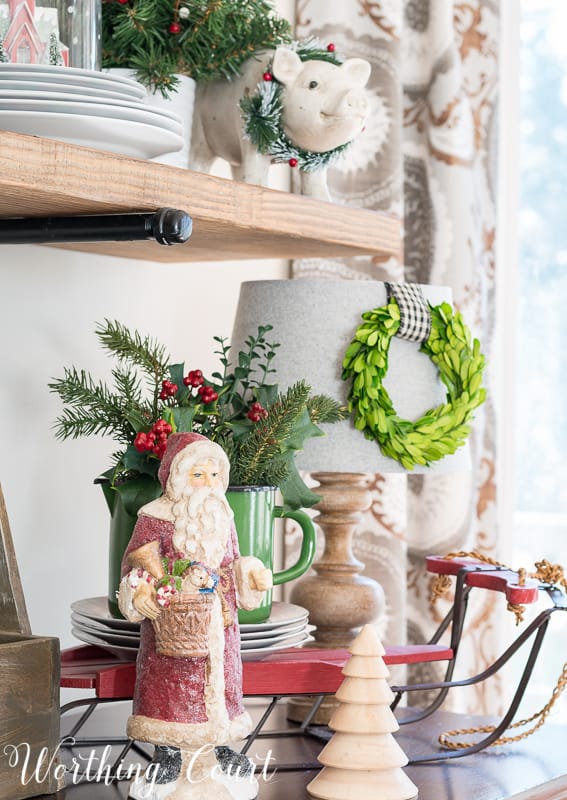 Pin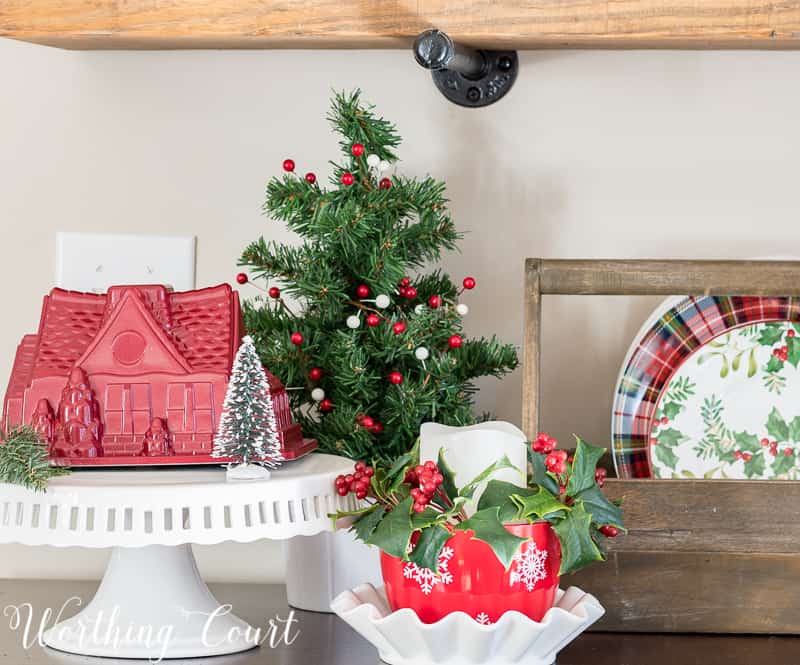 Pin
With so much going on on the shelves, I kept the centerpiece very simple with a group of three poinsettias in galvanized buckets, marching down the center of the table. Obviously, the poinsettias are fake, but don't you just love the plaid on some of the leaves???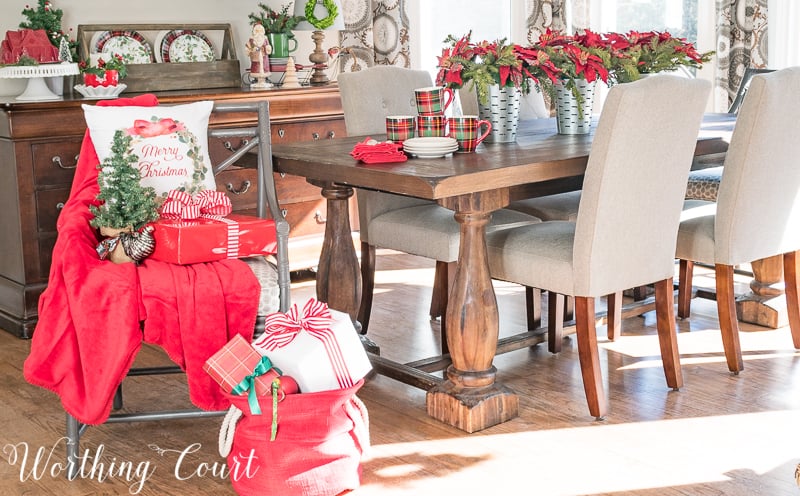 Pin
Pin
This post contains affiliate links. See my full disclosure HERE.
I used one of the table chairs to showcase this adorable Christmas pillow cover from Emory Valley Mercantile. You've heard the expression, "you had me at hello"? Well, in this case, you had me at the Christmas wreath and adorable bow! The pillow can be ordered by clicking HERE.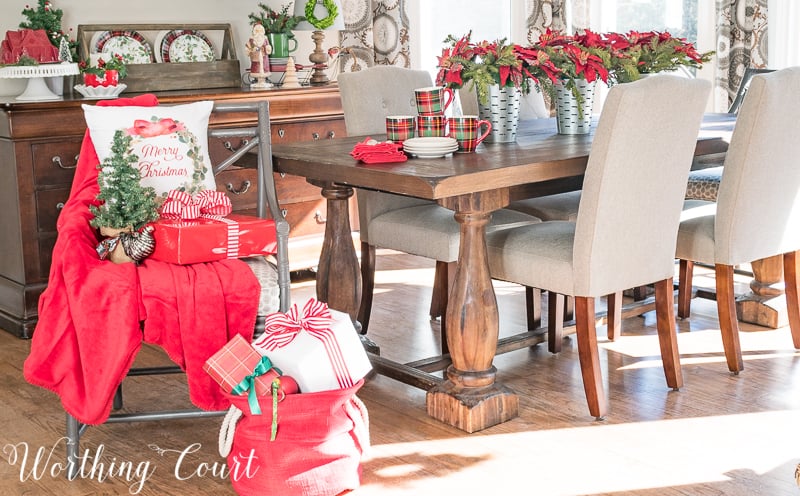 Pin
If you aren't familiar with Emory Valley Mercantile, it's an amazing online shop filled with everything you need to fill your home with charm, character and style to every space in your home. And you may even know the owner, Angie from Postcards On The Ridge, where she chronicles all of the updates she's made to her 1960's home over the past seven years. Visit Emory Valley Mercantile by clicking HERE. Thank you for sending me the amazing pillow cover, Angie! I'll be using it all over my home every Christmas for years to come.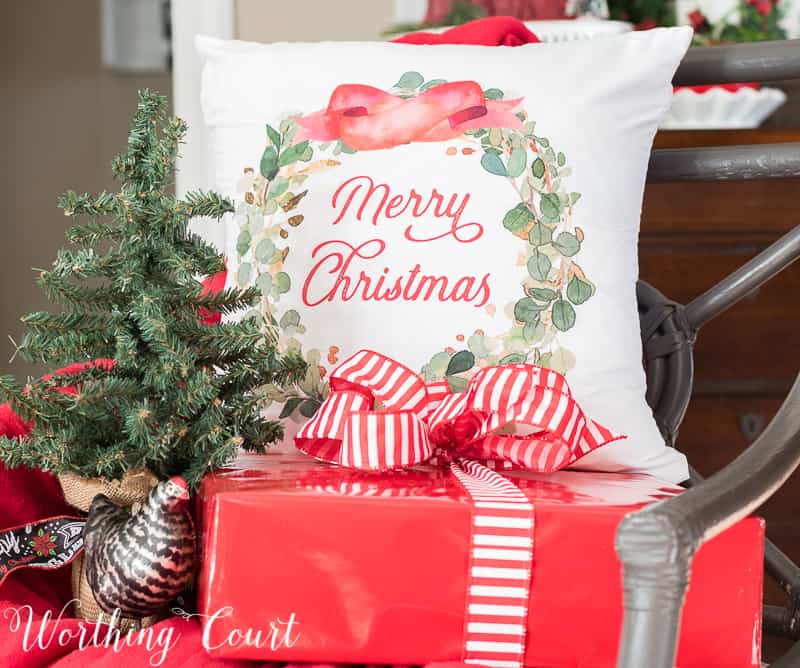 Pin
The opposite side of the room, where my bench lives, got Christmas'fied with a wreath and plaid bow and a few Christmas pillows.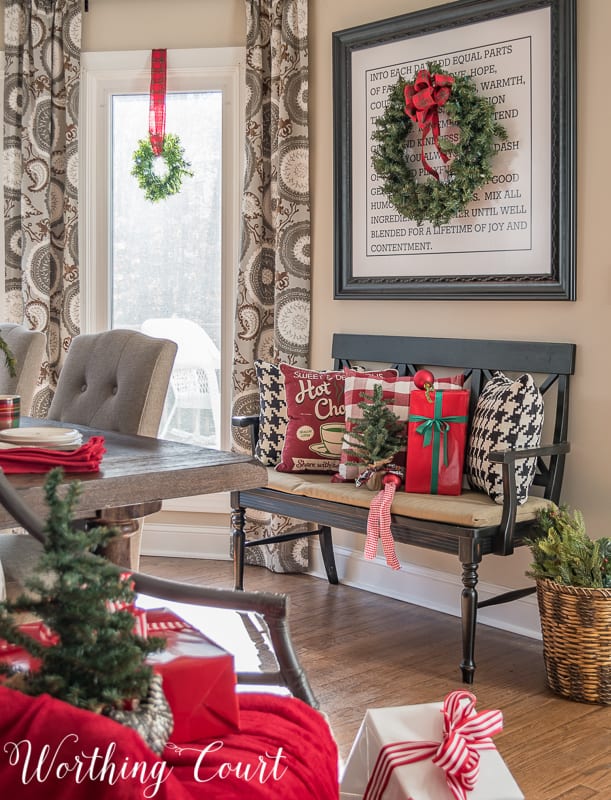 Pin
You might have noticed by now, that my windows are adorned with wreaths again this year. I just love how they look! I exchanged the narrow plaid ribbon from last year, to a wider version that makes more of a statement.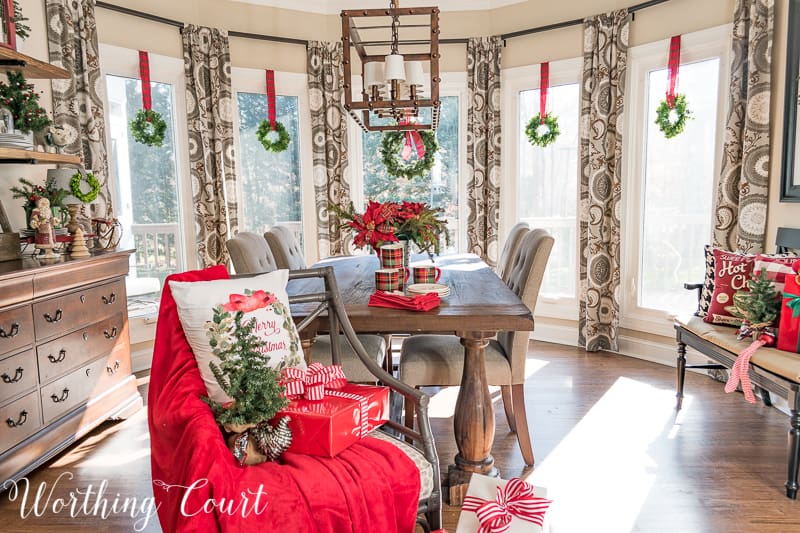 Pin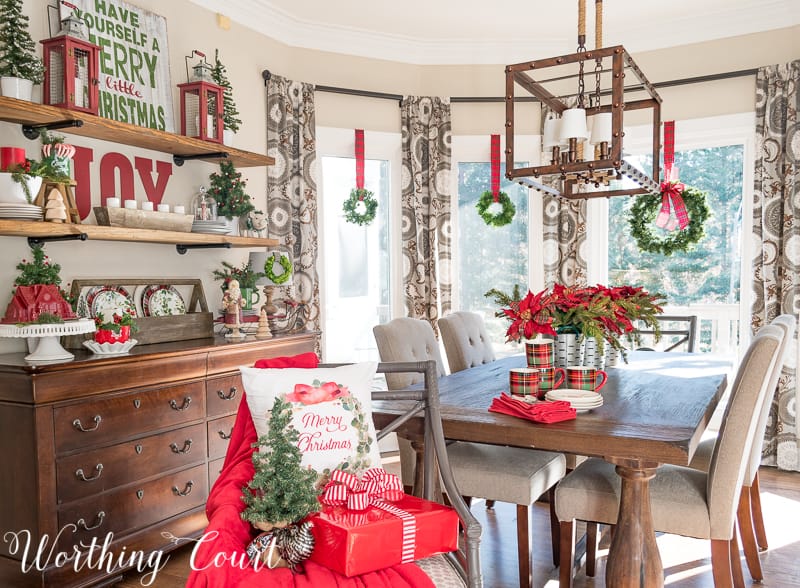 Pin
I enjoyed having you stop by for a visit today! I hope you'll come back tomorrow when I'll be sharing my Christmas dining room! How's your Christmas decorating coming along?