Welcome To My Festive And Cheery Christmas Front Porch
Decorating for Christmas doesn't have to be complicated!  Let yourself be inspired by my easy decorating ideas for creating a festive and welcoming holiday front porch.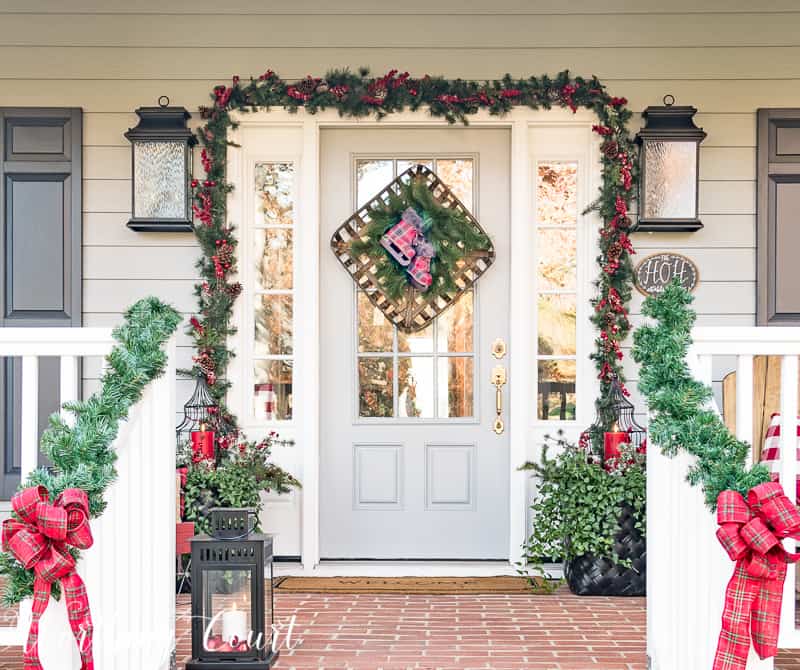 Hello everyone and welcome to my festive and cheery Christmas front porch!  I've kept the decor simple this year, but nothing is more cheery to me at Christmas than lots of holiday red and green.
Christmas Porch Tour
I'm delighted to be participating in the Christmas Porch Tour again this year, hosted by Amy from Atta Girl Says!  Amy has gathered a group of some of your favorite bloggers for the tour this year.  You'll find links to everyone's blog posts at the bottom.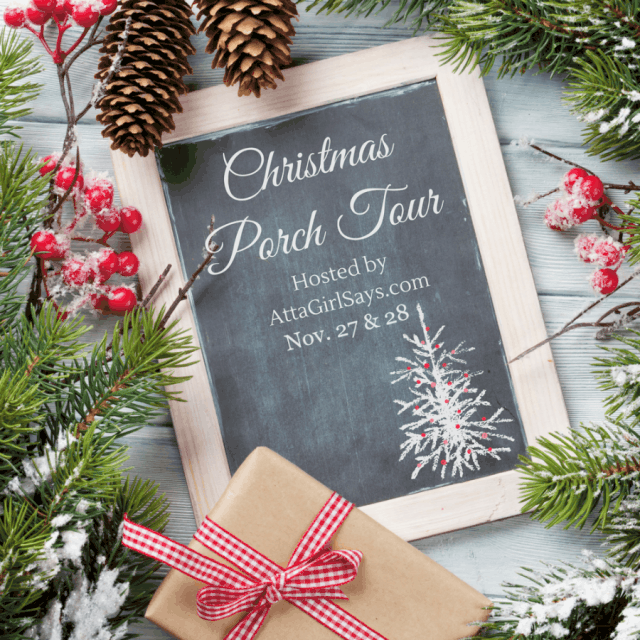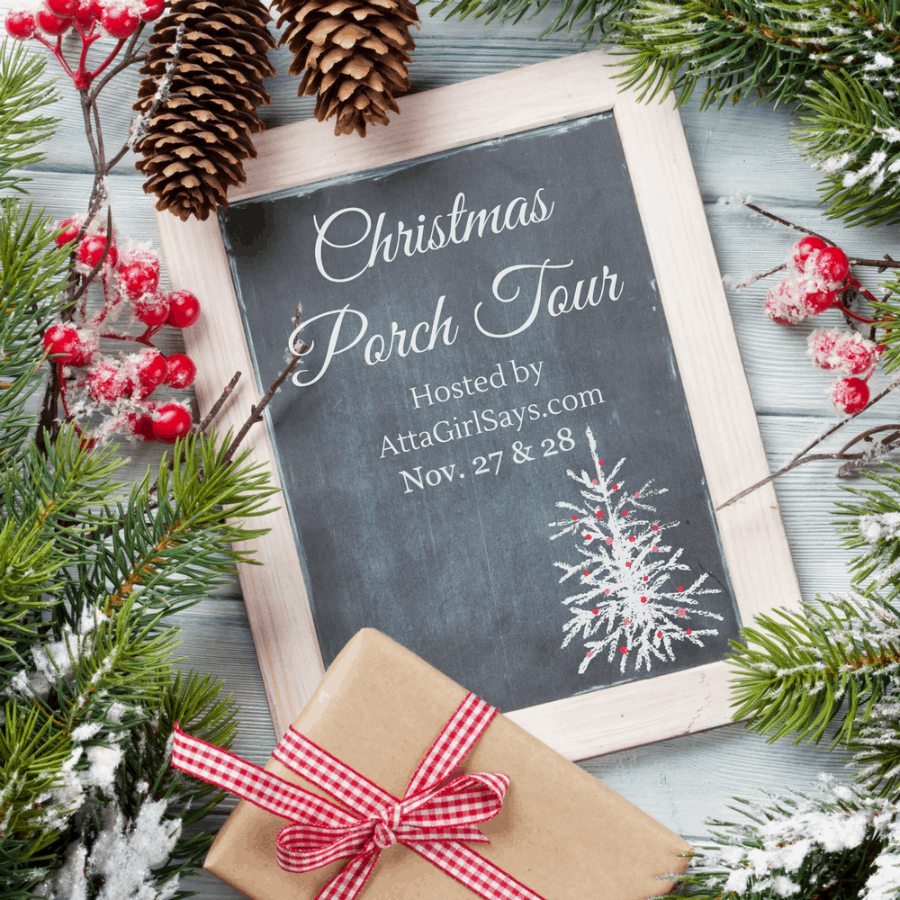 When I started decorating my home for Christmas this year, I knew from the very beginning that I would be incorporating lots of red and green.  I would be using loads of greenery, pretty ribbon, red ornaments, pine cones and berries.  All of the elements that say Christmas to this girl's nostalgic Christmas heart.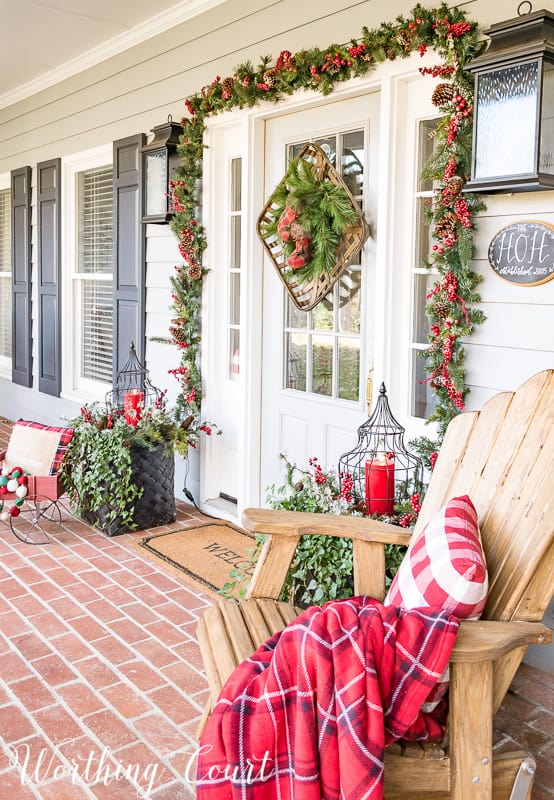 I started off by reusing the holiday garland that I made for last year's Christmas porch.  It's made from inexpensive faux greenery garlands that are wired together.  I added white lights and then tucked in red berries and pine cones.  It frames the front door perfectly and sets the stage for a welcoming entry.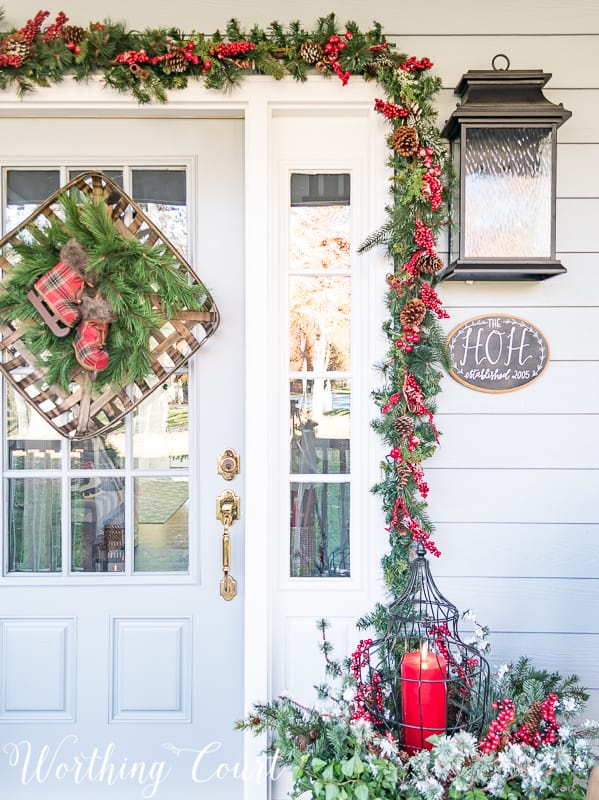 My black planter baskets stayed too and I even left the ivy that I had planted for the summer in them.  All that I needed to add for Christmas was a lantern filled with a large red candle and a few bushes of faux Christmas greenery.  I first used these stunning lanterns on my porch decorated for fall and they were a huge hit with y'all!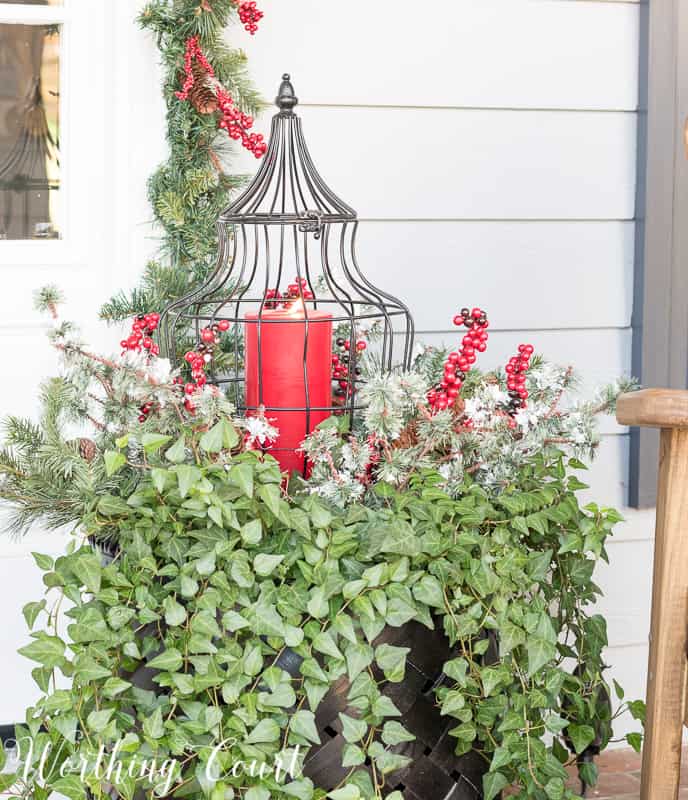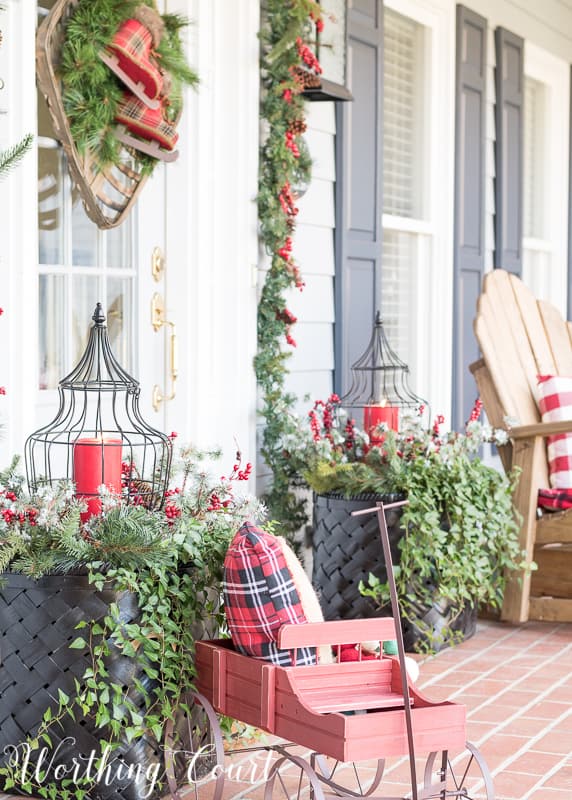 Affiliate links have been used in this post.  I only recommend products that I love.  See my full disclosure HERE.
SHOP THE LOOK

My non-traditional Christmas "wreath" was inspired by a pair of adorable fur-trimmed plaid skates that I came across at At Home.  Y'all know I love me some plaid!  The basket is suspended from a large suction cup hook that is attached to the glass in the door.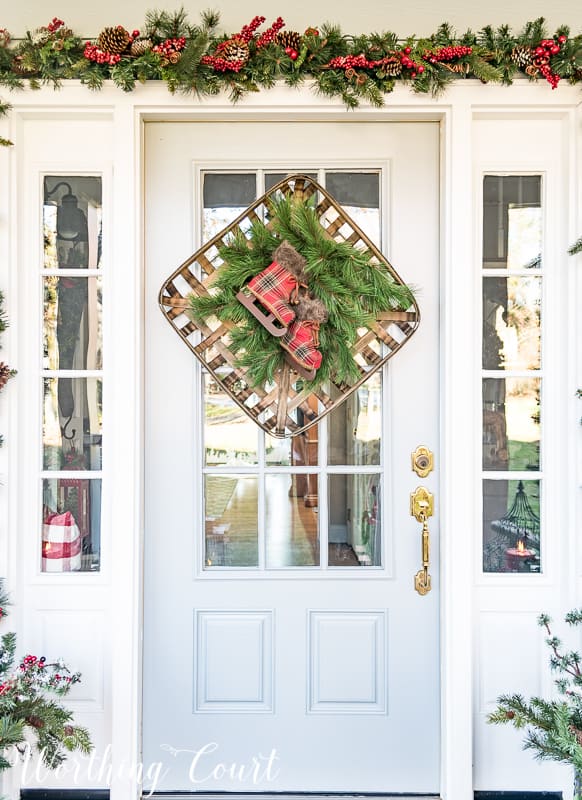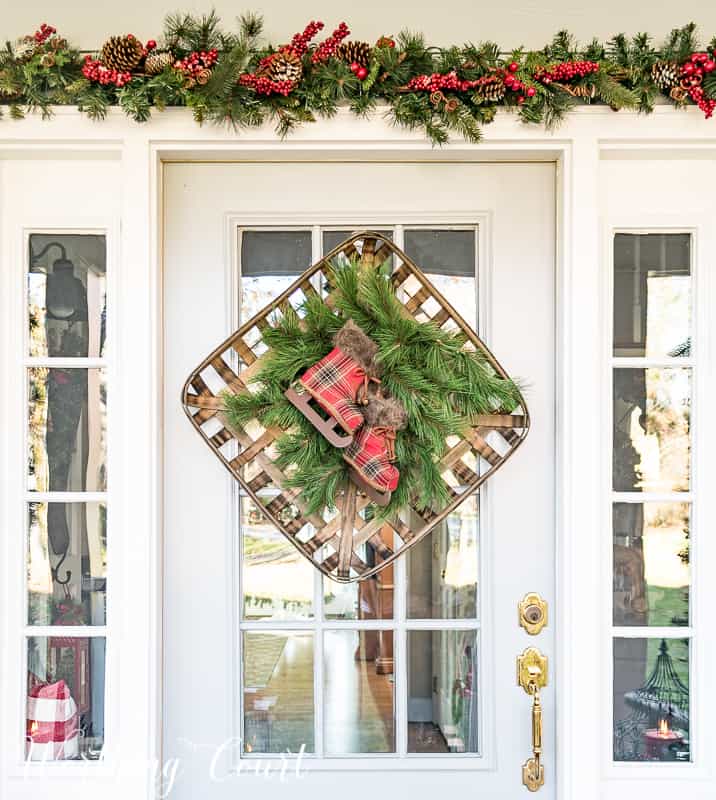 To create the holiday "wreath", I turned the basket on the diagonal and tied two bushes of pine branch greenery and the ice skates to the basket with twine.  Super easy!  In case you're interested, my door is 36″ wide and the tobacco basket is 24″ square.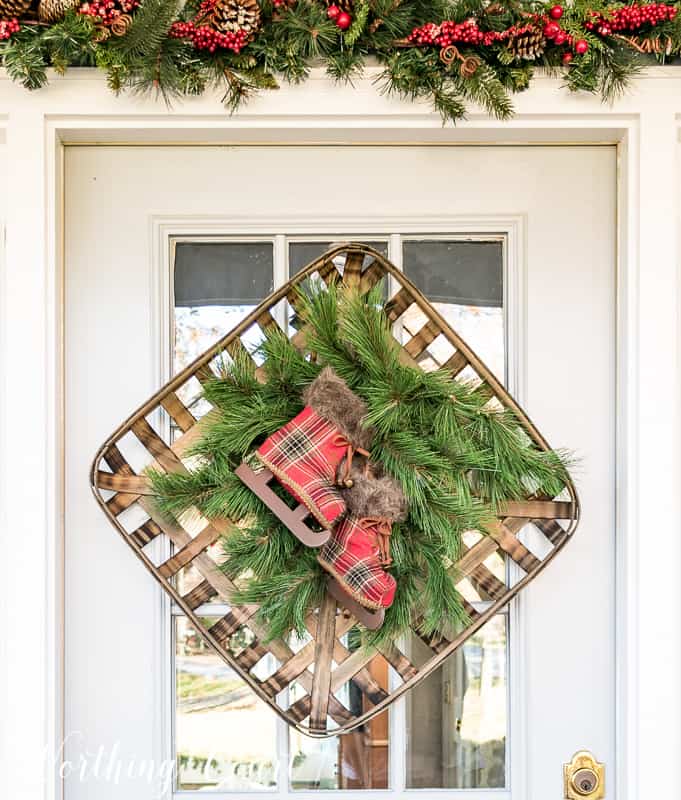 We added four adirondack chairs to the porch this past spring.  The renovations at our beach condo have kept us so busy that we haven't had time to stain them all, so only one of them is included on my Christmas porch this year.  They're gliders and are the most comfortable things ever!  We love sitting in them while we watch our dogs try their darndest to catch squirrels in the front yard. #ain'tgonnahappen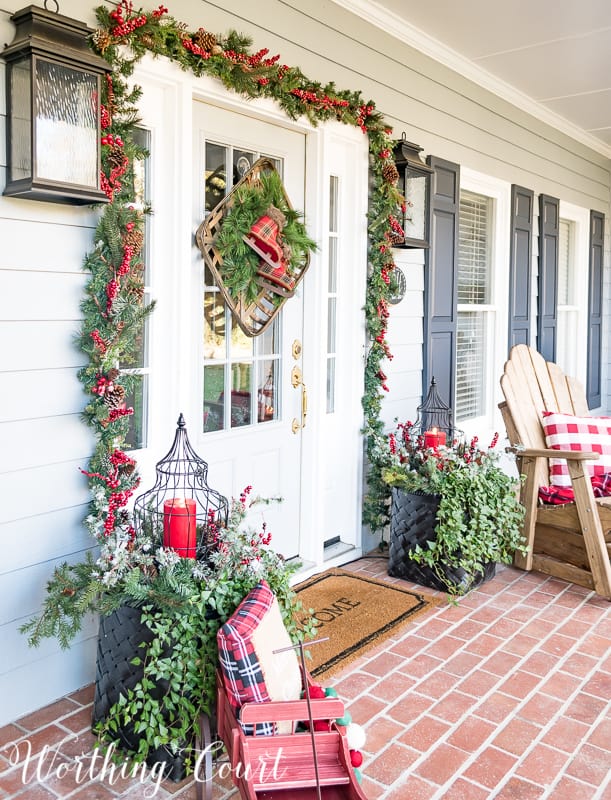 SHOP THE LOOK

Who doesn't love a little red wagon at Christmas?  I filled this vintage looking little guy with a Merry Christmas pillow and a fun pompom garland.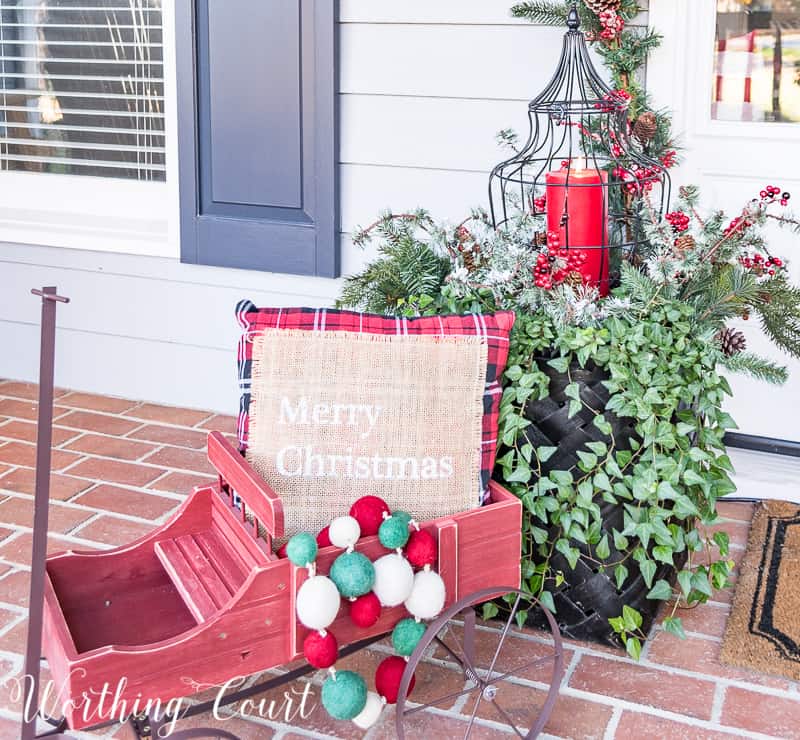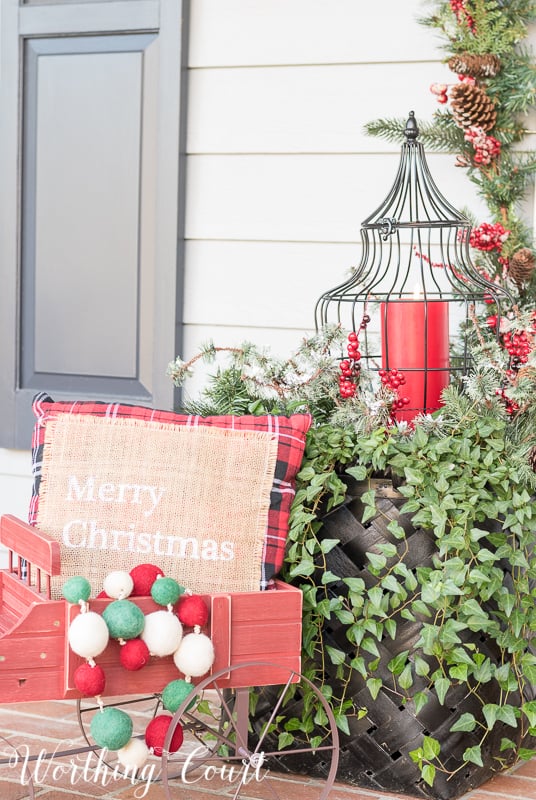 Lastly, I added one more layer to complete the porch – lanterns with candles and red ornaments and a length of garland and plaid bows to the railing on each side of the steps.  The garland on the rails and the garland framed door are meant to draw you right in!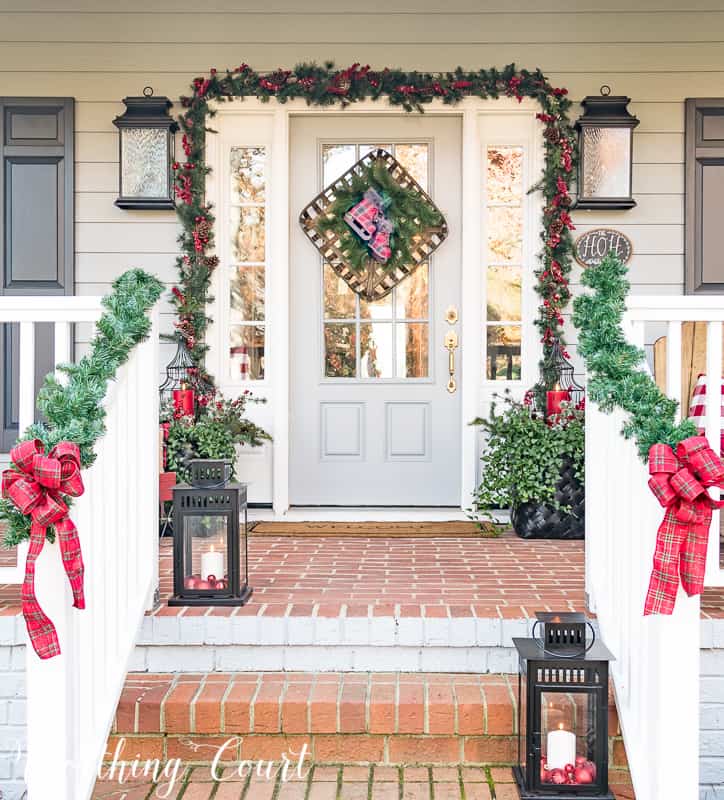 And of course, we proudly wave our flag year round – no matter the holiday!  Patriotic red, white and blue goes with everything – right?  😀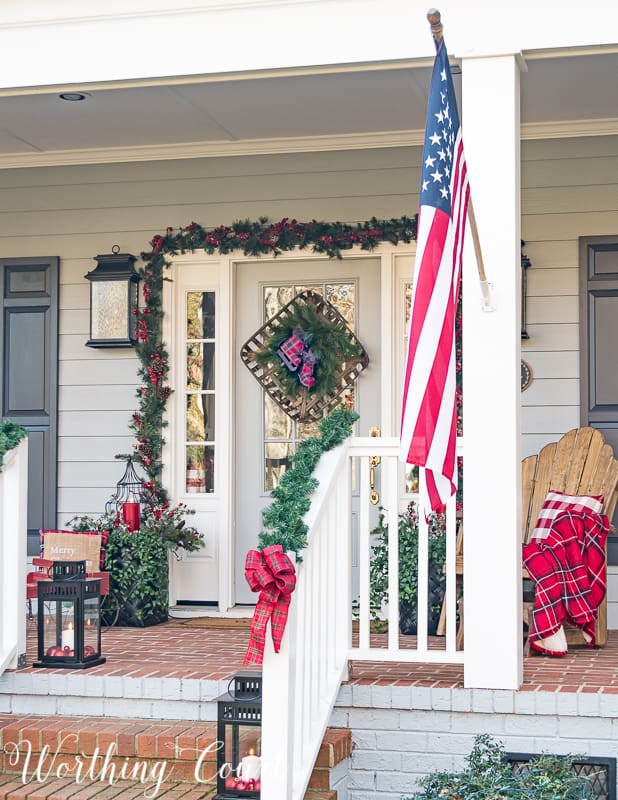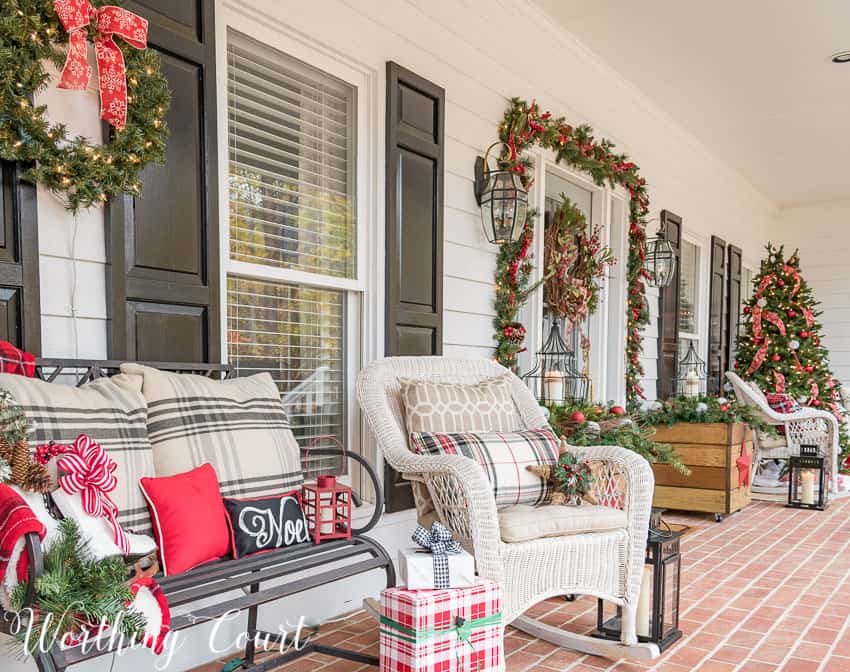 Prepared to be inspired with these festive Christmas decorating ideas for your front porch, sunroom, screened-in porch or gazebo.
Monday, Nov. 27
Atta Girl Says
My Thrift Store Addiction
House of Hawthornes
Sweet Pea
Cottage at the Crossroads
Worthing Court
Tuesday, Nov. 28
Petticoat Junktion
Postcards from the Ridge
Robb Restyle
Our Southern Home
My Creative Days
2 Bees in a Pod
StoneGable