Plans And Progress On My Modern Farmhouse Beach Living Room
Follow along with the amazing transformation of a dated and worn living room into a warm and inviting modern farmhouse space.
Ever since we purchased and started the makeover of an oceanfront beach condo in August, I've been trying to come up with a name for the decor style that I'm going after.  Not modern, but updated.  Not traditional, but a bit modern.  Just a little bit farmhouse.  Oh, and the biggest one of all – don't overdo the beach vibe – just give it a nod.  I guess you can tell from the title of the post, that I've settled on "modern farmhouse beach".  😀 So here is my modern farmhouse beach living room!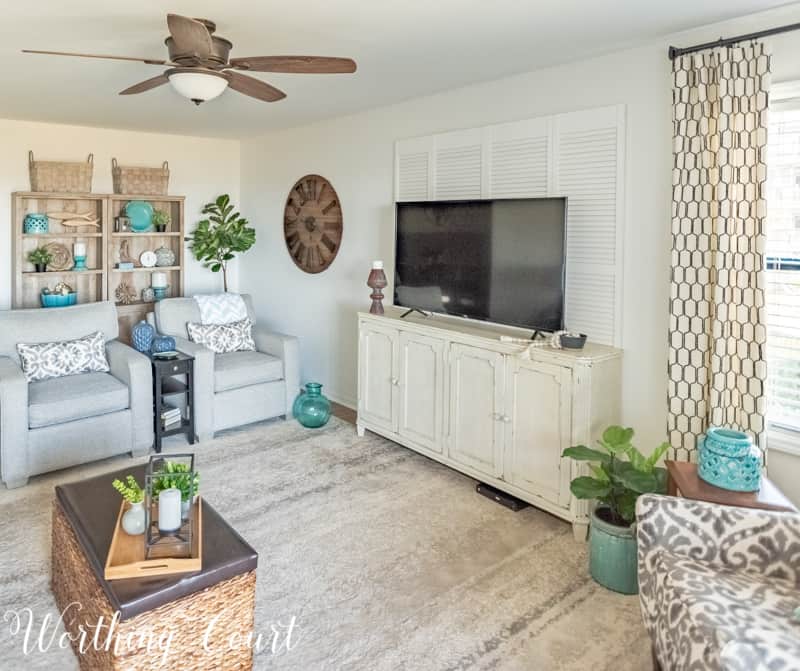 Pin
If you aren't already familiar with what I'm referring to, let me give you a little background.  We purchased a teeny-tiny 1 bed/1 bath condo on the beach in North Carolina in 2008.  That place was a MAJOR disaster zone that we completely overhauled.  Check out the before and after's of the condo HERE.
We felt very blessed to have an oceanfront spot at the beach, even though it was a super tiny one, and enjoyed it for several years.  The only problem with it was that it was so, so small that we couldn't enjoy it as a family.  Yes, we could sleep up to six people, but we were all over the top of each other and it just wasn't very enjoyable.  So, my dreams of having vacations with my daughter, stepdaughters, stepson and their families never really came to fruition in that location.
Fast forward to the spring of 2017.  After having six or seven offers on our beachfront condo, we decided to sell and purchase a larger place!  We believe that God blessed us with the desires of our hearts and made exactly what we were looking for (price wise and location wise) available, so we snapped up a larger 2 bed/2 bath condo at a different complex.  We went from 525 square feet to 1200 square feet and have already been creating new happy memories during multiple family trips!
The condo that we purchased had been used as a rental and was rather tired and worn looking and smelly too.  It wasn't decorated to our taste at all, so we've been working our hineys off since the end of August to turn it into a home-away-from home that our whole family can enjoy and be comfortable in.  The major renovation projects have been completed and now I'm down to the fun decorating part!  😀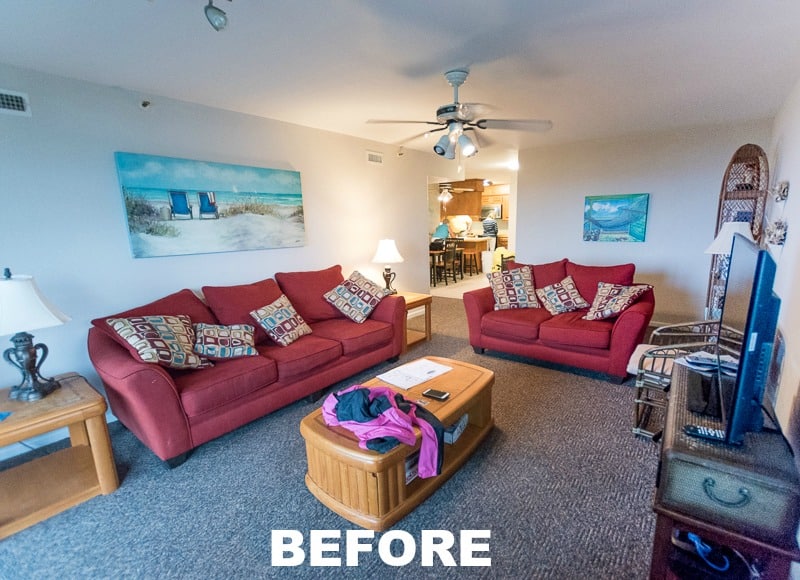 Pin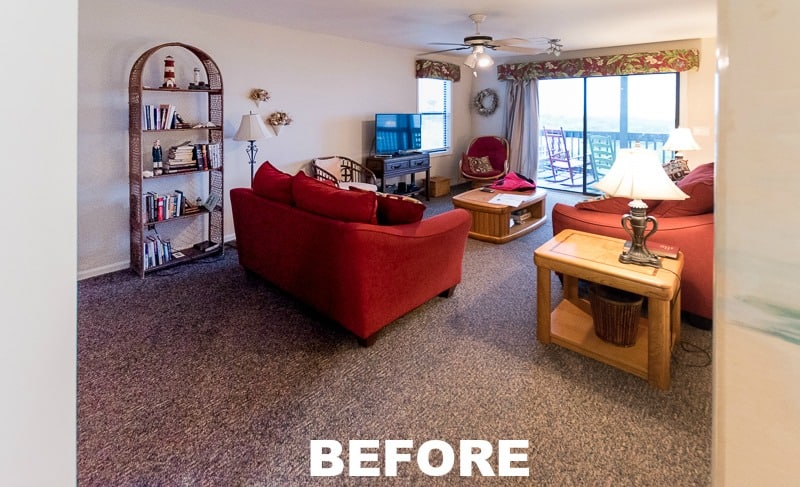 Pin
I've already shared my mood board, plans and progress in the dining area because I was super stoked about the gorgeous light fixture that was my inspiration for the space.  You can check out the mood board and what we've done so far in that area HERE.  I'll have an update on that area soon!
Along with the rest of the rooms in the condo, we've made some major changes and this is what the dated living room was looking like a couple of weeks ago.  At this point, the room has been painted and some new furniture had been added, but the original ugly brown carpeting was still in place.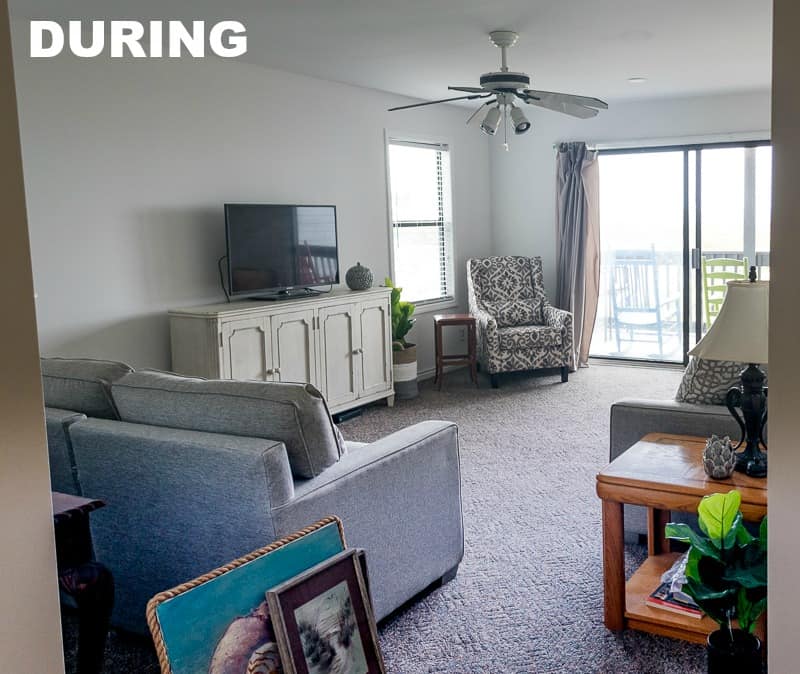 Pin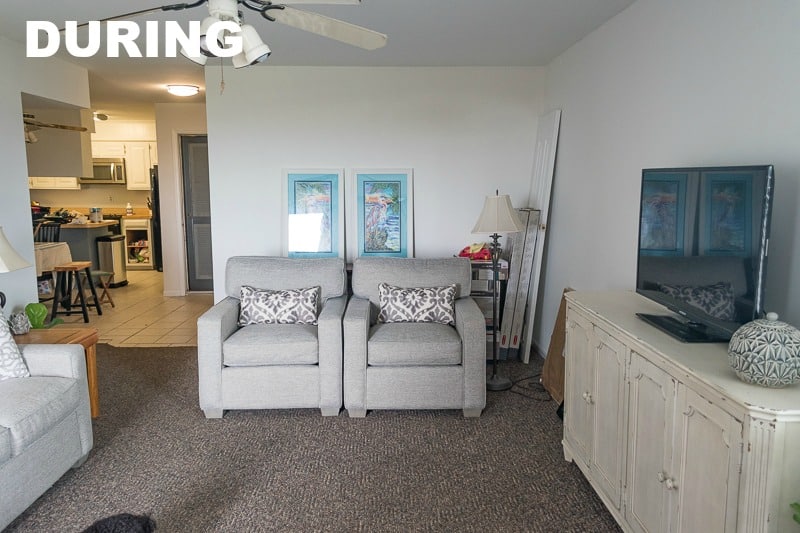 Pin
And here she is today!  As you're looking around, keep in mind that this living room is still very much a work in progress.  You can see areas that are unfinished and artwork and other items stacked against the walls, but we're chipping away at it bit by bit.  I've added a short little video down at the bottom that gives a good look at the whole room and a closer look at the rug.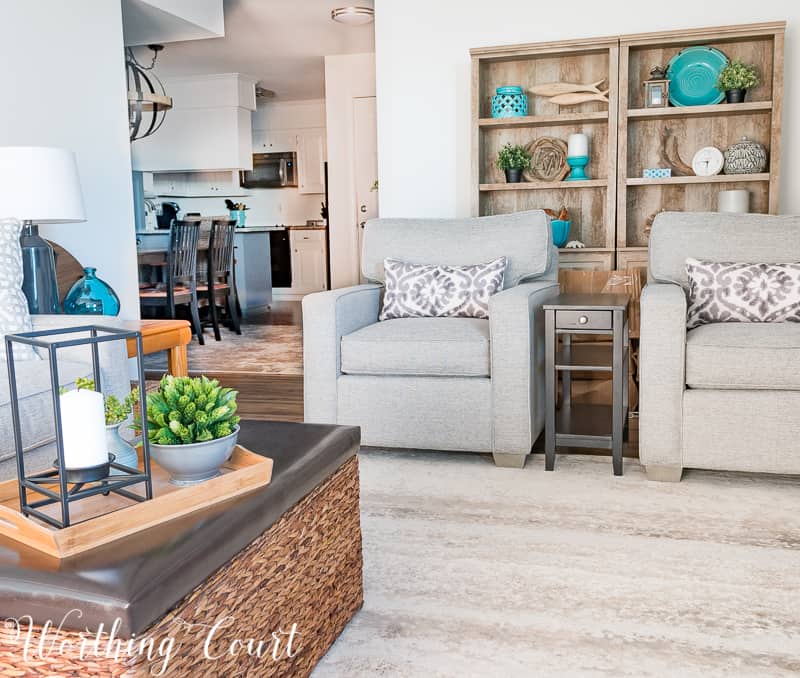 Pin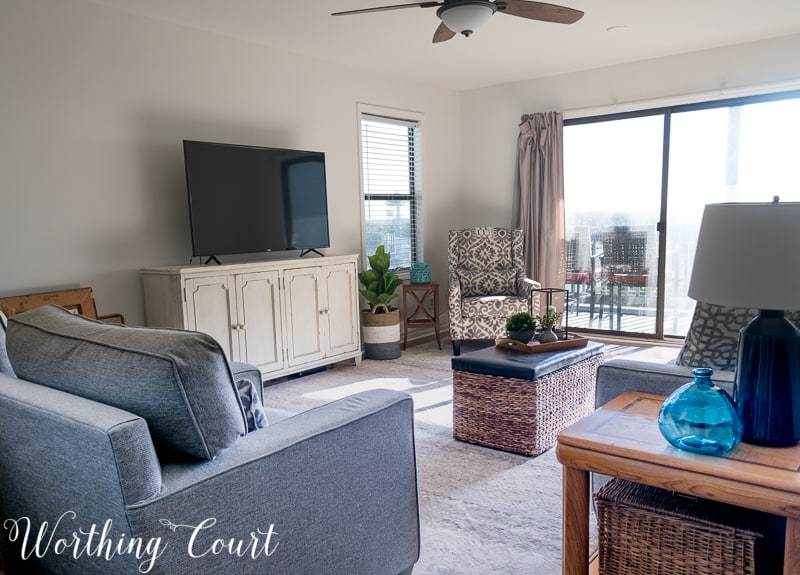 PinThe room feels and looks like it literally came to life as soon as I added a yummy, gorgeous area rug!  It's the Breckenridge Seashell area rug from Orian Rugs.  The color combination of soft ivory, gray, silver, taupe and beige blend together to make a perfect muted design that will fit in with any style room decor.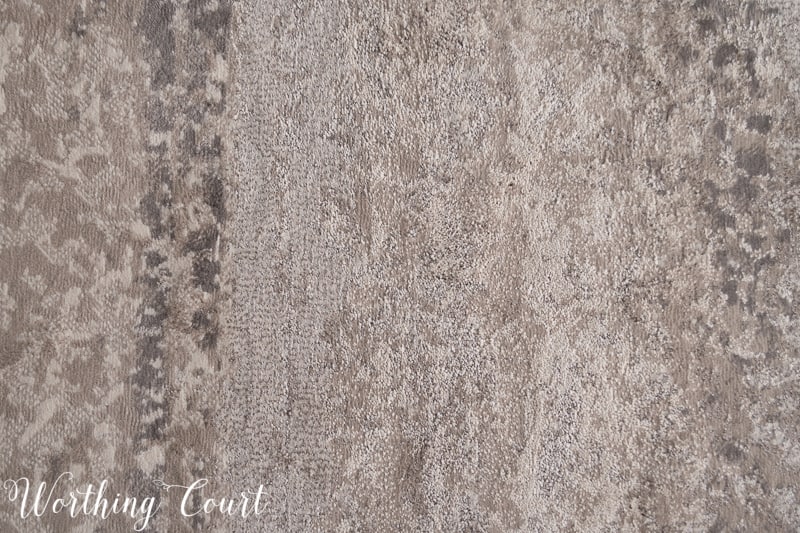 Pin
My friends, I wish that you could touch and feel how utterly soft and luxurious feeling this gorgeous rug is!  The rug reminds me of the beach and feels like a cloud!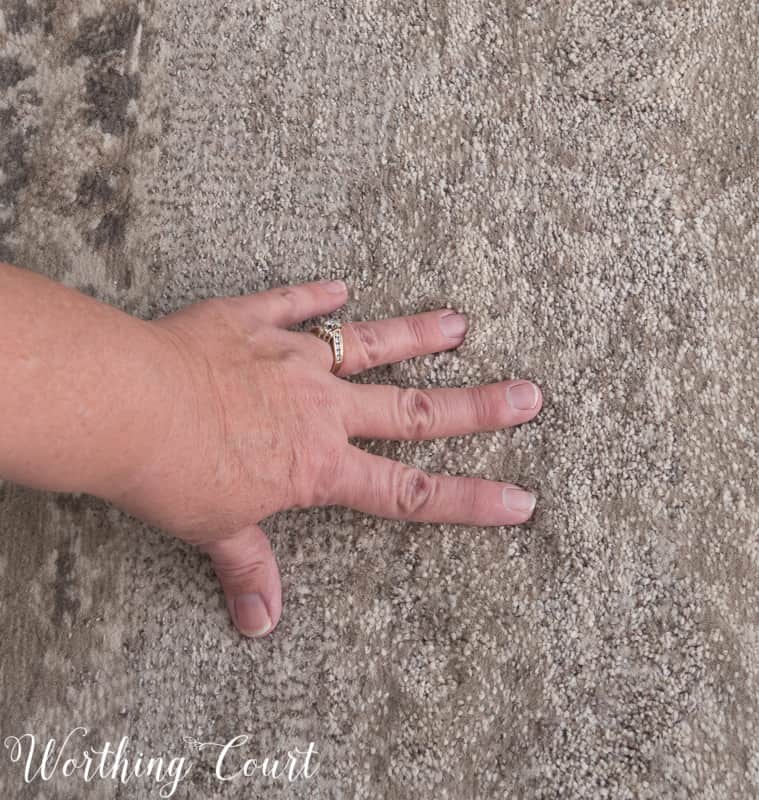 Pin
This photo shows a bit more of the texture and pile and might help to convey the softness a little better.  It's perfect for our location as it is fade, moisture and stain resistant, non shedding and is designed for durability.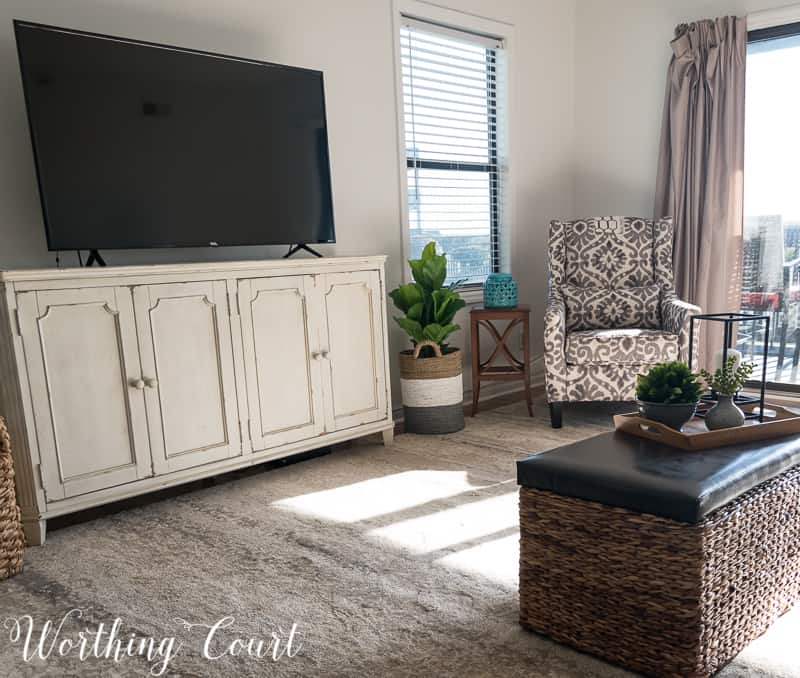 Pin
Want to see more of the room and take an even closer look at the rug?  Check out this short video.
https://www.youtube.com/watch?v=0BIp-bQG2_k&feature=em-upload_owner
Here's where I stand with my to-do list for this room:
Remove and donate old furniture.
Paint all surfaces – walls, ceiling and trim.
Remove carpeting and replace with laminate flooring.
Remove and replace window treatments. Partially done.
Replace ceiling fan.
Add sofa and chairs.
Add a coffee table.
Paint and recover accent chair.
Add footstools.
Add bookcases for height and to display accessories.
Add a tv console.
Add a larger tv – for Pookie.
Replace or makeover existing end tables.
Add artwork. Partially done.
Add lamps. Partially done.
Add accessories. Partially done.
This post has been compensated by Orian Rugs.  All content is my own and reflects my personal style and opinion.  I only recommend products that I believe in..