The Amazing Before And Afters Of Our Renovated Beach Condo – Part 1
We have a little home-away-from-home on one of the beaches here in NC.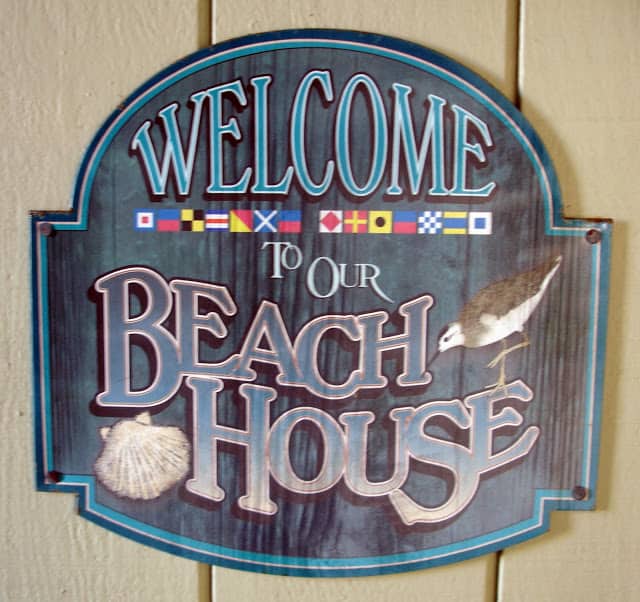 And y'all, when I say little, I mean little.  We're talking barely over 500 sq. ft. of little.  But that's perfectly fine with us because it. is. on. the. beach.
Here's a shot from our deck that I took while we were there last week.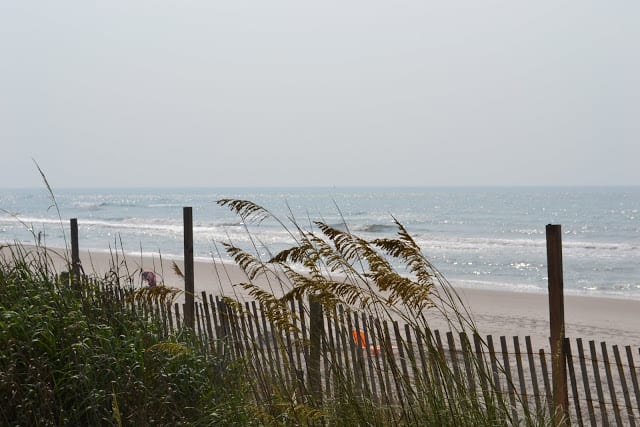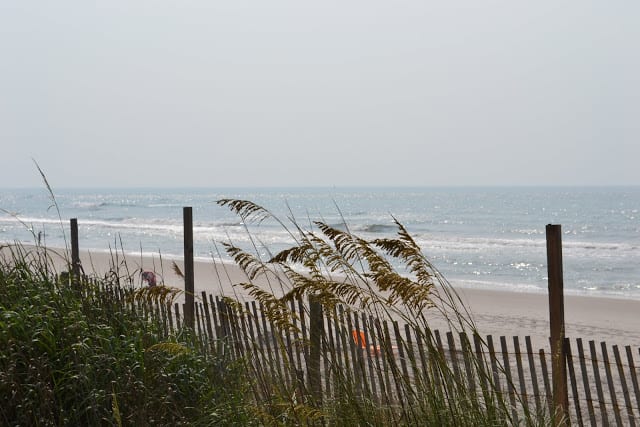 Can you tell how hazy it is?  That's because it was 105 degrees the day that I took this pic!
I'm going to show you what the condo looked like when we bought it in 2008 and what it looks like today.  But first, take a look at the floorplan to help you get a feel for where all of the rooms are.  Did I mention that we are on. the. beach?  😀
As you look at the befores, imagine a place where nothing resembling any housekeeping had been done, walls that had cracking paint because old wallpaper had been painted over, rusty, crusty, nasty appliances in the kitchen, mildew/mold behind the old wallpaper.
To top all of that off – imagine carpet that was dirty, filthy, sticky, icky, smelly and every other form of nasty that I can think of.  You may ask why I would even consider a place so utterly GROSS?  Did I mention that it. is. on. the. beach?  😀
When you enter the condo, you immediately walk into the hallway that leads to the living room and kitchen.  This is what greeted us when we entered the condo for the first time…….prepare yourself.
BLECH!!!
This is what that same hallway looks like today.  I'll talk about the bunkbeds in a minute.
That little black thing you can see on the couch is Diva Dog.
She insisted on making her debut in this blog post.
Step on into the living room.  Diva Dog and Ferocious Guard Dog graciously agreed to put themselves on display for you.
The couch pulls out into a bed.  We had it made using a 6″ thick mattress instead of the standard 4″ ones that you usually find in sleeper sofas.  Now it's just about as comfy as our bed.
This chair is so cozy.  It's a great little nook for reading, watching tv or just enjoying the view of the beach.
This is what that same area used to look like.
Turn around to look at the opposite wall…
…that used to look like this.
I refused to sit on this couch while we talked when we first looked at the condo.  It was almost as gross at the carpet.  They told us that all of the furnishings came with the condo.  Um….no thank you.
Let me take a little pause here to tell you the major renovations that we made throughout the condo:
removed all of the wallpaper, killed the mildew/mold, sanded and painted the walls
ripped out the carpet and padding and replaced with laminate wood floors
replaced the air conditioner
replaced the sliding glass doors
added and replaced ceiling fans
replaced the water heater
replaced all of the corroded doorknobs with brushed nickel ones
added additional electric circuits to the breaker box
Turn around one more time and here's the kitchen.
Update:  Here's what the kitchen wall looks like now that the bookcases have been added.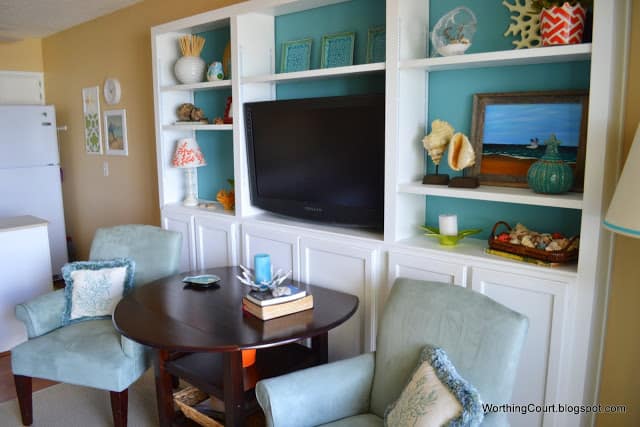 I love this backsplash.  It's made up of different colors of iridescent glass tile with travertine marble sprinkled throughout.
I love this little fishy canister too.  So do Diva Dog and Ferocious Guard Dog because they know that this is where their treats are kept!
Found this little spit of a rug at Ikea.  It's the perfect size for my tiny kitchen.
Hold your breath…this is the before of the kitchen.
Don't 'cha just looove this little stencil that was above the sink?  And hey – what a great place to hang your keys!
In the kitchen we:
replaced the refrigerator and stove
added a microwave above the stove
replaced the laminate counters with SileStone
painted the cabinets
replaced the hinges on the cabinets
replaced the sink and faucet
added a backsplash
Now back up hallway…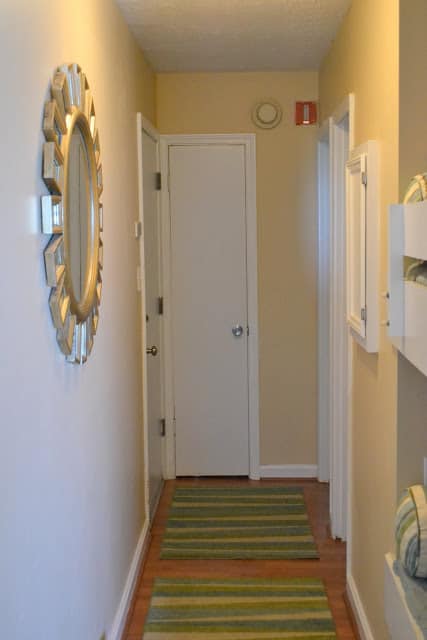 See the built in bunkbeds on the right?  The grandgirls love 'em!
Here's a little closer look.  The wooden dowel rods are waiting for me to make and hang some privacy panels.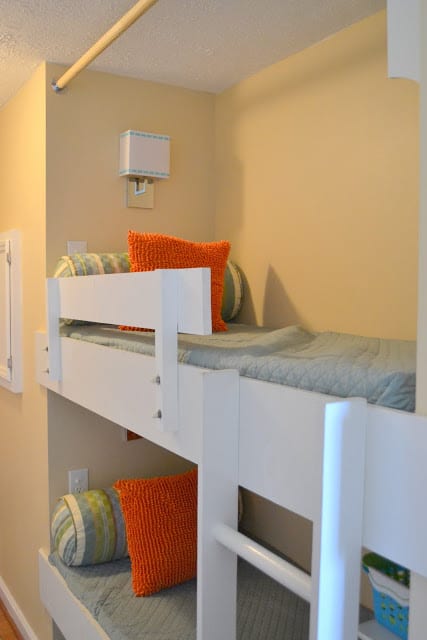 We replaced the mattresses and went about trying to make the bunkbed cubbies a place where the grandgirls are in their own little world when they're in bed.  So we added a cute little light with it's own light switch at the head of each bed.  Each switch has an electric outlet on it to plug in video games or whatever.  You can see that I added some cute dotted ribbon to the shades.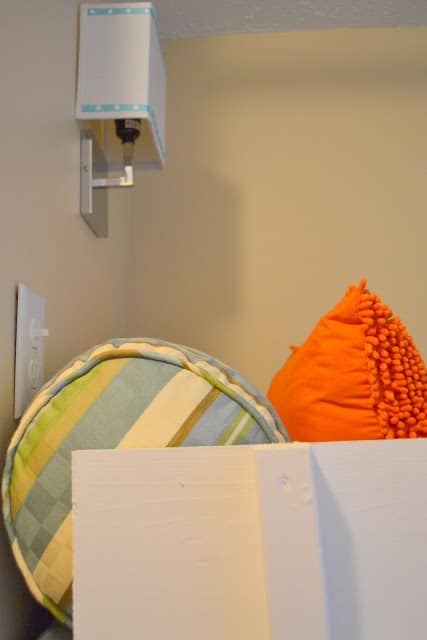 I made these oversize bolsters and added a pop of orange with the throw pillows.
At the foot of each bed, we added these little shelves that we already had.  I shopped around til I found some cute little baskets.  Oh – the little clip-on fans work perfectly when it gets too warm.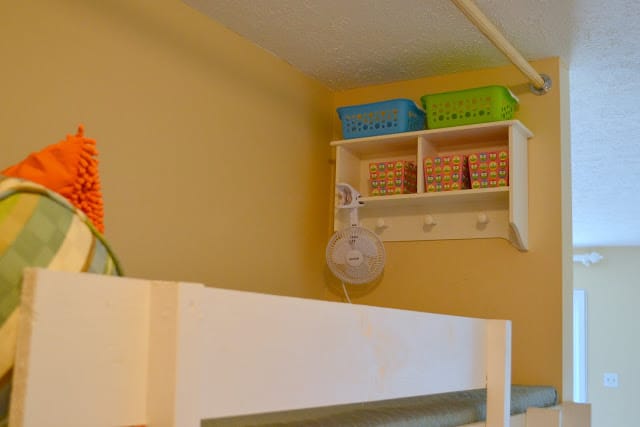 And lest you forget – here's what the view back up the hallway looked like before.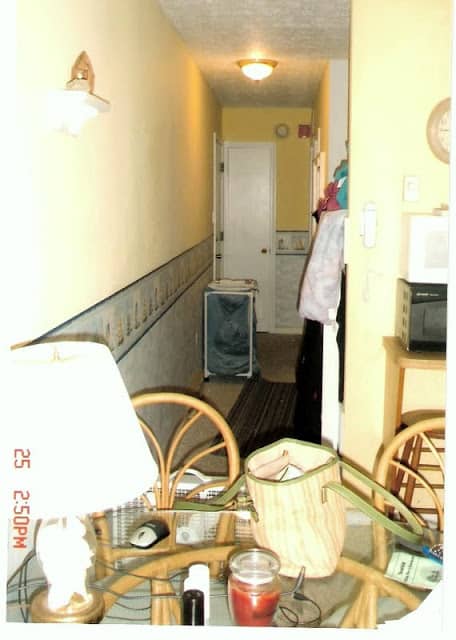 And since I don't want to leave you with an image that burns your eyes, here's something a little cuter to look at…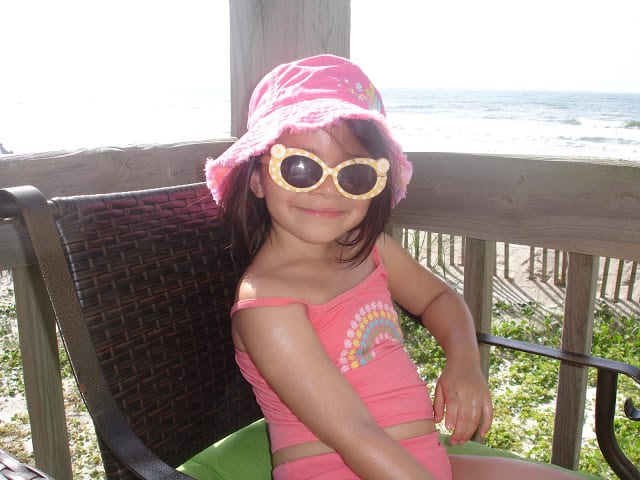 This is my sweet little Miss M sitting on the deck a couple of years ago.  It's one of my favorite pictures of her.