How I Shopped My House And Decorated My Shelves For Spring
Don't run to the store when decorating your home for spring!  Save money by shopping your own spaces.  You'll be pleasantly surprised at what you already own that you can use.
Affiliate links have been used in this post.  See my full disclosure HERE.
My home is all freshened up and ready for spring!  I've teamed up with an amazing group of bloggers this week to bring you a multitude of ideas for adding spring to your own spaces.  A big thank you to Jen from Noting Grace for putting this together!  
If you're coming over from Seeking Lavendar Lane, welcome!  Isn't her bunny pillow adorable?!?  I've been following Deb's home remodeling journey for the last several months and am so inspired by all that she's accomplished.  Every new project she completes is creative and quite frankly, amazing!  
If you know me at all, then you know that when it comes to decorating my home, my motto is to use what I already have as much as possible.  My whole purpose for being in the blogging world and on Instagram, is the hope that my decorating ideas will inspire you to take a look at what you already own with fresh eyes too. It's always tempting to me to run out and buy all the latest things, but I'm a budget decorator at heart, so I love to be able to pull from my stash and only add one or two new items to keep things fresh and current.  
I took a natural organic approach for all of my spring decorating this year and am excited to share one of the first spaces in my home that gets changed up for every season – the open shelves in my breakfast room.  I added the shelves directly above my thrift store score that I use to store a lot of my kitchen and dining essentials.  Take a look at everything I have stored in it HERE.  Boy, that whole area has changed to much in the last 4 years that we've lived here!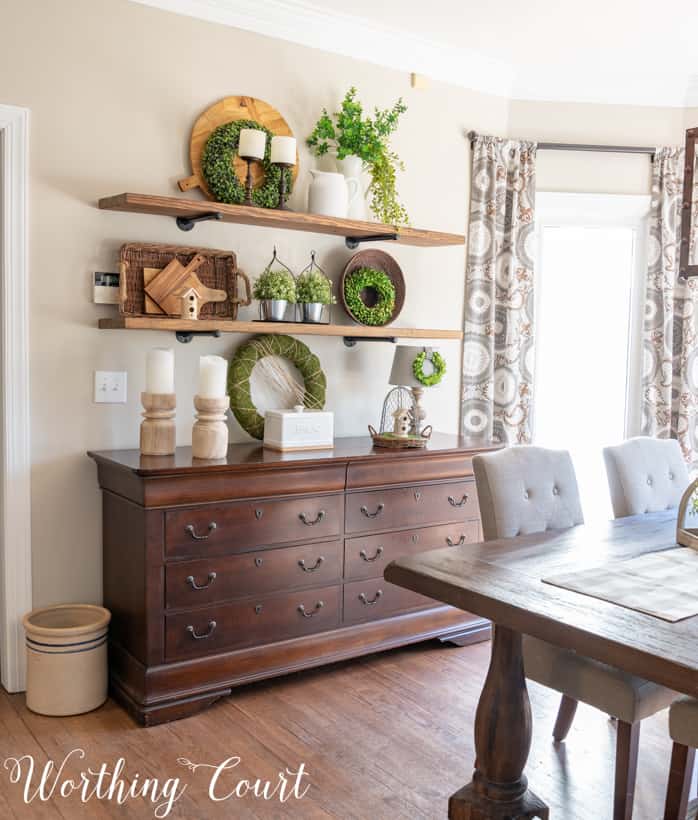 Pin



Any time that I do any seasonal decorating, I always try to take a look at what that particular time of year looks like outdoors.  Trying to incorporate what you see out of your windows into your home decor helps to keep things from looking too forced.  When I'm outside this time of year, I see lots of texture, green everywhere, natural wood and birds.  In fact, the birds are eating me out of house and home right now! 😀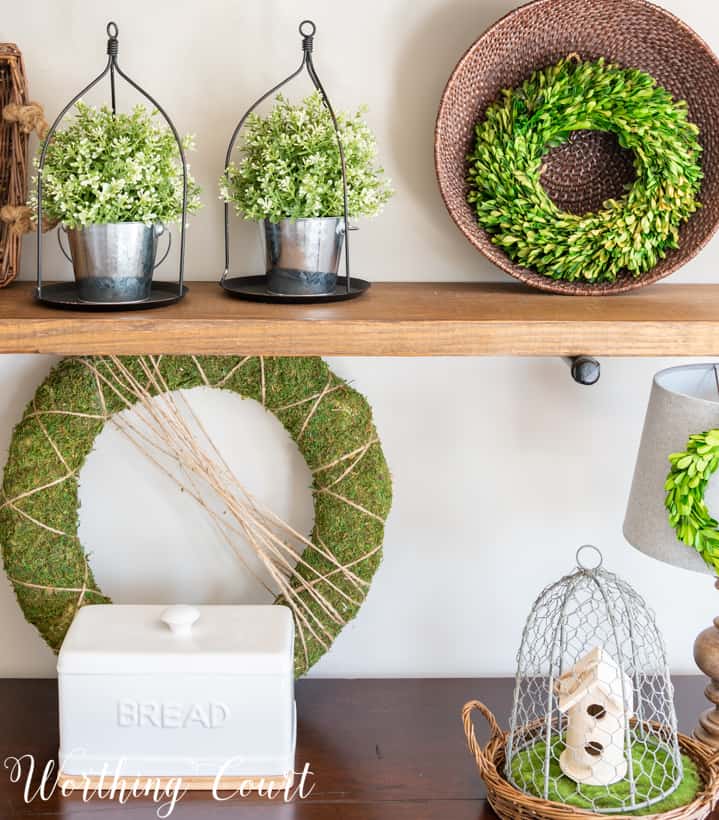 Pin Birds are back in abundance this time of year, so incorporating nests and birdhouses into your spring decorations is a natural fit.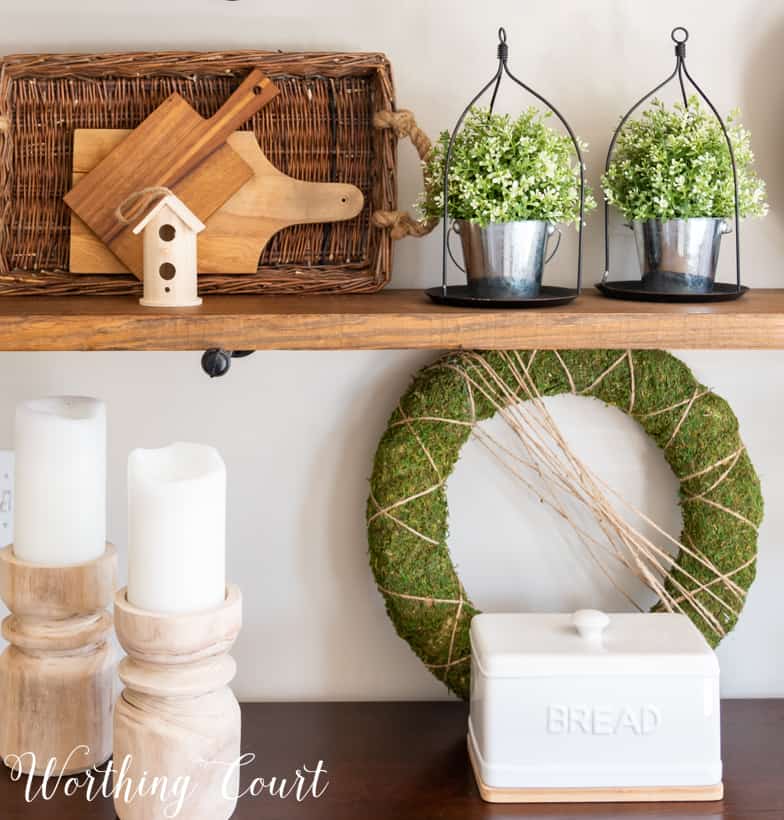 Pin Adding white pitchers, candles and containers ramps up the freshness factor that always goes along with spring.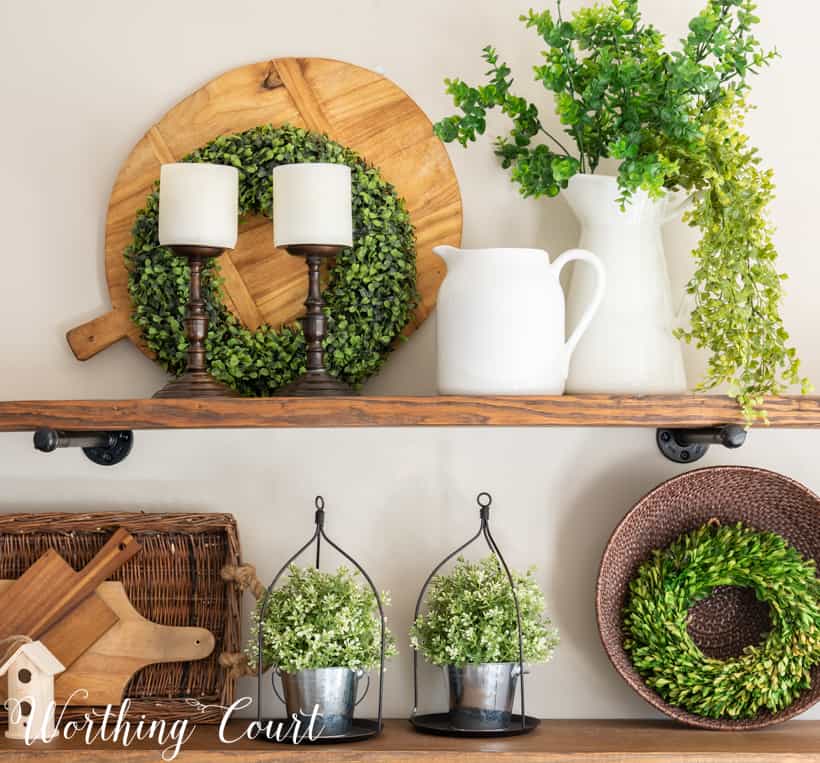 Pin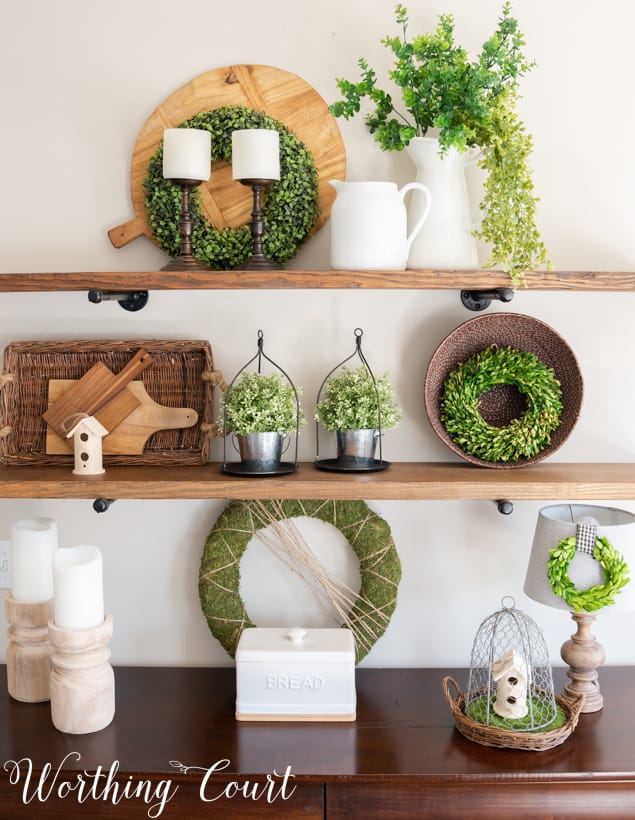 Pin So, the moral of the story?  Take a look in your closets, attic and even at what's already displayed in your home to see what you can put to use to create a fresh new spot for some spring decor!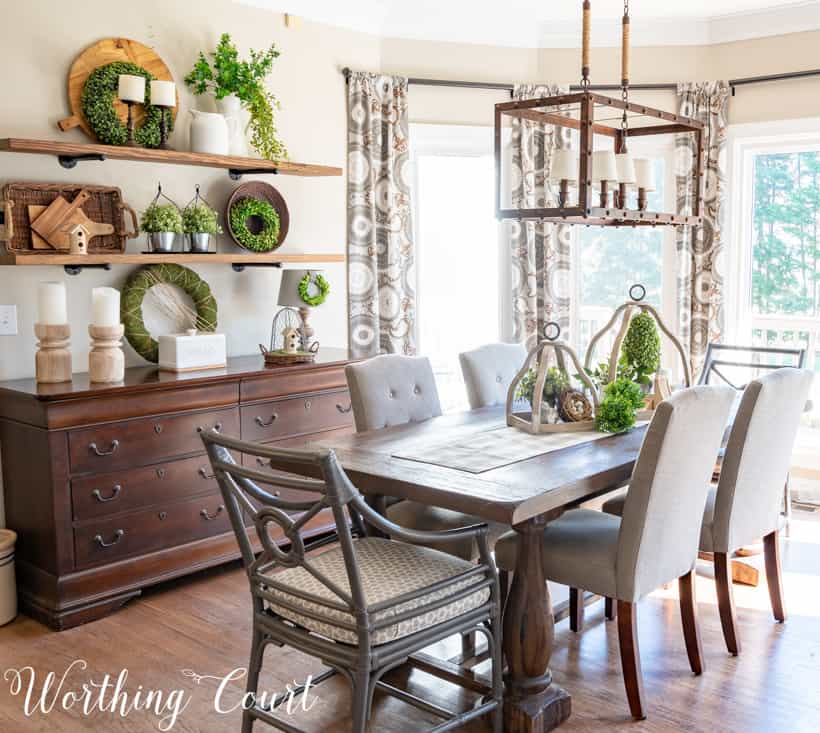 Pin



You don't want to miss the next person on the list, so head over to my sweet friend Kendra's blog, Joy In Our Home, for a yummy recipe that's perfect for spring.  I can't wait to make it!  And for so much more spring inspiration, take a look at the list below!
I DIY-ed That Spring Blog Hop
MONDAY
Repurpose & Upcycle | Thrify and Chic | A Blue Nest | Noting Grace
TUESDAY
My 100 Year Old Home | The Tattered Pew
The Homemaking Momma | She Holds Dearly | Seeking Lavender Lane
WEDNESDAY
Worthing Court Blog | Joy In Our Home | White Arrows Home
Uniquely Taylor Made | Making It In The Mountains
THURSDAY
Beauty For Ashes Home | Cuter Tudor | The Red Painted Cottage
The Honeycomb Home | Designs By Karan
FRIDAY
Deeply Southern Home | Rocky Hedge Farm
Twelve on Main | Life On Summerhill