How To Create A Stunning Fall Centerpiece With This One Unique Element
A plaid pumpkin and beautiful fall leaves take center stage in this easy to put together fall centerpiece.  Check out how fast and easy it can be to give your dining table a fall makeover!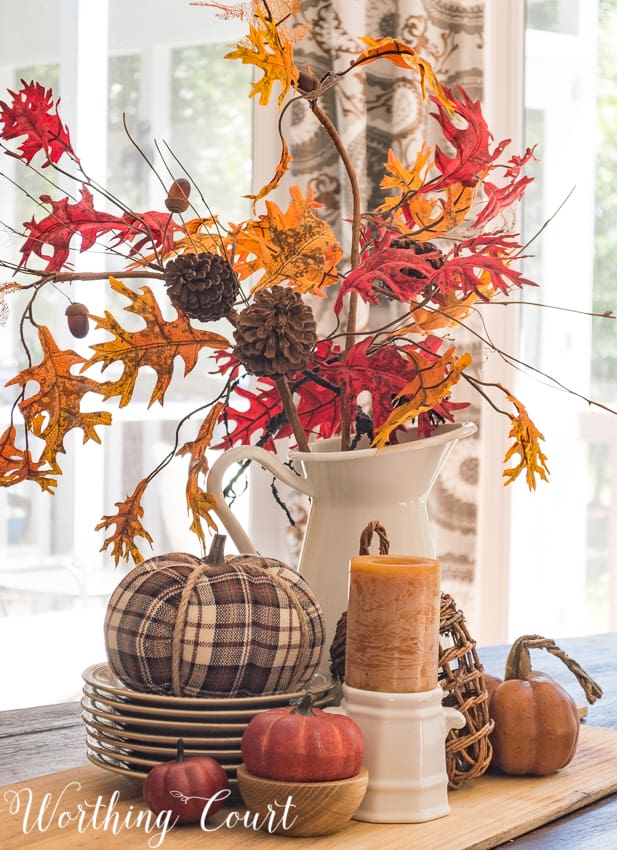 When it comes to decorating my home for fall this year, I'm all about keeping it quick, easy and trying to use what I already have in my decor stash.  Oh, and plaid – I'm all about plaid too.  🙂
And I'm all about the traditional nature inspired colors of fall.  I love the absolutely gorgeous neutral and non-traditional fall colors that many people use for seasonal decorating in their homes right now, but when it comes to fall – I have to admit that just isn't me.  I love, love, love the warm, rich varying shades of golds, oranges, reds and browns for fall!  This time of year those colors simply make my heart go pitter-patter.
As you can tell, there's nothing complicated about this simple fall centerpiece at all.  Remember my KISS decorating method?  I used the same breadboard that was the base for my summer centerpiece, pulled a few white serving pieces and plates from my cabinet and filled in with all things fall.  You might recognize those plates from my Thanksgiving table last year.
I did want to make it eye catching though and I think that I accomplished that by using a stack of plates to feature this fabulous pumpkin covered in plaid flannel and tied with rope instead of just a plain ole orange one.  It's a unique decor piece and pulls all of those warm cozy fall colors together.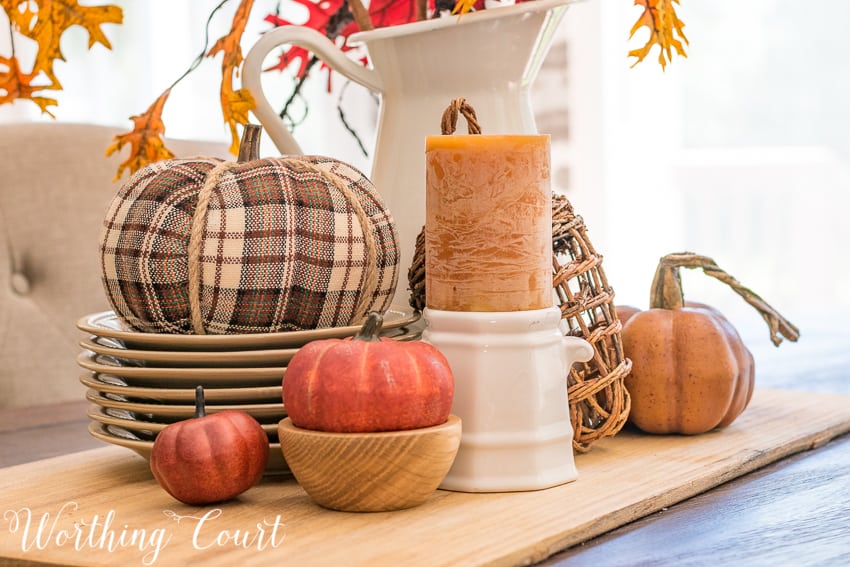 The white pieces serve to brighten the whole centerpiece up.  They aren't just randomly placed there though – you'll see that I also added a few white pieces to the open shelves in this room when I share them with you in a few days.  I feel that it amplifies the whole look!
And texture – it must have texture!  The branches with leaves and pinecones, the weathered rope around the pumpkin and the oversized wicker acorn all bring much needed texture to the centerpiece.  And see what I mean about plaid?  Here's a little sneaky peek of the shelves with plaid plates in the background.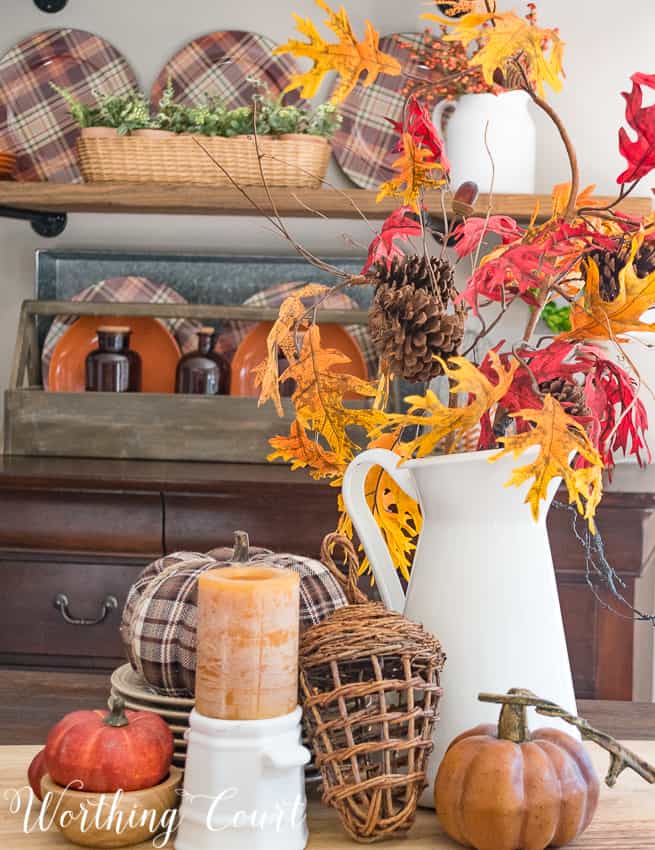 Tell me – are you a traditional fall colors kind of person or do you prefer something all together different?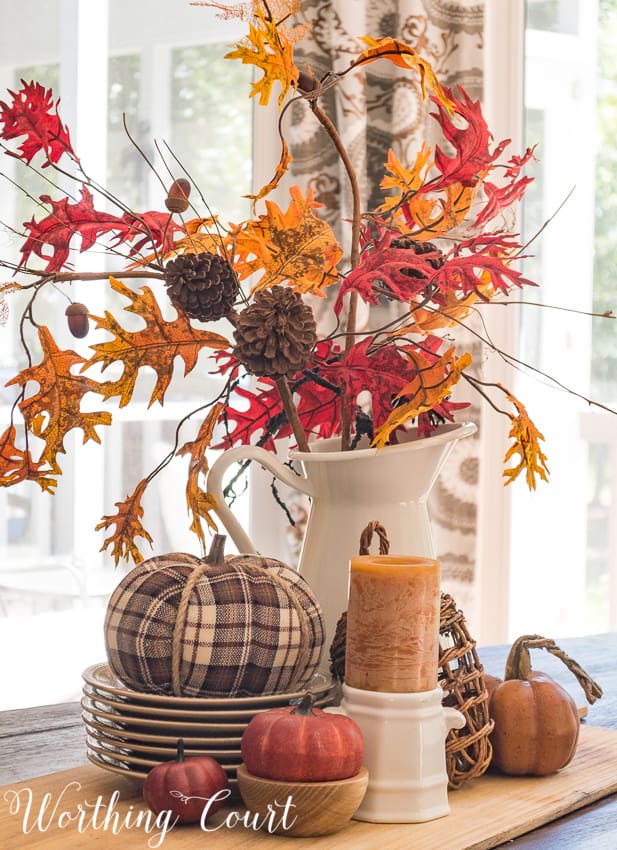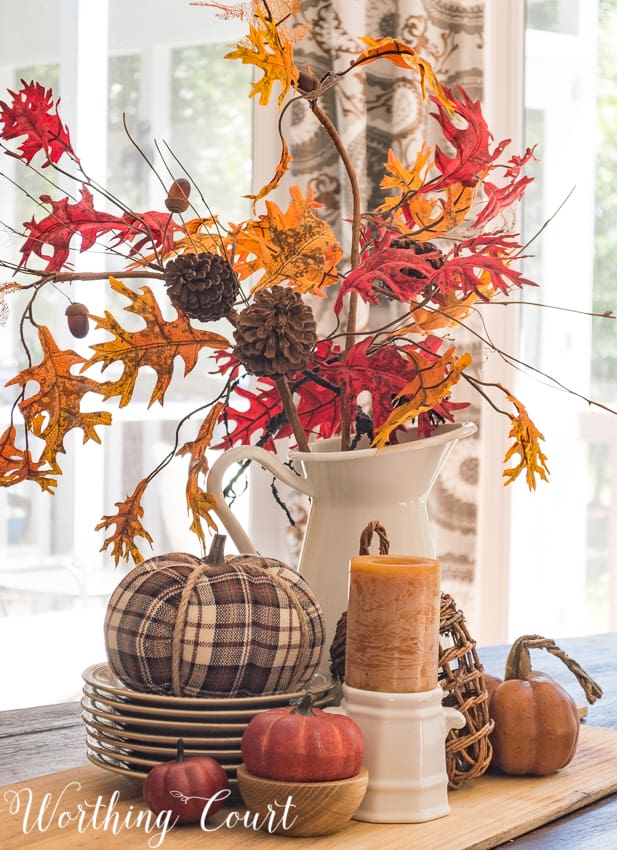 For more fall centrepiece ideas you try one of these 11 DIY Fall Centerpiece Ideas And How To Create Them!