Shelves are a great place to display seasonal decorations! Whether you go all out or just add a few touches, these ideas are sure to inspire you.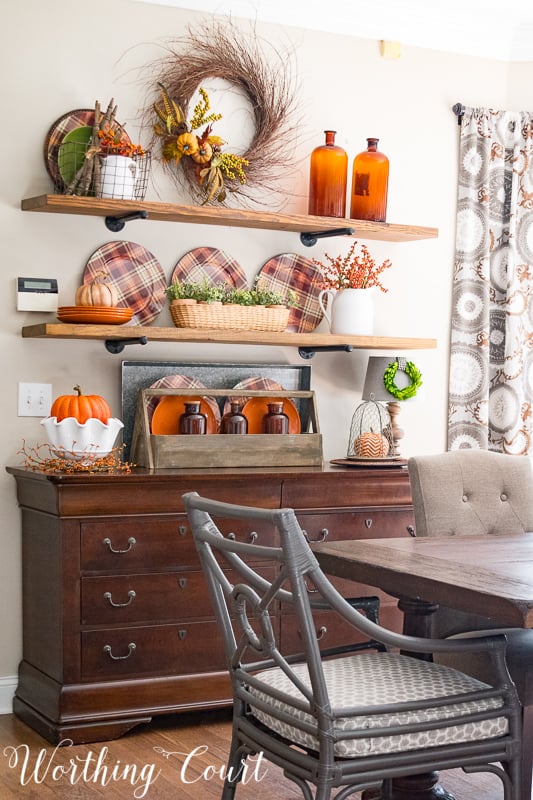 In my book, plaid is one of THE most fun patterns to decorate with! I love using it for every season, but especially when I'm decorating for fall and Christmas.
I found these plaid plate chargers a couple of years ago and I've been trying to figure out a way to use them in my fall decor in more prominent way than a tablescape. You may already know that I always include some sort of seasonal plates whenever I decorate the open shelves in my breakfast room, so it hit me – why not use these chargers in the same way? Bingo – they worked perfectly and now this shelf display is my most favorite one that I've put together for fall yet!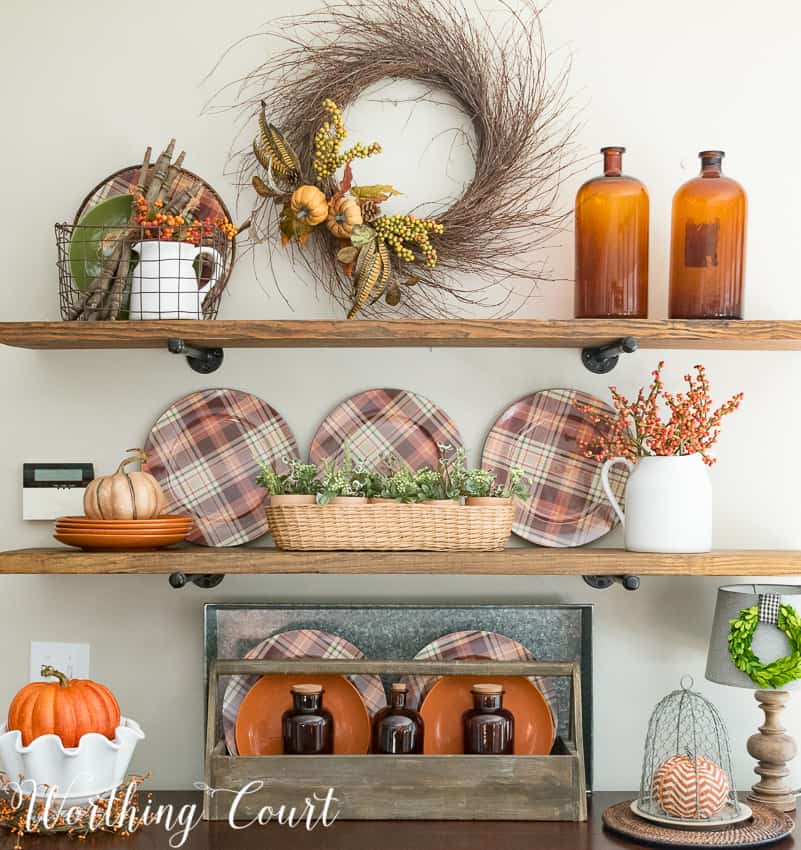 The chargers have a tiny bit of green in them, so I added just a couple of touches of green to the shelves too. The mini boxwood wreath lives on the lampshade year round, but I also added a dark green plate in front of the charger in the wire basket on the top shelf and I also added a few terra cotta pots in a basket with sprigs of faux greenery. If you have a sharp eye, you just might recognize that basket from the chest at the top of the stairs in my foyer.
The fall colors in the plaid on the chargers are a bit muted, so brighter pops of orange from plates, faux bittersweet berries and pumpkins really pull the color out and bring them to life! Sadly, these chargers are no longer available, but I found some awesome fall plaid plates that you can purchase HERE (affiliate link, see my full disclosure HERE).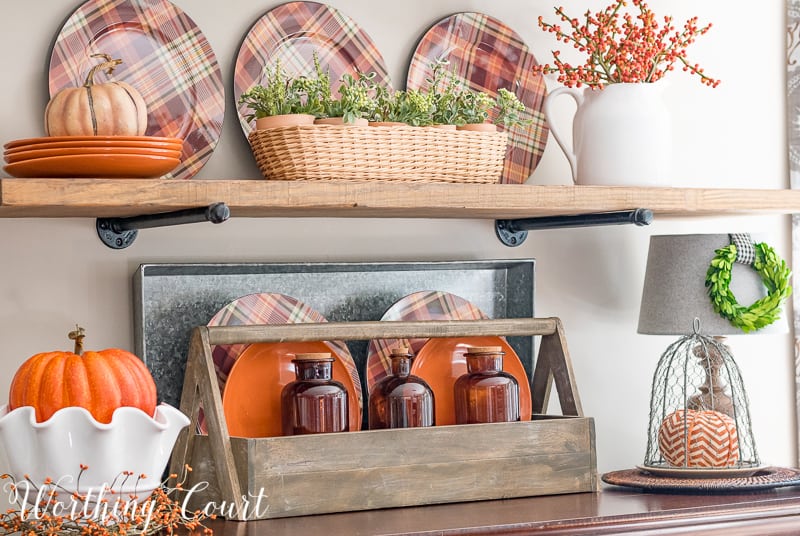 I used a plaid fabric covered pumpkin in the centerpiece on my table in this room and even though the plaids don't exactly match, I think they tie together very nicely. Click right HERE to take a closer look at the centerpiece.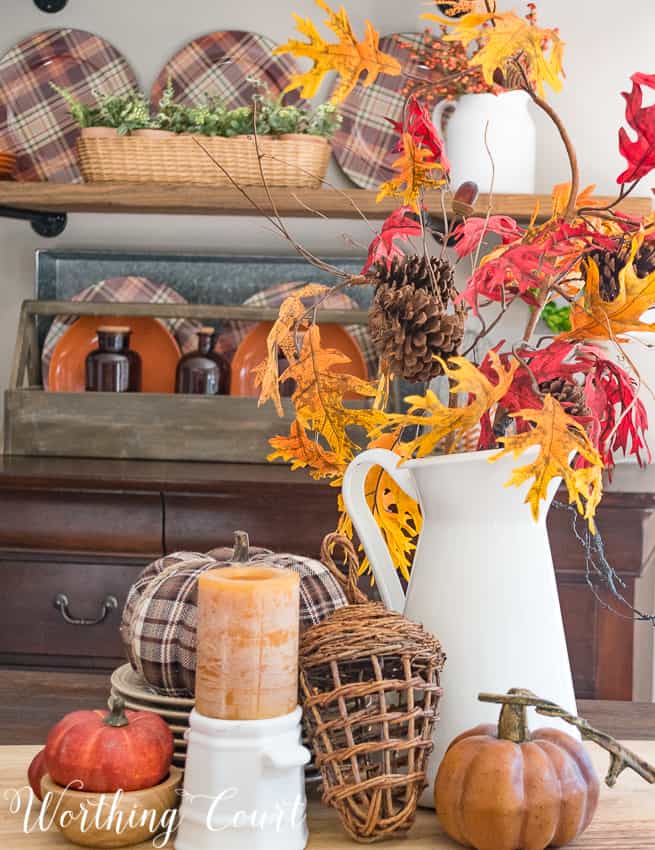 Some of you will be glad and some of you will be sad, but it was time that my pig head, Mr. Herbert was put to bed for a while. I, for one, was sad to see him go, but it was time for a change. A grapevine wreath with a couple of faux floral bushes tucked into the branches is a nice change, I think. Mr. Herbert had lived there for a long time, through all of the seasons, so it will be fun coming up with something different to use in his place.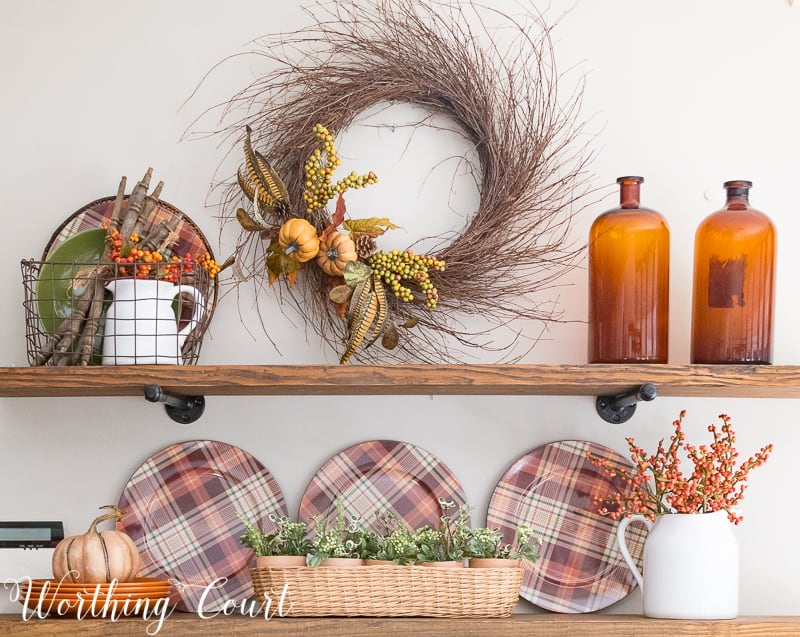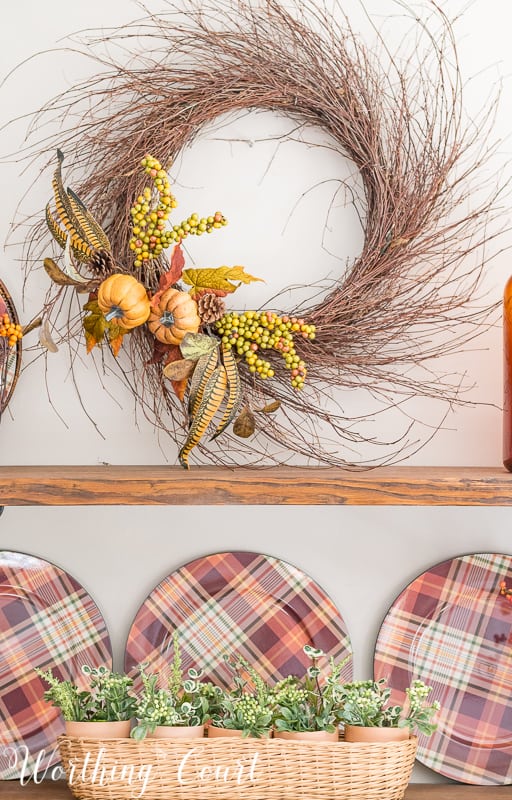 Because of the large opening between my family room and kitchen/breakfast area, these shelves are one of the very first things that you see when you enter my home from the foyer and into the family room. So, it's important to me that whatever I do on these shelves ties in with what's in the family room too!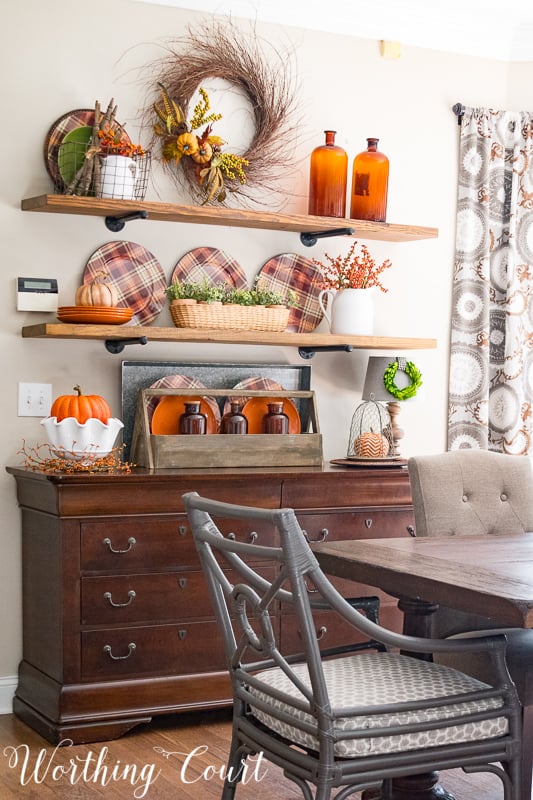 Be sure to come back on Thursday, when I'll share my fall family room so that you can see how both spaces tie together!