11 DIY Fall Centerpiece Ideas And How To Create Them
Eleven ideas for diy fall centerpieces to decorate your table for fall or Thanksgiving using pumpkins, fall foliage, acorns, pine cones, fall candles and more.
One of the first things I do every year, when I'm decorating for the season, is to put together a diy fall centerpiece. My centerpieces usually come together pretty quickly and often set the tone for the rest of the room.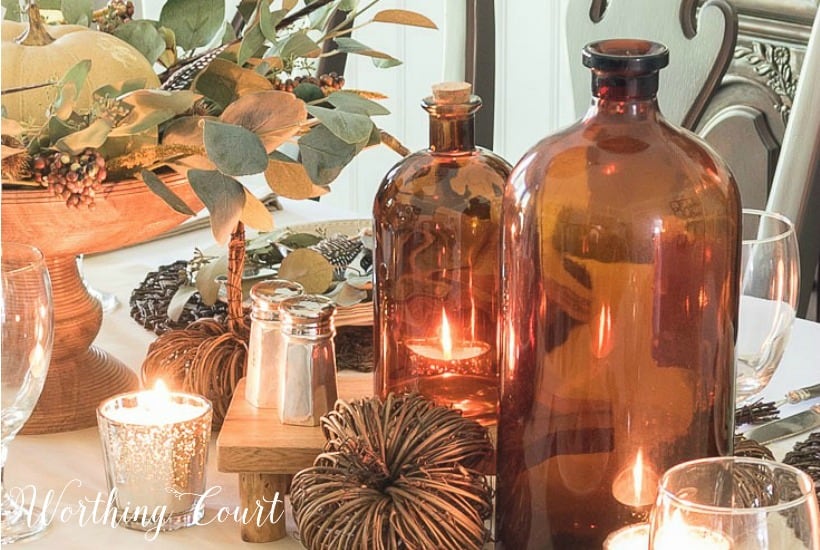 Whether your taste in fall decor leans toward traditional fall colors or neutrals or something just a little unexpected, these diy fall centerpiece ideas will look lovely on your table from now all the way through your Thanksgiving feast. Bonus! Each one of these centerpieces can easily be copied and goes together in about ten minutes or less. How's that for saving you time during this harried season of the year?!?

USING A REPRODUCTION VINTAGE TOOLBOX
This centerpiece is from the dining room in my previous home, but it's still one of my favorites! When I hit my favorite pumpkin spot, I zoomed right in on these gorgeous buttery yellow babies! I've never seen pumpkins quite this color before, so I couldn't pass them up.
To create a centerpiece such as this, fill a container with as many pumpkins as will fit, making sure to artfully arrange them by turning them this way and that. Add a few tapered candles in between the pumpkins, (don't ever leave them unattended when lit!), then tuck sprigs of fresh greenery into empty spots for the finishing touch.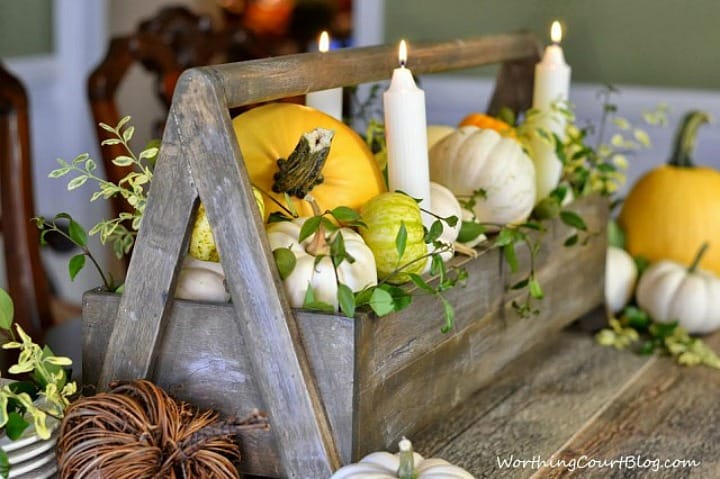 Here's the same toolbox decorated with traditional fall colors. To create this look, place a piece of scrap wood in the bottom of the box (if you need to elevate the candles), add three candles in a row and fill in with fall picks.
Placing the container on a small runner helps to ground the centerpiece and to give it more presence. This literally took no more than five minutes to put together!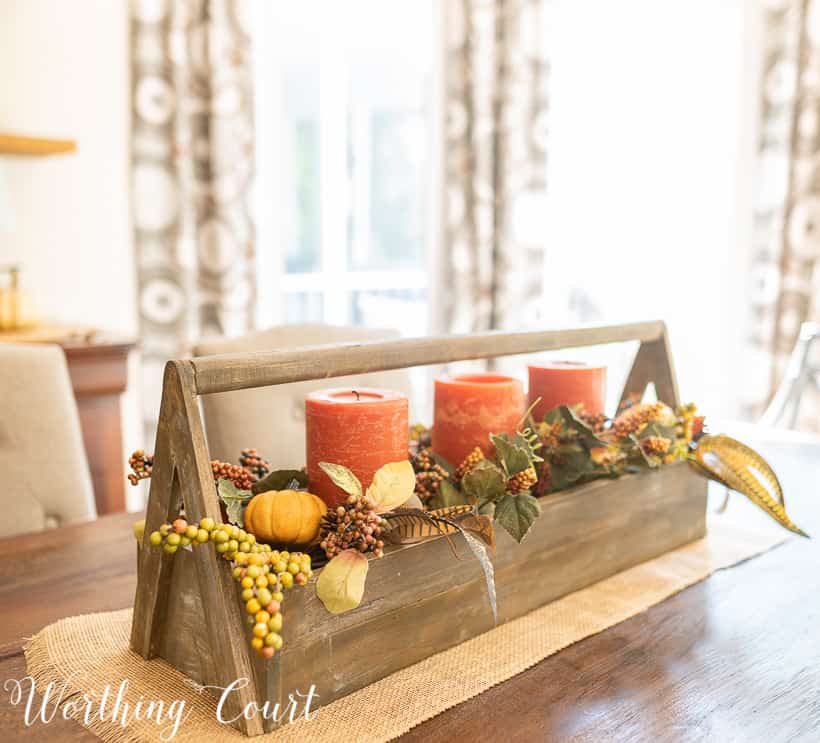 EXPRESS THE BOUNTY OF THE HARVEST
These next ideas are meant to express the bounty of the fall harvest, so they would make great Thanksgiving centerpieces.
To create this centerpiece, use a tray to gather everything into one spot. Anchor the centerpiece at one end with a tall container filled with foliage and feathers, add the candlesticks and candles, a small round wicker tray and a few stacked plates, then add pumpkins.
Since this centerpiece is meant to evoke feeling of a bountiful harvest, fill in all those empty spots with acorns, leaves and other small items.
Another idea for giving a nod to a bountiful fall harvest is to fill a wooden dough bowl with pumpkins, twiggy orbs and a grapevine wreath. Layering the ingredients is the key to creating a centerpiece such as this one.
Start the layering by adding the grapevine wreath first (you can see it leaning against the back side of the bowl), add the larger elements like the pumpkins and spikey orb, wicker acorn, then finish the arrangement off by tucking a few stems of cotton into the empty spots.
Placing the dough bowl on a runner or piece of burlap will help to ground the centerpiece on your table.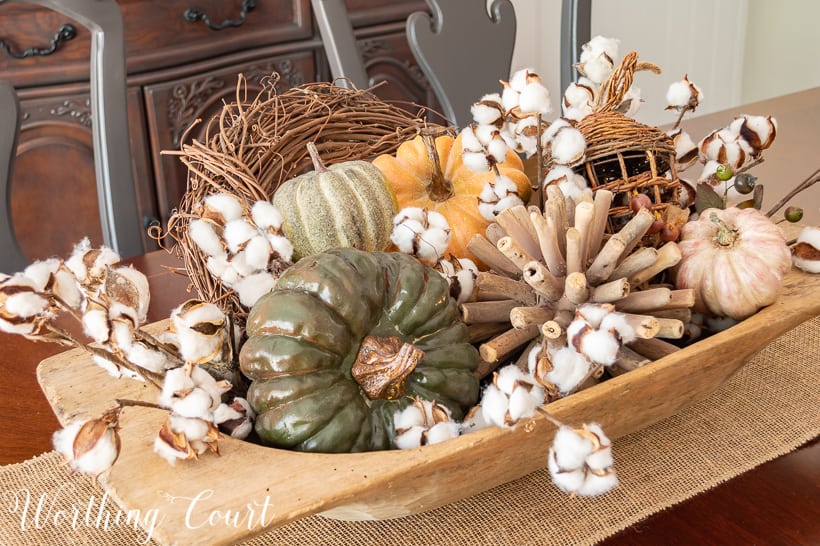 Talk about bounty! Fill your table with a display of pumpkins and candles running down the center of your table, without using any container at all.
To create a Thanksgiving centerpiece like this one, put the candlesticks in place first (for this look, I like them staggered instead of lined up in a row), then place the pumpkins, turning and leaning them against each other. Lastly add dried hydrangeas and greenery to fill the empty spots. And nobody ever said that all your candles have to match!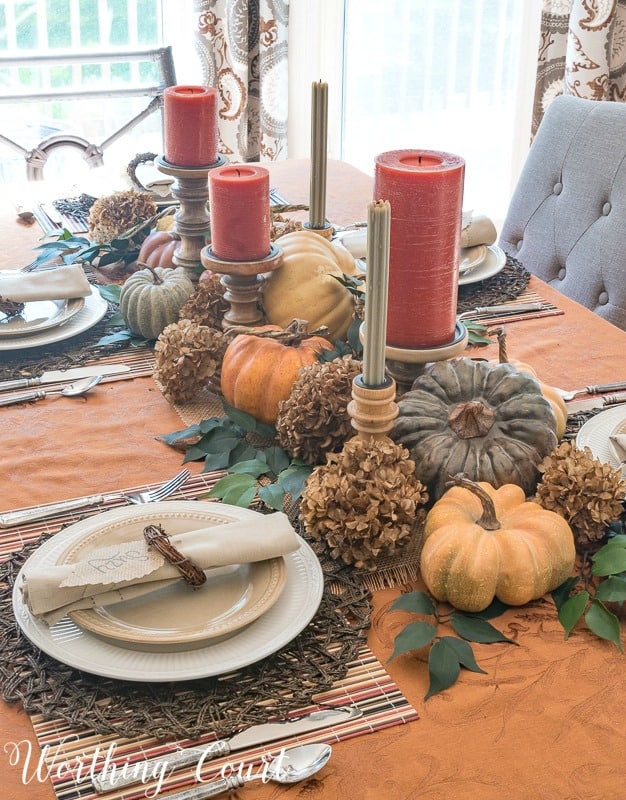 MIXING RUSTIC AND GLAM
Yes, you can have a little glam for fall without being all stuffy and formal! I'm more of a relaxed and casual kind of gal instead of strictly dressed-up or formal, so I like for the decor in my home to reflect my casual personality.
Velvet pumpkins are very elegant, but to bring down their formality, I paired them with rustic crinkle paper shreds and a few pip berries. Depending upon the brand that you purchase, these elegant beauties can be a bit costly, so click on the link to get my step-by-step directions for my cheater way to create this overflowing pumpkin container.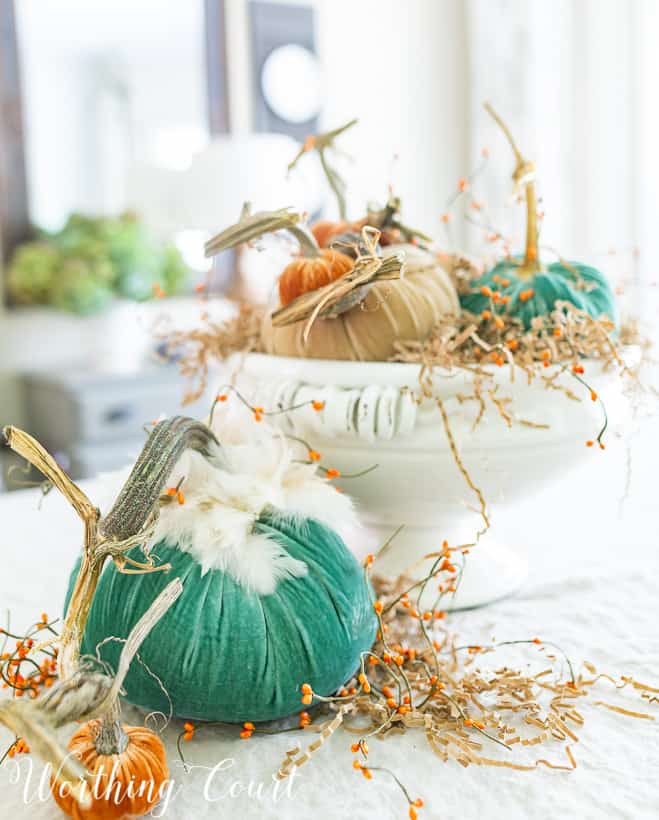 Even though I consider myself a casual type of person, I think the dining room calls for more elegant fall centerpieces.
In this rustic/glam centerpiece, amber bottles, a wooden pedestal bowl and grapevine pumpkins have been paired with mercury glass votives, beautiful eucalyptus and linen napkins for a casually elegant table.
To recreate this look, place the pedestal bowl, amber bottles and other large elements first. Fill the bowl with a large pumpkin with eucalyptus sprigs and berries tucked under the edges, then fill in the rest of the centerpiece with a variety of rustic and glam pieces.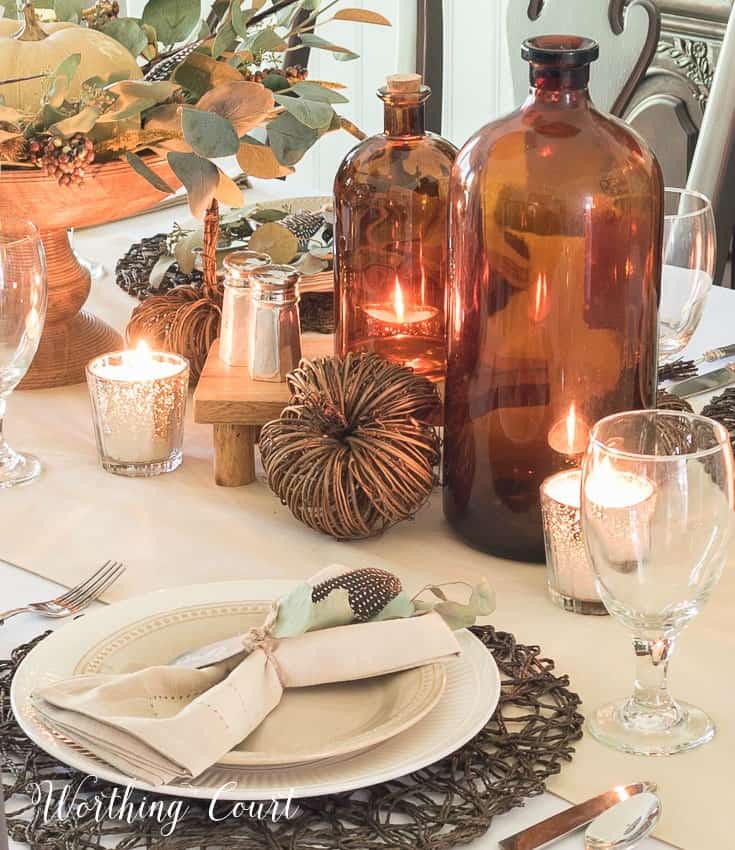 Here's another example of a casually elegant centerpiece. For this look, I simply put two rustic lanterns in place, then wound a eucalyptus garland around them in a S pattern and added a few white and gray velvet pumpkins running along the garland.
I kept the theme going by placing a potted faux greenery plant inside each lantern instead of the candle that you might normally expect. One other tip – two garlands intertwined together will look much more lush than one garland on its own.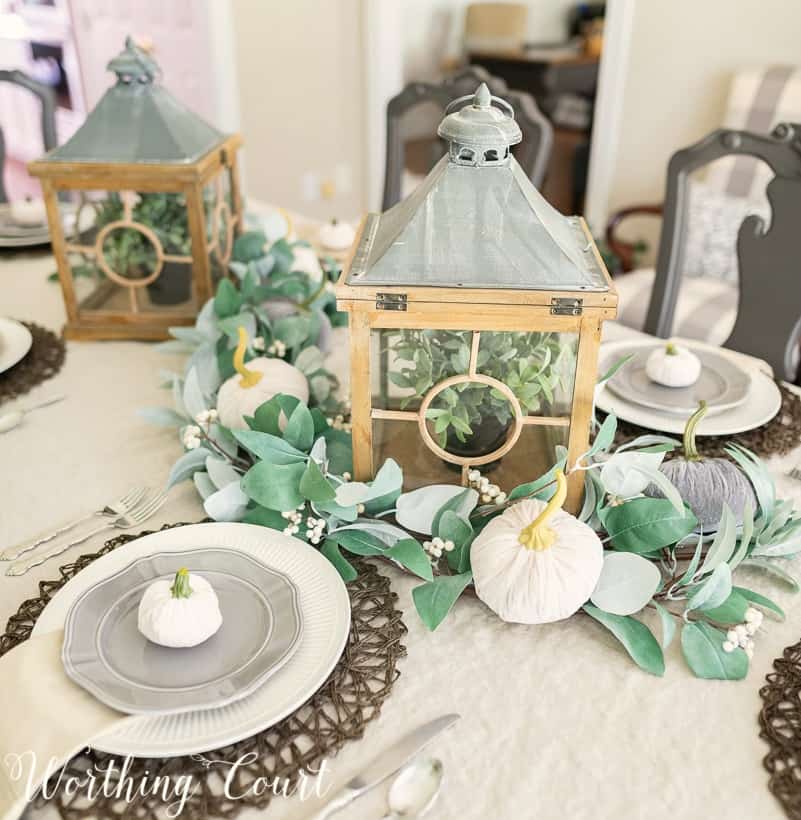 SUPER EASY FALL CENTERPIECES
Bread boards make a great base for a fall centerpiece! Although I use them year round, the color and texture of the wood says 'instant fall' to me.
For each of these looks, but the bread board in place, add the tall elements off to one side instead of right in the middle, then add a small stack of plates and finish by filling in with smaller elements. If you look closely at the second and third examples, you see that I only switched out two things to change the look.